In about 30 mostly hands-off minutes, you can have this addictive homemade applesauce that's sugar free and so freakin' delicious.
It's a rainy Sunday, and we're all trapped inside. The kids are nuts and want all of my attention, and all I want to do is lay on the couch and sleep after staying out late last night with friends at Fiola. We ate and drank way too many good things that I'm pretty sure I'm still full more than 12 hours later. I tried playing a game of "Who cannot bug mommy the longest?" with the kids but it lasted a total of 20 seconds. Sigh. There's no rest for the weary.
Even despite me wanting to not lift a finger today, homemade applesauce is so ridiculously easy that I think I can actually accomplish this again today. Our family friend brought back 12 pounds of apples from Pennsylvania, and we've been enjoying them in numerous ways. One of which is going to be some more of this homemade applesauce.
The taste of homemade applesauce is waaaaay better than any store bought kind you can get, and like I said, you barely have to do anything at all. All my worn slap out people -- y'all got this. And I haven't told you how amazing your kitchen's going to smell while these apples cook!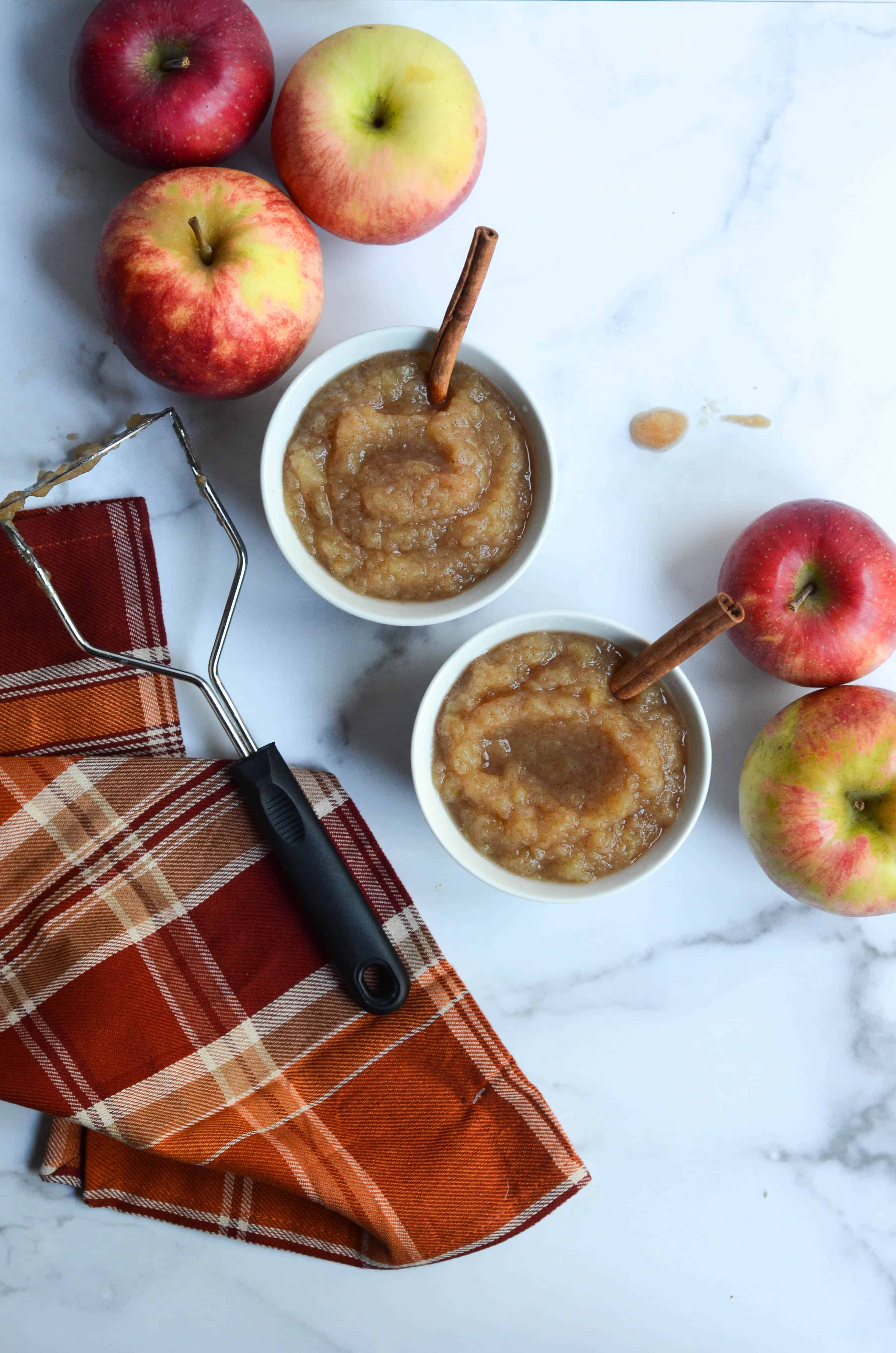 What ingredients do you need to make sugar free homemade applesauce?
So simple: apples, lemon juice, cinnamon, and water. Seriously. That's it. You don't need sugar. If you choose your apples wisely, you'll be left with the best applesauce you've ever eaten -- and you'll feel good about having the natural sugar in the apples sweeten your sauce instead of refined sugar.
What kinds of apples are best to use?
I like a combination of the super tart varieties like Cripps Pink or Granny Smith and super sweet apple varieties like Pink Lady, Honeycrisp, Gala or Fuji. This is a fun guide to the hundreds of varieties that exist with apples.
How to Cut and Peel Apples Quickly
As for peeling, I use my vegetable peeler, and quickly start peeling as close to the stem as I can and work my way down to the bottom of the apple. Just make sure you don't slice your finger off. This doesn't remove all of the peel, but that's okay. When you'll cut the apples (see below), you get 95% of the skin off, and worst case scenario -- you have a little peel in your apple sauce that'll cook down to a soft texture like the rest of the apples. No biggie.
I remember my mom would tediously cut into the tops of strawberries with a paring knife as not to waste any of the strawberry. My mom would do the same for apples, making sure to cut the entire apple and then cut a small, triangle off each of the slices to remove the seeds. I cut my apples the lazy way. I take the apple (first peel it, of course) and slice into 4 big chunks (avoiding the core entirely), then cut those larger 4 pieces into smaller chunks.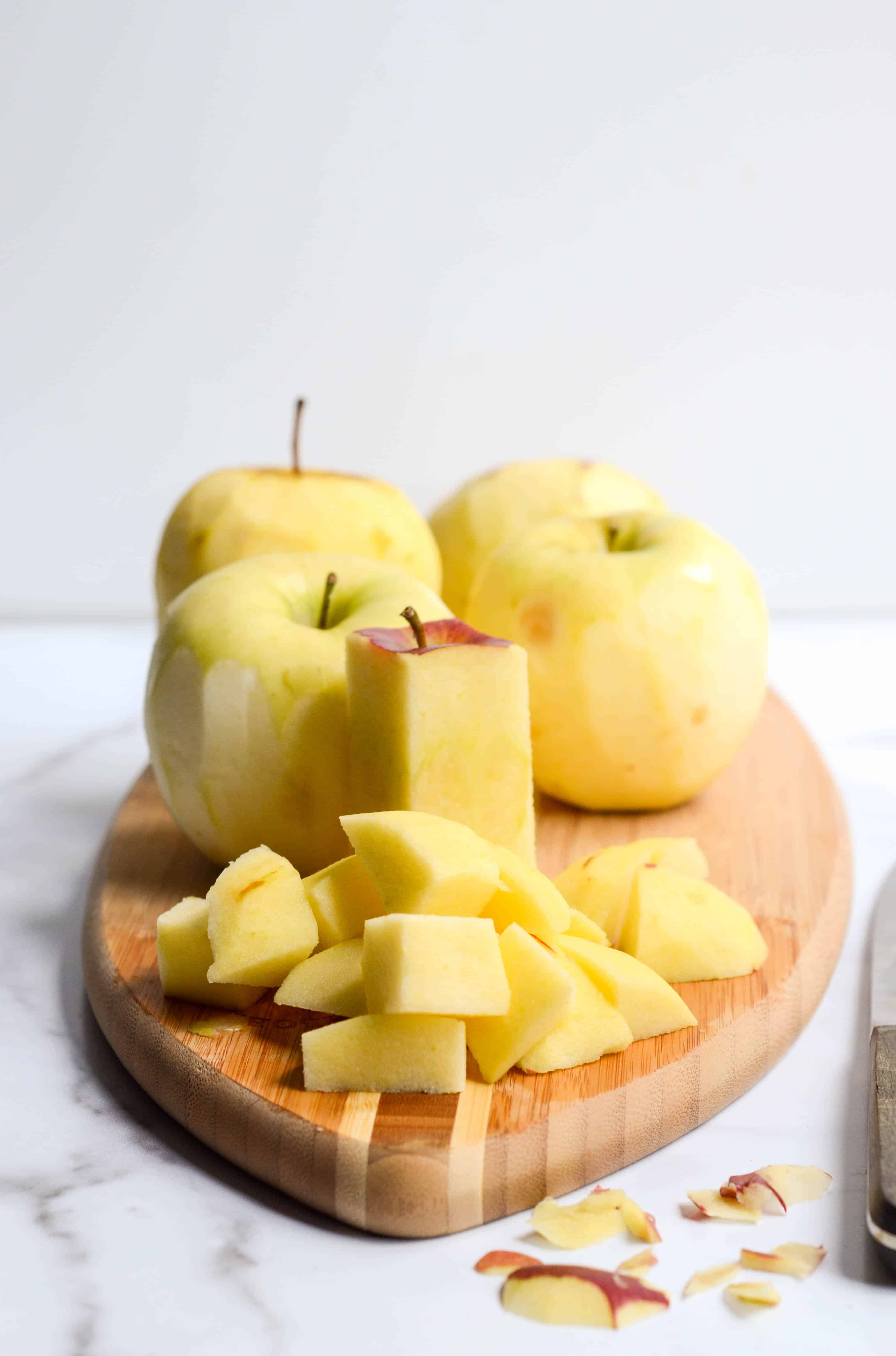 What can I do with apple sauce?
Eat it by itself. When's the last time you had real, homemade applesauce? It's such a great, healthy snack and can be enjoyed warm or cold. One of my kids is an apple sauce fiend, and I love knowing this apple sauce is just as healthy as her eating an actual apple.
Applesauce is so delicious on pork. I made pork chops the other night and made the apple sauce a little chunkier than I normally would by not mashing it up as much with the potato masher. Pork and apples are a match made in heaven. And so very fall.
Use homemade apple sauce in your baked goods instead of oil like in this healthy oatmeal banana bread.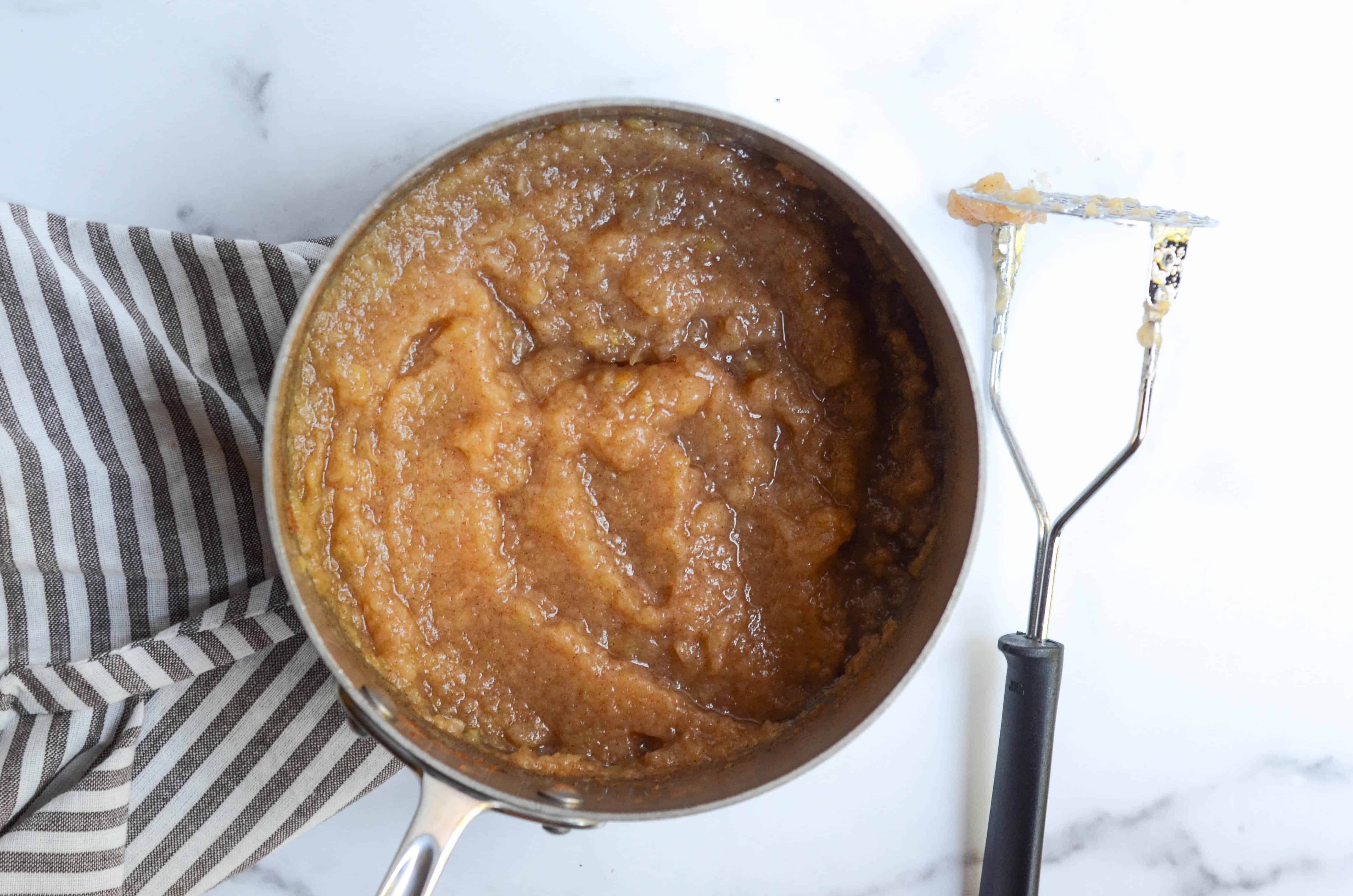 Storing Homemade Applesauce
This applesauce can be kept in an airtight container in the refrigerator for up to 5 days. You can always freeze it and save for later. You'll just want to use within 3 months.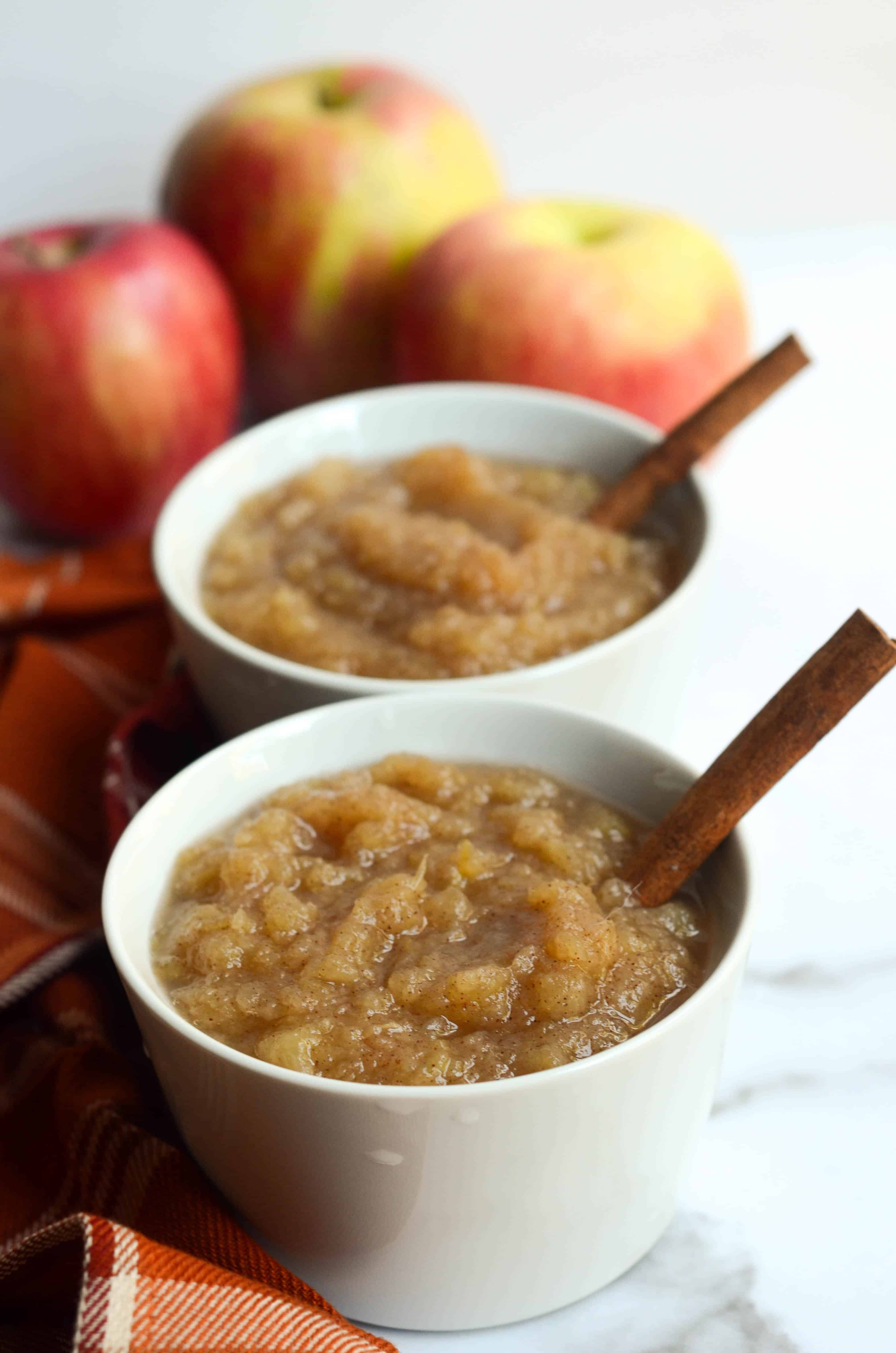 Hope y'all have had a wonderful weekend!
xox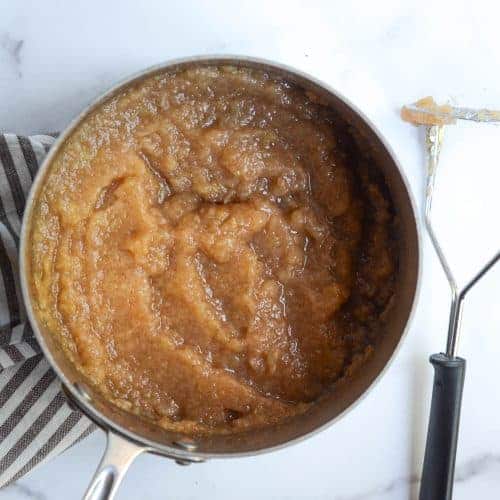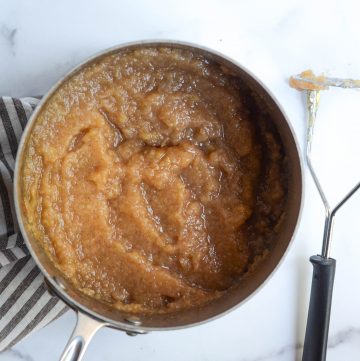 Homemade Applesauce with No Sugar
This addictive applesauce is sugar free and can be made in about 30 minutes. You'll never want to buy store bought applesauce again!
Print
Pin
Rate
Ingredients
5

apples, cored, peeled, and roughly cut in 1" pieces

1

tablespoon

cinnamon

2

tsp

fresh lemon juice

1

cup

water

cinnamon sticks,

optional for garnish
Instructions
In a medium-sized sauce pan, combine all ingredients. Bring to a boil, then cover with lid and lower to a simmer. Let simmer for 30 minutes.

After 30 minutes, take off heat and eat a potato masher to mash apples to your favorite consistency. If you like it super thin, you can always use an immersion blender or food processor to make it super thin.
Notes
Storage directions: This applesauce can be kept in an airtight container in the refrigerator for up to 5 days. You can always freeze it and save for later. You'll just want to use within 3 months.