This homemade hummus is made from canned chickpeas, so it's delicious hummus without the fuss. It's also a great Moby Dick hummus copy cat!
When we first started dating, John tried really hard to woo my roommate at the time, who didn't care much for a third, frequent visitor in our small apartment in Bloomingdale. He'd try to butter her up, strike up a friendly conversation here and there about the perils of teaching in the city, and on Mondays, he'd bring over dinner from Moby Dick for all of us to share. Oh, and he also pretended to tolerate The Bachelor. So here we were, sitting on the futon eating spoonfuls of that hummus while watching desperate women get even more desperate by the minute. John's hummus and chicken kabob ways didn't quite work with the roomie, but he got an "A" for effort (and clearly it worked on me).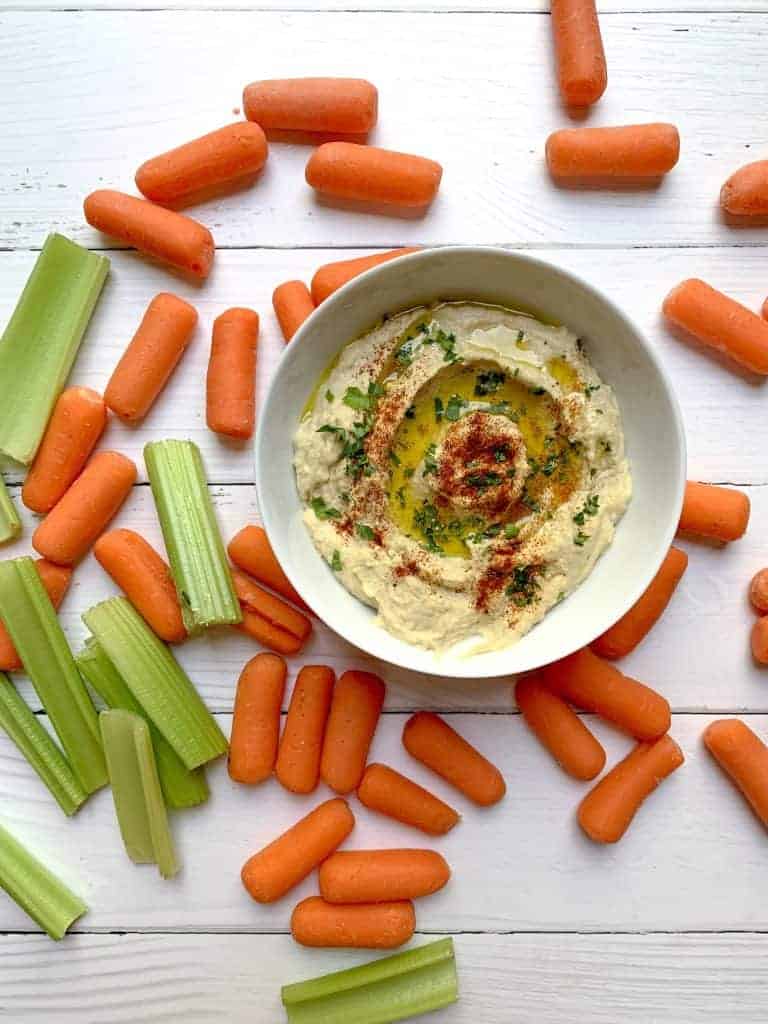 Moby Dick hummus, I love you.
The hummus from Moby Dick is so perfectly creamy and garlicky that I could just eat it with their pita bread and be satisfied for dinner. Store bought hummus just doesn't cut it for me. They're always too thick or lack in the flavor department. And the homemade hummuses that require you to soak dried chickpeas overnight? Ain't nobody got time for that. And to be quite honest, it really doesn't make that much of a difference, in my opinion.
What makes this hummus special
It's quick. You use canned chickpeas, so it doesn't involve soaking any beans because, again, ain't nobody got time for that.
It's creamy, garlicky, and has a bit of a kick thanks to the cayenne. It's as close to Moby Dick as I can possibly get.
This homemade hummus uses chick pea liquid to give it the necessary texture but also flavor. Don't forget to save some of the chickpea water!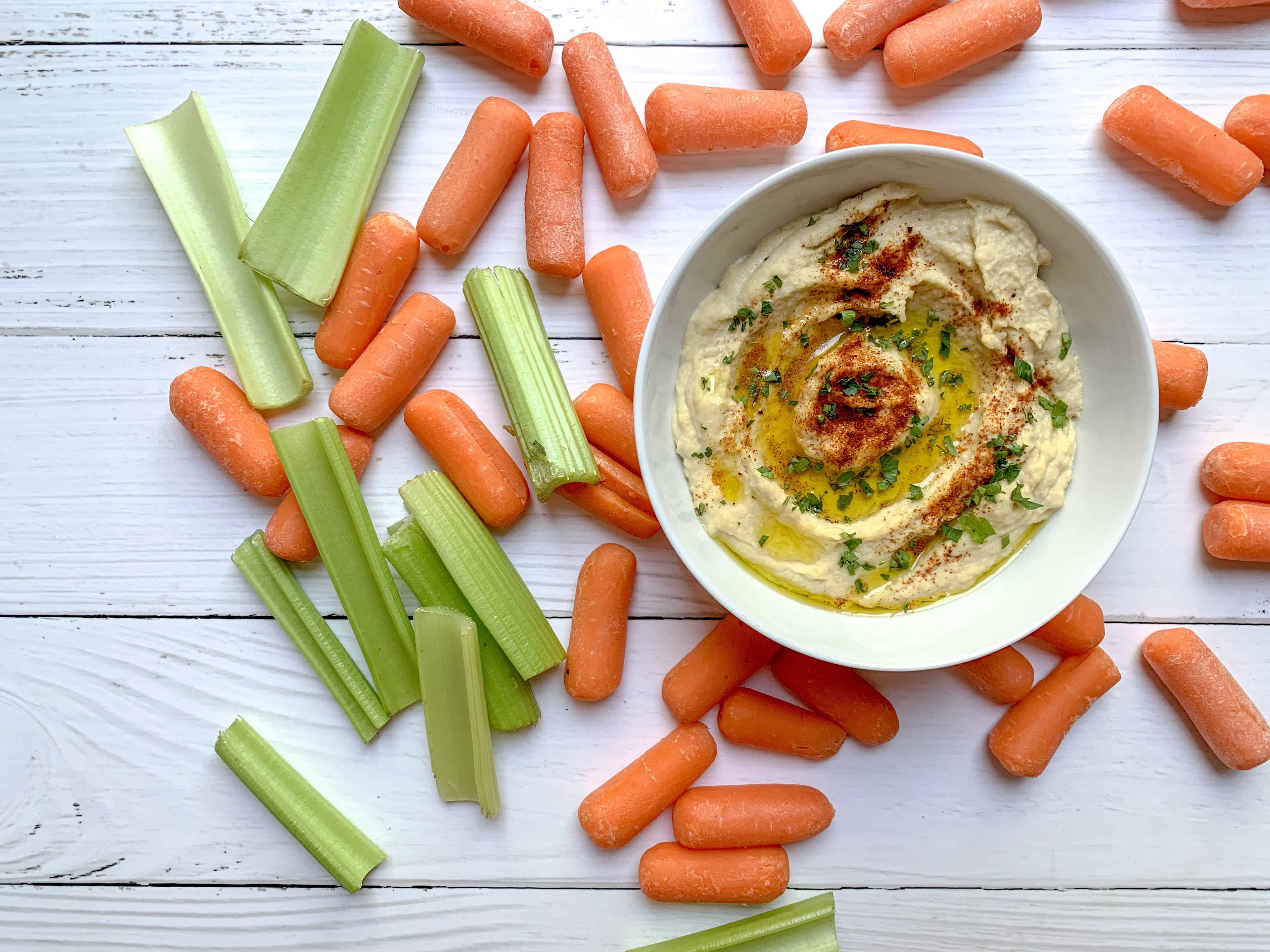 What do you eat with your hummus?
Can we talk about all the delicious vegetables that are a perfect match with hummus? My favorite place in the world to people watch (the Delano pool in South Beach, or course!) has a hummus and vegetable plate on their pool menu that's to die for. It's nothing special, but the veggies are perfectly crisp and served on a bed of ice making you feel all fancy and healthy. Plus, they have allllll the good stuff: radishes, carrots, celery, endives, cauliflower, tomatoes, broccoli…ugh! So simple and perfect for the pool.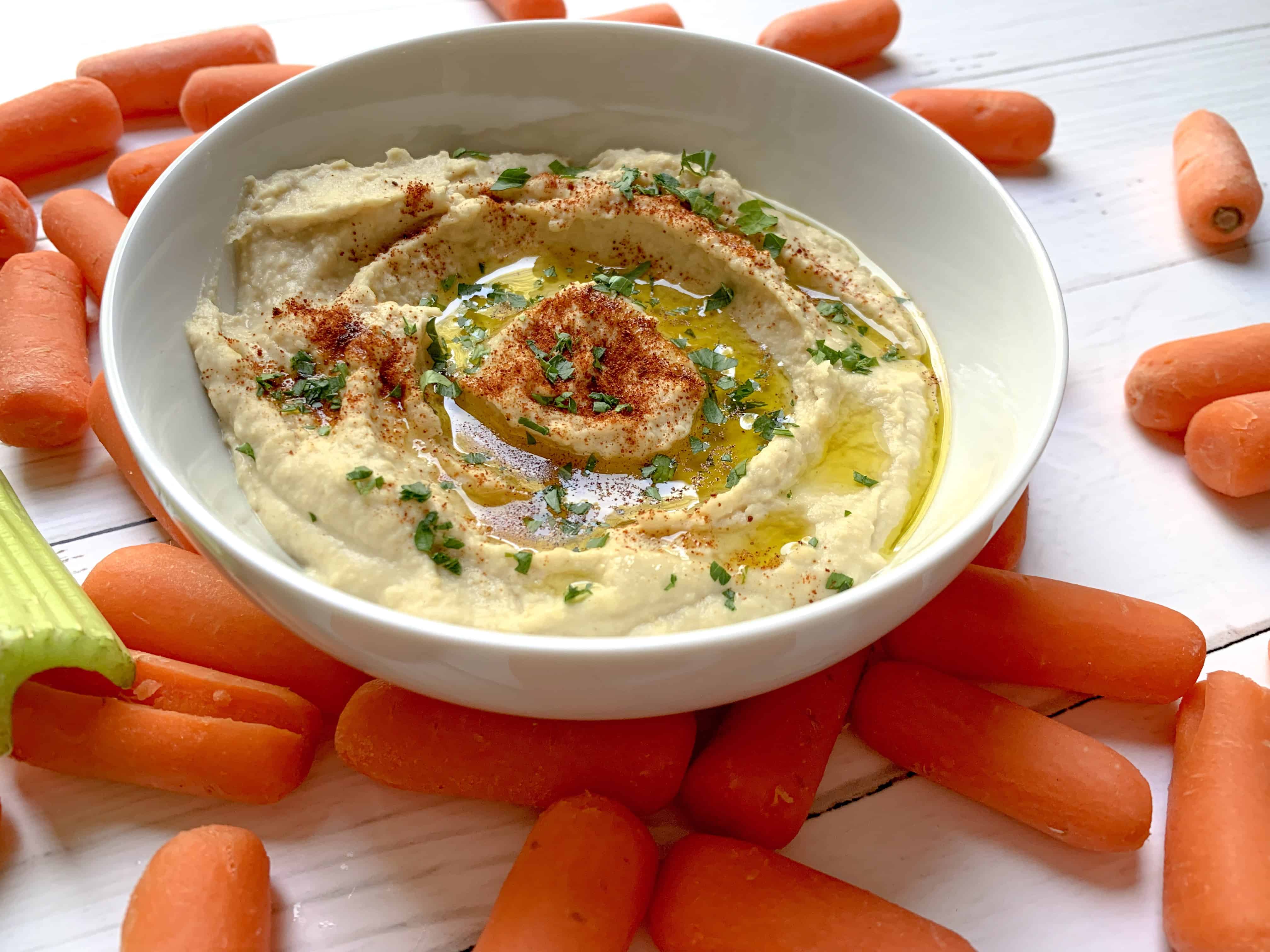 More snack inspiration
Looking for other quick, healthy snacks? Check out these Healthy Almond Butter Cups that are the healthy version of a Reese's peanut butter cup, Crispy Roasted Parsnip Fries with Thyme that'll have you wondering if you're eating a vegetable instead of shoestring french fries, or snacking on these Healthy Apple Cinnamon Muffins.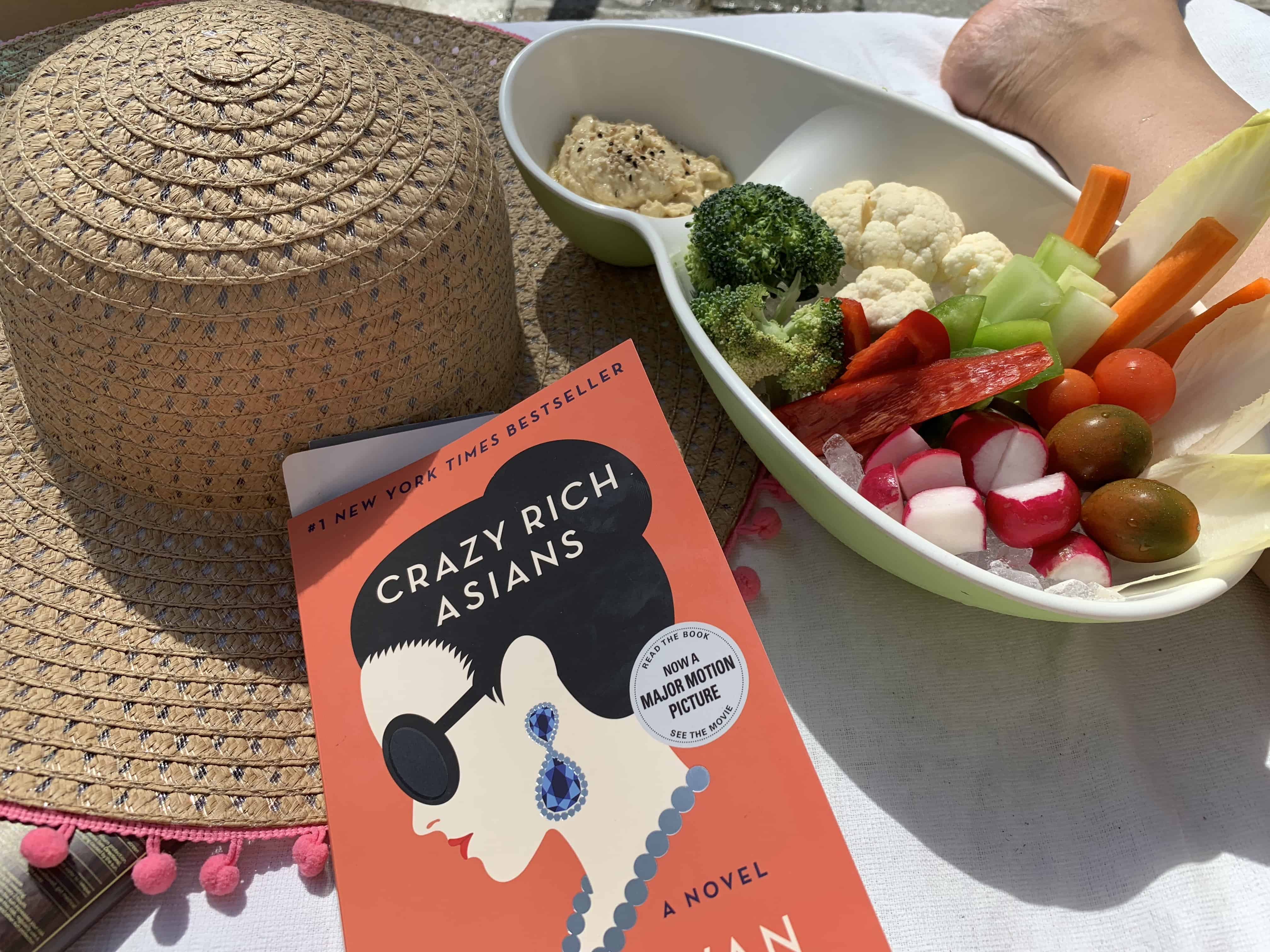 Here's to many more pool weather days…complete with veggies on ice!
This will keep for about a week in an airtight container in the refrigerator. Enjoy! xoxx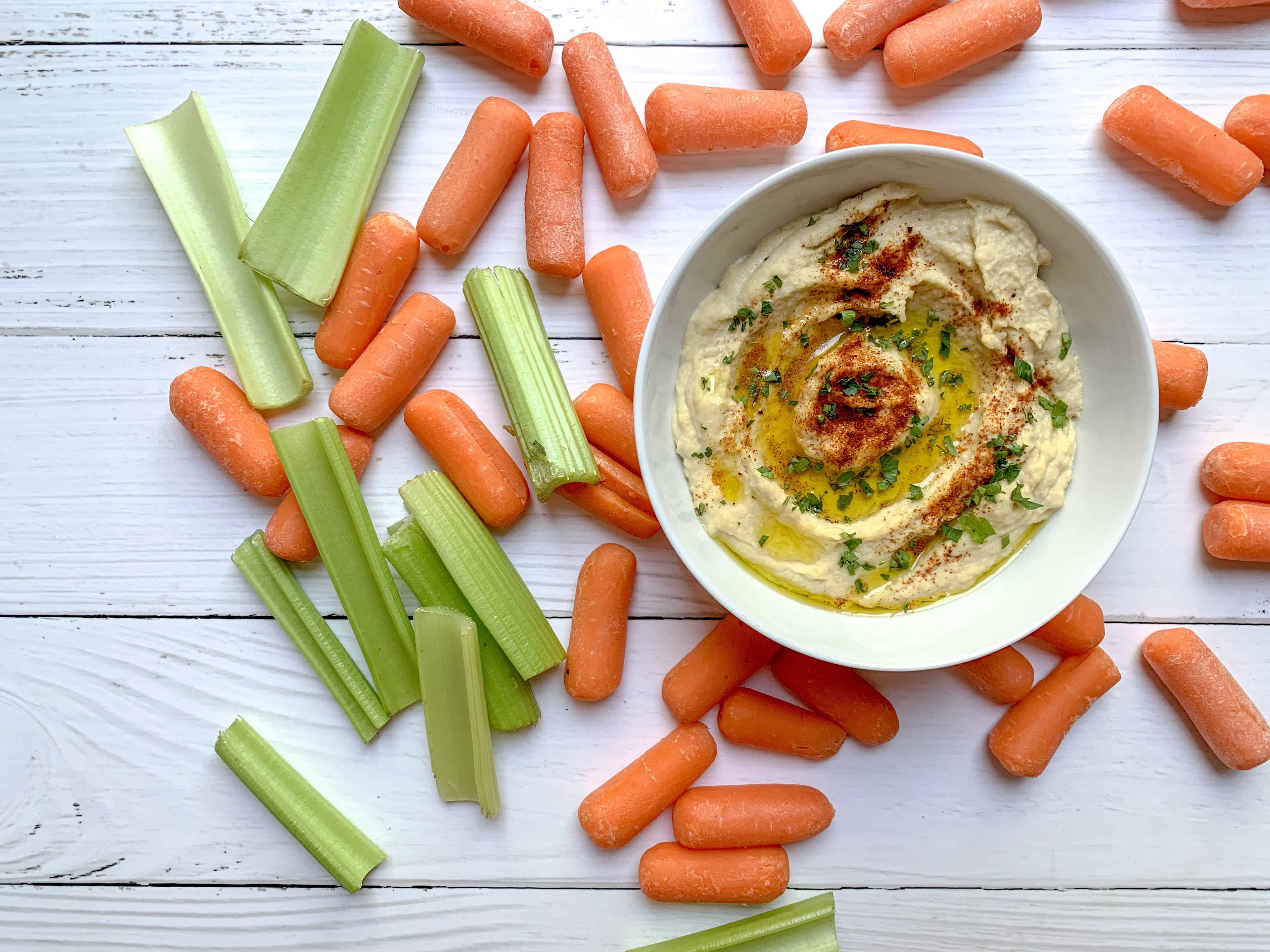 Homemade Hummus
This homemade hummus takes you only a few minutes and tastes just as good as the hummus from Moby Dick!
Print
Pin
Rate
Ingredients
1

15 oz can

chickpeas (aka garbanzo beans) — save the liquid!

2

cloves

garlic

roughly chopped

¼

cup

tahini

2

tablespoon

lemon juice

juice of 1 lemon

⅛

teaspoon

cayenne

¼

teaspoon

cumin

½

teaspoon

salt

¼

teaspoon

garlic powder

2

tablespoons

olive oil plus more for drizzling on the finished product

2

tablespoons

reserved chickpea liquid

1

tablespoon

freshly chopped parsley

optional

⅛

teaspoon

paprika

optional
Instructions
While draining chickpeas, reserve about ¼ cup of chickpea liquid. Spread rest of chickpeas out on a paper towel and dry them. Remove any chickpea shells that may be hiding.

Combine all ingredients except for olive oil in a food processor. Process on high until well mixed.

While processor is running, slowly add the olive oil and reserved chickpea liquid one teaspoon at a time until you reach your desired consistency. You want your hummus to hold its shape but not be chunky.

Serve with extra olive oil, paprika, and whatever other accoutrements you prefer!
Notes
Serve with: Pita chips, pita bread, pretzels, carrots, celery, cucumber, red bell pepper, you name it! 
Storage information: This should be stored in an airtight container in the refrigerator.  It'll stay fresh for 4-6 days.