Hey, stew!  You're such a good companion on a Sunday, when the Sunday scaries set in (you know, the moment it starts getting dark and you realize you have to go to work the next day...those scaries).  This is not a weeknight dinner for us by any means because it requires you to do a decent amount of chopping and takes awhile to cook, but it's a fabulous thing to make on a Sunday night so you can eat it that night...and the next night...and the next night.  Seriously though, this is my new favorite way to meal plan.  I make two meals/week that I know will yield leftovers.  We had the beef stew on Election Day, and it was life-saving to not have to cook dinner that night.  I would argue that it gets even better the next day and the next as the flavors set in.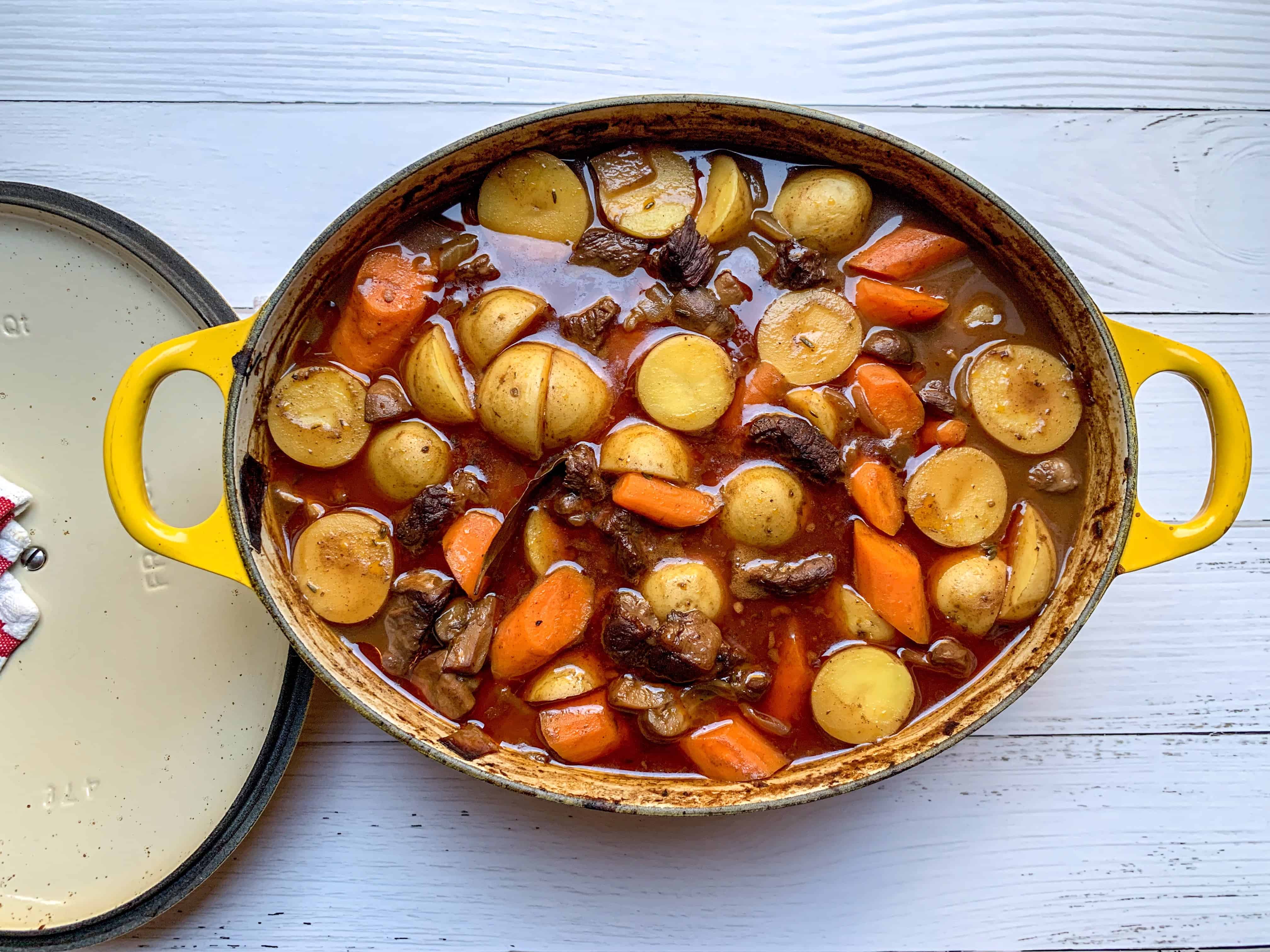 Whatever you do, don't skip the browning of the meat first!  This is really a must to ensure you don't have soggy meat in the end.  I'd also buy a big hunk of beef chuck from the counter at your local grocery store.  Usually when you buy the pre-packaged, pre-cut beef, it's the toughest cuts and the pieces are so small.  I bought 3 pounds of boneless beef chuck, and it was great to have exactly the kind of pieces I wanted that was nice and marbely.
Plus, for night #2 and night #3 you can always mix the meal up by adding some mashed potatoes (or cauliflower mash), egg noodles, etc. to make you feel like you're eating another meal (If you like carbs with your beef stew, you can always take out the potatoes so you don't get carb overload).  Sometimes I need to trick my brain like this to get excited for leftovers.
What are you cooking this weekend?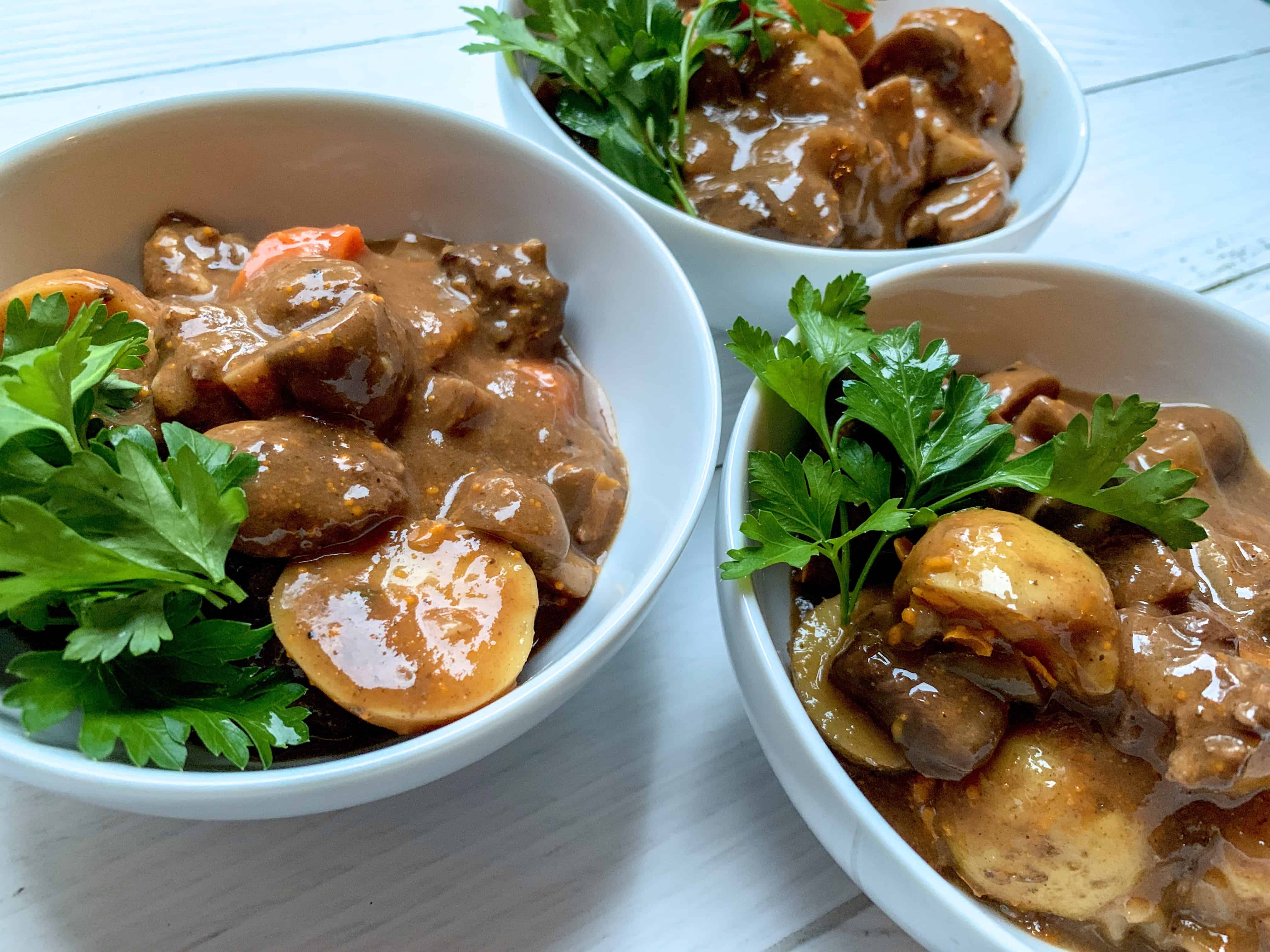 Serves: 6
Active Time: 30 minutes
Total Time: 3 hours 30 minutes
Ingredients:
3 pounds

 

boneless beef chuck (well-marbled), cut into 1-½-inch pieces

2 teaspoons

 

salt

1 teaspoon

 

freshly ground black pepper

3 tablespoons

 

olive oil

2

 

medium yellow onions, cut into 1-inch chunks

1 package mushrooms, quartered

7

 

cloves garlic, peeled and smashed

2 tablespoons

 

balsamic vinegar

2 tablespoons

 

tomato paste

¼ cup

 

all-purpose flour

2 cups

 

dry red wine

2 cups

 

beef broth

1 cups

 

water

2

 

bay leaves

1 teaspoon fresh thyme

4

 

large carrots, peeled and cut into one-inch chunks on a diagonal

1 pound

 

baby yukon potatoes, cut in half

Fresh chopped parsley, for serving (optional)
Directions:
Preheat the oven to 325°F and set a rack in the lower middle position.
Pat the beef dry and season with the salt and pepper. In a large Dutch oven or heavy soup pot, heat 1 tablespoon of the olive oil over medium-high heat until hot and shimmering. Brown the meat in 3 batches, turning with tongs, for about 5 minutes per batch; add one tablespoon more oil for each batch. (To sear the meat properly, do not crowd the pan and let the meat develop a nice brown crust before turning with tongs.) Transfer the meat to a large plate and set aside.
Add the onions, garlic and balsamic vinegar; cook, stirring with a wooden spoon and scraping the brown bits from bottom of the pan, for about 5 minutes.  Take the onions out and put them on a small plate.  Add the mushrooms to the pan and cook for about 6-8 minutes Add the tomato paste and cook for a minute more. Add the beef with its juices back to the pan and sprinkle with the flour. Stir with wooden spoon until the flour is dissolved, 1 to 2 minutes. Add the wine, beef broth, water, bay leaf, thyme, and sugar. Stir with a wooden spoon to loosen any brown bits from the bottom of the pan and bring to a boil. Cover the pot with a lid, transfer to the preheated oven, and braise for 2 hours.
Remove the pot from the oven and add the carrots and potatoes. Cover and place back in oven for about an hour more, or until the vegetables are cooked, the broth is thickened, and the meat is tender. Taste and adjust seasoning if necessary. Serve the stew warm -- or let it come to room temperature and then store in the refrigerator overnight or until ready to serve. This stew improves in flavor if made at least 1 day ahead. Reheat, covered, over medium heat or in a 350°F oven. Garnish with fresh parsley, if desired.
Freezer-Friendly Instructions: The stew can be frozen for up to 3 months. Before serving, defrost it in the refrigerator for 24 hours and then reheat on the stovetop over medium-low heat until hot.
This recipe was adapted from Once Upon a Chef's beef stew recipe.
As always, if you make anything from the blog, be sure to comment below or tag me on Instagram @wornslapout