This crunchy pecan crusted halibut is a flavorful and crazy easy weeknight dinner to add to your rotation! Healthy dinner in 20 minutes!
I feel like I've been rung out and left to dry this week -- and the kind of drying where you're still all twisted from the ringing and become all brittle and hard and mangled. That kind. Between working my actual job where there's ZERO mercy on those of us with family responsibilities and trying to make sure the kids are doing some semblance of learning every now and then, it's been a difficult first week of school.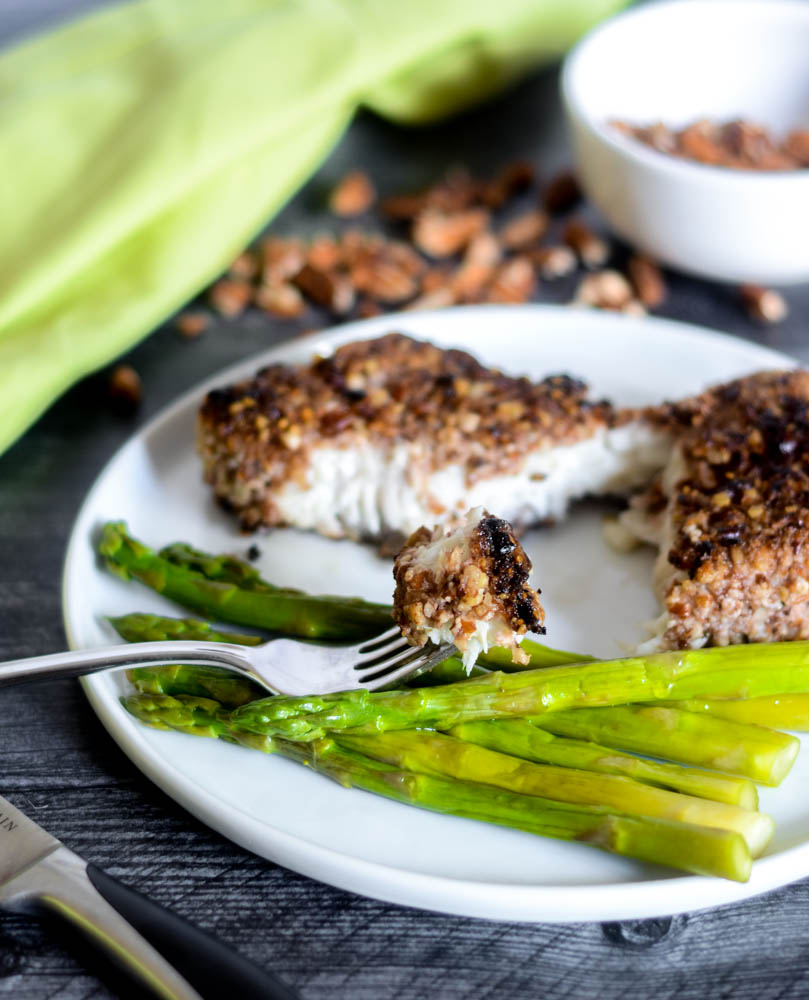 6 hours of Zoom instruction doesn't exactly work with a 1st grader, and the hour and a half that he's occupied in his live class, there's parent support needed 100% of the time to remind him to stay focused, turn to the right page, messing with his sister, etc.
Cooking has honestly been the last thing on my mind, but people in this house still demand three meals a day, so there's no rest for the weary. Fish has been a good reprieve. Although I'm obviously preparing dinner still, 20 minutes and zero chopping required is just fine in my book.
Say hello to your new weeknight dinner crush: Pecan Crusted Halibut!
Here's What You Need
You probably have most of these ingredients already:
olive oil
halibut
all-purpose flour
salt
black pepper
onion powder
garlic powder
eggs
raw pecan pieces
freshly grated Parmesan cheese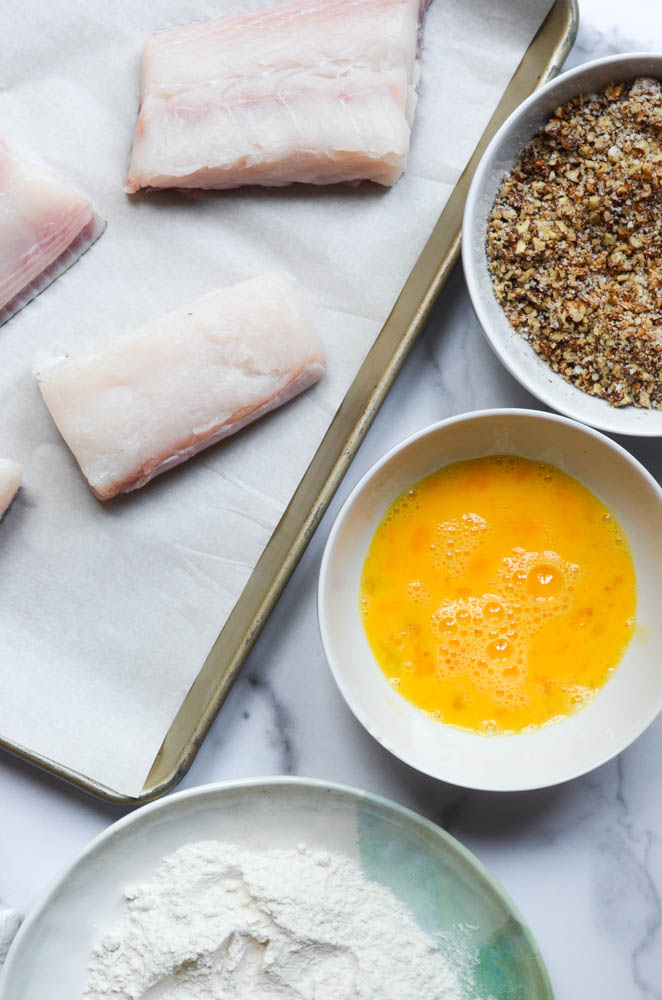 Use Your Favorite White Flaky (But Firm) Fish
Why white and flaky? Because those are usually the most mild of fish -- which work well when adding in flavors (in this case garlic, onions, and pecans). I also add "firm" in there because you want a fish sturdy enough to hold your pecan crust. Halibut fits the bill really well although it is a bit more expensive.
Wild Alaskan pollock, grouper, cod, catfish, and grouper would also do. (Check out this handy dandy fish guide when thinking about what fish would go best for what recipes.)
Just be careful because cook times will change depending on the thickness of your fillets. The halibut at Whole Foods is typically about ¾" thick, so if you're going with a significantly thinner fish, cook your fish for less time.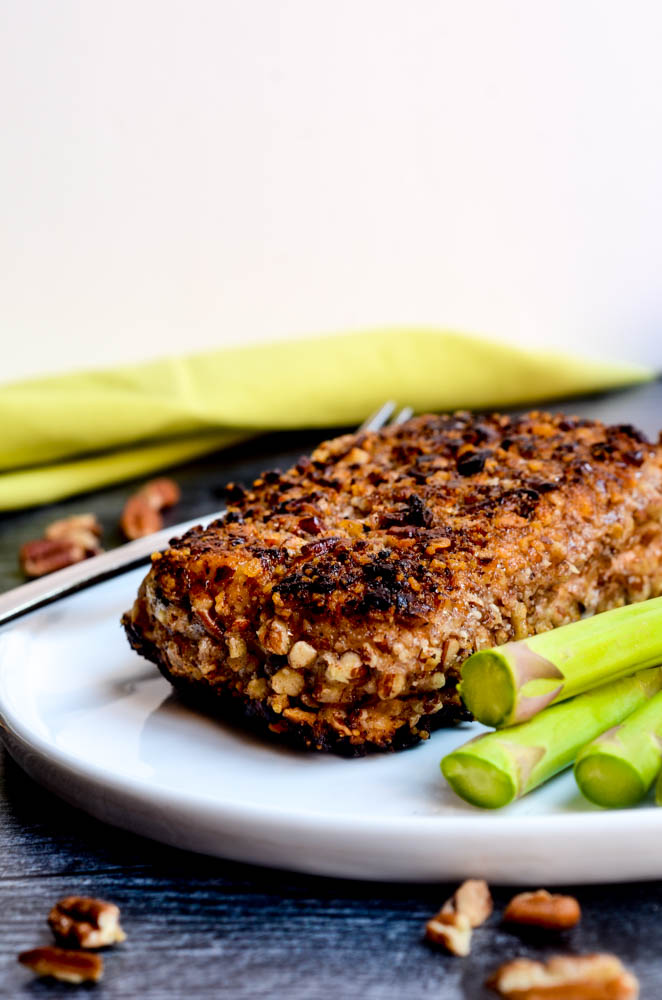 The Secret to a Good Pecan Coating
Use a food processor to get your chopped pecans into a fine texture -- not as thin as sand but not as small as little pebbles. Somewhere between there is the perfect size of pecans. I have tried this with larger pecans when I was being super lazy and it's hard to get larger pecans to stay on the fish, so word from the wise: take that extra 1 minute to throw the pecans in the food processor.
How to Make Pecan Crusted Halibut
Prep Your Ingredients
Pat your fillets dry with a paper towel. Add just a tiny bit of olive oil to each and set those aside. Process the pecans ever so slightly until they're smaller than pebbles but larger than sand. This usually takes me pulsing them for about 5 seconds.
Dredge, Baby, Dredge
Dredge fish in flour mixture first, then egg, then pecan mixture. Be sure to shake off any excess flour and egg before the fillet goes into the pecan mixture. Then really use your hands to press pecans all around the fish.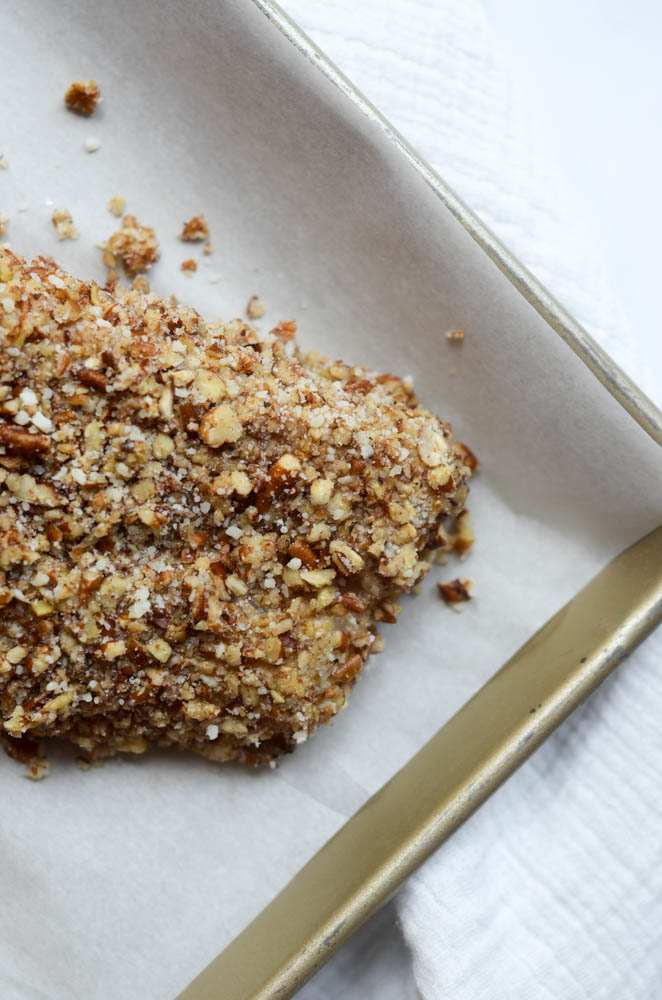 Pan Fry
Pan fry two (3 max) fillets at a time to avoid overcrowding your pan (which will ensure your fish browns). Fry each side of the fish for approximately 4 minutes until cooked through. You'll want to watch and make sure your heat isn't too high that it burns your pecans.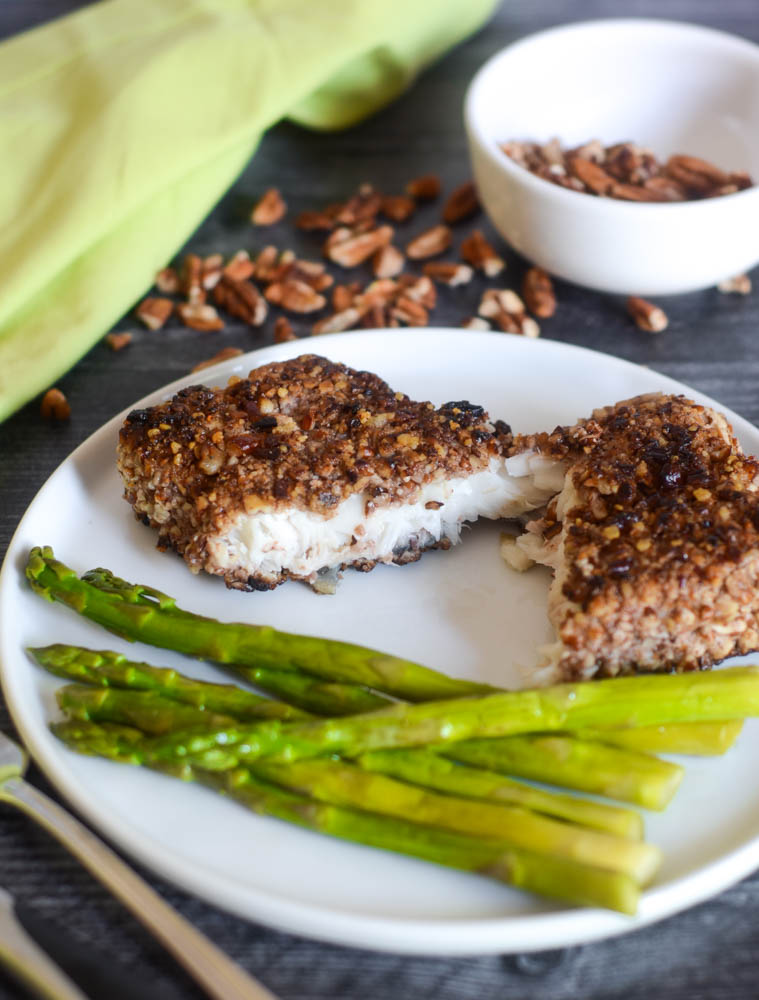 What Can I Serve with Pecan Crusted Halibut?
Because this fish isn't baked, the oven is not in use. I typically throw in some asparagus with olive oil, salt, and pepper and roast at 400 for about 7-8 minutes. So simple and delicious.
These Roasted Purple Cauliflower Steaks are out of this world -- and even though the chimichurri sauce isn't exactly a great pairing here, just leave it out and roast your purple cauliflower with olive oil, salt, and pepper.
Maybe keep your oven off entirely and try this Copycat Chick-fil-A Cole Slaw recipe (remember when it was on their menu back in the day?).
Happy fishing!
xox,
kathryn
As always, if you make anything from the blog, be sure to let me know! I love hearing from you in the comments on this post below or find Worn Slap Out on Facebook, Instagram, or Pinterest!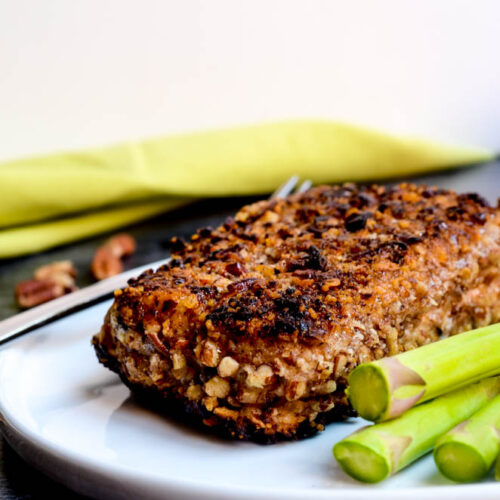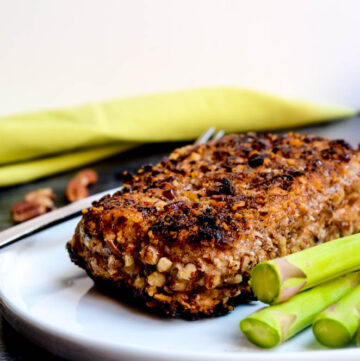 Pecan Crusted Halibut
A flavorful white, flaky fish covered in crunchy pecans then pan seared to perfection, this pecan crusted halibut is right up your weeknight dinner alley.
Print
Pin
Rate
Ingredients
5

individual portions of halibut

5

tablespoons

olive oil, divided

¾

cup

all-purpose flour

1

teaspoon

salt

divided

½

teaspoon

black pepper

divided

½

teaspoon

onion powder

½

teaspoon

garlic powder

2

large eggs

1

cup

raw pecan pieces

⅓

cup

freshly grated Parmesan cheese
Instructions
Pat halibut fillets dry with paper towel. Thinly coat top of fillets with 1 Tablespoon of olive oil. Set aside. Process pecans through a food processor until they're somewhere between sand and small pebbles in size.

Combine flour, onion powder, garlic powder, salt, and pepper in a shallow bowl. Whisk eggs in another shallow bowl. Combine processed pecans and freshly grated parmesan in a third shallow bowl.

Dredge each fillet first in flour mixture, shaking off excess. Then dip in egg to coat, then place fillet in pecan mixture, pressing pecans onto both sides of the fish and on the sides. Don't be shy about getting pecans to stick all over by using your fingers.

Heat 4 Tablespoons of olive oil over medium heat. When pan is hot, add fillets two at a time. Cook on one side for about 4 minutes (watch that your pecans don't burn), then flip and cook other side for 4 minutes until fish is cooked through. Serve immediately!