Sourdough takes your normally-delicious French toast to a whole different level. This easy Sourdough French Toast comes out golden brown and ready on your table in minutes!
I can't believe the holiday season is upon us. It seemed like 2021 didn't even happen. So much happened and didn't happen all at the same time...it went by like a junky town you drive right through. It has been busy and much more "normal" than 2020, but I also think my standards for what's considered "normal" has also changed. 2021 has taught me to push reset on some of the craziness of this "normal" life. Instead of driving all around town for kids' activities or running myself ragged runnng a million errands after work but before picking up the kids, I want life to be more chill. I want to enjoy and embrace a life less busy.
Sometimes that starts with a favorite breakfast with my family on the weekends. Because not every minute of our lives is planned out now (because if the last 18 months taught us anything, it's don't make too many plans!), there's more time to enjoy the calm.
French toast is one of my favorite childhood breakfasts -- with a generous portion of maple syrup, of course. This French toast is your classic, except let's take it up a notch and use some seriously good quality sourdough.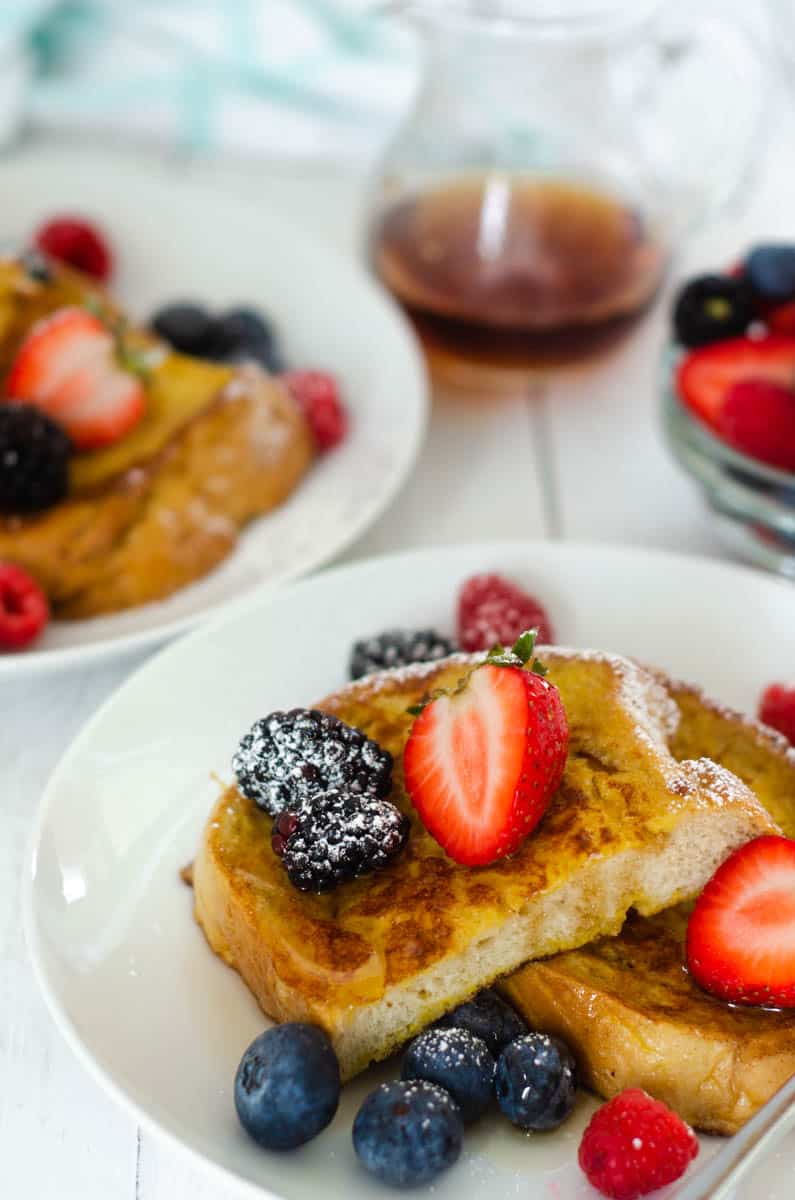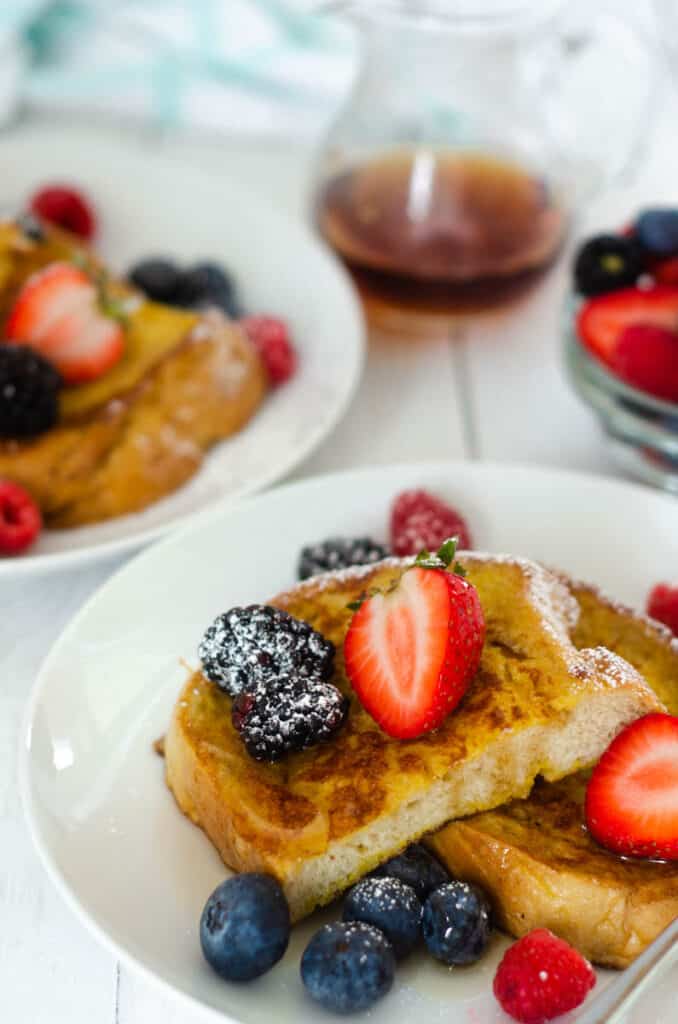 What Breads Make the Best French Toast?
Good French toast is solely dependent on the bread IMHO. If you have good bread, it'll make good French toast (think challah, brioche, sourdough). There's a reason you don't see Nature's Own Honey Wheat bread on brunch menus (our family favorite otherwise).
I love sourdough French toast in particular because the distinct tang comes through even when fried in copious amounts of butter. It adds much more interest to the otherwise delicious French toast. The tang also is balanced out by the sweetness of the maple syrup. There's no additional sugar in the egg mixture.
Sourdough: Fresh, Gently Used, or Stale?
A better term than "gently used" French bread exists in this world, but I cannot think of anything to save my life. Stale doesn't quite work because I'm only talking about maybe one or two days old.
I'm a firm believer as-close-to-fresh sourdough bread is best and here's why. Fresh(ish) sourdough soaks up the egg mixture really well compared to slightly stale sourdough. The crustiness that forms makes a bit of a wall that's not as penetrable, and you really want the bread to soak up that good egg mixture. One or two day old sourdough works really well. Anything past that doesn't get that custardy deliciousness that makes French toast....French toast.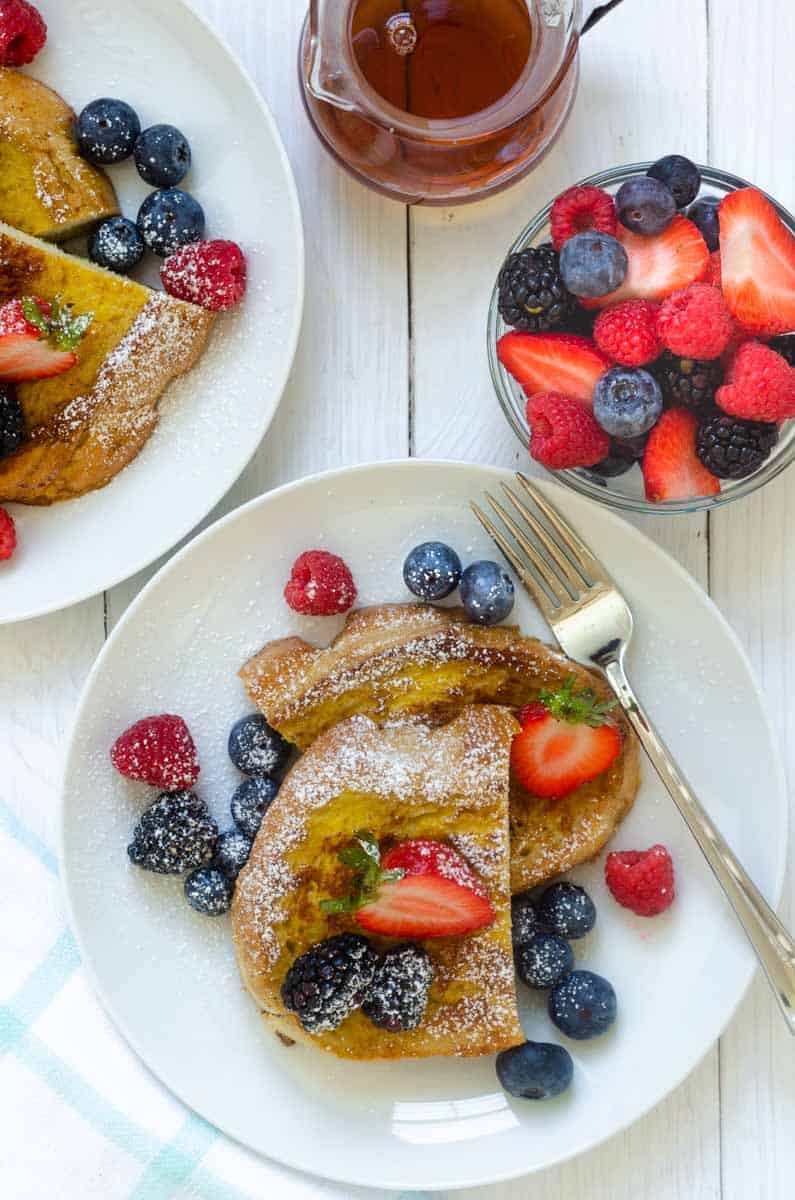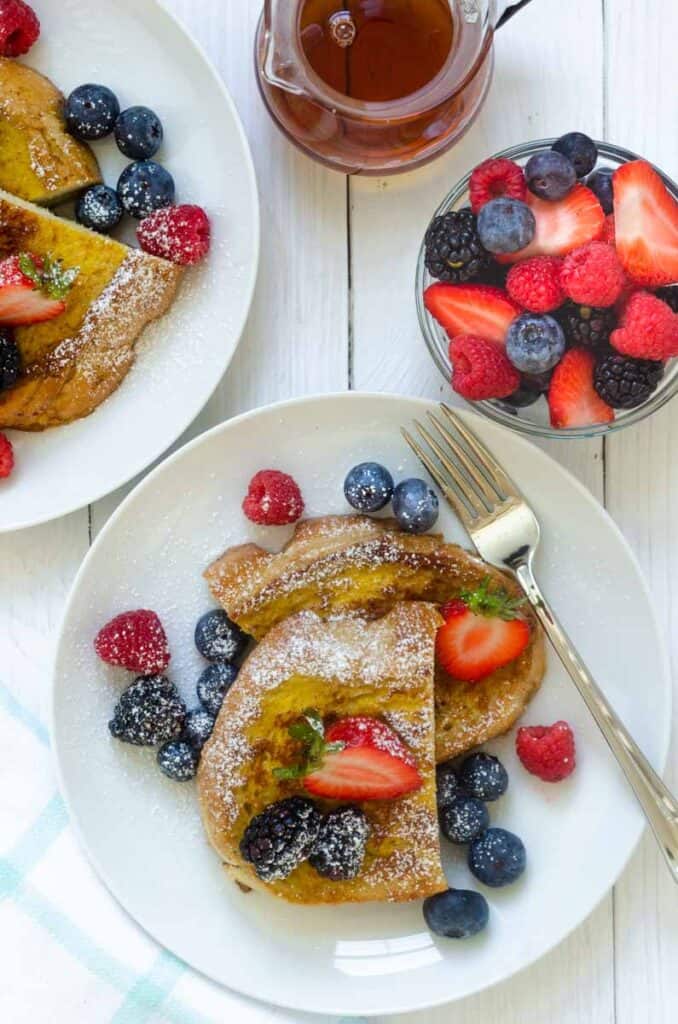 How to Make Sourdough French Toast
First, whisk your eggs, milk, cinnamon, nutmeg, and vanilla extract together in a small bowl. Pour into a shallow bowl or plate. I like to use a pie plate because it's got a high-enough rim to not make a mess.
Second, heat up the butter in a non-stick or cast iron skillet over medium heat. Dip your pieces of sourdough into the egg mixture until all sides are well coated. Immediately place the dipped sourdough slices onto your hot frying pan.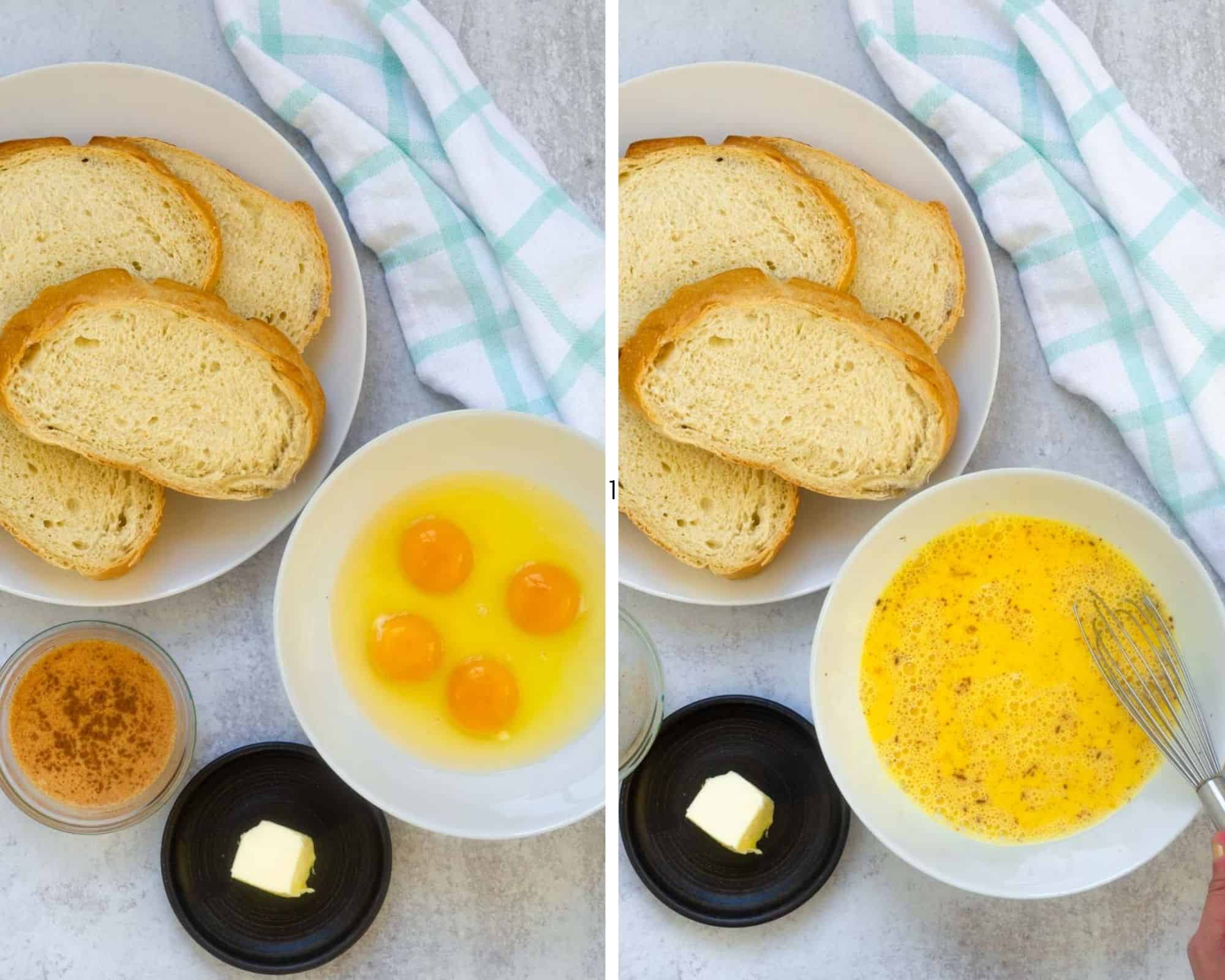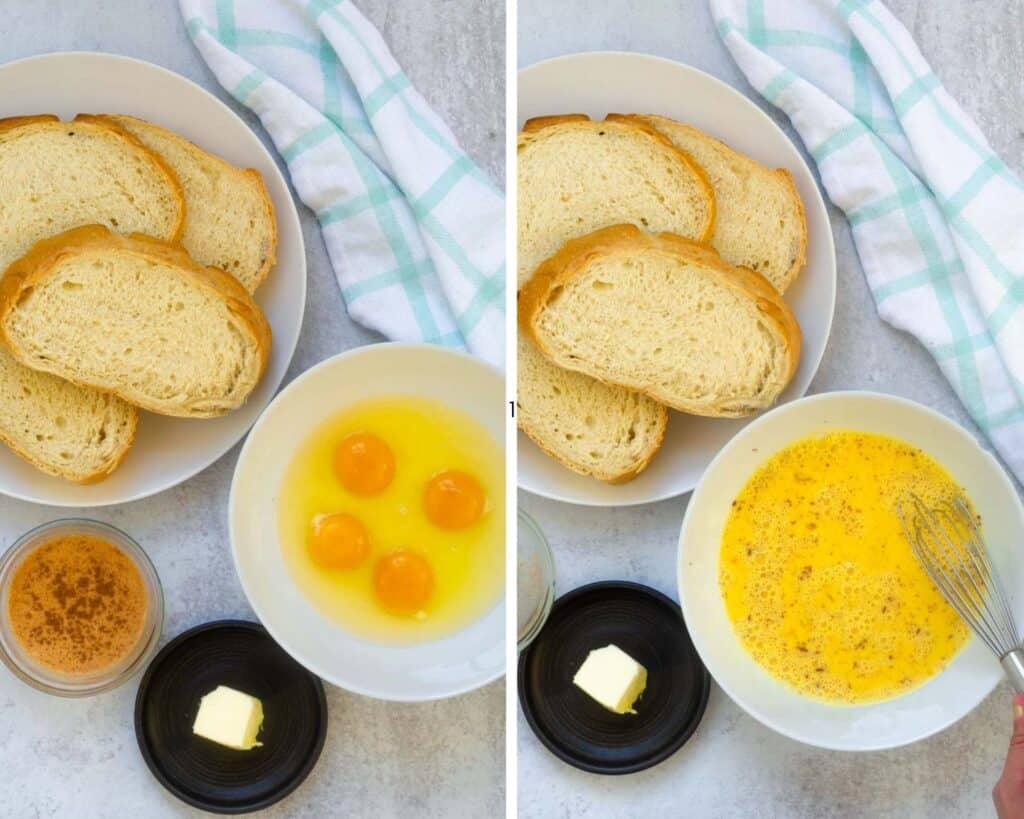 Finally, fry the sourdough until golden brown. Flip and fry the other side until just golden brown. Transfer to a plate and serve immediately with your favorite fixins.
Tips for Success
Don't be scared of the butter. You'll want to use about a tablespoon each time you make a new batch of French toast. It's the key to getting the sourdough bread that beautiful golden brown color.
Dip sourdough then fry in batches. If you let your French toast sit in the egg mixture for too long it'll actually soak up too much of the egg mixture and will be soggy. Dip and fry what you can fit in the pan and then repeat the process for the next batch.
Fry the French toast on medium heat and don't put the bread in the pan until your pan is hot.
Serve immediately. No one likes soggy French toast. If you must serve everyone at the same time, heat your oven to 250˚˚F to keep your French toast warm before serving.
Storing Sourdough French Toast
When we spend time on the weekends making nice breakfasts (i.e., anything where the stove is a required component), we always double the recipe and freeze the leftovers so we have waffles, french toast, and pancakes to eat during the work week.
Store cooled french toast in a freezer-safe bag, sucking out as much air as possible. To reheat, heat in the oven at 375˚F for 10 minutes or simply stick in the toaster until warm (my preferred method). Just be careful because if you cut your sourdough too thick, your toaster will not allow it!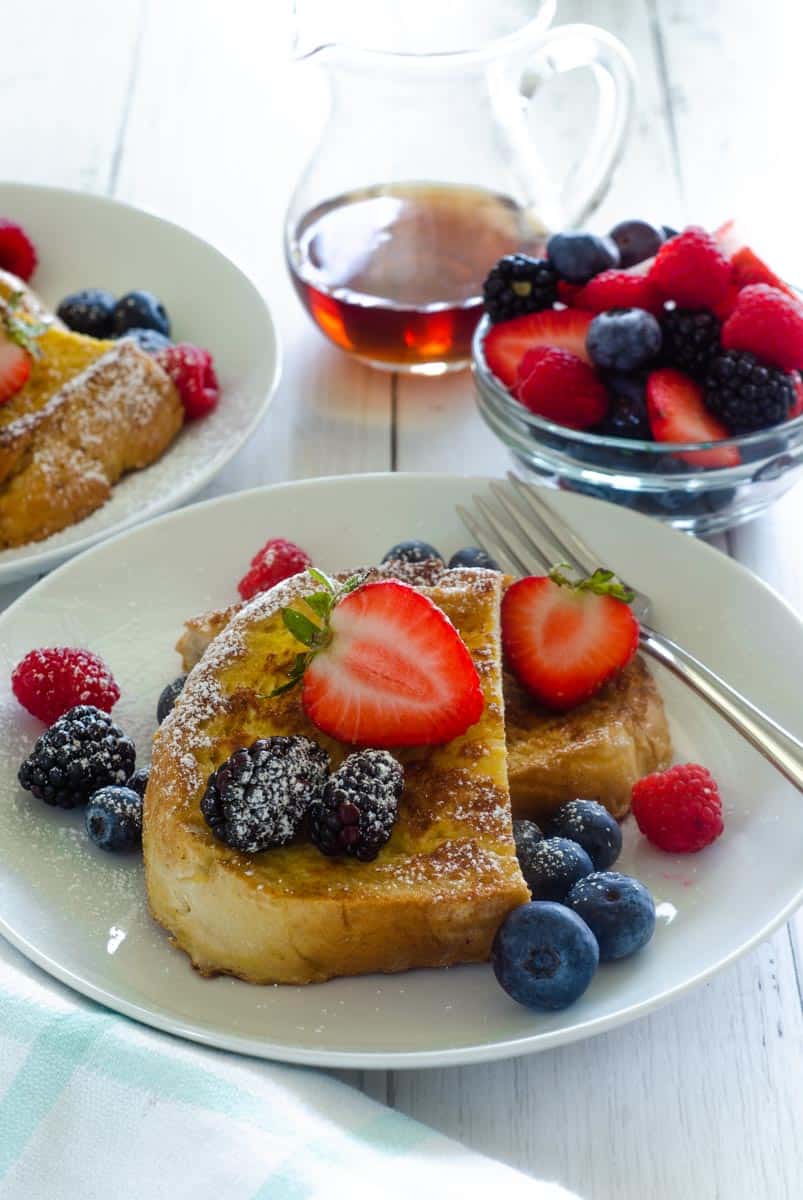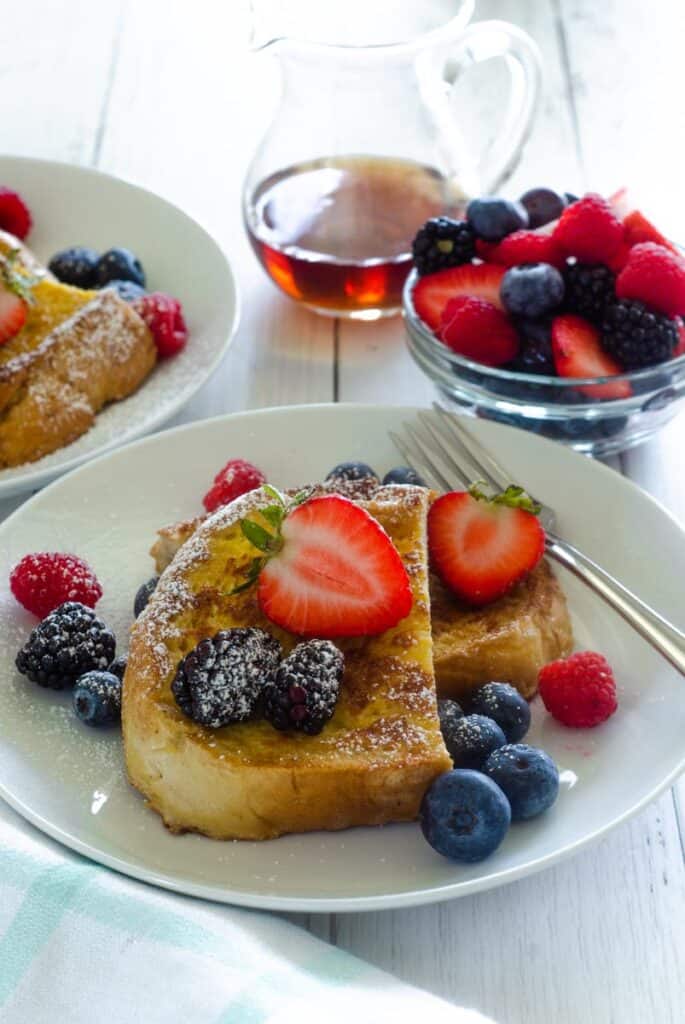 Try These Breakfast Favorites
Here are some of my other all-time favorite breakfast recipes if you're stuck in a breakfast rut. (Trust me -- we're all there at some point)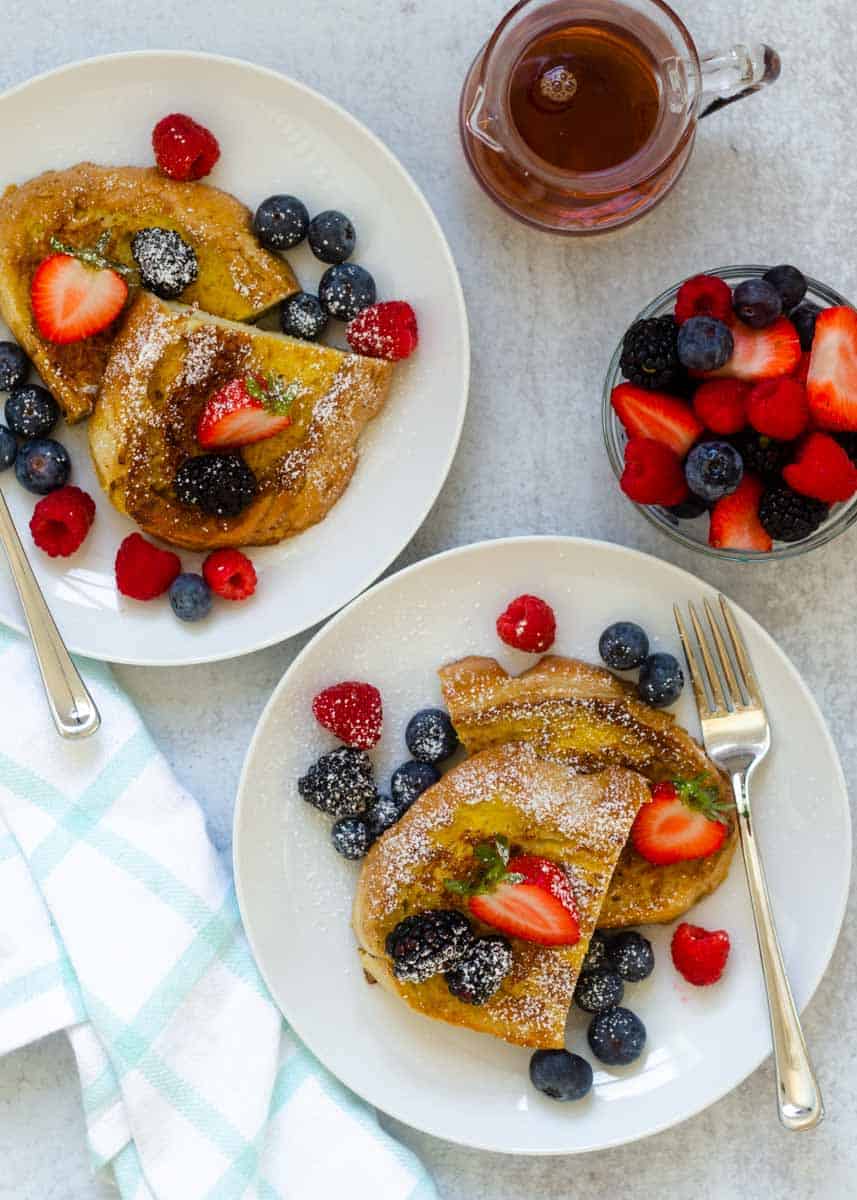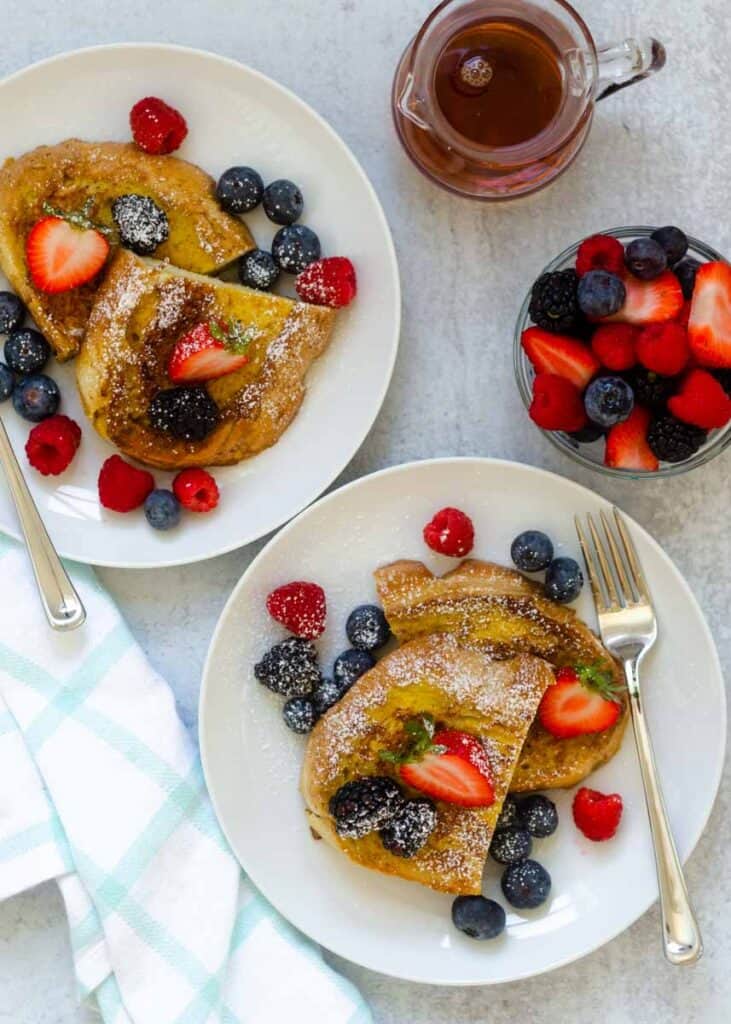 Wishing you happy breakfast memories!
xox,
kathryn
As always, if you make anything from the blog, be sure to let me know! I love hearing from you in the comments on this post below or find Worn Slap Out on Facebook, Instagram, or Pinterest!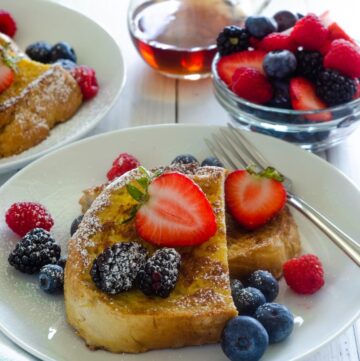 Easy Sourdough French Toast
Sourdough takes your normally-delicious French toast to a whole different level. This easy Sourdough French Toast recipe is simple and ready on your table in minutes!
Print
Pin
Rate
Ingredients
1

loaf

sourdough bread, cut into 6" slices 1" thick

4

eggs

¼

cup

milk (any kind)

1

teaspoon

ground cinnamon

¼

teaspoon

ground nutmeg

½

teaspoon

vanilla extract

4

Tablespoons

unsalted butter
Instructions
In a small bowl, whisk together eggs, milk, cinnamon, nutmeg, and vanilla extract. Pour egg mixture into pie plate or other shallow bowl or plate. Set aside.

In a cast iron or non-stick skillet, melt butter over medium heat. Working with only one batch you can place in your skillet at one time, dip your sourdough bread thoroughly in the egg mixture.

Fry until golden brown. Flip and cook until golden brown on the other side. Continue dipping and cooking the rest of the bread. Serve warm with maple syrup and your other favorite toppings.
Notes
Notes: 
French toast is best eaten as soon as it comes out of the frying pan. If you want to serve everyone at once, place French toast on a sheet pan and stick in a 250˚F oven to keep warm.