Every bite of this Rustic Whole Wheat Strawberry Galette is filled with hearty, buttery pastry, jammy strawberries, and fresh lemon.
Strawberries: A fall crop?!
Have you tried strawberries lately? They taste like they were picked at the beginning of summer. How is this possible?!
Strawberries have really become somewhat of a season-less fruit thanks to technological advances.. Even though strawberries have been grown at the commercial level since the 1800s, they were marketed and sold locally. Then advances in refrigeration, packaging, and transportation happened. Strawberries were then able to be shipped across the country (originating mostly from coastal California). Now there are strawberry varieties that can be harvested for 5 month spans, so the answer is No, you are not crazy. Strawberries are still delicious this time of year, even moving into fall.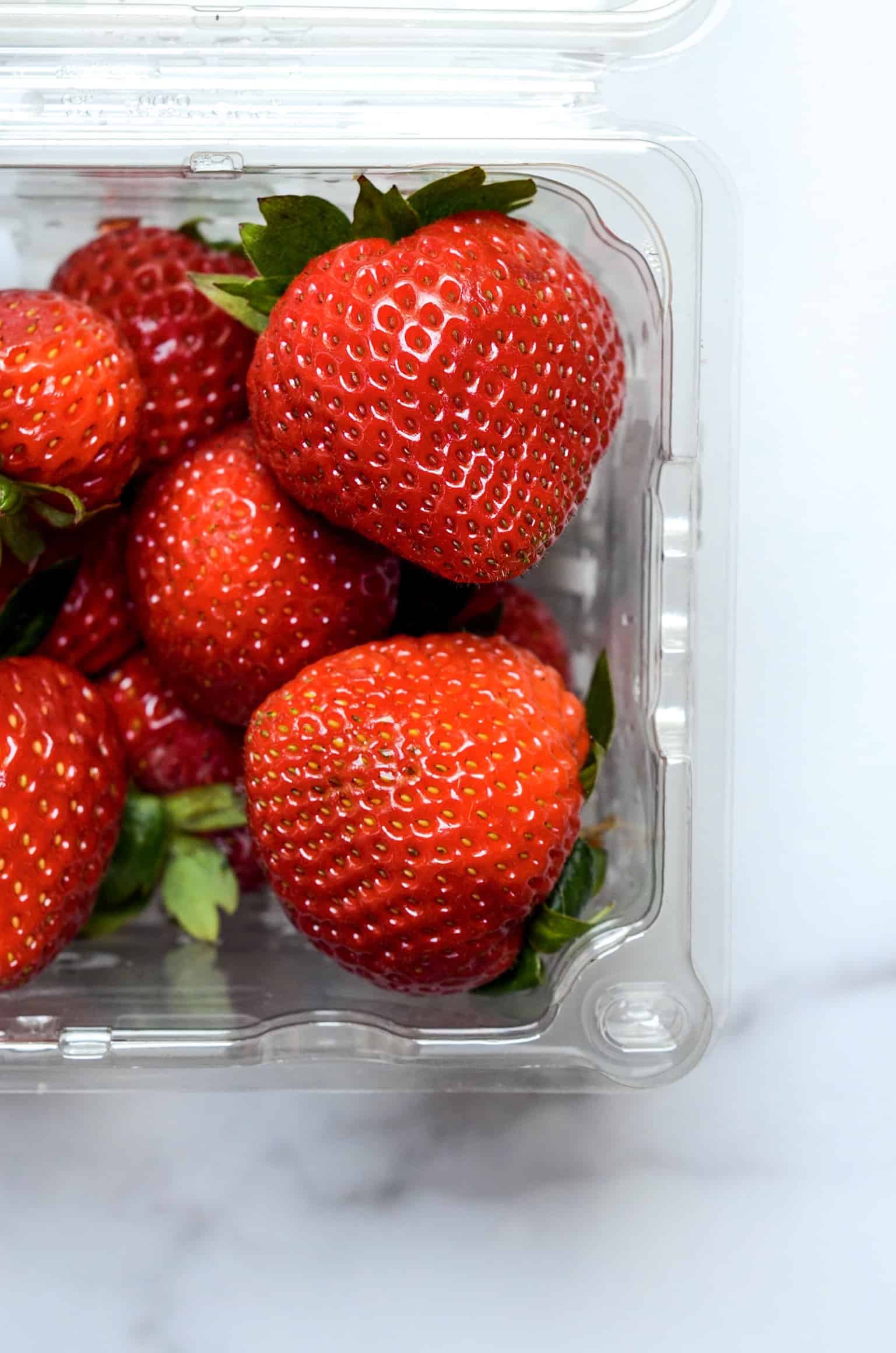 Let's enjoy the last of the strawberries with this simple strawberry galette.
Galette vs. Pie: Which one to choose?
It's no secret how much I love galettes because they are easy to make with the help of a food processor, and they don't need to have polished edges to look pretty (i.e., this sweet Perfect Peach Galette or the savory Tomato and Goat Cheese Galette). I make homemade pies maybe twice a year, usually around the holidays and in the summer with seasonal fruit, but they are time intensive. By the time you mold the crust around the edges, you have to stick the crust in the refrigerator to firm up again. If you love the taste of buttery, flaky crust (me!) and don't want this hassle, galettes are the perfect solution. Galettes only require you to roll out the pasty with a rolling pin, then you can put your filling in, fold them up, and bake. See those gnarly, rough edges of the galette? It's not ugly - it's rustic.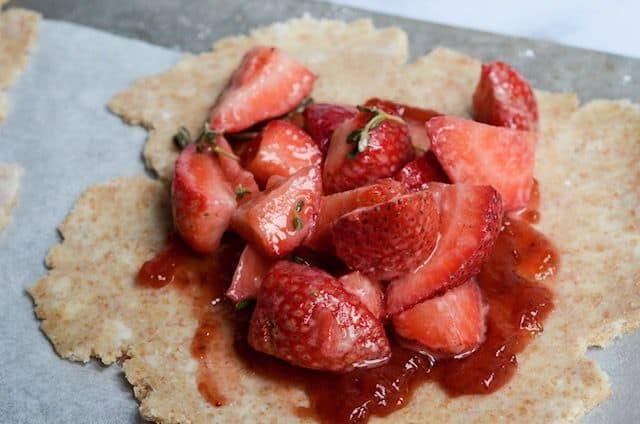 What is lemon thyme and why do I need it?
Lemon thyme is a variety of the herb we know and love and is actually a member of the mint family. Lemon thyme has a subtle herbal flavor you expect in thyme but with an added hint of lemon. It's really easy to grow and from the look of it, you'd think it was just regular thyme. If you rub some between your fingers, you'll immediately notice the lemon flavor. Lemon thyme is absolutely terrific with so many foods -- from seafood to desserts. Its versatility makes it one of my favorite herbs to cook with, and it's readily available in most every grocery store.
It's a particularly nice compliment to the acidity in strawberries. It gives the strawberries an earthier tone and the lemon freshens the filling.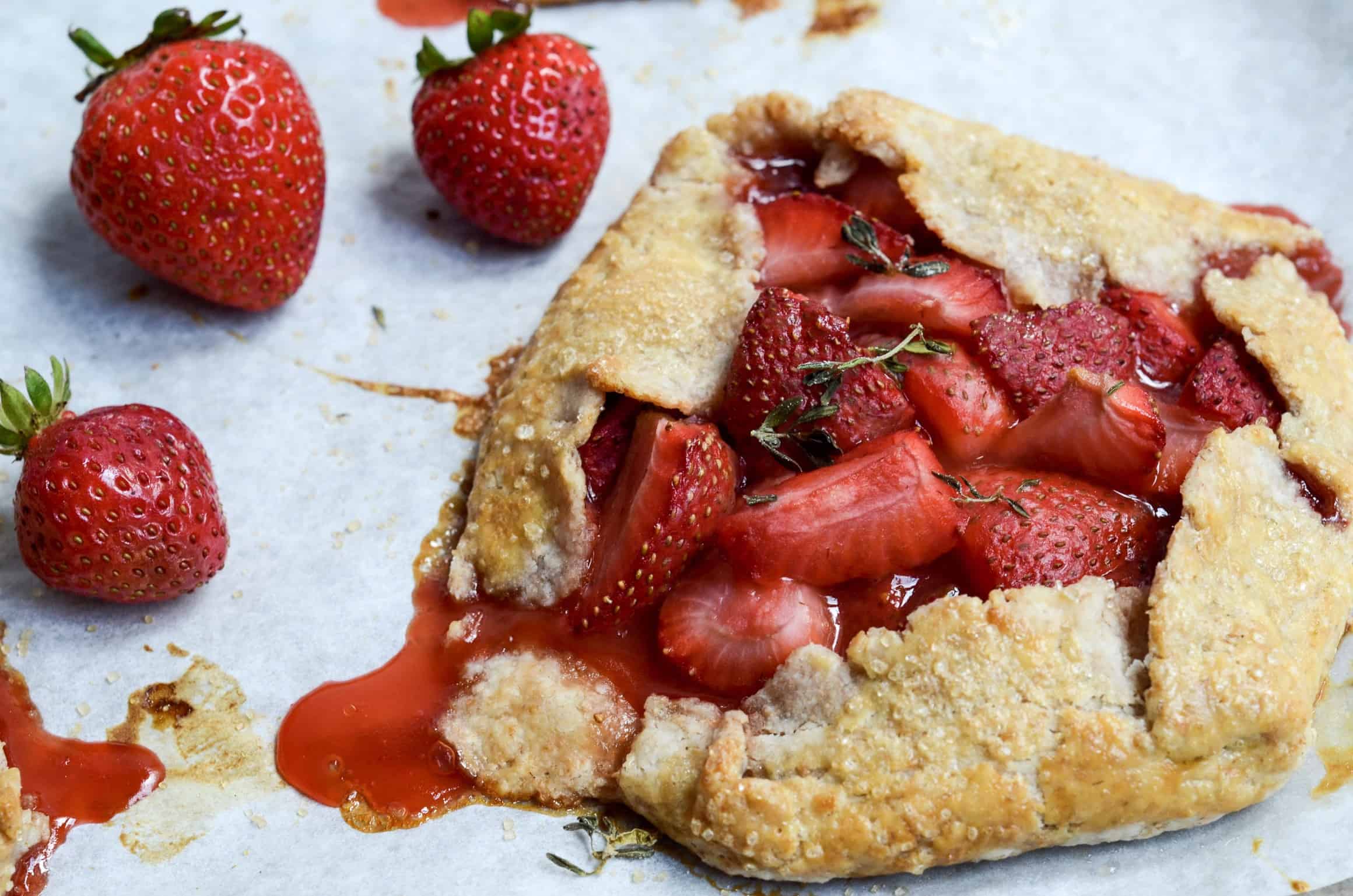 A solid jam is essential.
To get the jammy goodness that just oozes out of the galette (my favorite part!), you'll need a solid jam. You'll put a thin layer of jam on the dough before putting your strawberries on top. There are a few reasons I use Crofter's Organic Premium Strawberry Spread for this recipe:
Crofter's is certified organic and Non-GMO verified. I can feel good about giving this to my kids, especially knowing how many PBJs I make for them in any given week.
Crofter's is family-owned business, which is kind of impressive in today's corporate landscape. They have been family-owned for 30 years.
Crofter's jams use 33% less sugar than other jams/jellies/preserves. Crofter's has only 8g of sugar per serving compared with 12g from other brands. You know I like sweets, but I *really* don't like things overly sweet.
They care about where they source their fruit from. Crofter's cares to find varieties with the best color, flavor, and nutritional value. I dig it.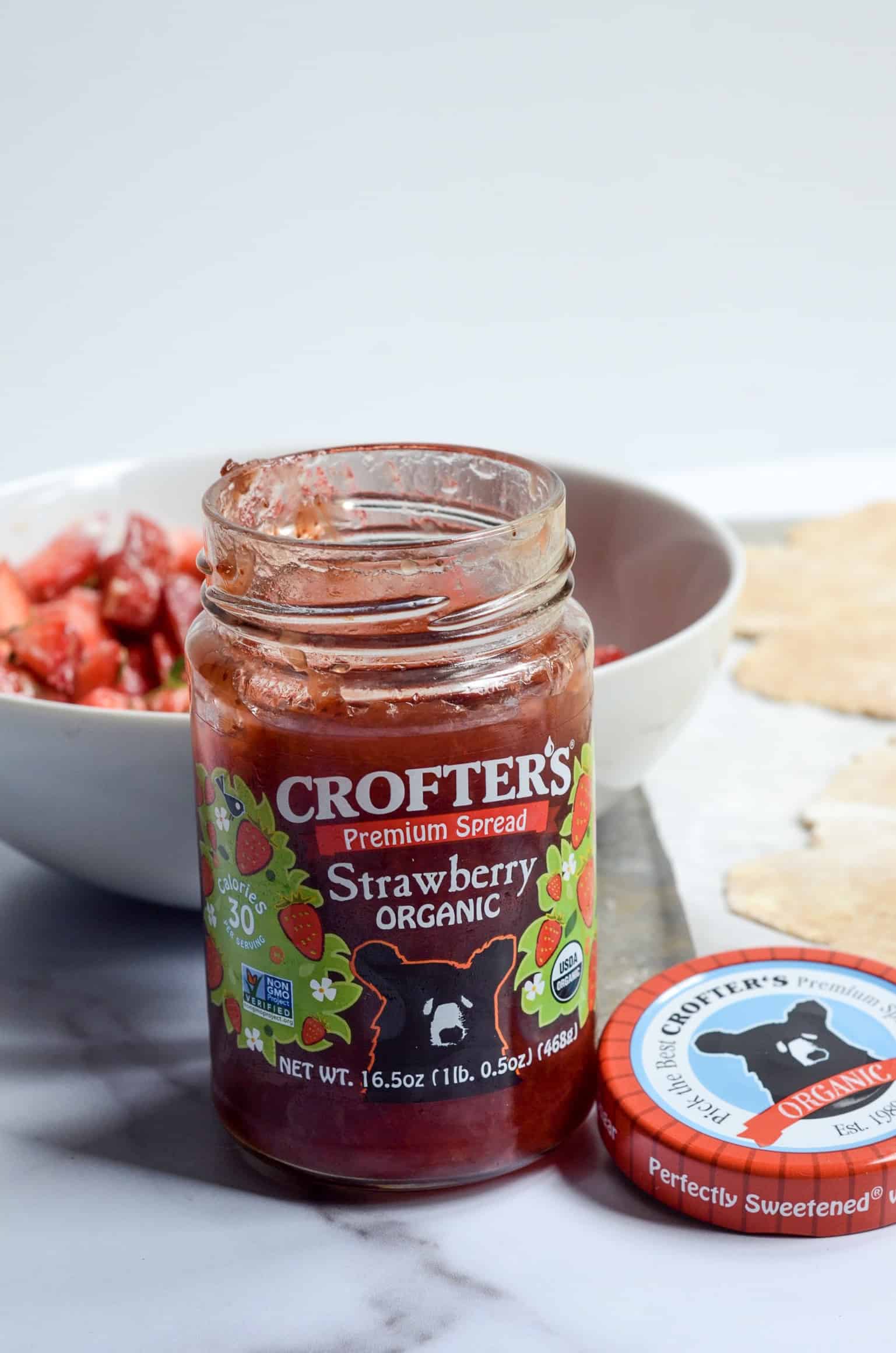 And for the finishing touch? Once the galettes come out of the oven, I like to serve mine with a scoop of coconut sorbet. It melts quickly, creating a gooey, sweet mix of all these delicious summertime flavors.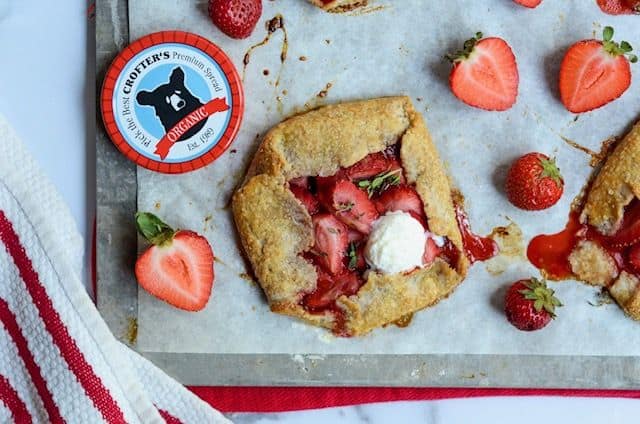 I hope you can enjoy the end-of-summer/beginning of fall strawberries, too!
xox
kathryn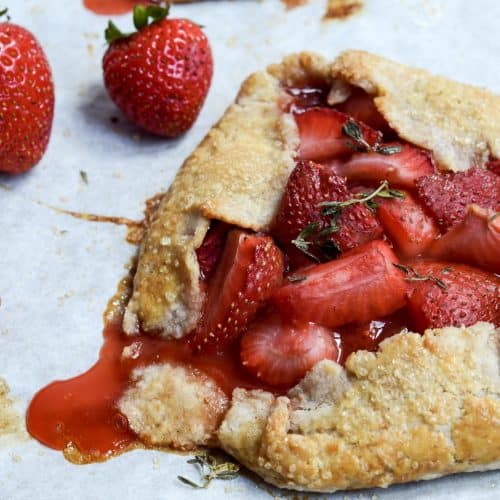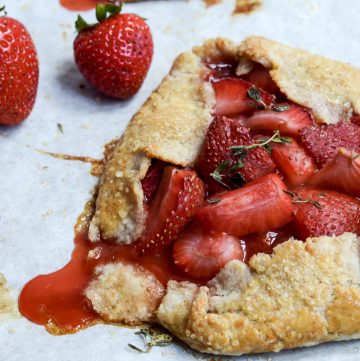 Rustic Whole Wheat Strawberry Galette
Every bite of this Rustic Whole Wheat Strawberry Galette is filled with hearty, buttery pastry, jammy strawberries, and fresh lemon.
Print
Pin
Rate
Ingredients
For the crust:
8

Tablespoons

unsalted butter, diced

¾

cups

whole wheat flour

½

cup

all-purpose flour

1

teaspoon

salt

¼

cup

ice water

1

egg, beaten

1

tablespoon

turbinado sugar (optional)
For the filling:
1

pound

strawberries, tops removed and quartered

½

cup

strawberry jam*

1

Tablespoon

honey

1

teaspoon

lemon thyme, plus more for garnishing

coconut sorbet (optional, for serving)
Instructions
Preheat oven to 375 degrees F. Line a baking sheet with parchment paper. Set aside.

In a food processor, pulse flours, salt, and butter together until dough has a sandy texture. Pulse in ice water tablespoon by tablespoon until dough comes together.

On a lightly floured surface, shape dough until it comes together in one solid square. Divide dough into 4 equal parts with a knife, wrap in plastic wrap and stick in the refrigerator to firm up for 30 minutes.**

In a small bowl, add strawberries, honey, and lemon thyme to a medium-sized bowl. Let these sit at room temperature until your dough is ready.

Roll each of the 4 discs into ⅛"-thick circles. The edges will be rough...that's okay. Place about 1-2 Tablespoons of jam in the center of each galette, keeping about ½" perimeter around the sides clean. Top with the strawberry mixture. Fold edges of crust over strawberries. Brush crust with beaten egg and sprinkle turbinado sugar over crust (if desired).

Bake for 20-25 minutes until crust is slightly browned and strawberries are bubbling. Take out of the oven, add more lemon thyme (optional) and let them cool off before eating.
Notes
*I use Crofter's Organic Premium Strawberry Spread  
**If you're in a hurry, you can definitely skip refrigerating the dough.  Refrigerating it will just make it easier to roll out and work with.