John and I recently went to Los Angeles to visit my brother, Rachel, and their newborn Sharizze. We got a lot of baby time in and tried to whisk her away for the better part of two days so they could do whatever they wanted (they chose to go on dates and do lawn work together…what?! I would have opted for sleep!). Anyway, there are so many things to love about Cali. While it was 80 degrees and sunny there, it was 40 degrees back home!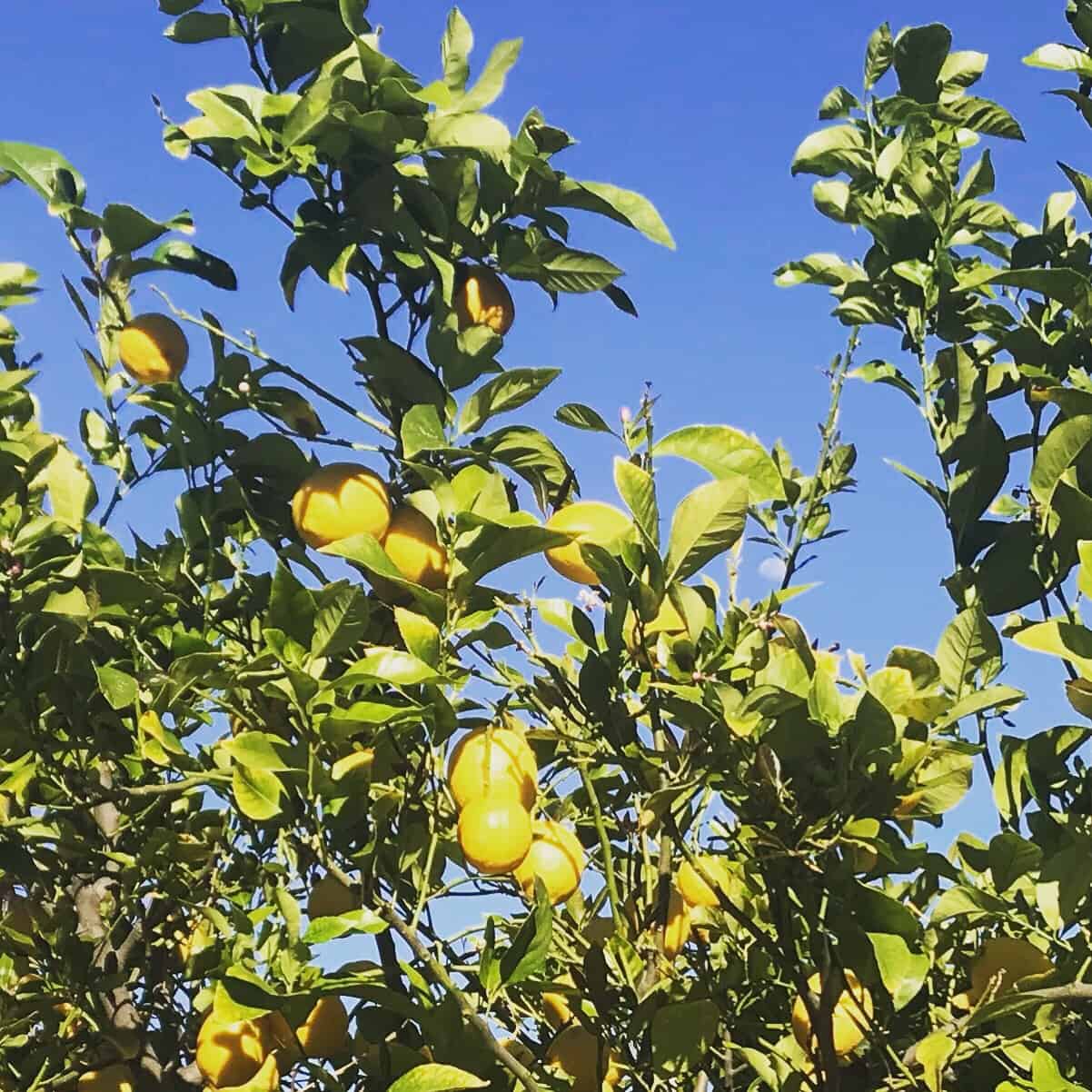 All of the lemon trees in everyone's yards made me want to go on a rampage picking as many as I could before getting caught and then do some serious baking — allllll the baking! There's something so refreshing about lemons. What's NOT to love about them? Let's be real.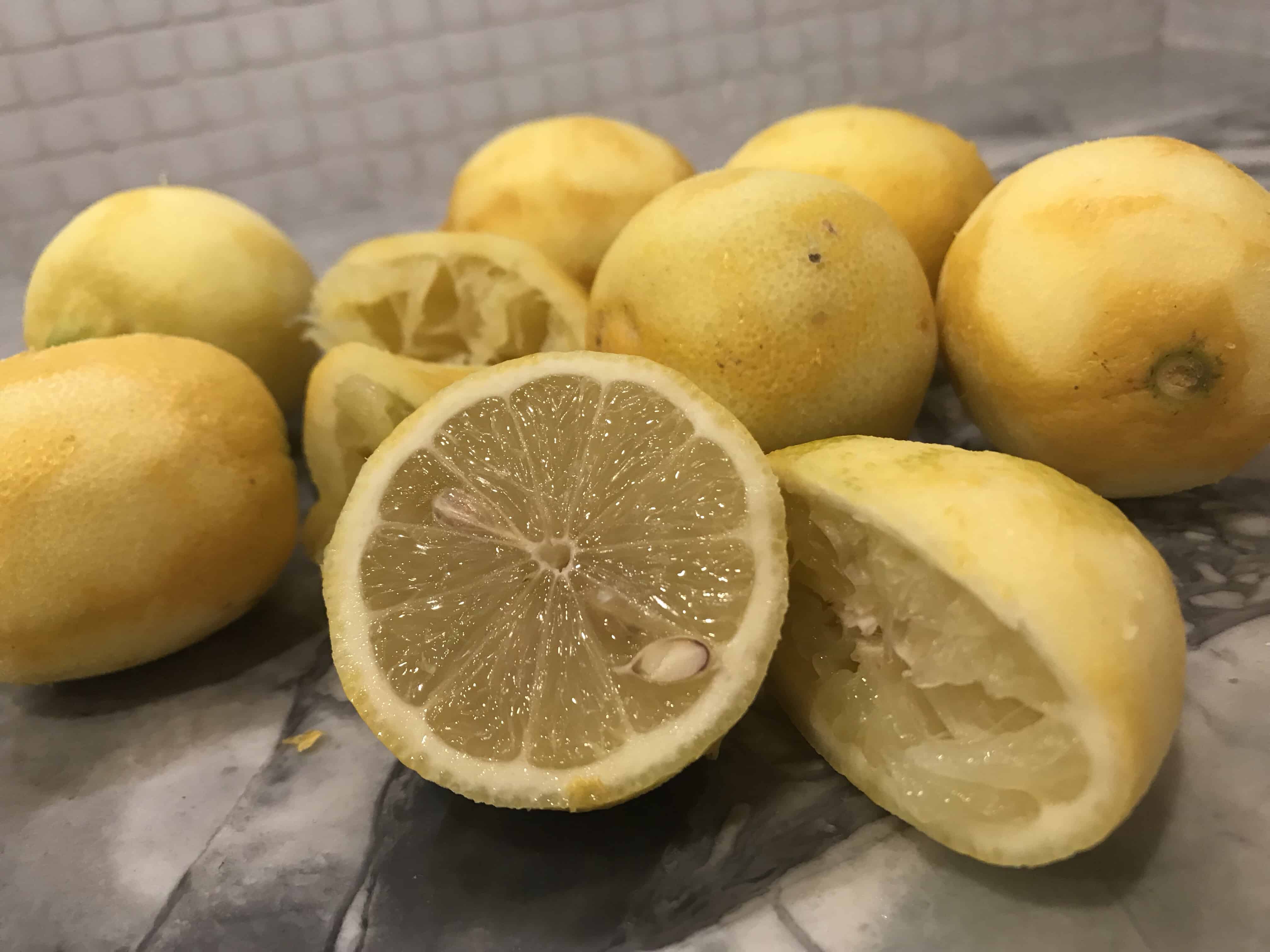 This recipe comes from a local, trained chef named Jennifer — her website is called Once Upon a Chef. I've tried several of her recipes and absolutely love them. She uses "normal" ingredients (i.e., you won't find her recipes calling for tamarind paste or ostrich eggs) and has recipes that aren't overly fussy (yet still turn out delicious).
This pound cake requires the usual suspects, with buttermilk to increase its richness.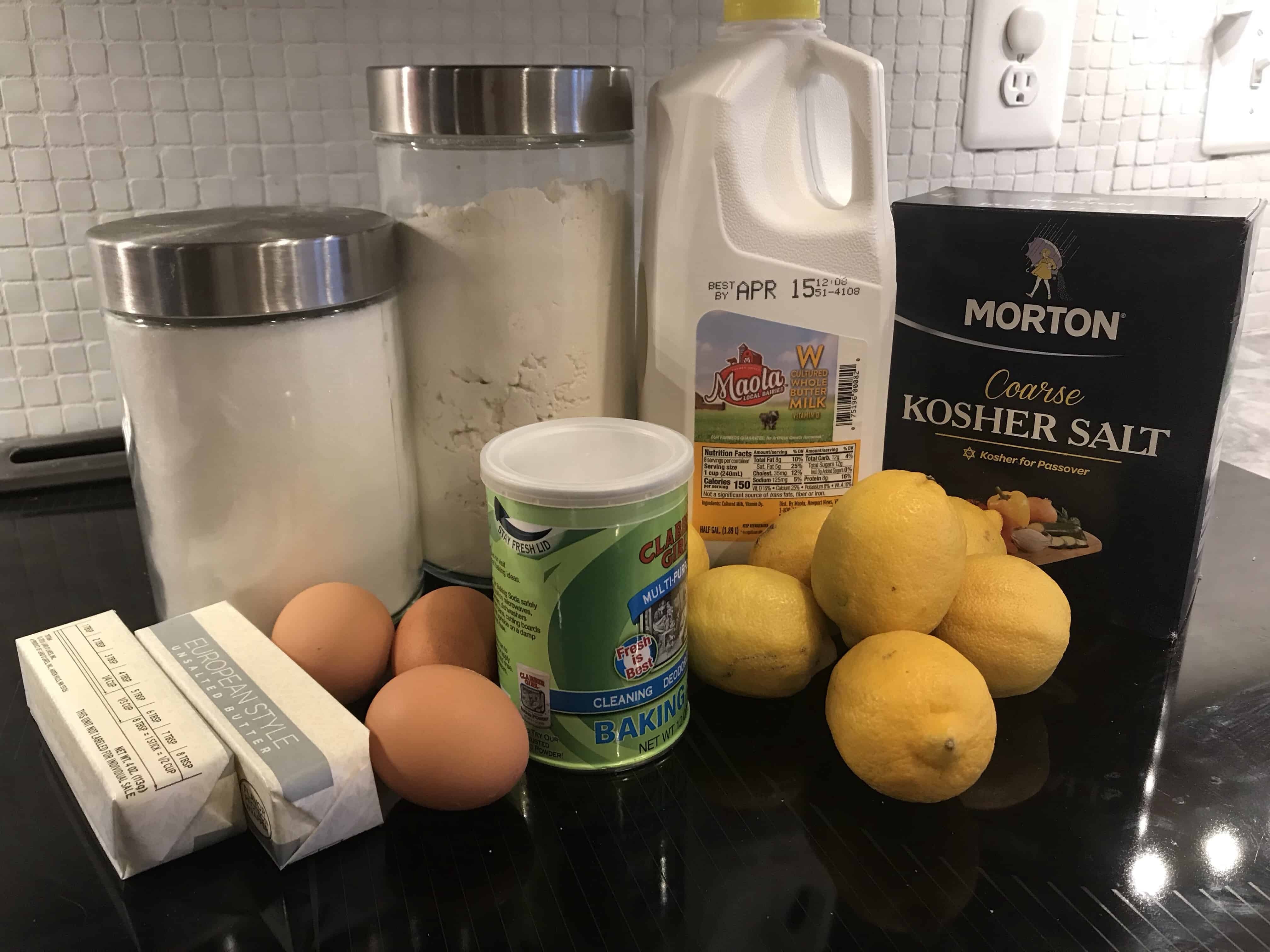 I had my usual two cuties helping. Their "helping" consisted of wrapping themselves up in paper towels and licking the side of the bowl. But they're so darn cute.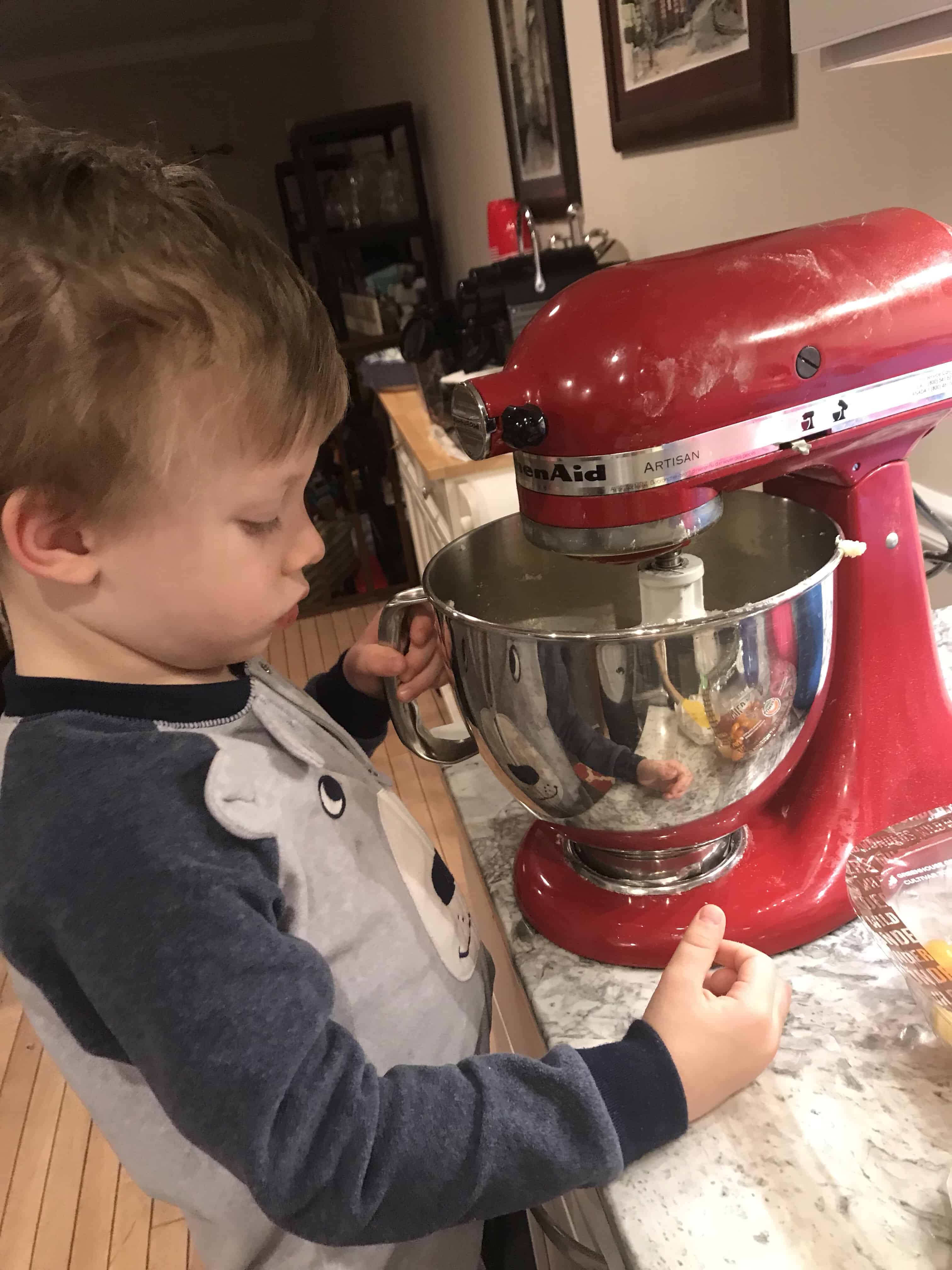 You'll want to grate then juice your lemons first (because you need a decent amount that'll require 6-7 lemons…although some of mine were very small).
You'll slowly build the batter.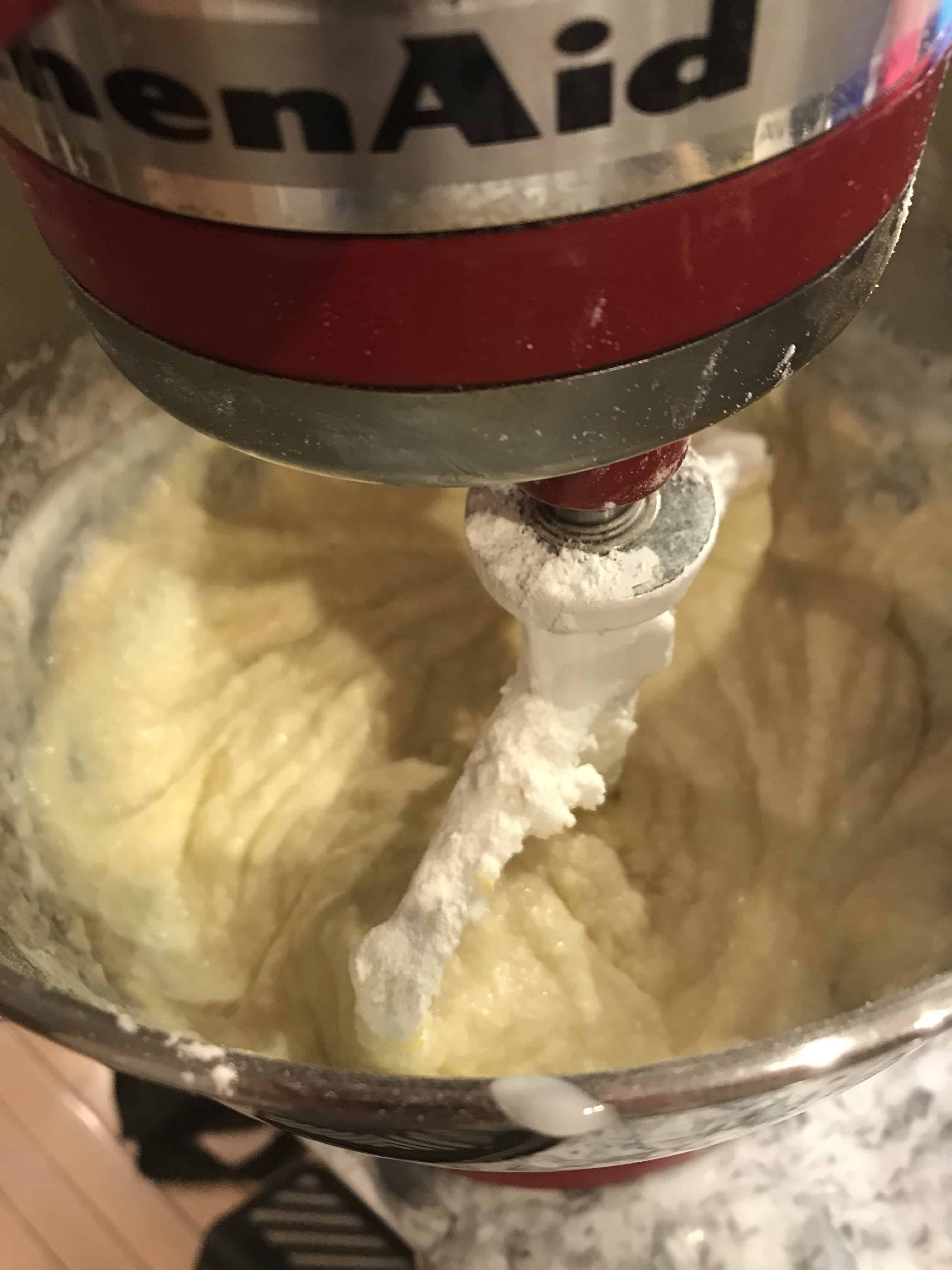 Then you'll add your batter to a greased and floured bundt pan. Flatten it out and make it look pretty.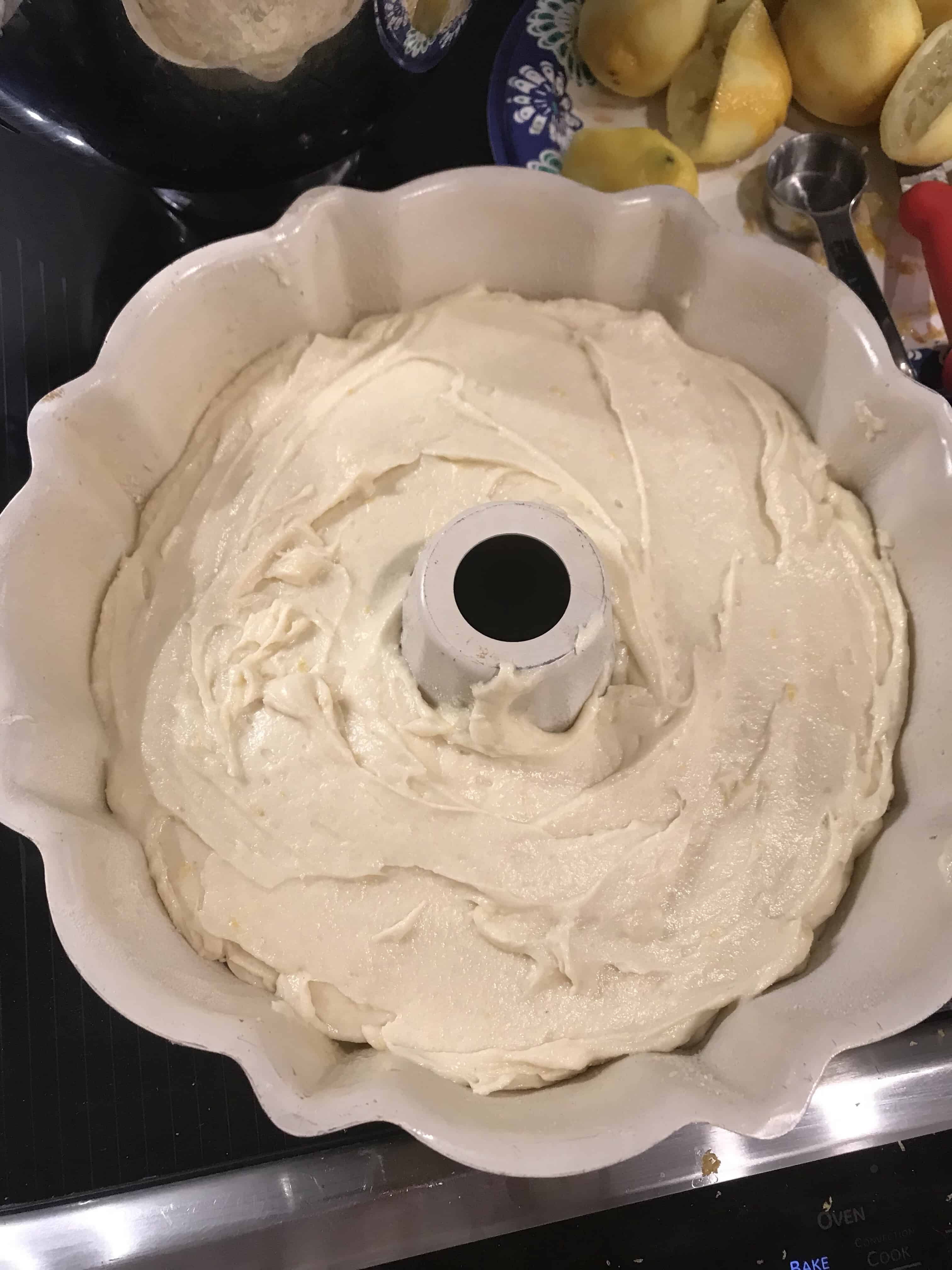 Here is this beauty when it came out of the oven. Let it cool on a wire wrack for about 10 minutes before trying to remove from the pan. While the cake is cooling, you'll make your syrup and rub it all over the cake with a pastry brush (not pictured).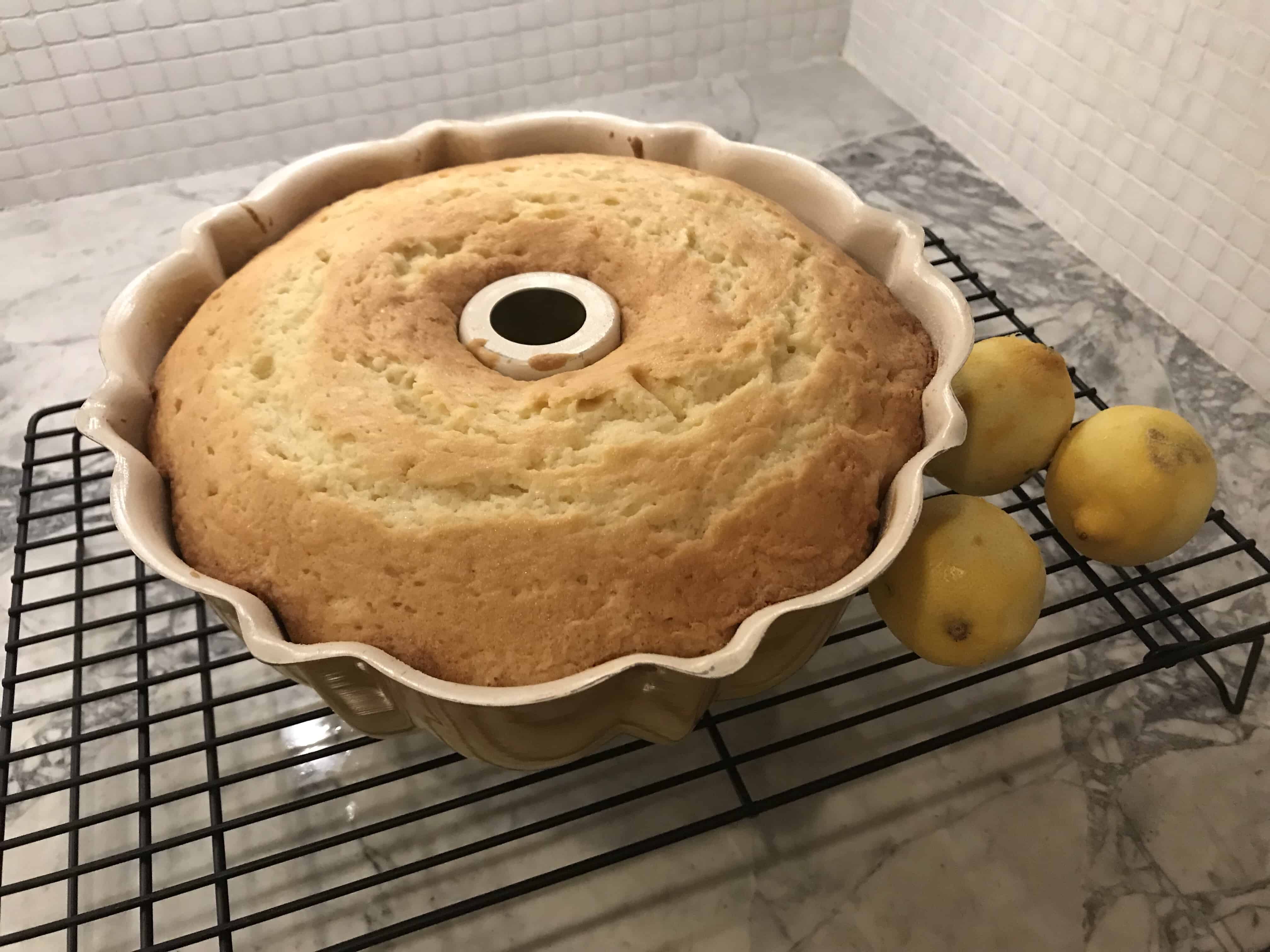 Then make your glaze with melted butter, confectioner's sugar and lemon juice. Here's where I increased the original recipe to include more butter and more lemon juice.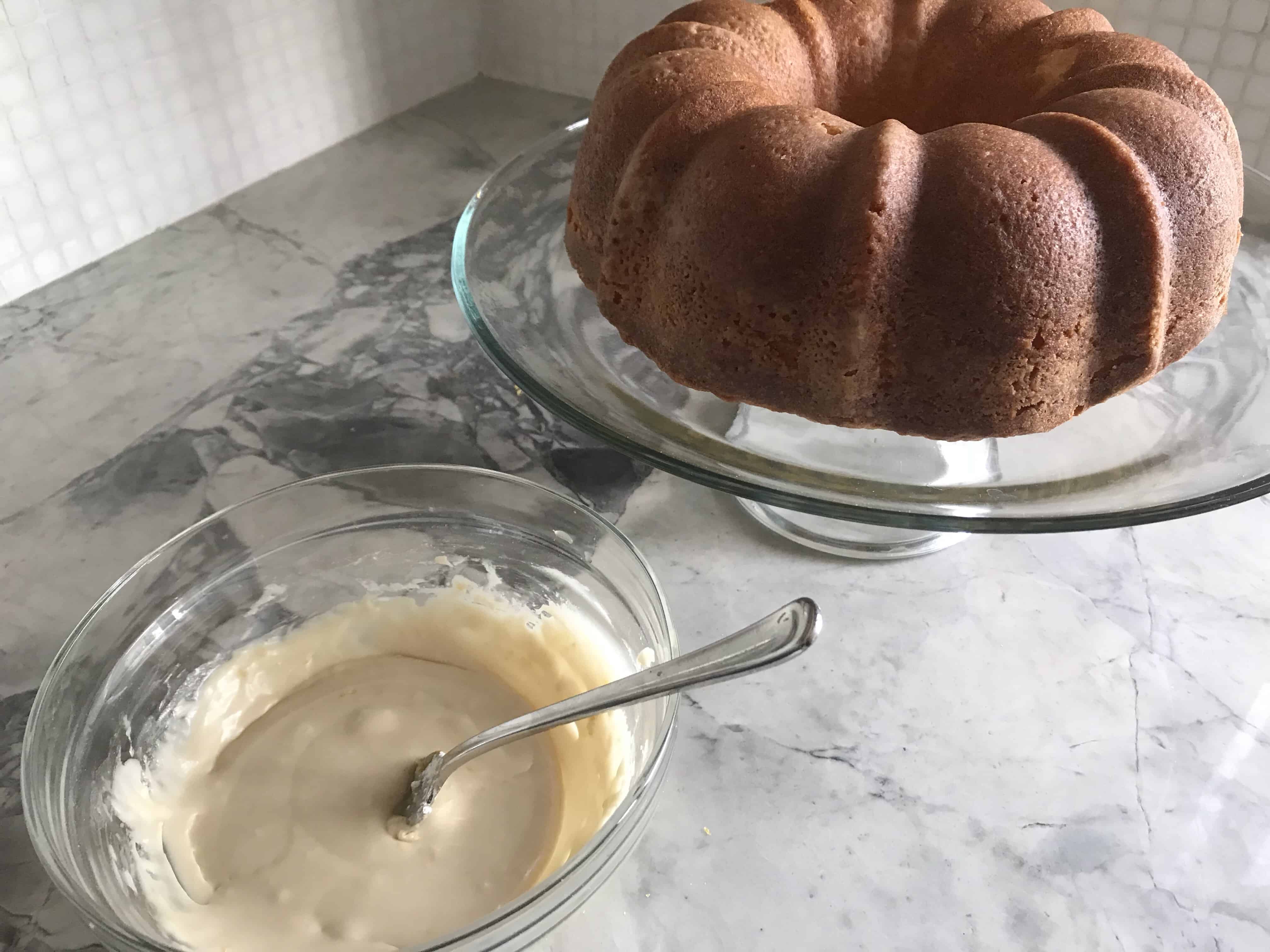 Glazing always makes me nervous because I know I don't have forever to mess with the icing before it hardens up a little bit, but it turned out pretty good (and I was able to hide an ugly gash in the cake that happened when I took the cake out of the bundt pan too quickly.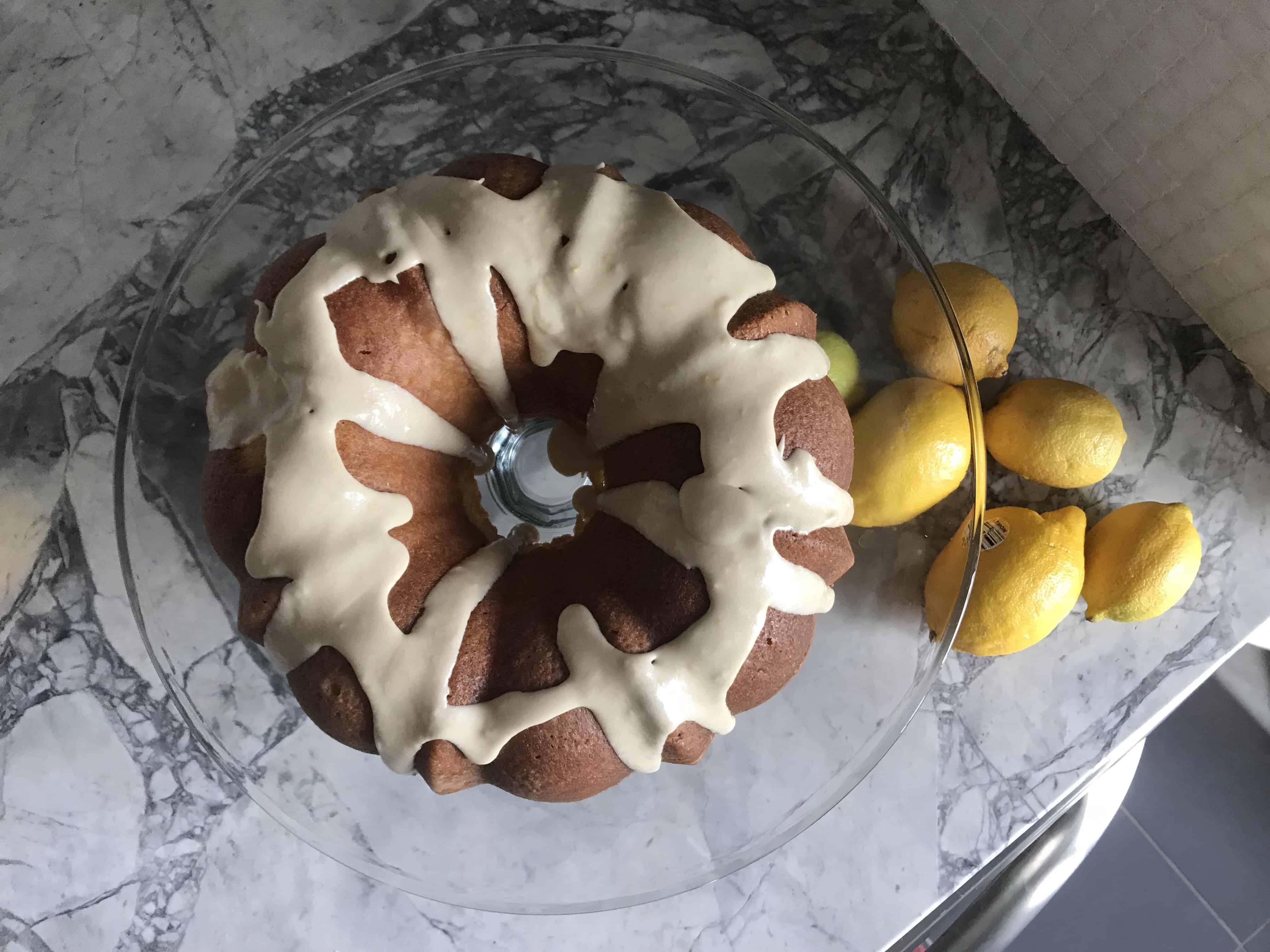 Almost looks too pretty to eat…until you eat it…and then you can't stop.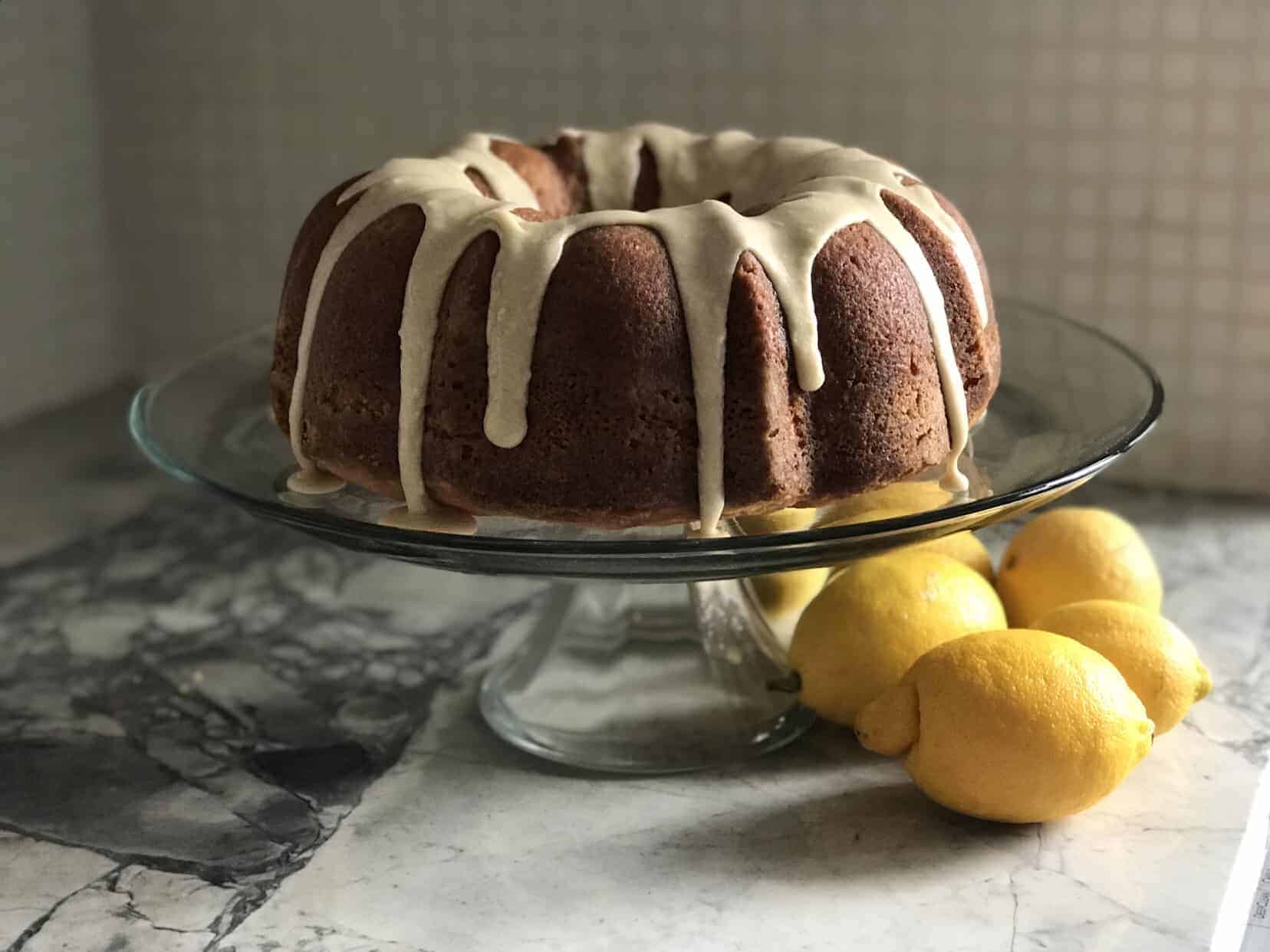 John loves this cake with a little espresso. I think he could eat it for breakfast, lunch and dinner. Someone take it away from us NOW!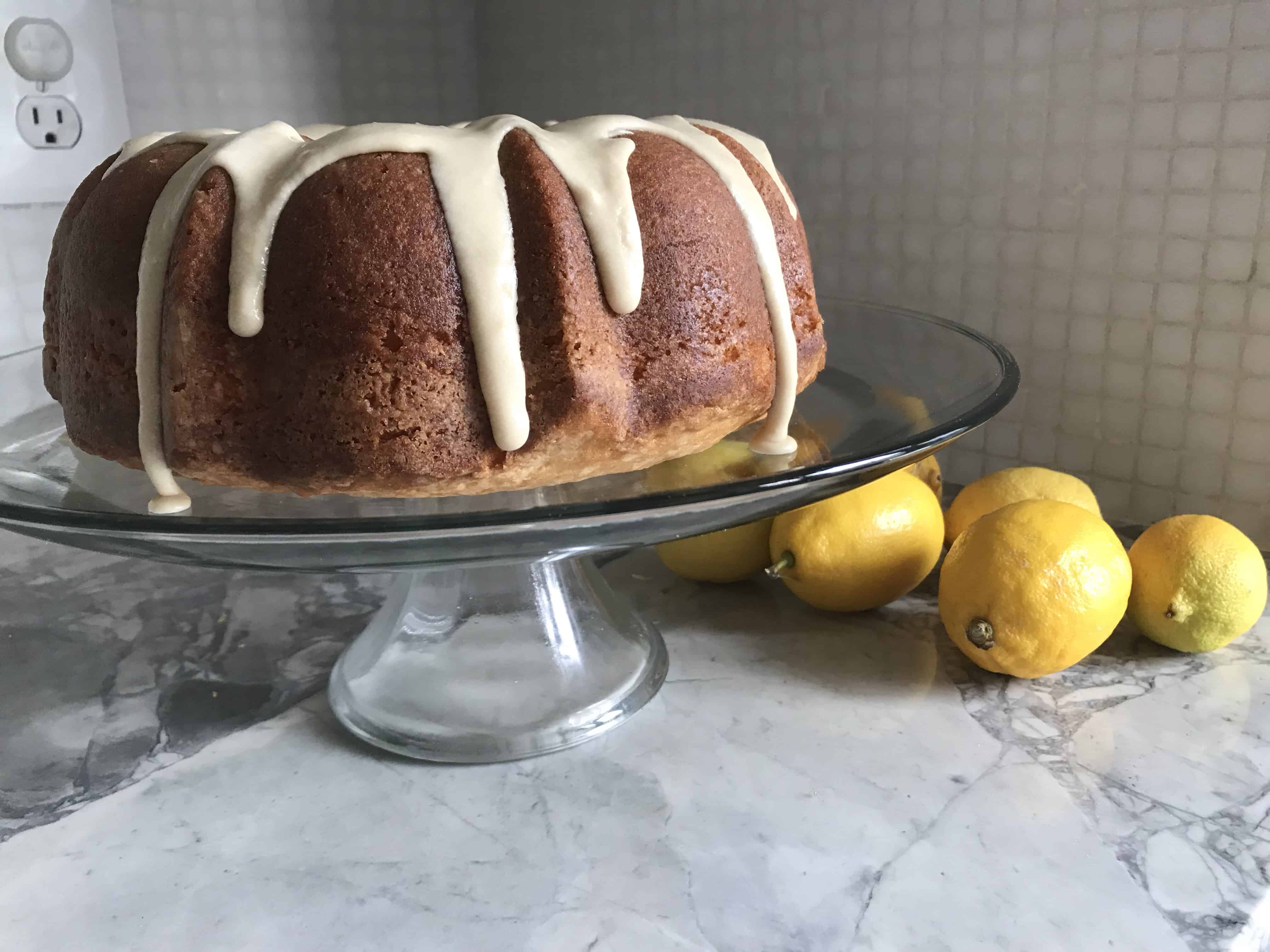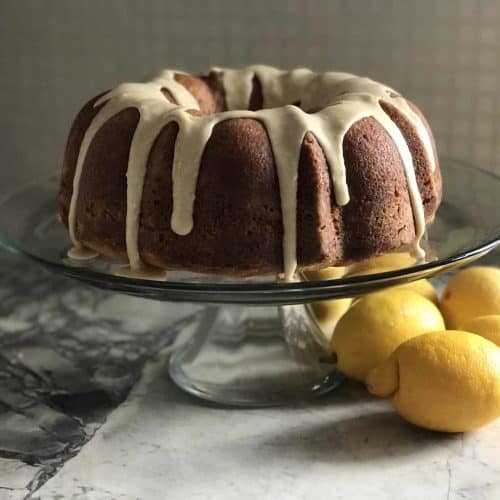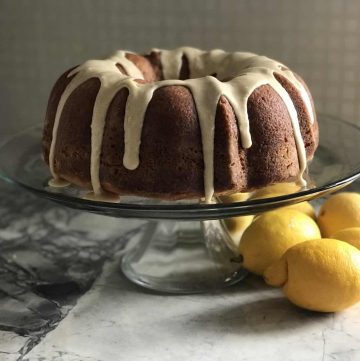 Ingredients
For the cake:
3

cups 

all purpose flour

spooned into measuring cup and leveled-off with a knife, plus more for the pan

1/2

teaspoon 

baking soda

1/2

teaspoon 

salt

2

sticks 1 cup unsalted butter,

softened

2-1/4

cups 

granulated sugar

3 

large eggs

1

cup 

buttermilk

2

tablespoons 

grated lemon zest

packed (note: you'll need 4-5 large lemons for the entire recipe)

2

tablespoons 

fresh lemon juice
For the syrup:
1/3

cup 

water

1/3

cup 

granulated sugar

2

tablespoons 

fresh lemon juice
For the glaze:
1

cup 

confectioners' sugar

3

tablespoons 

fresh lemon juice

1 1/2

teaspoons 

lemon zest

packed

1

tablespoon 

unsalted butter

melted
Instructions
Preheat the oven to 325°F. Spray a 10-inch bundt pan with non-stick cooking spray and dust with flour.

In a medium bowl, whisk flour, baking soda and salt together. Set aside.

In the bowl of an electric mixer fitted with the paddle attachment, cream the butter and sugar until light and fluffy, about 3-4 minutes. Scrape down the sides of the bowl, then beat in the eggs one at a time, beating well after each addition. Scrape down the sides of the bowl again.

In another bowl, combine buttermilk, lemon zest and lemon juice.

With the mixer on low speed, beat in one-quarter of the flour mixture, then one-third of the buttermilk mixture. Beat in another quarter of the flour, then another third of the milk mixture. Repeat with another quarter of the flour and the remaining milk mixture. Finally, beat in the remaining flour mixture. Scrape down the sides of the bowl until everything is well incorporated.

Spoon the thick batter into the prepared bundt pan and smooth with a rubber spatula. Bake for about 1 hour, or until a toothpick inserted in the center comes out clean. Cool the cake in the pan for ten minutes on a rack.

Meanwhile, make the syrup. Combine water and sugar in a saucepan and bring to a boil. Remove from the heat and stir in the lemon juice.

Flip the bundt cake over to take out of the bundt pan. Place parchment paper under the rack to catch the syrup and glaze that will drip off. Brush syrup all over the cake, letting it soak in. Let the cake cool completely, about 45 minutes to an hour.

When the cake is cool, carefully transfer bundt cake to a serving platter. Make the glaze: combine confectioners' sugar, lemon juice, lemon zest and melted butter in a medium bowl, mixing with a fork until smooth. Add more confectioners' sugar or lemon juice as necessary to make a thick but pourable glaze (you want the consistency of honey). Spoon glaze gently over the top of the cake, letting it drip down the sides.
This recipe (really, only the glaze) was slightly adapted.  The original recipe is from Once Upon a Chef and can be found here.