These baked chicken burgers are juicy and flavorful ad loaded with bell peppers and Italian herbs to make one lean, mean, and easy dinner you can throw together in minutes.
***This post has been updated with new photos in December 2020...same great recipe. Hope you enjoy!***
It's hard to believe spring is here and it's already April. I'm still on the comfort foods kick, so it's hard for my brain to transition to spring produce right now, but I am looking forward to burger season...eating a juicy burger on the back patio while the kids play and I can sip on some wine.
Ground chicken is one of the ground meats I tend to forget about, but it's so juicy and moist, you'll wonder why you don't eat it more often, especially in burger form.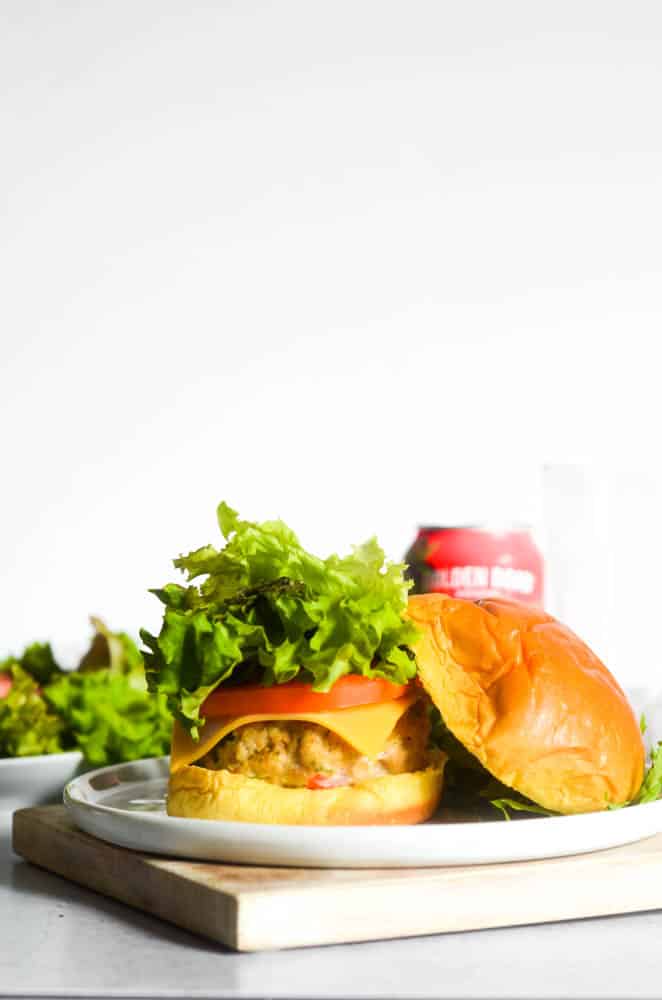 Can You Bake Chicken Burgers?
Yes!! And it's the simplest way to make them because you can put the chicken patties in the oven and forget about them for 20 minutes while you yell at your kids some more or hide in the bathroom.
Ground chicken is also super lean compared to ground beef, so you won't have grease to contend with and feel like you need to squeeze your patty out before you eat it.
If you don't want to bake these chicken burgers, you can definitely pan fry or even cook them in an air fryer, but I don't own an air fryer (I'm kinda anti-kitchen appliance). I've just heard my friends rave about cooking them on theirs.
Ingredients: Mostly Pantry Staples
Another huge win with these burgers is that you likely have most of these ingredients in your pantry now. A total dinner time win. Here's what you'll need:
ground chicken
Italian bread crumbs (see tips and tricks below if you don't have Italian breadcrumbs)
garlic
egg
bell pepper (I used both green and red for some variety)
salt and pepper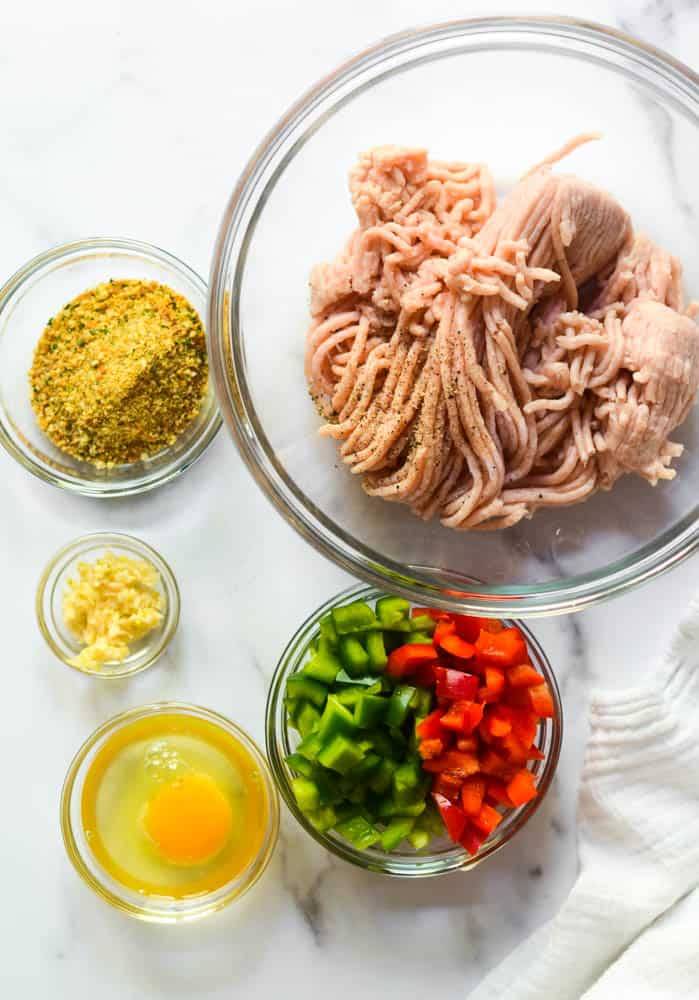 How to Oven Cook Chicken Burgers
So simple, even your toddler can do it. Place all of the ingredients in a bowl.
Step 1:
Gently combine the ingredients with your hands and form 4-6 patties that are about 1" thick. I created 4 very large patties here. Place patties on a parchment-lined baking sheet.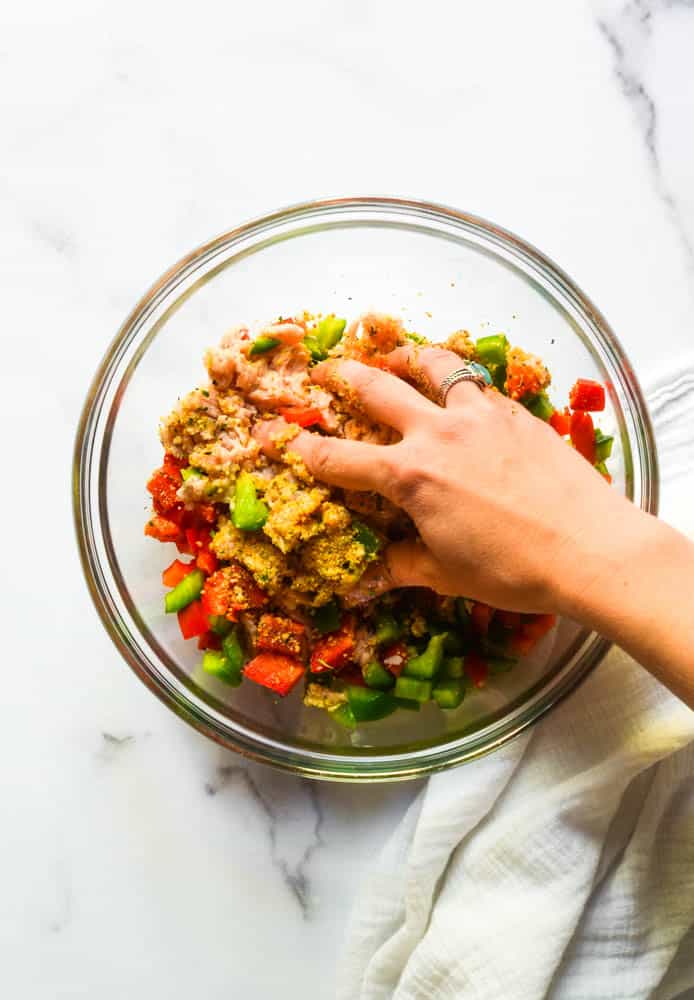 Step 2:
Then bake the chicken burgers at 400˚ for 20 minutes or until the internal temperature of the burger reaches 165˚F.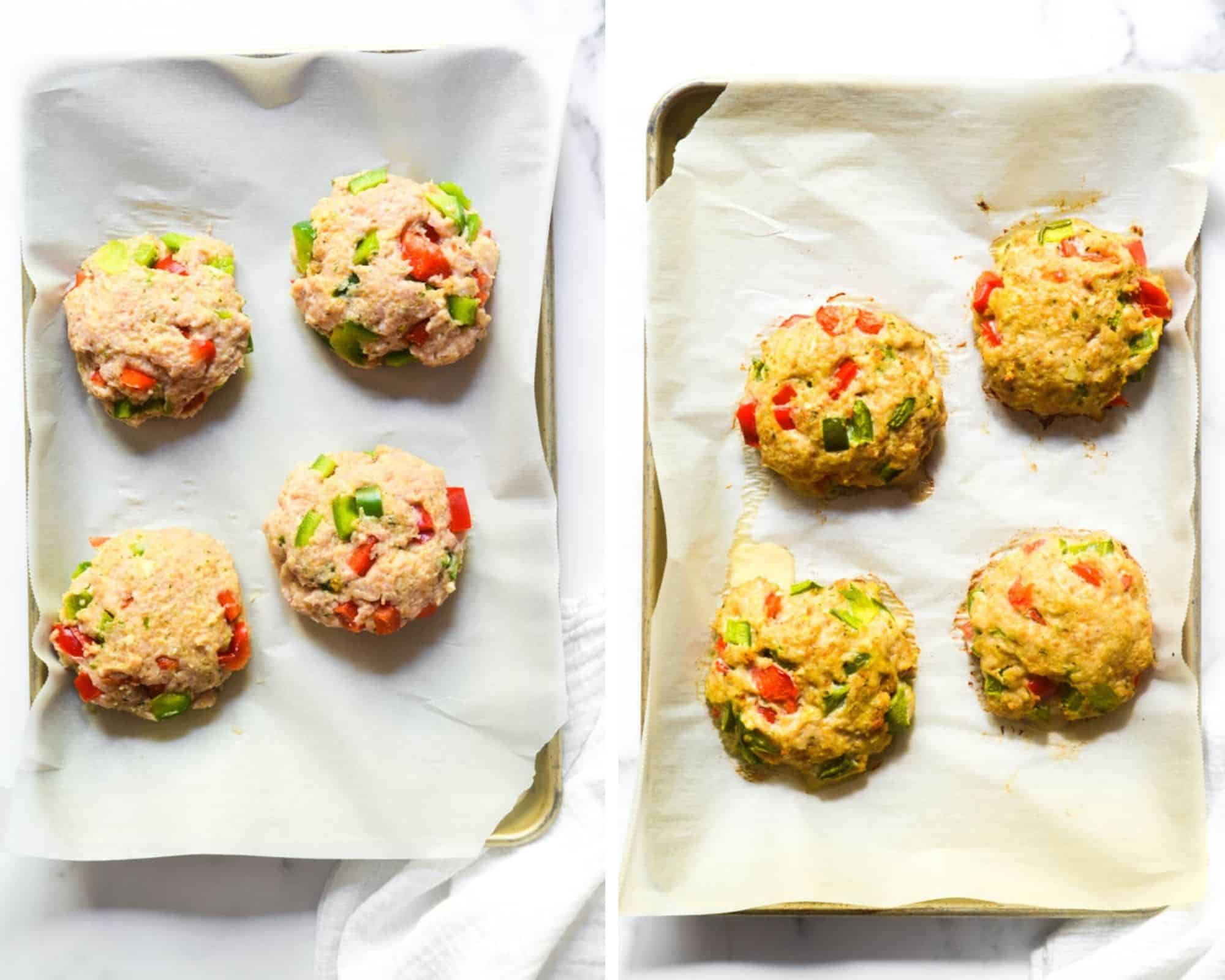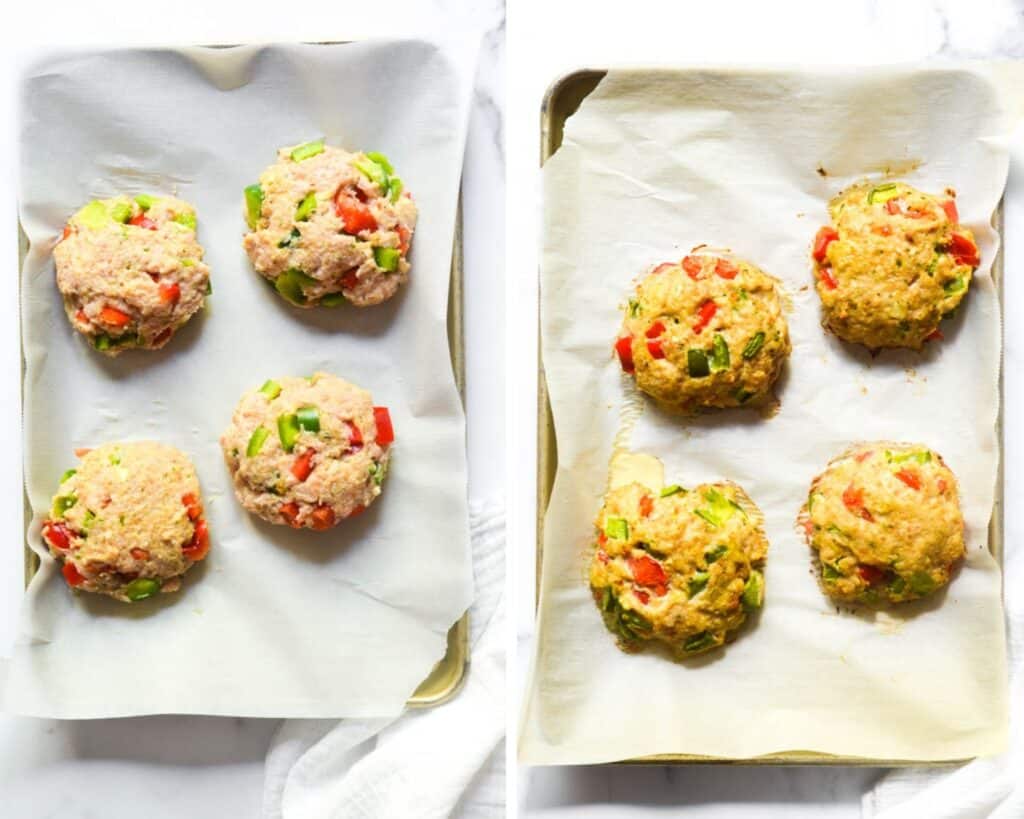 Tips and Tricks
Don't over-handle your meat. Ground chicken is pretty moist and you don't want to work the ground chicken so much that it turns flat and slimy.
Use whatever fresh or dried herbs you have in the house. You can easily adapt this recipe to add garlic powder, onion powder, smoked paprika OR fresh lemon thyme or rosemary...there are a lot of options.
If you don't have Italian breadcrumbs, just use regular Panko breadcrumbs and add 1 Tablespoon of Italian seasoning.
Be sure the center of your burger reaches 165˚ F and your chicken is cooked through. Chicken isn't like ground beef where you can eat it medium obvi.
Toppings and Sides
Toppings are the best. Here, I used cheddar cheese, lettuce, tomato, and a little bit of Dijon mustard because that's what I had in my refrigerator. I would have definitely loved some sliced avocados but, alas, beggars can't be choosers.
Try these favorite side items: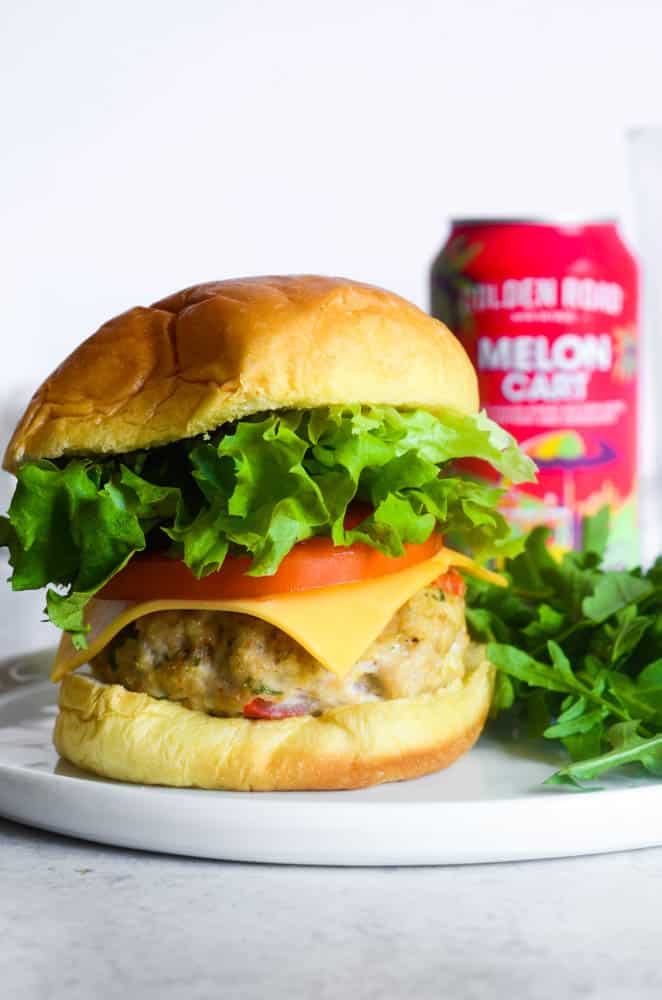 xox
kathryn
As always, if you make anything from the blog, be sure to let me know! I love hearing from you in the comments on this post below or find Worn Slap Out on Facebook, Instagram, or Pinterest!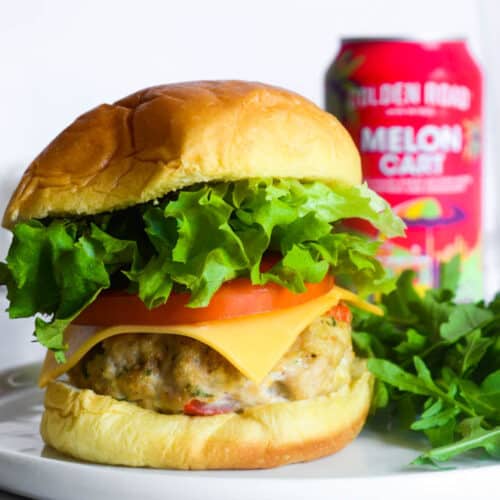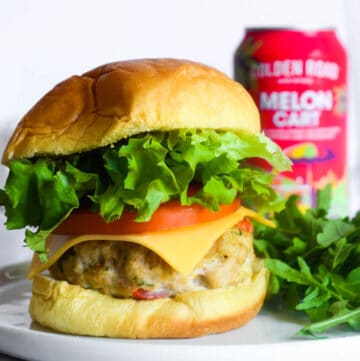 Baked Chicken Burgers
These baked chicken burgers are loaded with bell peppers and herbs to make one mean, lean, and easy dinner you can throw together in no time.
Print
Pin
Rate
Ingredients
1

pound

ground chicken

1

cup

bell pepper

(I used both green and red)

2

cloves

garlic, minced

1

egg, lightly beaten

¼

cup

Italian breadcrumbs

salt and pepper

buns, mayo, mustard, tomato, lettuce
Instructions
Preheat oven to 400˚ F. Line a baking sheet with parchment paper.

Combine all ingredients into a bowl and mix with your hands. Form 4-6 patties with your hands that are about ¾"-1" thick. Place on parchment paper. Bake for 20 minutes or until internal temperature of chicken is 165˚.

Place burger on bun and dress it up with your favorite toppings.
Notes
Leftovers: Chicken burgers can be stored in the refrigerator for 3-4 days. Either heat in the microwave and pop back into the oven and bake for 25 minutes at 350˚F.