This panko and rosemary crusted cod is so good, y'all. The recipe creates a flaky, delicate fish on the inside with a crispy, breaded crunchiness on the outside. Fast and easy....this meal is perfect for a weeknight but impressive enough to make for company.
Summer mode is officially in full swing. The kids are in the summer mode, too, apparently. I had to wake them up at 8:15 (BOTH OF THEM) to make it to Connor's 8:30 speech appointment, and we had to fly out of the house like bats out of hell. Tomorrow I'm going to do my best to stay in bed for as long as possible. That's the goal for my first day of summer vacation.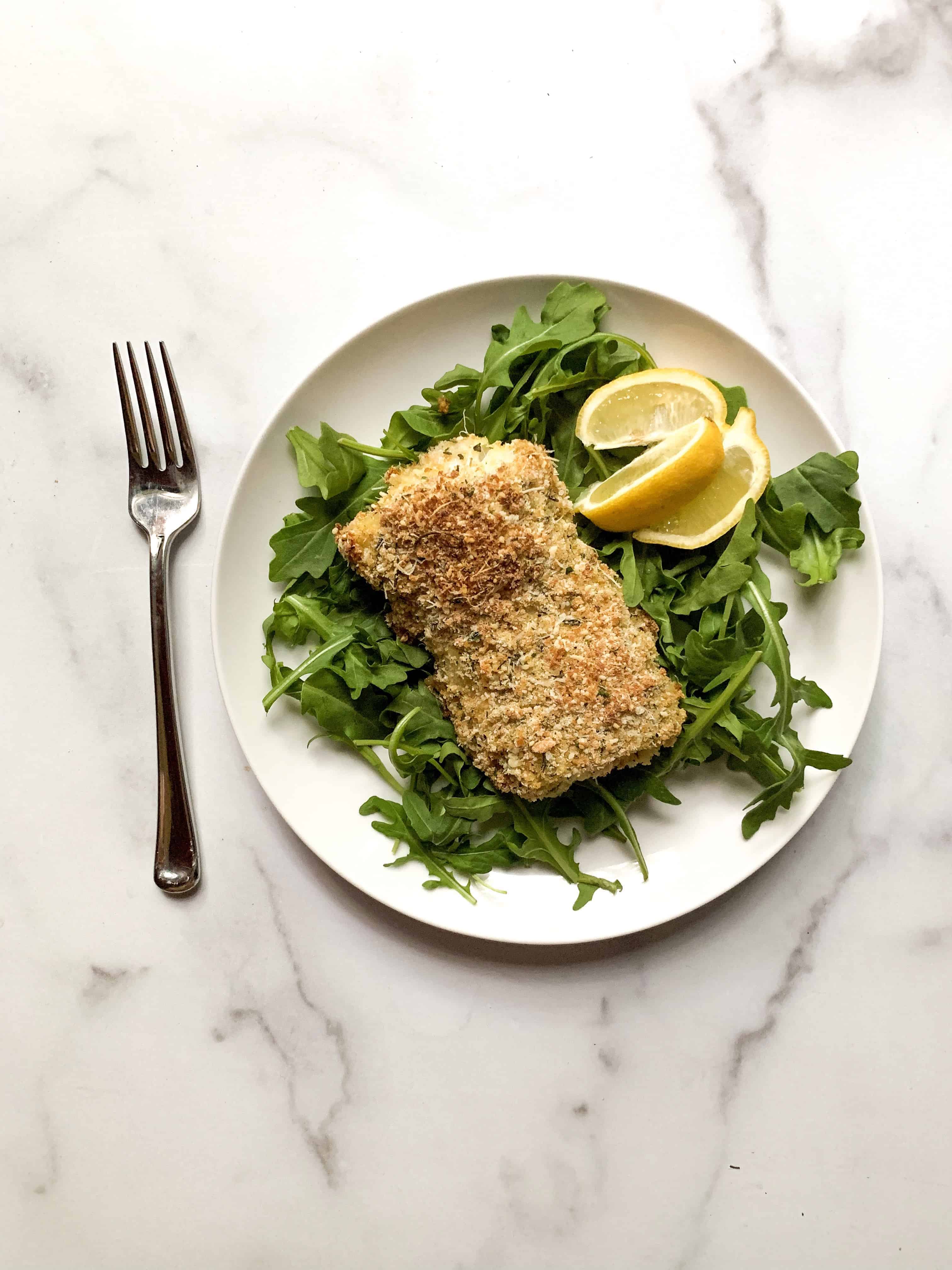 Where have you been, Kathryn?
I've been around...just busy with the closing of school, the beginning of leadership week, and the millions of things I'm starting to check off the list I've abandoned for the last 10 months. I'm hoping to share some fun stuff with y'all in the next few weeks now that I have more time with the school year ending. While I have a serious to do list, including take my vacuum cleaner to Tyson's so it can finally get fixed (you know...the crap you have no time for during the school year), I also have plans to work on this blog more. Stay tuned! I spent much of this past weekend attending a Tastemakers mastermind conference with new friends that are equally obsessed with all things food. This group of 12 was made up of the nicest, most normal people you could imagine, and we instantly formed such a wonderful community of learners to learn about the art of food blogging. It was seriously so inspiring. I'm still trying to process everything I learned, so I'll write more about that experience soon.
One of my goals for this blog this summer is to post recipes more consistently. I purposefully write this here so y'all can hold me accountable because #kids. Or #doctorsappointments. Or #justlife.
For now, let's talk about this fish. THIS. FISH.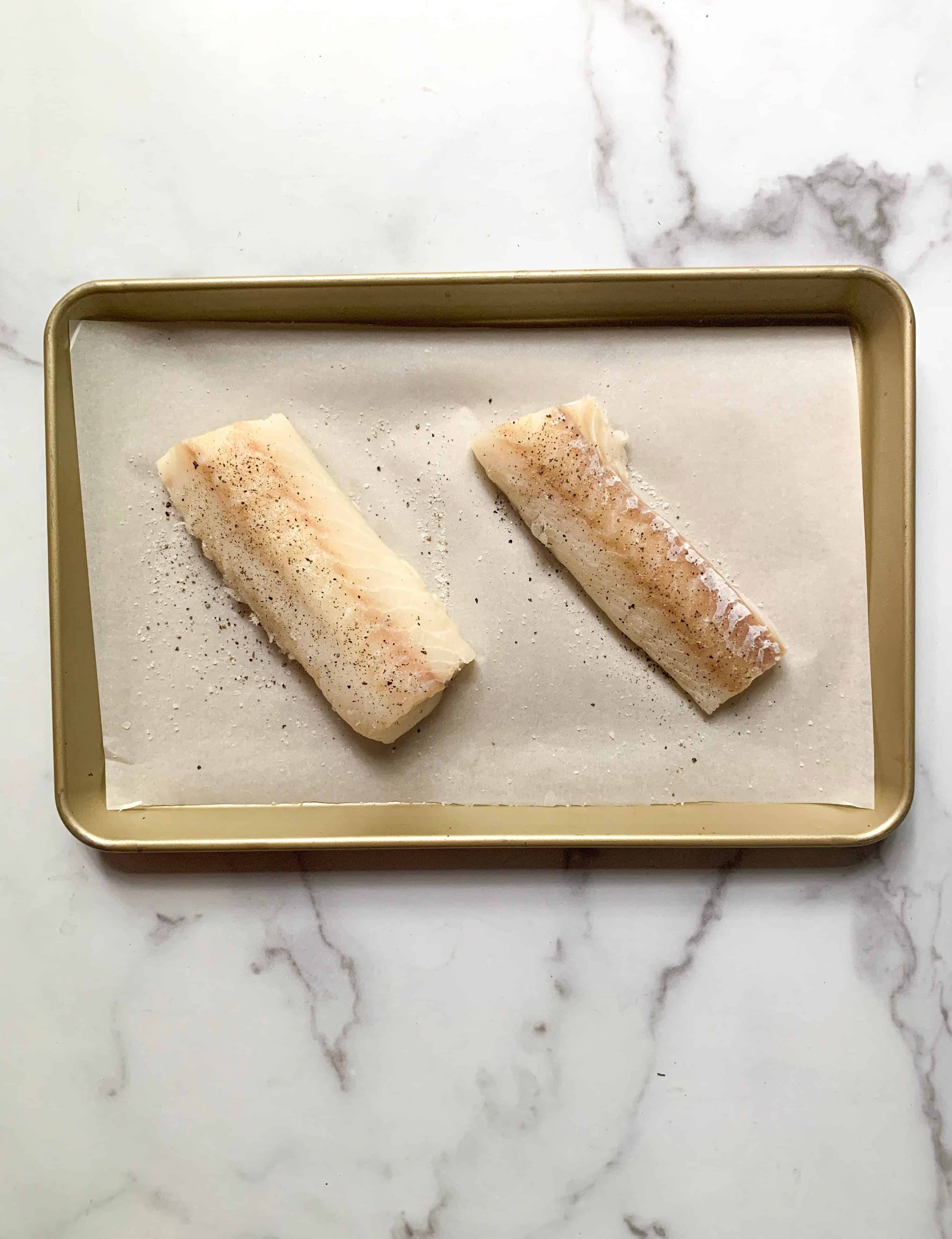 What kind of fish? And should you bake or fry?
I prefer to use a light, flaky fish for this recipe -- turbot and cod being my favorites in this category. For this meal I used cod fillets because cod is less fishy, has a nice soft texture, contains less mercury than thicker, meatier fish like tuna or swordfish, and is just downright delicious. Cod fillets are also pretty thick (about an inch to an inch and a half), so the fillet have no problem standing up to the weight of the breadcrumbs.
As for frying or baking, you can certainly fry your fish in a pan, but I much prefer baking it because it is healthier, it's easier (you can walk away from dinner for 20 minutes and accomplish something else on your never-ending checklist), and it really doesn't compromise any of the crispiness on the outside. Sure, it won't brown quite as much in the oven, but it also doesn't come out soggy. It's perfectly crunch from the oven.
How do you make panko and rosemary crusted cod?
Simple. Oh, so simple. Take two plates. Crack an egg and beat it on one of your plates. On the other plate, combine the flour, parmesan, breadcrumbs, garlic powder, rosemary, salt, and pepper. Once you've patted your fish dry and salted and peppered, coat the fish with egg, then dip in the parmesan and breadcrumb mixture. Make sure your fish is good and coated with the breadcrumbs, pressing the breadcrumbs into the fish until every area is covered. Place on your parchment-lined baking sheet. Bake. Voila!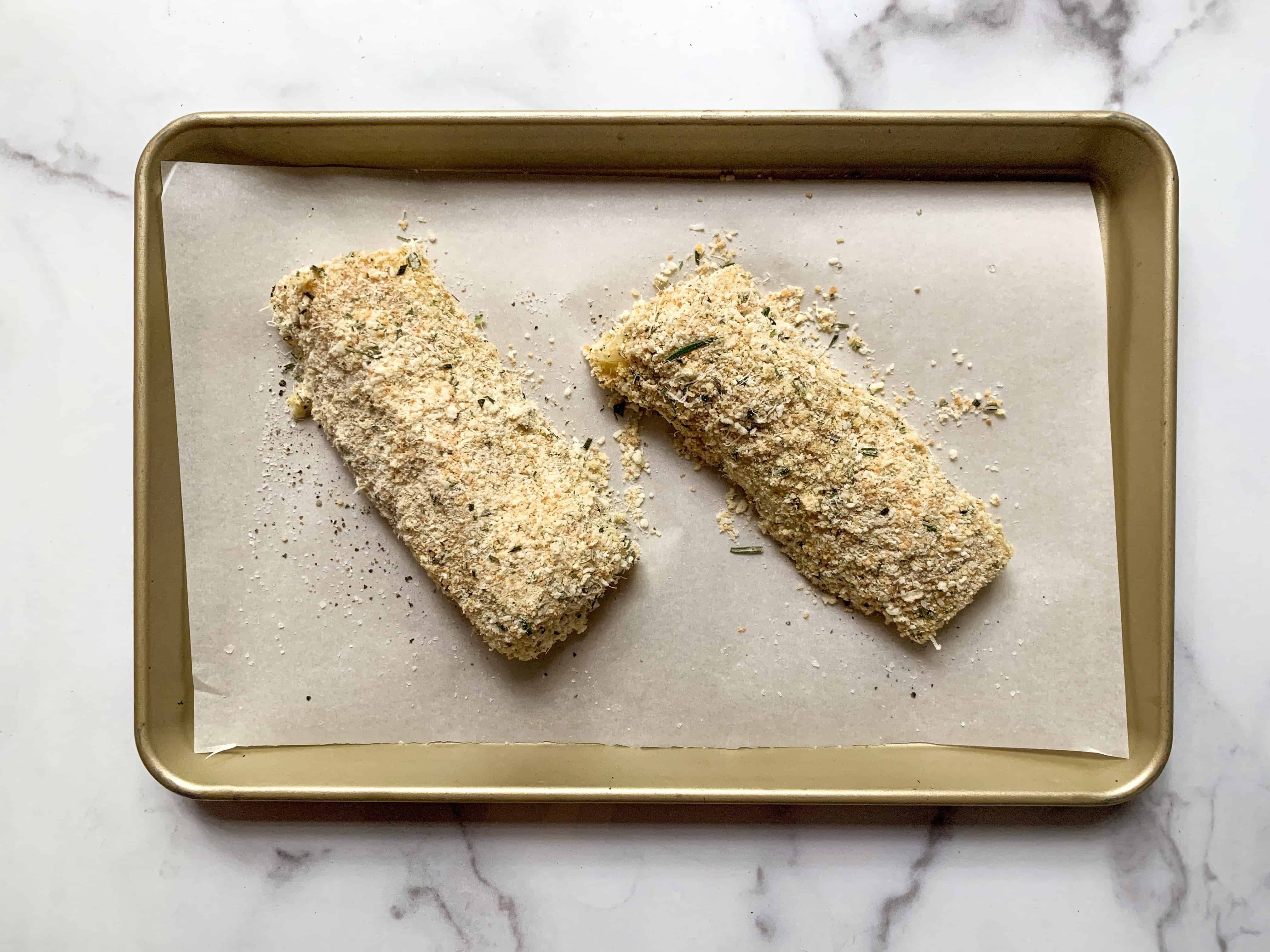 What can I serve this with?
I typically go super simple on these summer days and serve the panko and rosemary crusted cod on a bed of arugula with some fresh lemon juice drizzled on top. It's truly a no-fuss meal. However, if you're feeling extra eager to make something in addition to the fish, consider this sugar snap pea with radishes, ricotta, and mint salad (so, so good, y'all!), these green beans (you could always sub your lemon for the orange zest) or this asparagus (if you're down for a few extra steps).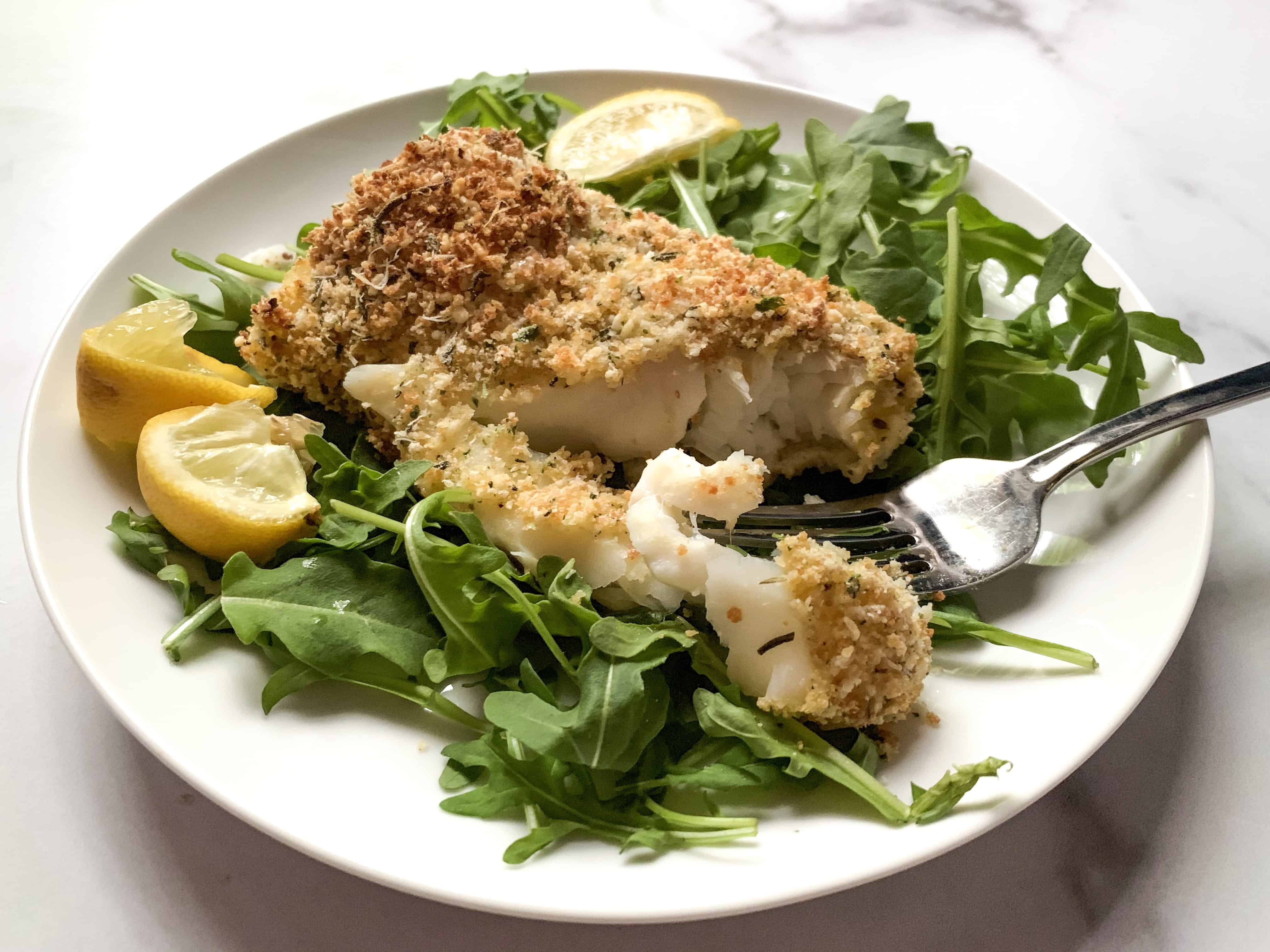 Love y'all! Let me know how you like these recipes! Leave a comment below or tag your pics on Instagram @wornslapout!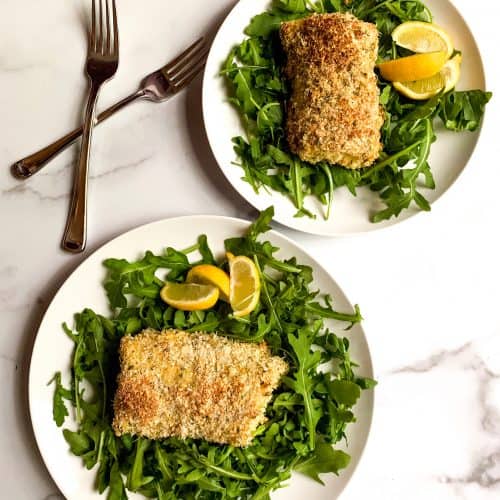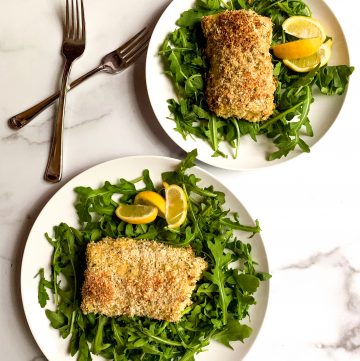 Panko and Rosemary Crusted Cod
Cod just got even better when it's covered and baked in Panko and rosemary!
Print
Pin
Rate
Ingredients
2-3 cod filets (or any white, flaky fish)

1

egg

gently beaten

2

Tablespoons

flour

(or almond flour if you're going gluten free)

½

cup

freshly grated parmesan

½

cup

panko breadcrumbs

(or use Italian or gluten-free breadcrumbs)

1

heaping Tablespoon

rosemary, finely chopped

(from about 2 sprigs)

⅛

teaspoon

garlic powder

¼

tsp

salt

⅛

tsp

pepper

4

cups

arugula

optional for serving

1

lemon, cut into wedges

optional for serving
Instructions
Preheat oven to 350 degrees F. Line small roasting pan with parchment paper. Pat fish dry with paper towel. Season generously with salt and pepper.

Place gently beaten egg on medium-sized plate with a high enough lip.

On another plate, combine breadcrumbs, parmesan, rosemary, garlic powder, salt, and pepper. Mix well.

Coat fish first in egg wash, then cover in breadcrumb mixture, making sure all sides of the fish are well coated. Don't be scared to press breadcrumbs into fish.

Place fish on roasting pan. Bake for 20 minutes. Place under broiler for 1 minute if you want to get breadcrumbs more browned. Serve fish over a bed of arugula. Enjoy!
Notes
*I've made this with gluten-free breadcrumbs and it is truly delicious.  I've made this with half panko, half Italian breadcrumbs, and it is truly delicious.  Don't forget to use what you have if you don't have exactly what's on this recipe.  I'm all about using your resources.