This brownie cake uses boxed brownie mix to save time. All you do is add fluffy whipped cream and mixed berries to create this beauty and slice it just like a cake!
Back in the day, I used to make my own brownies from scratch, but do you know what? Every time I made boxed brownies (specifically the triple chocolate Ghirardelli ones), people always raved about them and said they were the best things they had ever tasted. I mean, why bother making homemade ones, right? If we've reached brownie nirvana from a box, then let's keep the good vibes going.
I really do like brownies plain, but I also really like jazzing them up a bit. This brownie pizza (brownie cake? Brownie with strawberries and other berries? Frownie?) is my number one favorite way to jazz up boxed brownies by a landslide.
I buy the brownies in bulk at Costco and the make this brownie pizza for all sorts of events -- birthdays, retirements, parties at work, baby showers, you name it. It's the quintessential cake that tastes great and looks like you are a freakin' professional baker.
Maybe you're celebrating a birthday soon? Maybe you're celebrating just making it through a Tuesday? This brownie cake will love you regardless.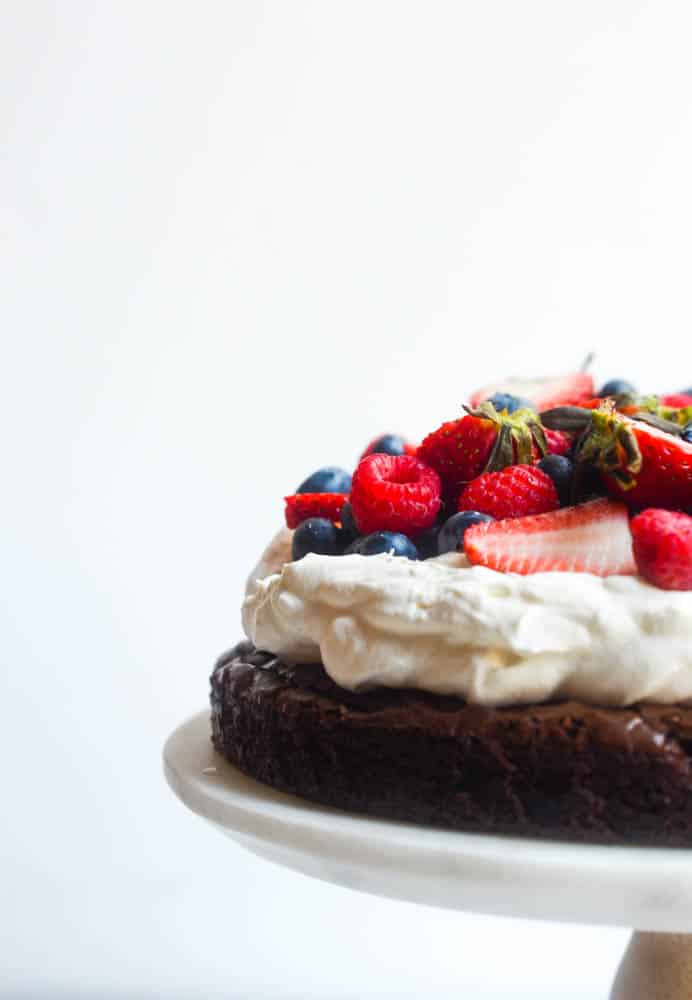 Ingredients to Make This Brownie Cake
The ingredients are truly minimal. You likely have most of these ingredients at home While berries can be on the expensive side, think about all the money you've saved on expensive chocolate by using boxed brownie mix instead of starting from scratch!
Here's what you need:
package of brownie mix & all ingredients you need for it (usually oil and an egg)
heavy whipping cream
vanilla extract
powdered sugar
your favorite fresh berries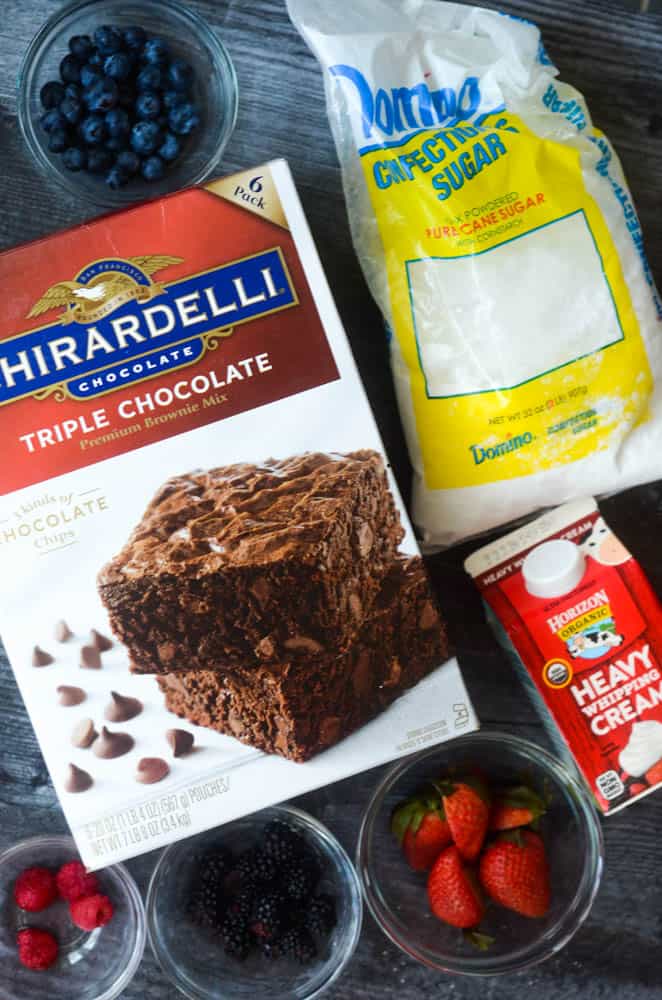 The Easy Whipped Cream
The whipped cream is barely sweetened because the laid-back cream complements the sweet brownie nicely. It's quite a nice pairing...and one you rarely see. Brownies are super dense, too, while the cream is obviously very fluffy, so these complimentary flavors and textures make for good eats.
What little sugar the brownie cake has is mostly to give it some structure so the berries don't just sink once they hit the topping.
You can either use a stand mixer with whisk attachment to make the whipped cream or use a regular hand mixer. Either way, be sure to not over beat the heavy cream. You want stiff peaks (where you can dip the whisk into the cream and the cream stays in a mountain peak) but you don't want to turn it into butter.
Heavy cream goes from great to over beaten in a matter of seconds if you're not watching it closely. Sneaky stuff.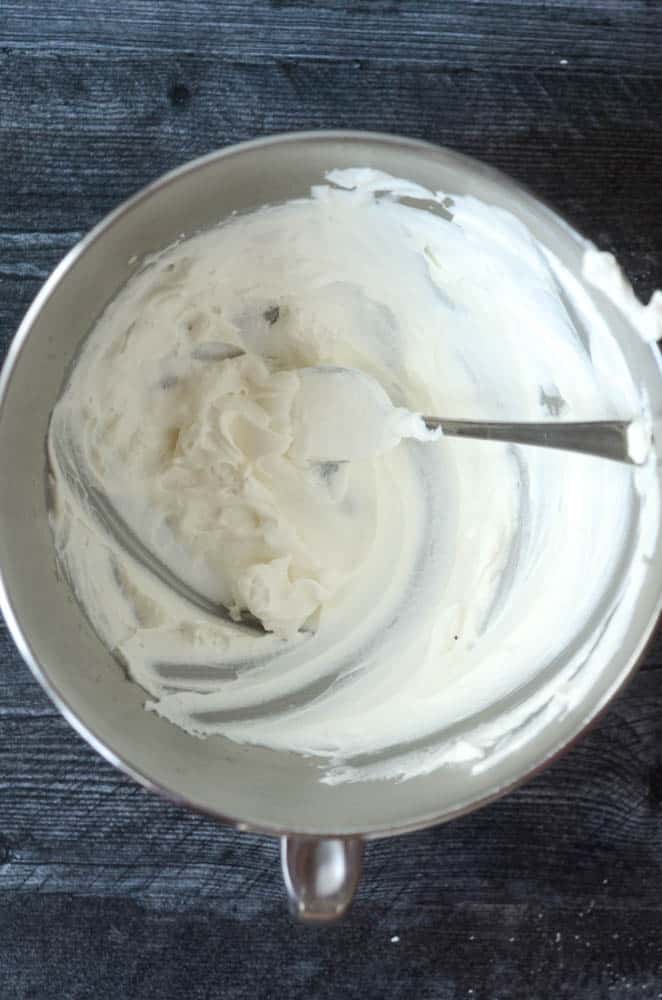 Tips for Assembling: All About Aesthetics
Okay, this section has nothing to do with taste and everything to do with making this bad boy look beautiful, but that's what makes this cake have the "wow" factor, so let's discuss.
Tip #1: Cut ¾ of your strawberries into slices but cut the remaining strawberries in half with the tops still on.
This brings a little green into the scene, and just makes the colors pop all the more. A little crazy, I know, but it's true.
Tip #2: Put all of the whipped cream in the center and then spread to the outside.
Once the cream is in a big pile in the middle, use a spoon to gently push the cream toward the edges, saving a little space for the brownie to still be seen. Peek-a-boo! This helps prevent a mess from happening on your brownie cake.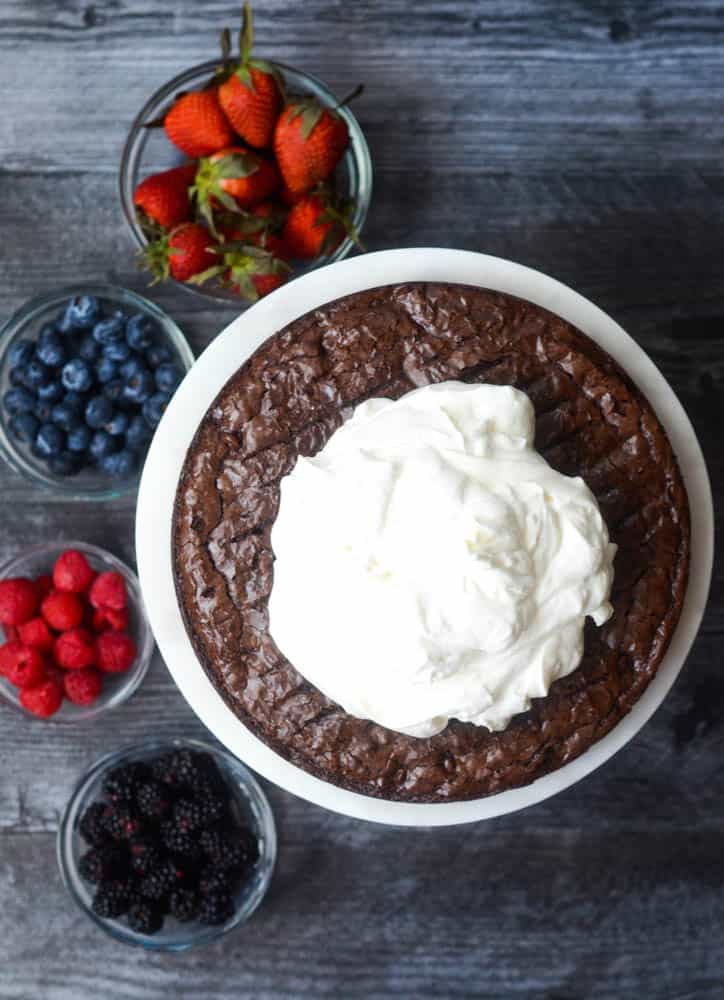 Tip #3: Layer your fruit by alternating during assembly
Only put on half of your blueberries on, then half of your blackberries on, etc. until you've placed half of all of your fruit. Then place the remaining fruit where it makes the most sense. Maybe there's a hole without many blueberries. Add more blueberries to that hole. Maybe there's a side that needs more red. Add more strawberries.
Do this all with a light hand (takes a tiny bit of patience) so the fruit looks evenly spread and gently rests on the cloud of whipped cream.
Other Desserts Using Boxed Cake Mixes
Ain't no shame in that game, I always say. Here are some sweet treats that use similar shortcuts. My favorite!
xox,
kathryn
---
As always, if you make anything from the blog, be sure to let me know! I love hearing from you in the comments on this post below or find Worn Slap Out on Facebook, Instagram, or Pinterest!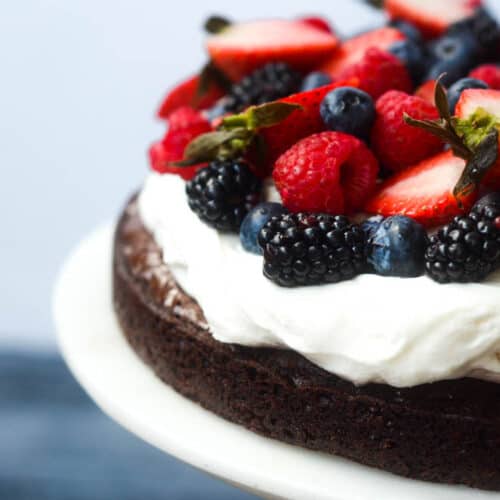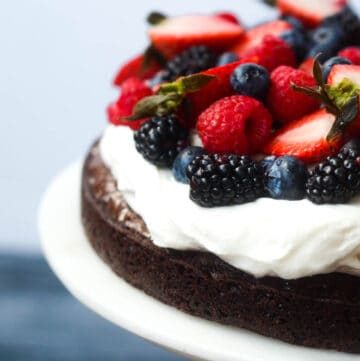 Brownie Cake with Whipped Cream and Fresh Berries
This brownie cake uses boxed brownie mix to save time. All you do is add fluffy whipped cream and mixed berries to create this beauty and slice it just like a cake!
Print
Pin
Rate
Ingredients
1

package of brownie mix & all ingredients you need for it

1 ½

cups

heavy whipping cream

1

teaspoon

vanilla extract

2

tablespoon

powdered sugar

1

cup

strawberries, some sliced some whole with tops still on

1

cup

blueberries

½

cup

blackberries

¼

cup

raspberries
Instructions
Preheat oven to what your brownie mix recommends. Grease and line 9" round cake pan with parchment paper. Make brownie mix according to package directions and pour into cake pan. Bake for 25-30 minutes or when brownies are clean when toothpick is inserted into them. Let brownie cool for about 10 minutes before running your knife around the edges and carefully taking brownie out of cake pan to cool on cooling rack. Let sit for at least another 20 minutes, preferably about an hour.

Meanwhile, make your whipped cream by placing heavy cream in stand mixer with whisk attachment. Whisk until cream just begins to thicken. Then slowly add vanilla and powdered sugar. Continue whipping until cream forms stiff peaks. (Be careful not to over beat cream...you don't want it to turn into butter!)

Add large dollops of whipped cream in the center of cooled brownie and spread around with spoon until cream is close to the edge of the cake. Add fresh berries on top, alternating berries in 2 or 3 rounds, then slice just like a pizza! Enjoy!
Notes
Storage: Store leftovers in the refrigerator in an airtight container OR place toothpicks all around the cake and cover with plastic wrap. 
Make ahead: This cake is great to make ahead.  You can either assemble to the brownie cake and place in the refrigerator the night before you are going to eat it, or keep the cake separate from the whipped cream and fresh berries and assemble just before eating.  Either way, it's delicious. 
Nutrition
Serving:
1
slice
|
Calories:
105
kcal
|
Carbohydrates:
5
g
|
Protein:
1
g
|
Fat:
9
g
|
Saturated Fat:
6
g
|
Polyunsaturated Fat:
0.5
g
|
Monounsaturated Fat:
2
g
|
Cholesterol:
29
mg
|
Sodium:
7
mg
|
Potassium:
60
mg
|
Fiber:
1
g
|
Sugar:
4
g
|
Vitamin A:
394
IU
|
Vitamin C:
9
mg
|
Calcium:
21
mg
|
Iron:
0.1
mg