Secret confession: I don't do a lot of cherry desserts. Not because I don't like cherries (I actually love them) but because it's a pain in the rear to pit a whole lot of cherries for a pie or clafoutis. It's also hard because I can't pass up on chocolate, so sometimes chocolate desserts dominate my to-make lists instead of making room for other amazing desserts (case in point: this chocolate snack cake or chocolate fudge sundae cupcakes or a no-bake chocolate raspberry tart or these chocolate pots de creme...you get the idea).
But it's summer still for a couple more weeks, and I plan to hold onto summer until summer drags me off like my 3 year old clinging to my legs. That means soaking up all the desserts with fruit, even if that means canned fruit filling.
That's right. Canned cherry pie filling. Don't hate the baker, hate the game. That doesn't really apply here...but you get the idea.
Simple doesn't have to mean boring.
These Cherry Shortcake Squares come directly from Shauna Sever, who wrote this recipe back in 2010. When I read her blog post about these squares, it was like she was my spirit animal or something. She isn't elitist in her food tastes (you know, the people who can't possibly eat boxed macaroni and cheese or goat cheese that already has herbs in it...those people), and I'm here for it all.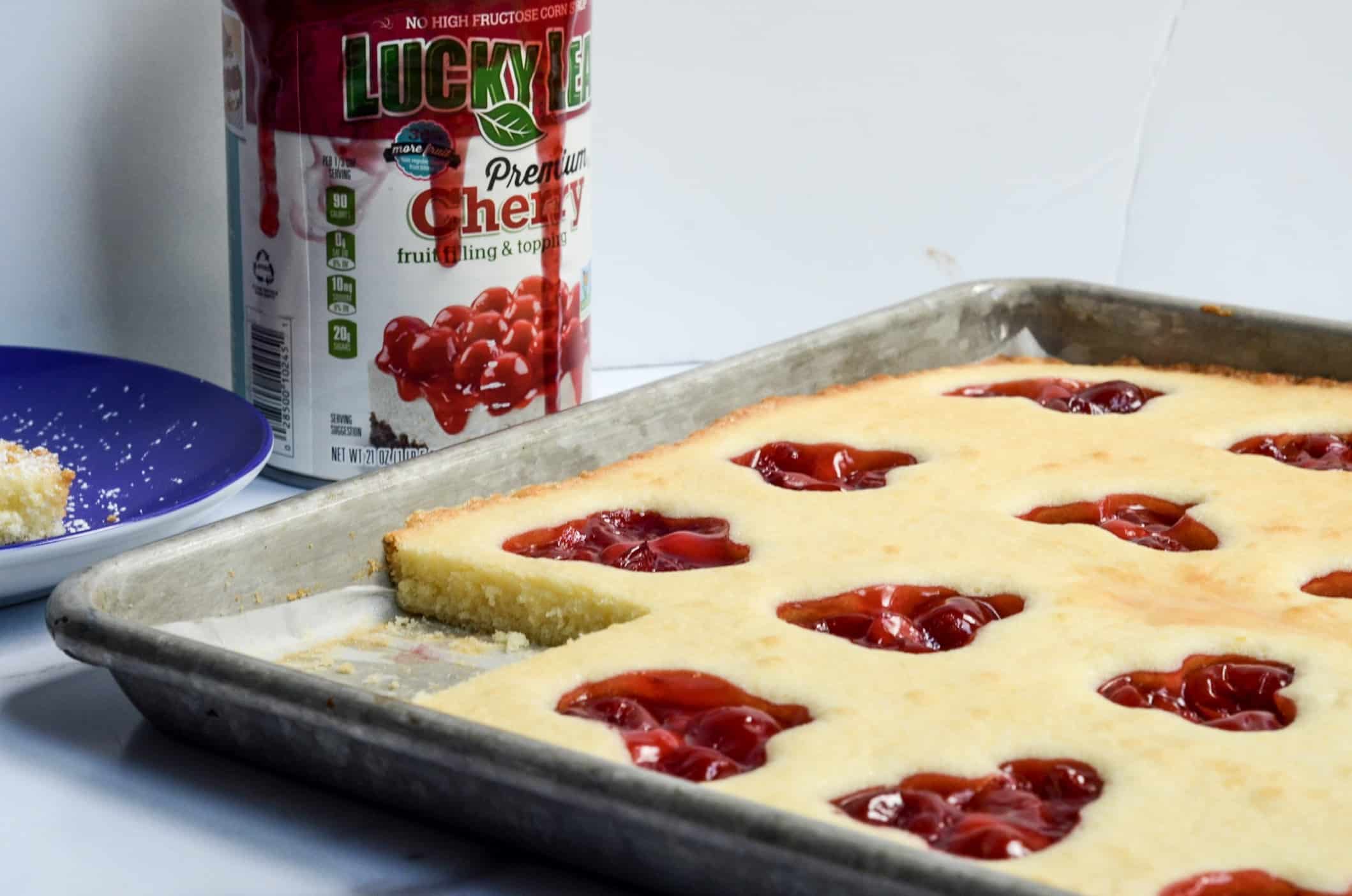 This recipe involves making a very simple shortbread like shortbread should be: not overly complicated or sweet. Once you have the batter in your half sheet pan, you'll use a toothpick to score the shortcake into 24 squares. Then you'll put 3 cherries in the middle of each square. Yep -- cherries from the can that are gooey and sugary. Those ones. (The line will disappear -- you just do this for aesthetics) The sugary, tartness of the cherries are a nice pairing with the more muted shortbread. Like these sugar cookie bars, these can feed a small army, too (24!), so if you need a go-to dessert for a larger crowd, these are great.
Shauna also has a cookbook coming out in October called Midwest Made: Big, Bold Baking from the Heartland. I'm a total food history nerd, too, so I love food origination stories (much of which comes from the Midwest). Food is a reflection of our values, culture, upbringing, and goals, and it produces so, so many memories. Food is incredibly powerful. You can pre-order Shauna's book here. I love supporting badass women, and she's one of them. I've pre-ordered mine.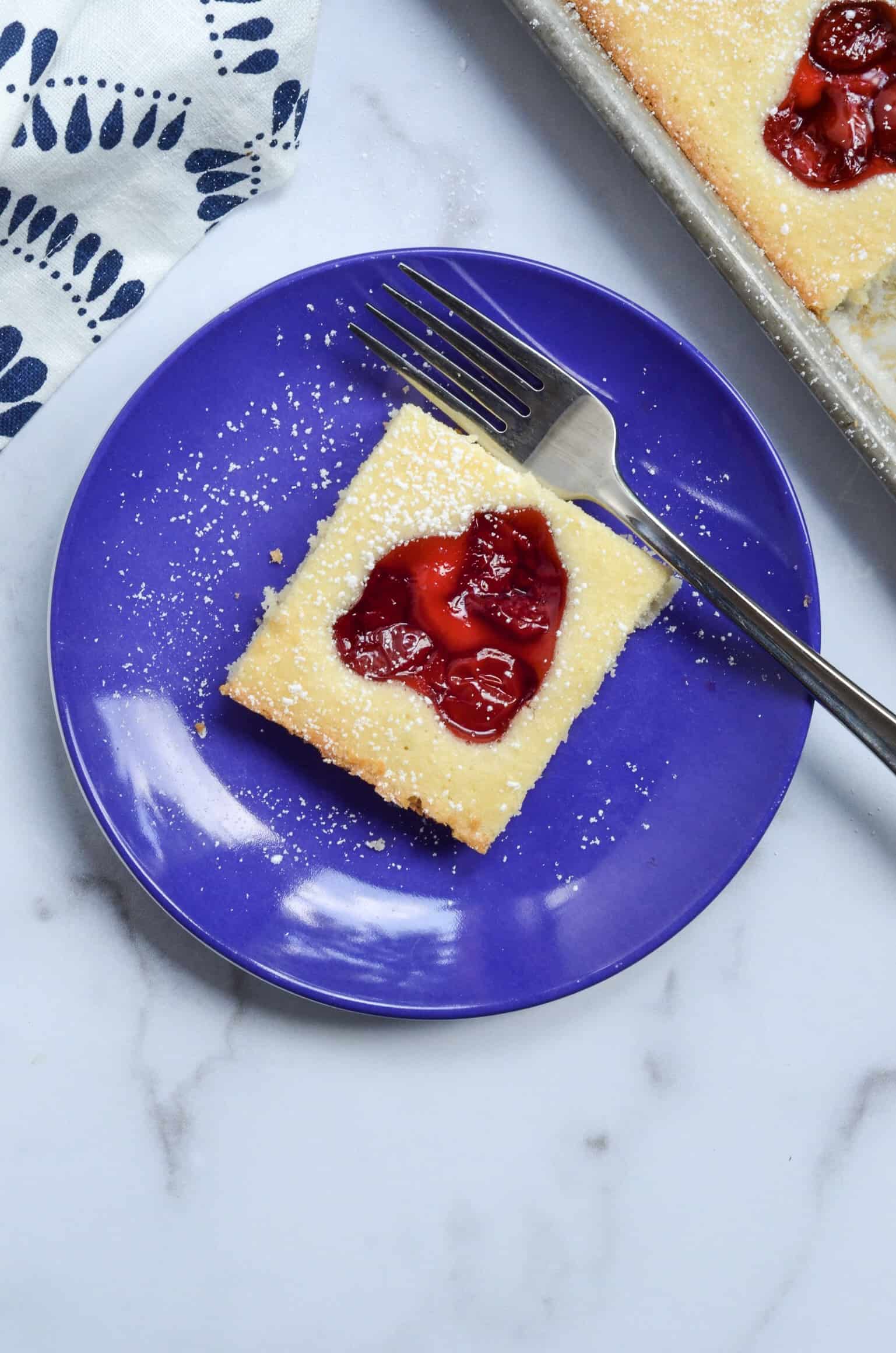 Hope y'all enjoy!
xox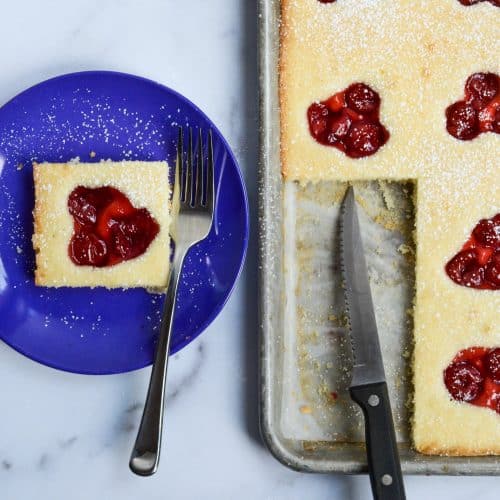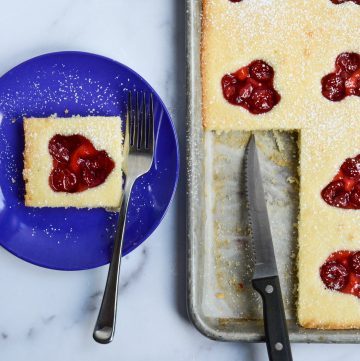 Cherry Shortcake Squares
Made with a shortcake bottom and filled with canned cherries, these whimsical cherry squares are deliciously easy to make!
Print
Pin
Rate
Ingredients
1

cup

unsalted butter

at room temperature

1 ½

cups

granulated sugar

1

tablespoon

freshly squeezed lemon juice

1

teaspoon

finely grated lemon zest

optional

1

teaspoon

pure vanilla extract

½

teaspoon

fine sea salt

4

large eggs

at room temperature

2

cups

unbleached all-purpose flour

spooned and leveled

1

21-ounce can

cherry pie filling

Confectioners' sugar

for dusting
Instructions
Preheat oven to 350 degrees Fahrenheit with rack in the center of the oven. Grease and line half-sheet pan (12x17 inches with a 1" rim) with cooking spray then line with parchment paper.

In the bowl of a stand mixer with paddle attachment, beat the butter and sugar together until light and fluffy. Beat in the lemon juice, vanilla, and salt until combined. Then beat in eggs one at a time. Scrape down the sides of the bowl. With the mixer on its lowest speed, mix in the flour slowly and until just barely combined. You don't want to overmix. Mix the rest by hand with a spatula.

Place the batter on your sheet pan until it's a nice, even layer. Using a toothpick, score the batter to create 24 squares (they'll disappear once they bake). Place 3 cherries in the center of each square.

Bake for 25-30 minutes or until a toothpick comes out clean. Cool completely in the pan on a wire rack before cutting. Sprinkle with powdered sugar before serving. Store leftovers in an airtight container.
Notes
These will stay fresh for 3 days as long as you store them in an airtight container and put waxed paper or parchment paper between the bars.