Light and airy on top like a macaron while fudgy and rich on the inside, this Chocolate Almond Torte requires little effort to get a restaurant-quality dessert on your table any day of the week.
Let's face it, Kathryn. You will never be one of those people who buys postage stamps to match the occasion. Or even one of those people who remembers birthdays in advance enough to send people a card. It's just not you. Those people are not your people. Your people barely know Friday is Valentine's Day and that today is Monday.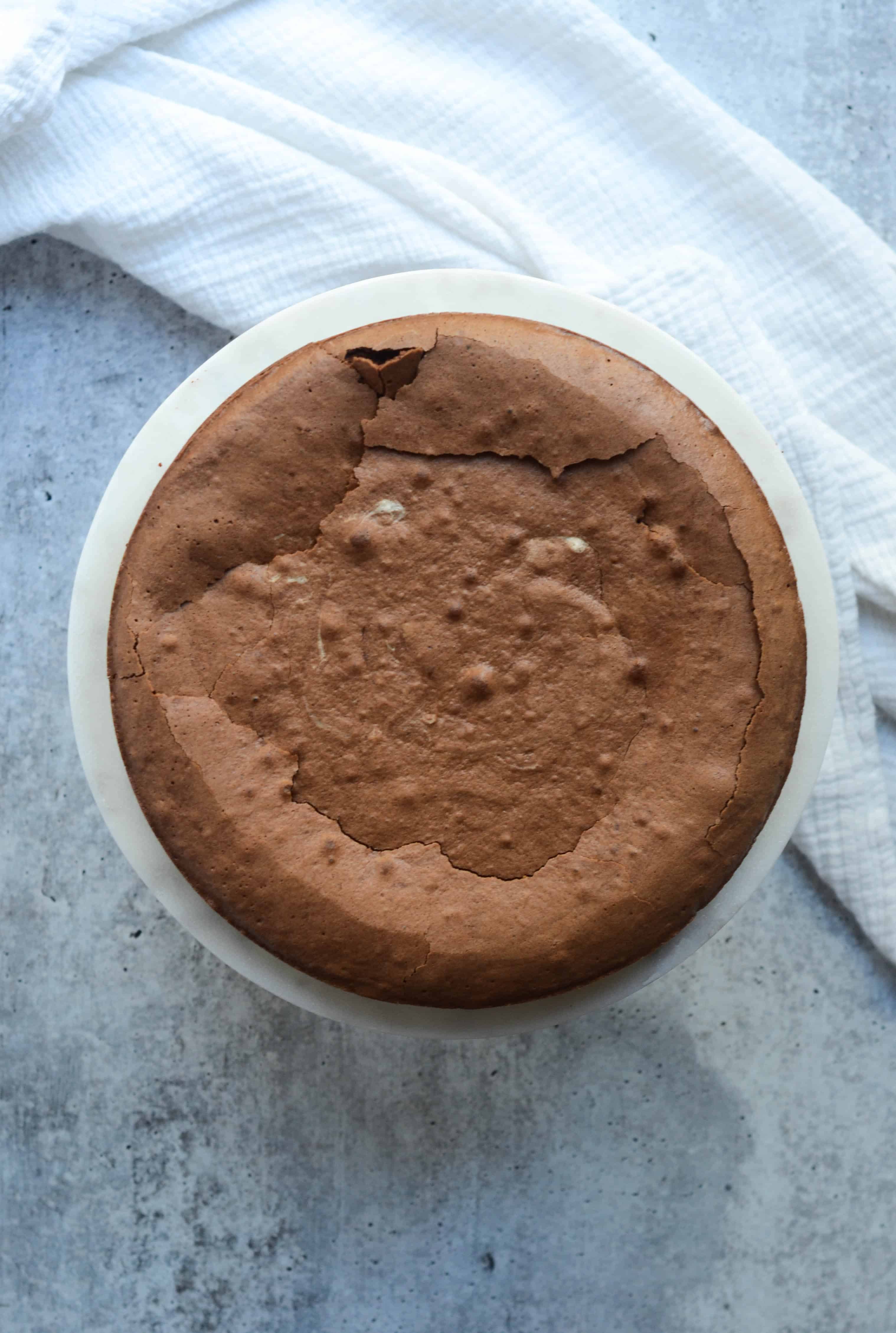 But I'll be damned if I can't make a dessert that will look and taste like I spent hours in the kitchen to achieve chocolate nirvana (only to have spent less than 45 minutes total). Sometimes you have to take what the Lord gave you and STFU about the rest.
This Chocolate Almond Torte is my new favorite dessert. It's super dense and fudgy on the inside with a strong almond flavor and the top is almost macaron-like thanks to folded egg whites. Like most tortes, this one is also gluten-free (but definitely not nut free!).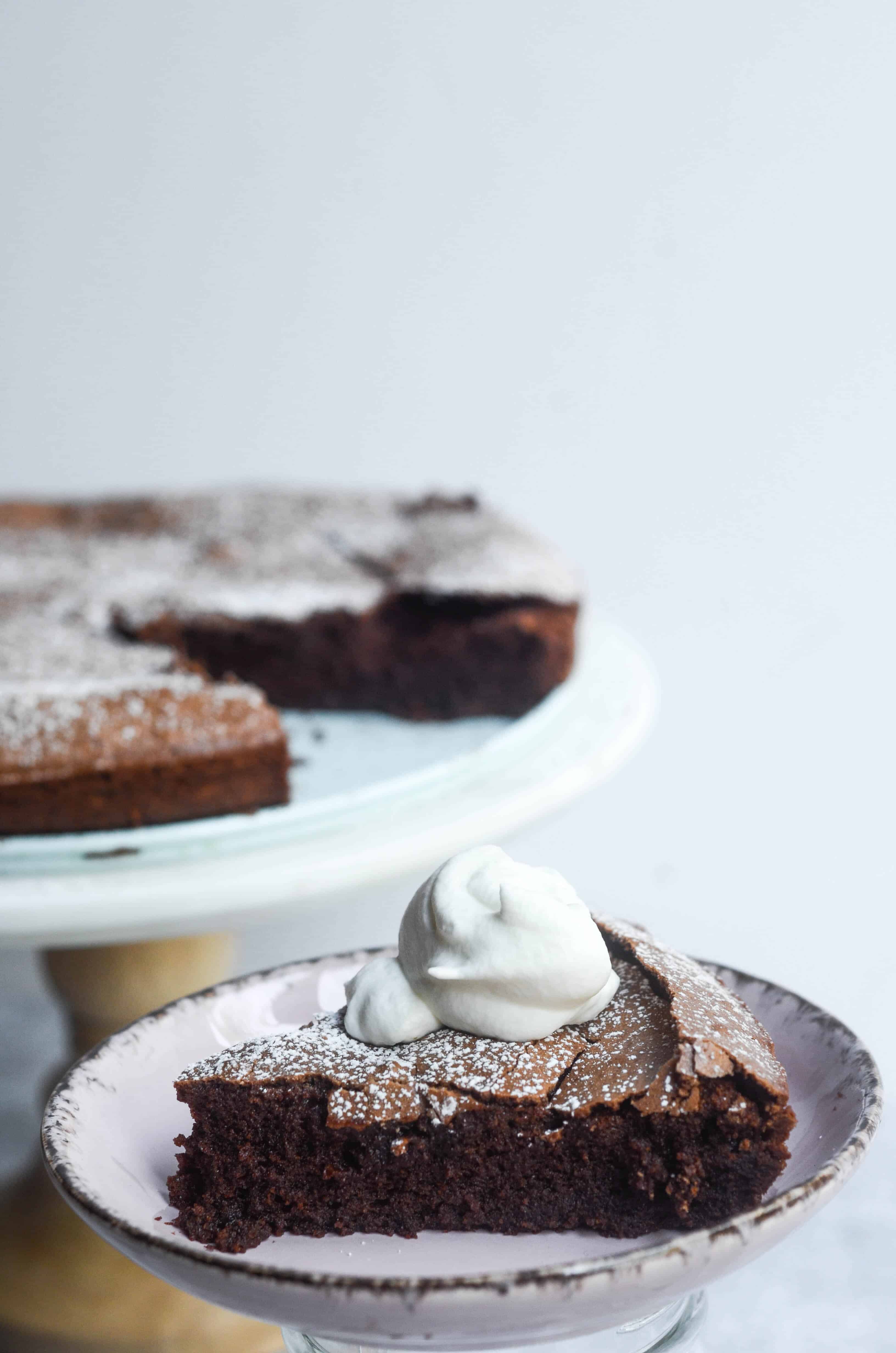 Torte vs. Cake vs. Tart
I get this question all the time: What's the difference between a torte, cake, and/or tart? A torte is typically a dessert that has little to no flour and instead relies on ground nuts for texture and structure. A torte also uses lots more eggs than a standard cake. These eggs are whipped and folded gently into the batter to aerate it. This leaves the top crunchy and airy while the center sinks in a bit.
A torte is different than a tart in that a torte is taller and has no crust. A torte is more like a cake in this way. A tart is typically made in a tart pan that has a removable bottom. A torte is typically made in a springform pan so you can take the chocolate torte easily out of the pan without ruining the sides.
Ingredients needed to make the chocolate torte
This chocolate torte requires less than 10 ingredients, most of which you probably already have in your pantry right now:
chocolate
butter
eggs
almond extract
sugar
almond flour
salt
espresso powder (optional...but it really heightens the flavor of the chocolate)
confectioners' sugar and whipped cream (optional for topping)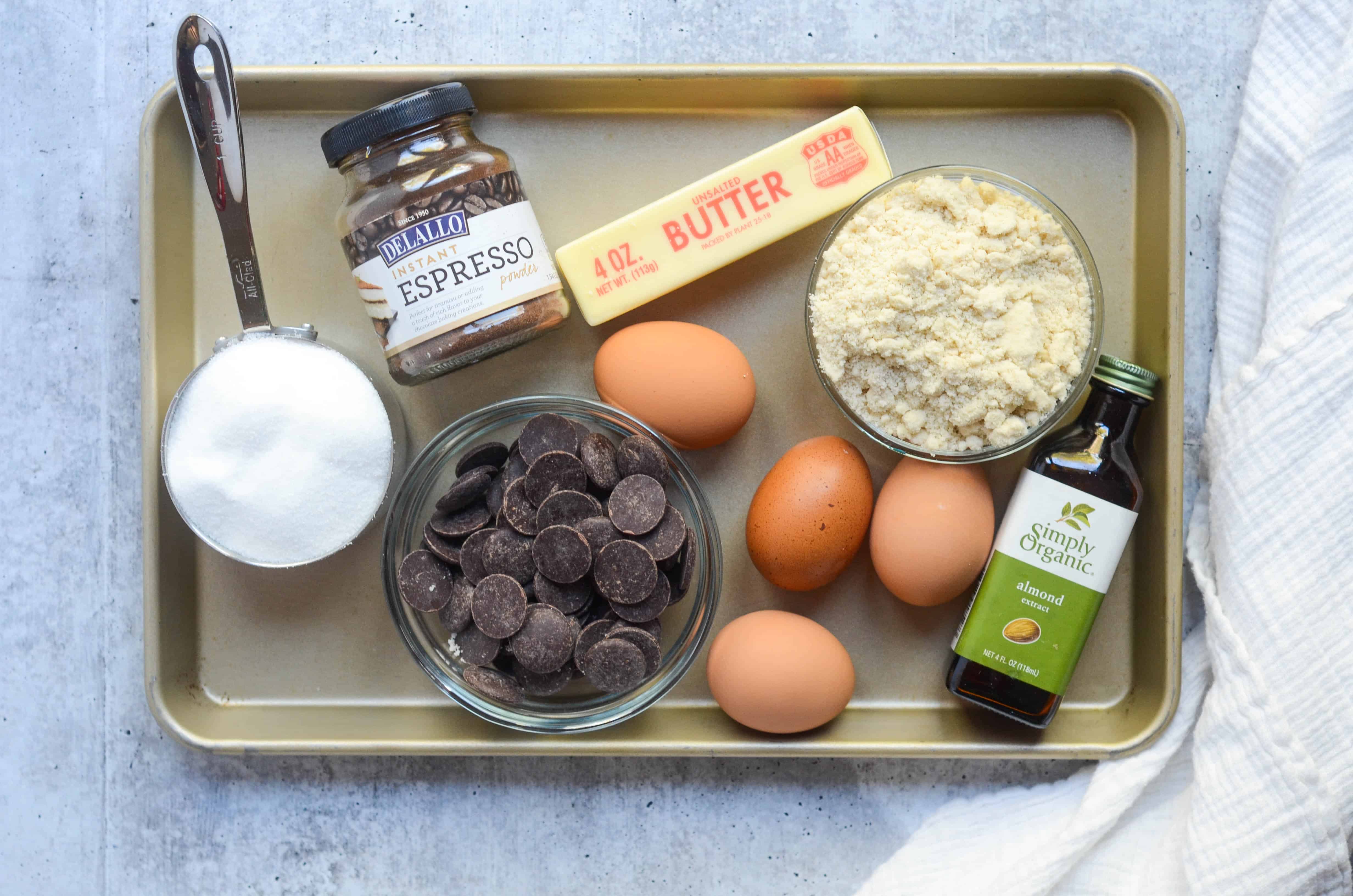 Folding in egg whites
The only technique you'll need is how to properly fold in egg whites to add some air into the batter. It's the same technique you'd use in a classic chocolate mousse. There are many videos you can watch to learn the proper technique, but you pour a little bit of the egg whites in at a time, start from the center, and fold the egg whites in with the batter while turning your bowl. Easy peasy.
Tips for making this Chocolate Almond Torte:
Use really good quality chocolate. I used semisweet Guittard baking wafers and it was so perfect.
This torte won't ever come out "clean" when you test it. If it does, it's over baked actually. just look for the sides of the cake to have set and the middle just barely jiggly. For me, this is just barely before the 30 minute mark. You'll want to keep an eye out starting around the 25 minute mark.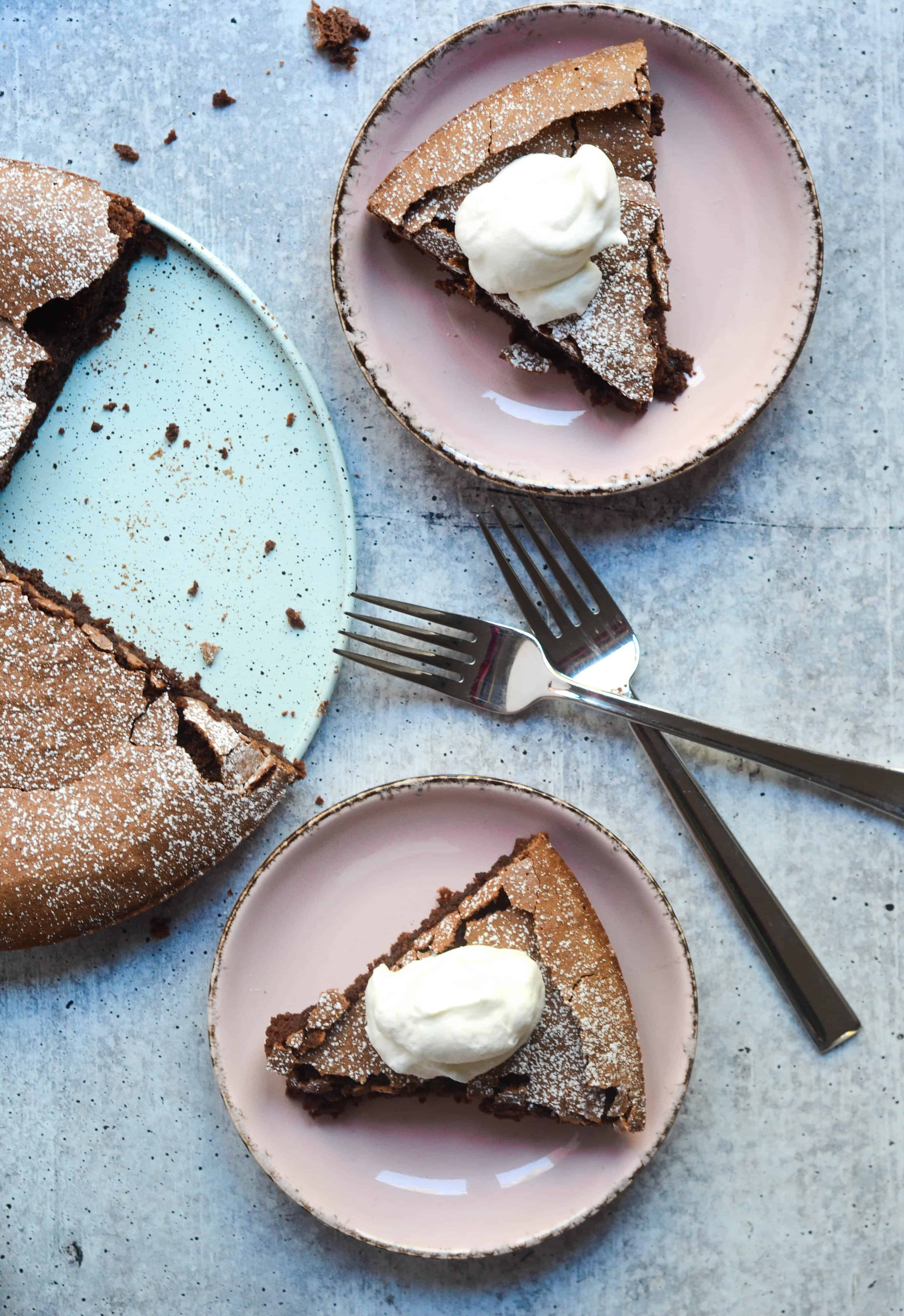 Other uses for almond flour
Of all the ingredients on the list, I would imagine almond flour would be an ingredient most people would have to buy. If you're on the fence, ALMOND FLOUR IS AMAZING. Don't feel like you'll never use it -- there are a lot of uses for it. I use it for all my fritters (corn and zucchini fritters and cauliflower fritters being my favorites) and even banana bread. For other sweets with almond flour, try this no bake chocolate pomegranate tart or the raspberry version.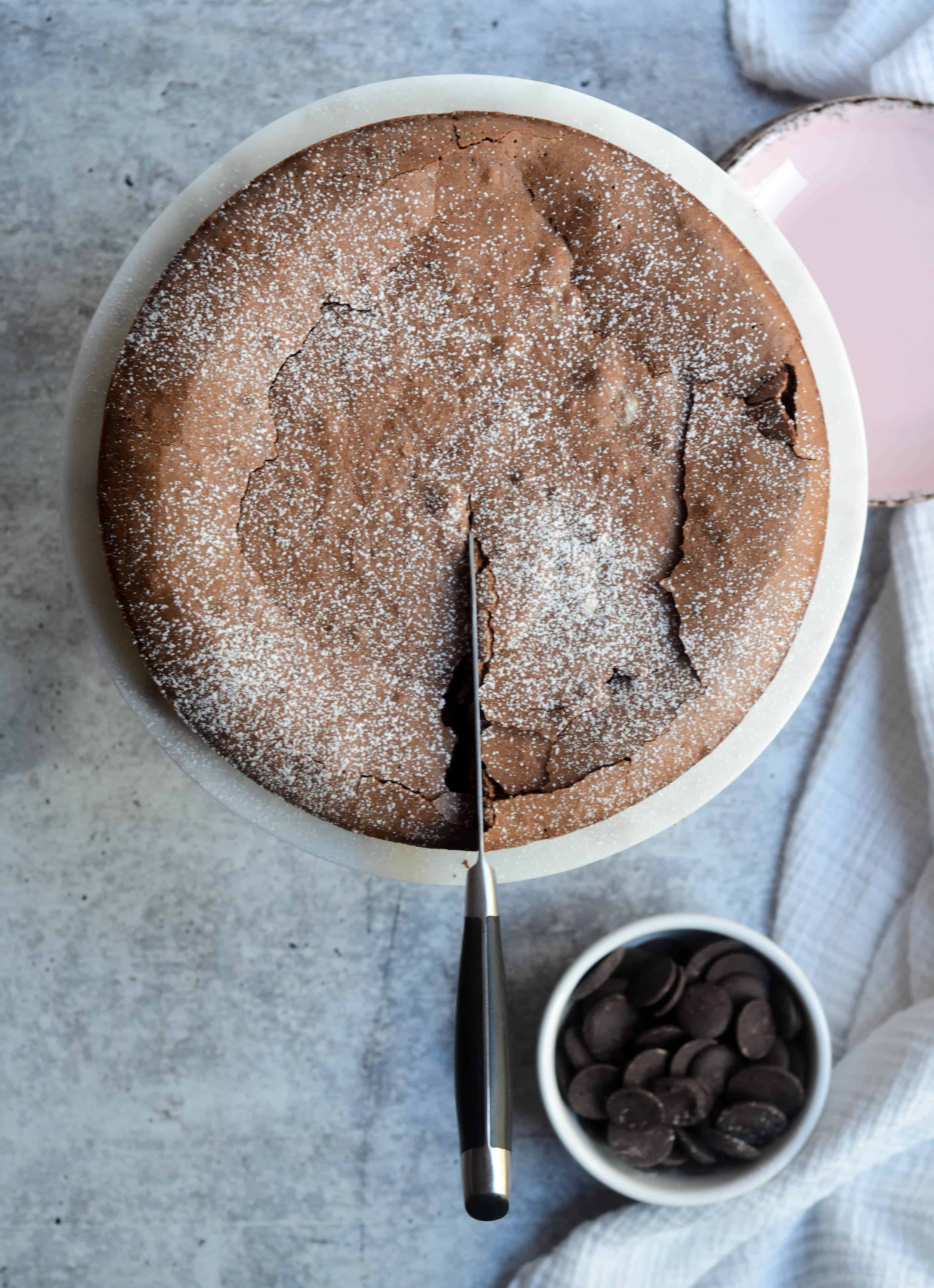 Happy Valentine's Day!
xoxo,
kathryn
As always, if you make anything from the blog, be sure to let me know! I love hearing from you in the comments on this post below or find Worn Slap Out on Facebook, Instagram, or Pinterest!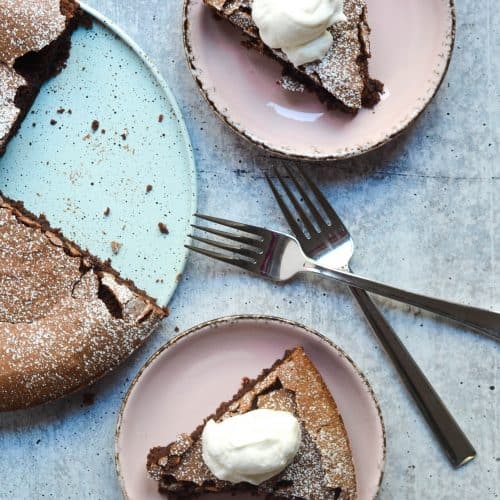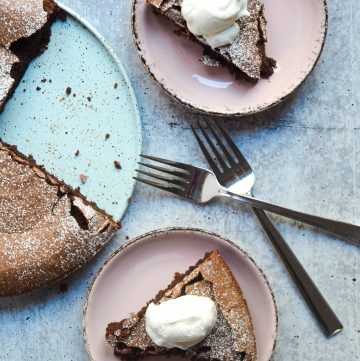 Chocolate Almond Torte (Gluten Free)
Light and airy on top like a macaroon and fudgy and rich on the inside, this Chocolate Almond Torte doesn't require much time to get a restaurant-quality dessert on your table any day of the week.
Print
Pin
Rate
Ingredients
8

oz

bittersweet or semisweet chocolate, roughly chopped

½

cup

unsalted butter (1 stick)

¼

tsp

almond extract

¼

tsp

espresso powder (optional)

4

large eggs, yolks separated from whites

1

cup

granulated sugar, divided

1

cup

almond flour

¼

teaspoon

salt

confectioner's sugar, whipped cream, or cocoa powder for serving (optional)
Instructions
Preheat oven to 350 degrees F. Grease 9" springform pan and line sides and bottom with aluminum foil on the outside of the pan to avoid any leakage.

In a medium microwave-safe bowl, place chocolate, butter, almond extract, and espresso powder (if using) in the microwave and melt in 30 second increments, stirring each time. Repeat process until chocolate/butter mixture is melted (this usually takes me 3 times). Set aside.

In a large bowl, whisk egg yolks and ½ cup of the sugar together by hand until pale yellow and thick (you'll need to put some muscle into this for 2-3 minutes). Whisk in almond flour and salt, then slowly whisk in chocolate mixture until combined. Batter will be a little grainy and thick. That's okay.

In a stand mixer with whisk attachment, whisk egg whites and the remaining ½ cup of sugar on high until stiff white peaks form.

Whisk ⅓ of the egg whites into the chocolate mixture vigorously. Gently fold the rest of the egg whites in little by little with a spatula so the mixture becomes light and airy (I typically do this in 3 batches).

Pour batter into the springform cake pan and shake to make sure cake batter is spread evenly. Bake for 25-30 minutes until sides are set but middle is a little loose. Place on a cooling rack for about 20 minutes to cool before taking cake out of the springform pan. Let cool completely before cutting. Garnish with confectioners' sugar, whipped cream, or cocoa powder before serving!