Silky smooth chocolate with the taste of pomegranate, this no-bake, gluten and refined sugar free pomegranate dessert simply does not disappoint for all my chocolate lovers out there.
Y'all. This Chocolate Pomegranate Tart is gooooooood. When you feel the winter blues set in, just remember that it's pomegranate season, and you can make it through. Pomegranates are one of a few great joys of winter, with citrus being a close second (heyyy, my favorite citrus fennel salad with avocado).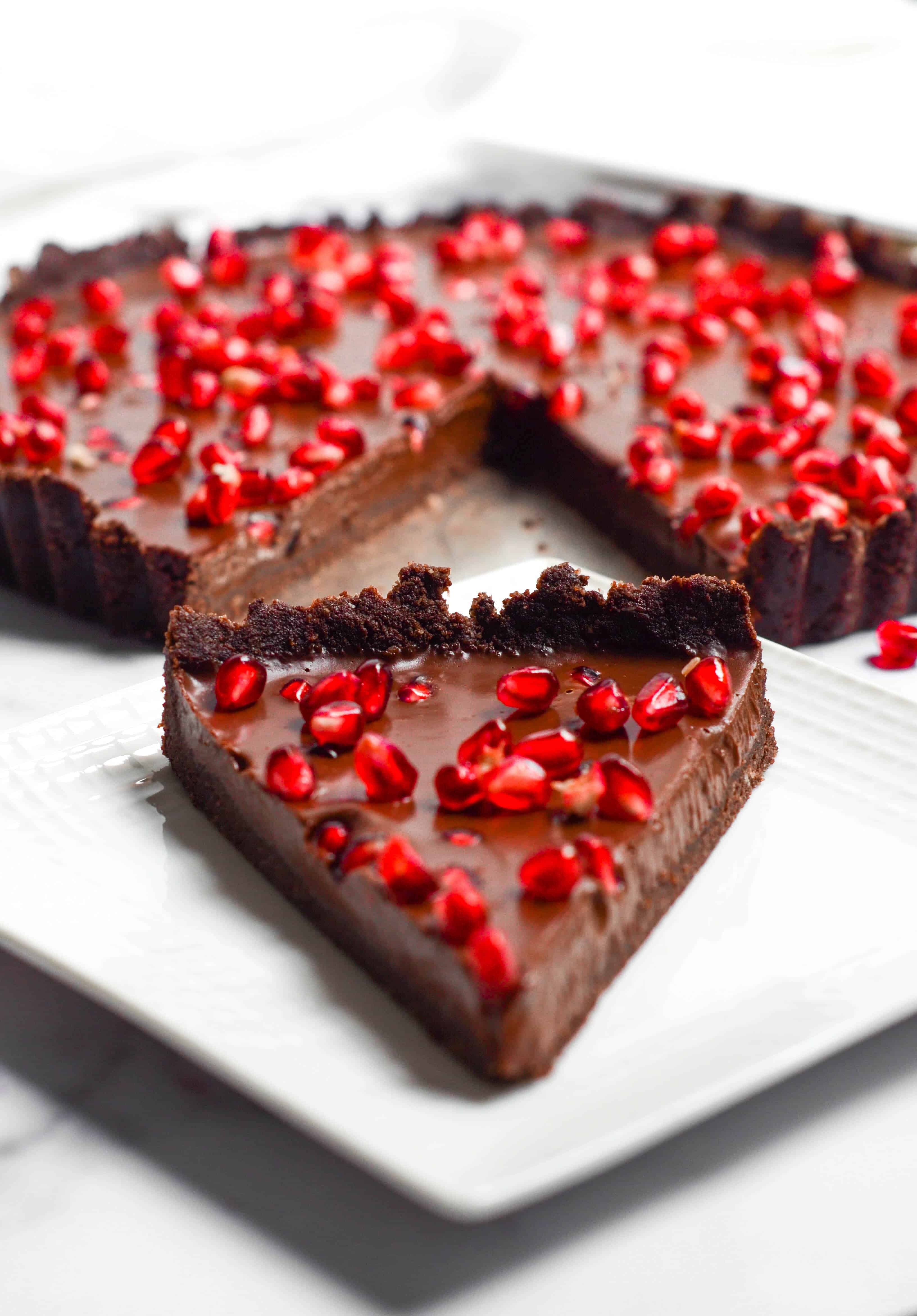 Why I love this pomegranate tart
This pomegranate dessert is the sister to my Chocolate Raspberry Tart but relies on pomegranates instead obviously. My husband and I always argue about which one we like better, but the truth is that they're both deliciously chocolatey and require zero baking, so they're a great dessert to put together rather quickly (but you do need the foresight to let it sit in the refrigerator for at least one hour). It mostly just comes down to a preference in fruit.
Because of these reasons, this is a very typical dessert I'll make for chocolate lovers who also like to eat healthy, even in their desserts (that's a thing?! Healthy desserts?). You can't really feel too guilty about this pomegranate tart because it's refined sugar free and gluten free and vegan, so it's perfect for people with allergies or food sensitivities.
How to make this pomegranate dessert
First, start by making the crust. The crust requires these ingredients:
almond flour- okay, look. I know if you haven't used almond flour in the past, it may seen like an ingredient you don't want to purchase specifically for this recipe, but I can show you so many ways to use almond flour. It won't go to waste!
unsweetened cocoa powder - I prefer Valrhona, but you you do!
coconut oil -- did I mention this dessert is also vegan?
pure maple syrup -- make sure it's not the thick, over processed syrup. You want pure maple syrup that comes directly from a tree.
salt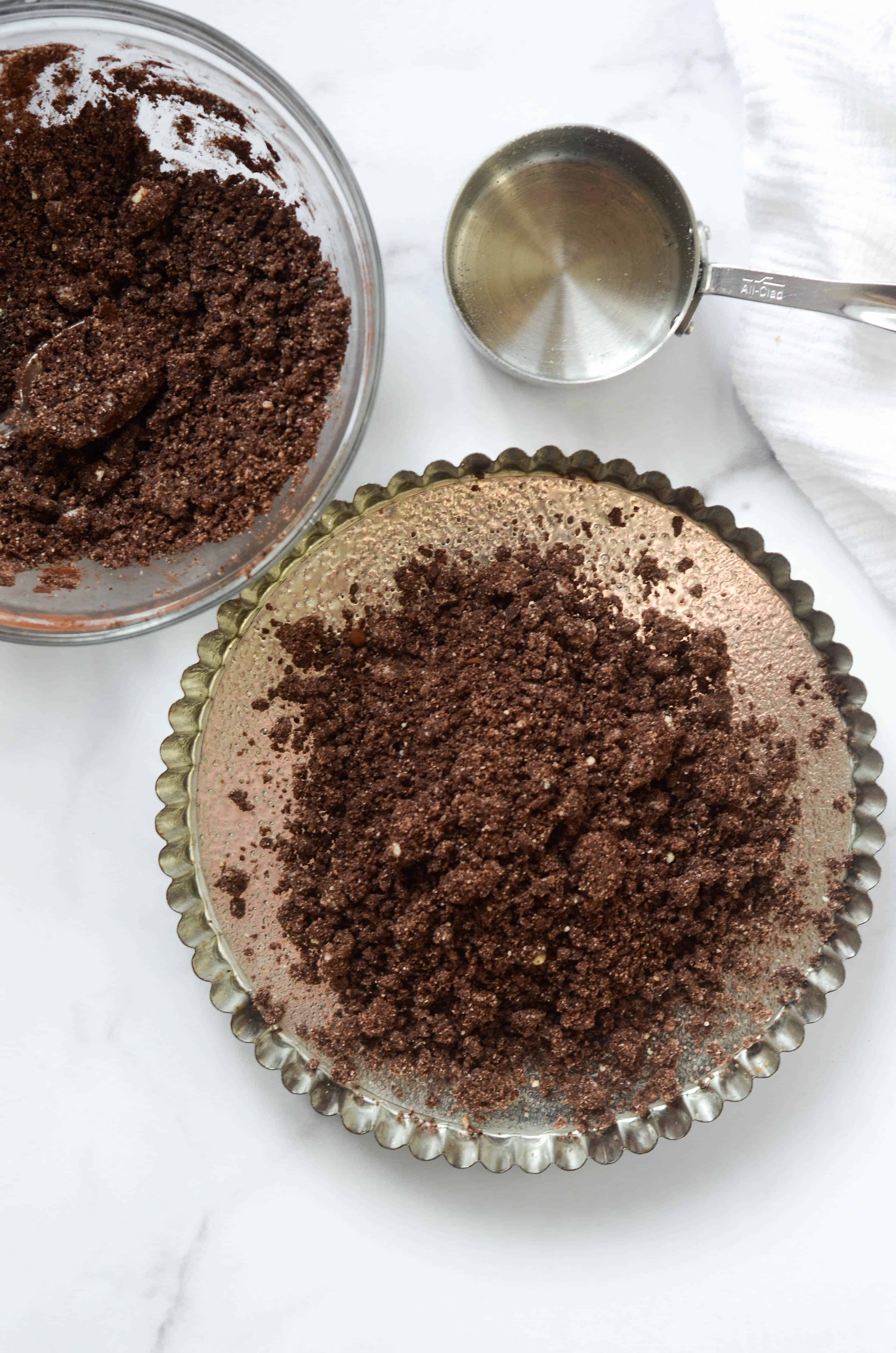 Put all of your ingredients above in a bowl and mix with a fork. Toward the end, I like to use my hands and break up any clumps of the almond flour that will often get stuck together.
The mixture will resemble wet sand. Pour the crumbles into a greased tart pan (more on that below) and spread all around! I like to start with the edges first because that's usually the toughest part for me then i work my way toward the middle using a measuring cup to keep everything flat.
Choose your tart pan
Tart pans typically come in two different shapes -- a round one that's 9.5" in diameter or a rectangular one. This is totally a personal preference (I used the rectangular pan in the picture below).
The important part is that it's actually a tart pan because tart pans have removable bottoms that make taking the tart out of the pan so easy. It requires a gentle pushing up on the bottom and voila! Your tart is released from the confines of the pan so you can cut beautiful, neat slices.
If you don't want to invest in a tart pan, just use a regular pie plate, but know your slices won't always come out so neat.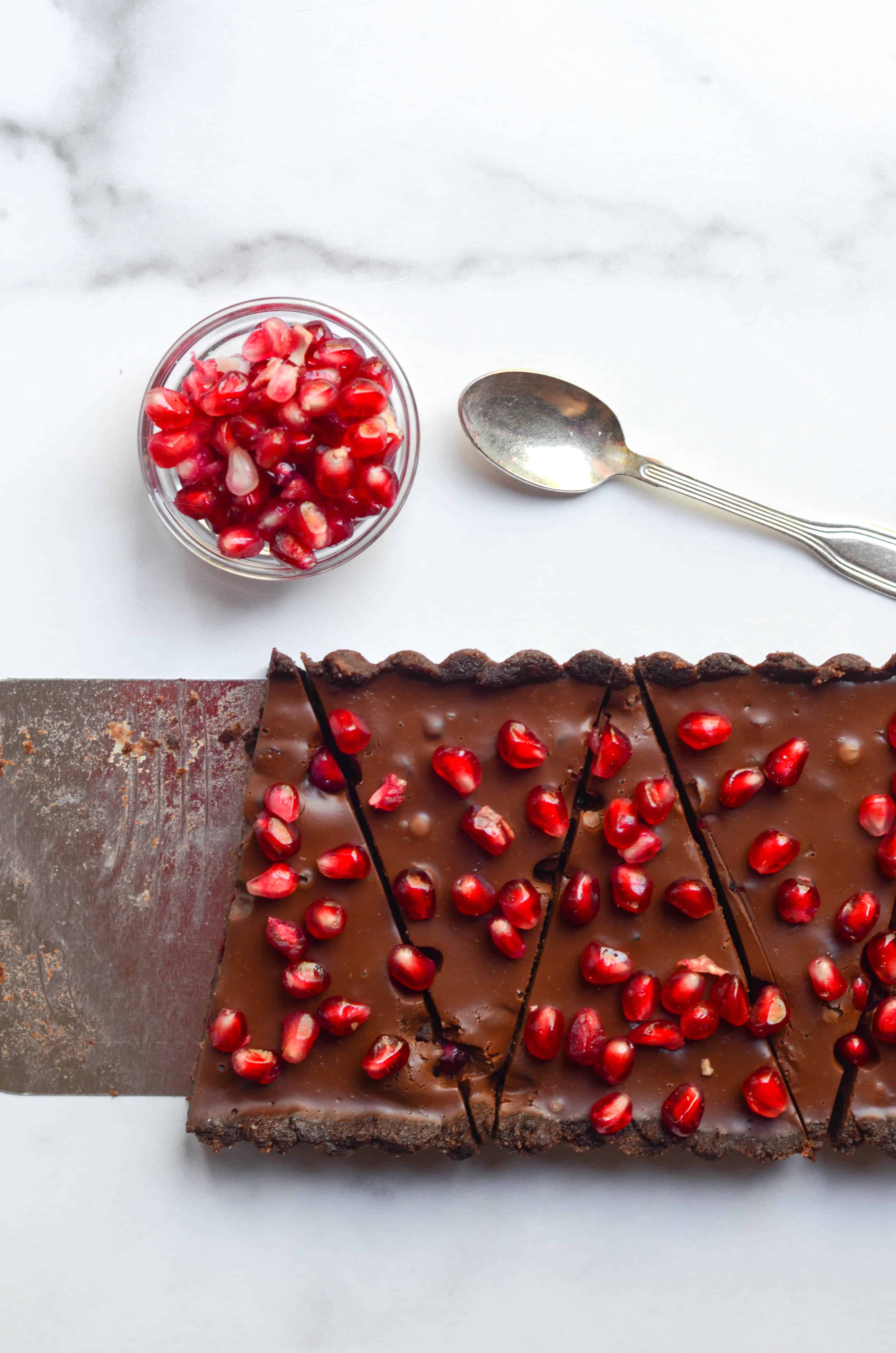 The Chocolatey Filling
The filling is equally as easy as the crust and makes this pomegranate dessert silky smooth.
First, heat up your coconut milk in the microwave until it's nice and bubbly. Pour it over your chopped chocolate, then cover tightly with plastic wrap. Let it sit for about 5 minutes, then whisk the coconut milk and chocolate together until the chocolate is completely melted. First, hThen add the rest of the ingredients: vanilla extract, raspberry preserves, and vanilla extract. Pour into the crust and give it a good jiggle to make sure all of the filling gets evenly dispersed in the crust.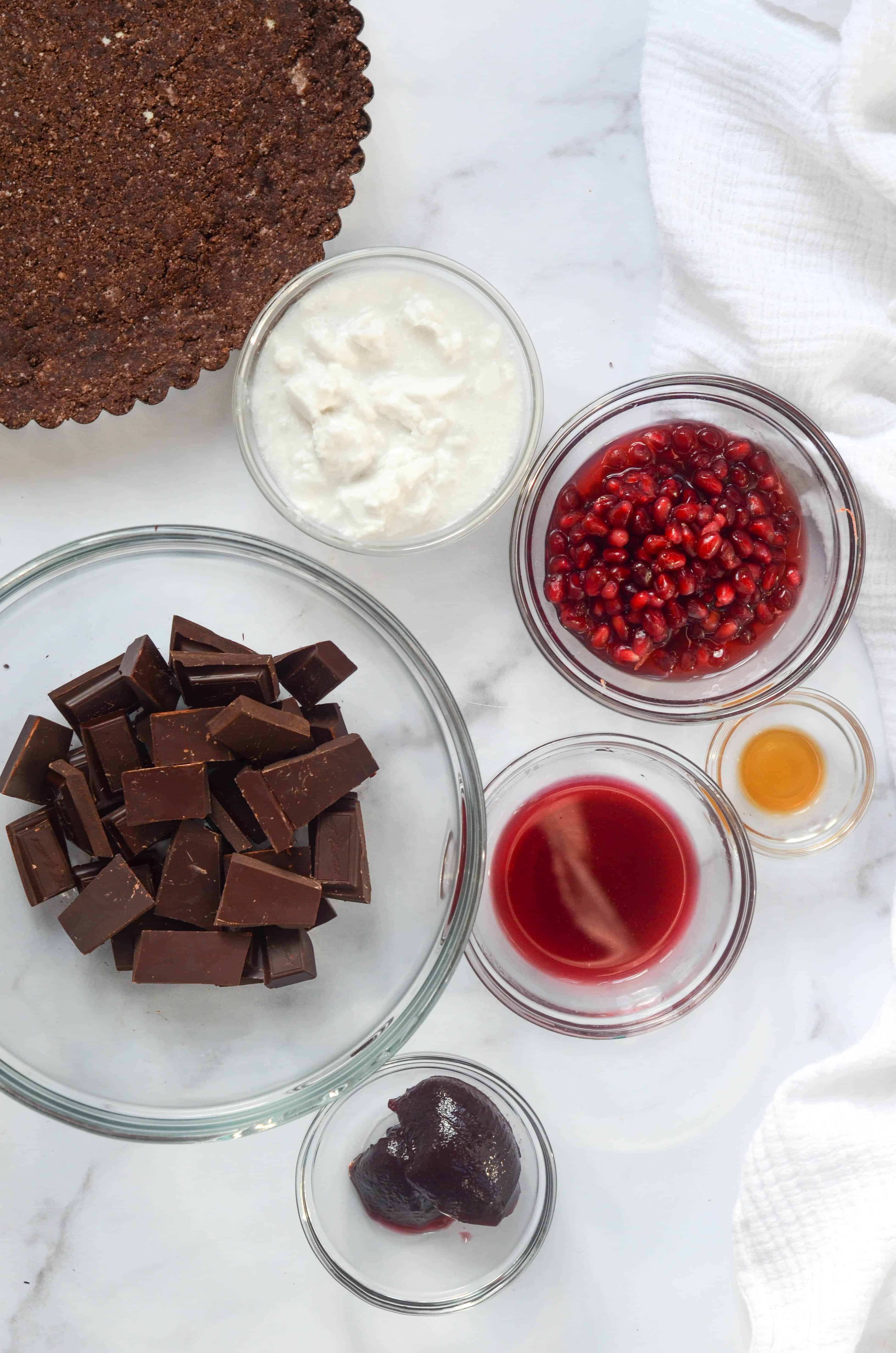 It's a no-bake dessert, but you do need patience.
It's a no bake dessert, but it does need to sit in the refrigerator for at least one hour until the chocolate mixture has time to set. You also don't want to pour the pomegranate seeds on top right away or else they'll all sink to the bottom. Let the chocolate filling have about 30 minutes in the refrigerator before gently sprinkling the pomegranates over the top.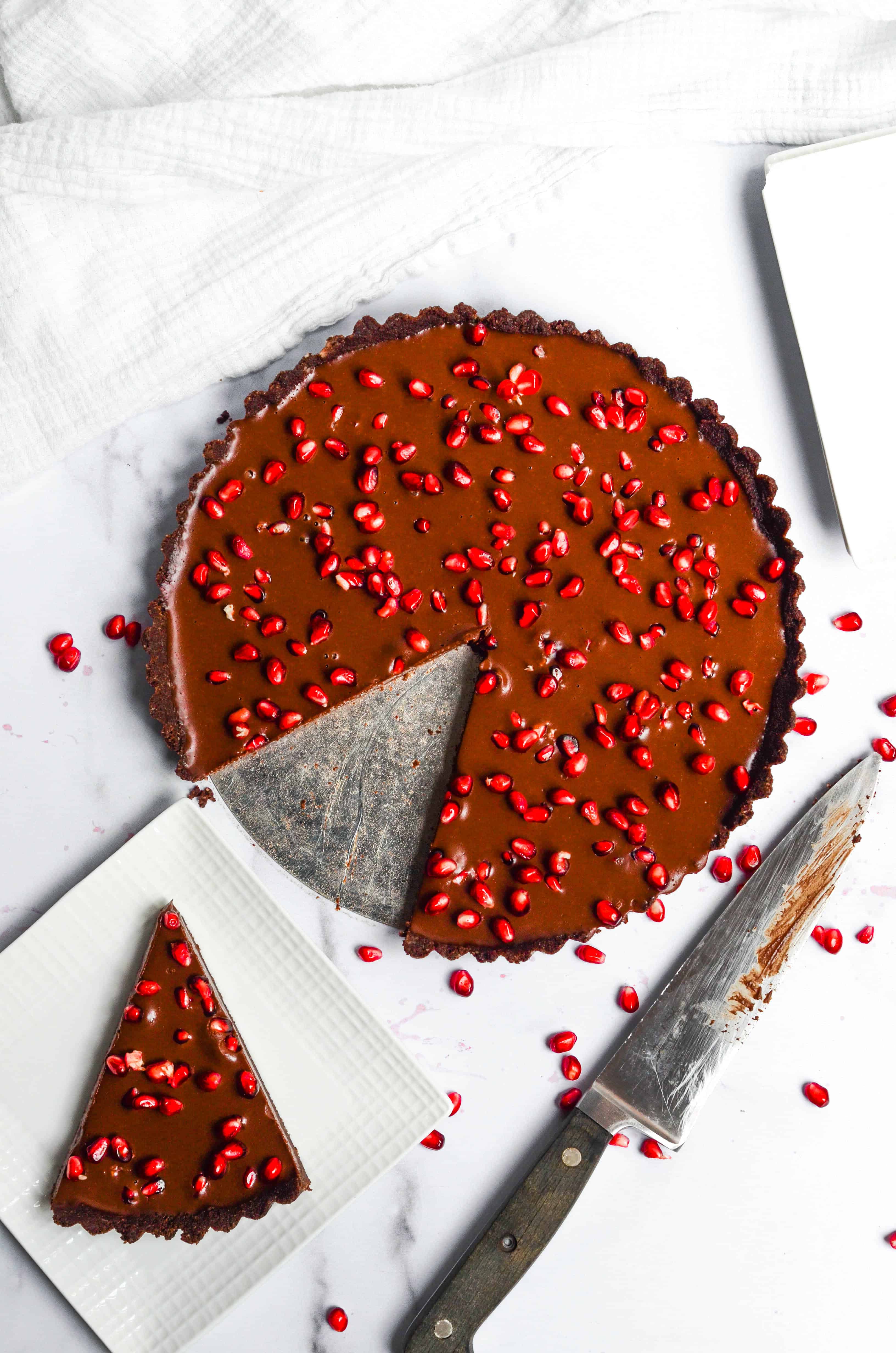 Other uses for pomegranates
I am all about figuring out what to do with leftovers, so if you find yourself with extra pomegranate seeds (which you likely will if you cut open a whole one), I love roasting brussels sprouts with bacon, pomegranates, and orange segments on a baking sheet for 25 minutes at 425.
Or in the mood for a delish cocktail? Sub in pomegranate juice instead of cranberry juice in this Cranberry Sparkler, and you've got yourself a delicious, wintry cocktail. This Raddichio salad with Turkey, Pear, and Pomegranates is also ridiculously delicious (and a great way to use up leftover turkey after Thanksgiving).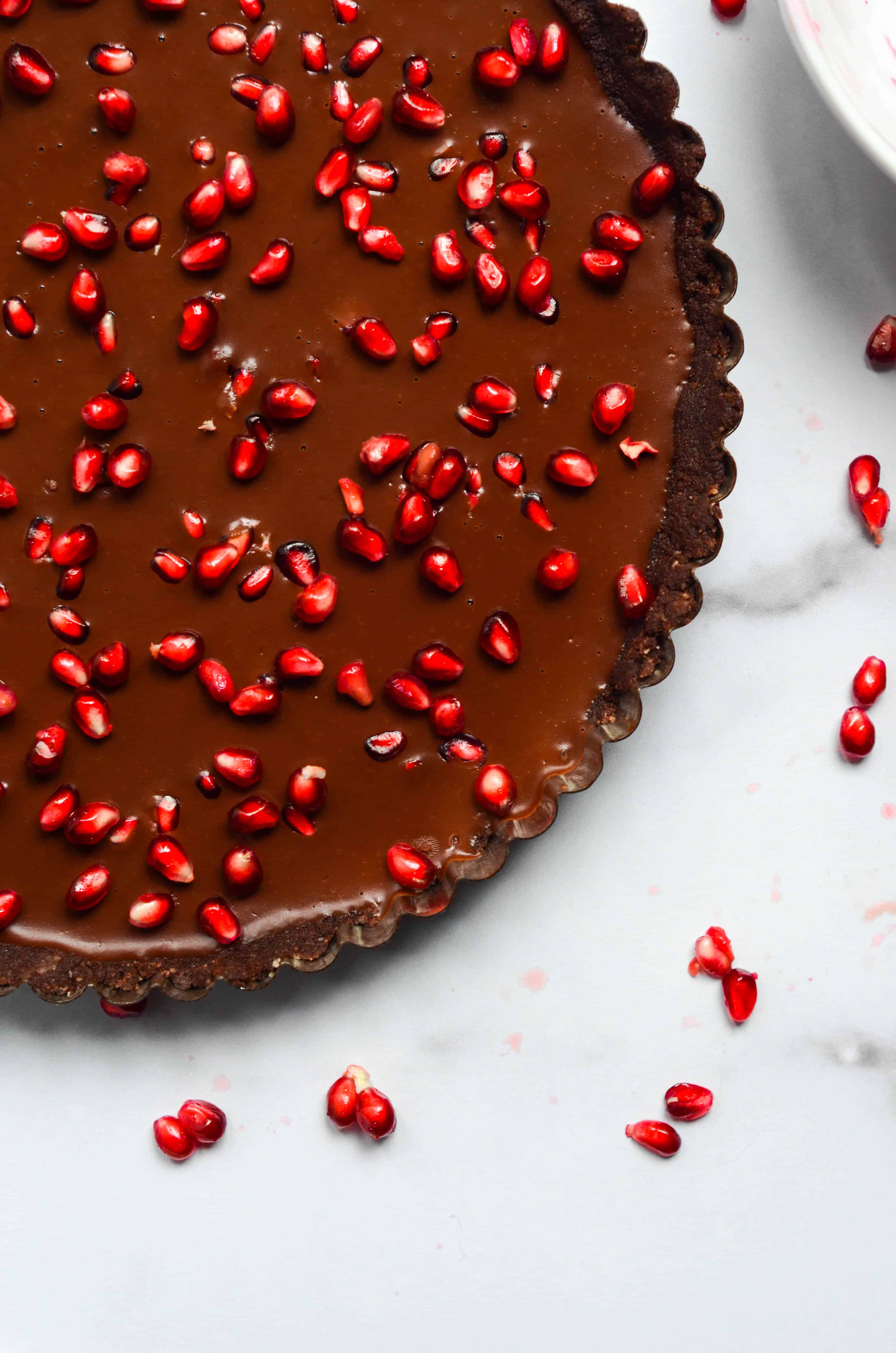 Love and pomegranates forever!
xox
kathryn
As always, if you make anything from the blog, be sure to let me know! I love hearing from you in the comments on this post below or find Worn Slap Out on Facebook, Instagram, or Pinterest!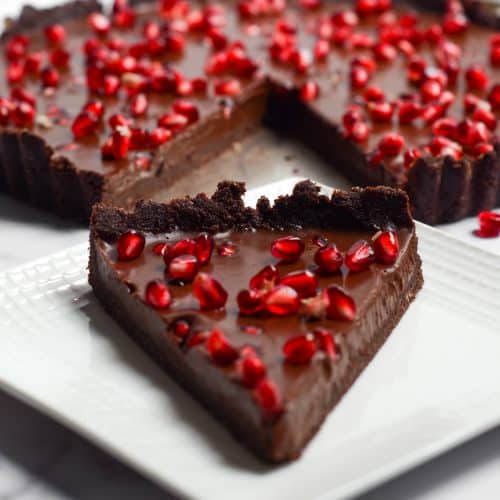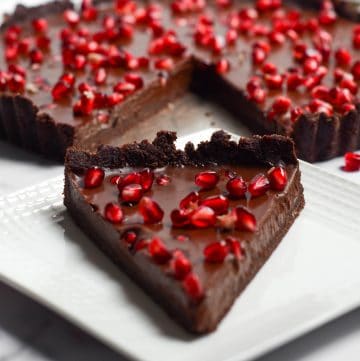 Chocolate Pomegranate Tart
Silky smooth chocolate with the taste of pomegranate, this no-bake, gluten and refined sugar free chocolate pomegranate tart simply does not disappoint for all you chocolate lovers out there.
Print
Pin
Rate
Ingredients
For the crust:
1 ¾

cups

almond flour

¼

cup

unsweetened cocoa powder

I prefer Valrhona

¼

cup

coconut oil melted

2

tablespoons

pure maple syrup

¼

teaspoon

salt
For the filling:
¾

cup

canned full-fat coconut milk

6

oz.

bittersweet chocolate finely chopped

¼

teaspoon

vanilla extract

2

tablespoon

raspberry preserves

without refined sugar 9f you can find it

2

tablespoon

pomegranate juice

⅓

cup

fresh pomegranate seeds
Instructions
Lightly grease a 9-inch tart pan with a removable bottom with non-stick cooking spray.

In a small bowl, combine all of the ingredients for the crust and stir together with a fork. Press mixture evenly into tart pan; set aside.

Place finely chopped chocolate in a medium-sized bowl. In a separate small bowl, microwave coconut milk until it starts to bubble and boil in the microwave. Pour hot coconut milk over chocolate, immediately cover bowl with plastic wrap and let sit for about 5 minutes. After 5 minutes, whisk chocolate and coconut milk mixture until creamy. Whisk in vanilla extract, raspberry preserves, and pomegranate juice. Pour the filling into the prepared crust.

Place tart in refrigerator to set and cool for at least an hour. Sprinkle pomegranate seeds on top of the chocolate tart once tart has been in the refrigerator for at least 30 minutes (otherwise, they'll fall in). You're ready to serve on the chocolate has set.
Notes
*In my opinion, this tart is best served slightly cold but not straight out of the refrigerator.  Let it sit out for about 20 minutes before serving.
Storing chocolate pomegranate tart: Store in the refrigerator wrapped in plastic wrap to prevent it from drying out.  It'll stay fresh for 3-4 days.