Aren't these reindeer cookies adorbs? These chocolate covered Oreo cookies take just a few minutes, are perfect to make with kids, and puts a smile on everyone's face.
Just like Halloween, the holidays this year have been on steroids in our house. There's just some extra Christmas cheer that's needed. You feel me? We've been loving our Santa car buddy who rides shotgun while the kids go with me to pick up Starbucks or our take-out dinner. There's not a single person who doesn't comment and smile after seeing Santa ridin' dirty. The more cheer, the better.
These reindeer cookies have the same effect on me. Are they difficult? Nope. Are they adorable? Yes. Can a child do most everything involved here? Absolutely. That's why these reindeer cookies are so perfect. They're literally just Oreos dipped in chocolate with some household food items thrown on to make a reindeer face.
What I'm trying to say is this recipe is more like a PSA -- just do it!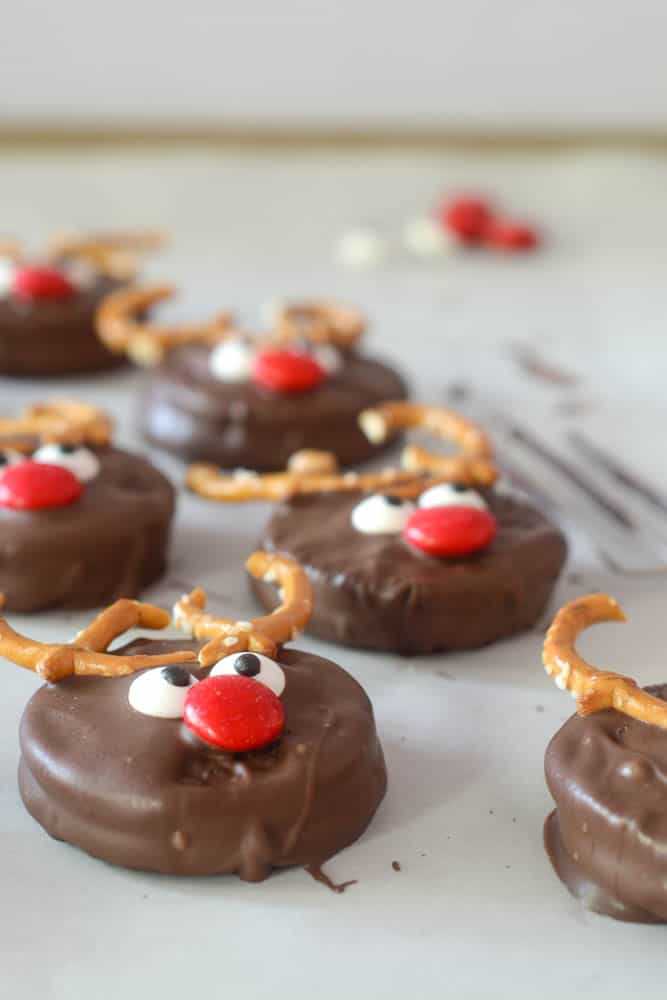 Get your Station Ready!
Here's what you'll need:
Let's Talk Antlers for a Hot Second
Which way do they go? Do they point outward or inward? This not only caused some controversy in my household, but it really messed with my head, so I did them both ways. Some even ended up with a unibrow of sorts.
You'll want to have a few extra pretzels around because sometimes the pretzels break into small pieces and you can't use them. Those are the ones that get gobbled up while you're working. You don't want the antlers to be too large either or else they'll topple over.
Last note about the pretzels (who would have thought I'd have so much to say about placing a pretzel piece on a cookie?!), you could probably get away with sticking the pretzel through the middle of the Oreo cookies if you were using double-stuff Oreos, but this would have to be done before dipping in chocolate and it would make your chocolate dipping that much more difficult. If you are successful, let a girl know.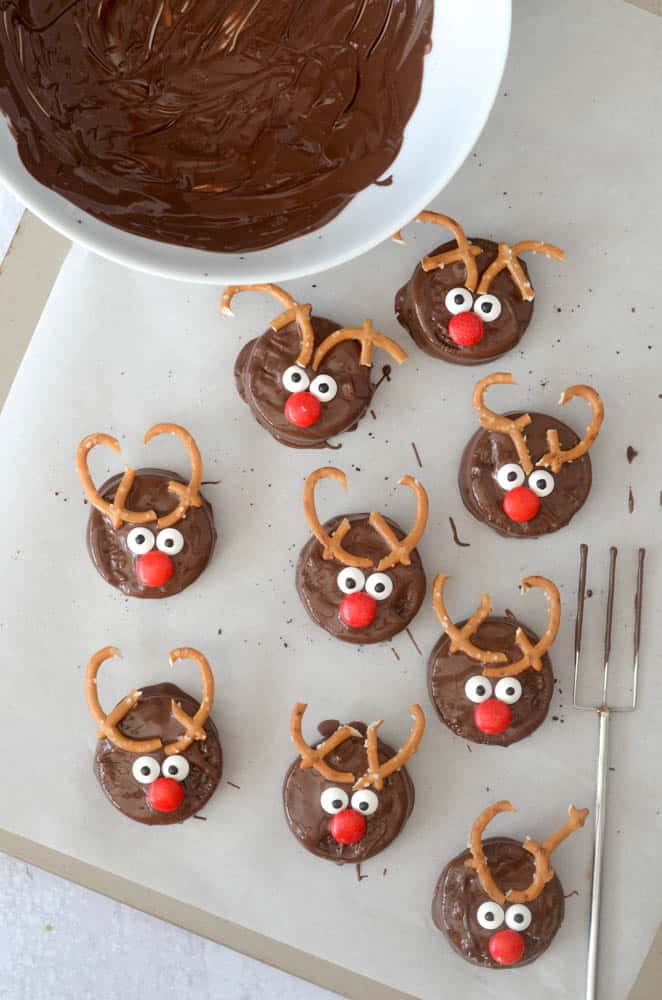 Can You Use Melted Chocolate Chips?
You can but you'll want to add a teaspoon of coconut oil to the chocolate chips. Otherwise, the melted chocolate chips will be a little too thick.
I use Ghirardelli dark chocolate melting wafers. You really can't get much easier than that. No need for a thermometer or to temper the chocolate. Just stick the wafers in a bowl, microwave, and start dipping.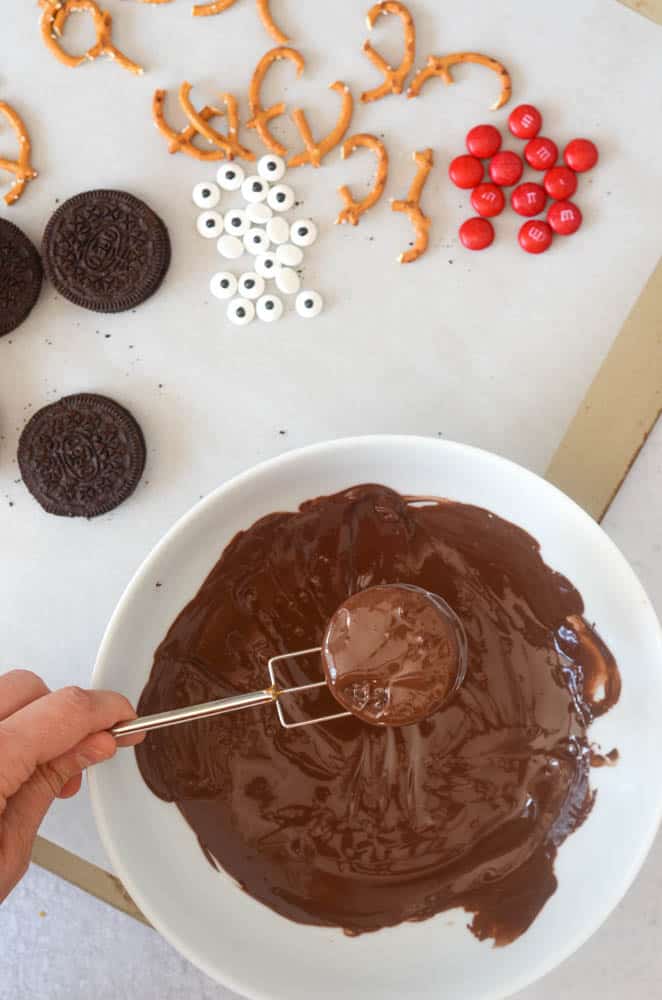 Some Tips & Tricks to Make Your Cookies Neater
Of course, if you're making these with kids instead of for kids, all bets are off. But if you get a moment of peace (and there's something about the monotony of the task that's therapeutic), here are some tips and tricks to help you.
Get your supplies ready. Have your Oreos, candy eyes, red M&Ms, and pretzels broken up in a neat little station. This will help save your precious time when you're melting chocolate.
Assemble each reindeer cookie before moving on to the next one. If you dip all of your Oreos first, your chocolate will harden and the facial features won't stick.
Work quick. You have to work quick when you're working with melted chocolate. If the chocolate cools down too much and doesn't go on the Oreo smooth and glossy, stick your chocolate back in the microwave in 15 second increments until warm again.
Use a two or three-pronged fork to dip. Is this necessary? Nope. Do you do a lot of dipping? Then you'll want to invest the few dollars that it takes to get a 3 pack of dipping tools (I use the 3 pronged one most) or this two pronged one.
Turn the M around to face down. This is such a stupid minor thing, but like these chocolate brownie cookies, it's a cleaner look, and I appreciate the details.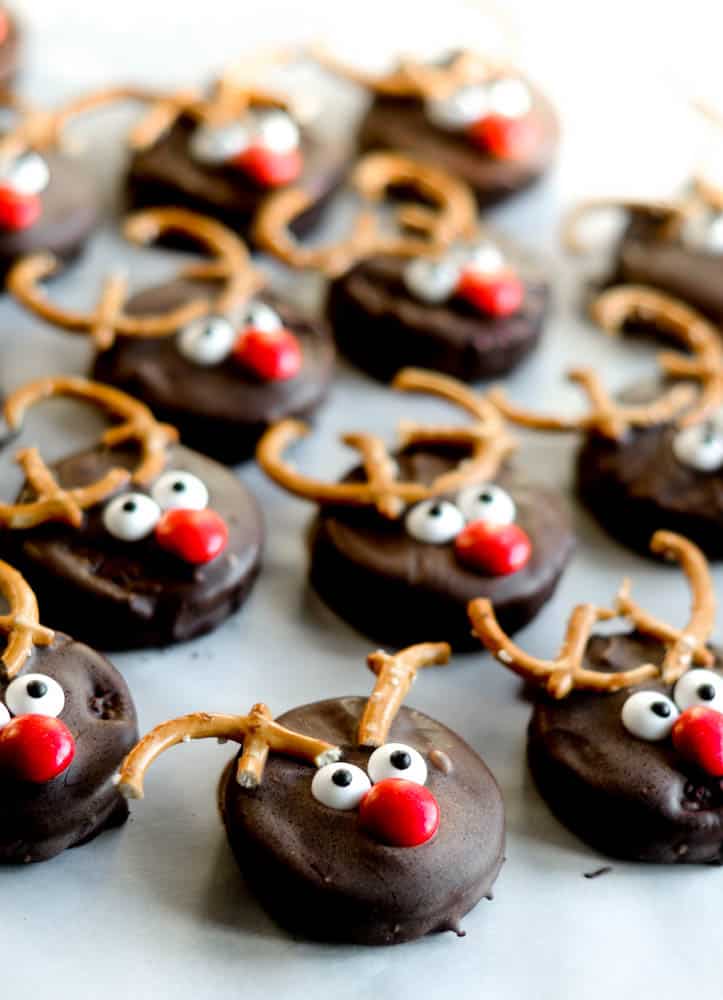 Happy Holidays!
xox,
kathryn
As always, if you make anything from the blog, be sure to let me know! I love hearing from you in the comments on this post below or find Worn Slap Out on Facebook, Instagram, or Pinterest!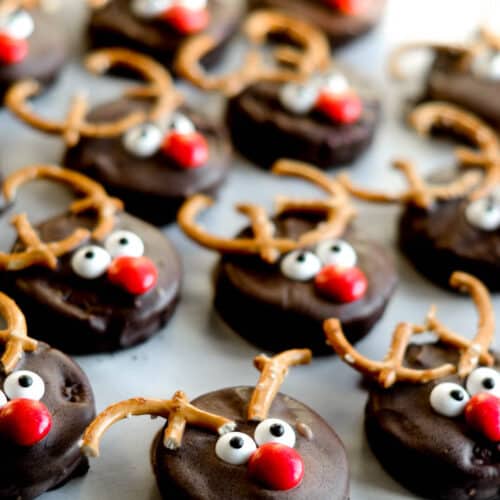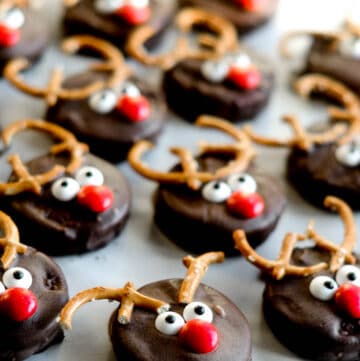 Dark Chocolate Covered Oreo Reindeer Cookies
Aren't these reindeer cookies adorbs? These chocolate covered Oreo cookies take just a few minutes, are perfect to make with kids, and puts a smile on everyone's face.
Print
Pin
Rate
Ingredients
1

12 oz.

package of dark chocolate melting wafers

(or milk chocolate if you prefer)

24

Oreos

regalar or double-stuffed

24

twist pretzels

48

candy eyes

24

red M&Ms
Instructions
Line baking sheet with parchment paper. Set aside. Break pretzels in half to form two antlers. Set those aside along with your candy eyes, and M&Ms.

Melt your chocolate in a microwave-safe bowl in the microwave in 30 second increments until completely melted, stirring every 30 seconds whether you feel like it needs it or not.

Dip Oreo one at a time in melted chocolate using a three-pronged fork or regular fork. Shake any excess chocolate off before placing on baking sheet. Immediately place pretzels on top for the antlers, candy eyes, and red M&M. If chocolate becomes too thick and not coating the Oreo well, place in the microwave and re-melt in 15 second increments.

Continue repeating process until all Oreos are dipped. Place in the refrigerator for at least 20 minutes to harden up before enjoying!
Notes
Store reminder in an airtight container in the refrigerator. I use a big plastic container and separate layers with a sheet of wax or parchment paper.  Reindeer will taste delicious for up to 3 days.