Crazy easy to make while being impressive, these meringue ghosts are great toppers for cupcakes, cake, or pudding cups or delicious to eat on their own.
Sugar! Give me more sugar! Halloween is the time when we have more junk food in the house than ever before just waiting to be delivered to trick-or-treaters. When the actual day comes, I can't get that candy out fast enough. I want it ALL out. I remember when the kids were super little they liked passing candy out more than they loved receiving it. Sigh -- I loved those days. 🙂
This year has been even more festive thanks to extra time at home and the holidays giving me something to look forward to. The kids and I have been making all sorts of spooky goodies since October hit -- and these ghosts are a hit with both kids. I mean, who doesn't love crispy sugar?
Meringue is super easy to make (just see the tips below) and doesn't require too many fancy things. You'll just need a stand or electric mixer, pastry bag and an open tip. The rest is up to the oven to work its magic.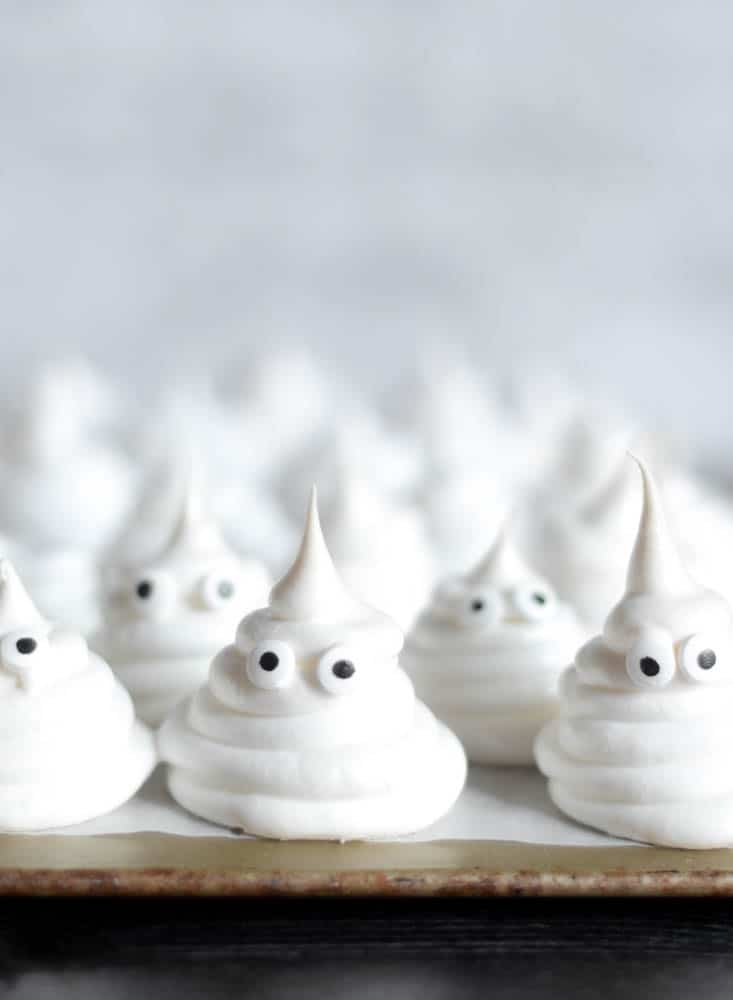 What are the main ingredients in meringue?
There are only 4 total ingredients in this meringue (and a lot of recipes use only 3 and leave out the vanilla extract):
egg whites
cream of tartar - helps stabilize the meringue and allows it to have those stiff peaks you want
pure vanilla extract
granulated sugar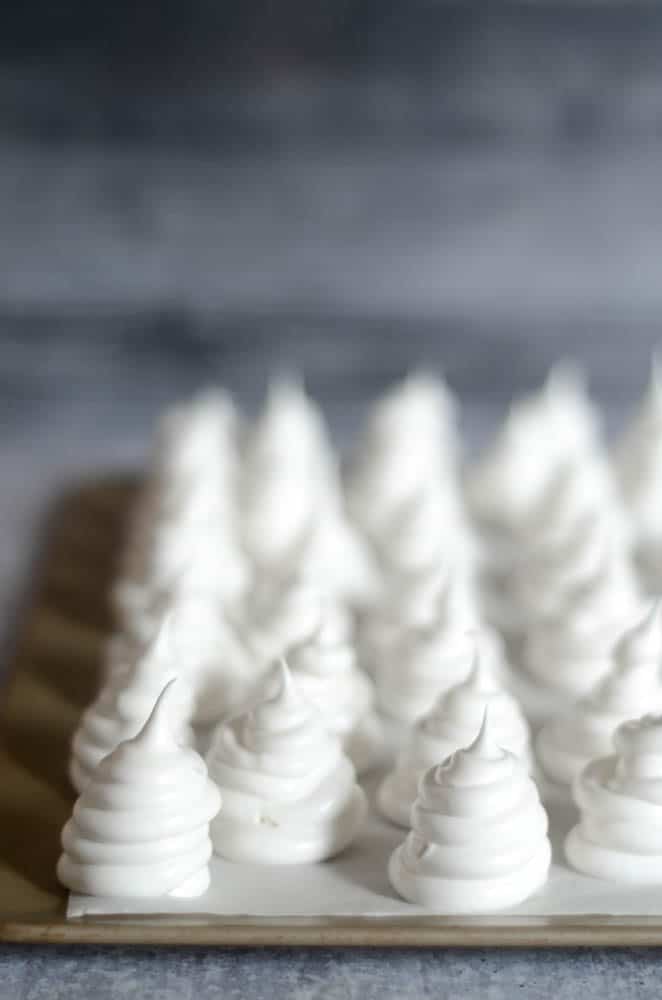 How to Make Ghost Meringues
You'll need an electric or stand mixer. I highly recommend a stand mixer to save your wrists.
In your stand mixer, whisk egg whites, cream of tartar, and vanilla extract on medium speed until frothy. Then slowly add sugar while bumping up your speed to medium-high. From there, watch the meringue until stiff speaks form. The meringue should be shiny/glossy. You know you've reached "stiff peak" status when you can dip the whisk in the meringue and turn it upside down and the meringue stays upright.
Then place meringue in a pastry bag with a wide, open tip (I use Wilton Tip #12) and with one motion, pipe a 1" circle on parchment paper and then continue piping concentric circles that narrow before ending with a tip that goes straight up.
Bake in a low-heat oven (200˚F) for about an hour and a half or until the meringue starts becoming crispy. Then turn the heat off and let the meringue sit in the oven for another 2 hours (3 is even better). This will continue to dry out the meringues so they become light and crispy.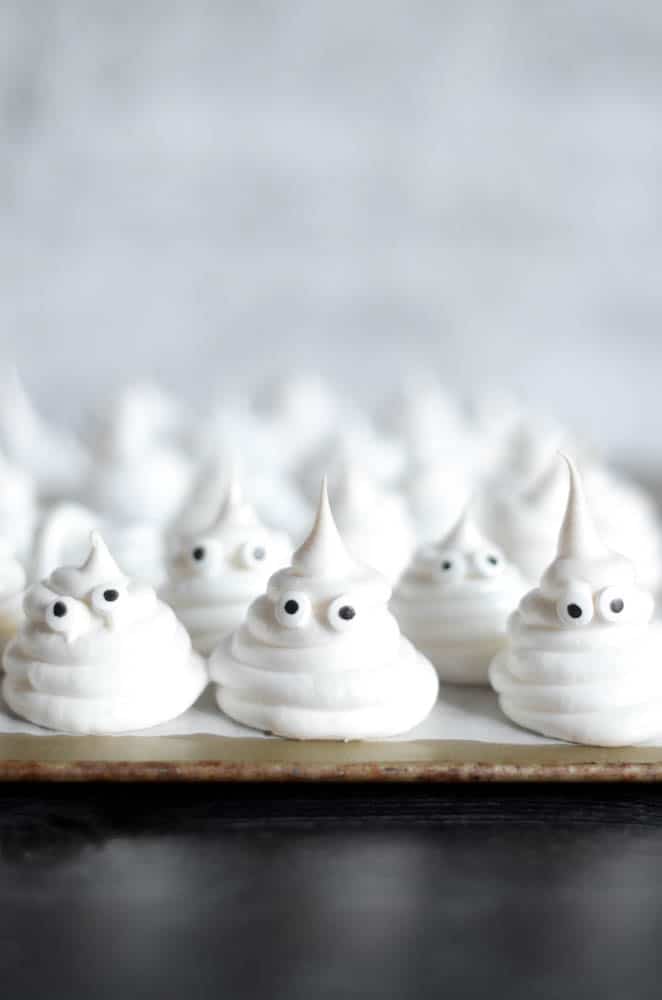 What is the trick to making meringue?
It's really so simple, but there are a couple of tricks to make sure you have a light and crispy meringue:
Start with a really clean bowl. Give it a good cleaning (even if it's already clean) before you begin. The eggs won't get frothy if there's even a small speck of something in your bowl.
Don't over whip the meringue. Stop when meringue forms stiff peaks and is shiny.
Add sugar slowly. Don't dump in the sugar all at once. You want to sprinkle in gradually until it's all combined.
Bring eggs to room temperature. I never have time for this -- but it's always smart.
Meringue won't expand or rise, so you can pack your meringue cookies in tightly. I can get all 36 ghosts on the same baking sheet.
Other Halloween Treats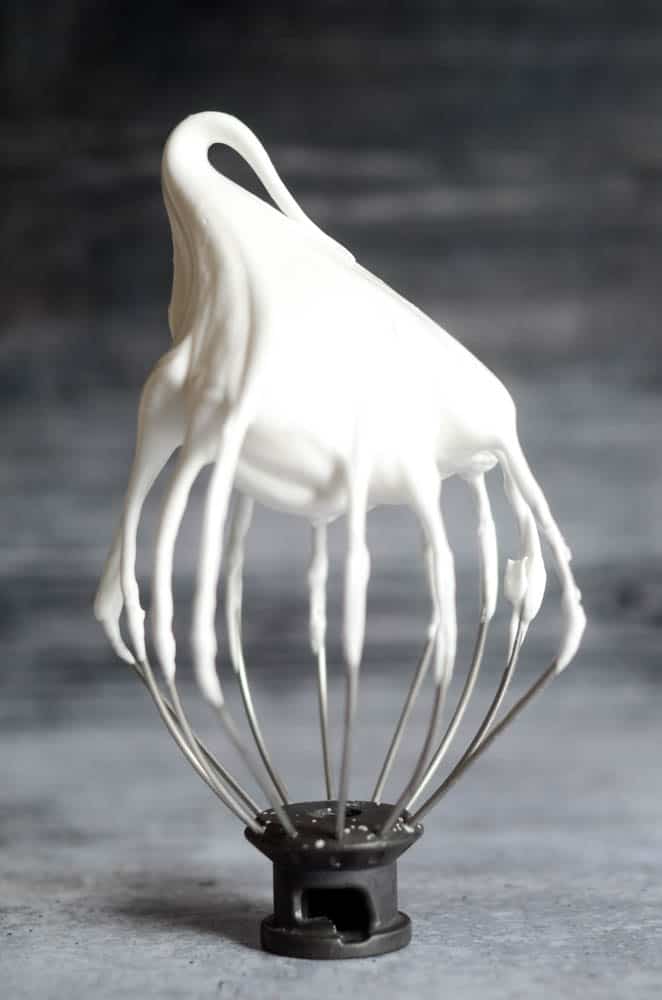 xox,
kathryn
As always, if you make anything from the blog, be sure to let me know! I love hearing from you in the comments on this post below or find Worn Slap Out on Facebook, Instagram, or Pinterest!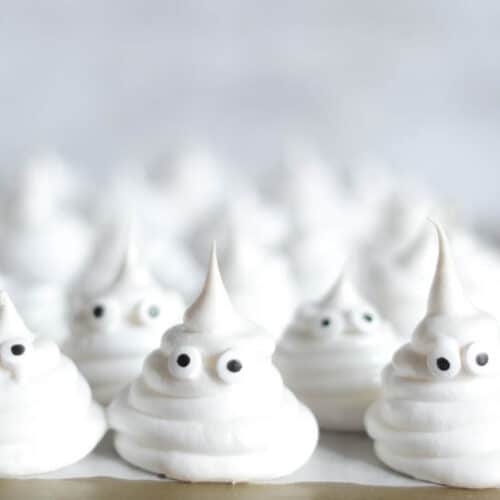 Meringue Ghosts
Crazy easy to make while being impressive, these meringue ghosts are great toppers for cupcakes, cake, or pudding cups or delicious to eat on their own.
Print
Pin
Rate
Ingredients
4

egg whites

½

teaspoon

cream of tartar

½

teaspoon

pure vanilla extract

¾

cup

granulated sugar

candy eyes
Instructions
Preheat oven to 200°F. Line baking sheet with parchment paper. Set aside.

In a large bowl with electric or stand mixer (use whisk attachment if using stand mixer), beat egg whites, cream of tartar and vanilla extract on medium speed until frothy. Up speed to medium-high and slowly add in sugar and beat until stiff peaks form (usually around 5 minutes).

Spoon meringue into pastry bag fitted with a thick, round tip (I use Wilton Tip #__). Start with about a 1" circle base and pipe swirls up until there's a peak for the top of the ghost. Carefully add candy eyes to each ghost (you can also do this afterward and use icing to stick eyes on).

Bake for 1 ½ hours or until meringues are starting to crisp. Turn off the oven and allow the meringues to sit in oven for an additional 2 hours.
Notes
Ghosts will lose their crispness after 3 days. Store at room temperature.
As an Amazon Associate I earn from qualifying purchases. This comes at no charge to you. Thanks for supporting Worn Slap Out!