A dozen chocolate cupcakes topped with a creamy, whipped Oreo frosting may be just the thing you need to...celebrate anything!
The star of this post is really the Oreo frosting because these chocolate cupcakes are bomb...but they're an old bomb written about over here. These chocolate cupcakes are the cupcakes I make more than any other cake recipe because they are moist, chocoately, and the recipe only makes a dozen, which is more than enough for a family of 4 to consume...usually.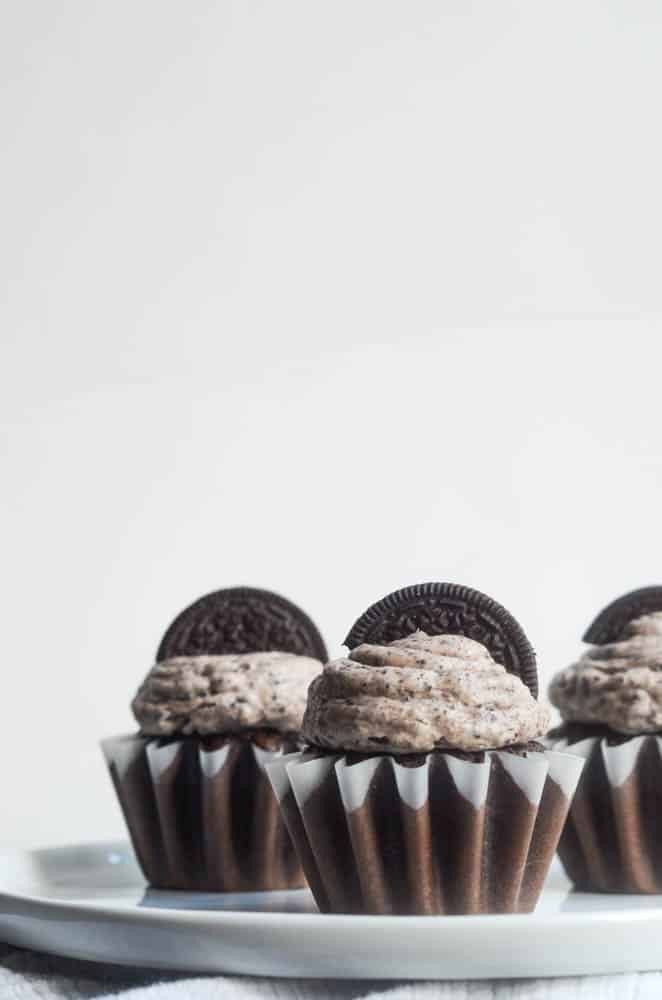 Oreo Frosting, I love you.
If you know me, you know Oreos are my absolutely weakness. I love them with my ice cream, just plain, and clearly on my cakes and cupcakes. I'd even use Oreos as the vehicle to get this Oreo frosting in my mouth.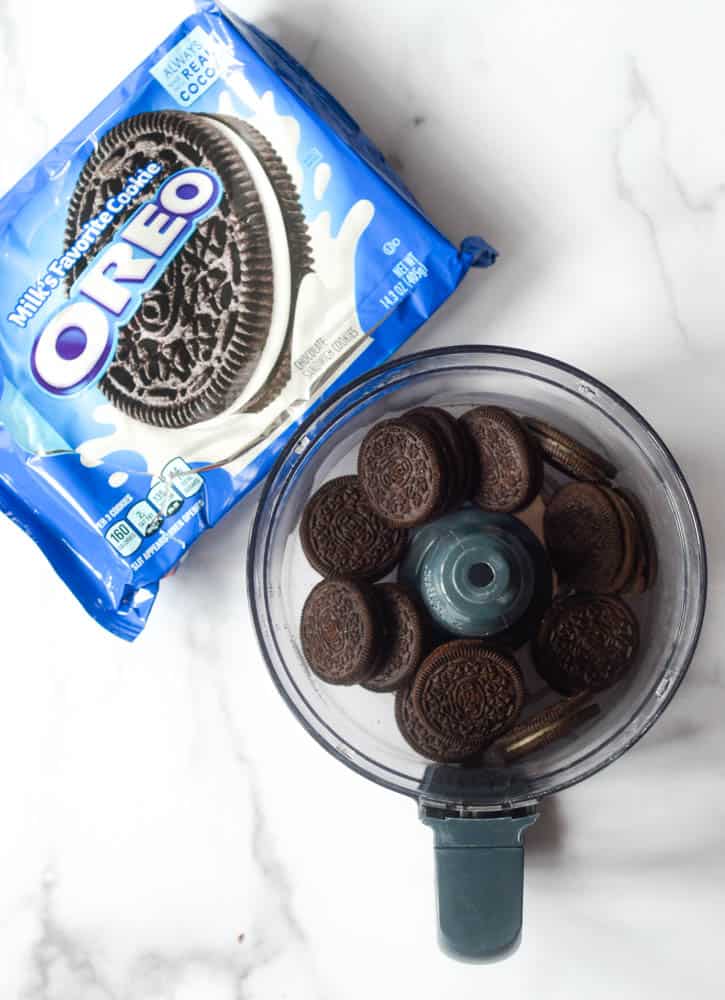 Ingredients You'll Need for the Frosting
Oreos (including the filling)
unsalted butter
powdered or confectioner's sugar
vanilla extract
salt
heavy cream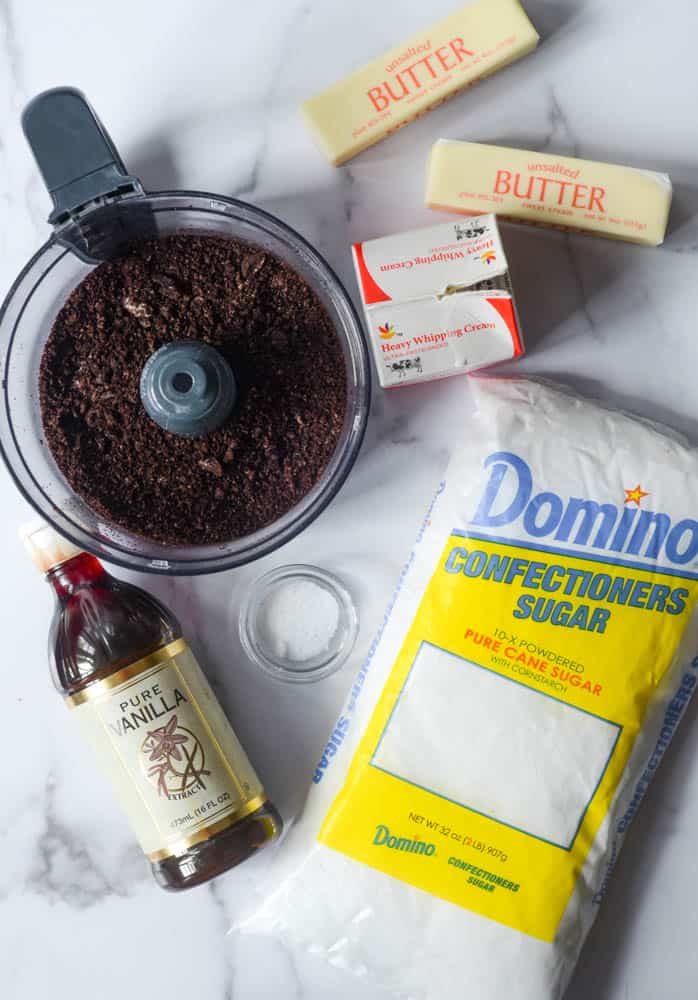 How to Make the Oreo Frosting
Pulverize your Oreos first in a food processor. This is SO important to put the crumbs in a food processor and not try to do this by hand if you're wanting to pipe the frosting onto cupcakes. Even the smallest of chunks will stop the crumbs from making it past the tip, so be very careful to finely process your crumbs and use your largest tip.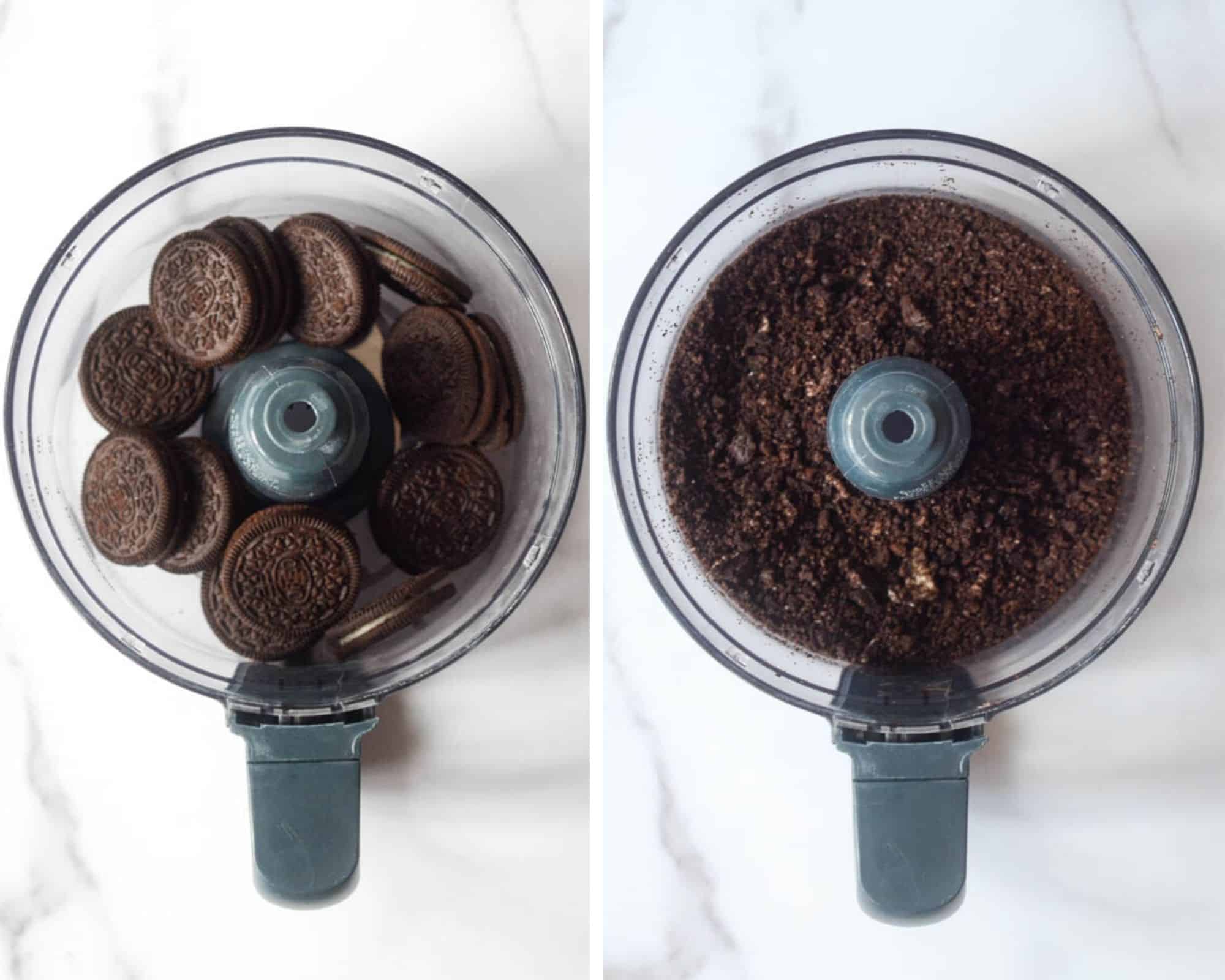 Next, you'll whip your butter until it's light and fluffy then confectioner's sugar, then vanilla, salt, and heavy cream.
If you want a stiffer frosting, add more confectioner's sugar to be able to pipe. If you want a creamier frosting, add more heavy cream one tablespoon at a time.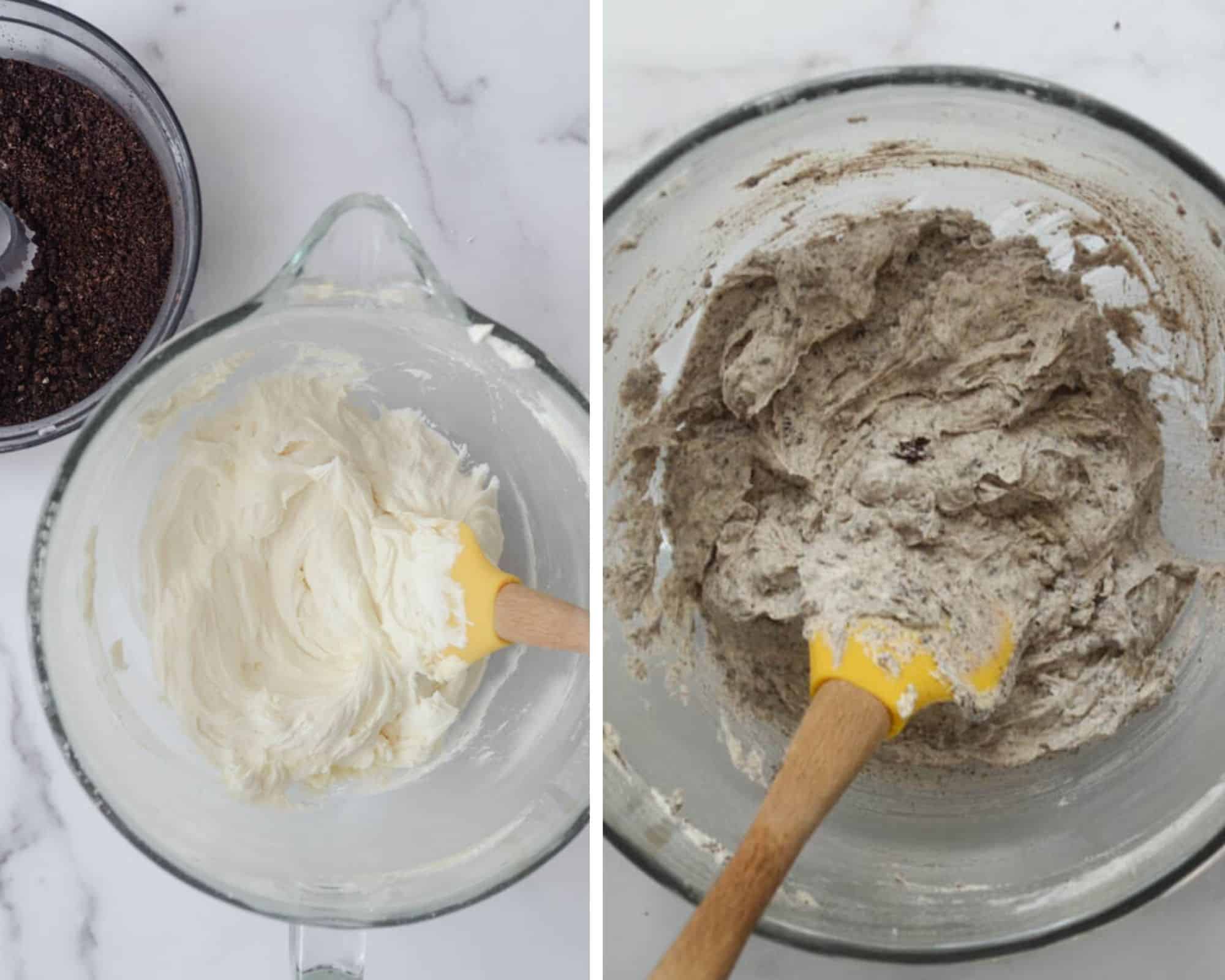 Tips for Making Oreo Frosting
Sift your confectioner's sugar. I know -- it's the ultimate pain in the butt -- but for frosting, it's worth it so you can get a smooth frosting rather than a course one.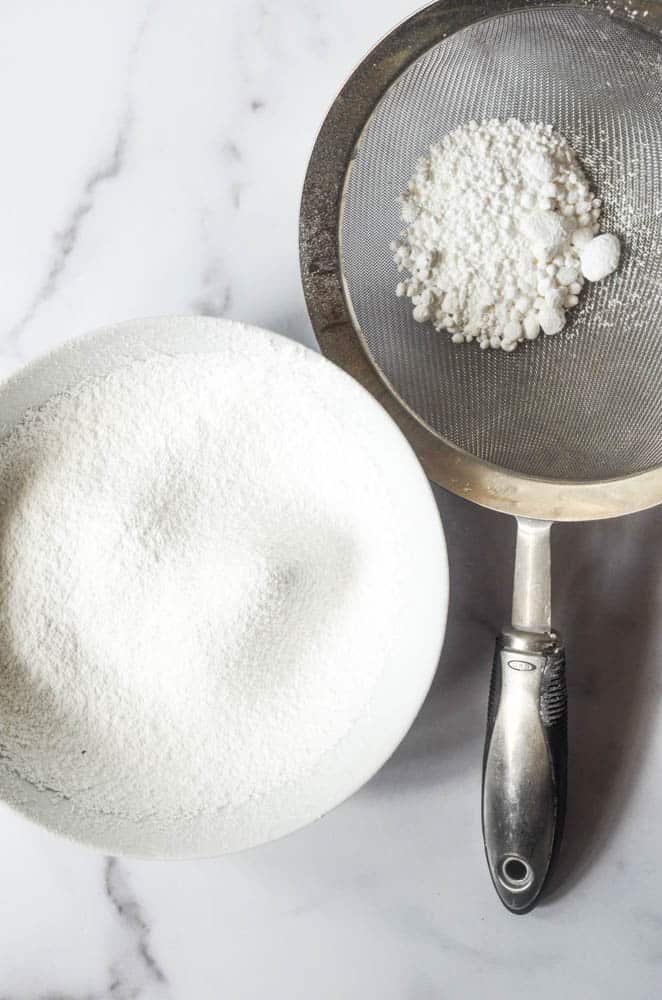 If you're going to pipe the frosting onto a cake or the cupcakes, pulverize your Oreos until the cookies are all crumbs. Otherwise, they won't get past your piping tip, which is incredibly frustrating (which I know first hand).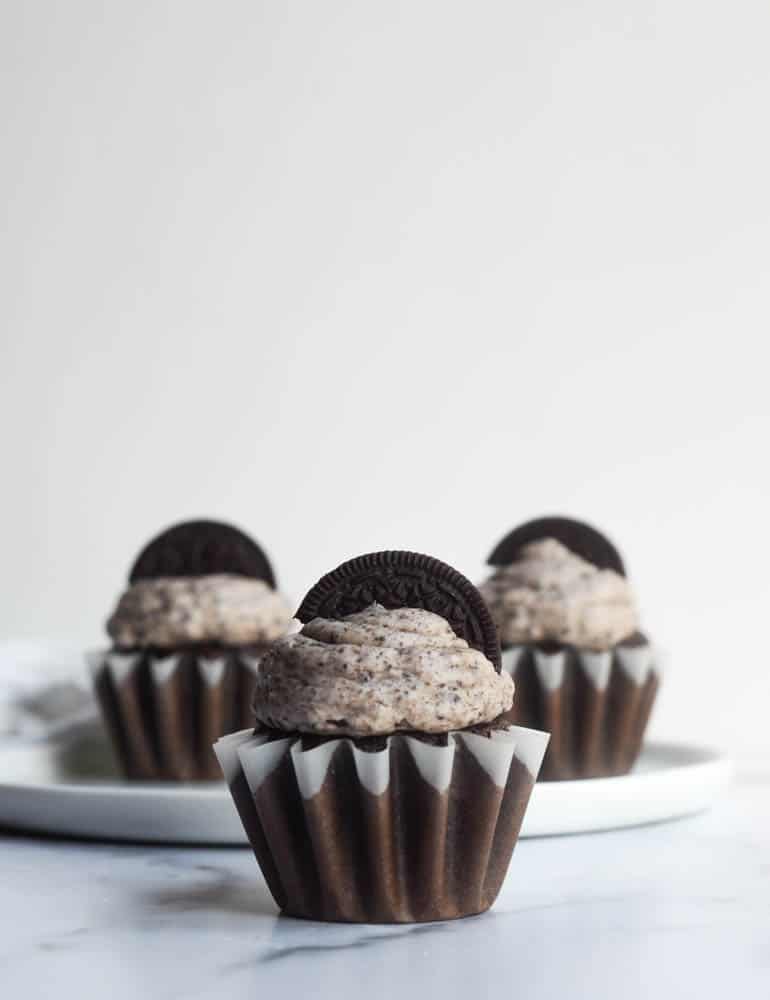 Other Recipes With the Rest of Your Oreos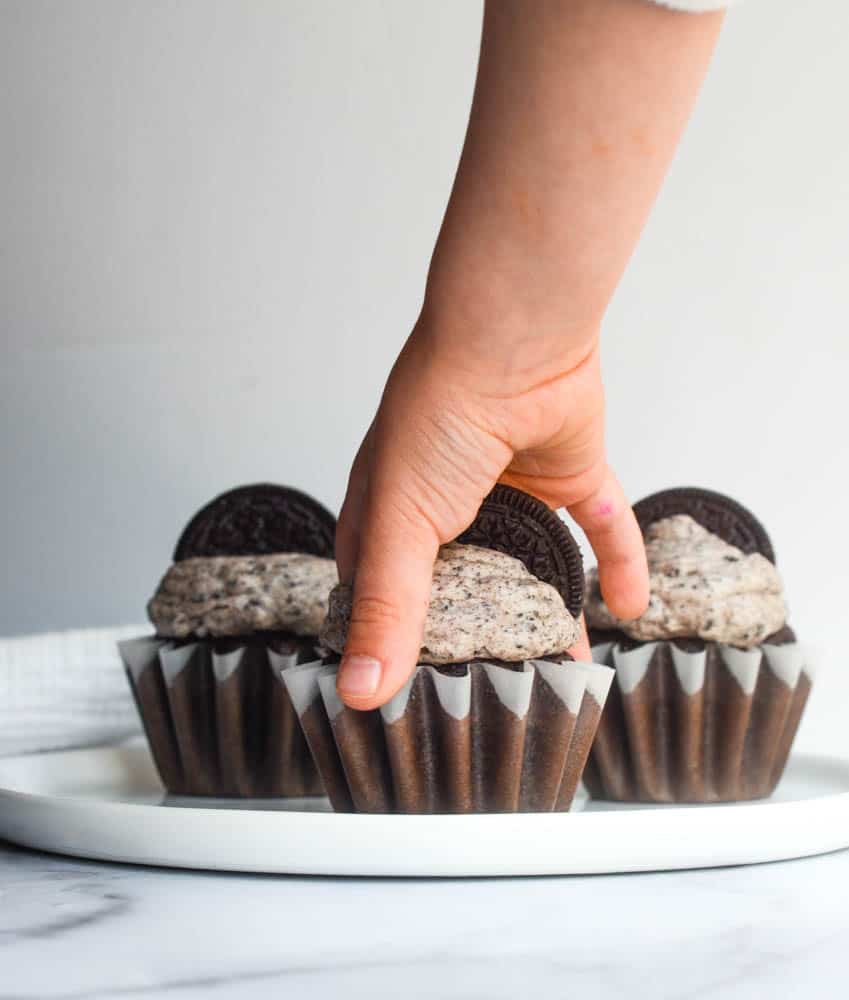 Love and Oreos!
xox,
kathryn
As always, if you make anything from the blog, be sure to let me know! I love hearing from you in the comments on this post below or find Worn Slap Out on Facebook, Instagram, or Pinterest!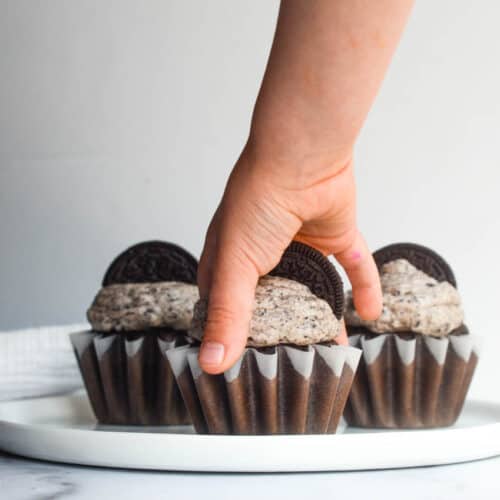 Chocolate Cupcakes with Oreo Frosting
A dozen chocolate cupcakes topped with a creamy, whipped Oreo frosting may be just the thing you need to...celebrate anything!
Print
Pin
Rate
Ingredients
For Oreo frosting:
1

cup

unsalted butter, softened

2 sticks

3 - 4

cups

powdered or confectioner's sugar, sifted

2

teaspoons

vanilla extract

pinch

salt

2-3

Tablespoons

heavy cream (you can use milk if that's all you have)

14

Oreos, crushed (including white filling)
Instructions
For the Oreo frosting:
In a food processor on high, pulverize whole Oreos together until cookies are reduced to crumbs. Set aside.

In a stand mixer bowl with whisk attachment, whisk softened butter on high until light and creamy, about 3-4 minutes. Turn mixer to slow and add in powdered sugar a half cup at a time. Once sugar is incorporated, crank speed to high until well blended. Continue adding the rest of sugar in this manner.

Mix in vanilla, salt, and heavy cream on high until you've reached the desired consistency. If you want the frosting to be stiffer, add more powdered sugar. Fold in Oreo crumbs with a spatula until combined.