Infused with fresh rosemary, this cranberry curd tart with shortbread crust is a creamy and tart dessert to have on your holiday table.
I love cranberries. Whether it's making cranberries into homemade cranberry sauce, my mom's cranberry muffins, or using cranberries to make a festive cocktail, November and December are the months of the cranberry around here. I try to cram as many meals incorporating them as possible -- and this time, I'm sharing a new dessert to add to your holiday table: a cranberry curd tart!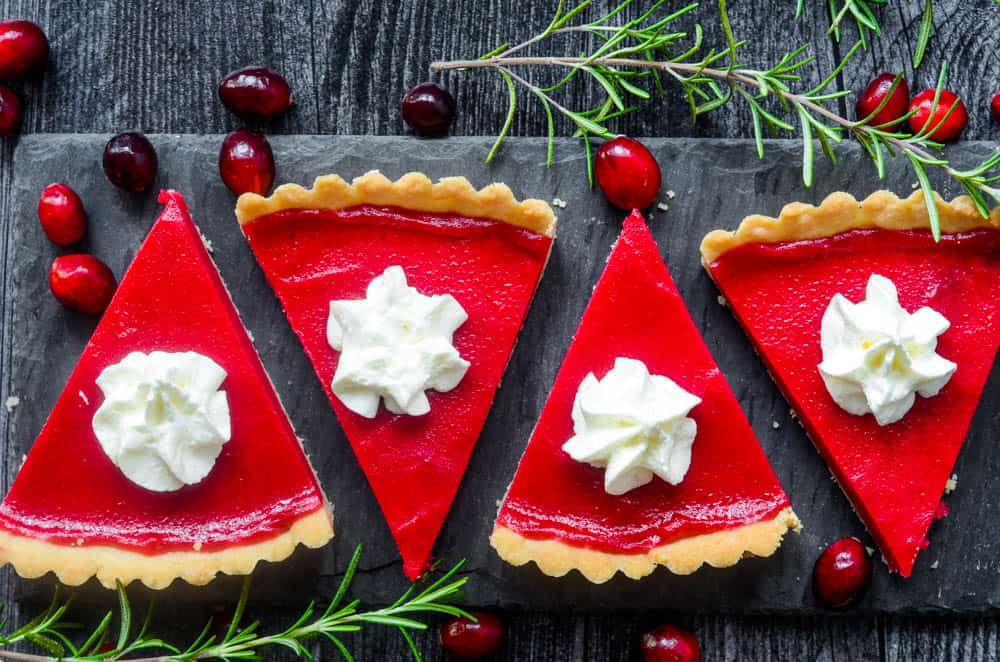 This recipe has been adapted from a recipe from the New York Times. It's an amazing cranberry curd recipe that's sweet enough to eliminate the bitterness from the cranberries but not too sweet to hide how delicious cranberries are. There are a couple major and minor differences from their recipe and mine:
The addition of rosemary. I've included 3 sprigs of rosemary to cook with the cranberries. Some of the leaves fall off the sprig and make their way into your cranberry mixture. That's okay because the cranberries will all be processed then strained through a sieve. What's left is just a hint of rosemary to add a little more something something to the curd.
Shortbread crust. This is my favorite shortbread crust that I prefer with curd -- the same one I use with this meyer lemon curd tart. There's something really nice about a simple shortbread crust that's a great pairing with the curd. Maybe it's the buttery-ness? Or the simplicity with the tart curd? I don't know but it's amazing.
Processing of the cranberries to give the tart that vibrant color. You can get away with using the food processor for this recipe, but I wouldn't skip it because it makes the tart this brilliant bright pink color (that's all natural, of course).
Orange zest instead of peel. This allows the citrus flavor to shine through a little more than just using the peel of the orange. It makes for a bright and fresh flavor.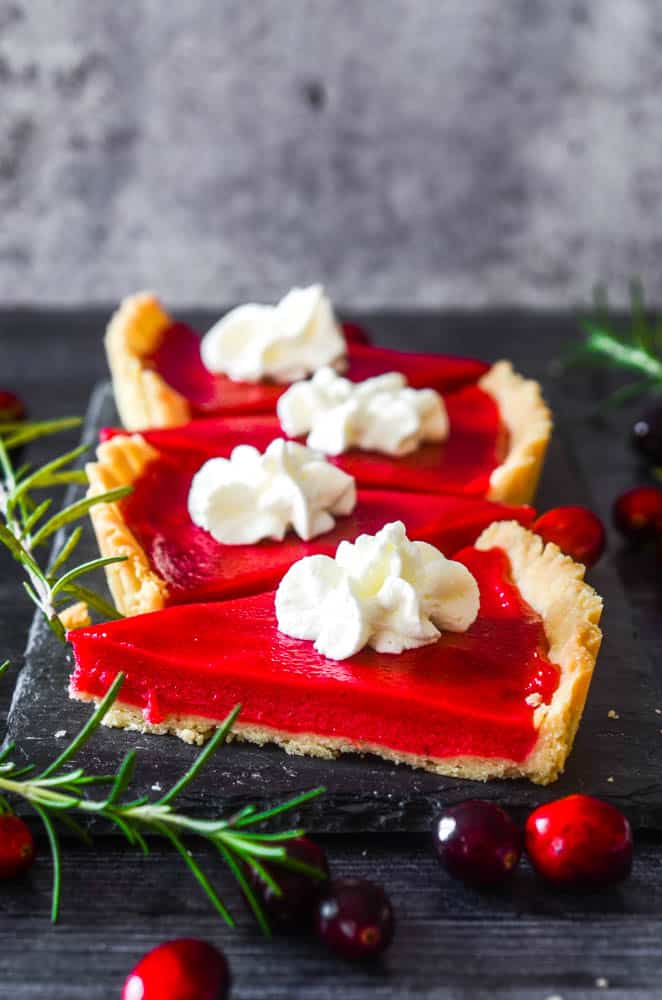 How to Make Cranberry Curd
First, heat your cranberries.
First, simmer cranberries, sugar, rosemary, and orange juice and zest in a medium-sized saucepan over medium heat. When the cranberries have popped and started to become tender, remove the rosemary sprigs from the mixture and discard. It's okay if some of the rosemary leaves make their way to the mixture. You'll see why!
Second, run cranberry mixture through a food processor then sieve.
Transfer the mixture over to a food processor or use an immersion blender to pulverize the cranberries until they are liquidy. This will give the cranberry tart that beautiful, vibrant pink color. Then strain the mixture through a fine mesh sieve until you're left with just the liquid.
Third, whisk in butter then slowly add eggs and yolks.
Whisk in the butter until combined. Slowly whisk in a few tablespoons of your egg mixture (eggs and yolks) to temper then whisk in the remaining eggs into the cranberry mixture.
Next, place mixture back on stove until just starting to bubble. Let cool.
Put all of this back on the stove (you can use the same saucepan used before...just clean it out if there's any remnants). Cook over low heat until the curd is just about to bubble. You do not want to boil the mixture. This will likely take about 10 minutes. Let cool to room temperature.
Finally, place curd in shortbread crust and bake for 10 minutes at 250˚F.
Spread the curd into the cooled shortbread crust. Smooth with a spatula, then bake for 10 minutes at 350˚. Cool to room temperature before enjoying with some whipped cream.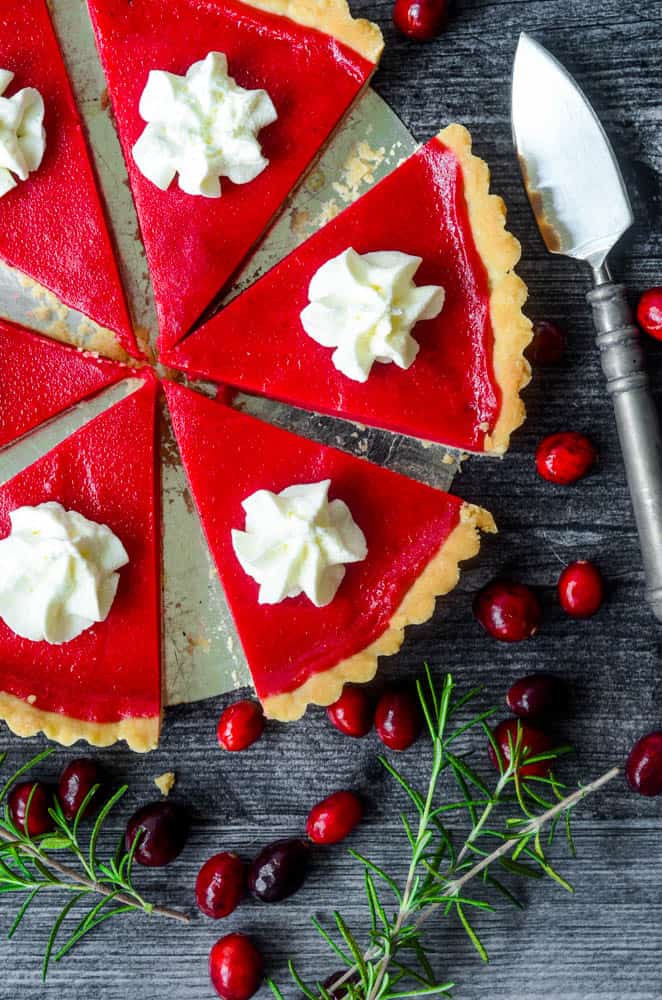 Other Festive Holiday Desserts
Try some of these other festive favorites of mine!
Love and cranberries!
xox,
kathryn
As always, if you make anything from the blog, be sure to let me know! I love hearing from you in the comments on this post below or find Worn Slap Out on Facebook, Instagram, or Pinterest!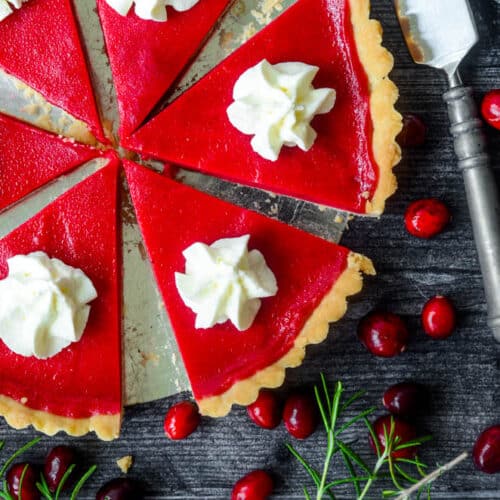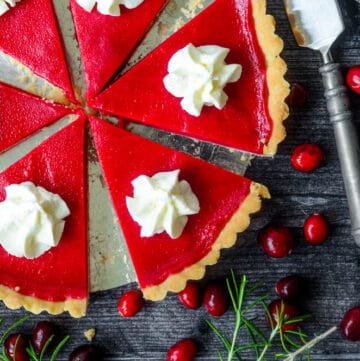 Cranberry and Rosemary Curd Tart with Shortbread Crust
Infused with fresh rosemary, this cranberry curd tart with shortbread crust is a creamy and tart dessert to have on your holiday table.
Print
Pin
Rate
Ingredients
For the shortbread crust:
1

cup

all-purpose flour

¼

cup

confectioners' sugar

¼

teaspoon

salt

½

cup

unsalted butter

1 stick

½

teaspoon

vanilla extract
For the cranberry curd:
12

ounces fresh cranberries

1

cup sugar

3

sprigs of rosemary

Zest & juice from 1 orange (about ½ cup)

8

tablespoons

softened butter (1 stick)

2

eggs plus 2 egg yolks
Instructions
Preheat oven to 350 degrees F. Grease a 9" tart pan (the kind where the bottom comes out). Set aside.

Combine flour, confectioners' sugar, and salt. Set aside. Melt butter and vanilla extract in a small bowl in the microwave in 30 second increments until melted. Stir butter into flour mixture with a spoon until all incorporated. Press mixture into the sides of the pan with your fingers then work your way to the middle, using a measuring cup to gently press down on crust to make sure crust is flat. Bake for 20 minutes or until crust is just barely golden. Let cool.

While the crust bakes and cools, make the cranberry curd: Place cranberries, sugar, rosemary, and orange juice and zest in a medium-sized saucepan over medium heat. Simmer until cranberries have popped and become tender, about 10 minutes. Remove sprigs of rosemary from the cranberries (it's okay if some of the leaves have fallen). Transfer mixture to a food processor and blend until well combined. Then press contents through a medium mesh sieve. Whisk the butter into the liquid.

Gently beat eggs and yolk into a bowl. Slowly whisk a few spoonfuls of warm cranberry liquid into the eggs to temper, then whisk in the remainder of the eggs. Quickly clean sauce pan you just used and return liquid to the pot. Cook over low heat until the curd is nearly bubbling, about 10 minutes. Let cool to room temperature.

Pour cranberry curd into the cooled pre-baked shortbread crust and smooth top with a spatula. Bake at 350˚F for 10 minutes to set curd. Cool on a wire rack.
Notes
Store in the refrigerator. Cranberry curd will be delicious for 3 days.