This Teriyaki Chicken Bowl is an easy-to-put-together weeknight meal - full of garlicky, sweet chicken with your favorite sautéed vegetables. Serve over a bowl of steamed rice and you've got yourself a meal everyone will love.
We really try hard to not get into a rut of making the same thing over and over again because 1. we're pretty sick of the same-old-same-old at this point and 2. we want the kids to not be fearful of new flavors and textures. Some meals involving sauces are particularly a stretch for the kids (B still doesn't love the curry sauce over her chicken, for example) while other meals are huge hits in all of their saucy glory. Teriyaki sauce, with its unique garlicky sweetness, is something that's always a hit over here. No threatening to withhold dessert with this chicken teriyaki bowl.
Twenty-ish minutes. That's all it takes.
The other benefits of making this easy teriyaki chicken bowl is that it allows you to repurpose leftovers...something I'm really big on. I like to spend the time in the kitchen to make a meal that will last me a couple of nights, but I also don't like to eat the exact same thing all the time. If you have leftover chicken or leftover vegetables, it's a matter of tossing those vegetables in the sauce and serving over a bed of steamed rice - making it a 10 minute meal.
This is such a great meal to have handy at the end of the week when you just can't anymore. Open your refrigerator and use what you have!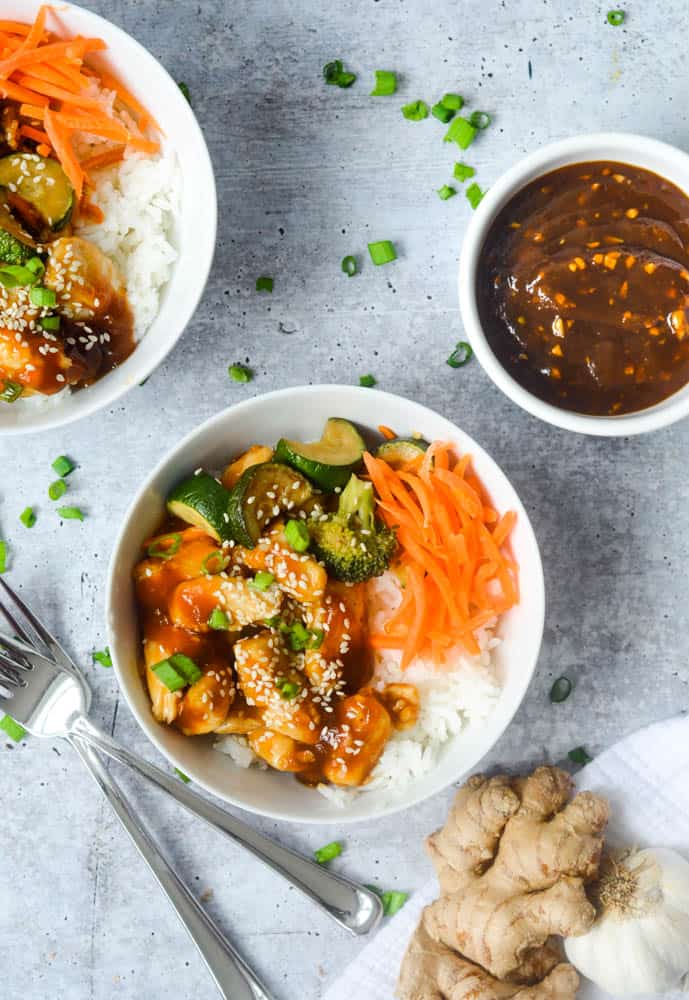 The Joys of a Bowl
Bowls gained greater attention in recent years here in the United States -- and for good reason. There's so much more flexibility to move around and eat out of a bowl than to eat off of a plate. You can eat while on the go, and typically, the food served out of bowls is just plain old more comforting (soups, stews, rice-based meals). No need to worry about the fork and knife situation either. The food out of a bowl is meant to be eaten with just one utensil, and the lazy me just absolutely loves this.
The history of bowls is fascinating, too, if you're interested in food history. There's a big cultural aspect when it comes to the West's late use of the bowl compared with our friends across the globe. Other cultures have been passing around a community bowl for centuries, and I think that's just the most beautiful thing.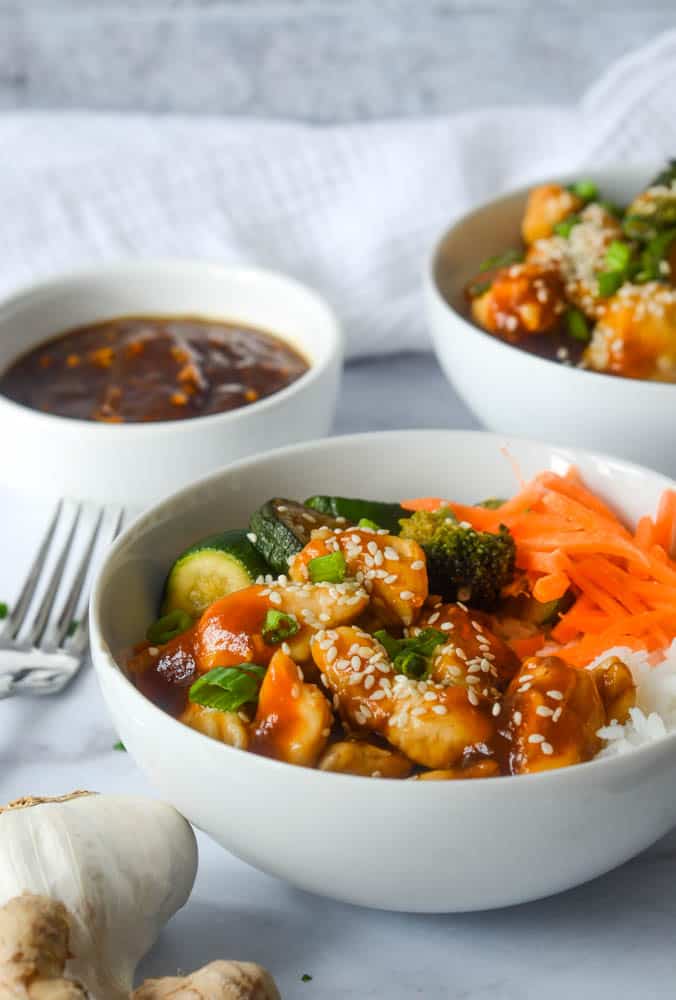 Homemade Teriyaki Sauce
I make the homemade teriyaki sauce from scratch because it's so crazy easy and can be doubled to make a huge batch to store in the refrigerator or pared down to serve a couple of individual portions.
The recipe for the homemade teriyaki sauce is below, but I have a whole separate post in case you want to read more about the history of teriyaki and every other detail you'd probably (n)ever want to know about it!
Customize Your Teriyaki Chicken Bowl
What are the best teriyaki rice bowl vegetables? There are so many.
I love zucchini, broccoli, and carrots with my teriyaki bowls, but much of the time I just use whatever is available in my refrigerator.
You could try:
asparagus
mushrooms
thick-cut carrots
bell pepper
onions
eggplant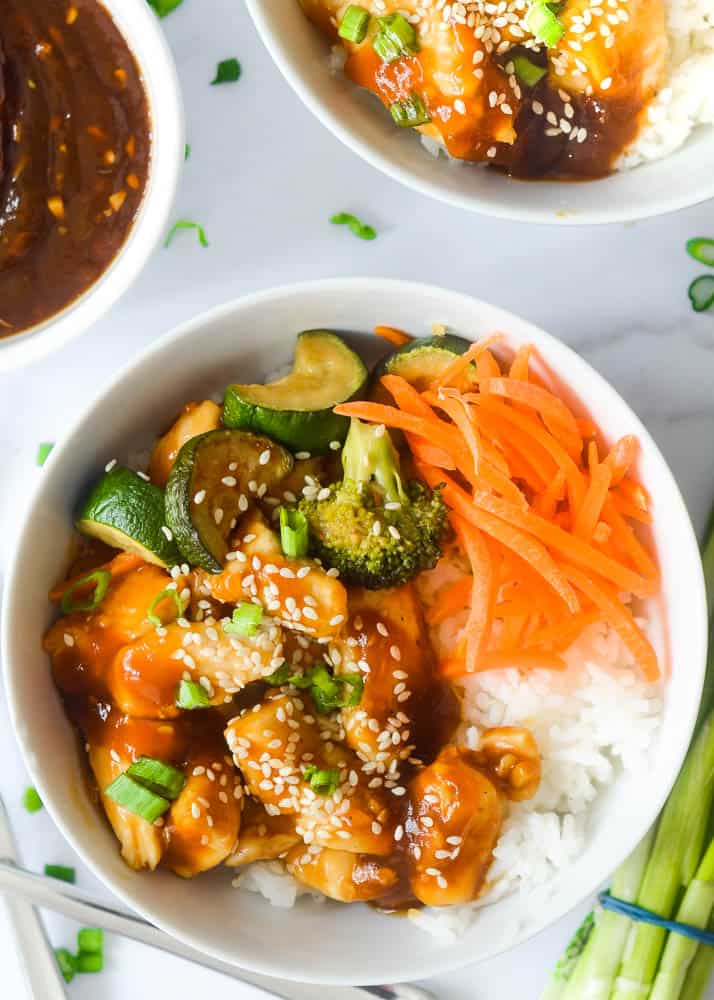 Tips for Making an Easy Teriyaki Chicken "Buddha" Bowl
Make the teriyaki sauce first and let it rest. The sauce needs time to thicken. By the time you make your chicken, it'll be ready to go. I'd be lying if I said I've forgotten about the sauce though and was seriously annoyed.
Don't overcrowd your pan when cooking your chicken. Overcrowding your pan means more moisture in your pan which means your chicken won't crisp up and brown. Not the worst thing in the world, especially when you're in a hurry, but do cook your chicken in two batches if you can.
Cook rice once and use it again in a totally different way the next meal -- like in these Easy Fish Tacos with Avocado Crema, Sheet Pan Shrimp and Summer Vegetables, or my favorite Mom's Weeknight Chili recipe.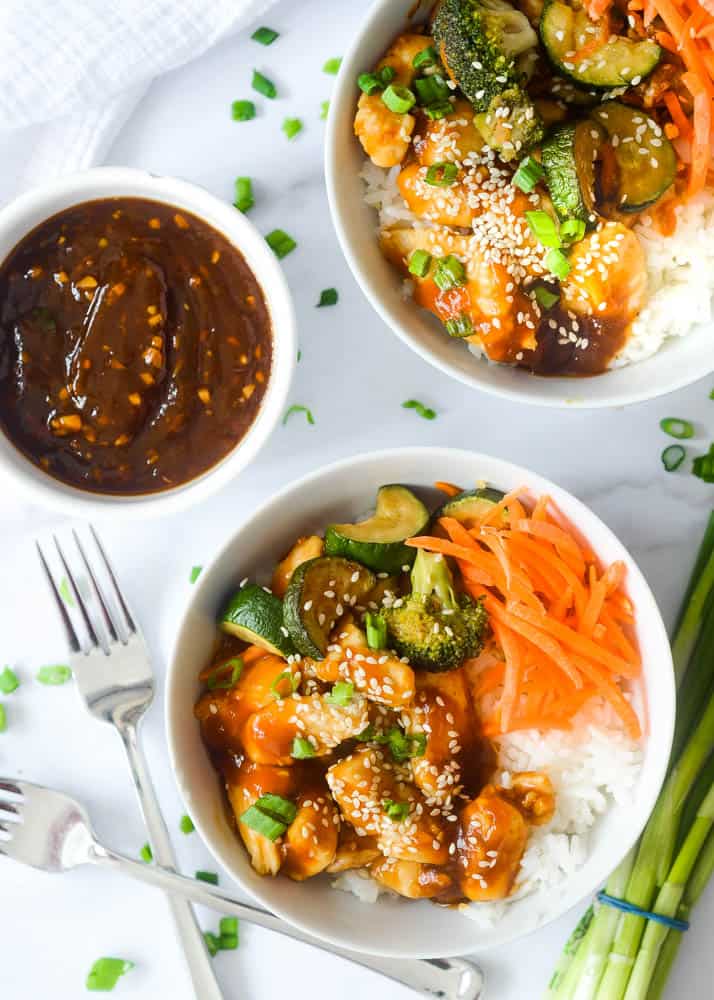 xox,
kathryn
As always, if you make anything from the blog, be sure to let me know! I love hearing from you in the comments on this post below or find Worn Slap Out on Facebook, Instagram, or Pinterest!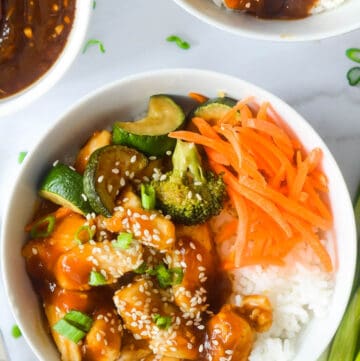 Easy Teriyaki Chicken Bowl
This Chicken Teriyaki Bowl is an easy-to-put-together weeknight meal - full of garlicky, sweet chicken with your favorite sautéed vegetables. Serve over a bowl of steamed rice and you've got yourself a meal everyone will love.
Print
Pin
Rate
Ingredients
For the teriyaki sauce:
2

Tablespoons

cornstarch

¼

cup

water

¼

cup

soy sauce or tamari

1

cup

water

¼

cup

honey

2

garlic cloves

minced

2

teaspoons

fresh ginger
For the bowl:
1

lb

chicken, cut into 1" pieces

3

Tablespoons

olive oil or vegetable oil

1

zucchini, quartered

2

cups

broccoli florets

1

cup

matchstick carrots

2

cups

steamed white rice

scallions & sesame seeds

optional for garnish
Instructions
In a small bowl, combine the cornstarch and water until mixed. Set aside.

In a small saucepan, combine the remaining sauce ingredients over medium heat. Slow stir in your cornstarch slurry and bring to a gentle boil. Let the sauce boil for 1 minute before removing from the heat. Let cool to thicken for about 10 minutes while you make the chicken and vegetables.

In a large sauté pan, heat olive oil or vegetable oil over medium-high heat. Add chicken and cook until cooked through, about 5-7 minutes. (You may want to do two batches because you don't want to crowd the pan or else your chicken won't crisp up)

Remove chicken from the pan into a bowl, toss with some of the teriyaki sauce. Set aside.

Add a touch more oil to the pan, add your vegetables, sautéing until tender, about 5-7 minutes.

Assemble bowl: place steamed white rice in bowl, add chicken, vegetables, matchstick carrots, and top with scallions and sesame seeds. Enjoy!