This easy homemade teriyaki sauce is the perfect combo of salty and sweet - and such a handy sauce to have on hand. Toss with any number of weeknight meals -- chicken, pork, salmon, you name it.
Teriyaki sauce is so versatile -- there are so many proteins and veggies that are just the perfect pairing. This homemade teriyaki sauce is good with a fresh cooked meal and equally as good with some leftovers in the refrigerator you need to get rid of before your next grocery trip. (Side note: that's one of the perks of working from home. Lots of additional time looking in your refrigerator, which is maybe not good for your waistline but really good to have constant reminders of foods you need to eat.)
I think there's definitely something about the bold salty and sweet combo that's unmistakeable in this easy teriyaki sauce. We used to buy our favorite teriyaki sauce until we looked at the bottle and realized sugar was the second ingredient...and that was the "healthier" version of what's available. I'm no foe of sugar by any means (I just scarfed down a sleeve of Thin Mints...myself), but I really do believe that whenever possible sugar should stay out of your actual meals.
Enter this SIMPLE and SO STINKIN' EASY homemade teriyaki sauce.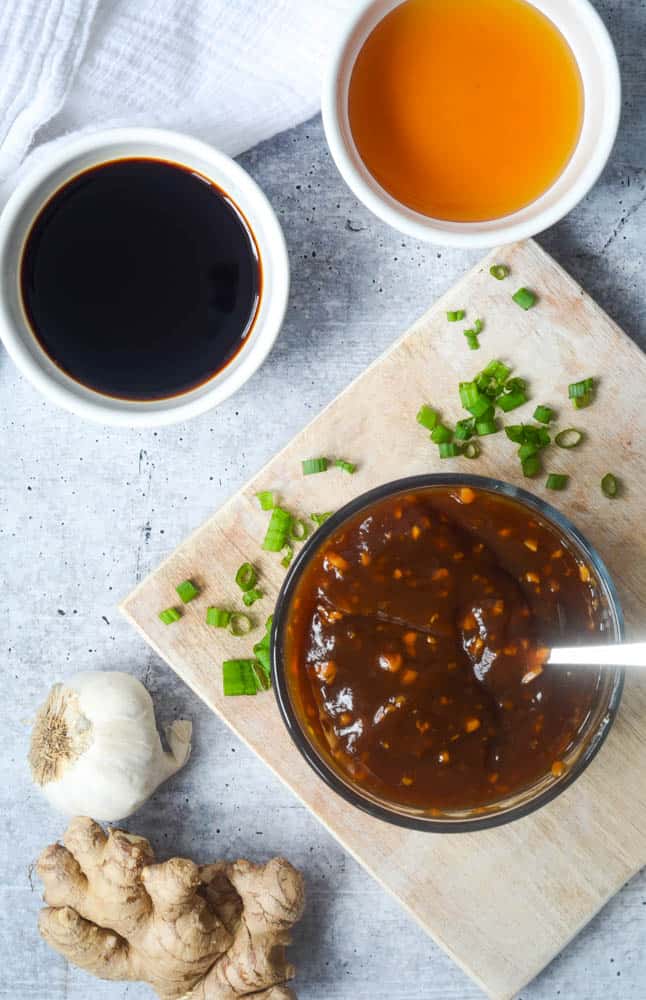 The Origins of Teriyaki Sauce
Teriyaki is often known here in the States as a Japanese-inspired sauce that's popular in a variety of different types of restaurants, from sushi places to Asian-fusion spots. Teriyaki sauce has its origins in Hawaii by Japanese immigrants who were replicating ingredients from their home country.
Most versions of teriyaki sauce usually have three features:
A base -- often sake, soy sauce and mirin -- using just soy sauce because it's what's available in my refrigerator at all times.
Aromatics -- garlic usually (but I've added ginger)
Sweetness -- brown sugar or granulated sugar are most common. Here's I'm using honey for the sweetness without the refined sugar.
Ingredients You'll Need
You only need a bowl, saucepan, and a whisk to make this recipe. The ingredients include:
cornstarch
water
soy sauce or tamari (see note below on the difference)
water
honey
garlic cloves
fresh ginger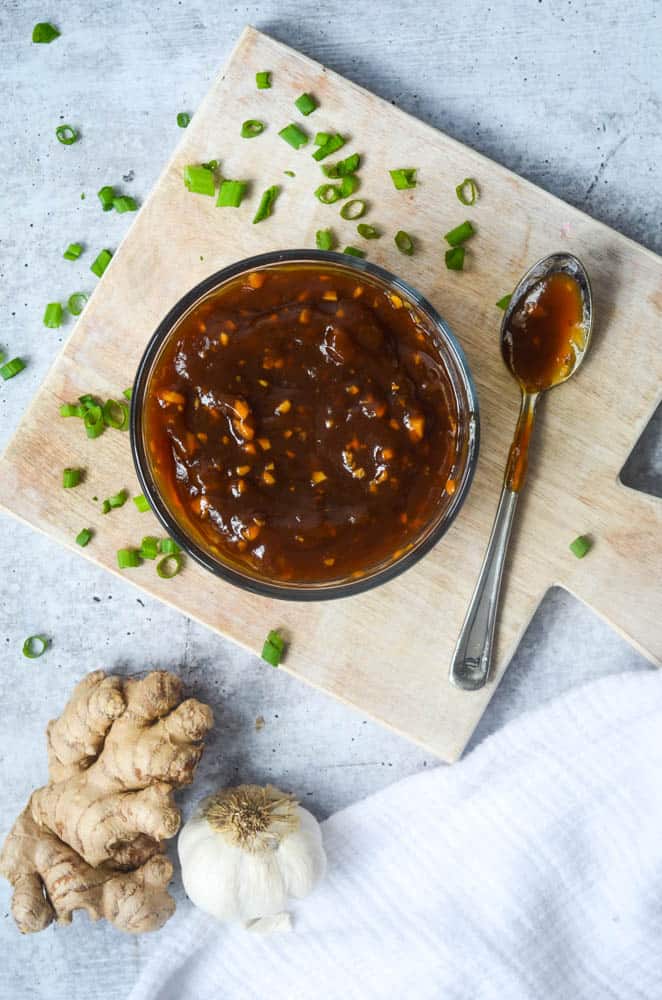 Soy Sauce v. Tamari v. Shoyu
The section of the grocery store with all of the soy sauces can be a little confusing. There's soy sauce but there's tamari right next to it and shoyu next to that. All of the bottles look remarkably similar and so do the contents. What's the friggin' difference you ask?
Both soy sauce and tamari are made with fermented soy beans to give it that signature salty burst of flavor. Tamari is a little thicker and slightly less saltier than soy sauce. Tamari is the Japanese version and soy sauce is of Chinese origin.
If you're gluten free, you'll want to use tamari because it's not made with any grains. Tamari also tends to contain less additives, making it a slightly healthier option.
Then there's shoyu. According to Muso, "In the west, the words 'Shoyu' and 'Tamari' are often used interchangeably. In Japan, "Shoyu" is the Japanese name for soy sauce which is made from a mash of soybeans and wheat, while 'Tamari' is a non-wheat product made by drawing off the liquid content of soybean miso." Shoyu is typically used as a dipping sauce for shashimi or for cooking teriyaki.
While there are times when you might want to use one over the others, the three can generally be used interchangeably barring any dietary restrictions. I use tamari usually just for the lack of additives and the slightly thicker and less salty taste.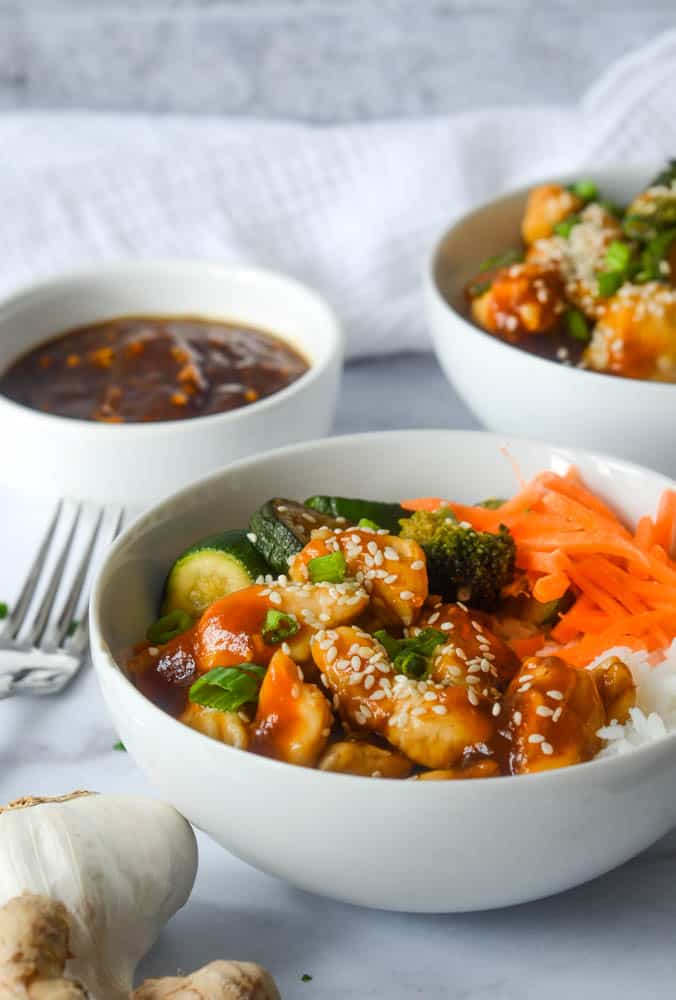 How to Make Homemade Teriyaki Sauce
First, combine cornstarch and water until the cornstarch is dissolved and it looks like cloudy water. Set aside. By combining your cornstarch and water now, you'll prevent any lumps of cornstarch from getting into your sauce.
Second, in a small sauce pan, heat up soy sauce or tamari, ginger, garlic, honey, and water and bring to a boil. Let the mixture boil. Reduce the heat to low and add your cornstarch mixture until it just starts to thicken. Remove from the heat.
Finally, take off the heat. The teriyaki sauce will thicken more as it cools. If it becomes too thick, add a little bit of water and whisk.
Toss with meat, vegetables or whatever else your heart desires. How easy is that?
How to Thicken Teriyaki Sauce
Cornstarch mixture + heat will thicken up your sauce. You don't want to have the heat on high as it may seize up and become too thick too fast. Keep your sauce on low, and if it's still not thick after 10 minutes, turnup the heat every-so-slightly until it just begins to thicken.
The sauce will thicken as it cools also, so it's a good idea to remove from the heat as soon as it starts to become thicker. You can test by putting a spoon into the sauce. If the back of the spoon is coated, it's thickening.
Frequency Asked Questions
How do you make homemade teriyaki sauce without cornstarch?
There are several alternatives to thicken the sauce that don't require cornstarch. Try arrowroot,
How long does homemade teriyaki sauce last?
This teriyaki sauce will stay fresh in the refrigerator for up to 6 days.
How do you store teriyaki sauce properly?
Place the cooled, leftover teriyaki sauce in a jar sealed tightly. Keep in the refrigerator.
What if the sauce isn't thickening?
If the teriyaki sauce isn't thickening, raise the temperature ever-so-slightly. Raising the temperature too quickly can result in overly thick sauce.
What if the teriyaki sauce is too thick?
Add more water if the sauce is too thick. Stir with a whisk.
Can you freeze teriyaki sauce?
Absolutely. Freeze the teriyaki sauce in small portions in an ice cube tray, popping out the teriyaki cubes as you need them. This makes single-serving or quick dinners a snap. The teriyaki sauce will last for up to 3 months in the freezer.
How do I make this a low sodium teriyaki sauce recipe?
Be sure to buy the low-sodium soy or tamari sauce. There is no additional salt added because soy sauce is already high in sodium.
Is teriyaki sauce vegan?
Double-check your soy sauce, but yes. This teriyaki sauce is vegan if you're using a soy sauce like Kikkoman.
Recipes that Use Homemade Teriyaki Sauce
xox,
kathryn
As always, if you make anything from the blog, be sure to let me know! I love hearing from you in the comments on this post below or find Worn Slap Out on Facebook, Instagram, or Pinterest!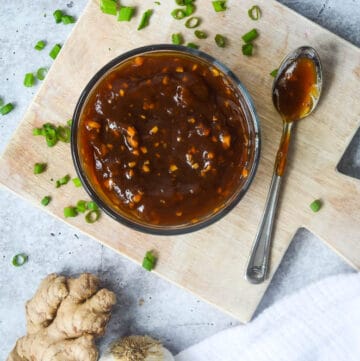 Homemade Teriyaki Sauce (Without Refined Sugar)
This easy homemade teriyaki sauce is the perfect combo of salty and sweet - and such a handy sauce to have on hand. Toss with any number of weeknight meals -- chicken, pork, salmon, you name it.
Print
Pin
Rate
Ingredients
2

Tablespoons

cornstarch

¼

cup

water

¼

cup

soy sauce or tamari

1

cup

water

¼

cup

honey

2

garlic cloves, minced

2

teaspoons

fresh ginger
Instructions
In a small bowl, combine the cornstarch and ¼ cup of water until mixed. Set aside.

In a small saucepan, combine all of the other ingredients (soy sauce, water, honey, garlic, and ginger) and bring to a boil. Reduce heat to low before adding the cornstarch mixture. Remove from the heat when the sauce begins to thicken. If the sauce becomes too thick, add a little water.

Toss with meat, vegetables, or whatever else your heart desires! Enjoy!
Notes
Once you take the sauce off the heat, it will begin to thicken more. This usually takes about 10 minutes for it to thicken enough to coat whatever it is I'm tossing it with. Add water if sauce becomes too thick. 
Storage and Leftovers: Make a double batch! This stuff is gold to keep in the refrigerator for up to 6 days. Store the sauce in an airtight jar in the refrigerator. It will start to congeal a bit but let it sit out for about an hour to get to room temperature or heat on low heat to make thinner before using. 
Nutrition
Calories:
46
kcal
|
Carbohydrates:
11
g
|
Protein:
1
g
|
Fat:
0.02
g
|
Saturated Fat:
0.004
g
|
Polyunsaturated Fat:
0.01
g
|
Monounsaturated Fat:
0.003
g
|
Sodium:
408
mg
|
Potassium:
26
mg
|
Fiber:
0.1
g
|
Sugar:
9
g
|
Vitamin A:
0.1
IU
|
Vitamin C:
0.3
mg
|
Calcium:
5
mg
|
Iron:
0.2
mg