This is my favorite chili that's simply made, healthy, meaty, and crazy easy to throw together on a weeknight. Just add your favorite chili toppings!
I can't even talk about this chili recipe without prefacing the fact that my husband and I disagree on the very nature of chili quite a bit. I'll talk more about this below, but just know this is the chili of my childhood...and is the only chili I will eat. That said -- it seems like everyone has vastly different chili preferences, not just the person I married. Some people like their chili spicy, some mild or with or without beans, and chunky versus an almost pureed consistency.
This chili is simple, y'all. There's nothing particularly fancy about this chili but it's packed full of whole ingredients without any of the frills. It's chunky, meaty, and so perfect for leftovers, too (in fact, I think it's even better the next day).
Welcome to a little slice of my childhood.
Does Real Chili Have Beans In It?
This is a rhetorical question if you ask me -- because OF COURSE IT DOES! If you ask my Northern husband he will tell you absolutely not. He's clearly wrong though, and I'm glad I can put this to rest on my blog. The end.
Seriously though, we would sometimes eat this once a week in the cooler months. It's a no fuss chili. Here's why I love it:
No fancy ingredients. Just your standard few ingredients you probably already have.
Easily made on a weeknight. We're talking about throwing some fresh ingredients into a pot, letting it simmer, and dressing it with your favorite chili toppings.
Easily customizable. John can make this chili spicy by adding hot peppers without all of us having to eat the same thing.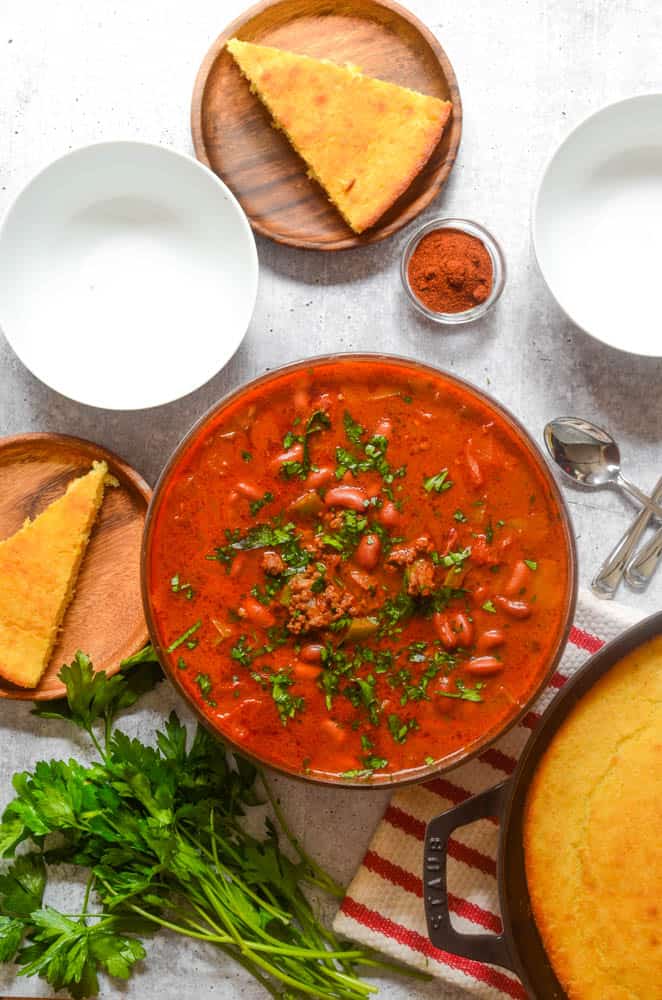 Simple Chili Makes For Easy Weeknights
When I tell you this chili is easy -- it's EASY. You will need the following ingredients:
ground beef (I use 90/10)
green bell pepper
diced tomatoes
kidney beans
garlic
yellow onion
chili powder
bay leaves
parsley, cheese, sour cream (and any other additional toppings)
Customize This Easy Weeknight Chili
To make your chili spicy, add jalapeno or adobo chili peppers
For more of a Tex-mex-style chili, add 1 teaspoon or cumin and 1 teaspoon of coriander.
For a more leaner meat, consider replacing the ground beef with turkey. Turkey chili is equally as amazing.
Garnish with all sorts of fun toppings. Our favorites are sour cream, cheese, and fresh cilantro or parsley.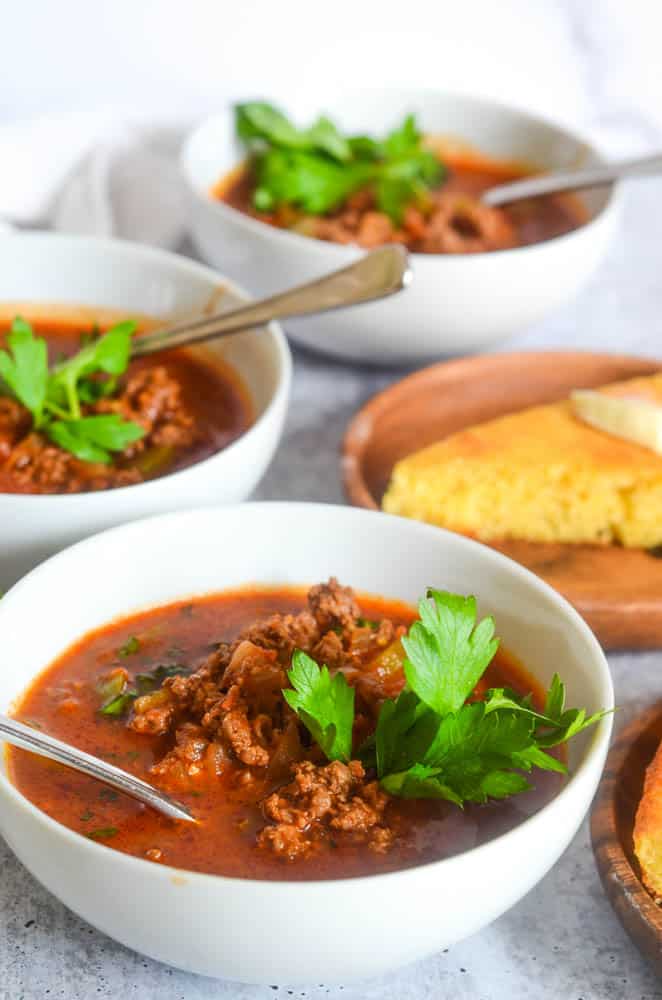 What to Eat with Chili
Chili is one of those weird dinners where I'm left kinda wanting just a little something something else, you know what I mean? It's definitely hearty and cozy and all of that, but chili sides are hard to come by.
Buttermilk Cornbread -- yummmm! It's definitely my favorite thing to match with the chili -- and definitely makes me feel like this is a legit meal.
Rice or Pasta - on the chili leftovers day, my mom would always make either rice or pasta to go with the chili. I'm not sure if that was because it stretched the chili enough to feed 5 more people all over again or because it added some additional interest, but either way -- I still do this, too.
Saltines, Fritos, or Cheez-Its - can't say that I've tried this, but a lot of my friends swear by these crunchy toppings on their chili
Cheesy, garlic breadsticks -- to dunk in the chili, of course.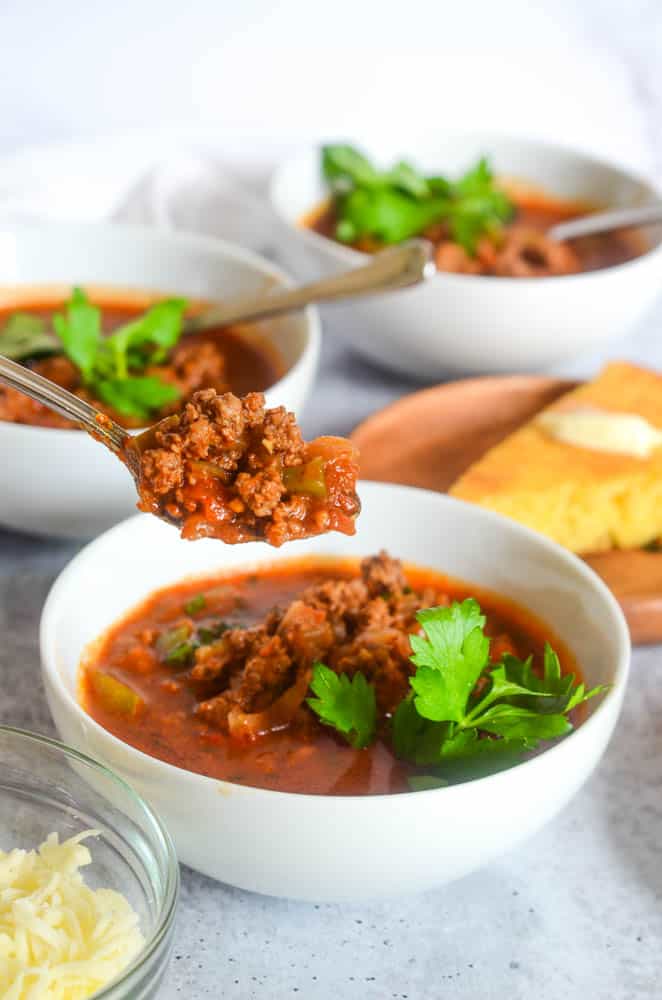 Easy Comfort Food You Also Might Like...
xox,
kathryn
As always, if you make anything from the blog, be sure to let me know! I love hearing from you in the comments on this post below or find Worn Slap Out on Facebook, Instagram, or Pinterest!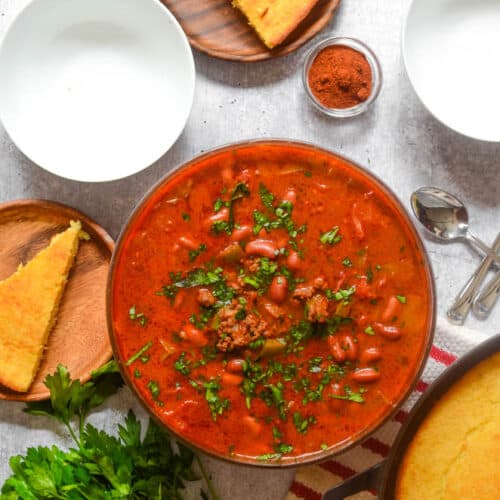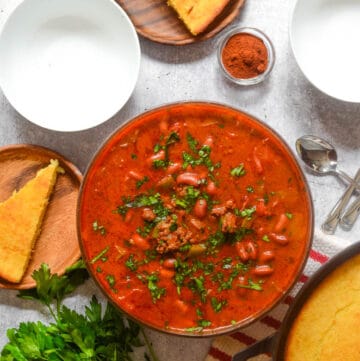 Mom's Easy Weeknight Chili
This is my favorite chili that's simply made, healthy, meaty, and crazy easy to throw together on a weeknight. Just add your favorite chili toppings!
Print
Pin
Rate
Ingredients
2

tablespoons

olive oil

1

onion, diced

2

teaspoons

salt

4

cloves

garlic, minced

2

tablespoons

chili powder

¼

teaspoon

cayenne pepper

1

pound

ground beef

1 28

ounce

can diced tomatoes (do not drain)

1

can

kidney beans, drained

1

green pepper, diced

2

Bay leaves

more salt and pepper to taste
Instructions
In a large saucepan over medium-high heat, saute onions with salt in olive until tender and translucent, about 4-6 minutes. Add chili pepper and cayenne (if using). Add garlic and stir for another minute.

Add ground beef, breaking up the meat until browned, about 5-6 minutes. Add diced tomatoes (with the juices), bell pepper, kidney beans, and Bay leaves. Fill tomato can with water and add that to the pot. Allow chili to come to a boil.

Reduce heat to a simmer, cover sauce pan with lid, and let simmer for at least 20 minutes (or up to 45 minutes). Add more salt and pepper to taste. Serve warm with cornbread and your favorite chili toppings!
Notes
Leftovers: This chili is even more amazing the next day. Store in an airtight container and heat over medium heat in a sauce pan until heated through.