This healthy homemade granola recipe is so easy and addictive, you'll wonder why you ever bought store-bought granola. With just a few ingredients (with no refined sugar) mixed and spread out on a sheet pan, the granola is ready within an hour.
This granola is my favorite granola everrrrrr in the history of granola because of its salty, nutty goodness with a hint of coconut and cinnamon. We've been getting some work done around the house, and I got home from work to find half of my newly-made granola eaten by one of the men. I couldn't even be made...it's just that good.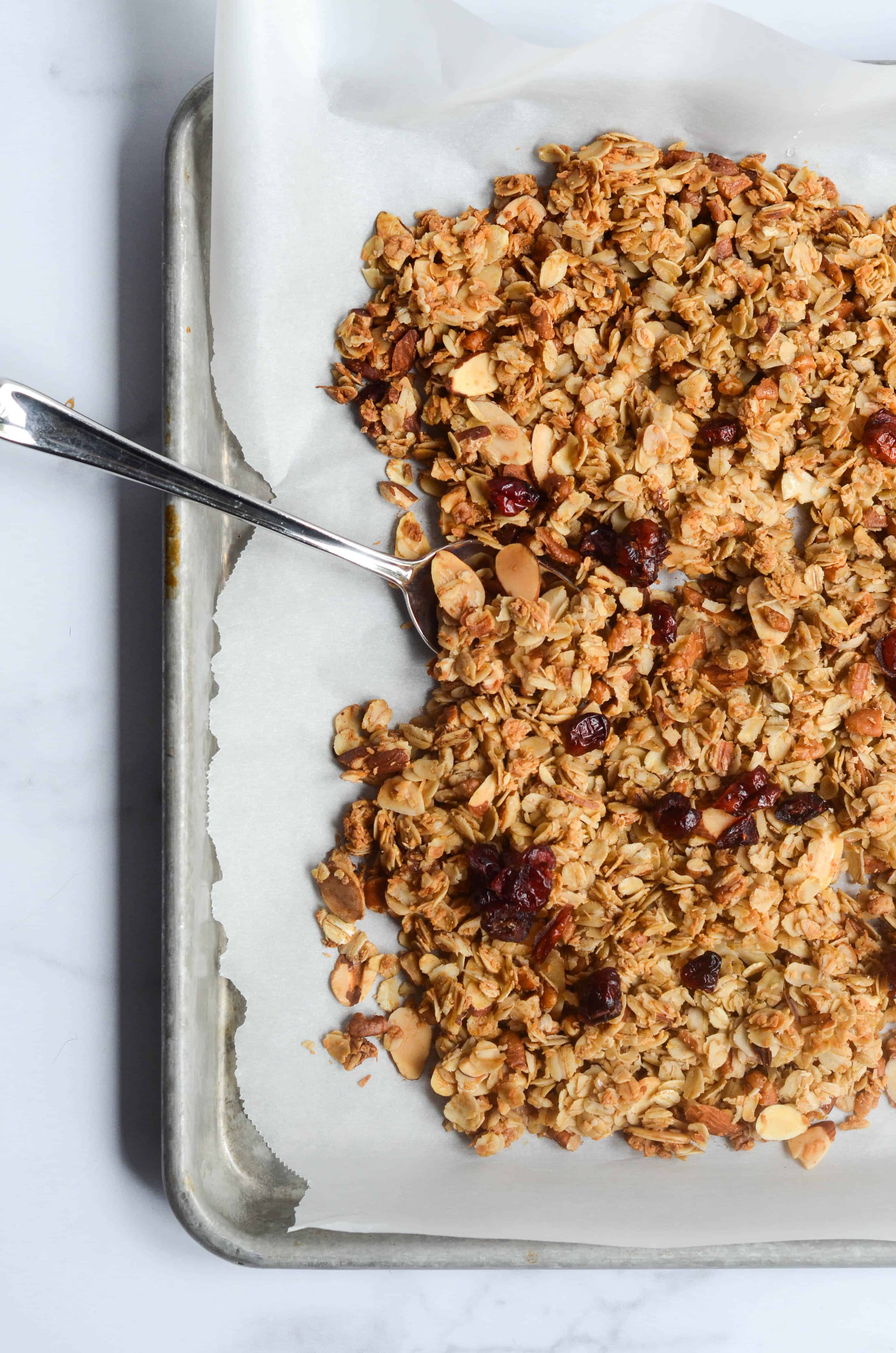 Why I love this stuff
Aside from the salty, nutty, oaty goodness with a hint of coconut and cinnamon, I'll make a batch of this granola at the beginning of the work week, and it'll last me for about two weeks...sometimes only one if I'm really going to town because it's super addictive.
You can follow the basic proportions of ingredients but incorporate whatever nuts, seeds, and dried fruit you have in your pantry so you're not buying extra ingredients. You can use dried apricots or cherries, flax seeds, walnuts, chocolate chips if you want to add sweetness (just wait until the granola cools to add!), you name it.
Last but not least, this granola has no refined sugar so it's way better for you than the granola with brown sugar. This recipe involves using maple syrup as the natural sweetener.
The perfect, easy granola recipe for yogurt
Breakfasts are hard for us. Everyone grabs something as they're going out the door on the weekday mornings, and it's so easy to grab junk rather than something healthy. I also just went for my annual, and the doctor told me I needed to eat more yogurt for bone health, so this homemade granola recipe has me keeping my bones strong thanks to pairing it with some gut-healing yogurt. I'm always welcoming new breakfast ideas to add to the weekday repertoire.
I also will bring a small bag of this healthy homemade granola to work as a mid-day snack. It sure beats the guilt after eating Girl Scout cookies, which is what I've been munching on lately.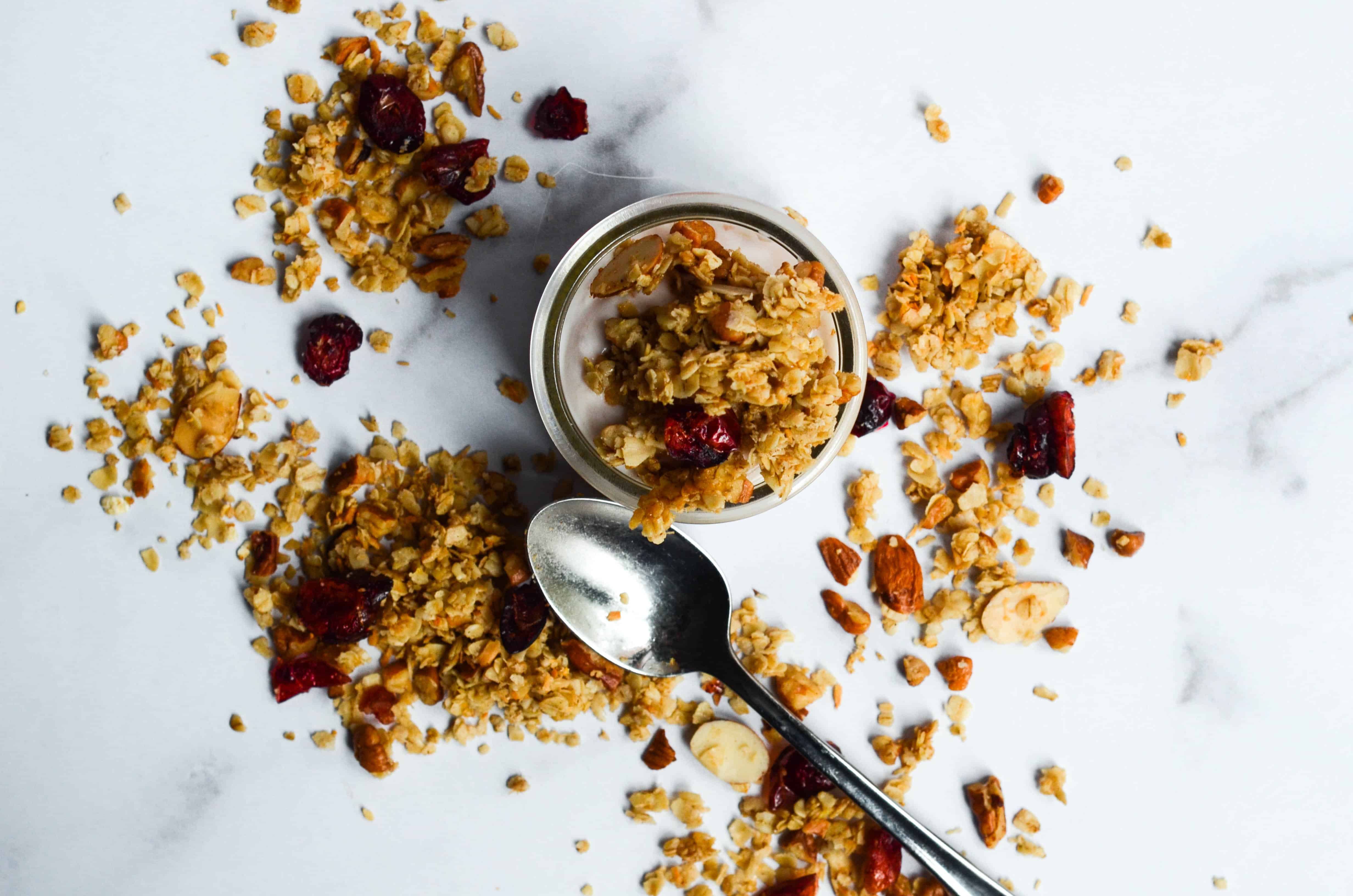 Ingredients for Healthy Homemade Granola
Here's what you'll need to make some seriously crunchy and delicious homemade granola:
old-fashioned oats (I use the regular kind...not quick oats)
nuts (use whatever you've got. I typically always have pecans and almond slivers in the pantry, so that's what I use most of the time. See below for the best pecans in the business though.)
unsweetened shredded coconut (you'll want this!)
pure vanilla extract
salt
cinnamon
maple syrup
coconut oil
dried fruit (I use dried cranberries usually)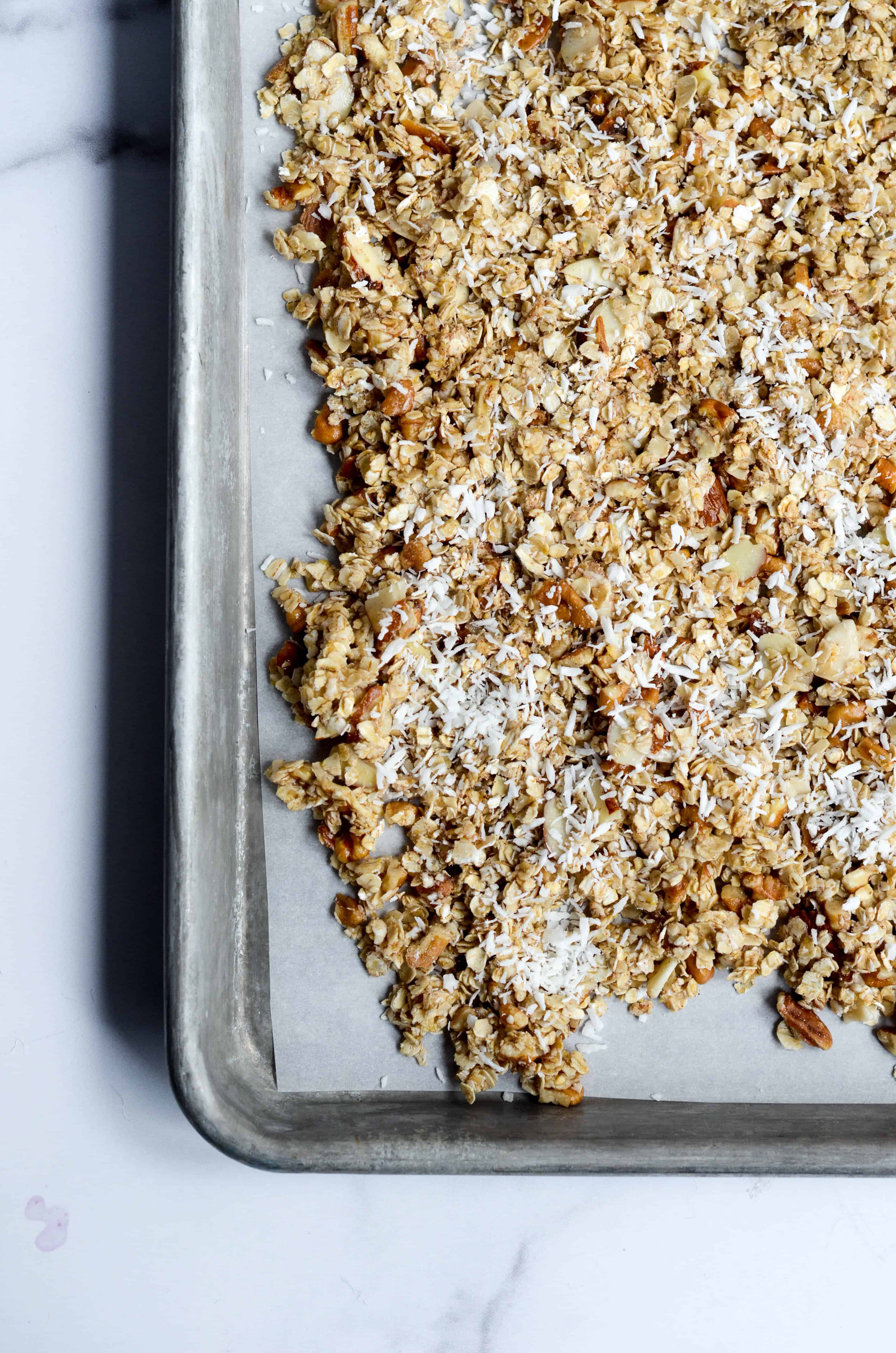 The best pecans around
Wanna know the best pee-cans (the proper way to say it, of course!)? Without a doubt, you should order from my friend's pecan farm in Twin City, Georgia. All the Fixin's pecans are TO DIE for, homegrown on their property, prepared with so much love, and way fresher and cheaper than you could get at any grocery store. Janna and her sweet family also give back to the local community to fight child hunger with every purchase, too. I am no longer be able to buy pecans at the grocery store any more.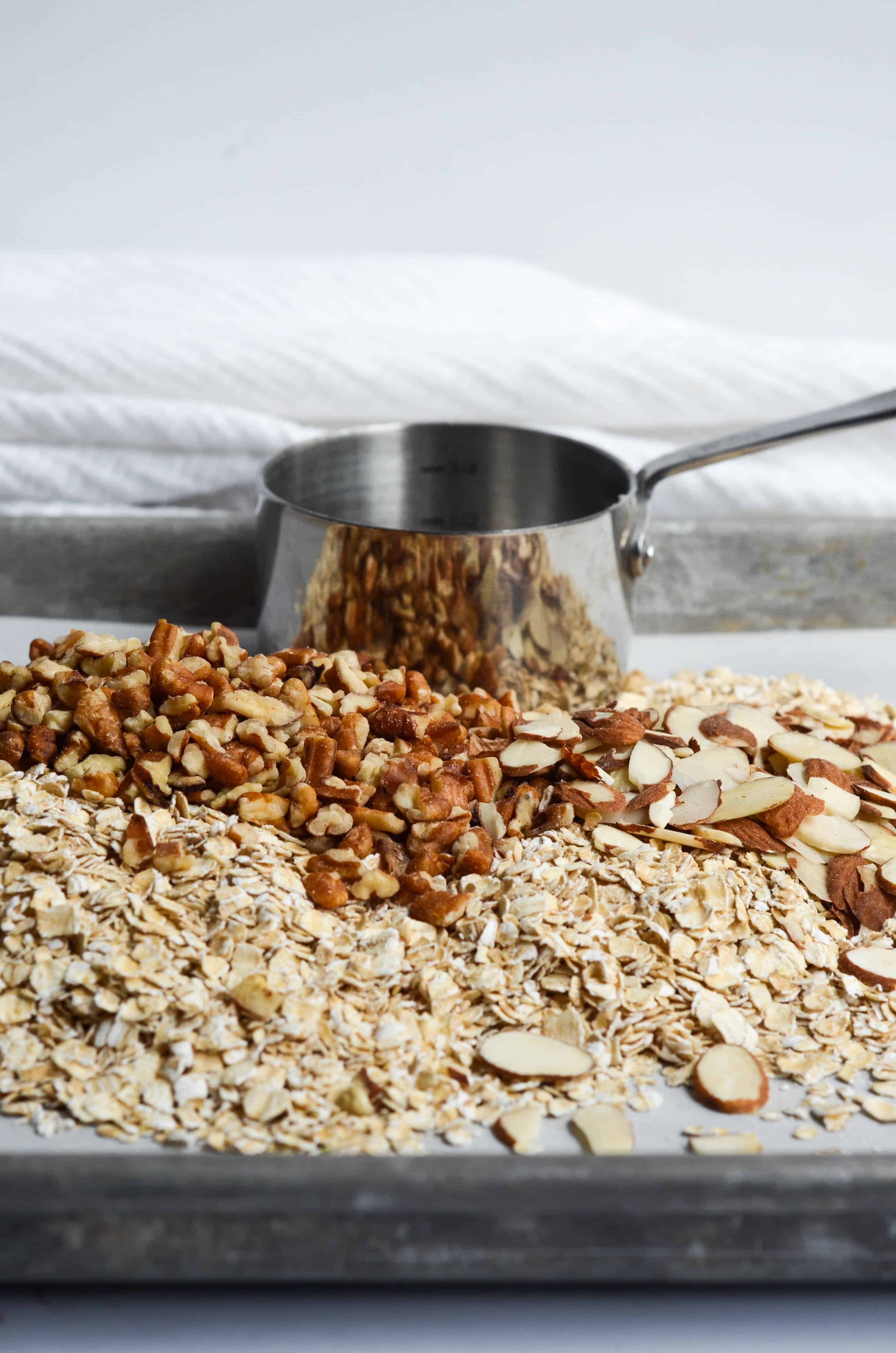 There's not much to making granola
Place all of the ingredients in a large bowl, coating all of the pieces with the liquids. Spread out the contents of the bowl on a baking sheet lined with parchment paper and bake for 22 minutes at 350 degrees F. Take the granola out of the oven and let it sit (WITHOUT touching) for 20-30 minutes until it cools. Waiting is the hardest part. Transfer to an airtight container and store at room temperature.
How to make granola clusters
If you want to make a concerted effort to make granola clusters, just crunch some of the granola on the baking tray before it bakes. This will ensure the granola will stick together nicely and make clumps or clusters. This is also why it's important to not touch the granola for 30 minutes after it comes out of the oven. It needs some time to set...so don't get impatient!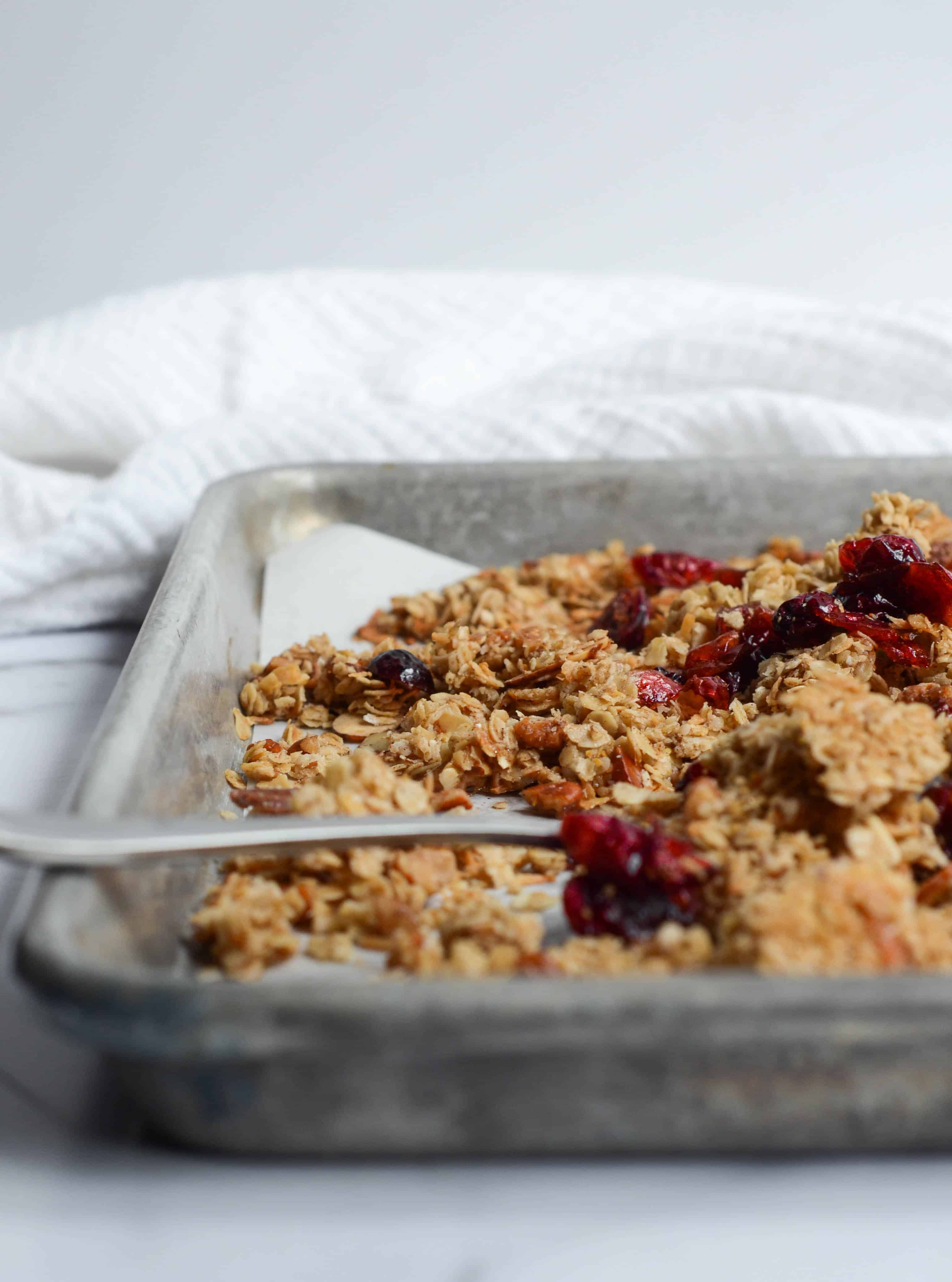 Storing your granola
This granola keeps extremely well and will last for a couple of weeks as long as you store it at room temperature in an airtight container. You could also freeze it if you wanted to make a huge batch and always have some on hand.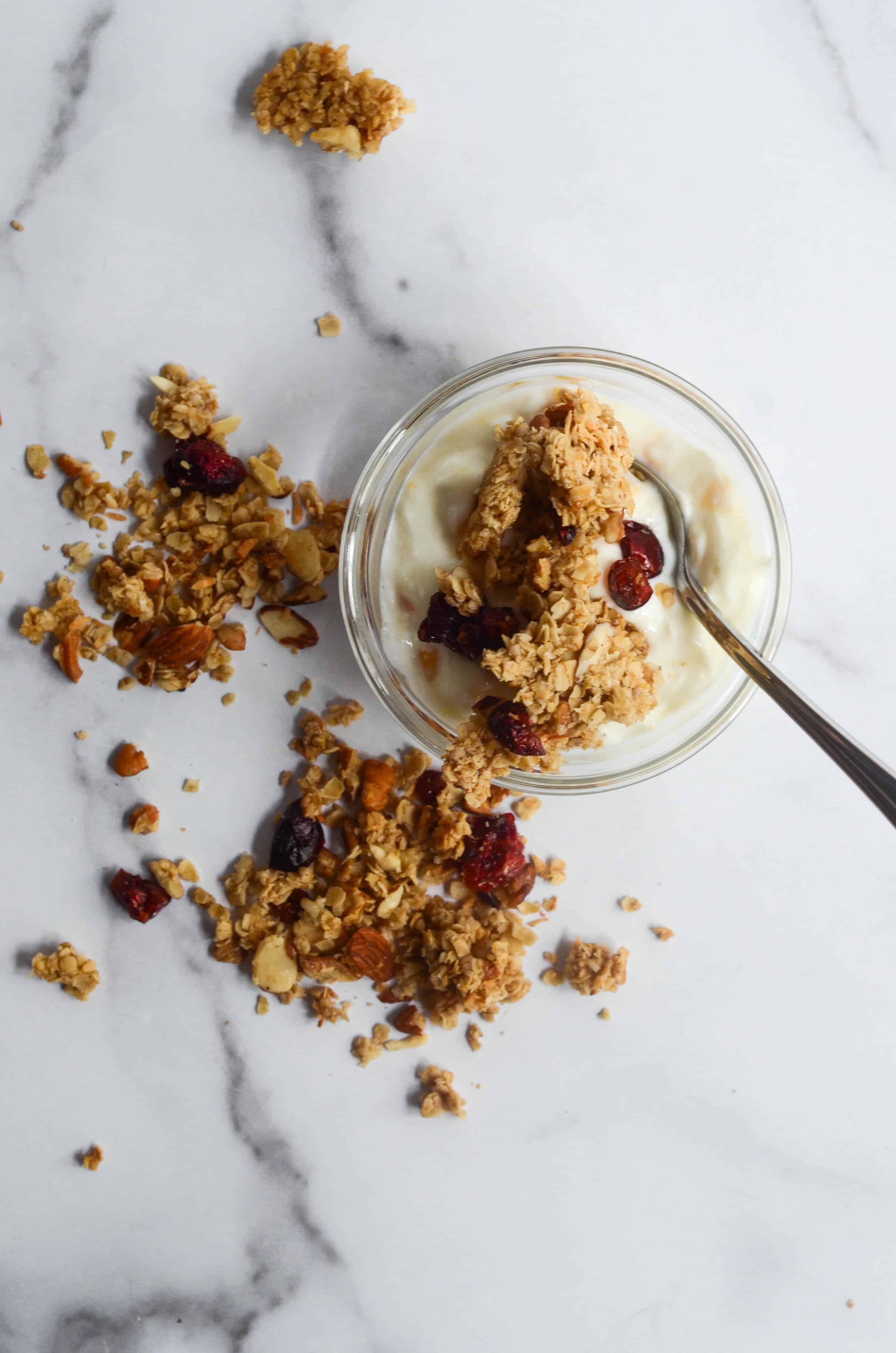 Other Breakfast Ideas
An Egg and Vegetable Bake is my go-to quick breakfast during the week days, but I also loooooove an excuse to eat blueberry cake for breakfast, especially when there's a lemon drizzle poured over top. Have you tried this Crescent Roll Egg Bake yet? It's beautiful (and so simple) to make for company. Eggs and toast go together like peanut butter and jelly, so these Egg-in-A-Hole Toasts are fast and delish for any breakfast.
xox
kathryn
As always, if you make anything from the blog, be sure to let me know! I love hearing from you in the comments on this post below or find Worn Slap Out on Facebook, Instagram, or Pinterest!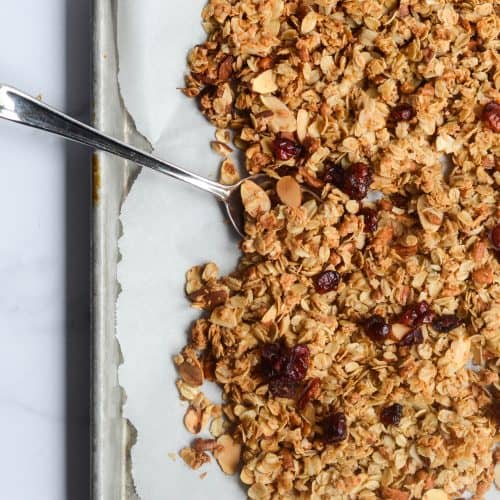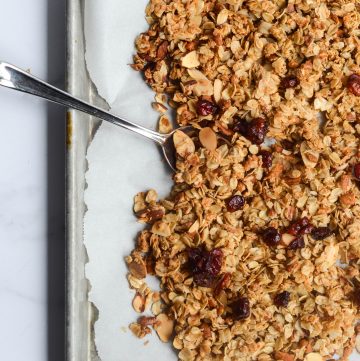 Healthy Homemade Granola (with no refined sugar)
This crunchy granola recipe is so easy, you'll wonder why you ever bought pre-packaged granola from the grocery store. With just a few ingredients spread out on a sheet pan, the granola is ready within an hour.
Print
Pin
Rate
Ingredients
3

cups

old-fashioned oats

1 ½

cups

nuts

I used pecans and sliced almonds

¼

cup

unsweetened shredded coconut

1

teaspoon

vanilla extract

½

teaspoon

salt

½

teaspoon

cinnamon

⅓

cup

maple syrup

⅓

cup

coconut oil

melted

⅓

cup

dried cranberries

or other dried fruit
Instructions
Preheat oven to 350 degrees F. Line baking sheet with parchment paper. Set aside.

In a medium-sized bowl, mix oats, nuts, salt, coconut, cinnamon, vanilla extract, and maple syrup together. Spread out evenly on baking sheet. Bake for 20-22 minutes.

Take out of oven and let sit for about 30 minutes until cool. Add dried cranberries and break apart pieces or leave them whole - whatever your preference.
Notes
Storing: Store granola in an airtight container.  Granola will keep for up to 2 weeks.