Adorable and ridiculously easy, these Valentine's Day Egg in a Hole Toasts are perfect for a Valentine's Day breakfast or brunch or to show you love someone any day of the year.
Valentine's Day is approaching, and while I don't always love the forced celebration of love, I am a sucker for celebrating any and all holidays (including the made-up, Hallmark ones) with my kiddos. You should have seen their faces when I cut hearts out of their regular bread to make these Valentine's egg in a hole toasts and then made them heart-shaped peanut butter and jelly sandwiches later in the day. It was like I had saved the world from the perils of global warming. All was right with their world, and, hence, all was right with mine.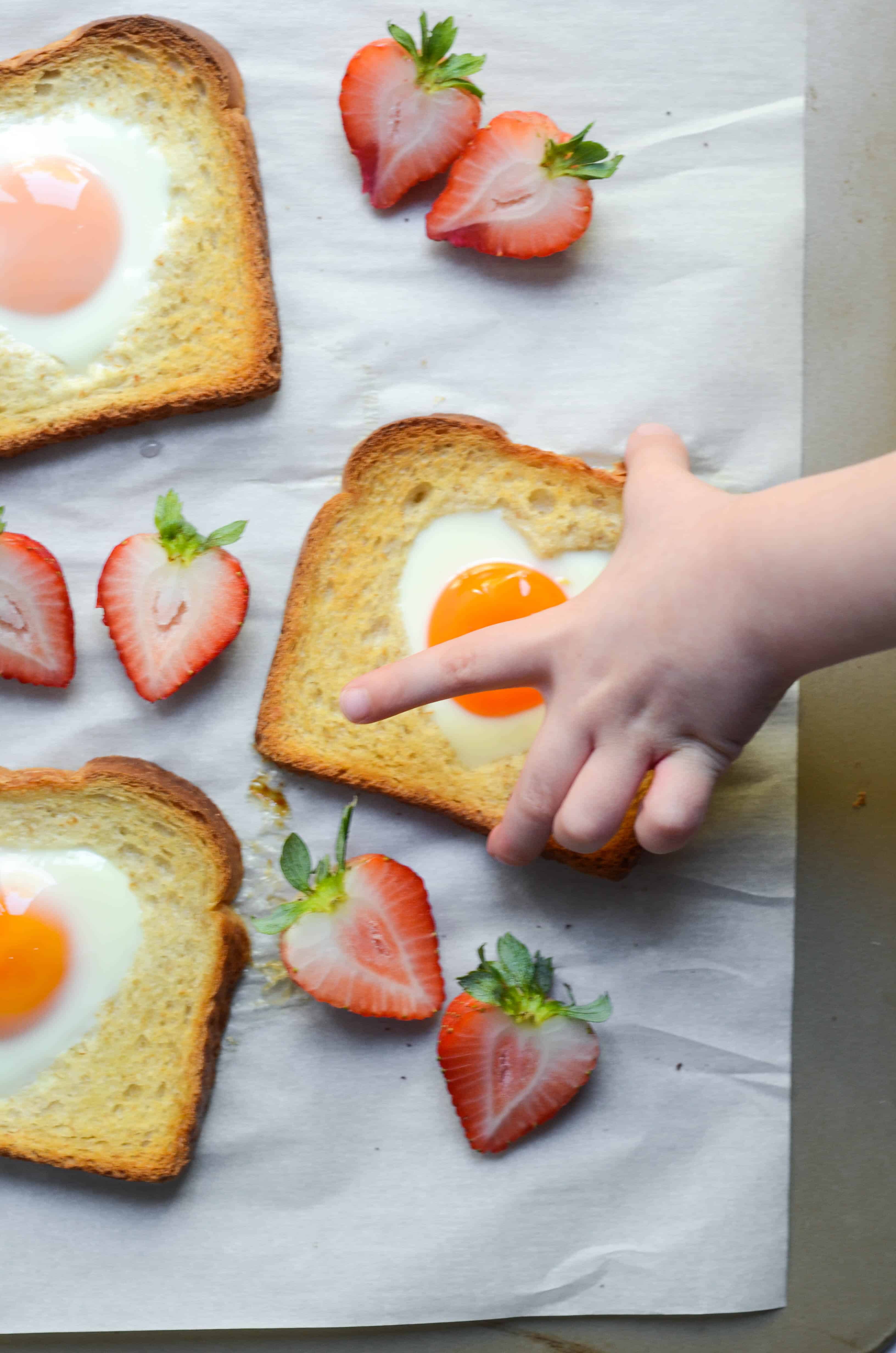 Whether you're celebrating Valentine's, Galentine's or whatever, it's a great excuse to make some specialty foods to celebrate the people you love. It's also the easiest thing to make ever -- taking about 10 minutes total to make. Most all of that time is them baking in the oven...so there's not even hands-on time making these in a frying pan.
The one tool you need (kinda)
You will need a heart shaped cookie cutter, but this time of year you can always find them in Target or a craft store. I also use the small heart shapes for cutting potatoes, fruit, you name it. If it's cuttable, I love cutting the kids' food with it during the holidays. You could always do this without one if you're highly skilled, but I'm not, so I buy a cheap cookie cutter that'll last me for the next 50 years of egg toasts.
Depending on the thickness of your bread, you may have to pick up the bread with the cookie cutter and poke the cookie cutter through the bread so it cuts nicely. Don't be afraid to get handsy with it.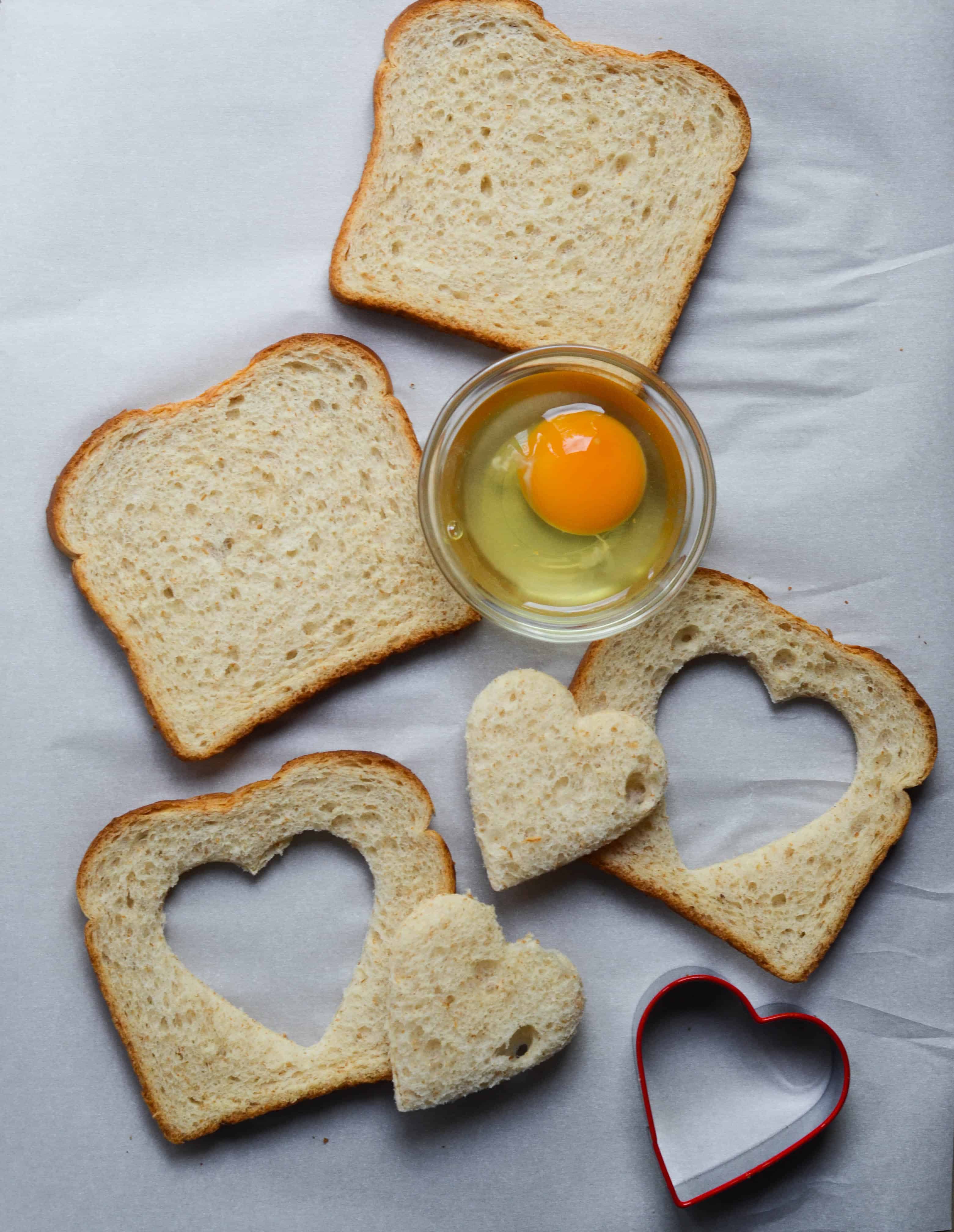 Tips for making these Valentine's Egg in a Hole Toasts
Look, these toasts aren't rocket science here, but there are a couple of things that are worth noting:
Don't forget to butter the toast. This'll prevent the bread for burning and will instead make sure it's a nice golden brown when it comes out of the oven.
Crack the eggs one at a time into another bowl first. By doing this one at a time, you can make sure your yolk is still whole, which is essential. You want the yolk to keep it's shape instead of being a messy pile of yolk. THEN gently pour the entire egg from the bowl into the hole of the bread.
Don't worry if a little egg white escapes. A little egg white will inevitably run out of the bottom a tiny bit, but it won't mess up anything.
Lessen cook time or increase cook time. Depending on how runny you like your eggs, decrease or increase the bake time. I like mine pretty runny, so 8-10 minutes is perfect for me. If you want yours more cooked like my kids like it, you'll want to do more like 12 minutes.
Feel free to jazz up the egg toasts once they come out. Consider jazzing them up with cayenne pepper to give them an extra kick, salsa, chimichurri, or some smashed avocado. All would be amazing accompaniments.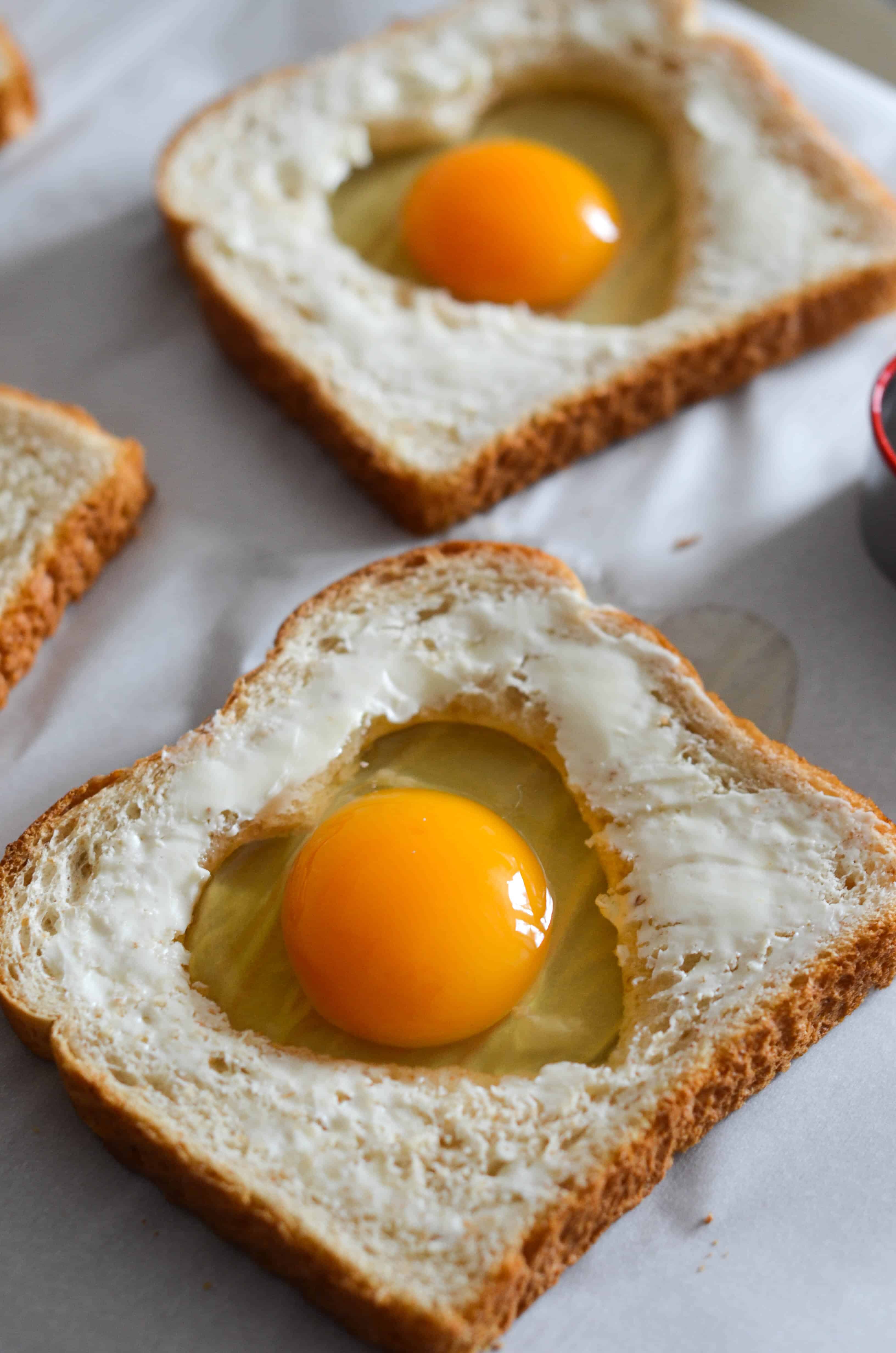 Eliminate food waste - save the scraps!
Don't waste them! The "scraps" of these toasts are these adorable hearts. Make them into french toast. If you're not going to make the French toast that same day, be sure to save them in an airtight container until the next day. These are great because you can get two hearts from one piece of bread.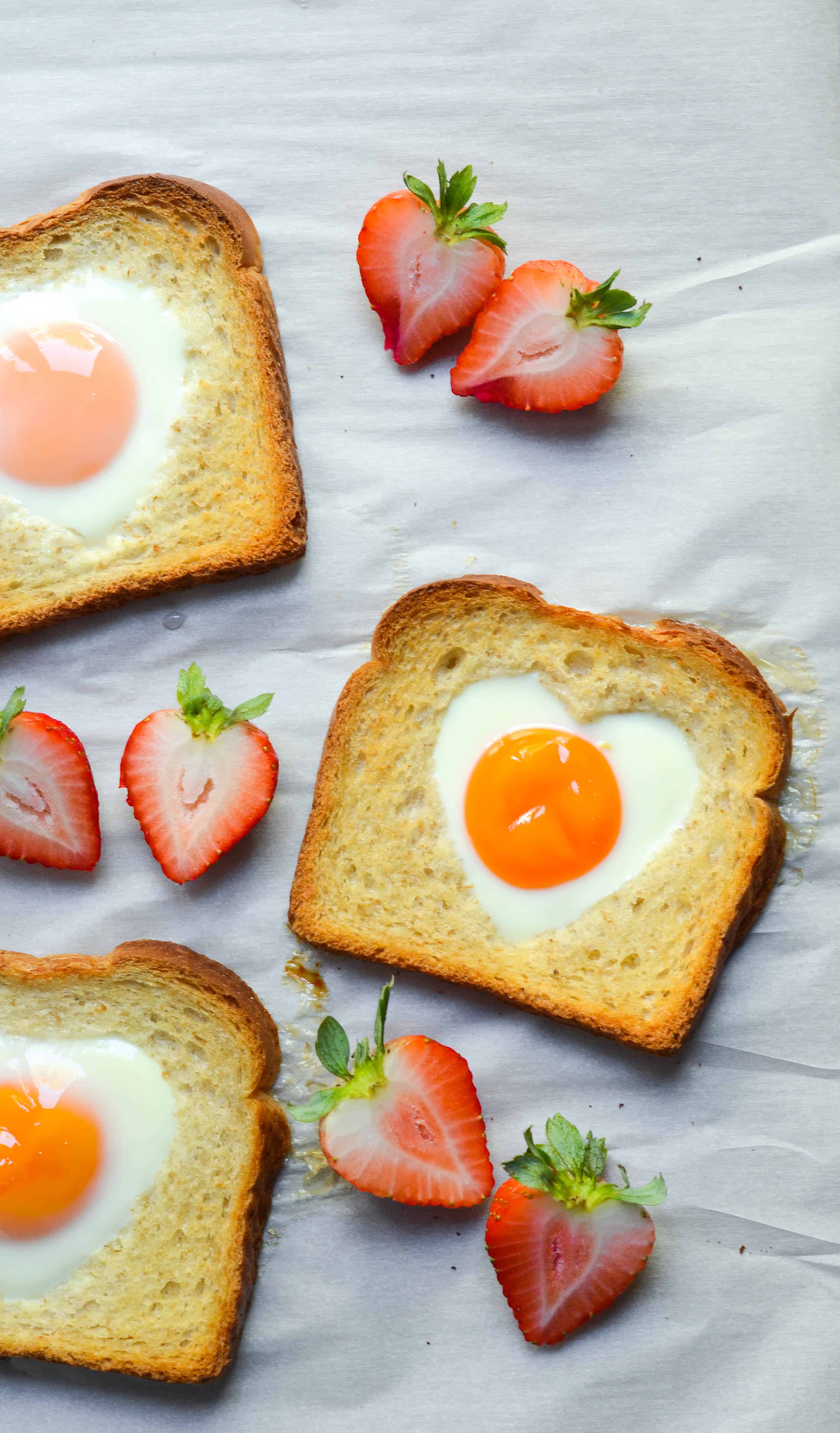 Other Breakfast or Brunch Ideas
If you're hosting a large crew for breakfast or brunch, here are some other ideas to serve with the toasts:
As always, if you make anything from the blog, be sure to let me know! I love hearing from you in the comments on this post below or find Worn Slap Out on Facebook, Instagram, or Pinterest!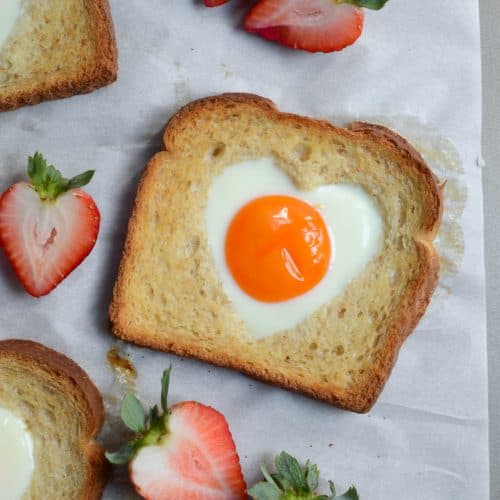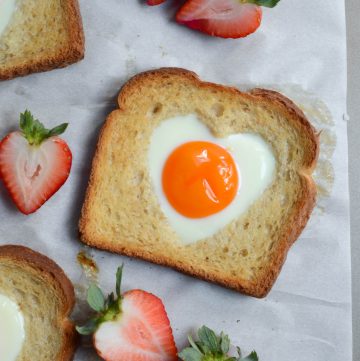 Valentine's Day Egg in a Hole Toasts
Adorable and ridiculously easy, these Egg in a Hole Toasts are perfect for a Valentine's Day breakfast or brunch or to show you love any day of the year.
Print
Pin
Rate
Ingredients
6

slices of your favorite bread, with heart-shape cut out

1

tablespoon

unsalted butter, room temperature

6

eggs

salt and pepper, to taste
Instructions
Preheat oven to 375 degrees F. Line a baking sheet with parchment paper and lay your bread that's been cut-out on the paper. Butter each slices of bread.

Crack one egg at a time in a separate bowl. Gently pour the egg into one of the holes created by the heart cookie cutter. Continue until all bread has an egg in them.

Bake for 8-12 minutes, depending on how runny or cooked you like your egg*.
Notes
*If you want your egg runny, bake for about 10 minutes.  If you like your egg completely cooked, you'll want to bake for about 12 minutes.
These toasts are best eaten immediately, as the bread will get soggy.  
Top with your favorite egg accompaniments: cayenne pepper, salsa, chimichurri, smashed avocado, you name it.