Made with freshly squeezed orange juice, this Orange Pound Cake with Orange Glaze is zesty and moist. The recipe also makes two loaves -- double the deliciousness.
What did I do last weekend when I had an hour to myself? Most people would sit on the couch and kick their feet up. Me? I made Ina Garten's orange pound cake because it's citrus season, and why not. Everyone already knows Ina's the queen of all things.
This is her pound cake recipe. There's just not a better orange pound cake out there. I've tried them. I'ts super moist -- and that's not always easy to do with pound cakes -- thanks to buttermilk, and the fresh orange flavor really shines through. It's not subtle. I did adapt the glaze to make it a bit more orangey though -- adding some zest and more orange juice. The zest is purely optional. You'll still get a strong orange taste without the zest. I used the same proportions for this glaze as I do with my mini skull cakes. Simple.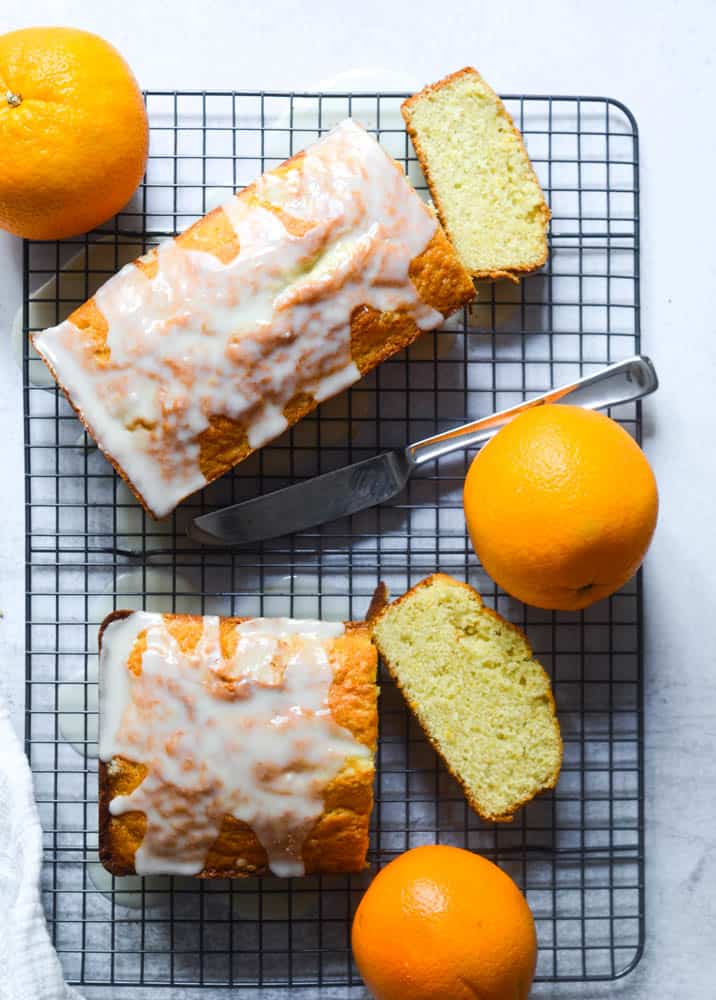 Tips for Making a Homemade Pound Cake
Zest only the orange part of the orange -- Avoid the pith (white part)
Cream butter and sugar until light and fluffy. This takes a few minutes even in a stand mixer, so be patient. The fluffiness will help not make the pound cake super dense by giving the pound cake a little more air.
Make an orange bundt cake. You can turn this recipe into a bundt cake instead of two loaves if you prefer.
Don't over bake. Watch the timing toward the end and test it. That's a sure-fire way to have a dry pound cake (at least one of the reasons anyway).
What About Store Bought Orange Juice?
Yes, you can definitely use store-ought orange juice, but you need a ton of orange zest, which is impossible to come by without fresh oranges, so you really need fresh oranges for this recipe. There's no getting around the good stuff.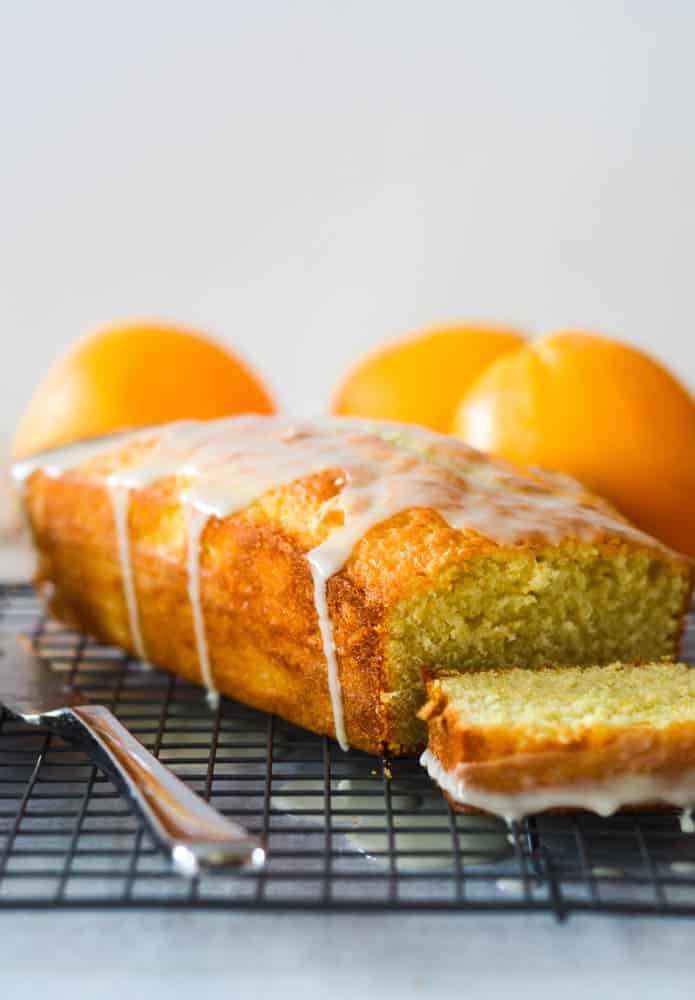 How to Make Orange Glaze
The glaze is a vital part to the pound cake. Don't skip it. The sugar soaks in a little to the cake, making the cake that much moister and zestier.
To make: Place confectioner's sugar, orange juice, and orange zest in a small bowl. Whisk ingredients together until a glaze forms. Ta da! You want to be able to dip a spoon in the glaze, pull it out, and have the glaze just barely cling for a second before slowly falling. If the glaze is too thick, add more orange juice a teaspoon at a time. If the glaze is too watery, add more sugar a teaspoon at a time.
The orange zest is totally optional. If you add the zest, it will be visible in the glaze and rest on top of the pound cake. Sometimes I add the zest (because I just love the added orange flavor) and sometimes I leave it out if I want a cleaner look. Whatever floats your boat.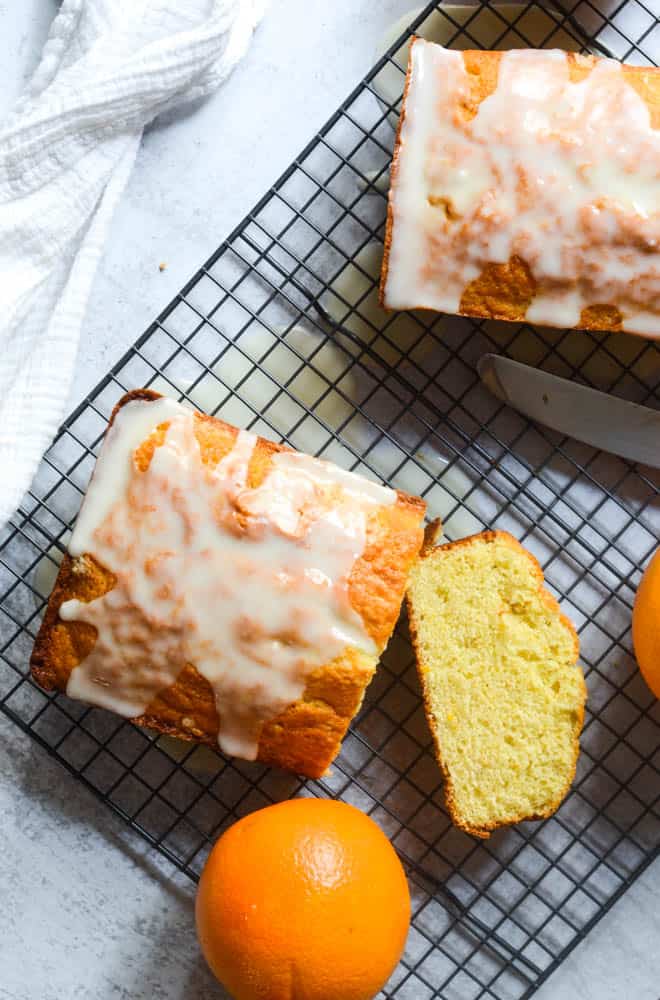 Other Citrus Season Recipes
Sides and Salads
Desserts
xox,
kathryn
As always, if you make anything from the blog, be sure to let me know! I love hearing from you in the comments on this post below or find Worn Slap Out on Facebook, Instagram, or Pinterest!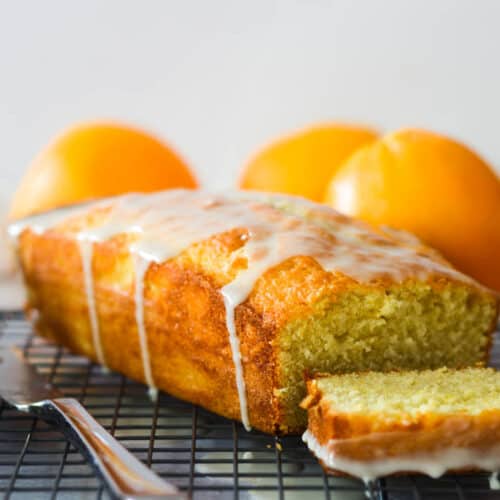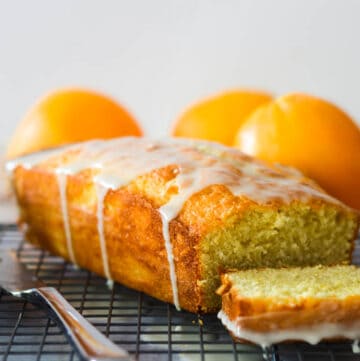 Orange Pound Cake with Orange Glaze
Made with freshly squeezed orange juice, this Orange Pound Cake with Orange Glaze is zesty and moist. The recipe also makes two loaves -- double the deliciousness.
Print
Pin
Rate
Ingredients
For the pound cake:
½

pound

2 sticks unsalted butter, at room temperature

2

cups

granulated sugar

4

extra-large eggs

at room temperature

⅓

cup

grated orange zest

6 oranges

3

cups

all-purpose flour

½

teaspoon

baking powder

½

teaspoon

baking soda

1

teaspoon

kosher salt

¼

cup

freshly squeezed orange juice

¾

cup

buttermilk

at room temperature

1

teaspoon

pure vanilla extract
For the glaze:
1 ½

cups

confectioner's sugar

3

tablespoons

orange juice

2

teaspoons

orange zest (optional)
Instructions
Heat the oven to 350˚F. Grease two 8 ½ x 4 ½ x 2 ½-inch loaf pans and line bottoms with parchment paper.

In the bowl of a stand mixer, cream butter and 2 cups of granulated sugar until light and fluffy, about 4-5 minutes. Beat in eggs and orange zest.

In a large bowl, whisk together flour, baking powder, baking soda, and salt. In another bowl, combine ¼ cup of the orange juice, buttermilk, and vanilla. Add the flour and buttermilk mixtures alternately to the batter. Divide batter evenly between the loaf pans. Wiggle loaf pans to make sure batter is settled and smooth on top. Bake for 45 minutes or until cake tester comes out clean.

While the pound cake bakes, make the glaze by whisking together confectioner's sugar and orange juice until it reaches the desired consistency to spread and drip slightly. Add more juice if it's too thick or add more sugar is it's too thin. When pound cake is nearly cool, cover with the glaze before cutting and serving.
Notes
Pound cake can be kept at room temperature tightly wrapped in plastic (or in an airtight container) for up to 3 days.