Rigatoni Al Forno, or Baked Rigatoni, is a casserole filled with crumbly beef and sausage, flavorful tomato sauce, Italian herbs, and lots of mozzarella cheese. This recipe is sure to be a crowd pleasure -- and can be made in advance!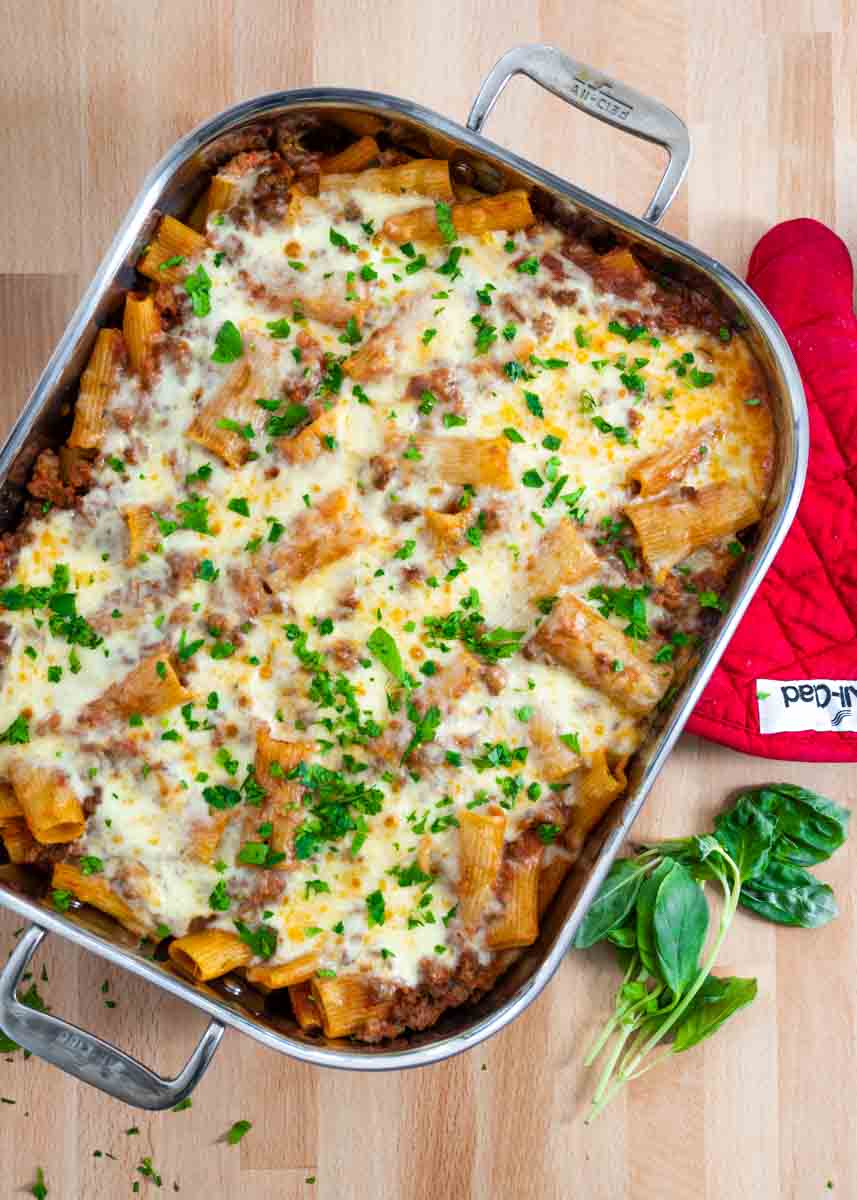 If you could be any pasta shape, what would you be? I've thought long and hard about this on multiple occasions, and I have landed on rigatoni, cavatelli. or fusilli. Cavatelli and fusilli seem like they'd be the life of the party with their unconventional shapes. Rigatoni is classy and confident with its larger shape. All of them are big enough to have crevices to catch all sorts of meaty and saucy goodness.
Practically speaking, I prefer a larger pasta to sauce ratio, too, which is one of the reasons rigatoni is one of my favorites. You really need a hearty sauce to pair with the thick, tubular shape of rigatoni. My mom used to make Baked Rigatoni or Baked Ziti when we were growing up. I don't think I appreciated it back then as much as I should have. Those were the days I still loved to eat my spaghetti separate from my meat sauce.
Fast forward about 30 years and now we love going to Il Pizzico, a small Italian restaurant that makes homemade pastas. The pastas are the most simple yet delicious dishes you've ever tasted. This recipe for Rigatoni Al Forno is re-creating one of our favorites.
Jump to:
What does al forno style mean?
"Al forno" literally means "on fire" in Italian. Al forno foods refer to any food that goes into the oven and is baked, whether it be open flame or not. This is a pasta al forno dish, which means the pasta goes into the oven and bakes like a casserole. Popular combinations of pasta al forno are rigatoni al forno and ziti al forno.
This Rigatoni Al Forno is made with tossing cooked rigatoni with a simple and hearty meat sauce and plenty of mozzarella. The pasta is then put into a 9x13" casserole dish and baked in the oven until the top is a bit crispy and the cheese is melted to perfection. Sprinkle with a bit of fresh parsley and <<chef's kiss>>!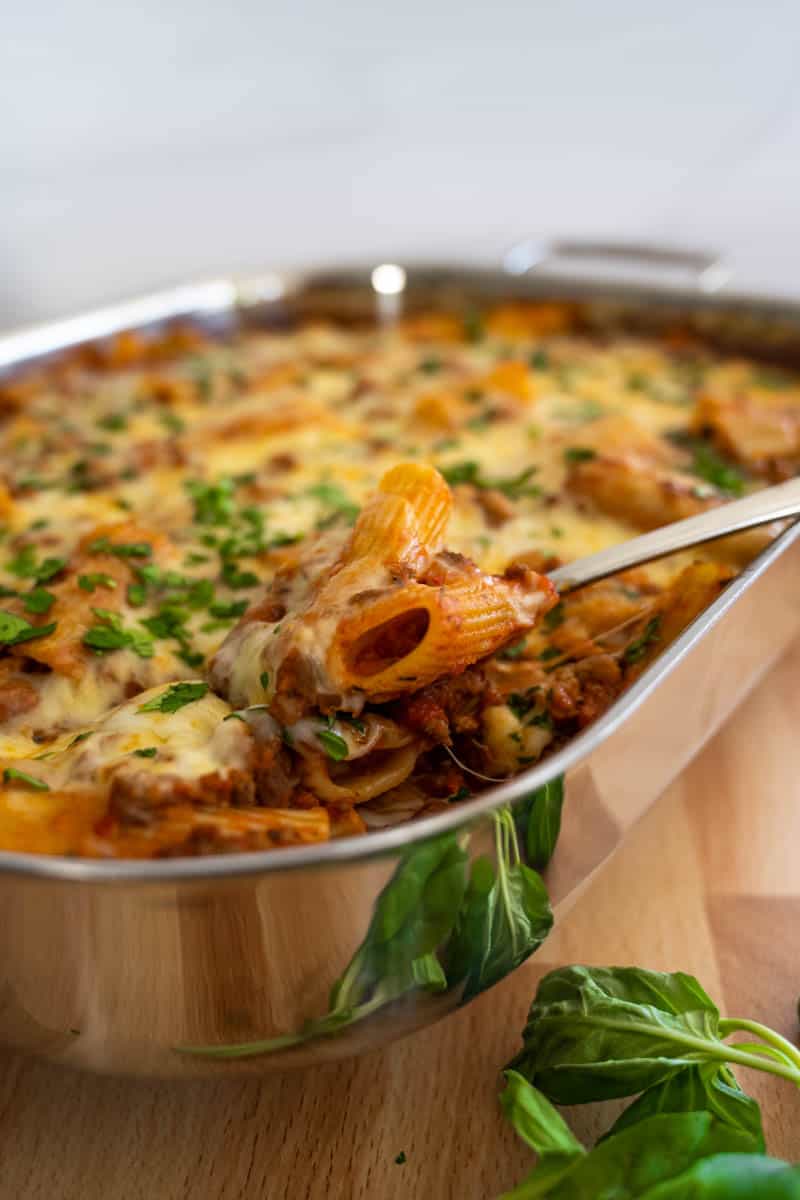 Ingredients You'll Need
Here's what you'll need to make this rigatoni:
dried rigatoni
olive oil
yellow onion
garlic cloves
Italian seasoning
salt
red pepper flakes (optional for a little heat)
black pepper
ground Italian sausage - mild or spicy
ground beef
marinara sauce
crushed tomatoes, preferably San Marzano
mozzarella cheese
parsley (optional for serving)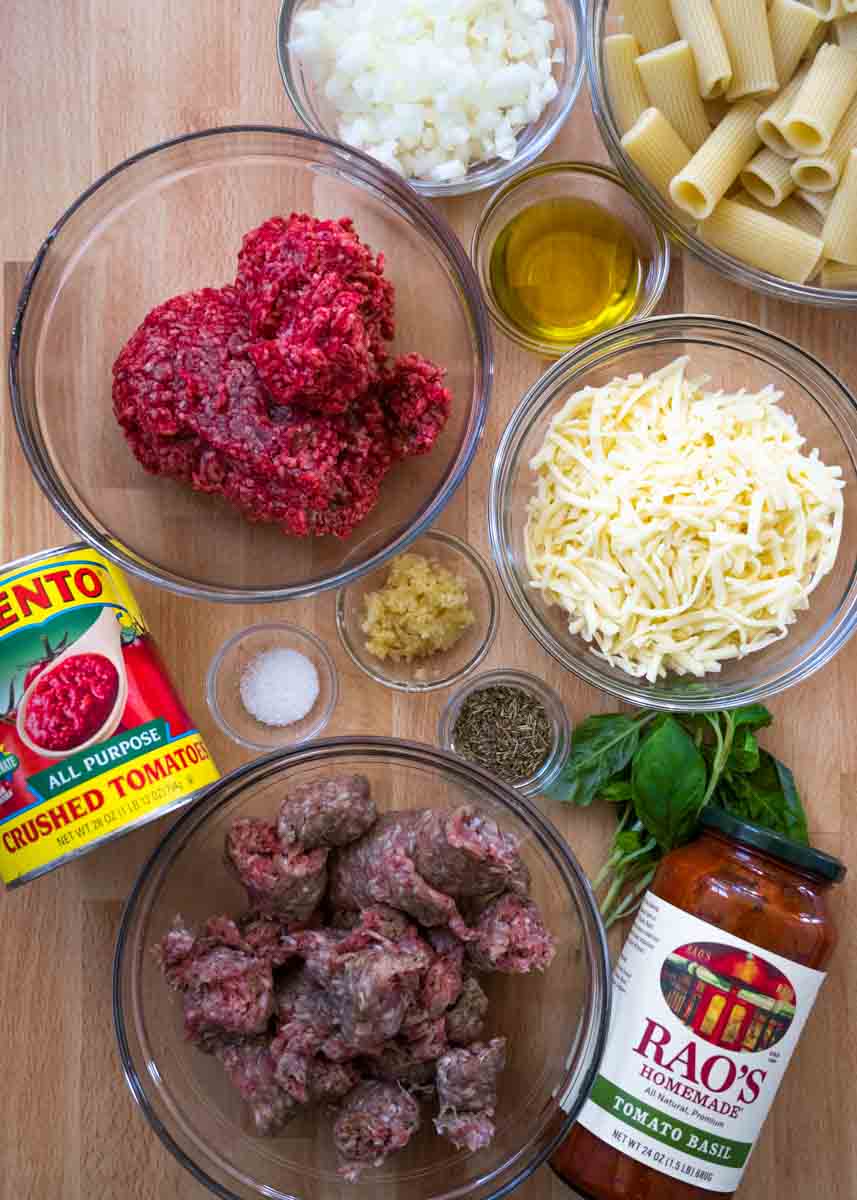 "Life is a combination of magic and pasta."

— Federico Fellini
Rigatoni vs. Penne vs. Ziti
Rigatoni is the largest of these pastas, with a medium-sized tubular shape that has ridges on the outside. Penne oasta is cut at an angle and has ridges on the outside like rigatoni. Ziti isn't cut on the diagonal but is cut straight. Ziti is smooth on the outside. You can use whatever pasta shape you want for this pasta al forno dish as long as it's a medium-sized shape. You don't want to use elbow macaroni, spaghetti or angel hair pasta, for example.
How to Make Rigatoni Al Forno
Step 1: Make your meat sauce & boil pasta
Get your water boiling to cook your rigatoni al dente (see Tips section below to see a note on this).
Meanwhile, make your sauce by combining onions, garlic, spices, and meats together. Then add your favorite marinara sauce and can of crushed tomatoes. We prefer Rao's marinara sauce that we buy at Costco. It's made with whole ingredients and organic. Rao's is a high-quality pasta sauce.
Step 2: Combine sauce with cooked rigatoni.
Add your rigatoni into the meat sauce and gently stir until combined. If you are a rough stirrer, you could break up the pasta, which isn't the end of the world, but it's a prettier dish when the rigatoni stays intact. Pour the rigatoni and sauce combo into a 9x13" baking dish.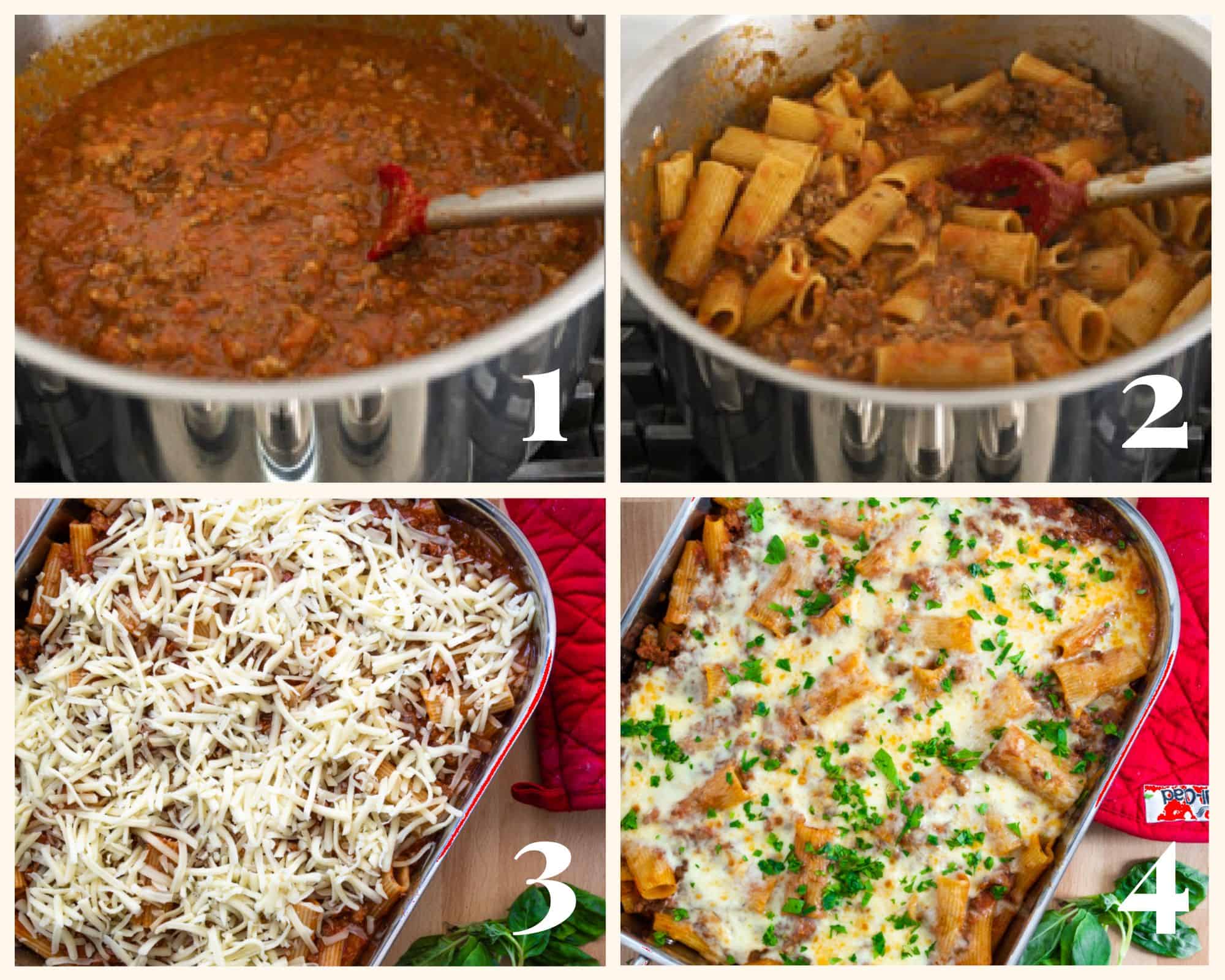 Step 3: Add cheese!
Cheese is never a bad thing. Add a generous portion of shredded mozzarella on top.
Step 4: Bake
Place the rigatoni in a 350˚F oven for 25 minutes with foil covering the top. Then take the foil off and bake for another 10-15 minutes or until the pasta is a bit crispy on top and the mozzarella is melted. I like to stick the dish under the broiler for 1-2 minutes to make it extra crispy.
Those crispy pieces of pasta on the outside are the best part!
Top with fresh parsley or basil and serve with a delicious salad and fresh bread.
Tips of the Trade
Don't overcook your rigatoni. You want it to be al dente because the pasta will be baking in the oven for 25 minutes with foil and another 10-15 without foil. No one likes soggy, limpy pasta.
Get a high quality pasta sauce. As I mentioned, I prefer Rao's marinara sauce, but a nice jar of spaghetti sauce really makes a difference. You could use homemade, of course, if you prefer.
Turn up the heat. Do you like some heat with your pasta? If so, add more red pepper flakes and use spicy Italian sausage instead of regular sausage.
Use the broiler. If you like the crispy pieces of pasta on the outside like I do, place the uncovered baking dish under the broiler for 1-2 minutes or until the pasta gets nice and crispy.
Top with fresh herbs. Fresh herbs at the end really elevate this meal to a great weeknight meal option to something that feels luxurious. Don't skip adding parsley or basil at the end!
Make ahead. You can make rigatoni and sauce combination and then freeze this in a freezer bag until you're ready to bake. Just place in a baking dish, top with mozzarella, and you've got a fresh meal ready to go!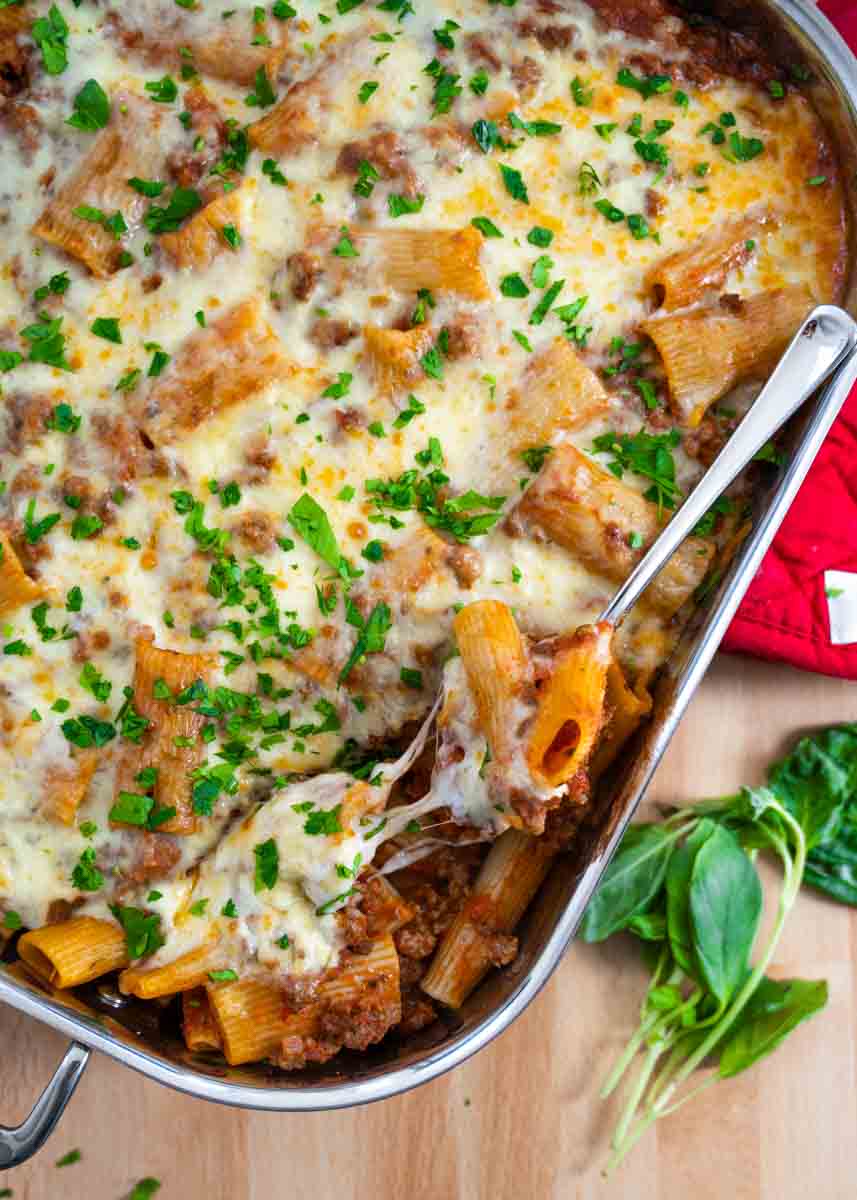 Variations
Change the shape of the pasta. Don't feel limited to using rigatoni. Any medium to large-sized pasta really works with this dish, like ziti, shells, or fusilli.
Make it vegetarian. You can easily make Rigatoni Al Forno vegetarian as well. Simply leave out the meat, and instead, add sautéed mushrooms or eggplant.
What to Eat with Rigatoni Al Forno
Try these salads and soups that pair so nicely with the rigatoni!
---
xox,
kathryn
As always, if you make anything from the blog, be sure to let me know! I love hearing from you in the comments on this post below or find Worn Slap Out on Facebook, Instagram, or Pinterest!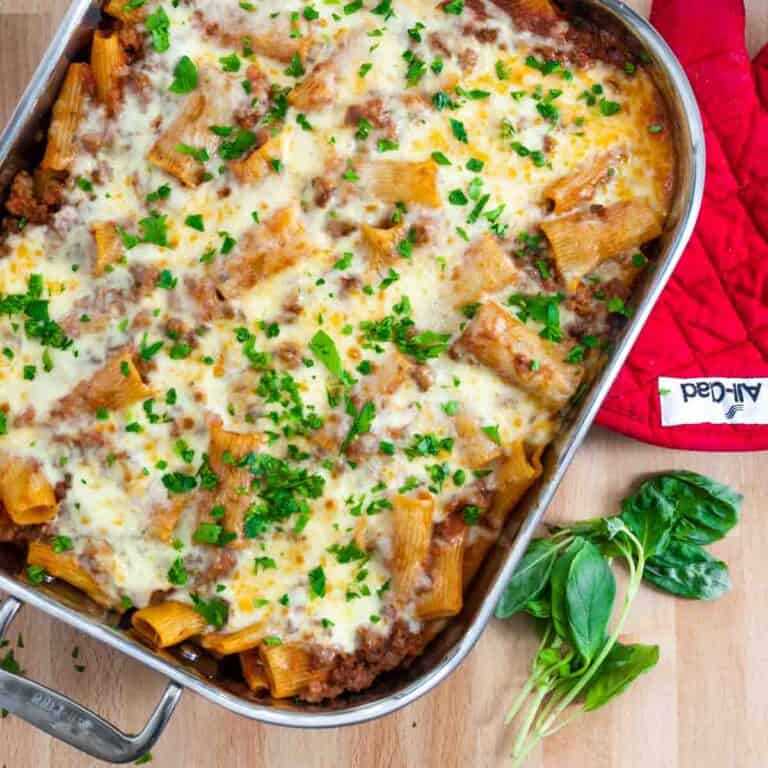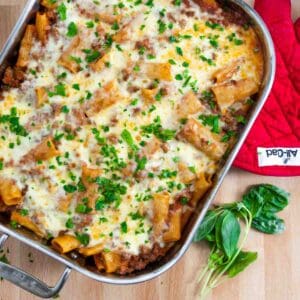 Ingredients
1

pound

rigatoni

1

tablespoon

olive oil

1

cup

diced yellow onion

4

garlic cloves

minced

1

tablespoon

Italian seasoning

1

teaspoon

kosher salt

¼

teaspoon

red pepper flakes

optional

¼

teaspoon

black pepper

1

pound

ground Italian sausage

mild or spicy

1

pound

ground beef

1

24 ounce jar marinara sauce

1

24 ounce can crushed tomatoes, preferably San Marzano

3

cups

grated mozzarella cheese

chopped parsley

for serving
Instructions
Preheat the oven to 350°F.

Bring a large pot of salted water to a boil. Add the rigatoni and cook according to the package instructions for al dente. Drain, pour into a large bowl, and set aside.

In that same large pot you boiled the pasta in, heat olive oil over medium heat. Add onions and saute until tender, about 3 minutes. Add garlic and cook for another minute. Add salt, Italian seasoning, and red pepper flakes (if using).

Add sausage and ground beef, breaking the meat into small pieces as it cooks. Cook until meat is browned and cooked through, about 8 minutes.

Add the marinara and crushed tomatoes and stir until combined.

Add the rigatoni to the sauce and gently stir until mixed.

Transfer the pasta to a 9x13 baked dish. Top with mozzarella, cover with aluminum foil, and bake for 25 minutes. Uncover and bake for another 10-15 minutes until the cheese is slightly browned and bubbling.

Let cool for 5-10 minutes before serving. Top with parsley and enjoy.
Notes
Make ahead: You can make the rigatoni and sauce combination and then freeze this in a freezer bag for 2-3 months. When you'er ready, place the rigatoni mixture in a baking dish, top with mozzarella, and bake. You've got a dinner ready to go!
Storage: Store leftovers in an airtight sealed container. Store in the refrigerator for 3-4 days.
To reheat: Place in a 350˚F oven for 20 minutes or until heated through. You can also remove a portion of rigatoni from the baking dish and microwave on a microwave-safe plate for 1 ½ minutes. 
Nutrition
Serving:
1
cup
|
Calories:
510
kcal
|
Carbohydrates:
38
g
|
Protein:
31
g
|
Fat:
25
g
|
Saturated Fat:
9
g
|
Polyunsaturated Fat:
2
g
|
Monounsaturated Fat:
12
g
|
Trans Fat:
1
g
|
Cholesterol:
73
mg
|
Sodium:
852
mg
|
Potassium:
411
mg
|
Fiber:
3
g
|
Sugar:
2
g
|
Vitamin A:
188
IU
|
Vitamin C:
2
mg
|
Calcium:
366
mg
|
Iron:
2
mg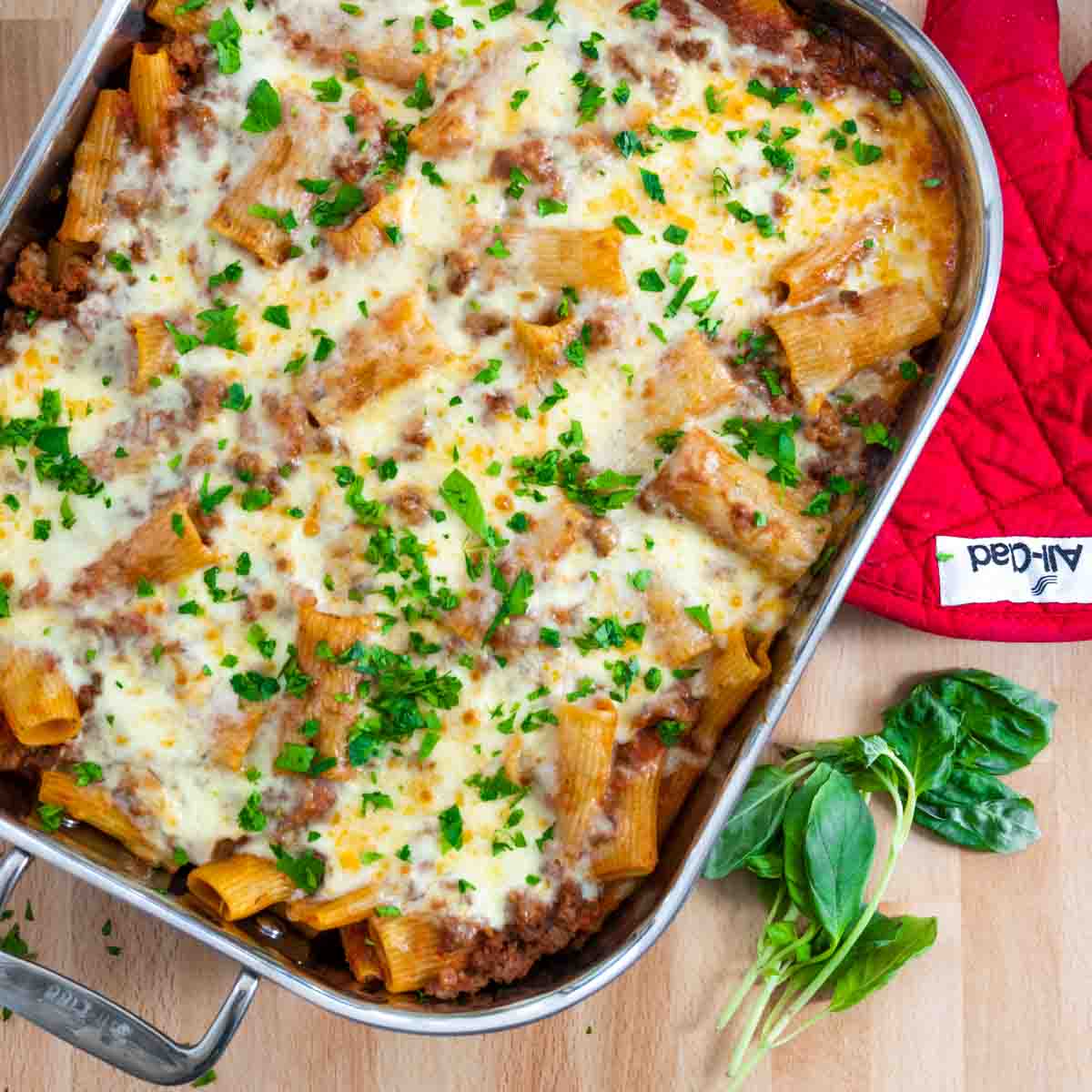 Recent Favorites