This Caesar Salad Dressing with No Anchovies is made with a few simple ingredients whisked together to make a creamy and zesty dressing for your Caesar salad. It's way better than anything that comes in a salad mix!
If you've followed me for quite some time, you know I don't mess with mayonnaise. Mayo is the bane of my existence. I find it absolutely revolting. I must have had a traumatic experience with mayo in my childhood that I can't recall but the scars remain.
Mayonnaise is good in a few things and a few things only: John's Maryland Baked Crab Cakes (the best crab cakes everrrrr), this spicy aioli dipping sauce for Brussels Sprouts on the Stalk, in this Copycat Chick-Fil-A Cole Slaw, on a ham and cheese sandwich (but only if it has lettuce and tomato on it) and this Caesar salad dressing.
If I know I'm eating mayonnaise, I'm totally grossed out. Does it add flavor? Absolutely. Does it make things creamy and delicious? Yes. Do I love a good Caesar Salad with mayonnaise? Also absolutely. The peppery and zesty finish of this Caesar salad dressing just takes the mayonnaise stain off the brain.
Take it from a non-mayonnaise lover: this Caesar salad dressing is delicious.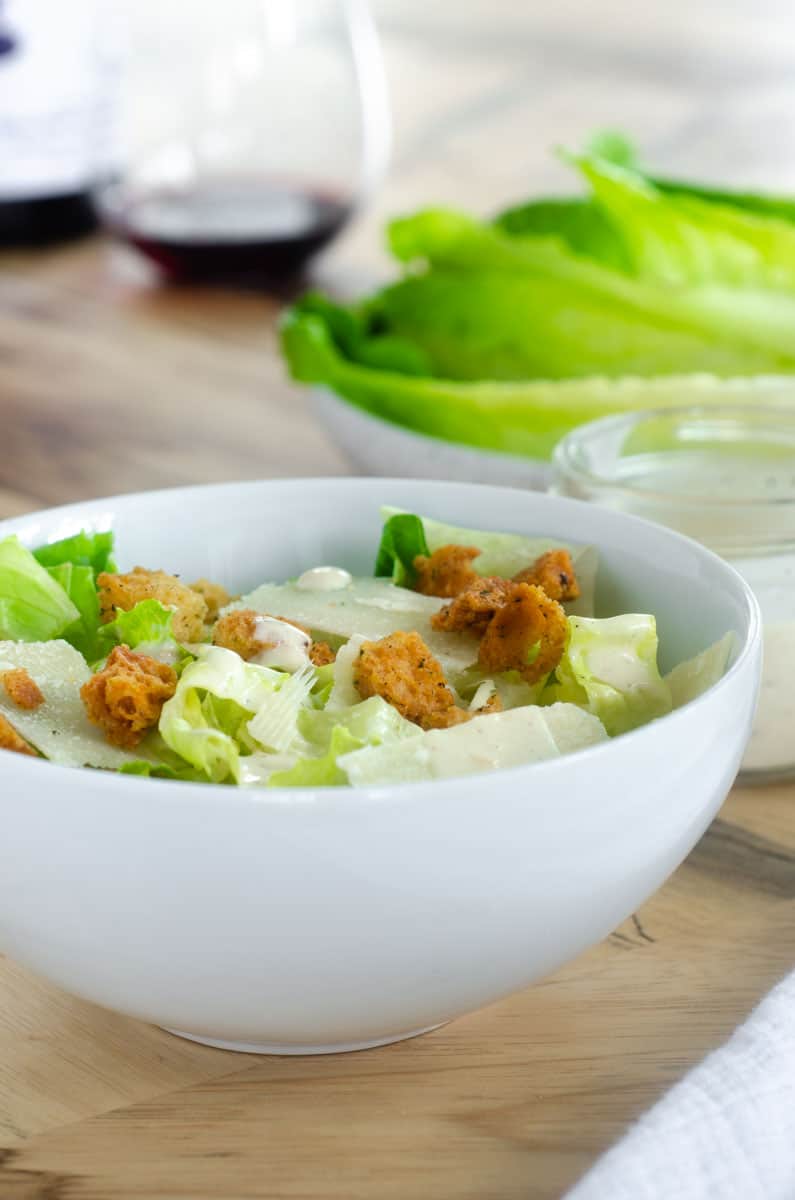 Why You'll Love this Caesar Salad Dressing with No Anchovies
So fast. This Caesar dressing will take you 5 minutes or less to make. That's just a little bit longer than trying to go through the side shelf of your refrigerator to find the bottle of store-bought dressing.
Requires one small bowl. Everything can be done in one bowl, making for easy clean up. And because there are no anchovies, there's no food processor needed.
Easy Ingredients. You only need a few ingredients that you likely already have in your house. Nothin' fancy 'round these parts.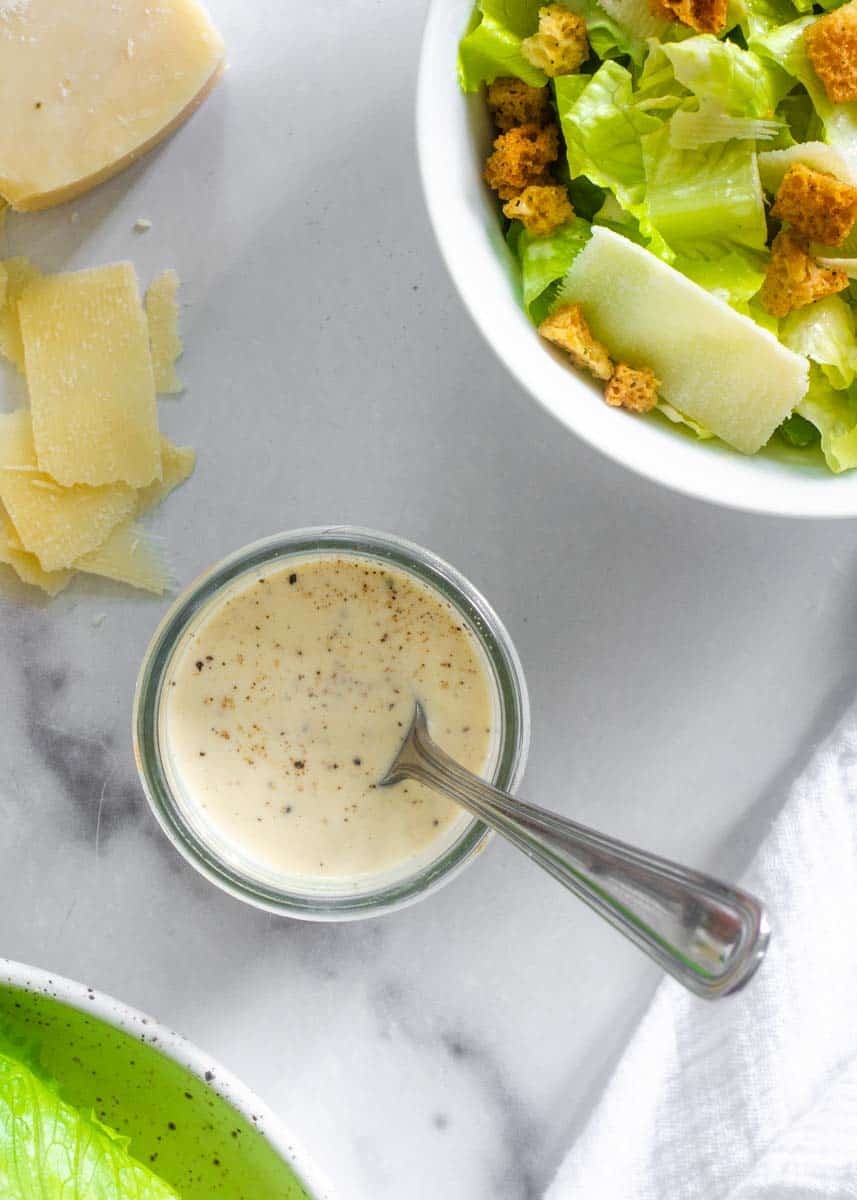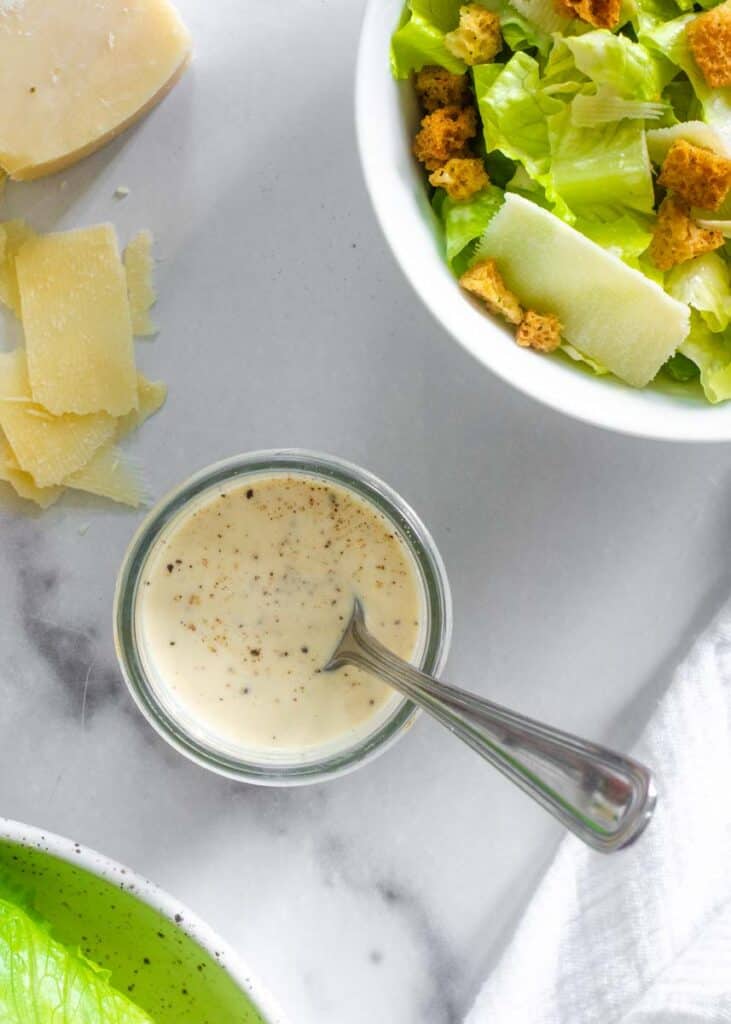 Ingredients Needed to Make Caesar Dressing with No Anchovies
When I told you it's easy, it's really easy. Here are the ingredients you need to make a creamy Caesar salad dressing:
garlic (I like my dressing garlicky but cut this down if you're not into garlic)
lemon
Dijon mustard
fresh parmesan
Worcestershire sauce
mayonnaise
salt + pepper (do LOTS of fresh ground pepper!)
Hold the Anchovies - or Not
I actually don't have a problem with anchovies. When I go to a restaurant and I'm feeling in the mood for a Caesar salad I happily devour the dressing as long as it doesn't have whole anchovies in it.
This Caesar salad dressing is made without anchovies mostly because I don't want to touch the things, and I don't want to go through the hassle of dirtying my food processor. I also never think about buying anchovies so they're not readily available when I need them in a pinch.
If you are an anchovy lover, by all means add them. You can also use anchovy paste if you don't have whole anchovies on hand.
Secrets in Making an Easy Caesar Salad Salad Dressing with No Anchovies
Simply combine all of the ingredients in a medium-sized bowl and whisk together vigorously. That's truly it.
Pro tip: Leave the Caesar dressing out for as long as you can before serving. I think it's best just a little colder than room temperature. It will also lose some of its thickness the longer it sits out.
Second pro tip: Don't be shy with the fresh cracked pepper. A peppery Caesar salad dressing can really make the dressing go from good to great.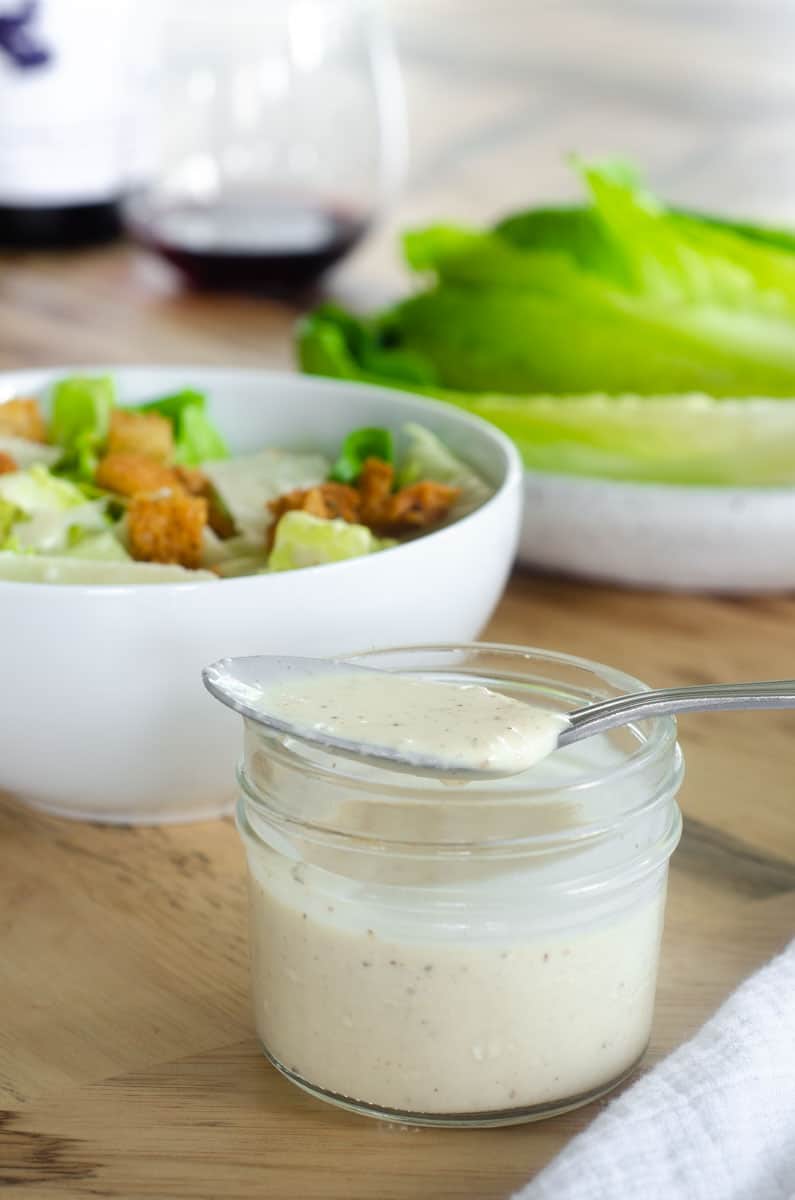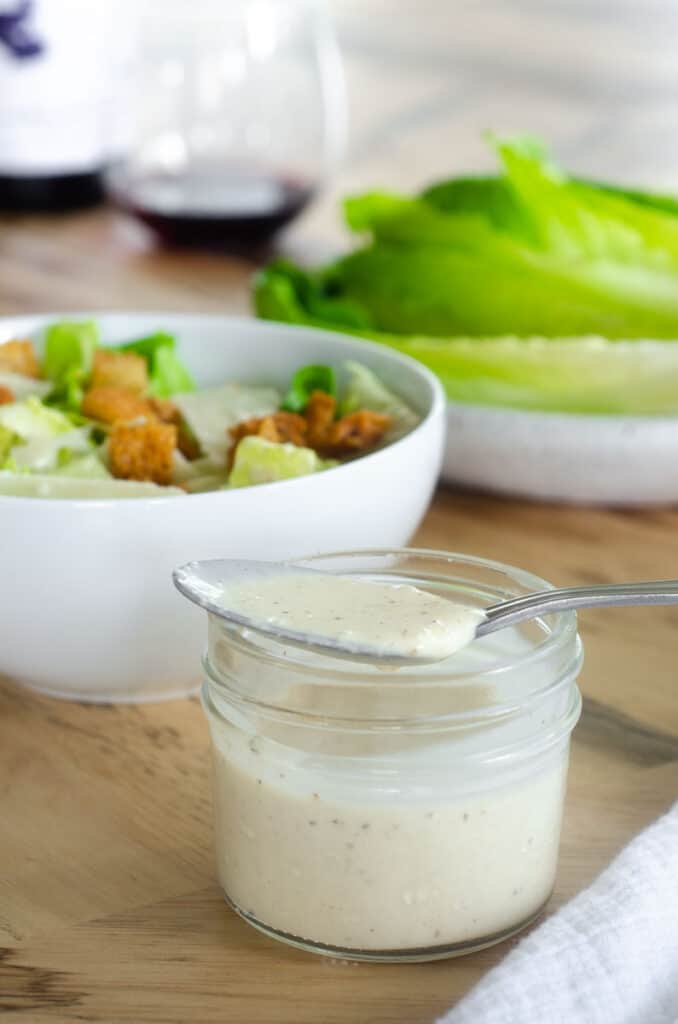 Make it a Meal
This Caesar Dressing with No Anchovies can be a meal by itself. Add some sliced Pan-Seared Chicken Breast and you're good to go.
Alternatively, I like to make a Caesar salad for guests and serve it with a pasta dish (see suggestions below). Pasta and a salad are easy to make for a crowd, so it's a good one when you are feeding hungry adults and children but also don't have a lot of time to cook anything too time consuming.
Frequency Asked Questions
Here are some FAQs I get about Caesar dressing that I hope helps you when you're whipping this up!
Is Caesar dressing gluten free?
Caesar dressing is gluten free as long as you buy a gluten free Worcestershire sauce. Be sure to read the label. Many of the Worcestershire sauces use white vinegar rather than a barley malt vinegar, making it gluten free.
Is Caesar dressing dairy free?
No, this Caesar dressing is not dairy free because it has fresh parmesan cheese in it. Leave out the cheese if you're looking for a Caesar salad dressing that is dairy free.
How many Caesar salad dressing calories are in a serving?
I get these questions on calories all of the time. I've now added a nutrition section to my newest recipe cards so you can see the estimated calories per serving.
This Caesar dressing has about 222 calories per serving.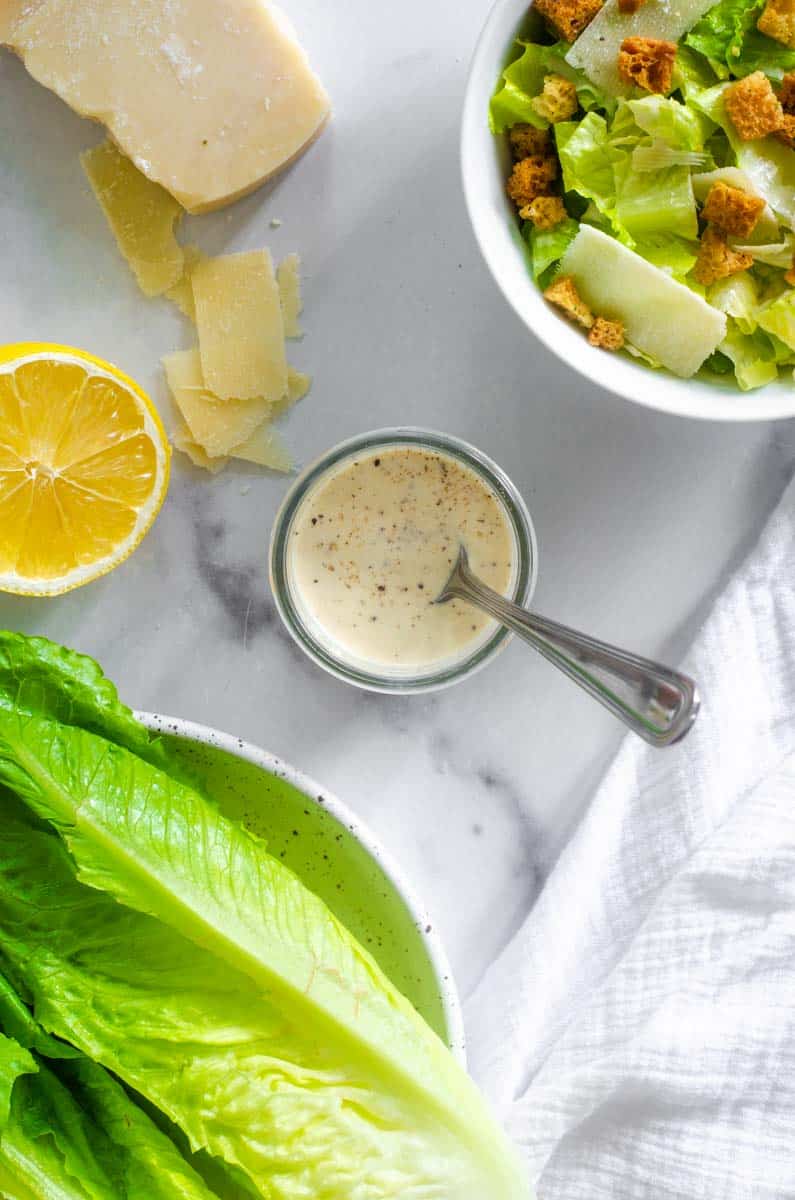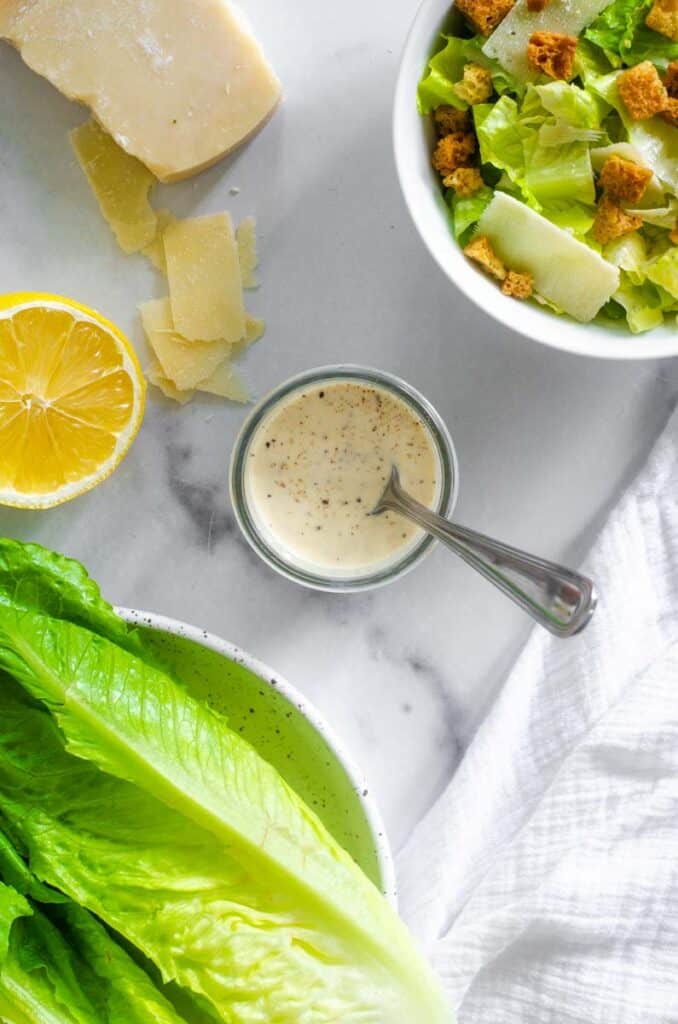 Dinner Ideas with Caesar Salad
Try these favorite dishes of mine to pair with your Caesar Salad. (Hint, hint: Most of them are all pasta recipes!)
Rose Sauce (This one is homemade but still easy. You feel like you're eating your favorite Italian take-out food)
Semi Homemade Linguine Bolognese (it uses your favorite jarred spaghetti sauce and is one of our favorite easy weeknight meals)
Rigatoni Al Forno (coming soon to your favorite food blog!)
15 Minute Creamy Boursin Pasta (Love Boursin cheese? This one's for you)
---
Happy Caesar Eating!
xox,
kathryn
As always, if you make anything from the blog, be sure to let me know! I love hearing from you in the comments on this post below or find Worn Slap Out on Facebook, Instagram, or Pinterest!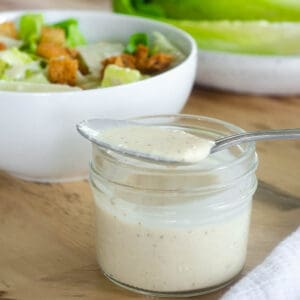 Caesar Salad Dressing (No Anchovies)
This Caesar Salad Dressing with No Anchovies is made with a few simple ingredients whisked together to make a creamy and zesty dressing for your Caesar salad.
Print
Pin
Rate
Ingredients
1

clove

garlic

minced

½

lemon

juiced

1

teaspoon

Dijon mustard

¼

cup

fresh grated parmesan cheese

½

teaspoon

Worcestershire sauce

¼

teaspoon

salt

¼

teaspoon

black pepper

½

cup

mayonnaise
Instructions
Combine all of the ingredients into a small or medium-sized bowl. Whisk until thoroughly combined. Toss with your Caesar salad and enjoy!
Nutrition
Serving:
2
Tablespoons
|
Calories:
222
kcal
|
Carbohydrates:
2
g
|
Protein:
3
g
|
Fat:
23
g
|
Saturated Fat:
4
g
|
Polyunsaturated Fat:
13
g
|
Monounsaturated Fat:
5
g
|
Trans Fat:
0.1
g
|
Cholesterol:
16
mg
|
Sodium:
447
mg
|
Potassium:
43
mg
|
Fiber:
0.5
g
|
Sugar:
1
g
|
Vitamin A:
72
IU
|
Vitamin C:
7
mg
|
Calcium:
83
mg
|
Iron:
0.3
mg