This past Saturday, C was playing with his blocks like he usually does. C's getting better at keeping his cool when his sister carelessly runs by knocking his building over, or worse yet knocks it down in a very premeditated, maniacal kind of way. But on this morning when his blocks took a tumble on his own volition, C shouted, "DAMNIT!"
Y'all. My jaw just about hit the floor. Not because he said his first curse word, but because of all the curse words we accidentally use in this household, "damnit" is not one of them.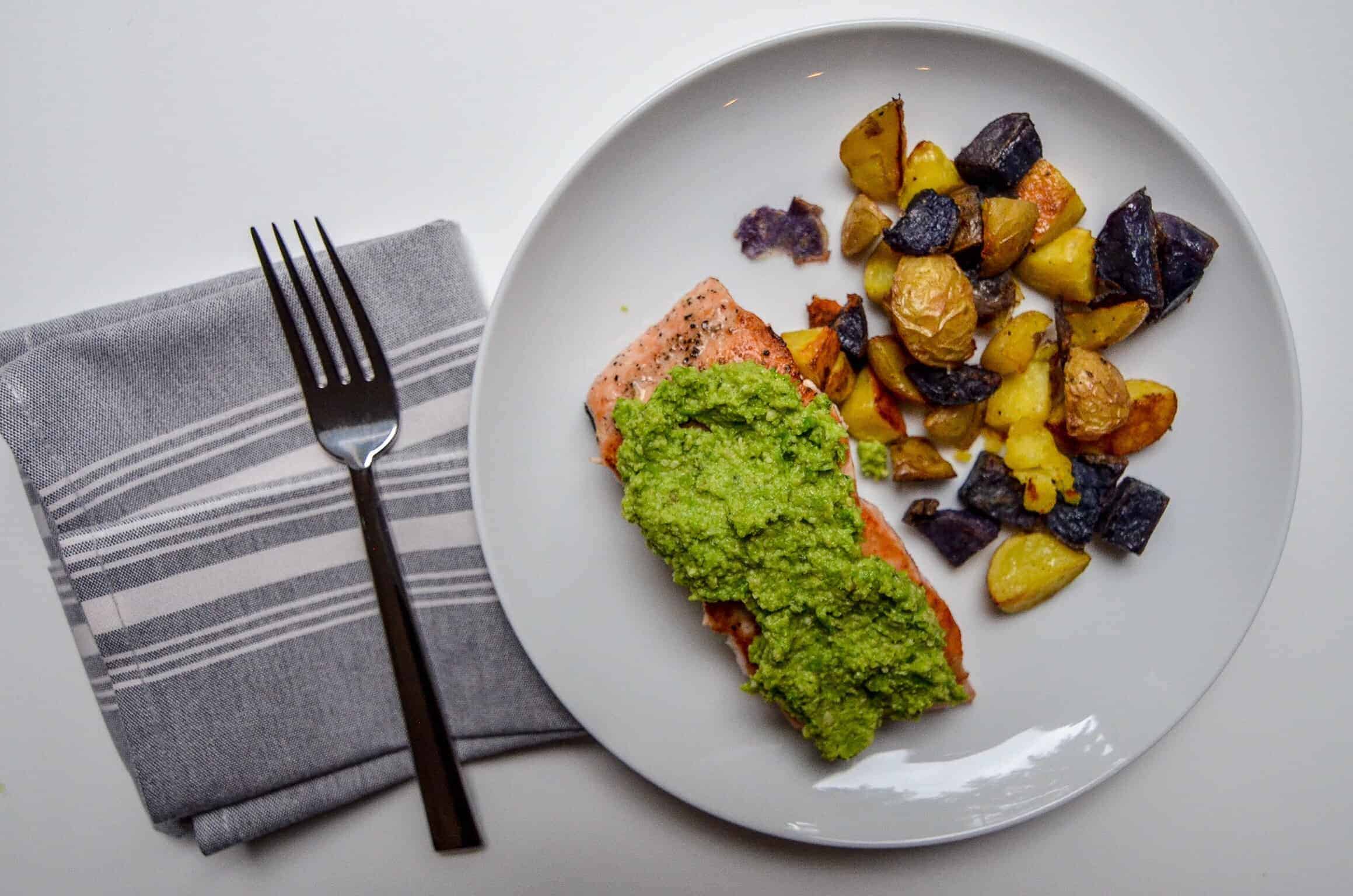 "What'd you say?" we questioned as I quickly whipped out the video mode on my phone like any good parent would do.
"DAMNIT, I said!" as if he was annoyed we were even asking. By this time, John and I were barely keeping it together.
"Where did you learn to say something like that?"
"Ms. Heidi says it." Ms. Heidi (whose real name is not this to protect the guilty or innocent...the jury's still out) is one of his teachers at school.
Well, okay then. I guess I'm a little proud he used it in proper context to really express his emotions accurately and quickly. What does this story have to do with this pea pesto? Absolutely nothing, other than it's a great meal to make when you think to yourself, "Damnit, it's too hot to cook much today." This week is one of those weeks.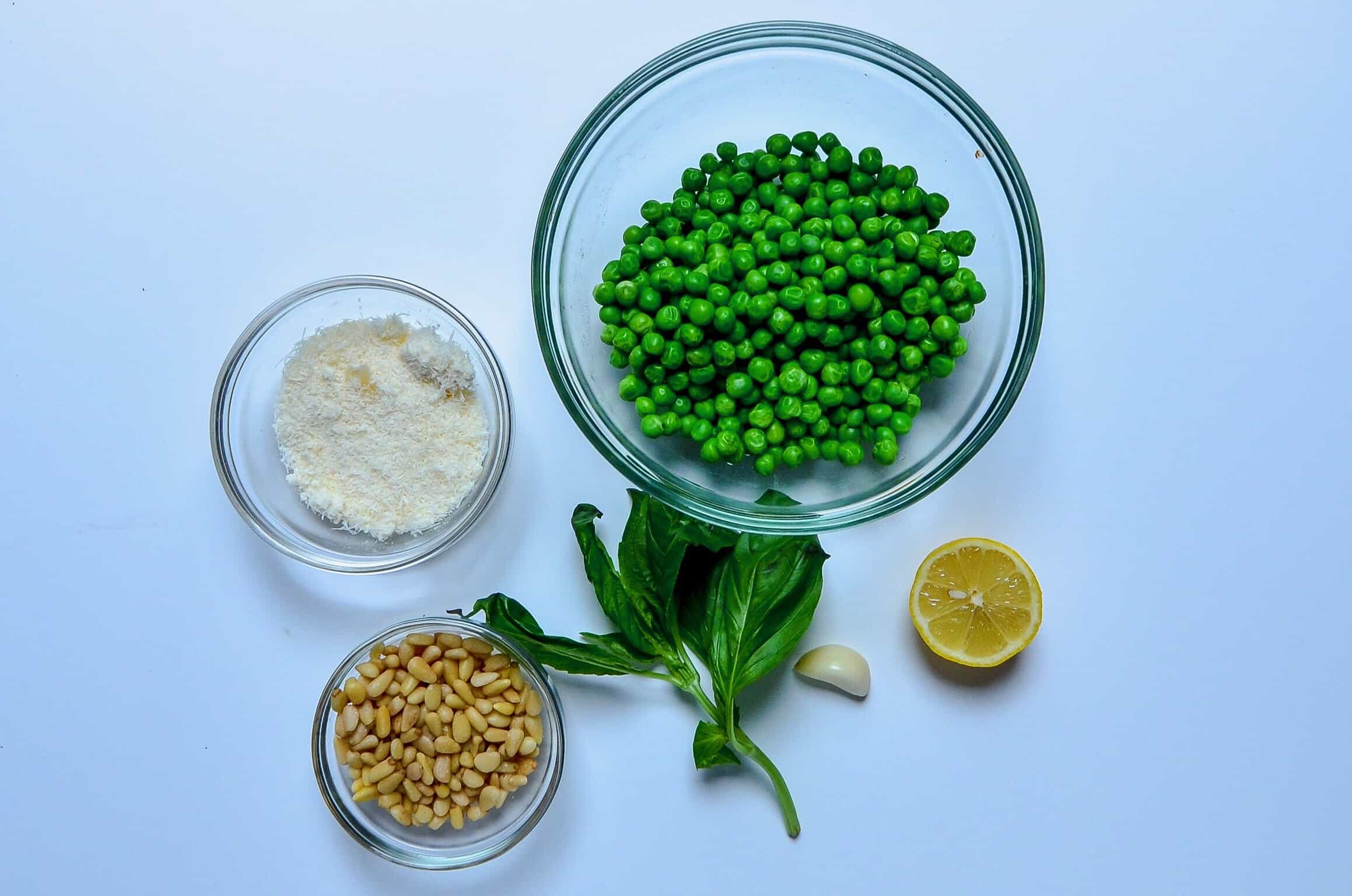 This comes together very easily. I processed the above ingredients with our basil olive oil we lugged home from We Olive in La Jolla a couple of weeks ago. It really accentuated the basil in the pesto, but a good quality olive oil would be perfect, too. I also use frozen peas because I basically always have them handy to give C and B if we're ever eating a vegetable on their watch list.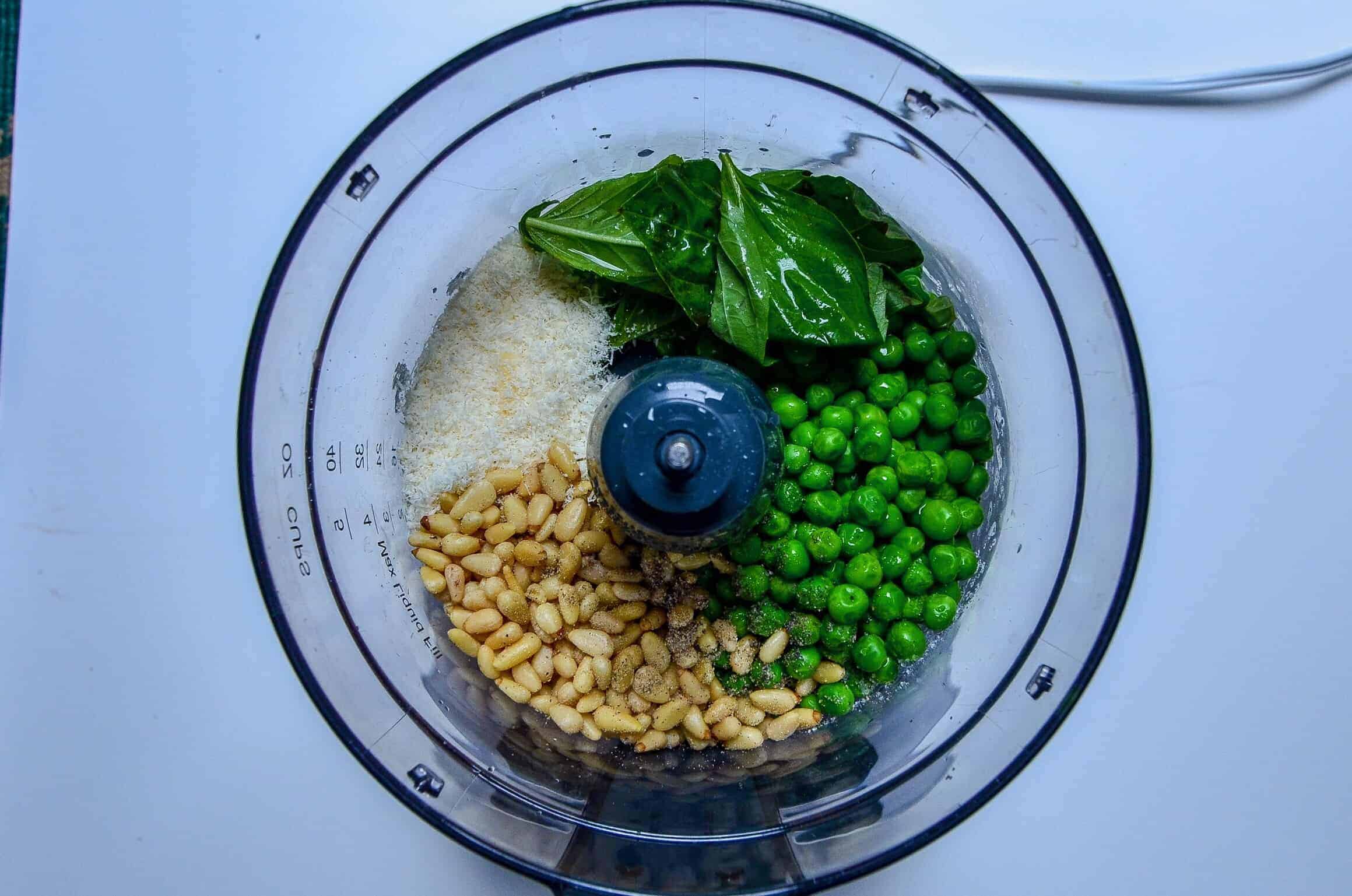 And leftovers (if you have any) are PERFECT and highly encouraged! You can use the pea pesto on crudites (with some fresh tomatoes...yummmmm), cover roasted vegetables in it, use as a base for flatbread (sausage and tomatoes maybe?), toss it with some pasta, hell, you could use it as an exfoliant because Gwyneth Paltrow would definitely do some weird stuff like this. Hey, Goop, you interested?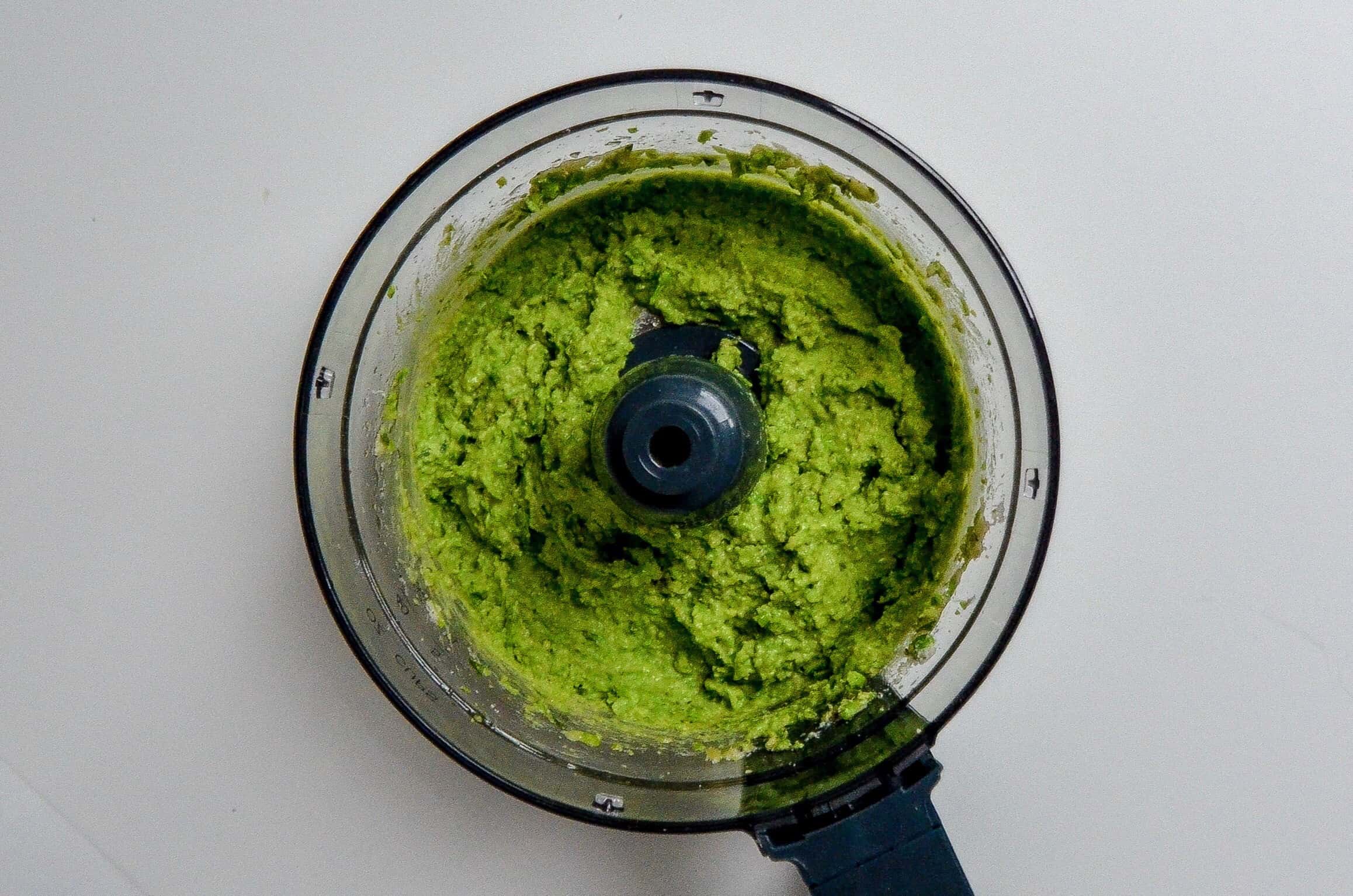 We seared some salmon fillets purchased at Whole Paycheck Foods for the pea pesto to go on and quickly roasted some baby Yukon and purple potatoes (that were just brushed with olive oil, salt and pepper). We always cook salmon super simply, one of two ways: this way (sear then bake) or we just bake it (usually for a larger cut or fish for something like a nicoise. Speaking of this, I'll post our foolproof nicoise recipe soon). John is our resident salmon cooker in this house because when he cooks it it turns out perfect every. single. time.

This pea pesto would also go great with a white fish like sea bass, but we aren't loaded so sea bass isn't on our menu anymore post-kids.  Also, I think sea bass is on the "vulnerable" list, which is one step away from endangered, so that's not cool.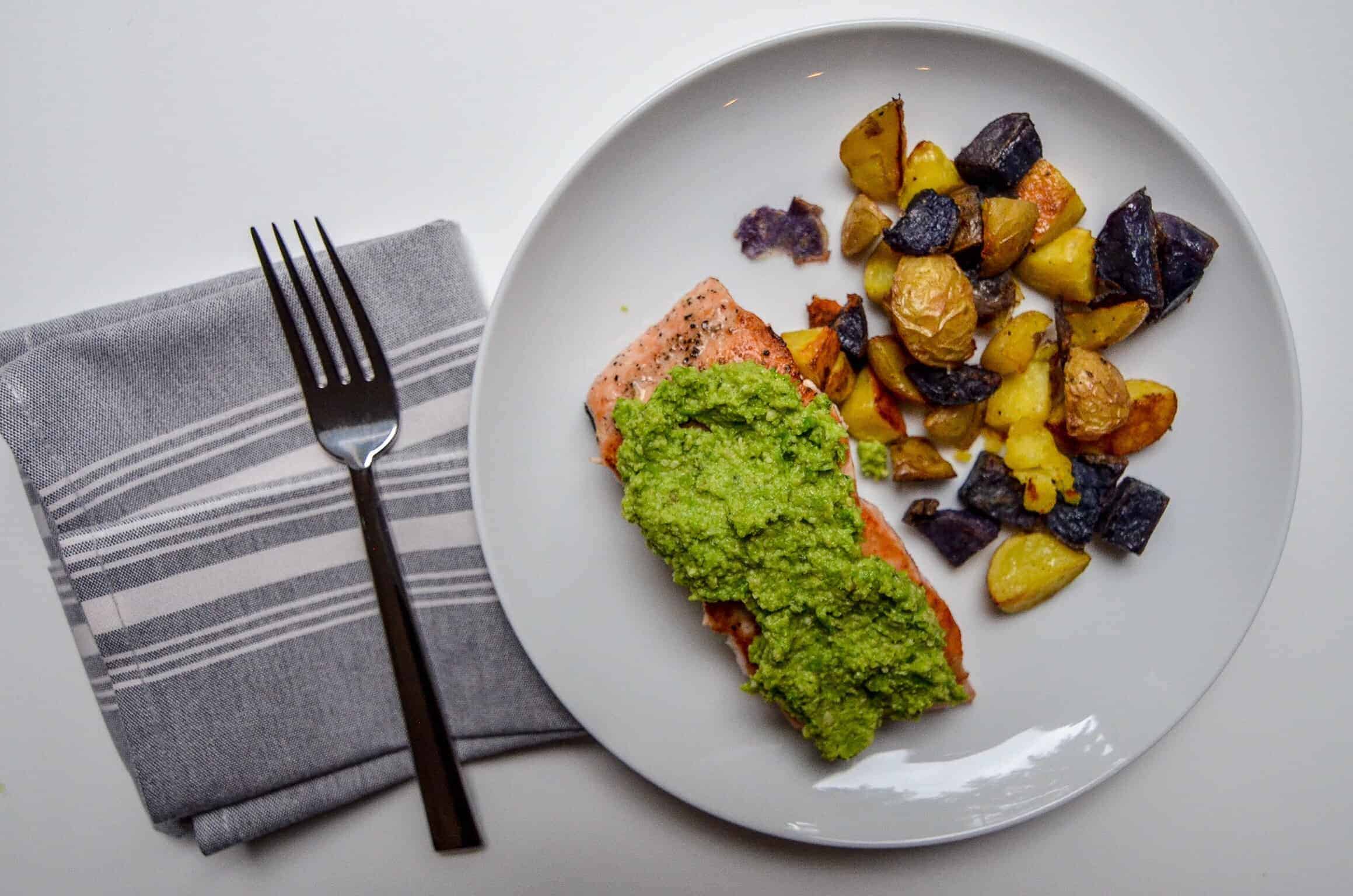 Salmon with Basil Pea Pesto
This salmon with basil pea pesto is so easy to make for a weeknight dinner. It'll be a go-to on your dinner rotation!
Print
Pin
Rate
Ingredients
For the pea pesto:
1 ½

cups

peas

fresh or frozen (I used frozen here)

6-7

large basil leaves

⅓

cup

pine nuts

⅓

cup

freshly grated Parmesan

1

clove

garlic

½

lemon

squeezed

salt and pepper

to taste

2

tablespoons

olive oil

plus more to reach desired consistency
For the salmon:
4

salmon fillets

½

lemon

squeezed

salt and pepper
Instructions
For the pesto:
Process all of the ingredients in the food processor.  Add more olive oil (or water) to reach the desired consistency.  That's really it.
For the salmon:
Preheat oven to 425 degrees F.

Sprinkle fillets with salt and pepper. Heat a non-stick frying pan on medium-high heat until it's pretty hot (when a drop of water starts sizzling on the pan).  Place the salmon fillet face down (or skin-side up) for two minutes.  When the salmon moves freely when you shake it a little bit, flip it so it's skin side down. 

Immediately place in oven for 5-7 minutes depending on its thickness. When you take it out of the oven, squeeze the other half of your lemon on it.
Enjoy! And, as always, if you make this, let me know how you like it!