Using russet potatoes, these Southern fried potatoes are perfectly crispy on the outside while remaining tender on the inside. Serve with a poached egg and ooooh weeeee do you have a meal!
Let me start off by saying there's a lot of different ways to make Southern potatoes, home fries, or breakfast potatoes, or cast iron skillet potatoes, or whatever you want to call them. There's two kinds of Southern fried potatoes in my head: the recipes that are prepared so the outside of the potatoes are crispy and the inside of the potatoes are tender and the recipes that include other vegetables, mainly onion and bell peppers, that make the potatoes soft and slightly mushy.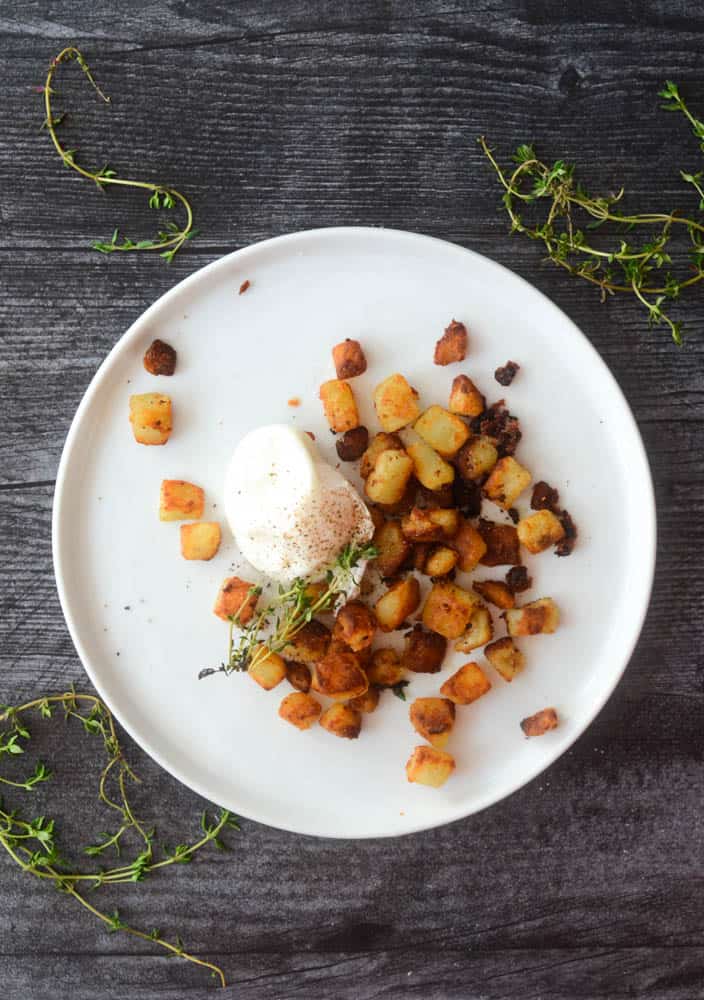 I'm not here to argue which recipe is better (because I think they're both delicious), but I will say I usually prefer my breakfast potatoes perfectly crispy on the outside while creamy and tender on the inside with fresh herbs and served with a soft poached egg.
There's something about this combo that's just so simple yet so perfect.
Ingredients for Southern Fried Potatoes
2 small russet potatoes (or one if it's huge)
olive oil
fresh thyme
salt and pepper
eggs (+ apple cider vinegar if you're poaching)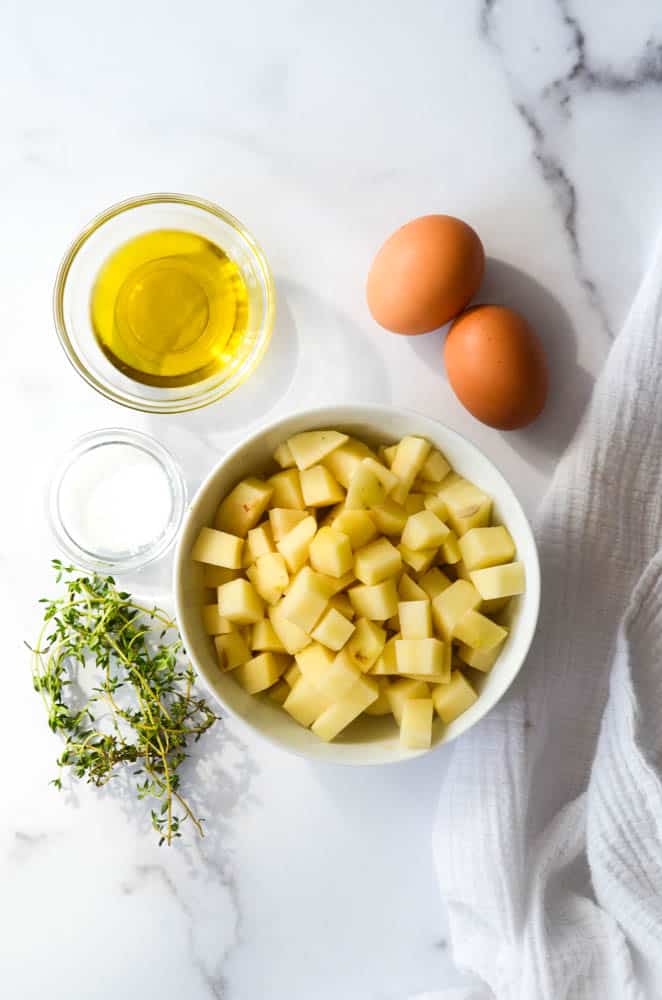 The Secret is Sautéing Twice
Okay, the jig is up. There's only one real secret to know to create the best home fries ever and it's so simple. You'll sautee them on two different heats. Why you ask?
The first time, you'll sautee them on medium heat. This allows the potatoes to absorb the olive oil and get nice and soft.
The second time, you'll crank the heat up to medium-high. That's how you'll get the amazing crispiness on the outside while keeping the insides soft and tender.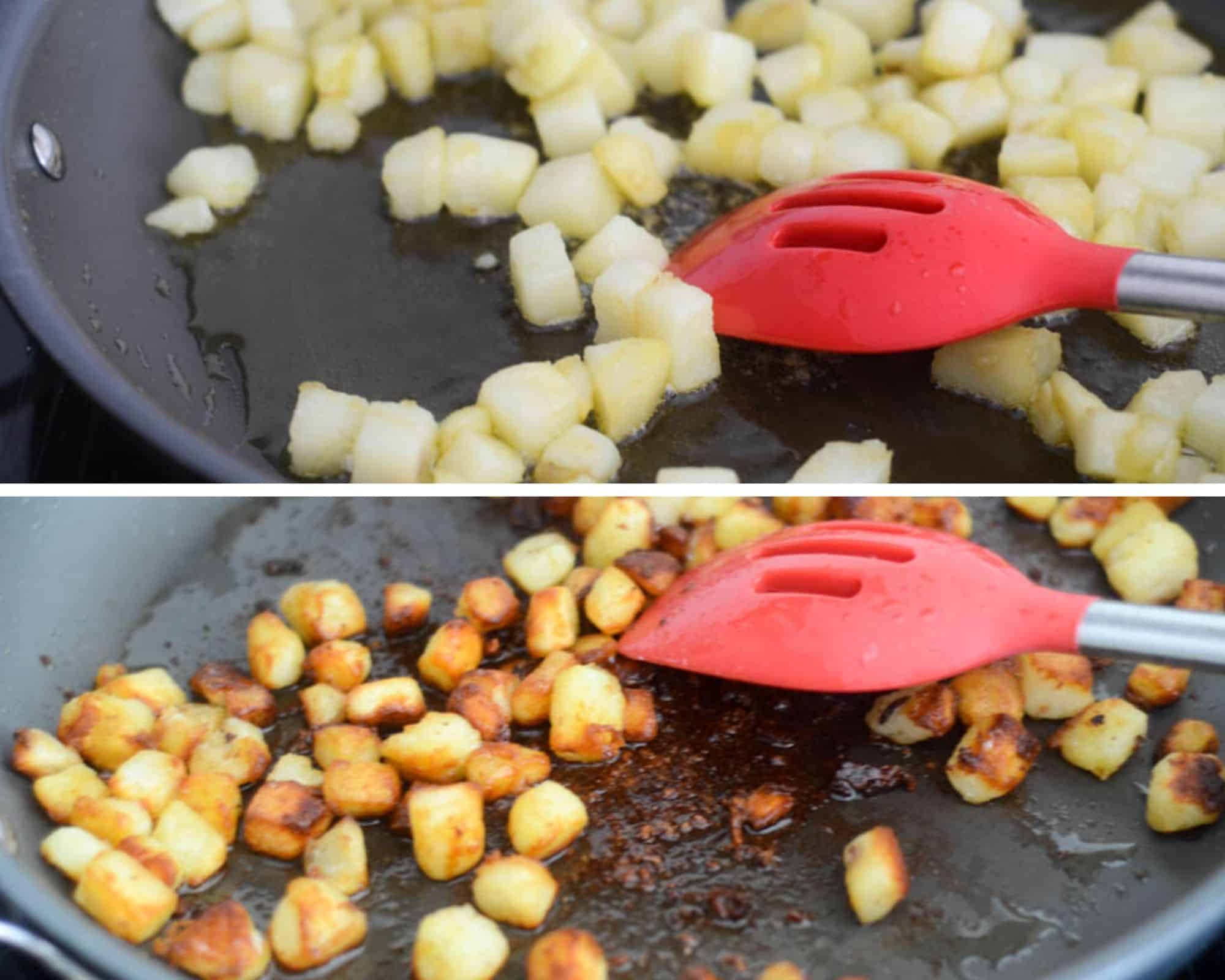 Tips to Making the Best Fried Potatoes
Try to dice potatoes as uniformly as possible in ½" square pieces. It's no biggie that you'll have some smaller pieces of potato -- that just means you'll have some super crispy pieces that I happen to love. Just don't create huge pieces of potatoes because they'll have a hard time getting soft and tender during the first sauté.
Don't be scurred of the amount of olive oil. A quarter of a cup seems like a lot (and it is) but it's necessary to achieve this crispy/tender texture combo.
Salt liberally. Salt the potatoes right away and then as the potatoes are nearing the end of the sauté spa, see if you need to hit them with some more salt.
Use whatever herbs you have available. I love thyme but rosemary would be great or even just parsley. This doesn't need to be exactly as I have here.
Add spices. If you want to make your potatoes sexier, add a little smoked paprika and garlic powder. Mmm....!
Add Your Favorites
Add vegetables if you'd like but be careful. Sauté your vegetables (like onions and bell peppers) until tender separately from the potatoes. Then remove from the pan, then do the same for potatoes and mix at the very last minute before serving. Otherwise, your potatoes will no longer be crispy.
Southern fried potatoes are so delicious with sausage, too! Just be sure to add the sausage with the potatoes at the last minute.
Other Breakfast Fare
Try some of these other breakfast items you'll love: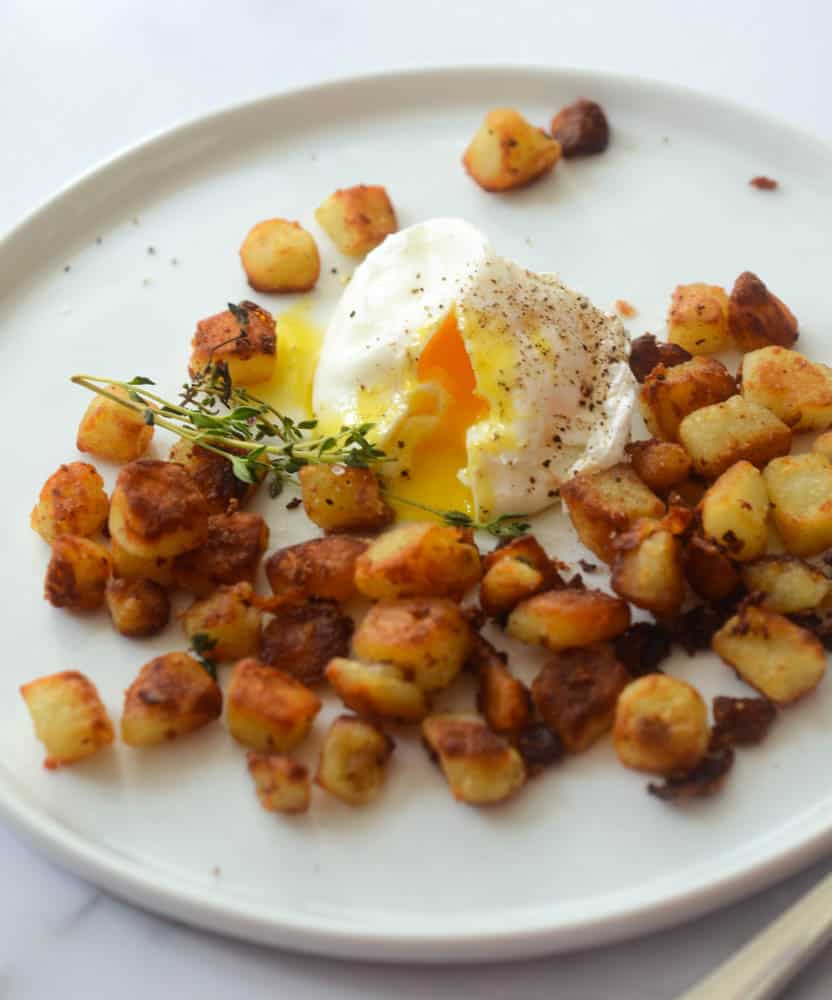 xox,
kathryn
As always, if you make anything from the blog, be sure to let me know! I love hearing from you in the comments on this post below or find Worn Slap Out on Facebook, Instagram, or Pinterest!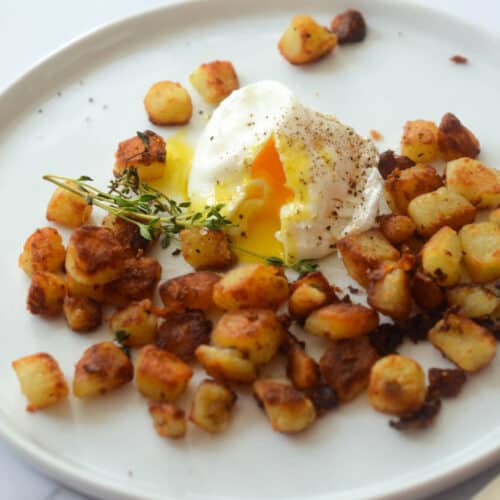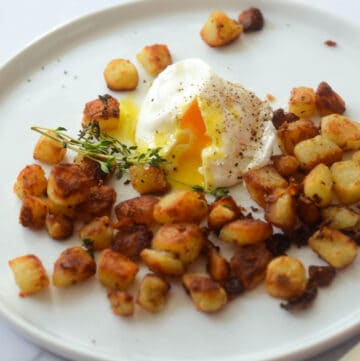 Southern Fried Potatoes with Thyme
Using russet potatoes, these Southern fried potatoes are perfectly crispy on the outside while remaining tender on the inside. Serve with a poached egg and ooooh weeeee do you have a meal!
Print
Pin
Rate
Ingredients
¼

cup

olive oil

2

small potatoes, peeled and diced in ½" squares

1

tablespoon

thyme (or whatever herb you have available)

salt and pepper

2

eggs, poached

optional
Instructions
In a non-stick skillet over medium heat, heat up olive oil then when olive oil is starting to sizzle, add potatoes. Immediately salt potatoes generously and continue tossing constantly for the next 10 minutes until potatoes start getting tender.

Crank heat up to medium-high and continue cooking for another 10 minutes, stirring a good bit (but doesn't have to be constant) until brown and crispy. Throw in thyme and pepper and toss to combine.

Remove from the pan and serve immediately with poached egg.
Notes
These potatoes really should be eaten immediately.  They don't keep well and retain their crispiness.