These moist and fluffy blueberry muffins are topped with a sweet and crunchy pecan streusel, giving you 9 reasons to start your morning extra sweet.
You know the upside to this social distancing experience? Making breakfast every day. I NEVER EVER EVER EVER make a nice breakfast during the normal work week because things are just too crazy. I've come to really enjoy a variety of breakfast foods now though -- foraging for whatever I have in the refrigerator and pantry to create something out-of-the box and delicious.
I can't say that these blueberry muffins involve out-of-the-box thinking. In fact, they're adapted from Smitten Kitchen because she's already perfected the blueberry muffin IMHO, so why reinvent the wheel? HOWEVER, I was going through my pantry thinking about what else I could use because they were just missing something. What was that something?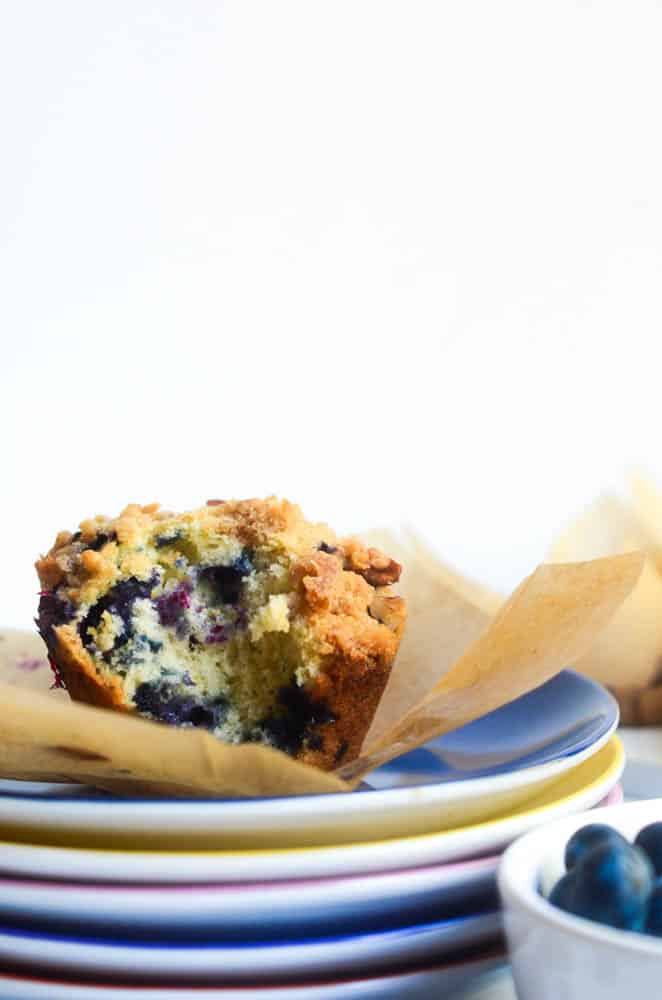 Pecans! And not only just pecans on top, but pecans and brown sugar and cinnamon and flour and butter to make a pecan streusel that would bake on top of the blueberry batter, almost caramelizing and creating a crispy, sweet coating with every bite of blueberry muffin. That's what was missing!
Ingredients for the Muffins
Here's what you'll need to make these blueberry muffins. Hopefully you have most of these ingredients already in your pantry:
blueberries
unsalted butter
granulated sugar
lemon
yogurt or sour cream
egg
baking powder
baking soda
salt
all-purpose flour
brown sugar
cinnamon
pecans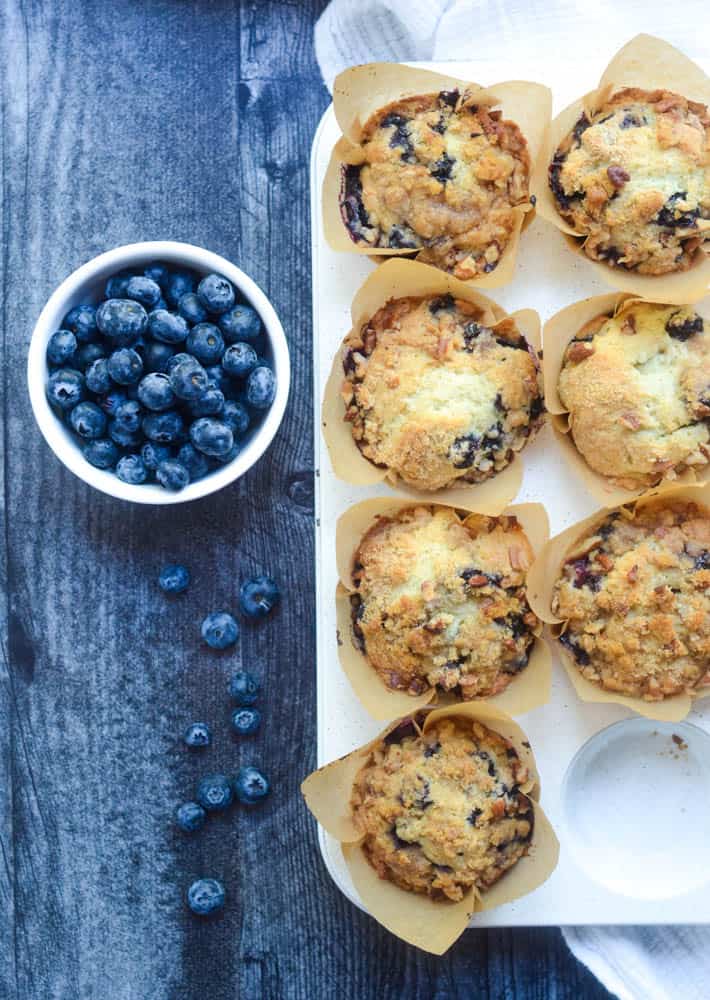 How to make the muffin batter
You'll need two bowls -- one medium-sized and the other large. In the medium-size bowl mix your flour, baking powder, baking soda, and salt together.
In the large mixing bowl, melt your butter in the microwave then whisk in sugar, zest, sour cream or yogurt and egg until smooth. It'll look like this: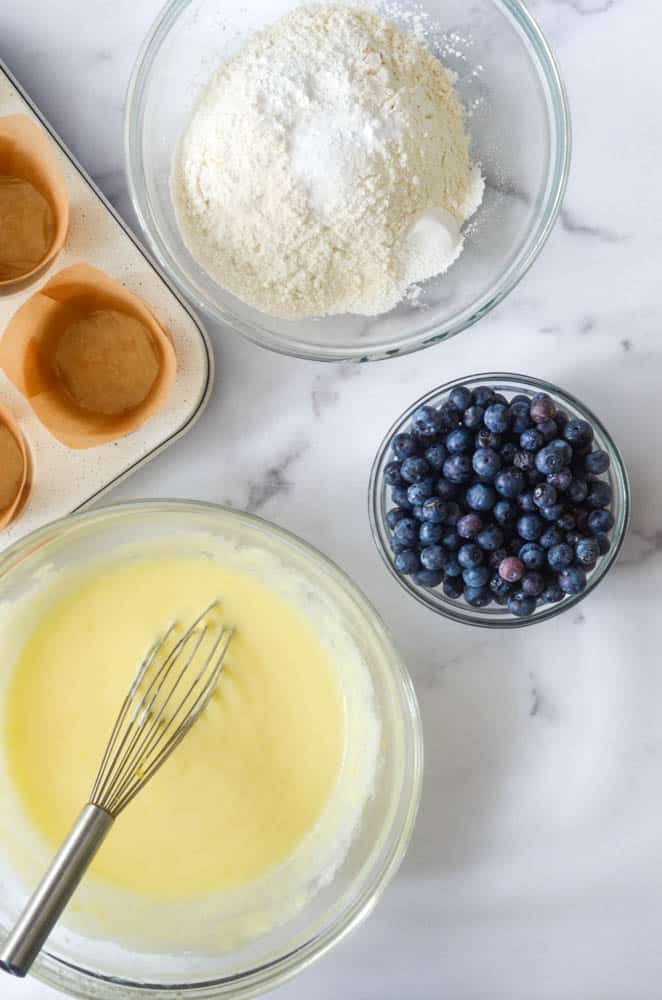 Then slowly add your dry ingredients into the wet ingredients and stir with a spoon. The batter will be pretty thick, almost like a cookie dough. Then fold in your fresh blueberries that you've tossed in about 2 Tablespoons of flour gently so they don't smash (the flour makes sure all of the blueberries don't sink to the bottom of your muffins). Now it's time to top the batter with some pecan streusel -- which makes these muffins SO GOOD, y'all.
How to Make the Pecan Streusel
You'll need all-purpose flour, brown sugar, cinnamon, unsalted butter cut into small cubes, and pecans to make the pecan streusel.
Place all of the ingredients except for the pecans in a bowl (use the same one your flour was in so you don't have to wash another bowl). Use a fork to mash the ingredients together. If the sugar and flour isn't combining well with the butter, use your fingers. You should have a combination of small pieces of flour and sugar and some clumps when you're done.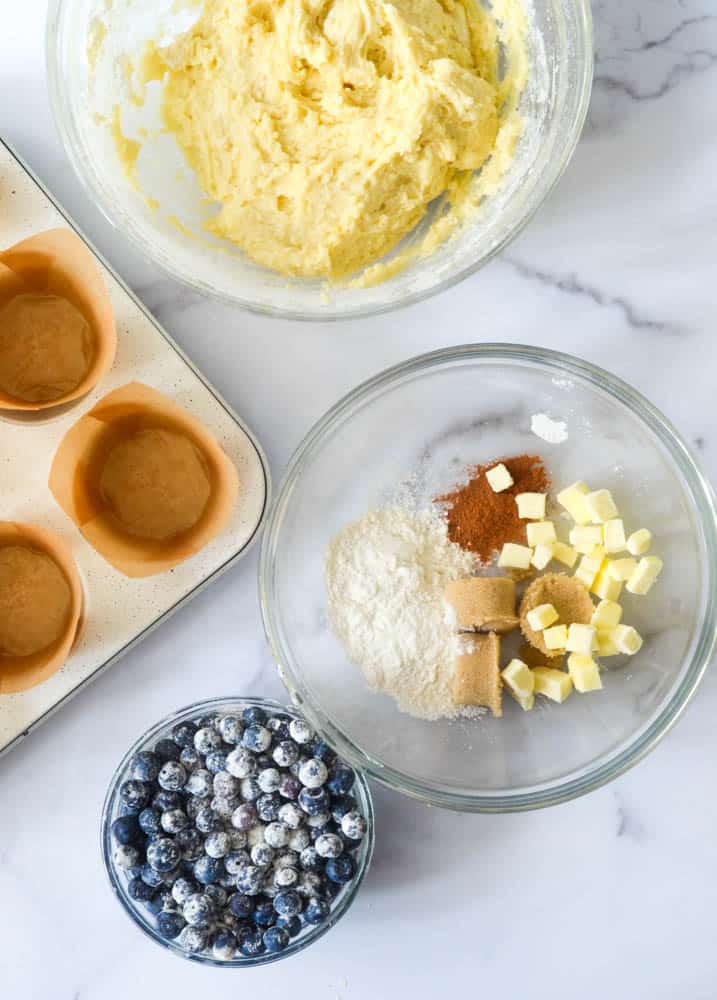 Then, throw your chopped pecans in the mix and give the pecan streusel a good stir to combine.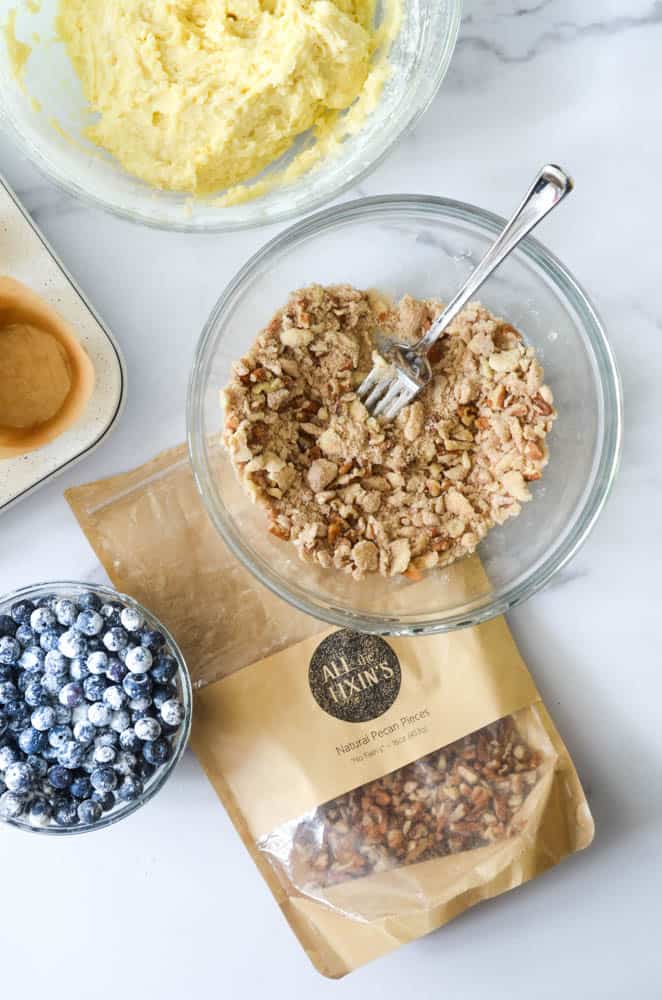 You're now ready to divide batter evenly across 9 muffin cavities. (Side note: you can do the full dozen but they'll be very small). Don't forget to spray your muffin pan if you're placing the batter directly into the pan. Otherwise, use muffin or cupcake liners. These are the ones I used.
Once batter is in the muffin pan, top each muffin with about two heaping teaspoons of the pecan streusel. You're ready to stick the muffins in the oven at 375˚ for about 25 minutes.
Once they cool for a few minutes, refrain from eating all 12 in one sitting.
Nothin' More Southern Than Pecans
Okay, maybe peaches -- but it's not peach season, so we'll go with pecans. I happen to love both!
My college friend's family owns a pecan farm in Twin City, Georgia, and their pecans (All the Fixins') are truly the best I've tasted. You can order them online and Janna will send the nutty, home-grown goodness to you in a flash. They're inexpensive and super high quality. Plus, Janna and her family give back to the local community with every purchase.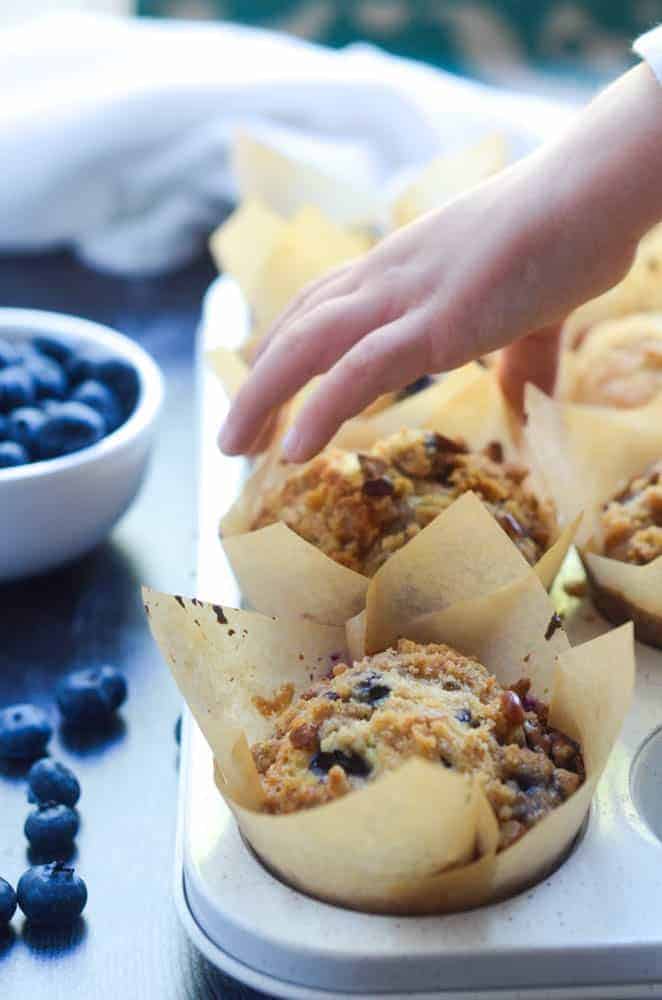 How to Store These Muffins
These muffins are definitely best the same day they're made, but if you store them in an airtight container at room temperature, they're also delicious the next day. By Day 3, you'll need to toast the muffin in your oven with a nice pad of salted butter.
Other Favorite Recipes with Blueberries or Pecans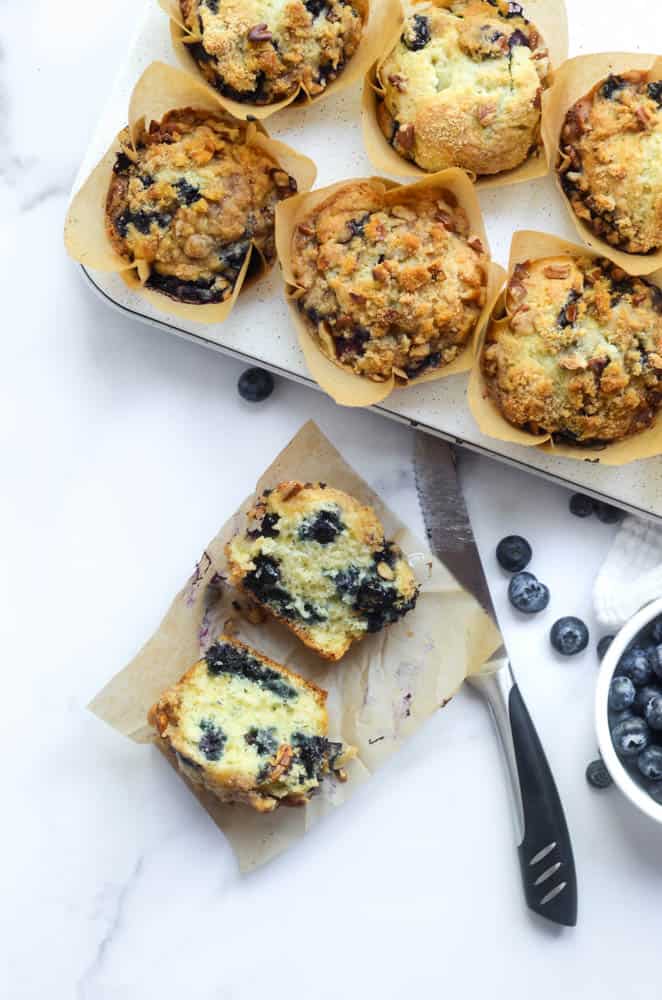 Love and blueberries!
xox
kathryn
As always, if you make anything from the blog, be sure to let me know! I love hearing from you in the comments on this post below or find Worn Slap Out on Facebook, Instagram, or Pinterest!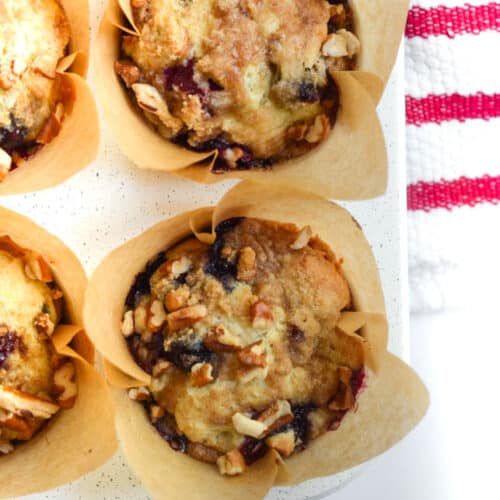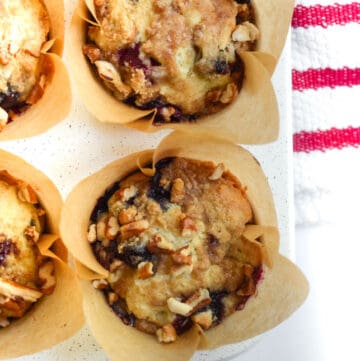 Blueberry Muffins with Pecan Streusel
These moist and fluffy blueberry muffins are topped with a sweet and crunchy pecan streusel, giving you 12 reasons to start your morning extra sweet.
Print
Pin
Rate
Ingredients
For the muffins:
5

tablespoons

unsalted butter

½

cup

sugar

zest from ½ a lemon

previously: ½ teaspoon zest

¾

cup

plain yogurt or sour cream

1

large egg

1 ½

cups

all-purpose flour + 2 Tablespoons for tossing with blueberries to prevent from sinking to the bottom of muffins

1 ½

teaspoons

baking powder

¼

teaspoon

baking soda

¼

teaspoon

fine sea or table salt

1 ½

cups

blueberries, fresh or frozen
For the pecan streusel:
3

tablespoon

all-purpose flour

3

tablespoon

brown sugar

¼

teaspoon

ground cinnamon

2

tablespoon

unsalted butter, cut into small cubes

3

tablespoon

pecans, chopped
Instructions
Heat oven to 375°F. Line a muffin tin with 9 muffin liners* or spray each cup with a nonstick spray.

Melt butter in the bottom of a large bowl in the microwave and whisk in sugar, zest, yogurt and egg until smooth.

In another bowl, combine baking powder, baking soda, salt, and flour until combined. Slowly fold flour mixture into butter bowl. Gently fold in berries that you've tossed in flour. Batter will be very thick...that's okay!

To make the streusel: combine all-purpose flour, brown sugar, cinnamon, and butter with a fork until it resembles coarse crumbs. Stir in pecans.

Divide batter between prepared muffin cups and sprinkle each with 2 heaping teaspoons of pecan streusel.

Bake for 25 to 30 minutes, until tops are golden and a toothpick poked in the center of a muffin comes out clean. Let muffins cool in pan for a few minutes then place on cooling rack.
Notes
*9 is the best for large, bakery-style muffins.  A dozen makes them fairly small.