This white bean hummus (cannellini bean hummus) is made in under 5 minutes and is a perfectly creamy, garlicky snack to have around -- and feel good about eating it!
Well, the Peloton came a couple of weeks ago, and I'm over here changing my lifestyle significantly and sweating to Cody talking about the Backstreet Boys most days. I have cut back on my junk snacking, which is just so hard to do when you work from home. Those Cheez-Its my kids eat -- yep. Those. Those are easy to grab when you're in Zoom hell. While I have no problem with those snacks in moderation, I really needed to prepare our kitchen for healthier options.
What is it about working out that makes you want to eat better? I guess you don't want to ruin the hard work you're putting in? I'm not mad about it.
This white bean hummus (or cannellini bean hummus...whatever you want to call it) has been a snack-time favorite lately. It's so creamy you feel like you're eating something substantial (i.e., you won't be hungry in 10 minutes) but super healthy. And there's plenty of garlic and lemon notes -- always my favorite flavor combo. Finally, it takes less than 3 minutes to throw together. Now THAT ain't bad.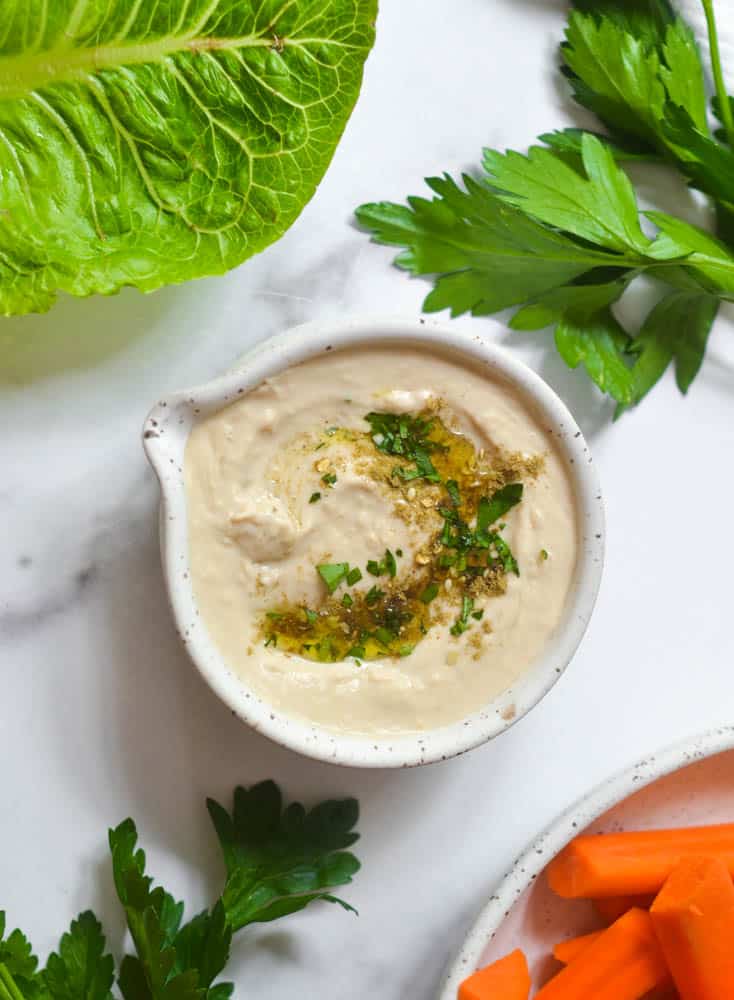 Ingredients You Need
This is all you need:
cannellini beans -- from the can!
olive oil
tahini
garlic powder
salt
onion powder
lemons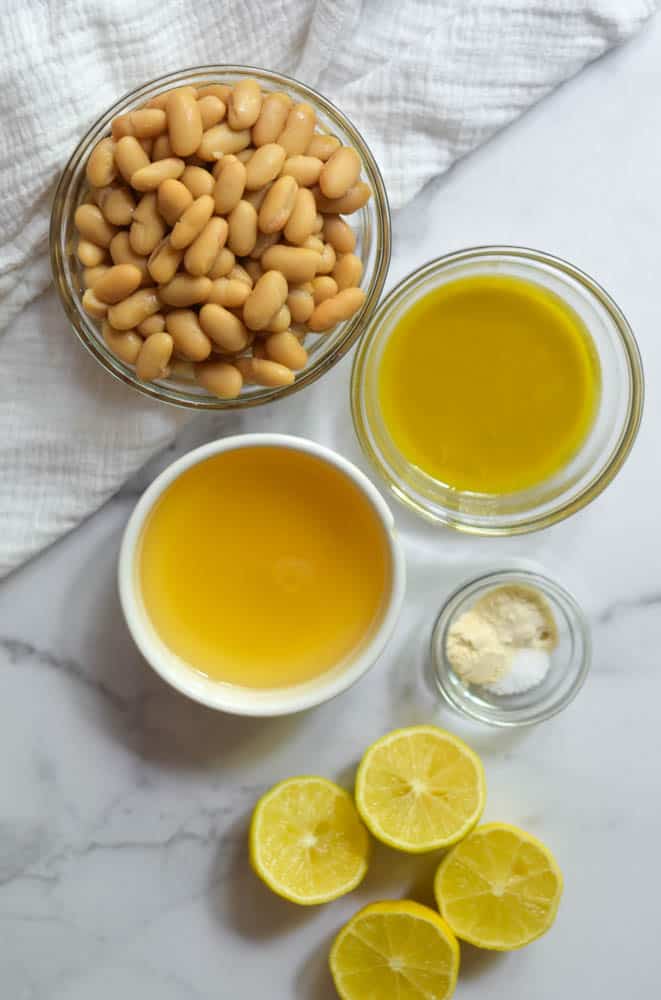 White Bean Hummus Without Tahini
If you don't like the taste of tahini (it's hit or miss with my children), you can substitute sesame oil instead in this recipe.
Why is Hummus Good for You?
Hummus (the traditional version and this white bean version) is high in good fat thanks to the sesame seeds in tahini and olive oil. It's low in carbohydrates and is an amazing source of plant-based protein.
Unrelated to the actual hummus, this hummus is so good it also forces me to get in my vegetables if I can convince myself that carrots and celery taste better than pita chips.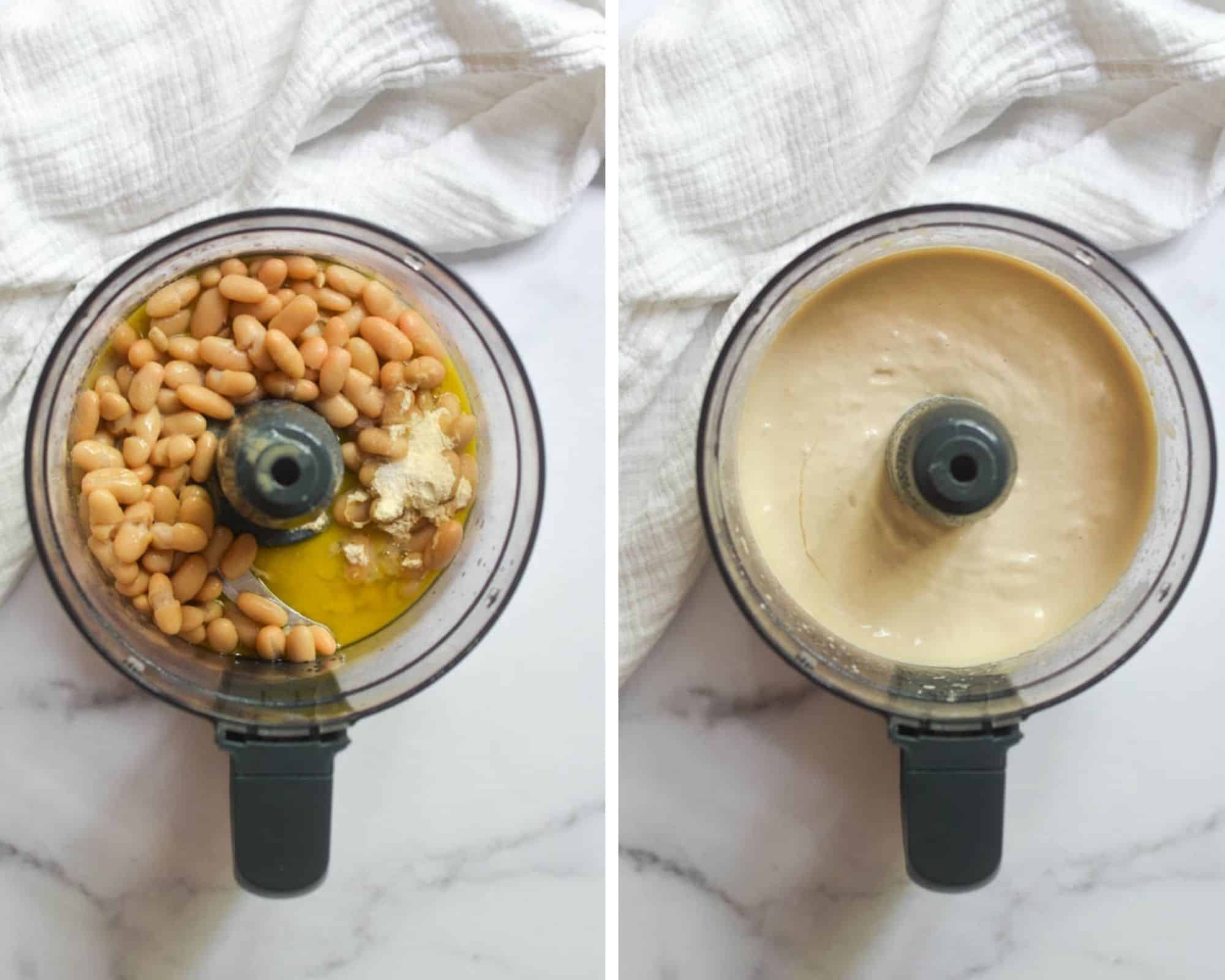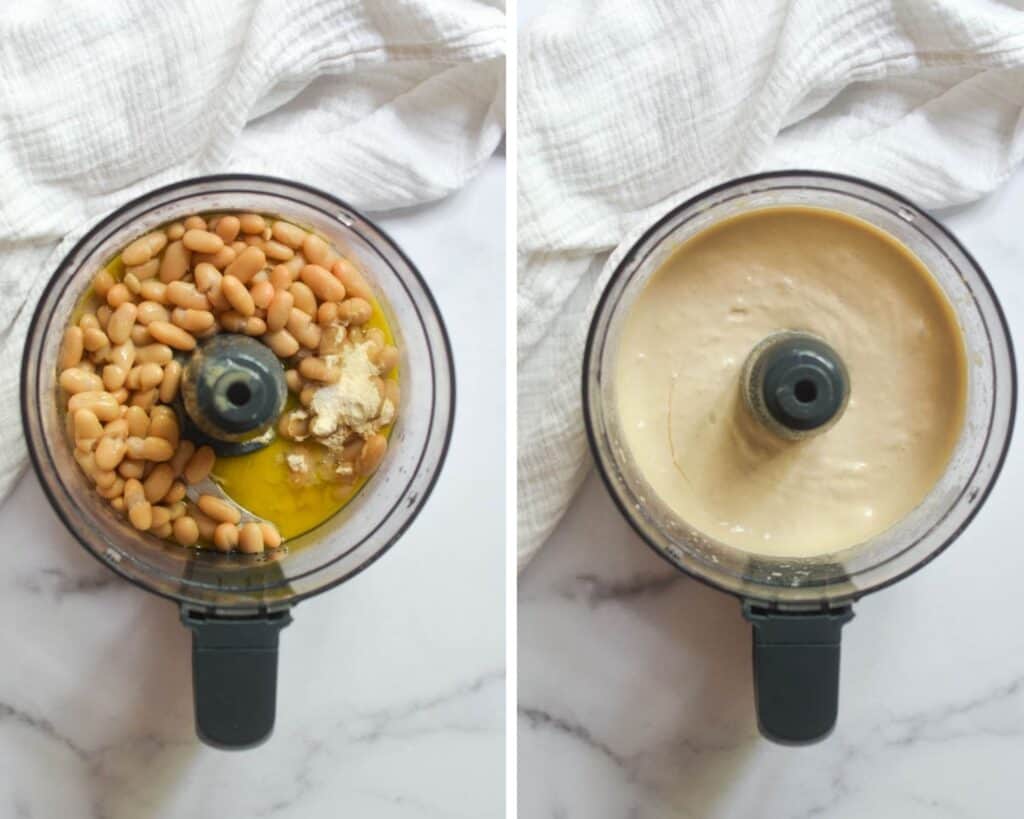 White Bean Hummus v. Chickpea Hummus
What's the friggin' difference?
Traditional hummus is made with chickpeas, of course. In fact, the word hummus is Arabic for chickpeas, but white bean or cannelini spread doesn't seem that enticing, so I've taken a some liberty here.
Chickpeas are a denser bean and have a slightly gritty quality. Cannelini beans are much softer and make a very smooth, creamy dip. Cannelini beans also have a higher amount of fiber and protein compared to chickpeas, so you could also argue this hummus is even better for you than traditional hummus.
This recipe calls for a good ole can of cannelini beans. Just one can makes this magic. No need to soak beans overnight or any of that shenanigans.
How to Use Your Hummus
Part of a football dinner with different apps, including these Crispy BBQ Chicken Wings
On chicken burgers instead of mayonnaise Fresh fruits and vegetables
Dip for chicken and veggie kebobs
On a sandwich in lieu of mayonnaise
In deviled eggs instead of mayonnaise
Spread on a piece of white, flaky fish with lemon slices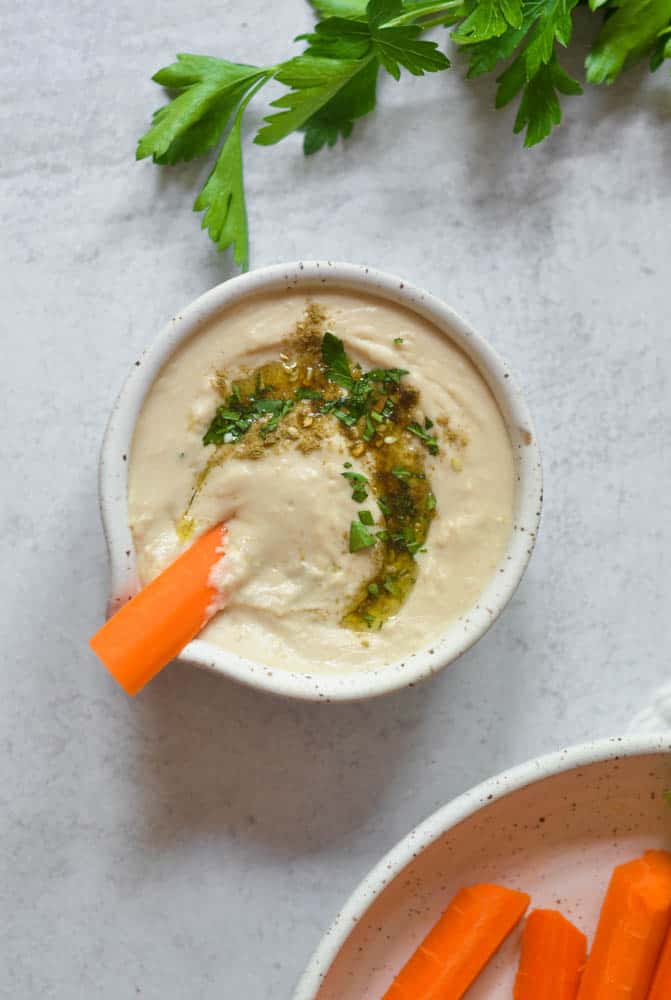 xox,
kathryn
As always, if you make anything from the blog, be sure to let me know! I love hearing from you in the comments on this post below or find Worn Slap Out on Facebook, Instagram, or Pinterest!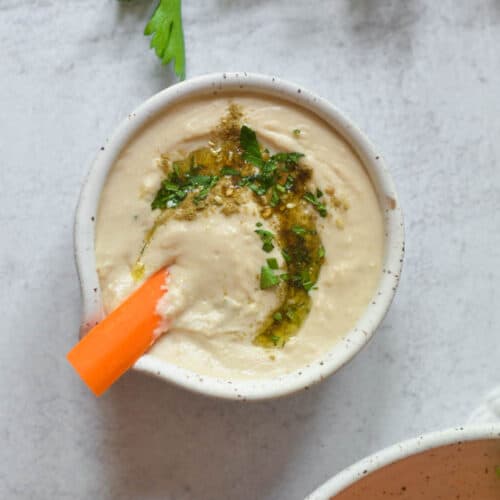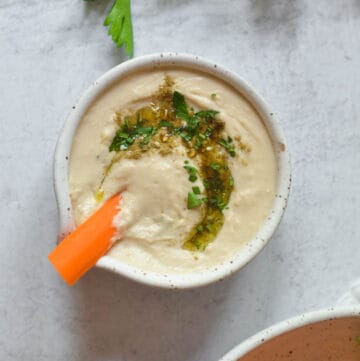 White Bean Hummus
White Bean Hummus (or cannellini bean hummus) is so creamy and healthy -- making it the perfect, guilt-free snack.
Print
Pin
Rate
Ingredients
1

can cannelini beans

15 oz, drained (SAVE liquid) and rinsed

3

tablespoons

tahini

juice of 1 or 2 lemons

½

teaspoon

garlic powder

½

teaspoon

onion powder

optional

½

teaspoon

salt

2

tablespoons

extra virgin olive oil
Instructions
Place ingredients in food processor and blend until combined. Slow add in 1 Tablespoon of the reserved bean liquid* until it reaches your desired consistency and creaminess (I usually add 3 Tablespoons).

Give it a taste -- and ensure it doesn't need anything else. Consider white black pepper for a little kick, more lemon, more tahini for nuttiness, or salt. Serve with crackers, on bread, with carrots and celery, or bell peppers at room temperature or cold.
Notes
This recipes makes 1 ½ cups. 
Storage: Store leftover hummus in an airtight container in the refrigerator for up to 7 days. 
*If you forget to reserve the bean liquid when draining (it happens to the best of us), just add water instead.