Crispy on the outside, tender on the inside, these Baked BBQ Chicken Wings are the perfect appetizer or main dish for any respectable football game!
Are you ready for some football?!? I thought my eyes weren't seeing things right. Last night there was LIVE football?! We all know college football is the real football, but college football returns this weekend, too. In all seriousness, I really hope the players are able to play safely. I fully understand my joy is only secondary.
While we have some semblance of fall things happening in our lives, why not have good, solid wings to enjoy with a tall glass of beer instead of having to get takeout, especially given how easy wings are to make at home!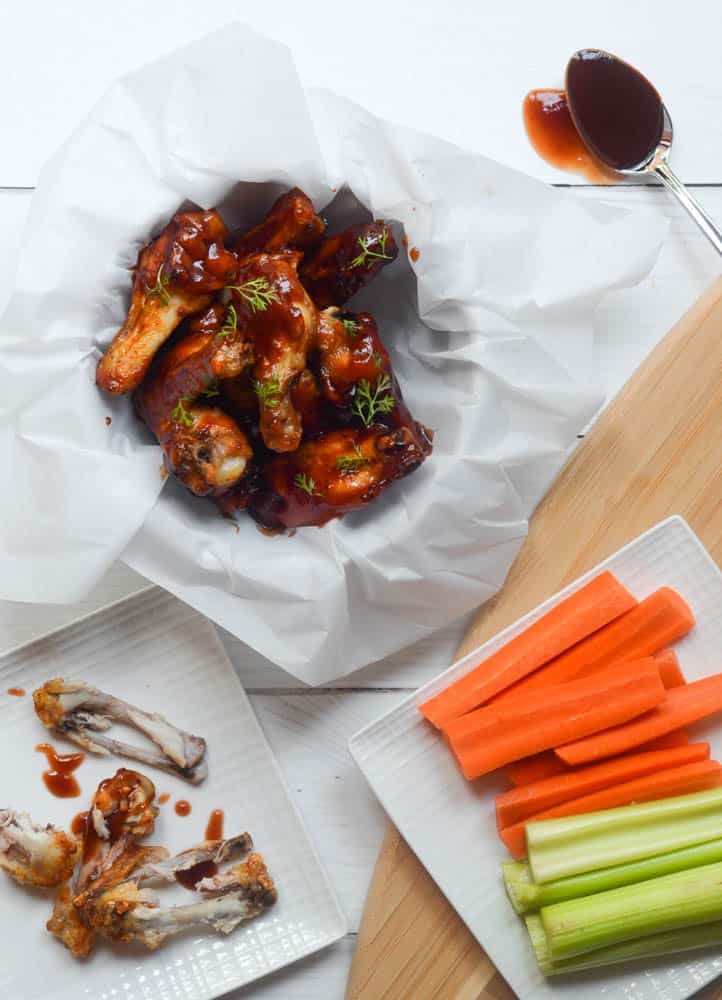 Baked BBQ Chicken Wings: Crispy and Flavorful
These are by far the best extra crispy chicken wings without frying, or using baking powder or flour. Here's what to do:
Dry your wings with a paper towel.
This is essential. ESSENTIAL. This will help your wings become crispy. Secret #1.
Rub spices and olive oil all over the wings.
Make sure all of the wings are coated with oil and spices as much as possible. Secret #2.
Bake the wings on high heat.
Bake at 425˚ F for 20 minutes on each side. Then stick under the broiler for 2-3 more minutes until the skin is extra crispy. Secret #3.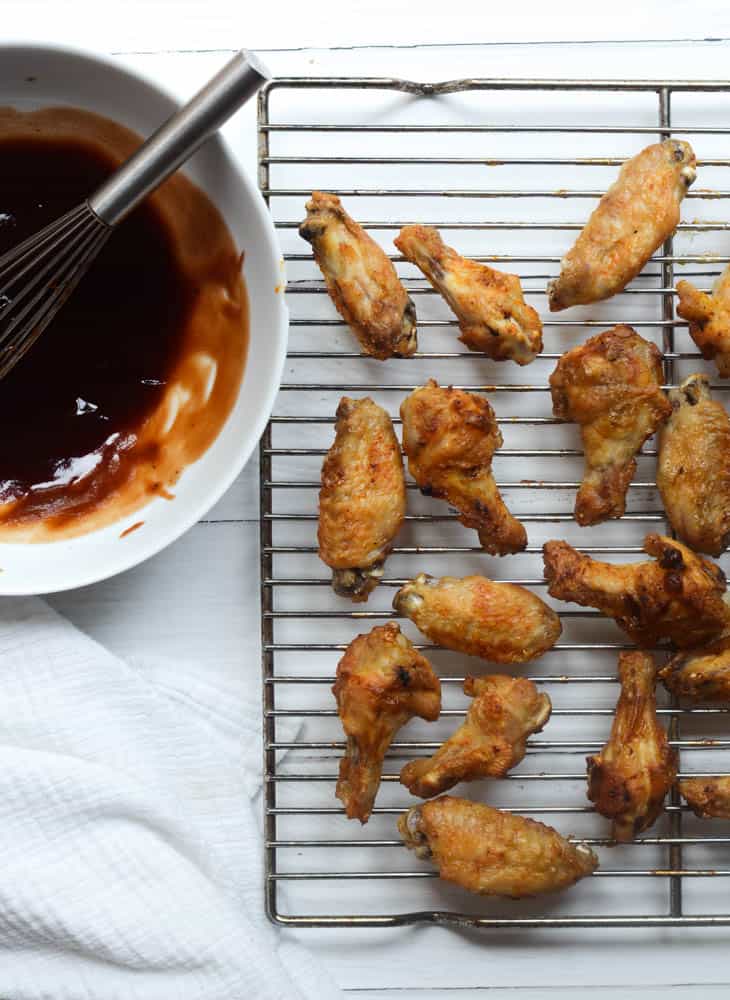 Not All BBQ Sauces are Equal
Everyone has their preferences on BBQ sauce -- whether it be a tomato-based or vinegar-based BBQ sauce or sweet notes versus smokey notes.
Whatever your preference -- make sure what you think is in the bottle is actually what's in the bottle. BBQ sauce can have a sneaky amount of sugar. I really like Bone Suckin' Sauce, which is a Carolina-style BBQ sauce. Yes, it has sugar, but it's from honey and molasses. It's also a hybrid between a tomato-based and vinegar-based sauce because it has both tomato puree and apple cider vinegar. It's well worth the money.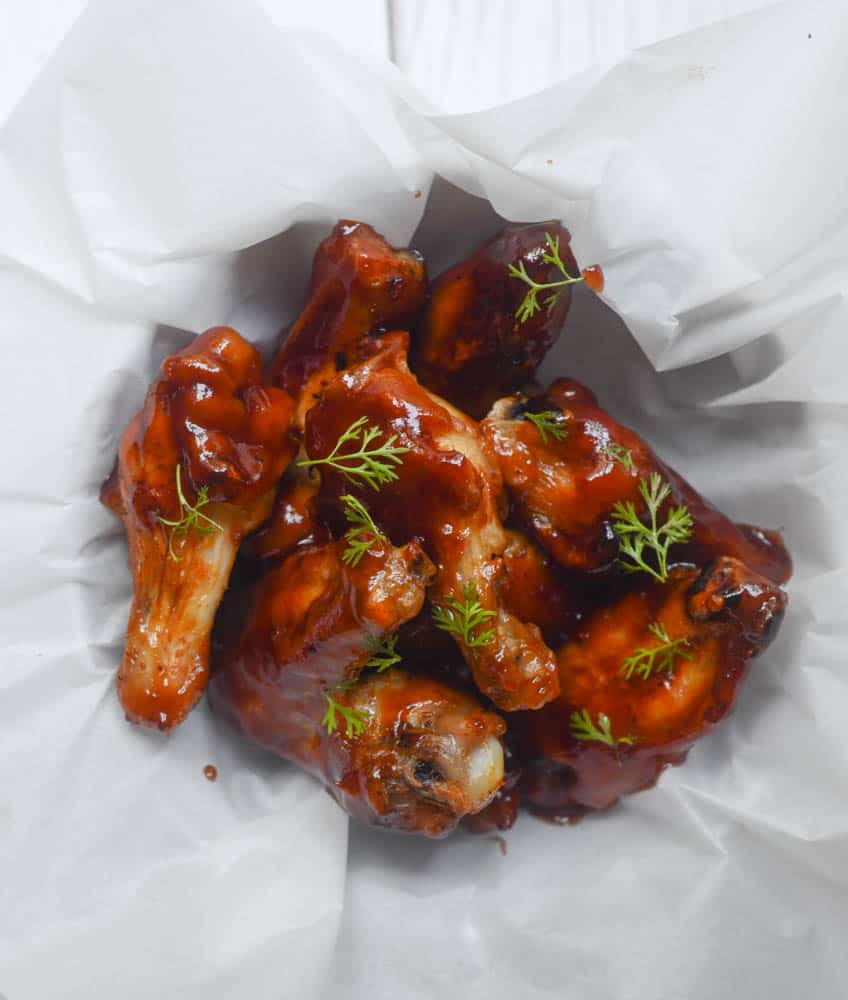 How long do I cook chicken wings in the oven?
40 minutes total -- 20 minutes on each side at 425˚ F. Then stick them under the broiler for another 2-3 minutes or until extra crispy.
Calories in Baked Chicken Wings
I'm definitely not a calorie counter, but according to Very Well Fit, there are 333 calories per serving in these chicken wings.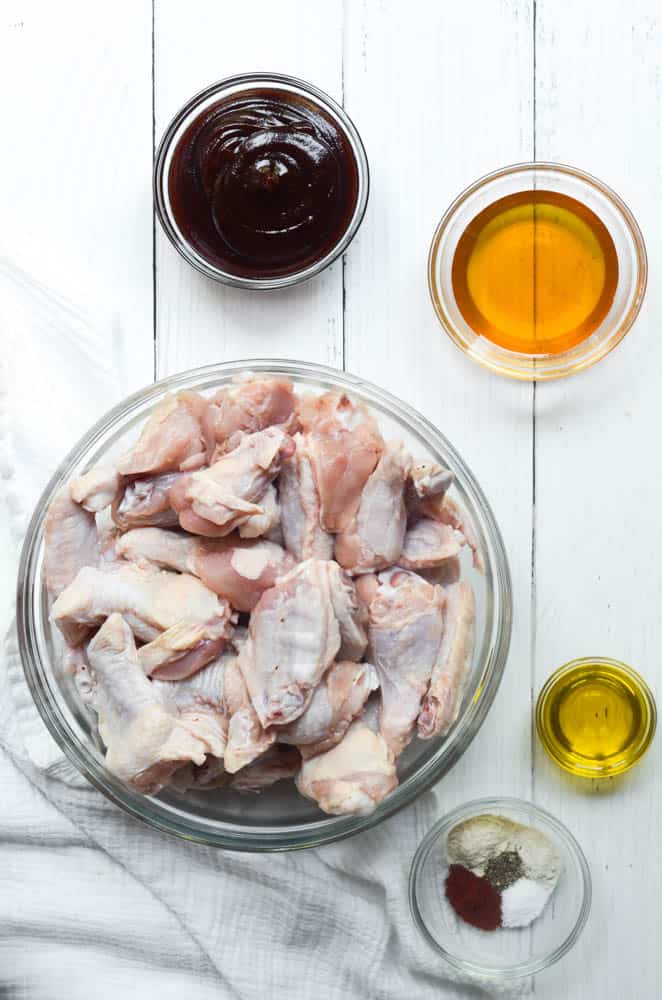 What should I eat with my BBQ chicken wings?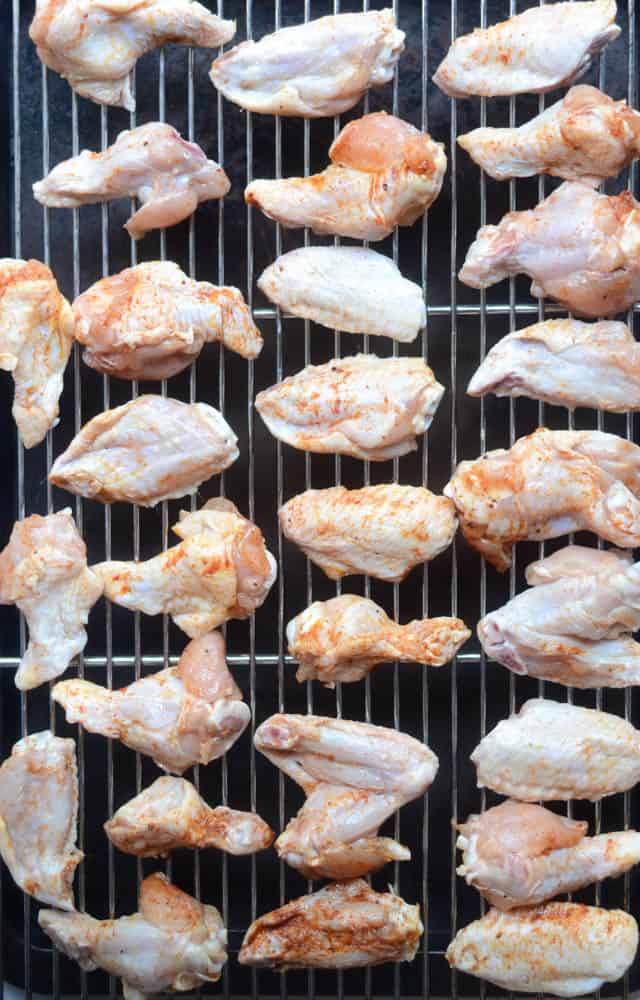 Happy Football Season -- one of the most wonderful times of the year!
xox,
kathryn
As always, if you make anything from the blog, be sure to let me know! I love hearing from you in the comments on this post below or find Worn Slap Out on Facebook, Instagram, or Pinterest!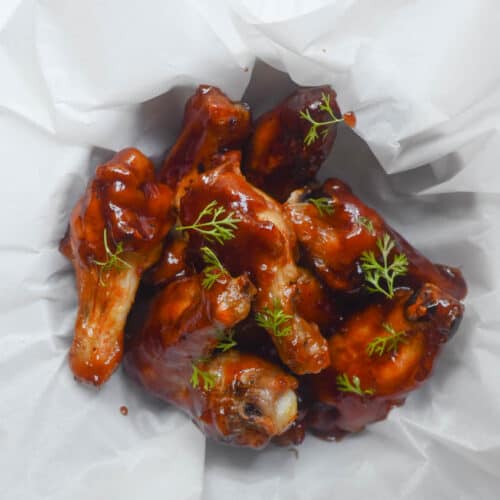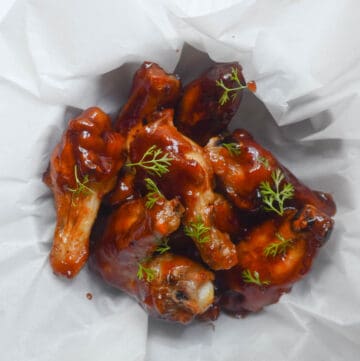 Ingredients
3

pounds

chicken wings

3

tablespoons

olive oil

1

teaspoon

garlic powder

¾

teaspoon

smoked paprika (or regular)

½

teaspoon

onion powder

½

teaspoon

salt

¼

teaspoon

black pepper
For the BBQ sauce:
2

cups

favorite BBQ sauce

¼

cup

honey
Instructions
Pre-heat the oven to 425˚ F. Place rack on top of baking sheet lined with parchment paper or aluminum foil.

Pat chicken wings dry with a paper towel. Coat them in olive oil and then seasonings (paprika, onion powder, garlic powder, salt, and pepper). Place on rack with space between each wing (you don't want them touching).

Bake for 20 minutes before flipping them over to the other side and baking for another 20 minutes. Then place wings under the broiler for 2-3 minutes so they crisp up even more.

Meanwhile, stir honey and BBQ sauce together and heat in a small saucepan over medium heat or in the microwave. Dip wings in honey BBQ sauce before serving.