Healthy and fast, these Tex-Mex style Stuffed Bell Peppers with Ground Beef and Quinoa are a great weeknight meal that requires minimal prep.
It's officially fall, y'all. That means it's time to get used to the idea of cozying up indoors a bit more, especially in the mornings and when the sun goes down (brrrr....I'm cold already!). It's odd that it works this way, but the less activity I get outdoors the more I want to eat heavier, comfort foods like soups and chilis.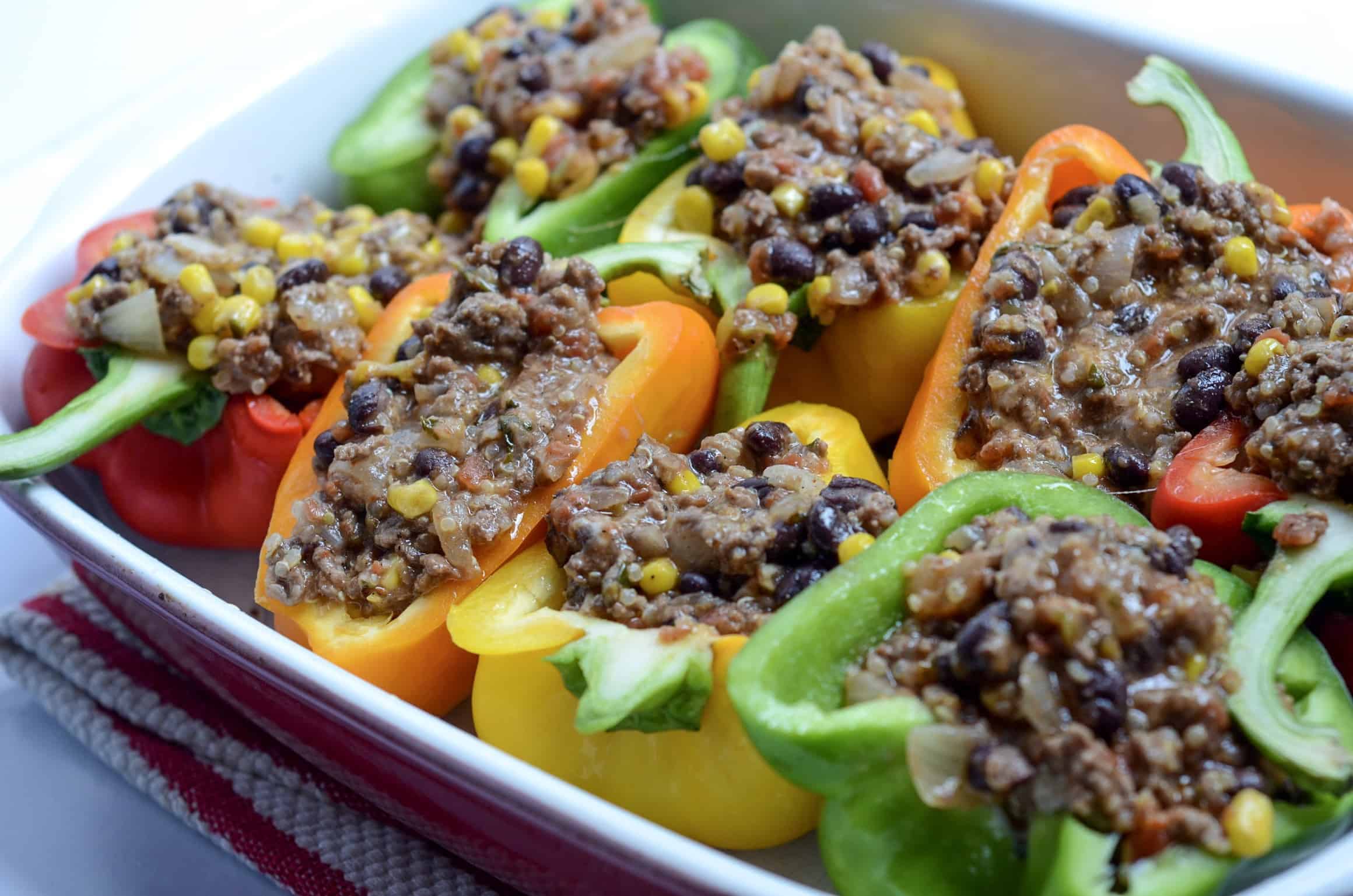 These Stuffed Bell Peppers aren't terribly heavy, but they're one step closer to the beef stews and chilis that are coming soon. I've added quinoa to the more traditional stuffed bell peppers recipes to give them some extra protein (and it's something the kids don't even know is in there). This meal is also completely gluten-free and could easily be adapted for your vegetarian friends as well. I serve these Mexican Stuffed Bell Peppers with chips, salsa, sour cream, jalapeños, and call it a fancy meal.
How do you make stuffed bell peppers?
You'll first want to cut your bell peppers either lengthwise or crosswise. It's totally a personal preference. Some people like to cut their bell peppers like a pumpkin, and cook the tops to put back on when they're serving. I cut lengthwise and keep the stems on the actual peppers by cutting right through the middle of the stem. I think it makes the peppers prettier, and you know I'm all about the pretty because pretty = even more appetizing. Then remove the seeds and the membrane with a paring knife and rinse the peppers under water. Dry them and brush them with some olive oil.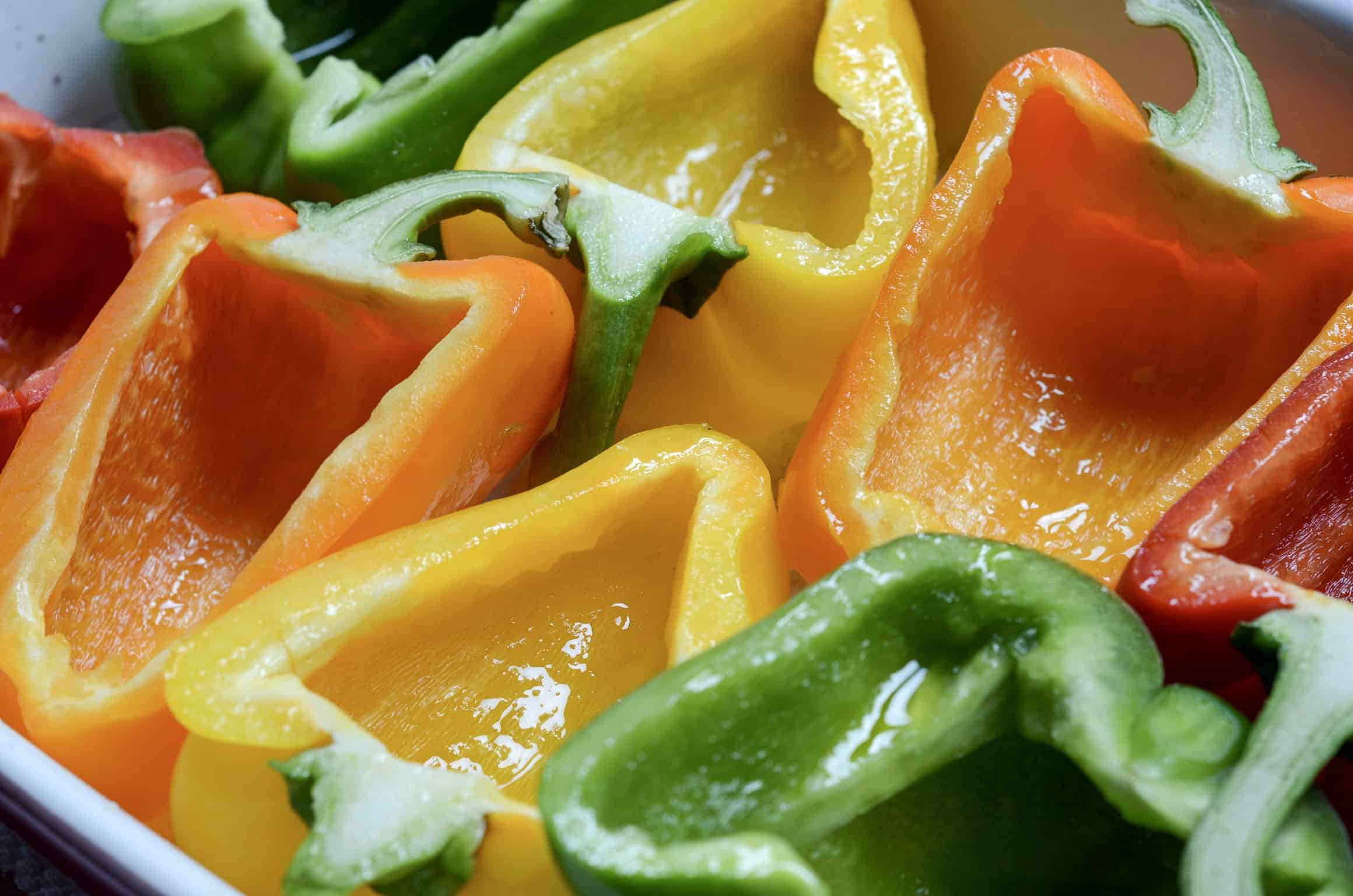 Then you'll set the peppers aside and make the filling. For the filling, you'll simply brown you beef, add onion and spices, then throw in the rest of the ingredients until combined. This takes you approximately 10 total minutes. Stuff the peppers with the filling and bake for 25 minutes. It's really as simple as that.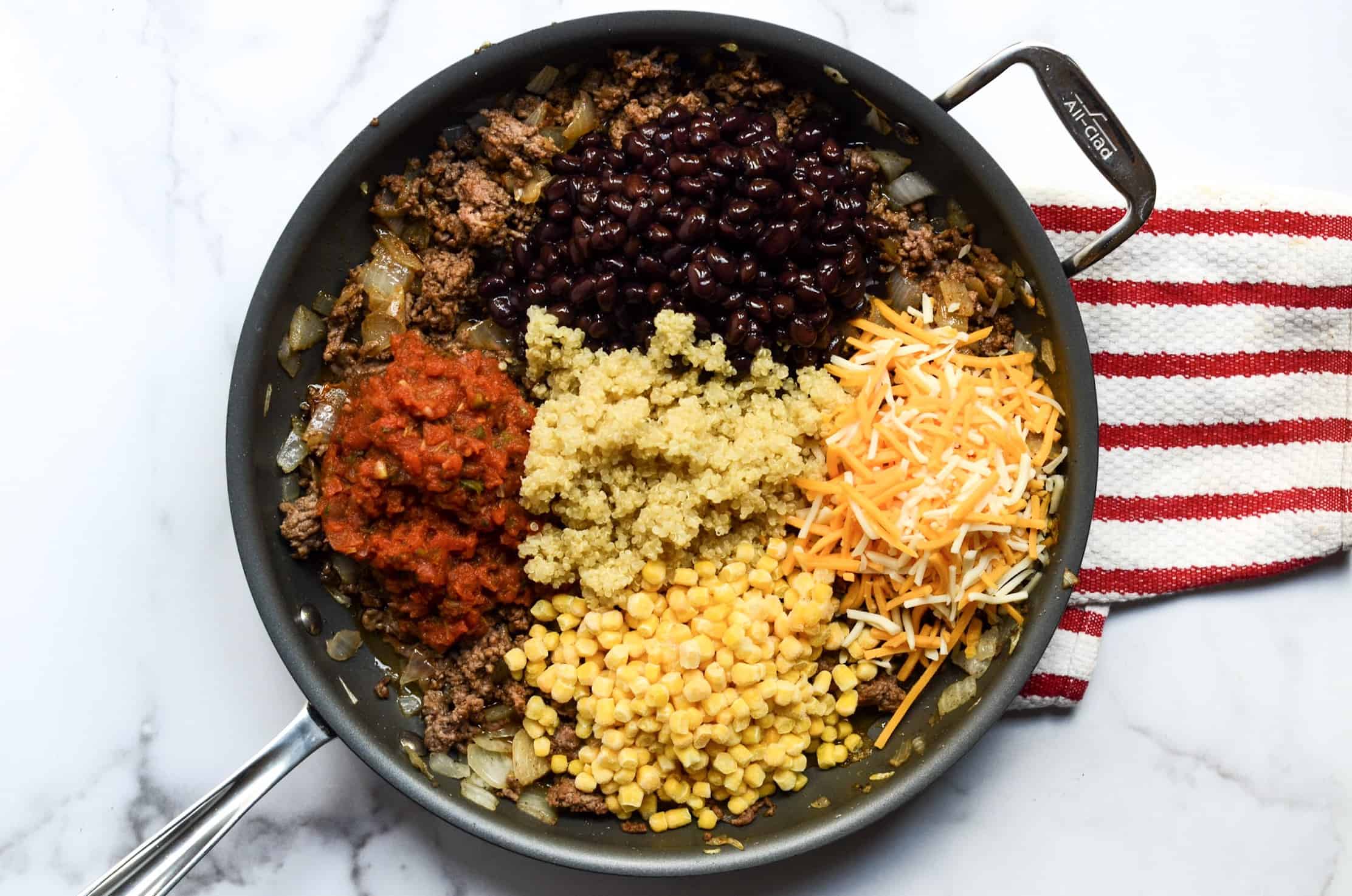 Do you need to cook the bell peppers in advance?
Nah. It's not necessary to cook your bell peppers in advance as long as you don't mind your bell peppers being a bit firm. I personally prefer them a bit firm because they're like a boat holding in all of this deliciousness. I don't care for a soggy boat. Admittedly, I have texture issues though (one of the reasons why I don't cook in a crockpot), so I like my foods to be a variety of textures. That's why I like to sear a lot of my meats in advance. This brown, crusty coating on your meat definitely locks in flavor, but it also adds texture and color to your food so it's more appetizing. I swear -- once you start searing certain meats, you're not going to be able to go back!
I digress. If you prefer your peppers softer, more like fajita consistency, you'll want to put the cut peppers face down in a baking dish filled with about 2 cups of water. Bake for 20-25 minutes at 350. Then stuff the cooled peppers with the filling and proceed as normal. You can also heat the peppers in the microwave for 5 minutes at 50% power to soften them up a bit if you're in a hurry, but again, I don't do either of these steps.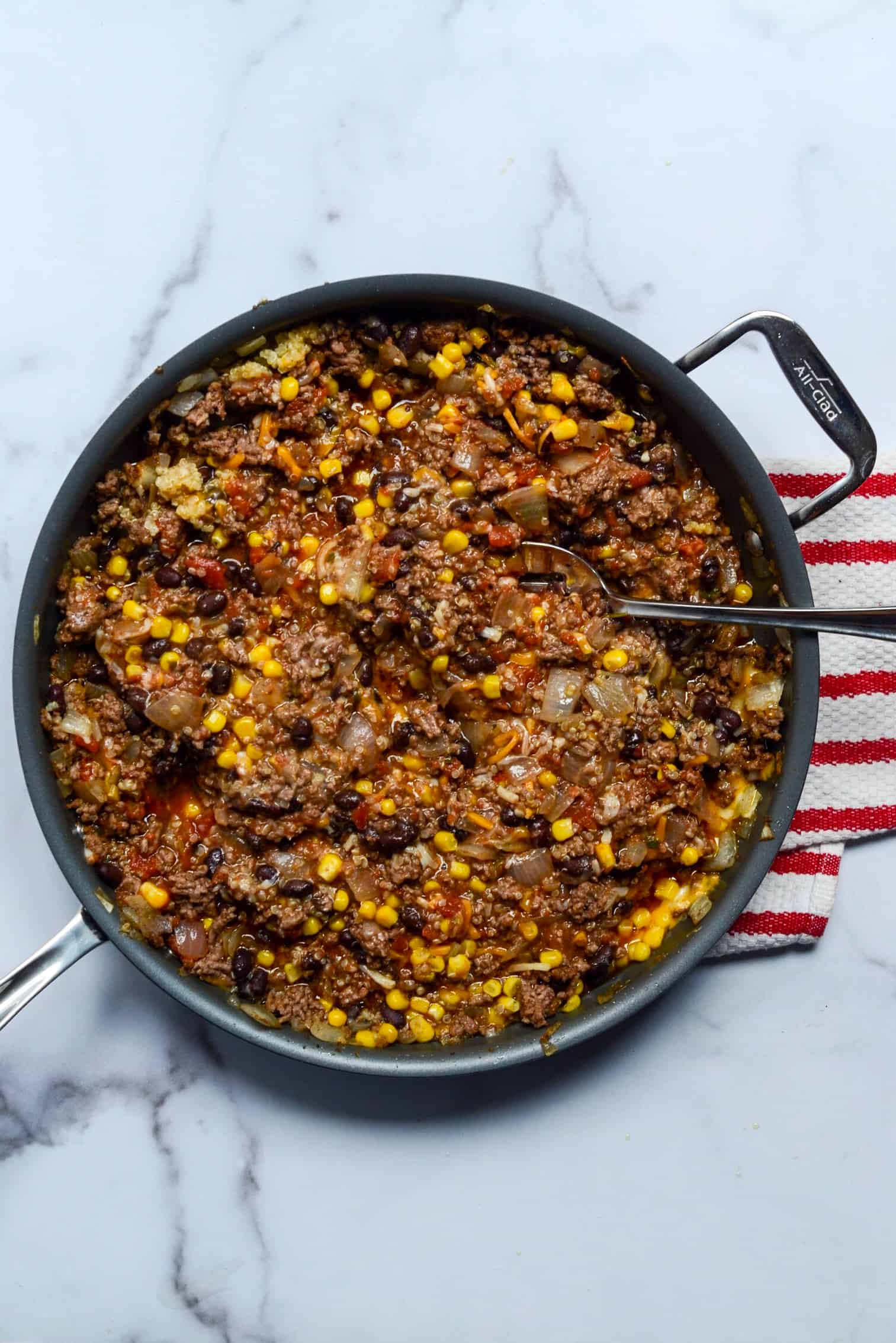 Tips to Make These:
Alternative Fillings for Your Stuffed Bell Peppers
Variety is awesome, and sometimes you may want to switch up your ingredients but keep the preparation the exact same.
Make them vegetarian! Take out the beef altogether.
Don't love quinoa? Add Mexican rice instead of quinoa. Or you want a low-carb option, try cauliflower rice.
Ground turkey is a healthier alternative to ground beef if you want to go extra lean.
Experiment with different vegetables. Zucchini is delicious in these as is spinach and mushrooms.
Cheese, cheese, and more cheese! Use your favorite -- whether that's mozzarella, spicy pepper jack, cheddar, or a combination of all of them.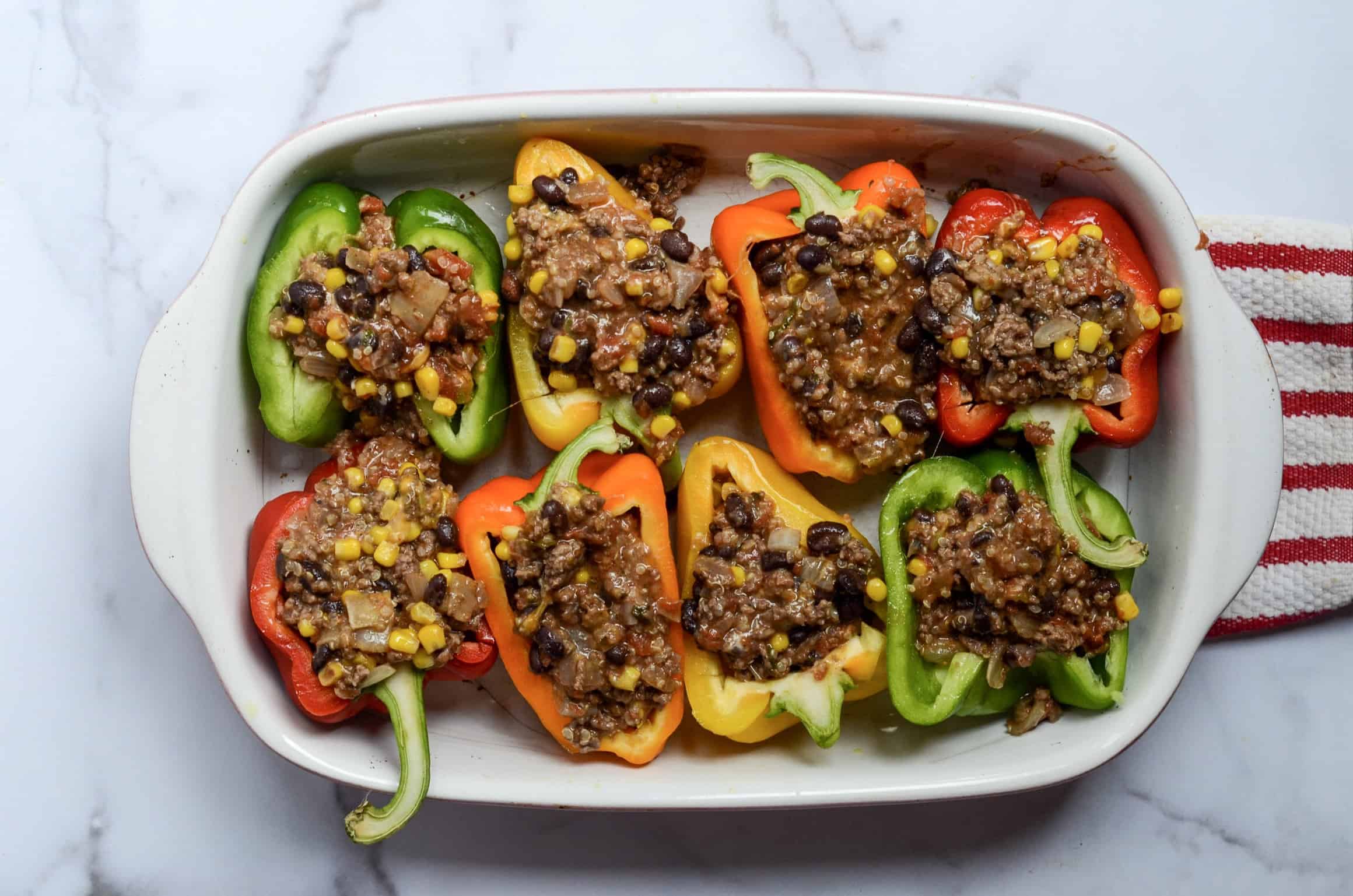 Make these in advance!
Make the filling, stuff the peppers, and put aluminum foil over the baking tray and store in the refrigerator until you're ready. Then you'll bake them under the same temperature -- just put in for an additional 10 minutes. These are great made in advance...and a few peppers can feed a lot of people, so these are a great option for a dinner party, too.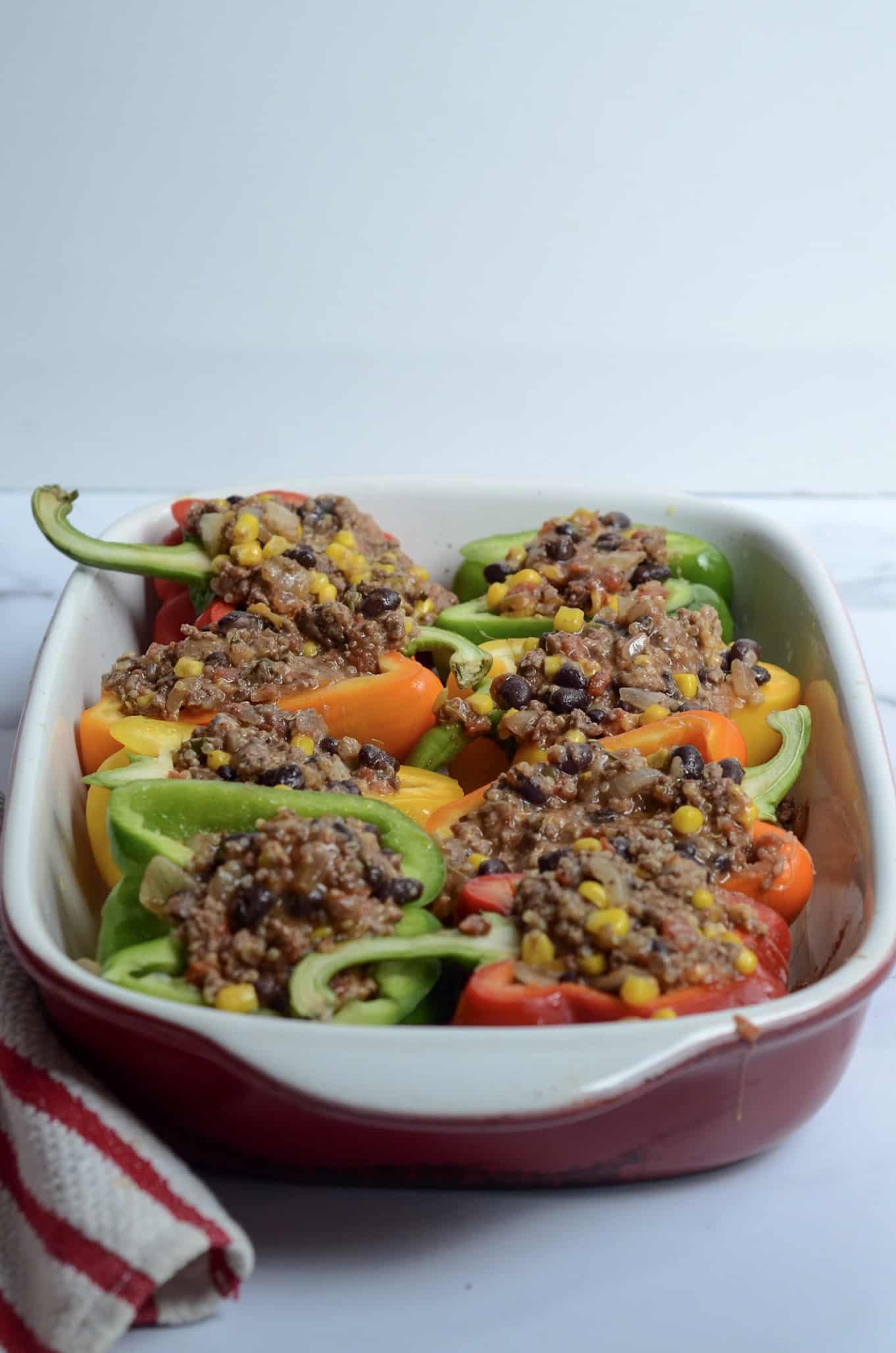 Other Things to Do with Bell Peppers
Did you buy too many bell peppers? Sometimes I go a little nuts and when I'm into a vegetable, I'm into a vegetable. Try some of these recipes to use them up in the most delicious of ways.
If you make anything from the blog, please tag me on Insta @wornslapout, Facebook, or leave a comment below. Nothing makes me happier than hearing from you!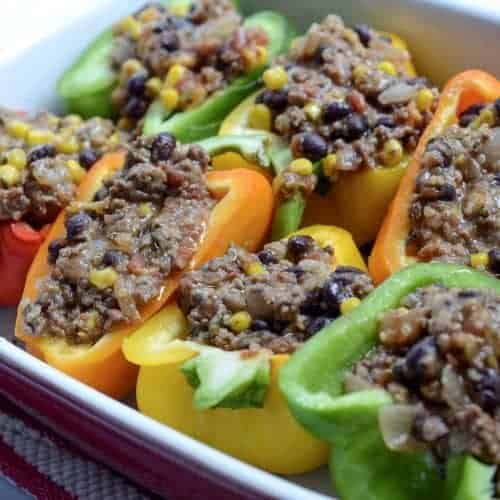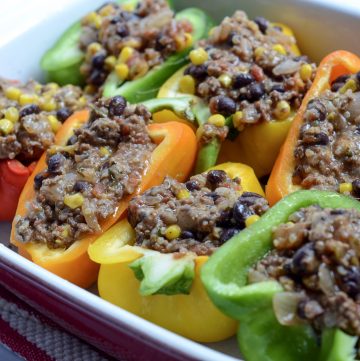 Ingredients
8

bell peppers, any variety, cut in half lengthwise and seeds and membrane removed

3

tablespoon

olive oil, divided

1

pound

ground beef

1

onion, chopped

1

teaspoon

garlic powder

1

teaspoon

cumin

1

tablespoon

chili powder

1

cup

quinoa, cooked

1

cup

corn, fresh or frozen

1

cup

shredded cheese

1

can

black beans, drained

1

cup

favorite salsa

sour cream, tortilla chips, extra cheese

optional
Instructions
Preheat the oven to 375. Place cut and cleaned bell peppers in a baking tray. Brush with a little bit of olive oil. Set aside.

Over medium-high heat in a non-stick pan with olive oil, cook the onions until translucent, 4-5 minutes. Add the ground beef and cook until just browned. Add spices and stir until combined.

Add cooked quinoa, corn, shredded cheese, black beans, and salsa. Stir until mixed.

Add mixture to the cavity of your bell peppers. Cover with aluminum foil and bake for about 20 minutes. Remove the foil, add more cheese, and bake for another 5 minutes or until cheese is melted. Serve with sour cream, extra cheese, chips, and salsa.