These low carb and gluten free stuffed acorn squash are filled with all the good stuff: sausage, wild rice, quinoa, vegetables, dried cranberries, and fresh herbs for a hearty and delicious meal.
John said he was sausage-deprived after seeing me meal prepping for work lunches by making a pasta with sausage and broccoli from Little Broken's Blog (I subbed sausage for the chicken). He specifically requested a low carb sausage meal though (hint: no pasta, Kathryn). Lightbulb moment! Make a healthy, gluten free stuffing with all the good stuff: vegetables, wild rice, quinoa, fresh herbs, and dried cranberries -- then place all of that goodness inside another vegetable and roast. I don't think you can get more low carb than that. It's also an amazing meal to make in advance. You can roast the squash, make the filling, and then assemble and bake the second time when you're ready.
Acorn squash is ugly on the outside and delish on the inside.
Acorn squash is a kinda ugly vegetable like most gourds, with a green exterior and a splash of orange sometimes on the side, but when roasted, the deliciously soft and fleshy interior nearly melts in your mouth. Roasting them involves two simple steps after you cut them open -- rubbing with olive oil and sprinkling with salt. More on that below though.
Acorn squash are also packed full of some seriously delicious vitamins and minerals, like beta-carotene, potassium, and lots of fiber. Basically, if you haven't tried them, you need to bite the bullet and give it a whirl.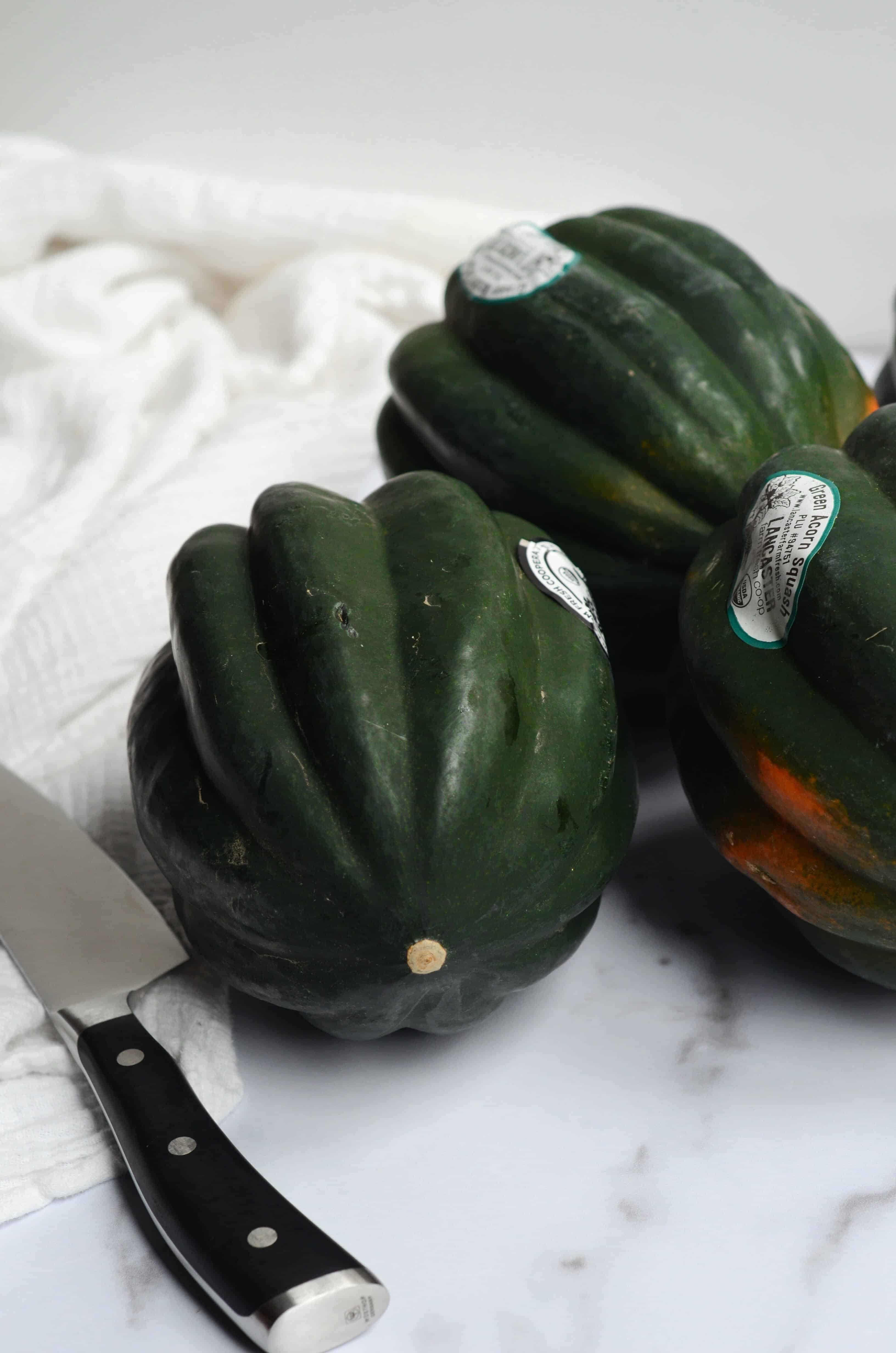 The Stuffing is the Good Stuff
The stuffing for the acorn squash is an incredibly delicious sausage and cranberry one that was actually inspired this Cranberry Wild Rice Stuffing. It caught my attention because it's not a bread-based stuffing. It's made out of whole grains -- wild rice and quinoa. The dried cranberries make this taste extra festive for the upcoming holidays -- and something that's definitely Thanksgiving or Christmas dinner worthy.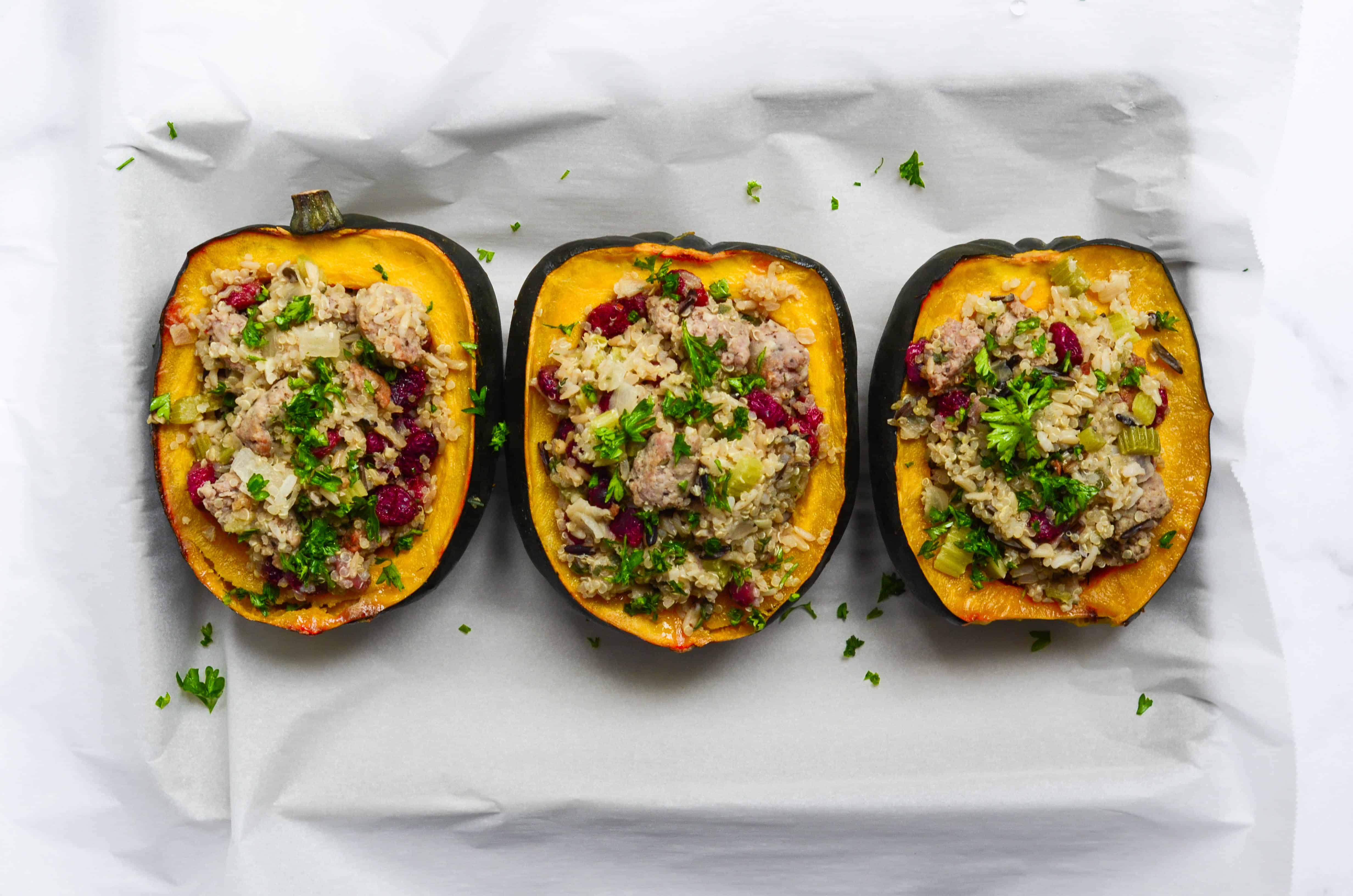 How to make stuffed acorn squash
Preparing the squash is quite easy. Let's do step-by-step directions so you can see just how easy this is.
Step 1: Cut and clean your acorn squash.
The hardest part is just cutting the stupid things open! The rind can be quite thick, so make sure you use a very sharp knife and watch your fingers. I've nearly cut off my fingers by using a dull knife to cut squash open. It's no joke. Once they're cut, you'll scoop the seeds out then cut the bottoms so it'll lay flat on a baking sheet. Rub with olive oil and salt and bake at 375 for 30-40 minutes or until tender.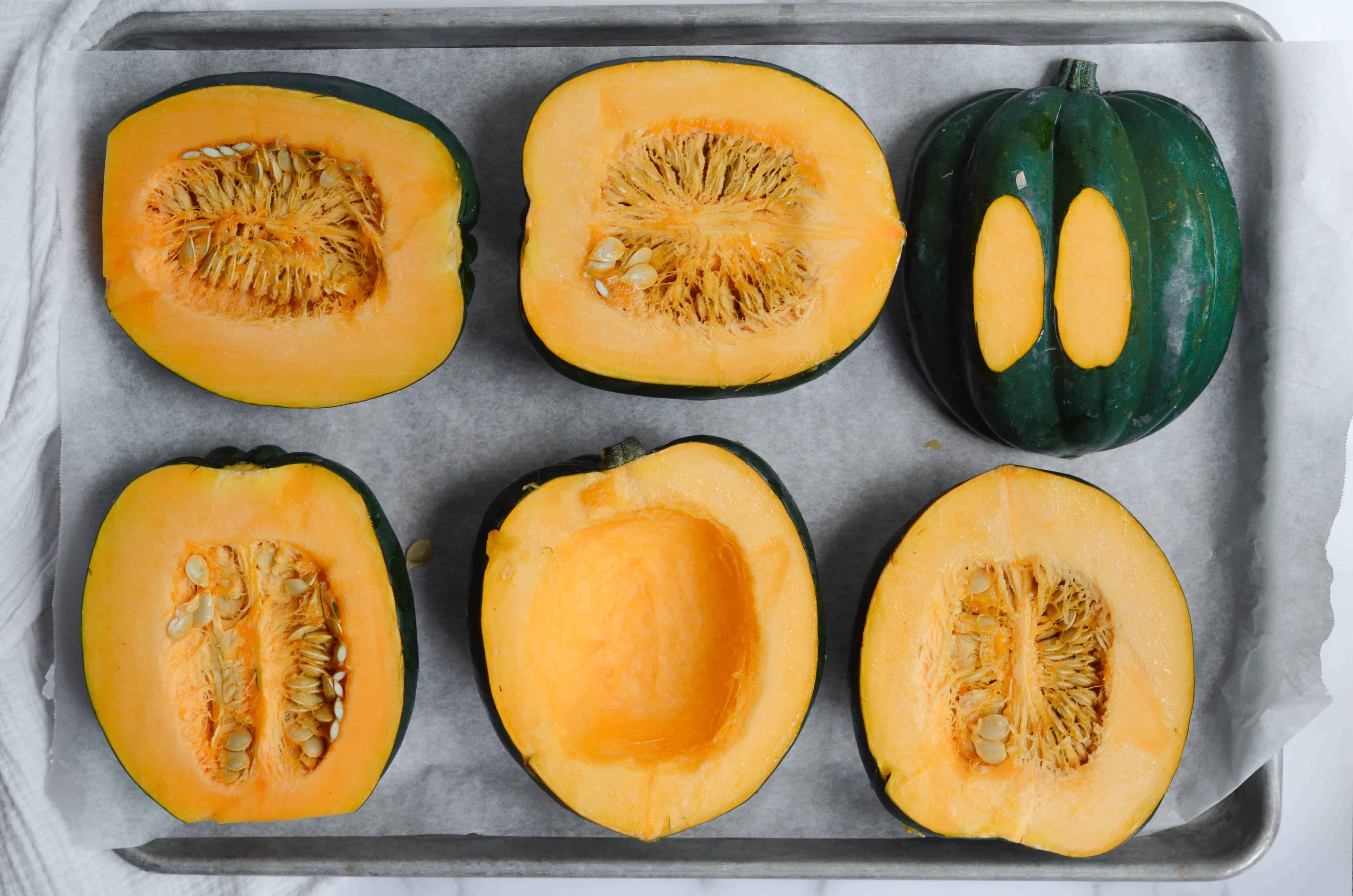 Step 2: Brown your sausage on medium-high heat with just a tad bit of olive oil.
While the acorn squash is roasting, add your sausage to a very hot pan so it gets nice and browned.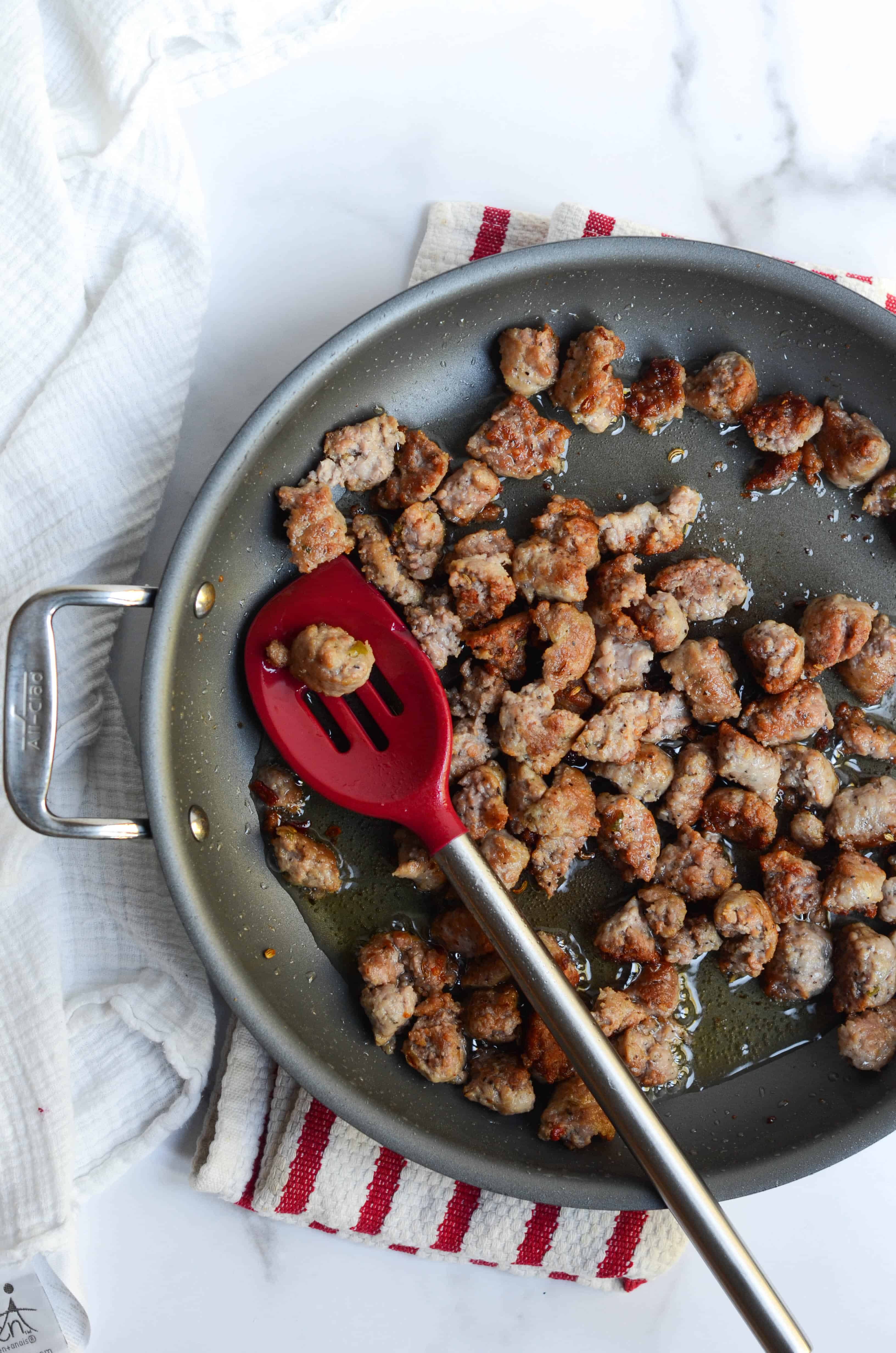 Step 3: Remove the sausage and add your onions and celery.
Put the sausage on a separate plate and set aside. Then add your onions and celery, cooking until translucent and tender. They'll take about 5-7 minutes and will cook in the deliciousness that is the sausage drippings. Your house will start to smell amazing at this point.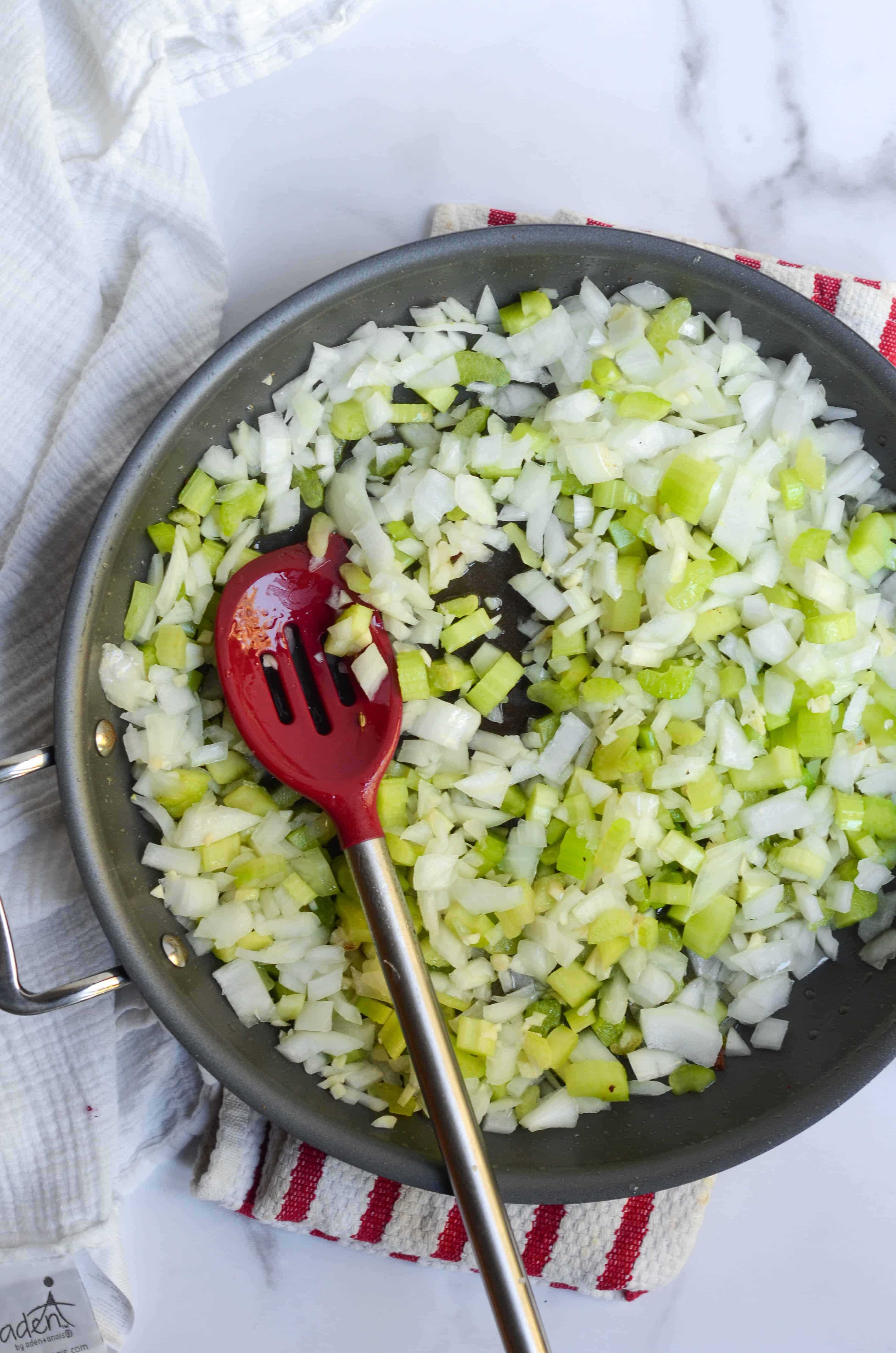 Step 4: Add the rest of the ingredients.
This includes the cooked rice and quinoa (that you can also make while the squash is roasting), dried cranberries, sage, thyme, salt and pepper. Give it a good stir to combine then add the chicken stock (or vegetable stock if you're trying to keep this vegetarian and taking out the sausage). Simmer the stuffing and chicken stock until the chicken stock is nearly all absorbed by the stuffing.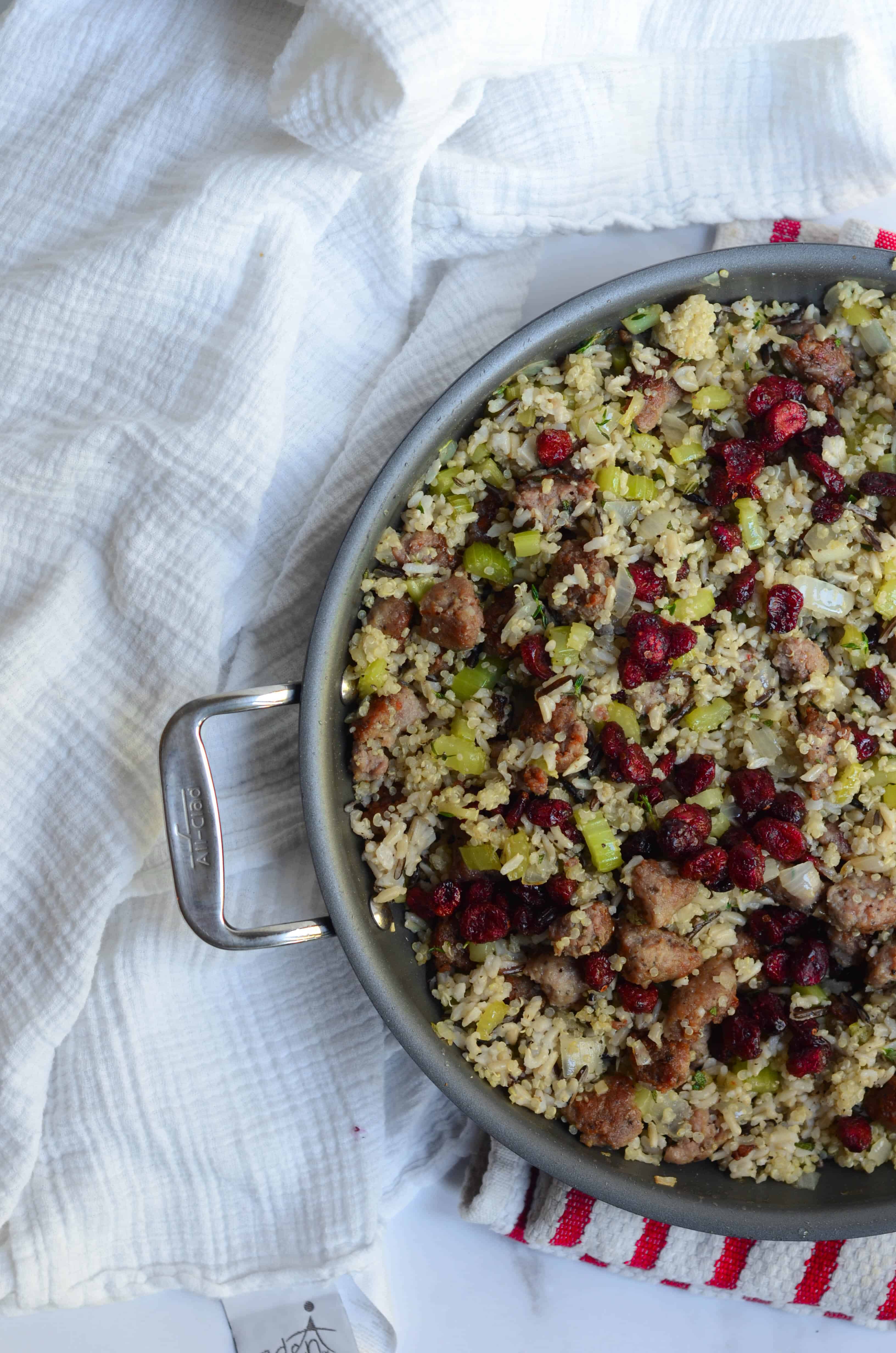 Step 5: Stuff the pre-cooked acorn squash with the stuffing mixture and bake.
Easy enough. Then you'll bake in the oven for 30-45 minutes until heated through. Top with some parsley and you've got the most amazing meal all in one cute (and delicious!) vessel.
Garnish with some parsley and enjoy!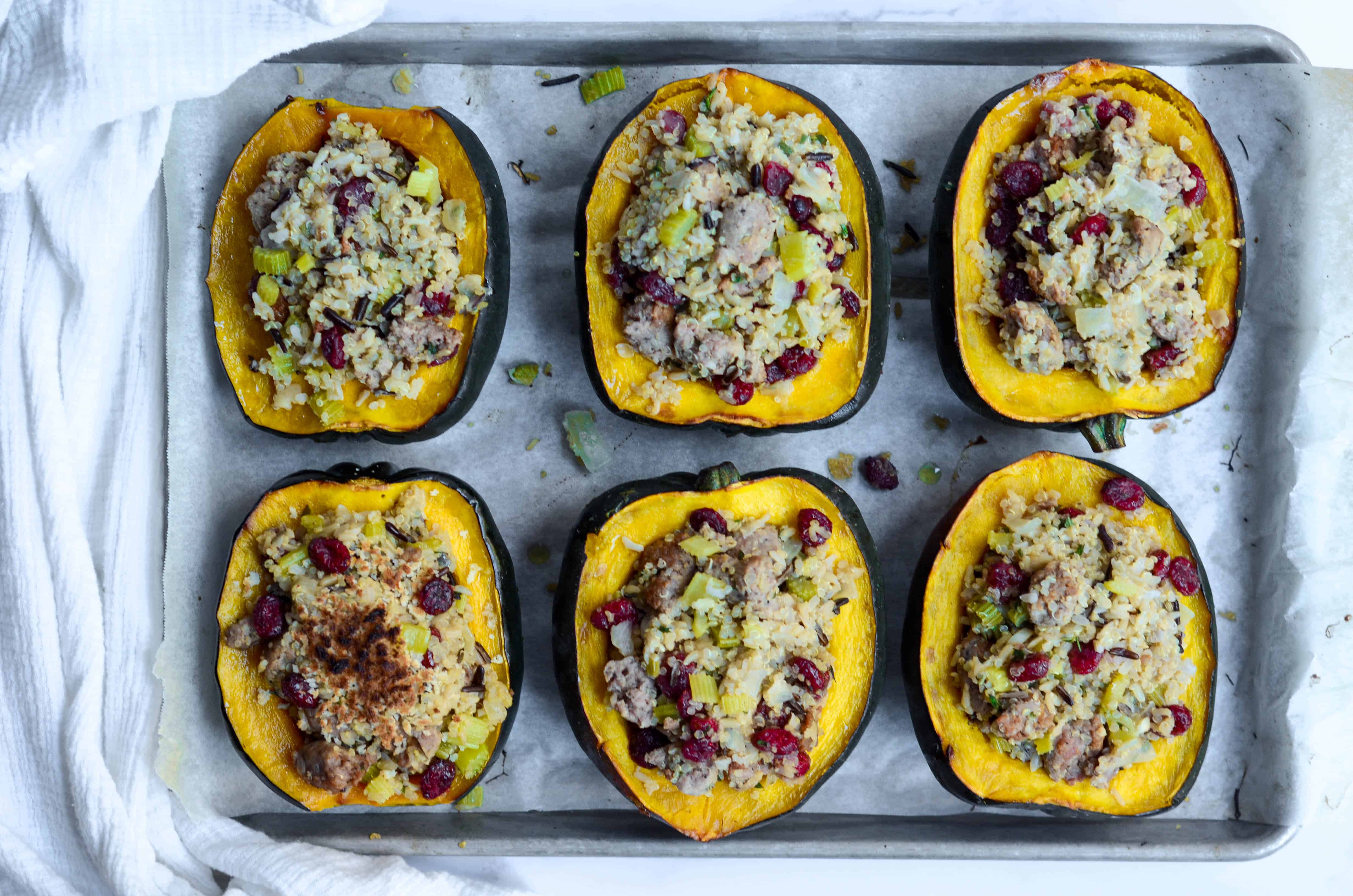 How to reheat and freeze stuffed acorn squash
I'd highly recommend you not reheat the stuffed acorn squash in the microwave. The filled squash really need time in the oven to get warm without getting soggy, and the oven is the only way to really accomplish that.
Just preheat your oven to 375 degrees Fahrenheit and warm on a baking sheet for about 30 minutes or until the sausage is warm.
You can freeze the acorn squash after roasting the first time if you want to save them for later. Just wrap the cooled squash in plastic wrap and stick in a larger plastic bag in the freezer. You could freeze the mixture separately in a plastic bag/airtight container, too.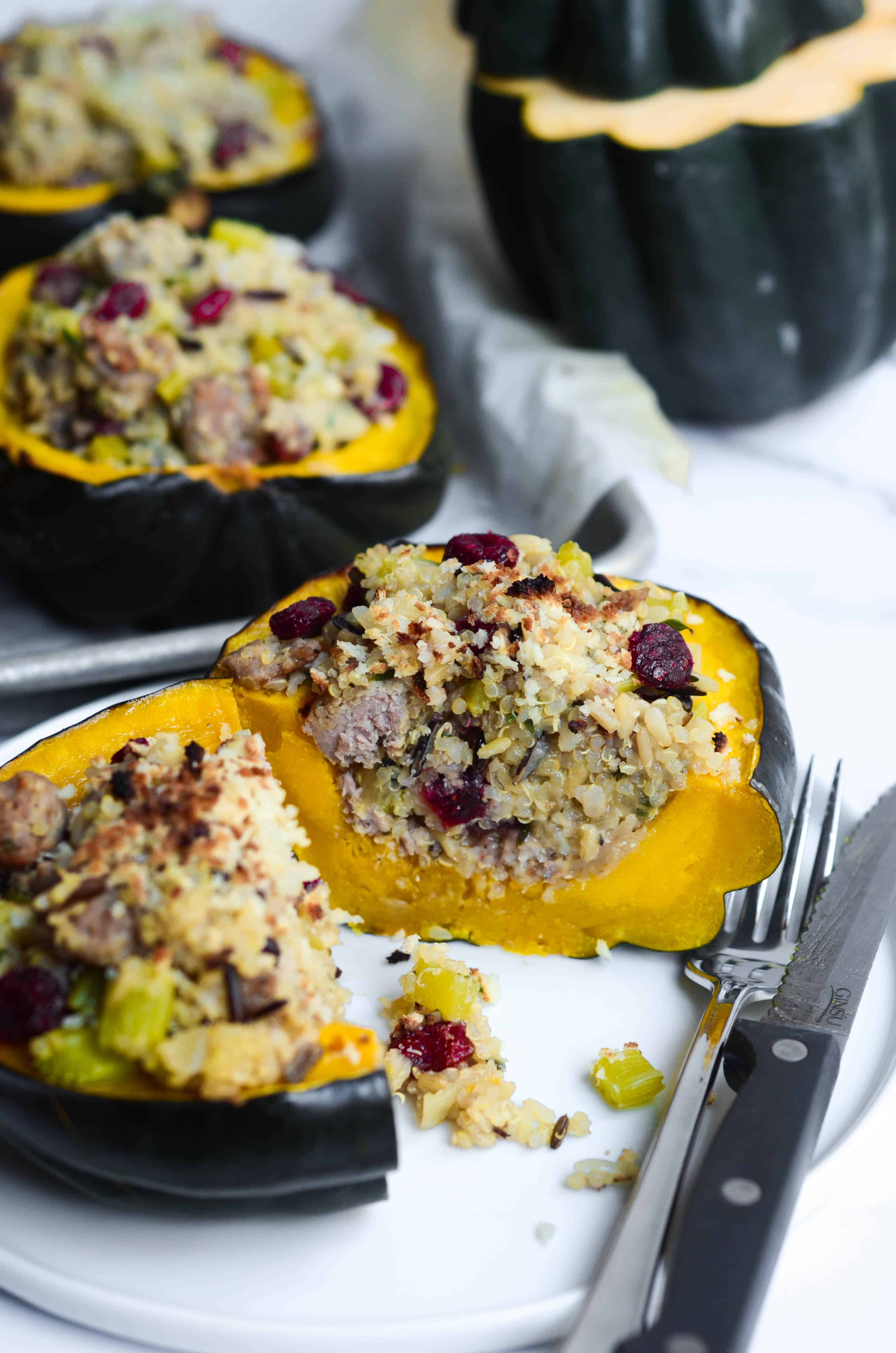 What else can you serve this with?
I'd serve this for company for sure...maybe with a side salad because no one ever can get enough vegetables, right? This Brussel Sprout and Fennell Salad with Citrus is divine from Josie and Nina or this Perfect Winter salad. Or maybe just skip serving these with anything (which is what we usually do) and skip to dessert! A decadent and smooth Chocolate Pots de Creme are a winner for me.
As always, if you make anything from the blog, be sure to let me know! I love hearing from you in the comments on this post below or find Worn Slap Out on Facebook, Instagram, or Pinterest!


xox,
kathryn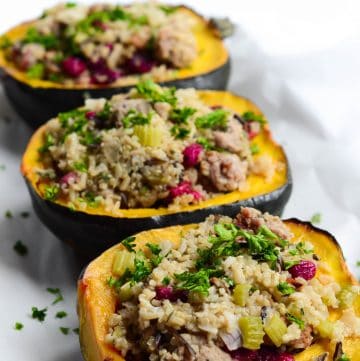 Stuffed Acorn Squash with Sausage Stuffing
These low carb and gluten free stuffed acorn squash are filled with all the good stuff: sausage, wild rice, quinoa, vegetables, dried cranberries, and fresh herbs.
Print
Pin
Rate
Ingredients
3

large acorn squash

4

tablespoon

olive oil, divided

1

tablespoon

salt

3-4

sausage links,

mild or spicy depending on your preference

1

onion, diced

4

celery stalks, white ends cut off and diced

3

cloves

garlic

8

sage leaves, chopped

1

tablespoon

fresh thyme, chopped

1

cup

cooked wild rice

1

cup

cooked quinoa

¼

cup

dried cranberries,

with no added sugar

2

cups

chicken stock

salt and pepper, to taste

parsley, chopped

for garnish (optional)
Instructions
Pre-heat oven to 375 degrees F. Cut acorn squash vertically. Scoop out guts until inside makes a clean, smooth boat. Cut small sliver in the bottom of the acorn squash so squash lay flat inside-facing-up on baking sheet. Rub inside of squash with 1 tablespoon olive oil. Bake for 30-40 minutes until fork tender.

Meanwhile, in a large saute pan with 3 tablespoon olive oil over medium-high heat, cook sausage until browned on all sides, about 6-7 minutes. Remove sausage to a plate and set aside.

In the sausage drippings, add your onions and celery. Cook until soft, tender, and translucent, about 6 minutes. Add garlic, sage, thyme, salt and pepper and stir for another minute. Add cooked rice and quinoa, and cranberries. Add chicken stock and stir well. Let mixture simmer until most of chicken stock is absorbed by the food, about 4-5 minutes.

Stuff acorn squash (now out of the oven) with the stuffing mixture. Bake at 375 for 30 more minutes. Take out of oven and garnish with parsley before enjoying.