This Hasselback Butternut Squash is slow roasted with a rosemary and honey glaze to give the butternut squash a sweet and piney flavor. It's a perfect side dish to accompany any fall or winter main course.
I used to not care for butternut squash. It was one of those vegetables that didn't seem to have much flavor to me, and I didn't care for the consistency. While the consistency issue has gotten better with age, it's taken me a long time to figure out how to prepare butternut squash in a way that's simple but still really flavorful.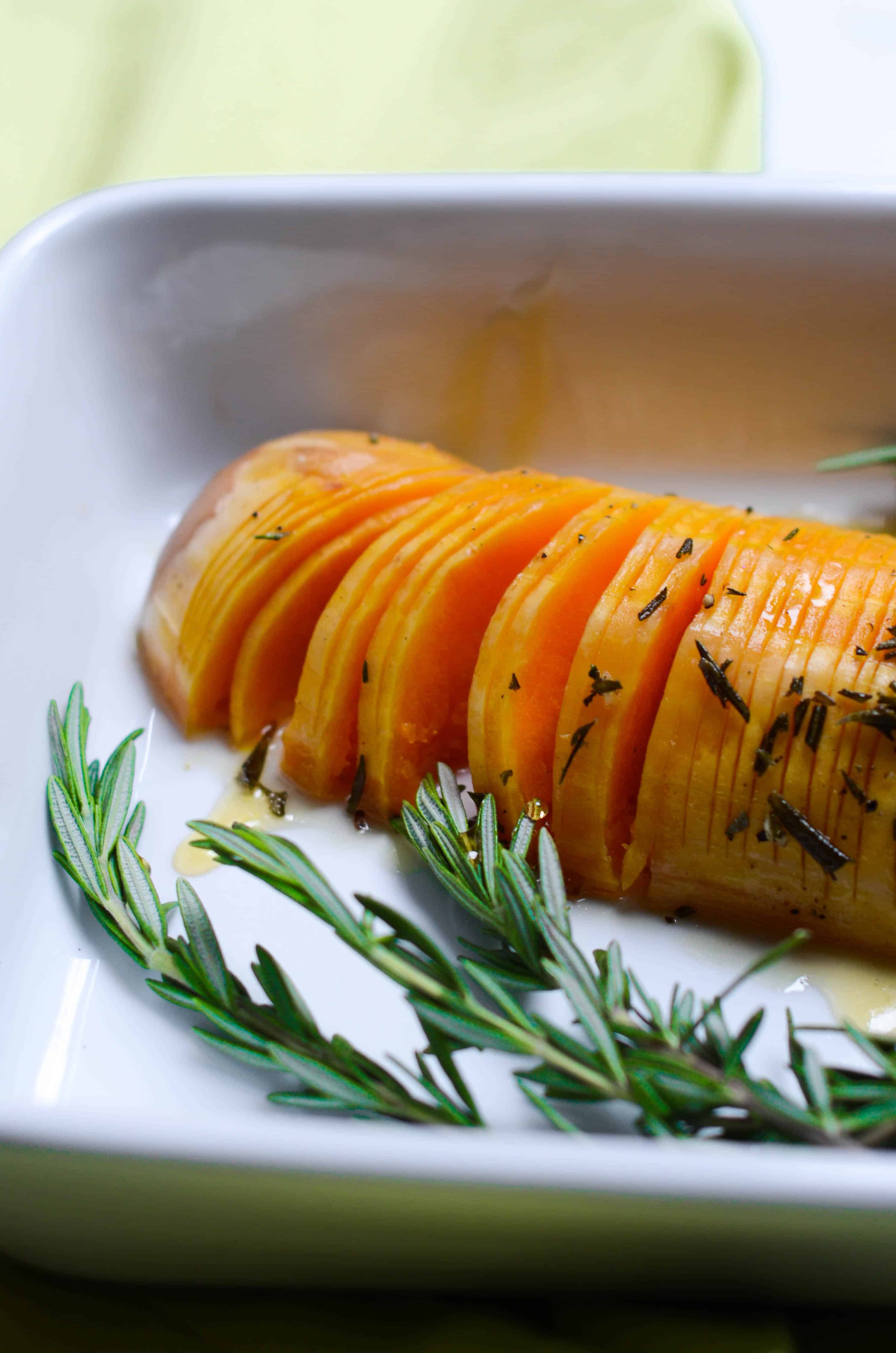 I am a firm believer in covering butternut squash with lots of delicious, stronger flavors as well as just a little sweetness. A lot of recipes you'll find call for drenching butternut squash in brown sugar, but I don't really want this squash to count as my dessert though (no offense to you, BS). I'll save my calorites for this rainbow cake or apple slab pie. Instead I use honey and rosemary, two of my favorite combinations. It's the perfect amount of robust flavor and sweetness to help spice up the butternut squash.
Why hasselback, you ask?
Part of this is purely for aesthetics. It's a great side dish to make for company because it looks all fancy and pretty. It doesn't take *that* much extra time either (but it's also not necessarily a weeknight side dish because it takes about 45 minutes to roast). The other reason you should want to hasselback is because you have more surface area for the butternut squash to be covered in this delicious rosemary and honey glaze making this butternut squash way more flavorful than your average roasted butternut squash. It seeps into all of these little crevices and caramelizes, and it's delicious.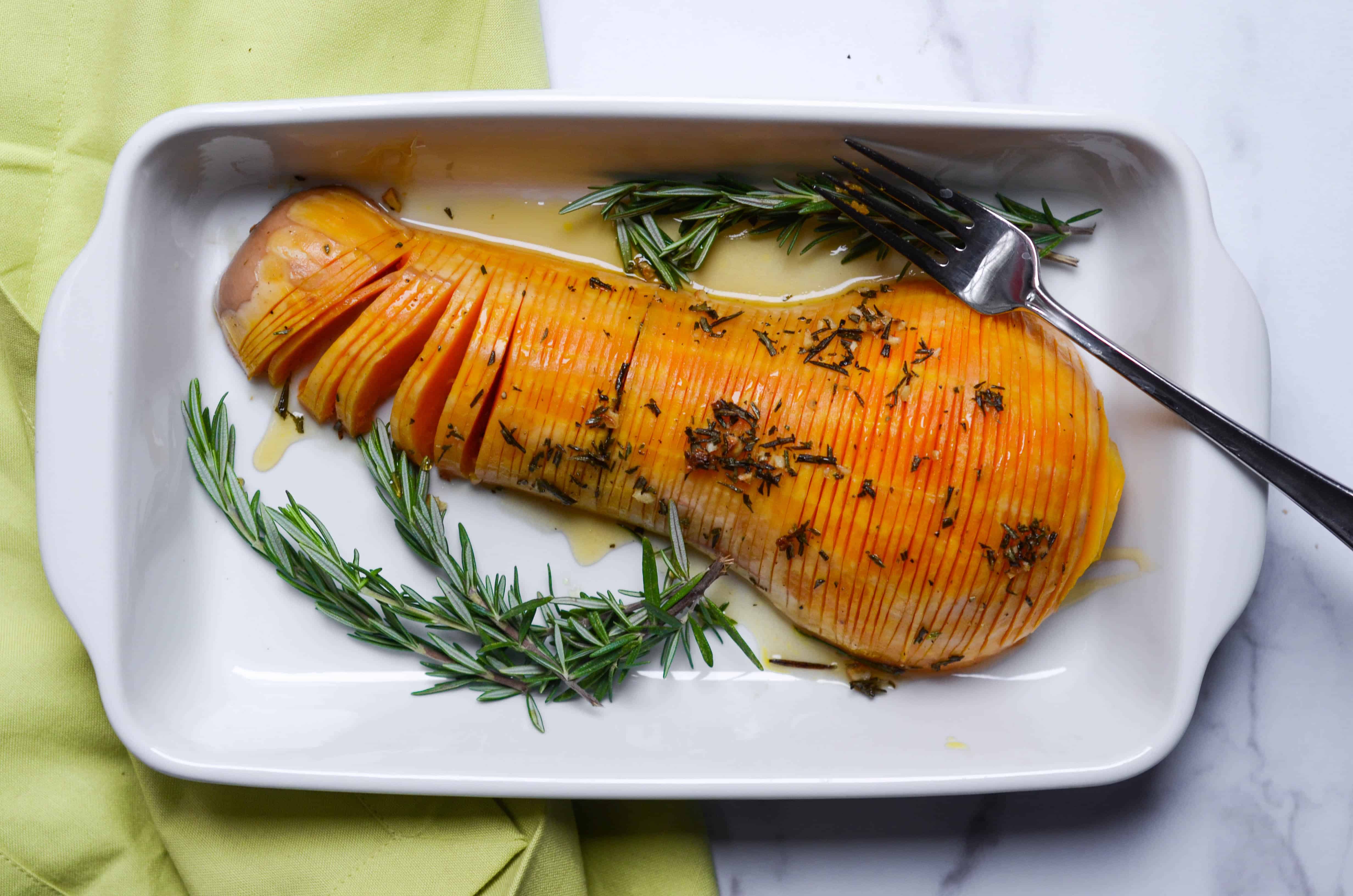 Preparing your butternut squash
Butternut squash can seem really intimidating because it's this heavy, bulky, phallic-shaped vegetable. Don't let it scare you. Embrace the awkwardness and grab a super sharp knife. (Sorry, I just had a Lorena Bobbitt moment).
There's a variety of different ways to cut your butternut squash (one of these most popular being in cubes like this video shows). If you're hasselbacking your butternut squash, this'll look a little different though because you want to keep the butternut squash whole (well, in two pieces).
You'll first want to take the sharpest knife you have and cut the squash in half lengthwise. You'll open up the squash and expose this beautiful, bright orange flesh. Isn't it pretty?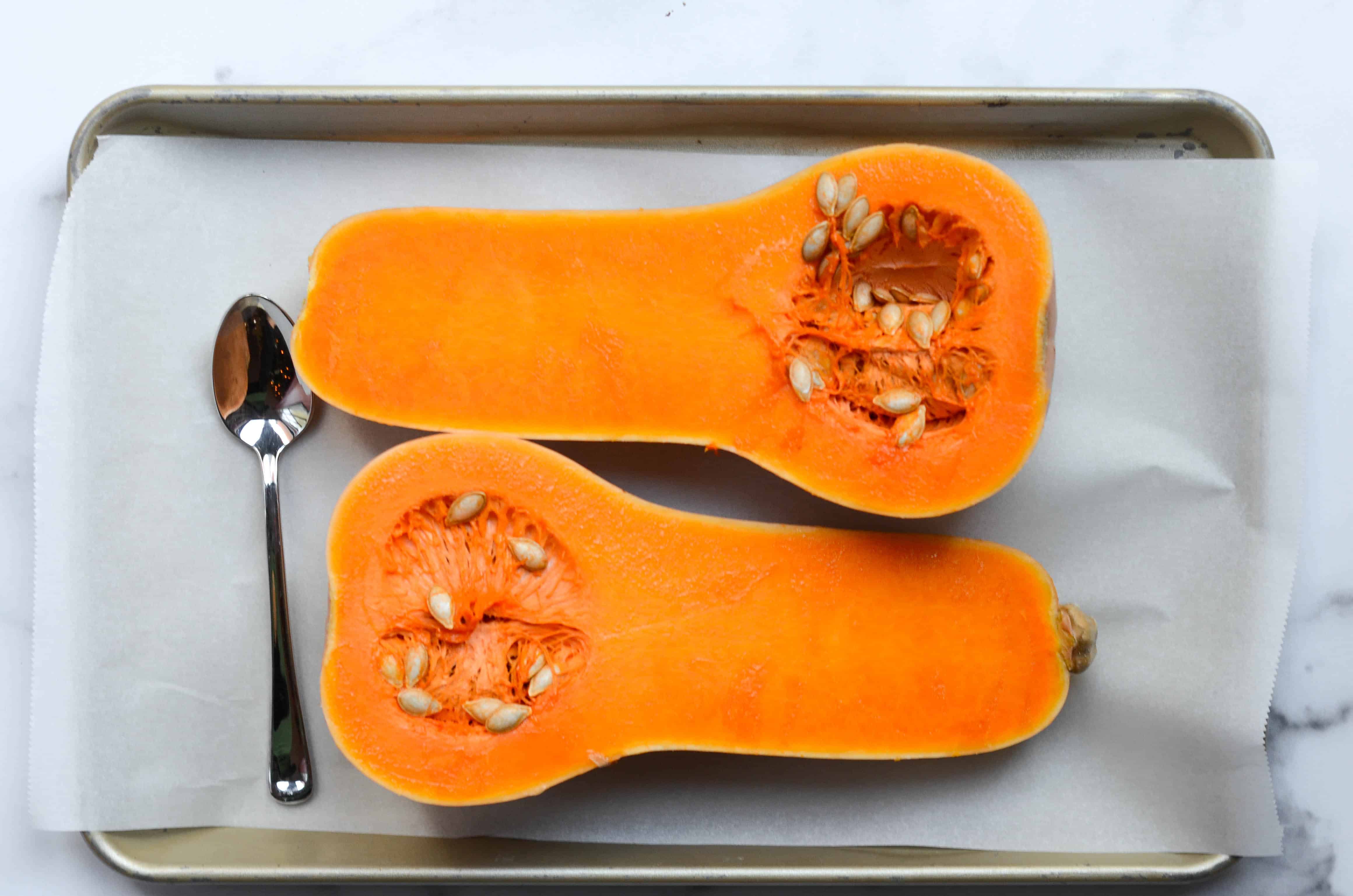 Then use a spoon to scoop all of the guts out (seeds and sinewy flesh). Next, you'll want to peel the hard exterior from the squash. This exterior is at least an ⅛" thick on most butternut squash, so you'll really want to peel 3 or 4 times before you get to the beautiful, bright orange flesh of the butternut squash we all know and love.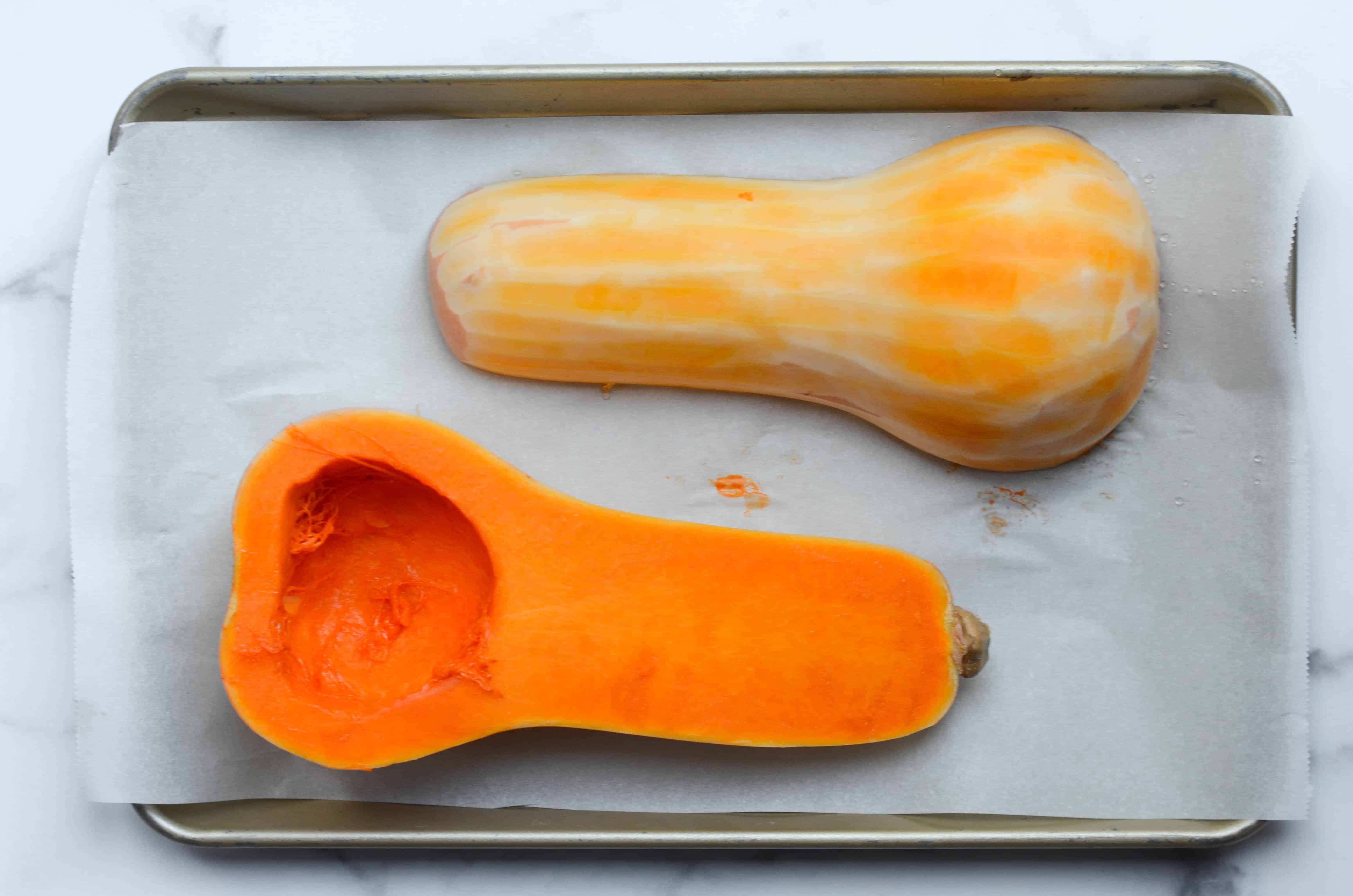 So basically, make sure you do as I say, not as I do because I got super lazy here and didn't peel it enough. Don't forget to peel all the way to the bright orange. Don't let any of the pale yellow/orange flesh stay.
Tips for Hasselbacking Butternut Squash
I don't know if hasselbacking is a word (it's probably not) but I'm going to make it one. Here are some tried and true tips for making any vegetable, not just butternut squash, hasselbacked.
Roast the butternut squash just a little bit to get it soft but not enough so that it's mushy when you cut it (about 15 minutes). You still want a fairly firm squash when making your cuts so you can get clean, neat cuts.
Place two objects on either side of the butternut squash. I used knives here but sometimes I use identical spatulas, chop sticks, or whatever else is laying around the kitchen readily accessible.
Use your sharpest knife. You want cuts that about an ⅛" apart, so super thin. This will allow you all of these little pockets of goodness where your glaze will fall into. This requires a good chef's knife.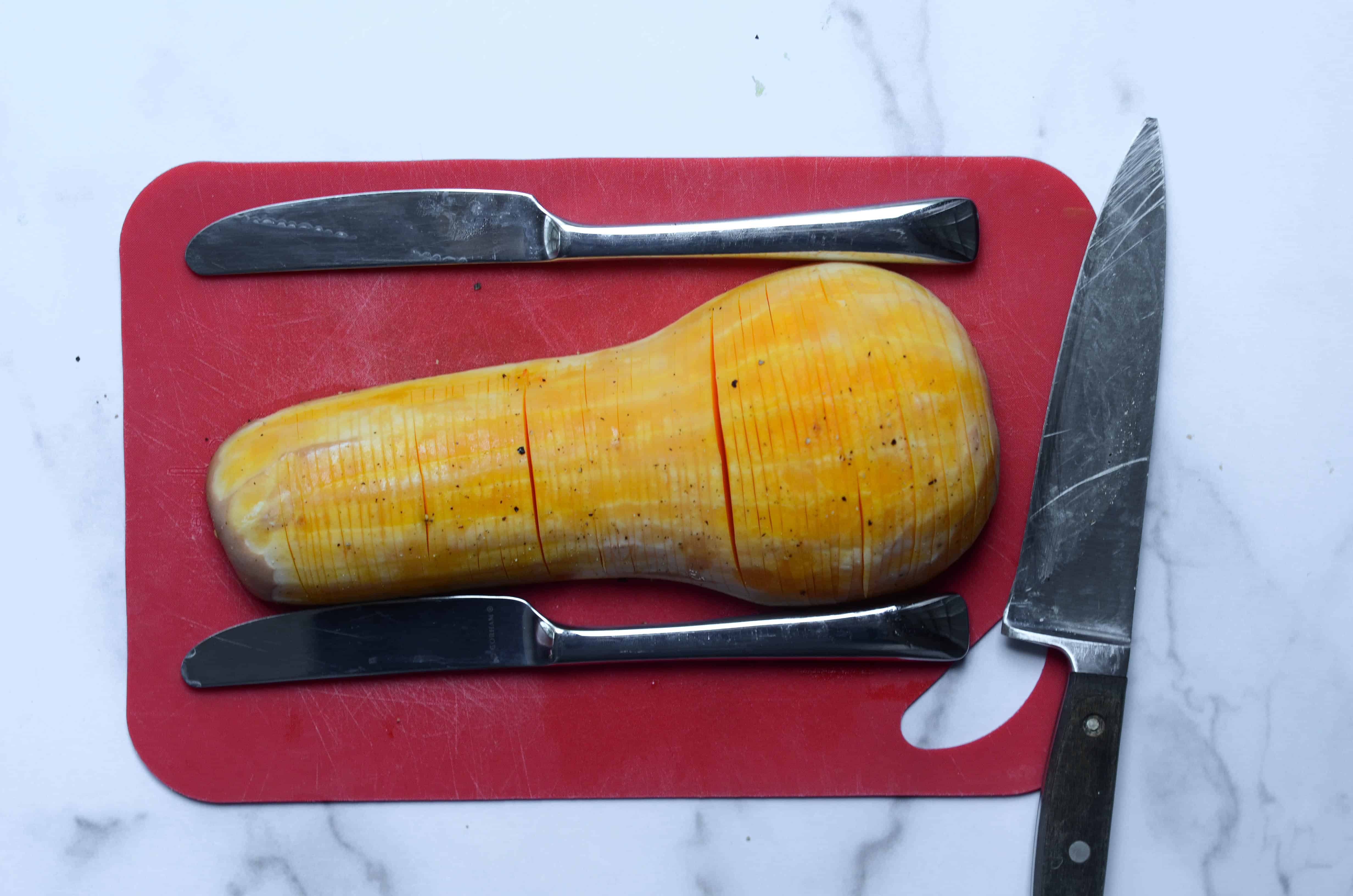 Rosemary Honey Glaze
The rosemary honey glaze is super easy to throw together and can be done when the butternut squash is roasting the first time. You'll need:
olive oil
honey
garlic
rosemary
salt and pepper
Simply combine all of these ingredients in a bowl and get ready to pour over the hasselbacked butternut squash when their cool enough to touch.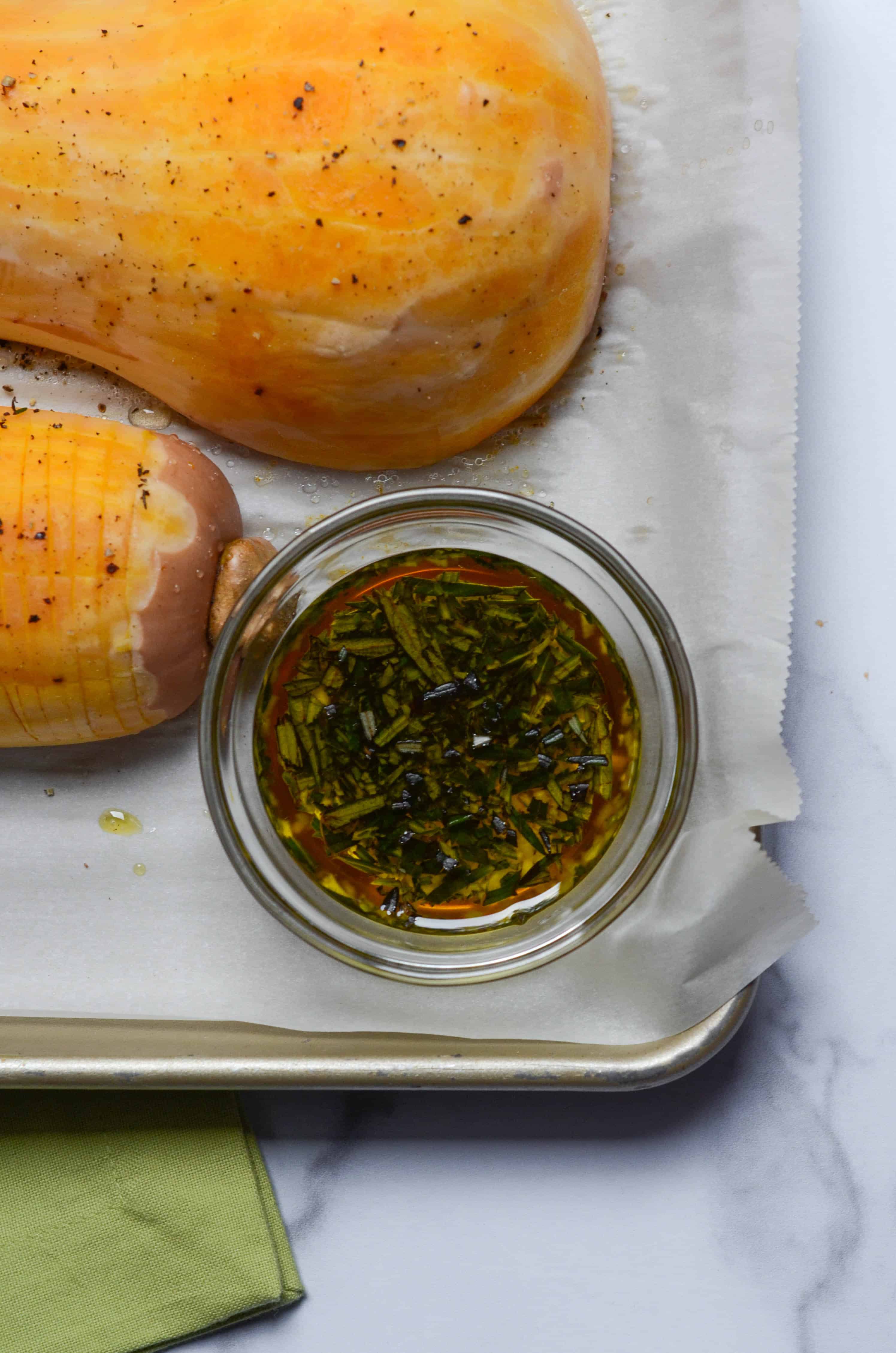 Then you'll put the butternut squash back in the oven once it's covered in the glaze and roast for another 20-25 minutes or until completely tender. The slivers of squash should pull apart easily from one another. That's how you know it's done.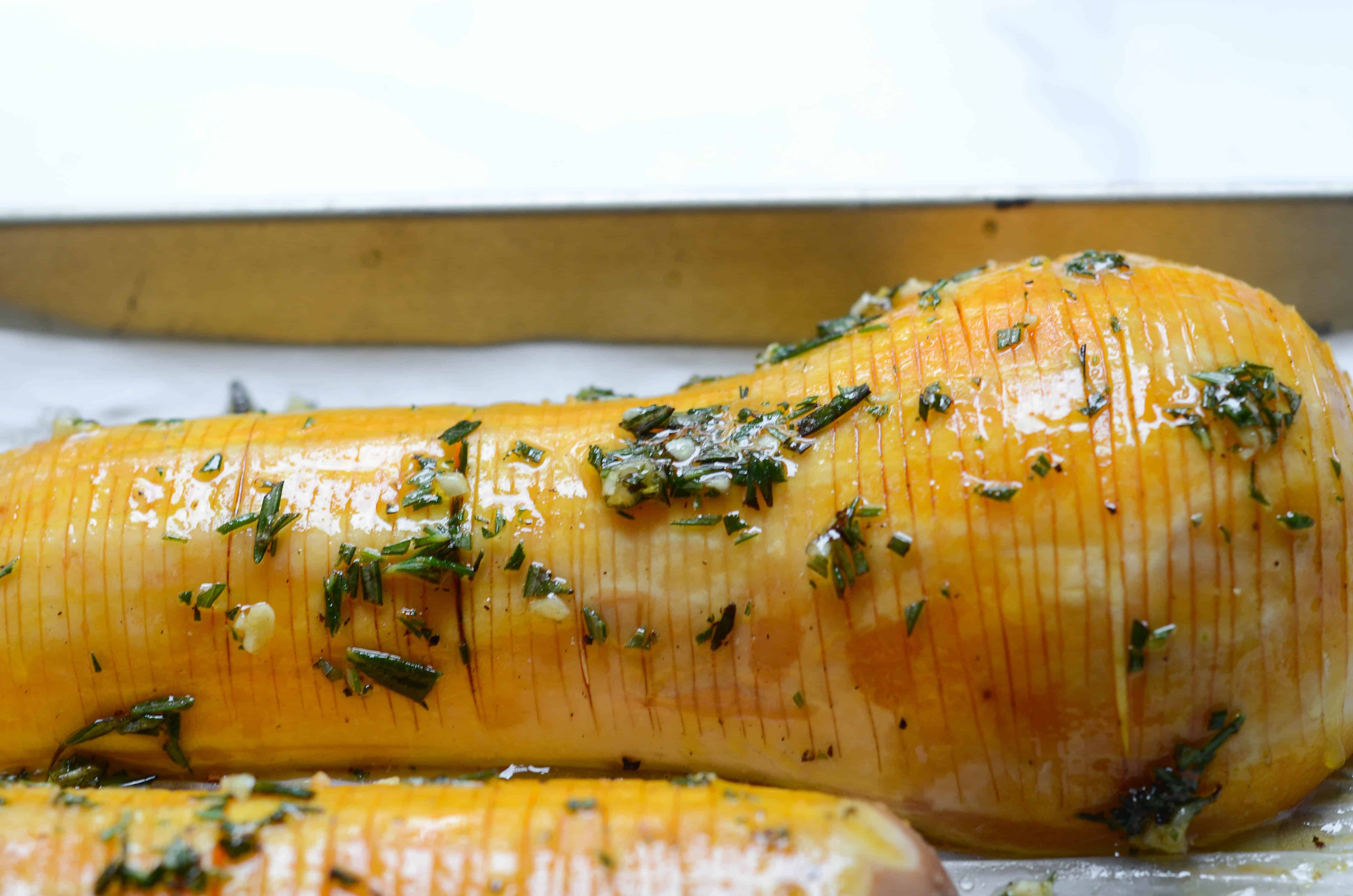 We can tackle this week, right?
xox
As always, if you make anything from the blog, be sure to let me know! I love hearing from you in the comments on this post below or find Worn Slap Out on Facebook, Instagram, or Pinterest!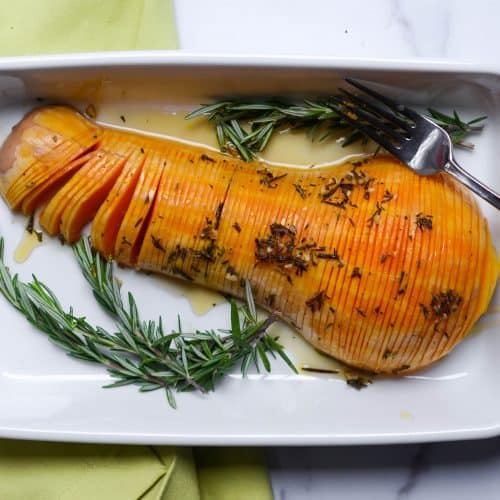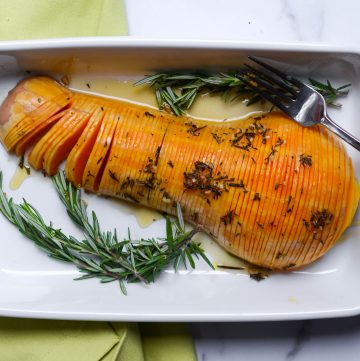 Honey and Rosemary Glazed Hasselback Butternut Squash
This Hasselback Butternut Squash is slow roasted with a rosemary and honey glaze to give the butternut squash a sweet and piney flavor. It's a perfect side dish to accompany any fall or winter main course.
Print
Pin
Rate
Ingredients
1

butternut squash

2

tablespoon

olive oil, plus a little more

1

tablespoon

honey

2

cloves

garlic

1

tablespoon

rosemary

salt and pepper
Instructions
Preheat oven to 400 degrees F. Line a baking sheet with parchment paper.

Cut butternut squash in half lengthwise. Scoop out the guts with a spoon and peel the outside of the butternut squash until you see the orange (all of the outside should be taken off).

Place butternut squash on parchment paper, season with salt and pepper and drizzle with olive oil. Roast in oven for 15-20 minutes or until just barely tender.

Meanwhile, make the glaze: combine olive oil, honey, garlic, rosemary, salt and pepper. Set aside.

Take butternut squash out and let cool for a few minutes until you can handle it. Transfer to a cutting board and place two knives or spatulas running parallel on either side of the butternut squash. Make very small (⅛" thick) slices across the entire length of the butternut squash. Rub the tops of the butternut squash with the glaze and roast for another 20-25 minutes until very tender. Drizzle with honey before serving.