These Santa sugar cookies are so incredibly adorable and easy to make thanks to some short cuts. Santa also told me he'd be into these under the tree, too. Just sayin'...
We've been in full scale Christmas mode around here! Out comes all of the decorations, the Christmas pancake molds, the Christmas cookie cutters, the Christmas plates, the festive tablecloths I didn't even know I owned...you get the picture.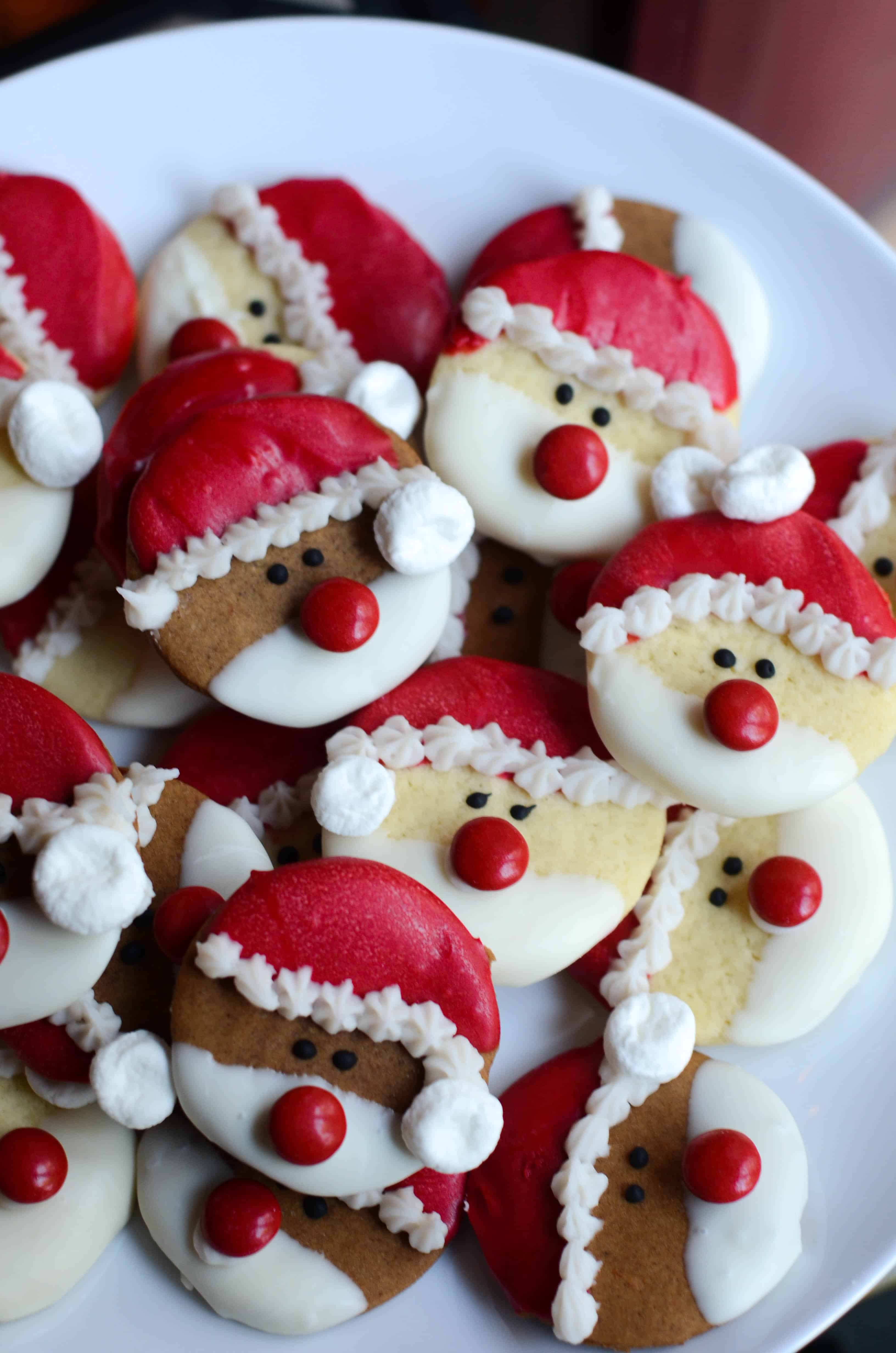 With all of this comes Christmas cookie baking, of course. The kids are the best helpers and have the most fun, even if it's way more stressful when they help me. It's all part of making fun memories together. (Secret confession: We typically make the cookies when John is still at work because he's not into the amount of sheer chaos and mess that ensues when the three of us bake together.)
We made these Santa sugar cookies for B's Christmas show at preschool, and I swear I put them on the table and the kids flocked to them like a moth to a light. They were gone in 2 seconds, which caused B to cry because she didn't even get one. Good thing I'm brilliant and saved a couple at home.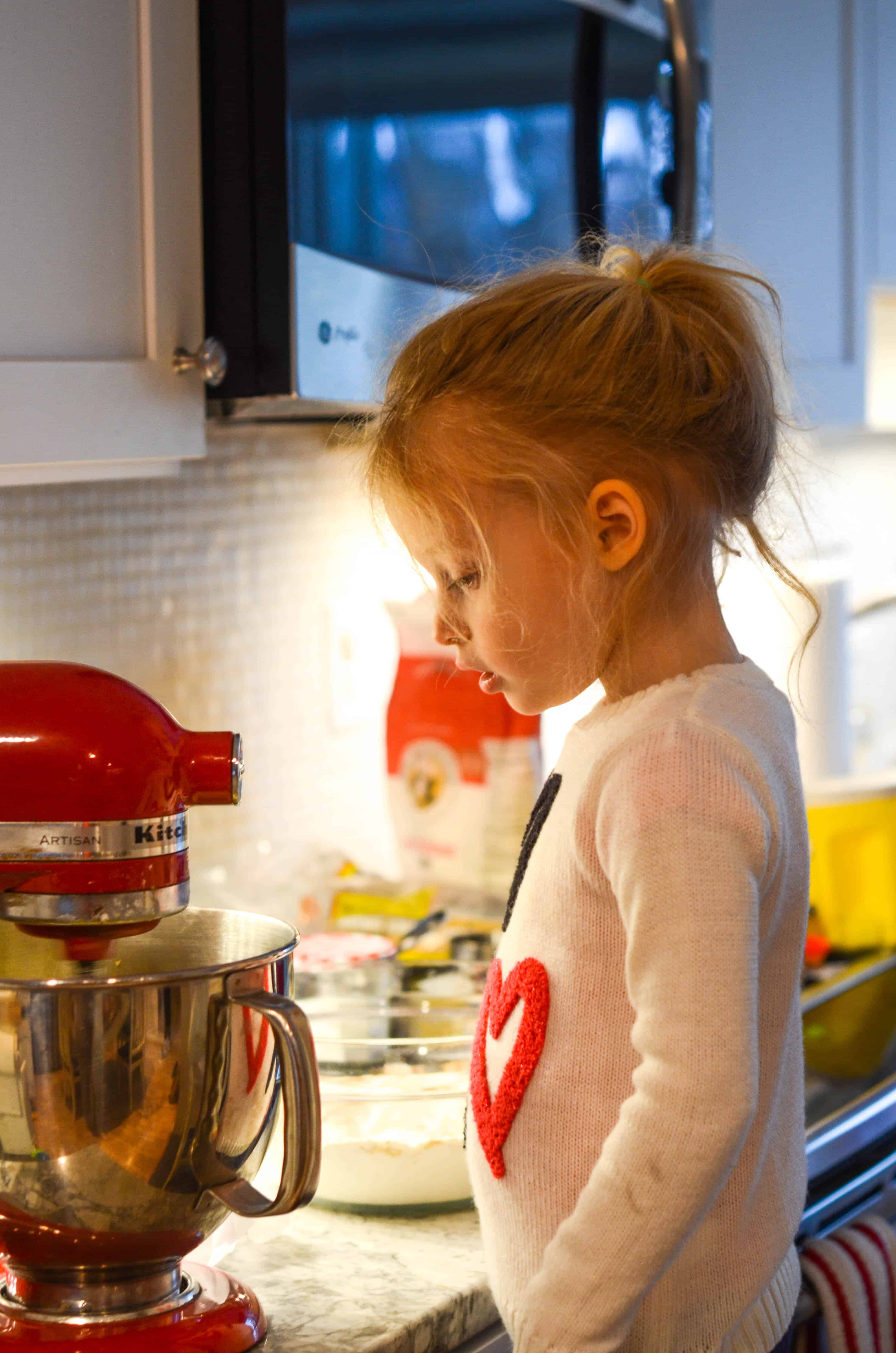 I made two doughs: sugar and gingerbread to make different Santas. This recipe below only includes the sugar cookie dough I make year round. The gingerbread dough I always use is absolutely delicious and uses orange zest -- and it comes straight from Gimme Some Oven. Check it out if you want to make gingerbread dough, too.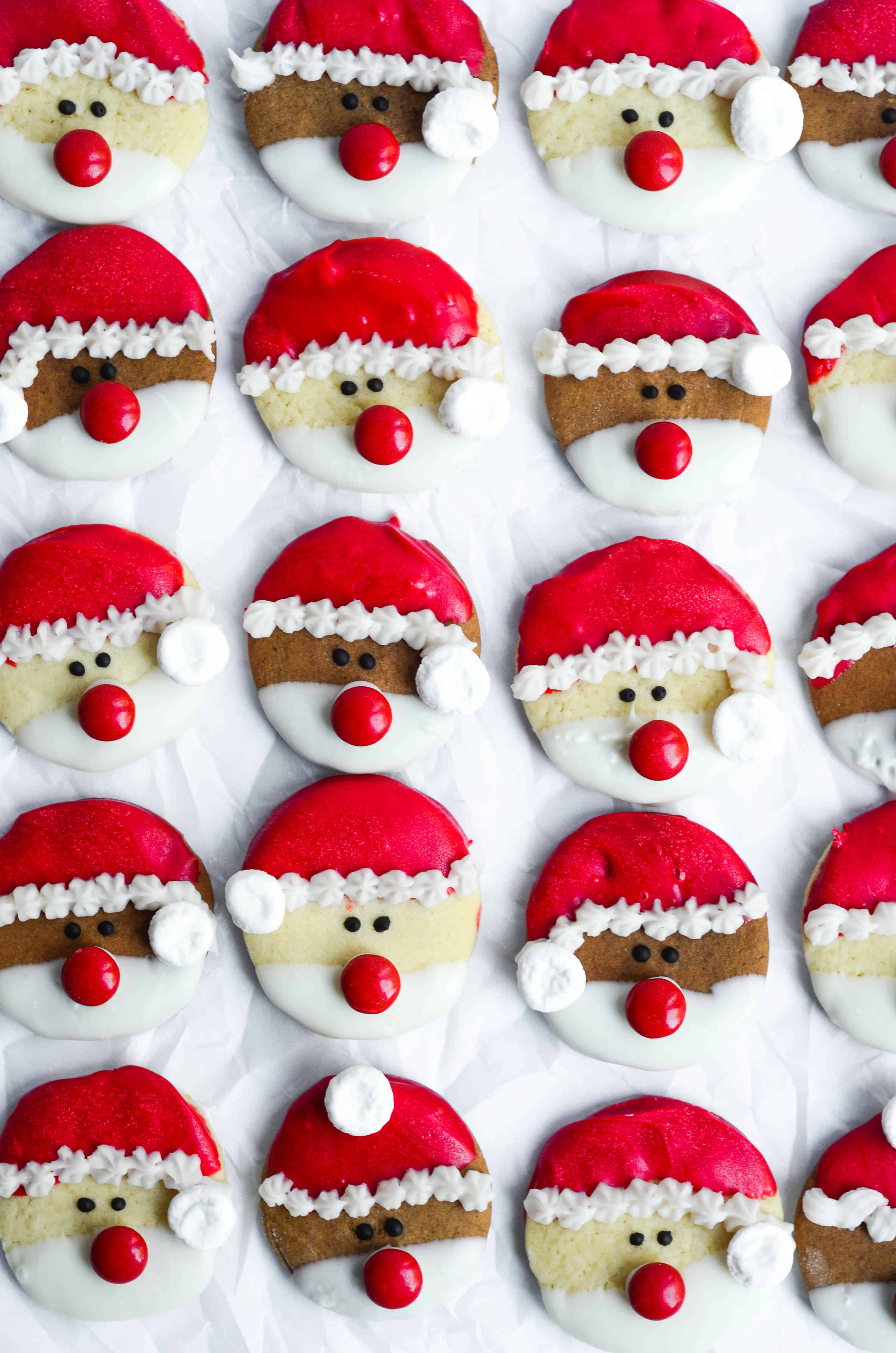 The best sugar cookie dough out there
This is my favorite sugar cookie dough because it rolls our really, really well and doesn't spread when you bake them, which is essential for cut-out sugar cookies.
Just make sure to chill the sugar cookie dough in the refrigerator for about 2 hours before rolling the dough out and cutting. When it's time to roll out the dough, I cut the cookies using a 2" biscuit cutter. You could, of course, use a small cup lid if you don't have a round cookie cutter.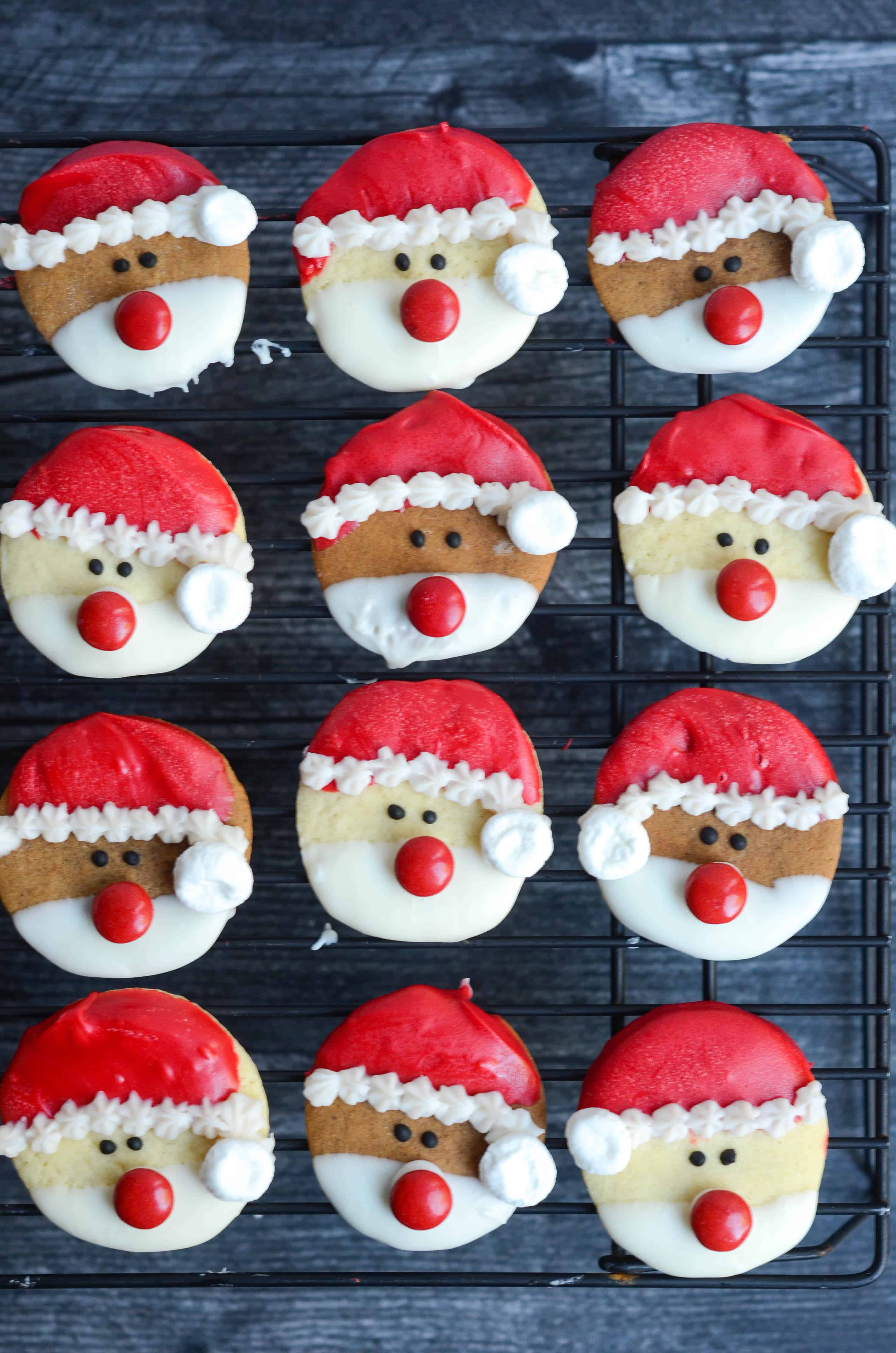 Don't have the time to make homemade sugar cookie dough? Don't panic!
Buy store-bought sugar cookie and/or gingerbread cookie dough. Let's make this holiday season as less stressful as possible, and if that means buying store bought cookie dough, do it! The Pillsbury sugar cookie dough that comes in the tube would work great and saves you some time.
How to decorate your Santa sugar cookies
First, you'll need to gather the following things:
your round, baked sugar cookies
red candy melts
white chocolate melting wafers
mini marshmallows
white decorating icing
black tube of cookie icing
red M&Ms or red hots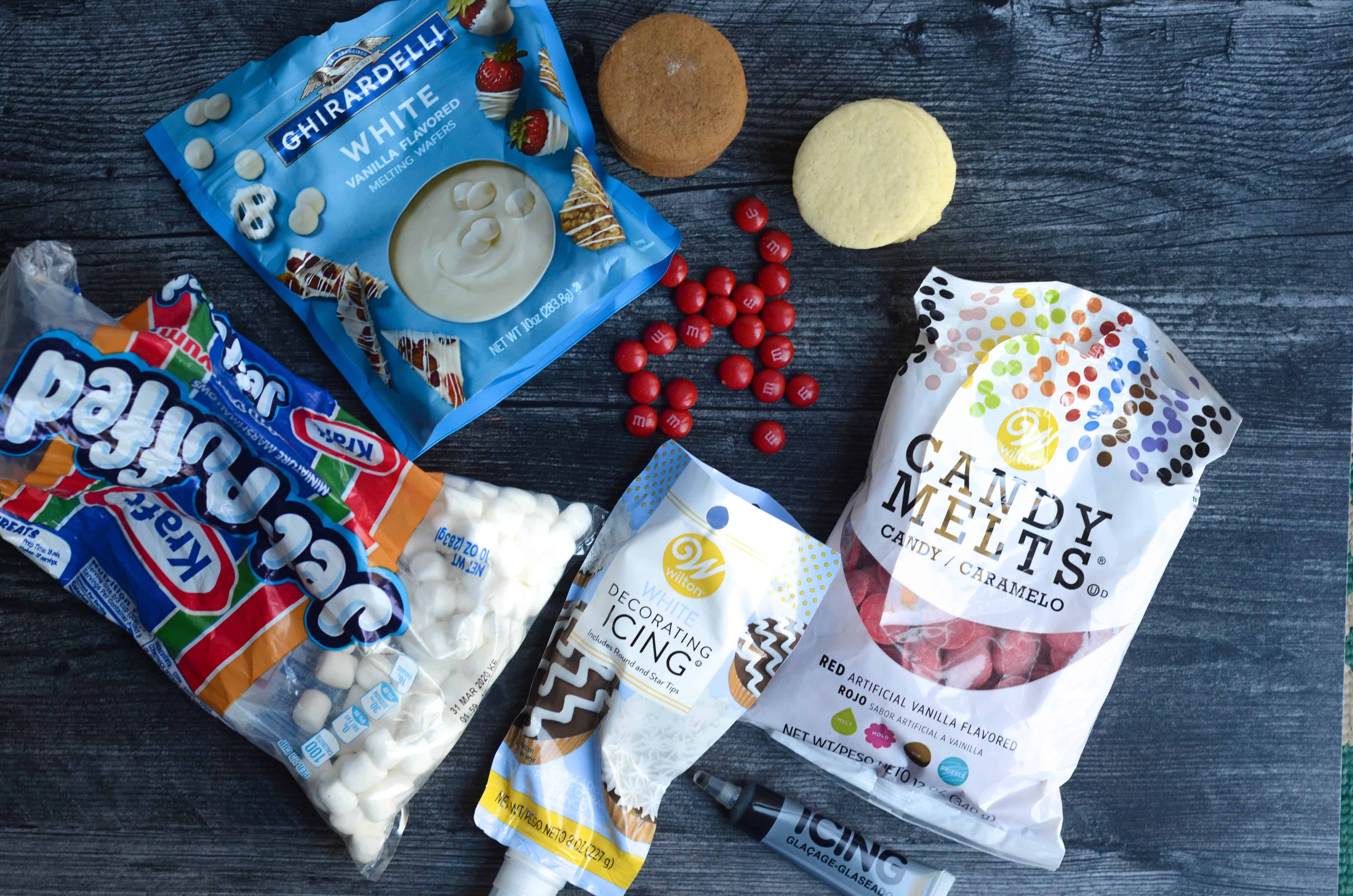 Here's what you do:
First, melt your red candy melts and white chocolate wafers in the microwave in 30 second increments until just melted. Only do about ½-1 cup at a time because the candy and chocolate will cool quickly. You can always melt more in the microwave as you need it.
Swipe each side of the cookie into the red candy melt and the other side in the white chocolate. Notice I said swipe because there's no need to dip the cookie so both sides are coated. Save the chocolate and melted candy and just swipe the front of the cookie in the chocolate or red candy. Let cool on a cooling rack.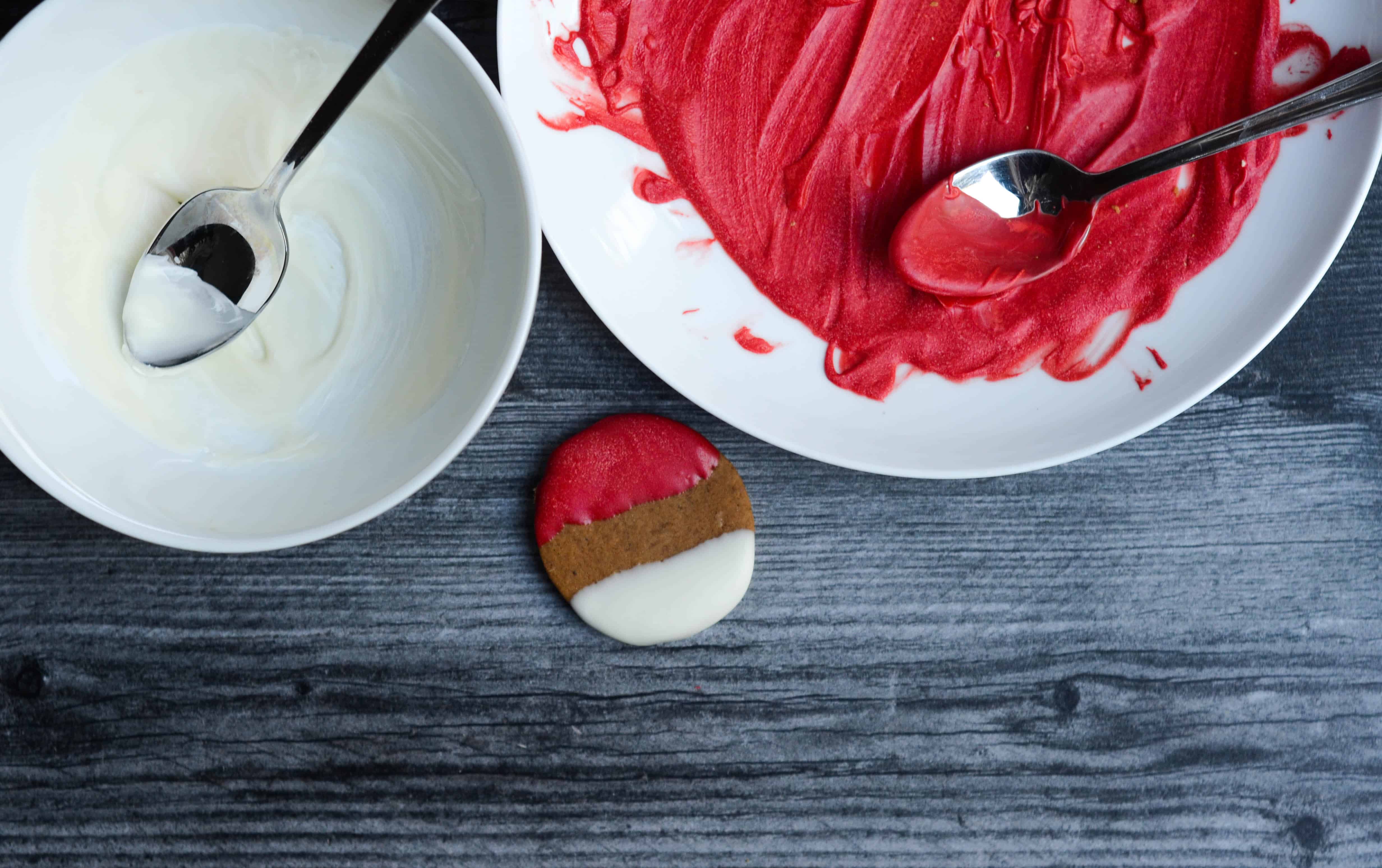 Next, pipe some icing around the bottom rim of the red candy to make Santa's hat. I like this Wilton decorating icing because it already comes ready to go with a star tip. You could easily make your own icing though.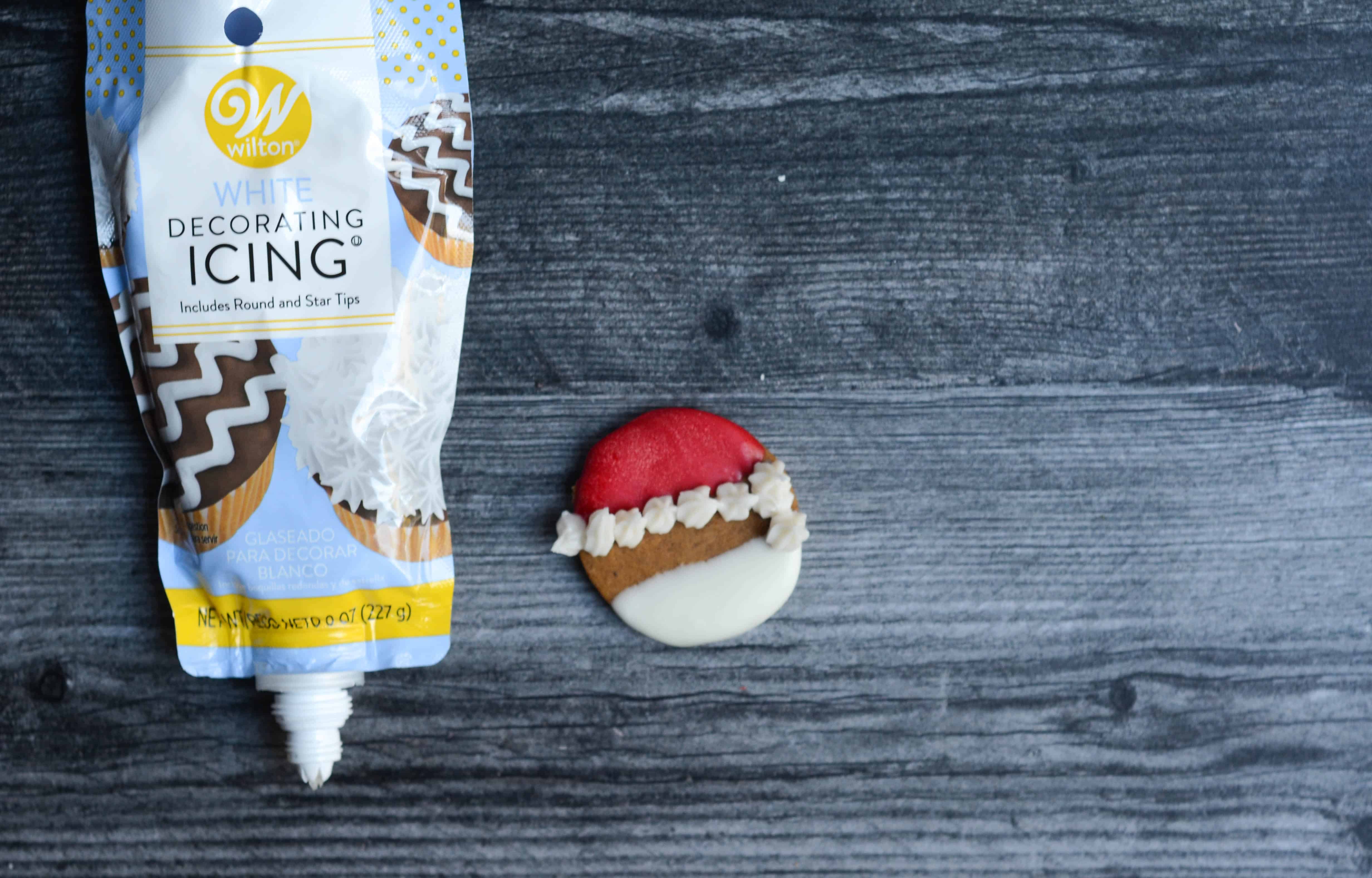 On the last blob of star icing, add a smooshed mini marshmallow for Santa's poof on his hat. Then make the eyes with the black icing.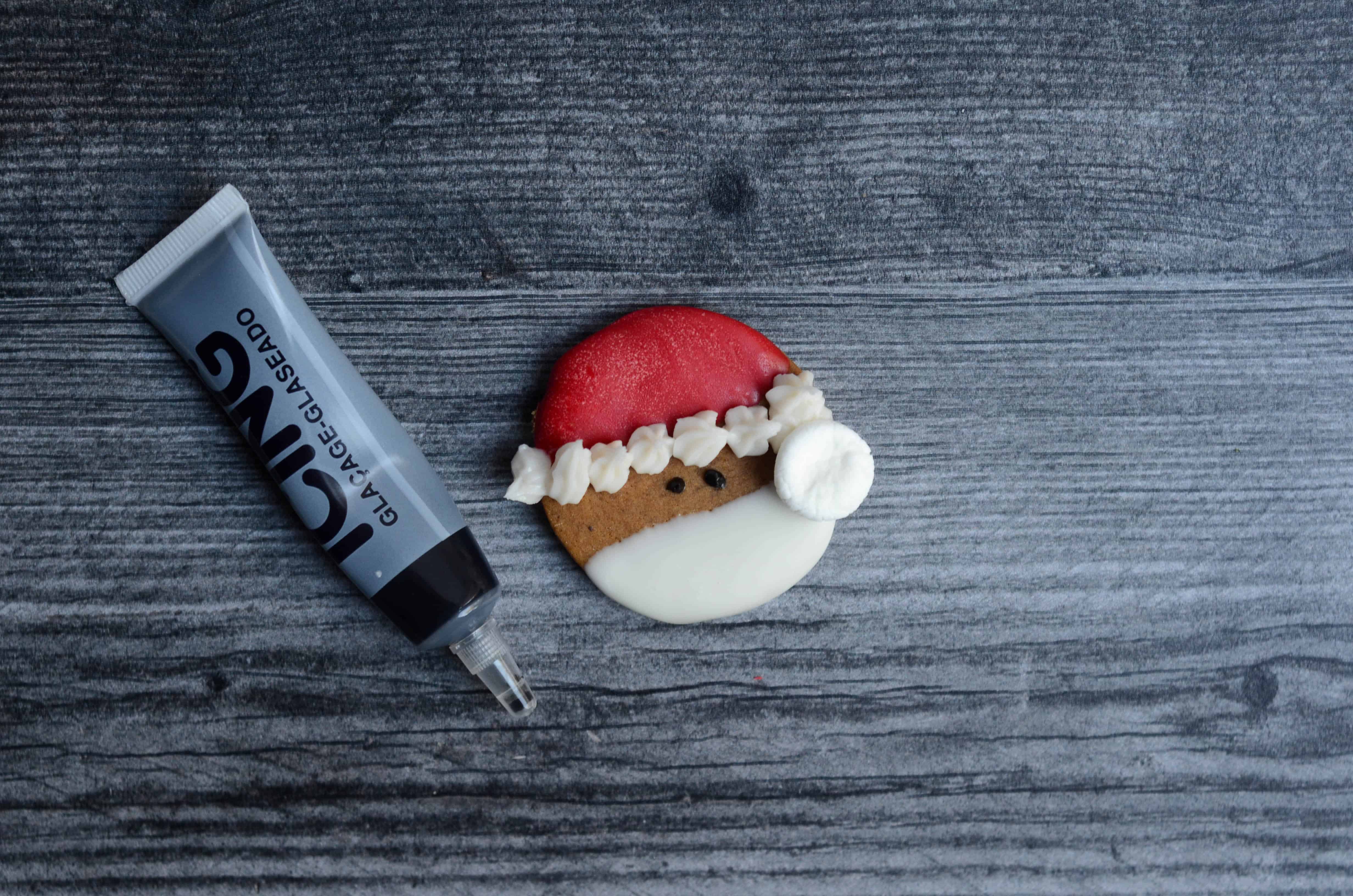 Finally, add a little dollop of icing on the back of the M&M (I always add it to the side with the "M" on it so it doesn't stand out on the cookie) and stick on Santa's beard.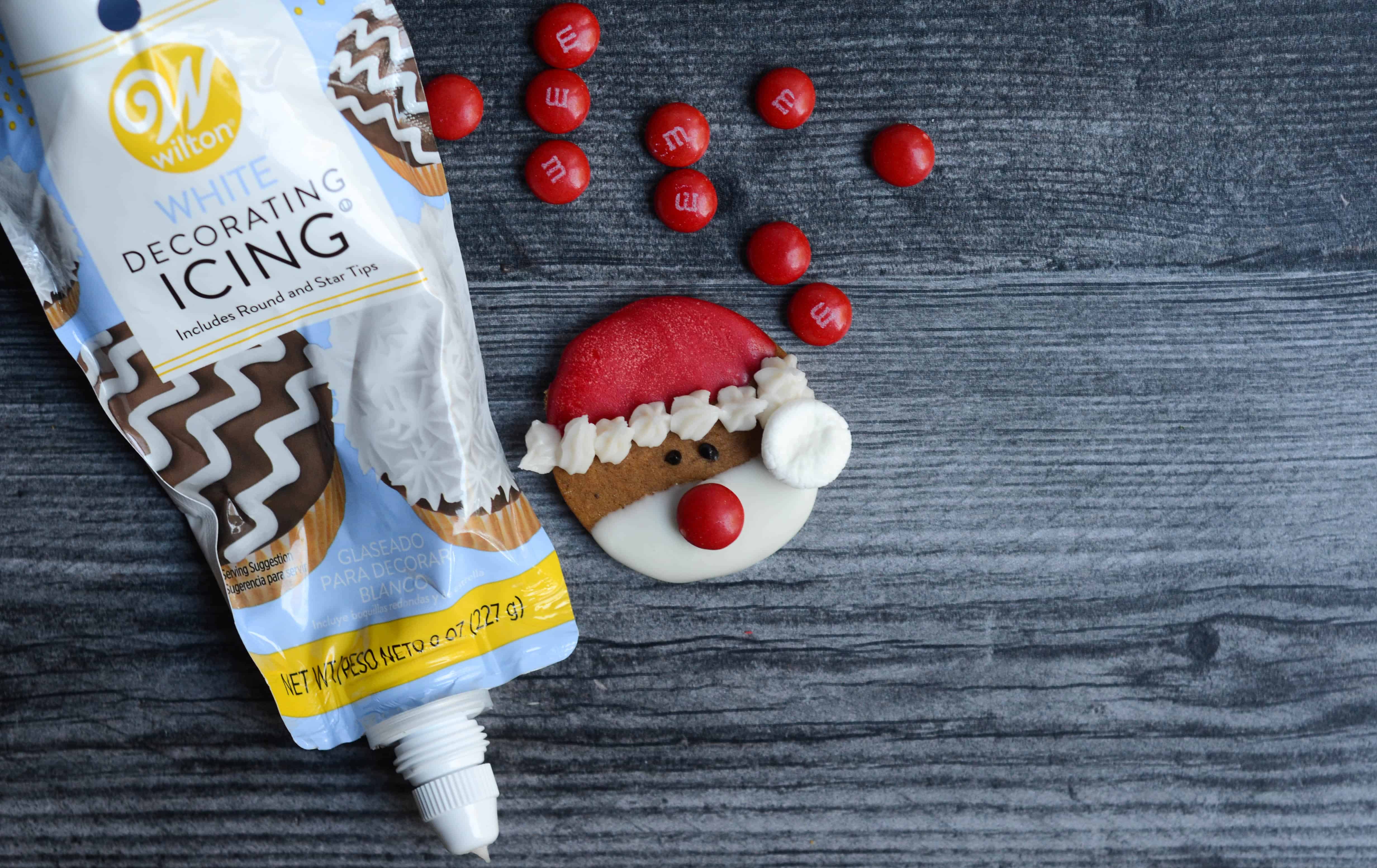 So easy and so incredibly cute for Christmas!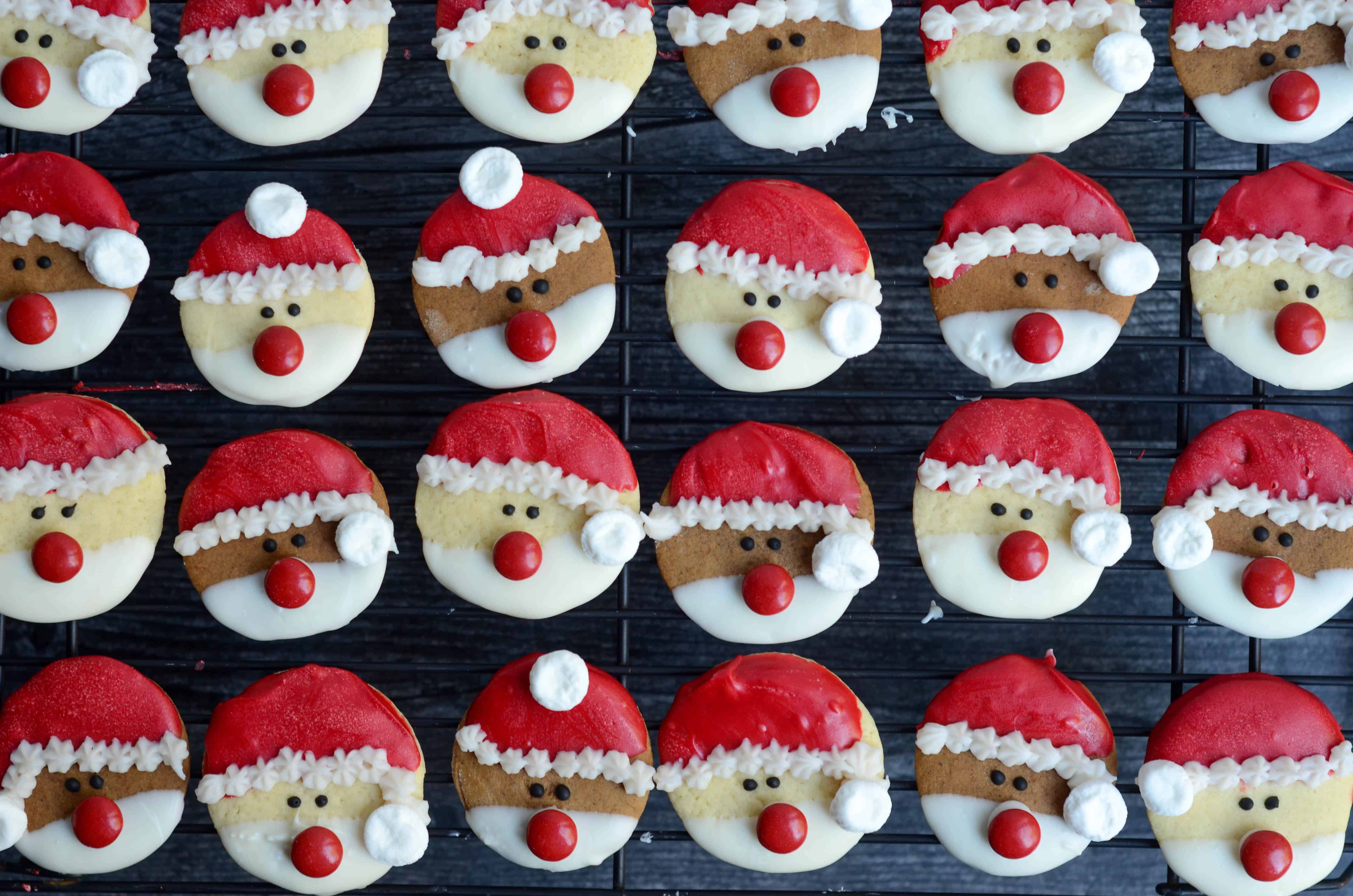 Need some more cookie inspiration? Try these!
xox
Kathryn
As always, if you make anything from the blog, be sure to let me know! I love hearing from you in the comments on this post below or find Worn Slap Out on Facebook, Instagram, or Pinterest!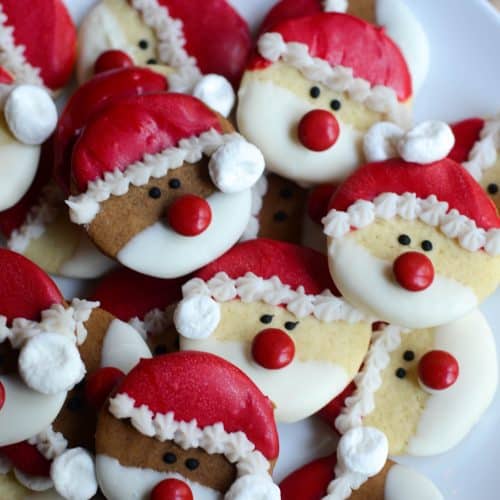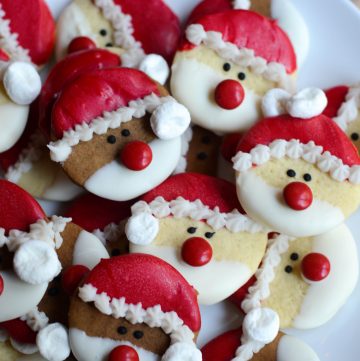 Santa Sugar Cookies
These Santa sugar cookies are so incredibly adorable and easy to make thanks to some short cuts. Santa also told me he'd be into these under the tree, too. Just sayin'...
Print
Pin
Rate
Ingredients
For the sugar cookies:
1

cup

butter

softened

1

cup

sugar

2

eggs

½

teaspoon vanilla extract

½

teaspoon almond extract

3 ¼

cups all purpose flour

½

teaspoon baking soda

½

teaspoon baking powder

½

teaspoon salt
For decorating:
1

packaged

red candy melts

1

tube

white decorating frosting

48

red M&ms or red hots

1

package

white chocolate melting wafers

1

tube

black cookie frosting

48

mini marshmallows
Instructions
For the cookies:
In a large bowl, combine butter with sugar, eggs, vanilla and almond extracts; beat using an electric mixer on high speed until light and fluffy.

In a separate bowl, combine the flour with baking powder, baking soda and salt; add dry ingredients to butter mixture while mixer is on low. Mix until just combined. Form two rectangles with the dough, wrap in plastic wrap, and let chill for about at least 2 hours.

Preheat oven to 400″ Fahrenheit. Line your cookie sheets with parchment paper (parchment paper truly works best with these cookies…don't skimp on this step)

On a very lightly floured surface, roll out the dough until you have a sheet of dough that's about ¼-inch thick with your rolling pin. Cut dough into 2" circles, and place on baking sheet.

Bake for 5-6 minutes or until barely golden brown. Let sit for about 5 minutes until they are slightly cooled, then transfer to a wire wrack to cool completely. Make sure they're cooled 100% before icing (about 45 minutes to an hour…they cool pretty quickly).
To decorate:
Melt the white chocolate wafers in a small bowl or plate in 30 second increments until just melted. Melt the red candy wafers in a separate bowl or plate for 45 seconds at 50% power until completely melted. Dip one side of the cookie in the white chocolate and the other side of the cookie in the melted red candy.

Use white frosting to pipe the rim of Santa's hat. On the last icing dot, smoosh a mini marshmallow for the poof of Santa's hat. Add eyes using the black cookie icing. With a little bit of icing on the "M" side of a red M&M, add Santa's mouth on the beard.

Let cookies cool on a rack for about 10 minutes before eating.