These Bourbon Ginger Molasses Cookies are soft and chewy with a hint of bourbon to bring the traditional cookie up a notch. Santa NEEDS them. I repeat: Santa NEEDS them.
Christmas is around the corner, and I was in a little bit of a panic thinking I haven't done this and haven't done that, but then I remember we're back in pandemic hell and gave myself a little grace. I think I'm more shocked that 2021 is ending than Christmas is here because the year didn't seem to ever exist in the first place. My memories are early in the pandemic and then somewhere in the middle of 2020 I blacked out until now.
It's also the first year I'm not in a school since I was four years old basically. There's no random junk food dropped off in my office for vultures like me to descend upon. There used to be an untold number of cookies dropped off by parents on a normal year. I have a discerning eye for cookies though. I won't indulge in junk cookies. I'll eye them up, look for the ones that look extra special, and then descend upon my prey. That helps me from reaching Santa-level weight during these hard times.
These Bourbon Ginger Molasses Cookies are the kind of cookie YOU WILL DESCEND UPON. That's my promise to you. They are your traditional soft and chewy molasses cookie with a TON of ginger (over a tablespoon!) but with a hint of bourbon to give it that je ne sais quoi. Soft and chewy molasses cookie with bourbon? Rolled in granulated sugar? And makes enough cookies to make it worth your while?
To me, you are perfect (I hope my husband is reading this because he promised to watch Love Actually with me, and I know he thinks I'll forget).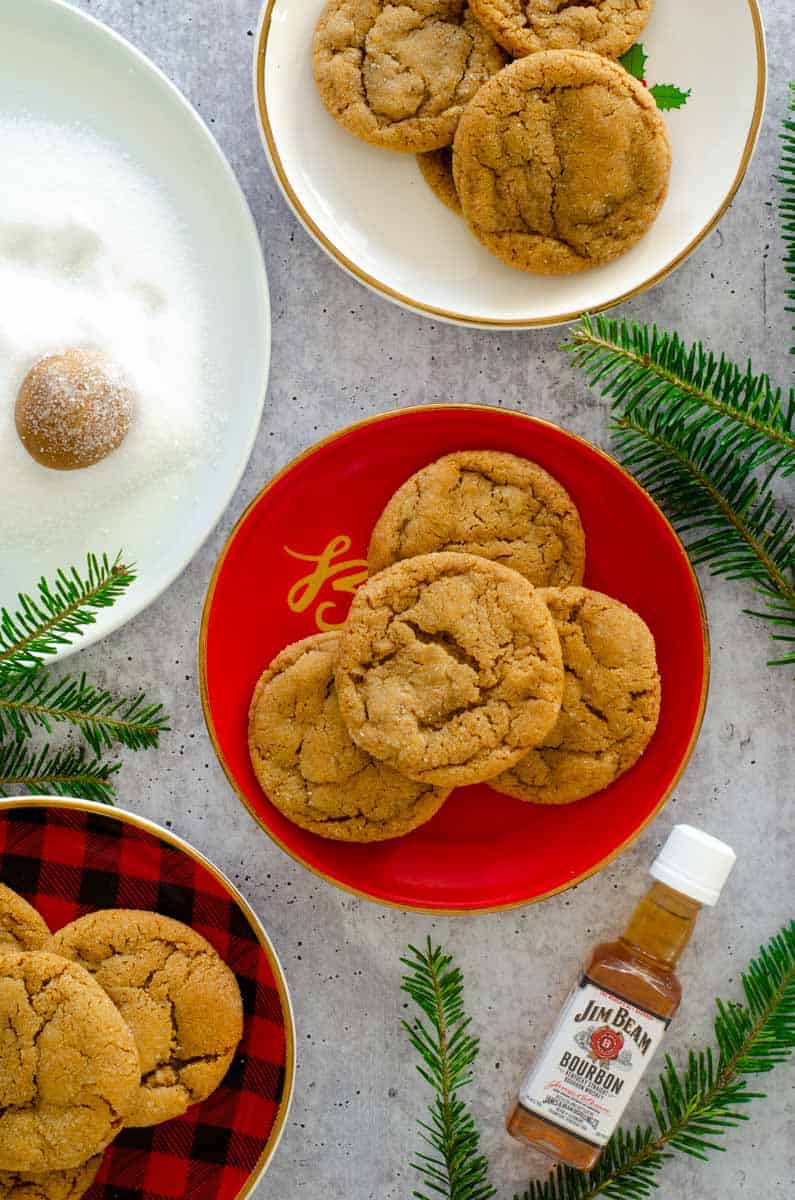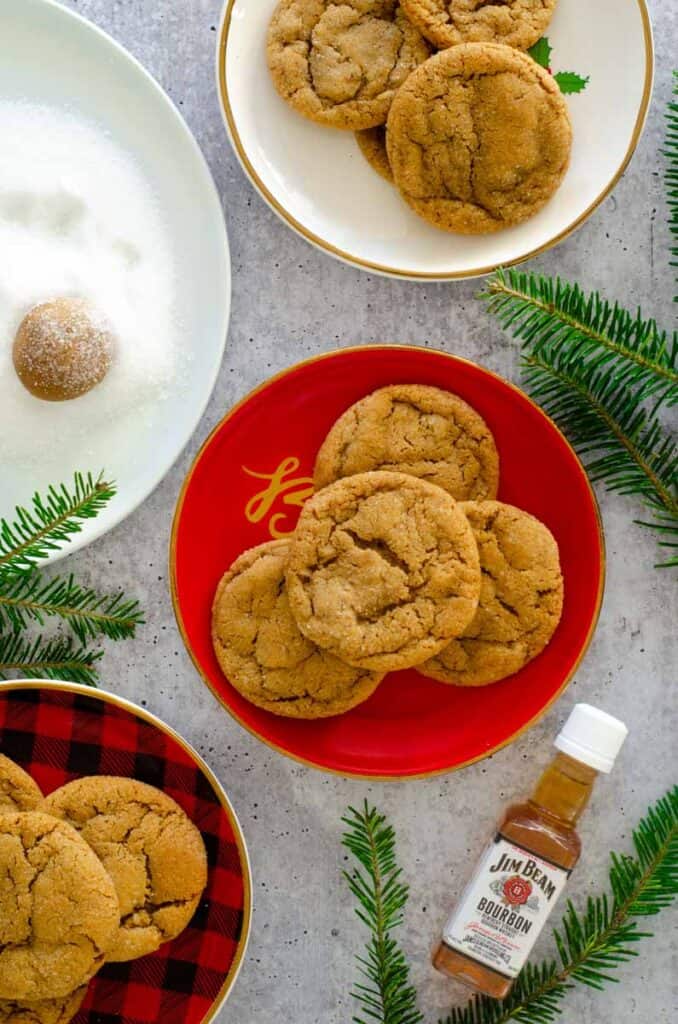 I'm a Bourbon Girl...Even In My Cookies
It's no secret I like a little bourbon -- even in my desserts (have you tried a little in your pumpkin pie?!). These already-delicious ginger molasses cookies are just taken up a notch with the addition of a few tablespoons of the good stuff. The longer the dough chills, the better. Trust me. The bourbon flavor becomes more prominent as you lengthen the chill time (and more on that below).
You can use any bourbon. I used whatever we had on hand, which was good ole Jim Beam. Don't run out and get you a bottle of $100 bourbon here. Use your resources. And remember: one tablespoon for you, one tablespoon for the cookies...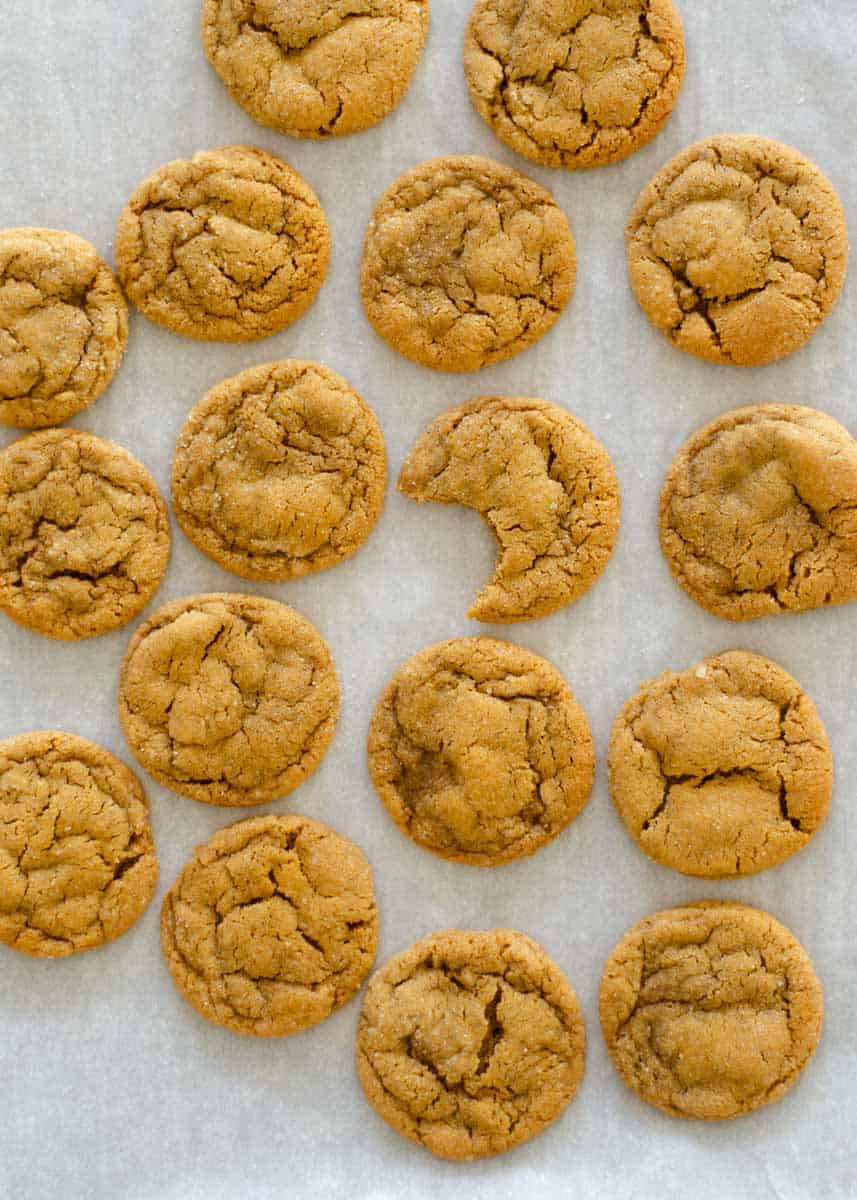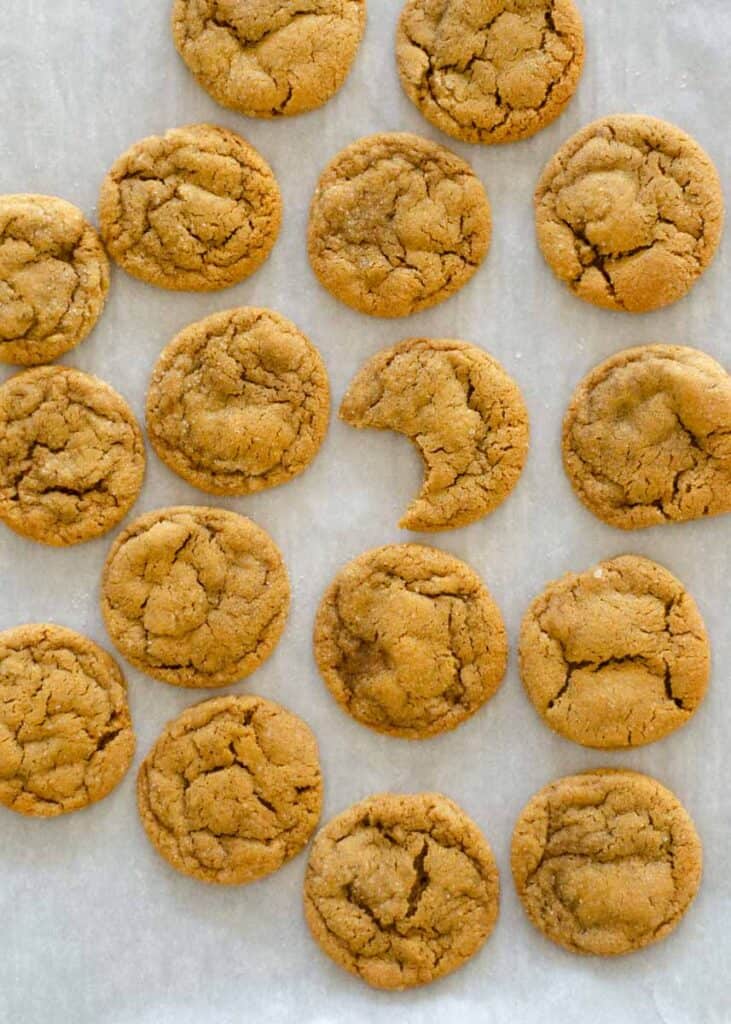 Ingredients You'll Need for Bourbon Ginger Molasses Cookies
Don't be scared of the ingredients list. Half of the ingredients list are spices, and I would venture to guess you have most of these ingredients right now. You'll need:
all-purpose flour
baking soda
ground ginger
ground cinnamon
ground cloves
ground allspice
salt
lots of unsalted butter - 3 sticks to be exact
light brown sugar
vanilla extract
orange zest
eggs 
molasses but NOT blackstrap kind (see note below)
bourbon 
granulated sugar 
Tips of the Trade
Here are some tips of the trade before you bake the Bourbon Ginger Molasses Cookies:
Let the dough chill in the refrigerator for as long as possible. You definitely don't want to bake with less than 2 hours of chill time (and even more if you live in a hot climate) -- but letting the dough chill for longer is better. The bourbon flavor really takes a more prominent role. 72 hours is recommended but not required around here!
Use plastic wrap to cover the dough, not the bowl. In other words, put the plastic wrap directly on the dough like you would for guacamole. This will keep the dough from drying out since it'll sit in the refrigerator for awhile.
As soon as the cookies come out of the oven, give them a jiggle with a glass. Turn over a glass (or any round object that's slightly larger than the circumference of the cookie like a biscuit cutter) and place the glass over the cookies. Then give it a little jiggle so all the jagged, crooked parts of the cookie become smooth and round. You have to do this as soon as they come out of the oven while the cookies are still hot and moldable.
Get unsulfured molasses NOT blackstrap molasses. Blackstrap molasses is thicker, saltier, and more bitter. It's cannot be substituted for unsulfured molasses in this recipe.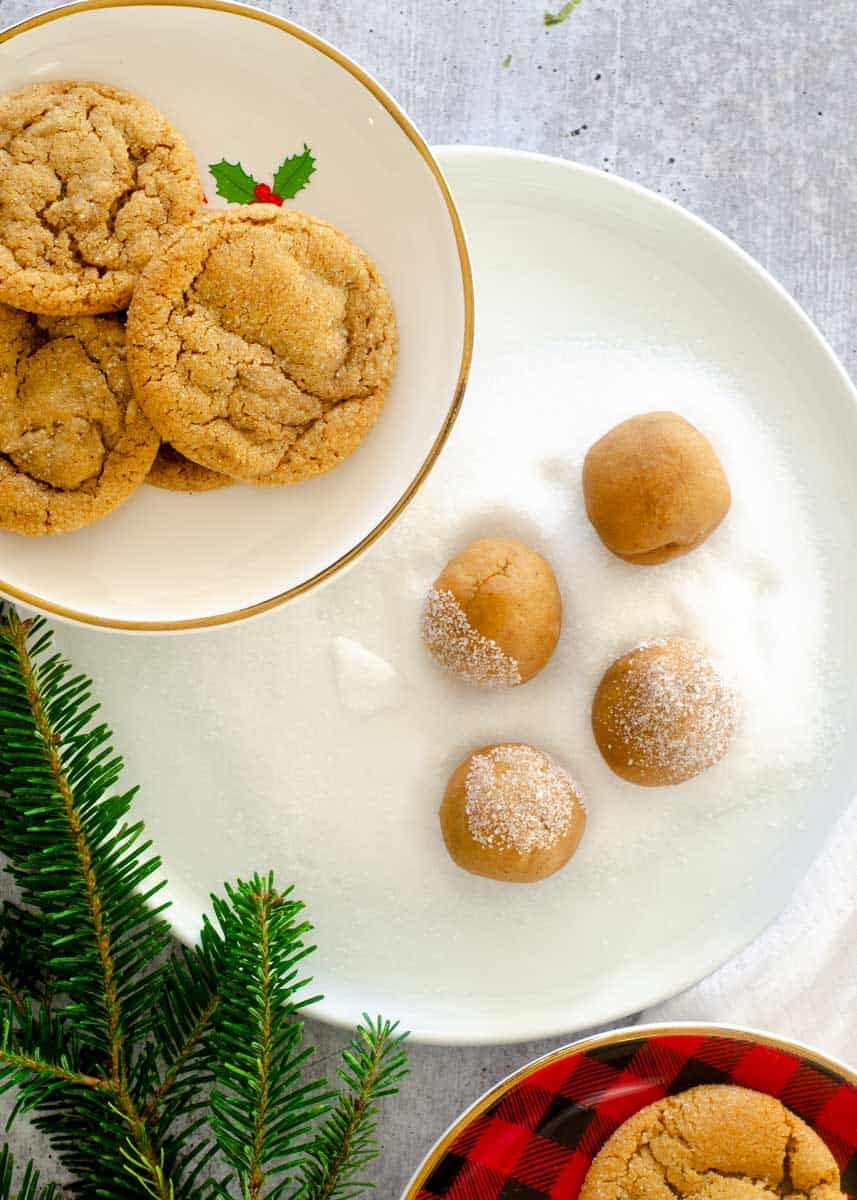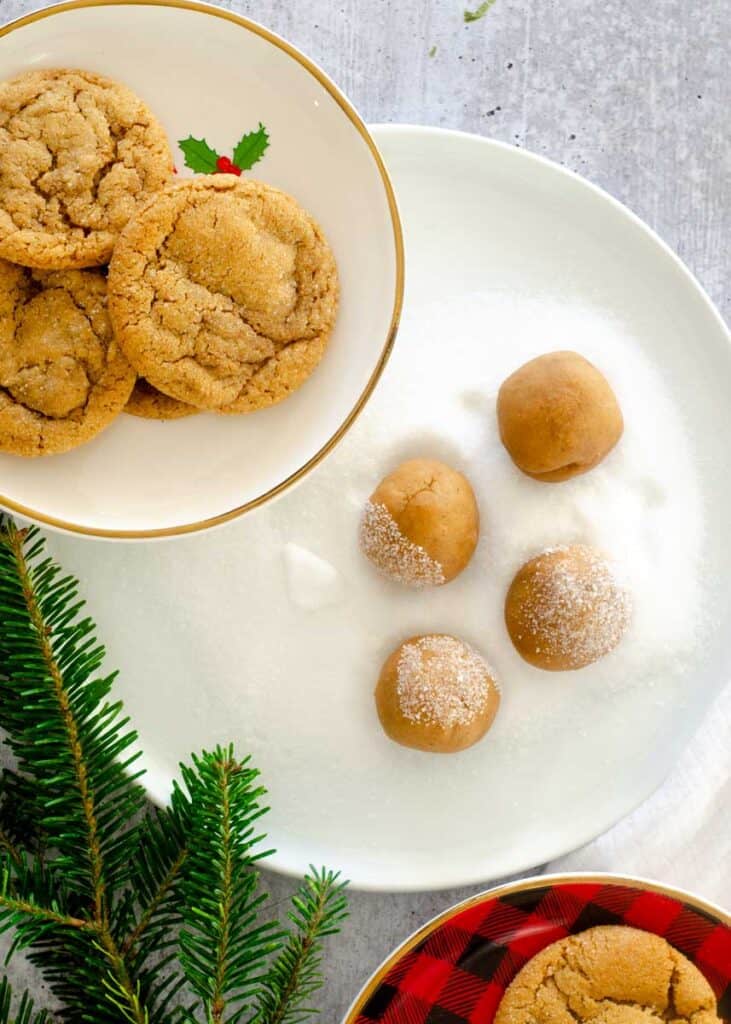 Other Holiday Cookies to Try
Love these and want more? Here are some of my favorite holiday cookies we make every year: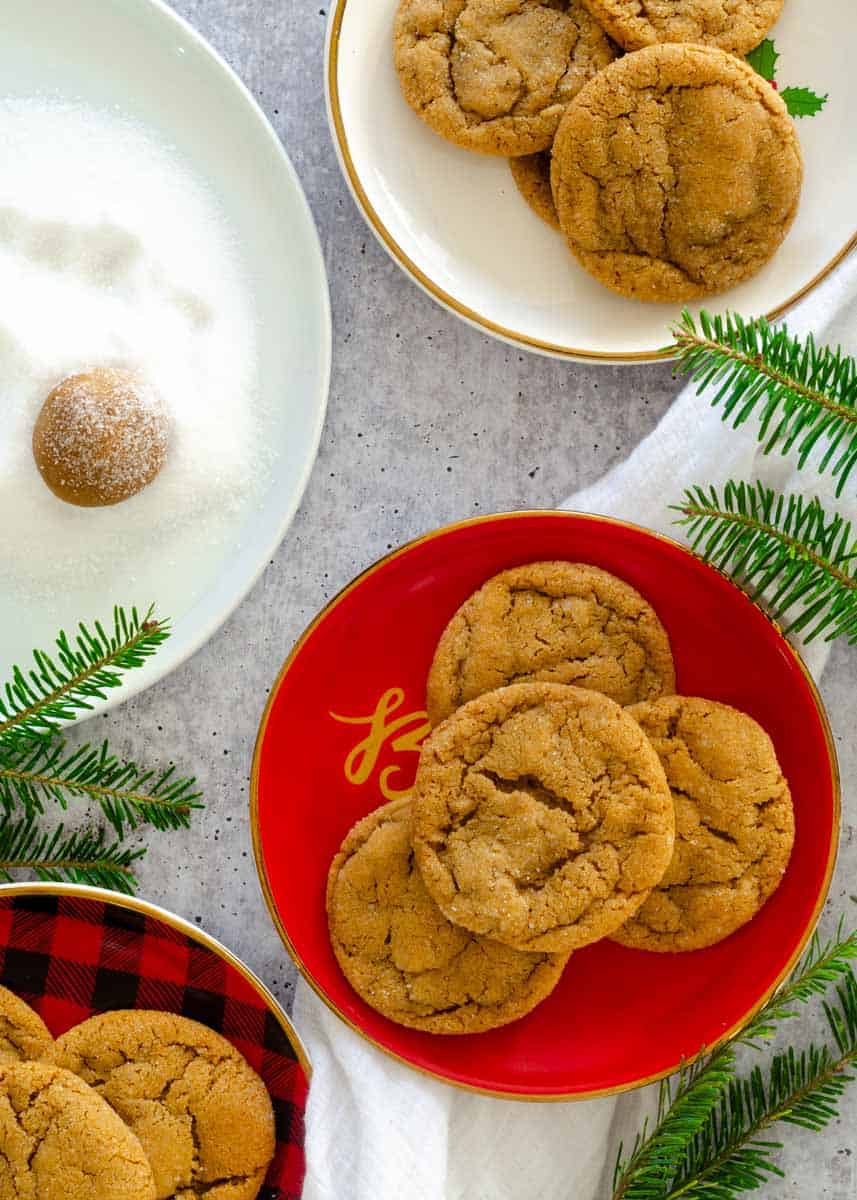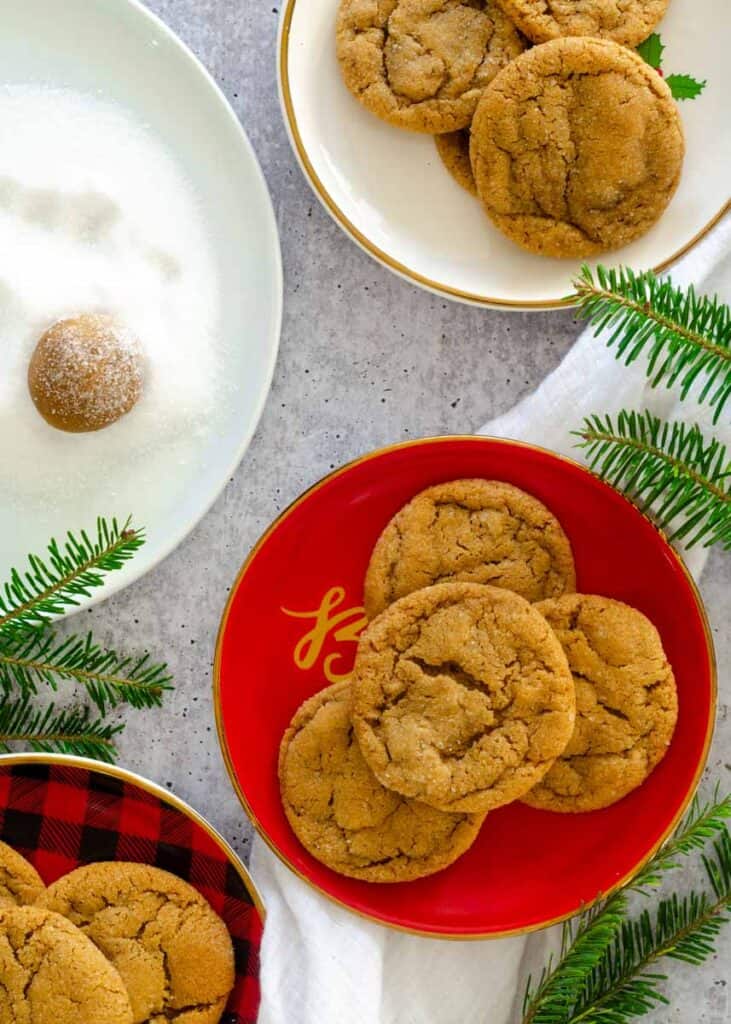 Merry Christmas, y'all!
xox,
kathryn
As always, if you make anything from the blog, be sure to let me know! I love hearing from you in the comments on this post below or find Worn Slap Out on Facebook, Instagram, or Pinterest!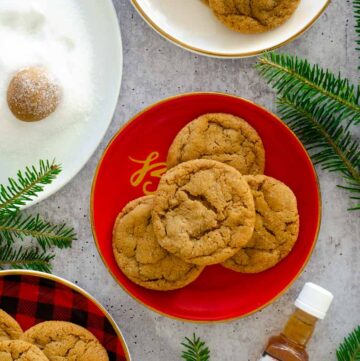 Bourbon Ginger Molasses Cookies
These Bourbon Ginger Molasses Cookies are soft and chewy with a hint of bourbon to bring the traditional cookie up a notch.
Print
Pin
Rate
Ingredients
4 ⅔

cups

all-purpose flour

1

Tablespoon

baking soda

1 ½

Tablespoons

ground ginger

1 ½

teaspoons

ground cinnamon

1

teaspoon

ground cloves

½

teaspoon

ground allspice

½

teaspoon

salt

1 ½

cups

unsalted butter (3 sticks)

at room temperature

2 ¼

cups

light brown sugar

packed

1

teaspoon

vanilla extract

½

teaspoon

fresh orange zest

2

large eggs

at room temperature

½

cup

molasses

NOT blackstrap kind

4

Tablespoons

bourbon

any kind

½

cup

granulated sugar

for rolling
Instructions
In a medium bowl, whisk flour, baking soda, ground ginger, cinnamon, cloves, allspice, and salt. Set aside.

In the bowl of a stand mixer fitted with the paddle attachment or using a handheld mixer, beat together the butter and brown sugar on medium-high speed until the mixture is light and fluffy. Add in the vanilla extract and orange zest and beat until combined, scraping the sides of the bowl.

Slowly add in the eggs and beat well with each addition. Add in molasses and bourbon until well combined. Slowly add in dry ingredients and mix until just incorporated. Be careful not to over mix.

Cover the dough with plastic wrap directly onto the dough (like you would with guacamole) and refrigerate for at least 2 hours or up to 3 days. This will keep the dough from drying out.
When it's baking time
Preheat oven to 350˚F. Line baking sheet with parchment paper and set aside.

Create 1" balls of dough using your hands to make the balls as smooth as possible. Roll balls in granulated sugar and place on baking sheet 2" apart.

Bake 8 to 10 minutes or until the cookies have slightly cracked on top. Be careful not to over bake.
Notes
Once cookies can be moved, allow cookies to cool on cooling rack. Eat right away or store in airtight container for 3-4 days or freeze for up to 3 months.