With an appropriate pasta to sauce ratio, this Linguine Bolognese is fast, delicious, and healthy thanks to leveling up a high quality jar of your favorite pasta sauce.
I don't know how long it's been. It feels like ages. We've been on and off sick for the past 6-ish weeks, with every respiratory virus you could imagine (although I really don't want to think about this too long because I know there are others we haven't caught and I'm not going to push my luck here). Fast and easy meals have never been more important. And make it healthy, too, because junk food makes you feel even worse when you're fighting off the yuckies.
This meal is the most basic of basic. Let's jazz up your usual spaghetti sauce with some added veggies to boost the nutrition and the flavor, and let's add a thicker noodle because I prefer a higher noodle to sauce ratio personally. Call it a day. Call it comfort food. Call it Linguine Bolognese.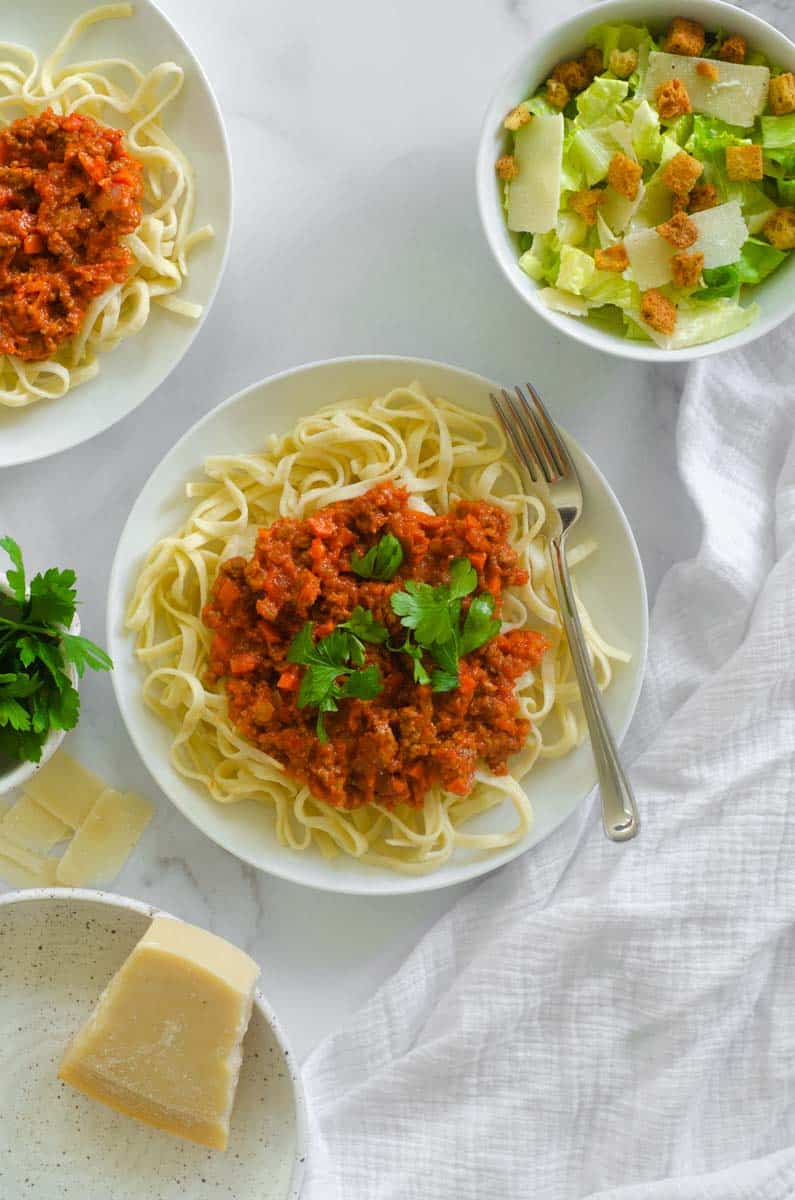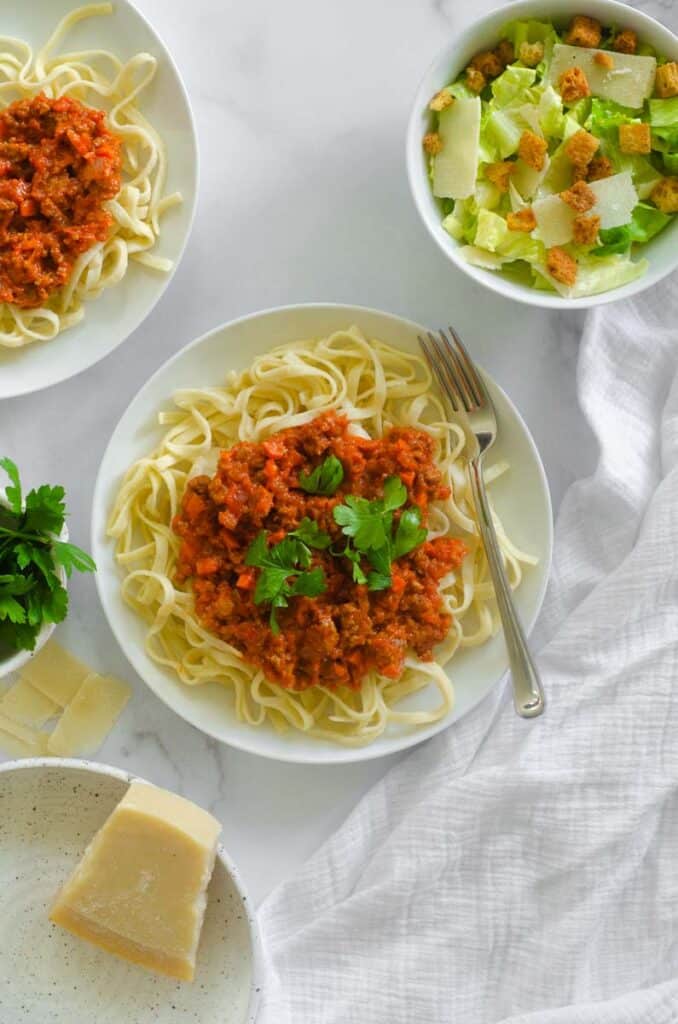 A Non Traditional Bolognese with Linguine
Before I get y'all yelling at me for not making a real Italian bolognese, let me tell you that I agree. This is not a real Italian bolognese. This is an American rift on the bolognese that's easily done by a tired, sick mother. A true bolognese is made with the holy trinity (onions, celery, and carrots), or soffritto. Bolognese is also very thick, using milk or heavy cream in the sauce as it cooks. Real bolognese uses a ton of tomatoes and typically simmers for 3-4 hours. I know there's also some debate about whether garlic is truly a traditional ingredient in bolognese.
This Linguine Bolognese is made with a jar of your favorite spaghetti sauce, jazzing it up with a couple of those ingredients used to make bolognese but something that's manageable for a weeknight. Mine uses onions and celery and simmers for about 20 minutes total. Garlic is always a plus, but I buy the Rao's spaghetti sauce that has garlic in it and skip this step altogether.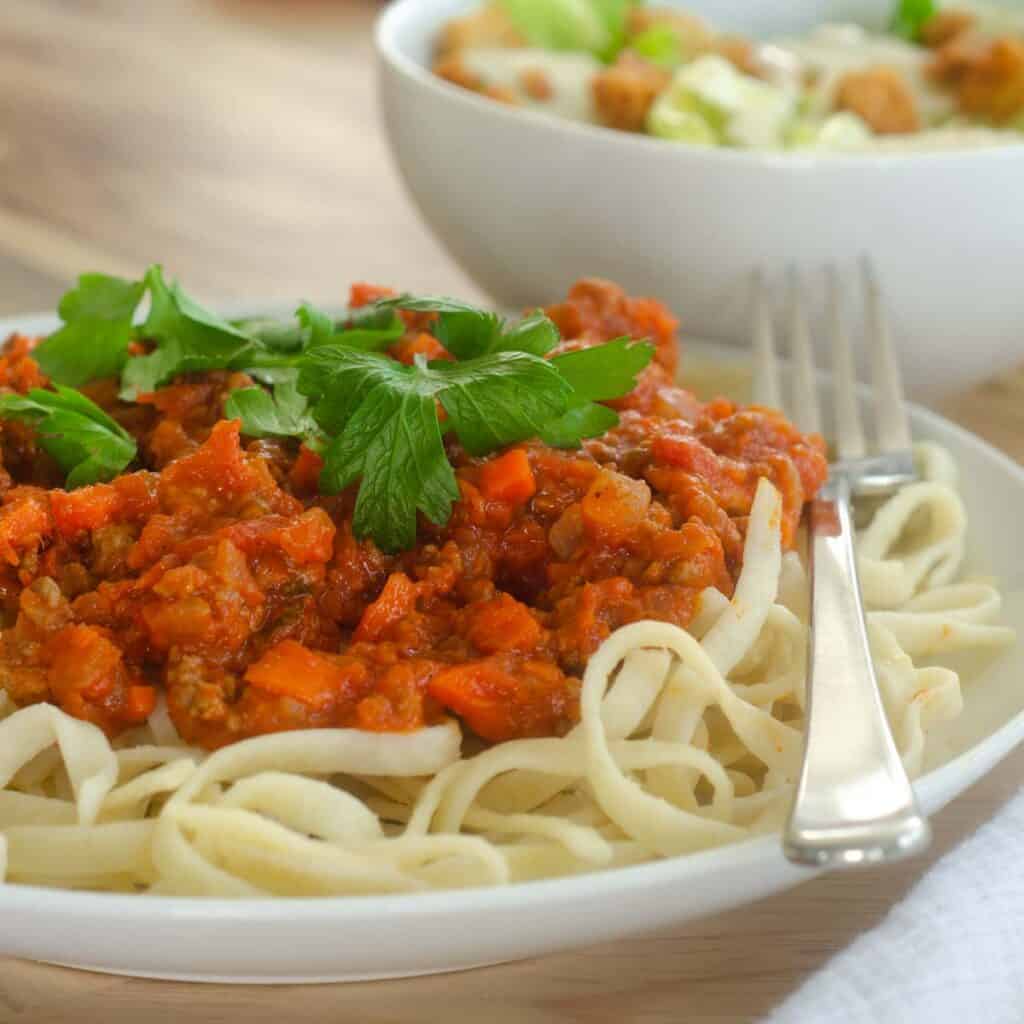 Why I Love Linguine Bolognese
It's so easy. I don't hate on jarred spaghetti sauce, at least not Rao's. It's made with quality ingredients and is a fine substitution when you don't have a few hours to simmer your sauce.
It's healthy. Hellooooo, veggies. You can sneak them in pretty well, so picky eaters may not even recognize what they're eating. This Linguine Bolognese is cousins to my Baked Italian Meatballs with Sneaky Spinach for this very reason.
It's fast. This meal can be made in about 25 minutes from start to finish. Doesn't get much better than (you can't even order a pizza in less than 25 minutes these days)!
It's comfort food. My mom made this growing up, and while she only beefed up the spaghetti sauce by adding onions, it tastes like our Sunday spaghetti dinners. And that tastes like home to me.
6 Ingredients Is All You Need
This bolognese needs just a few kitchen staples to up your linguine game:
olive oil

onion

carrots

l

ean ground beef

spaghetti sauce
linguine
parmesan, basil, parsley, baguette for serving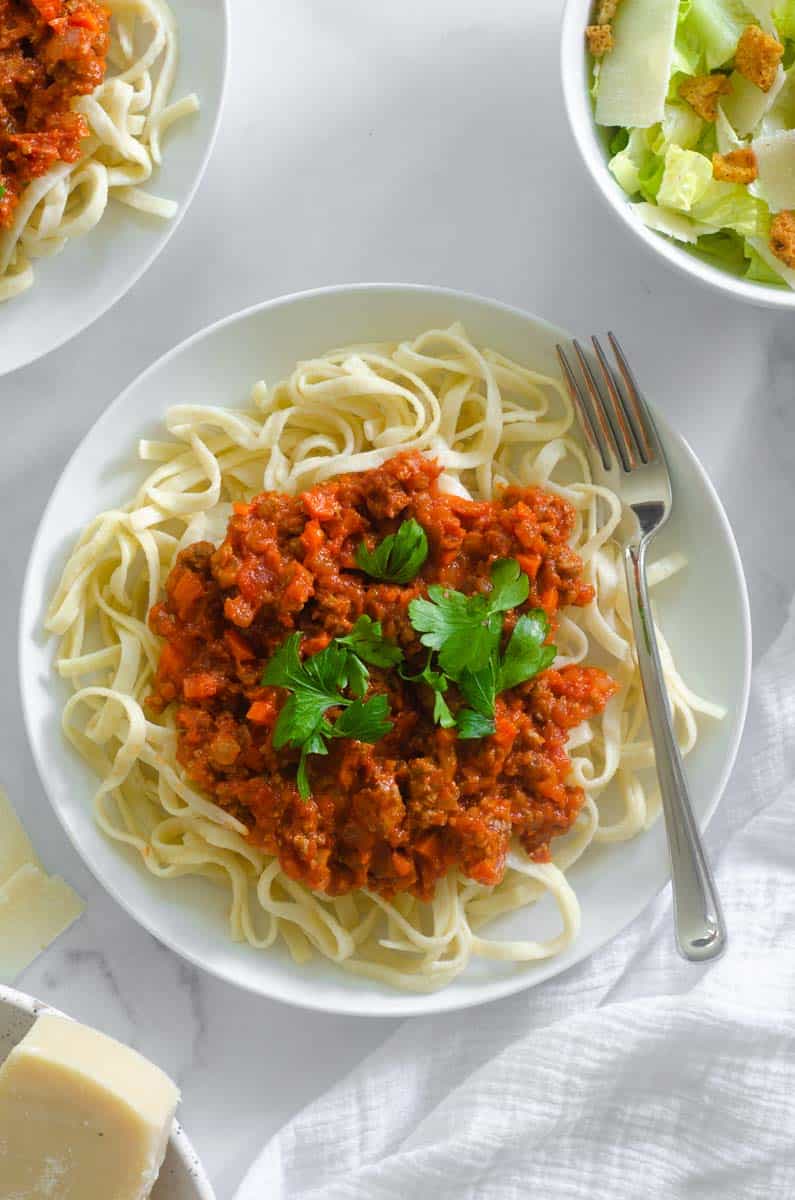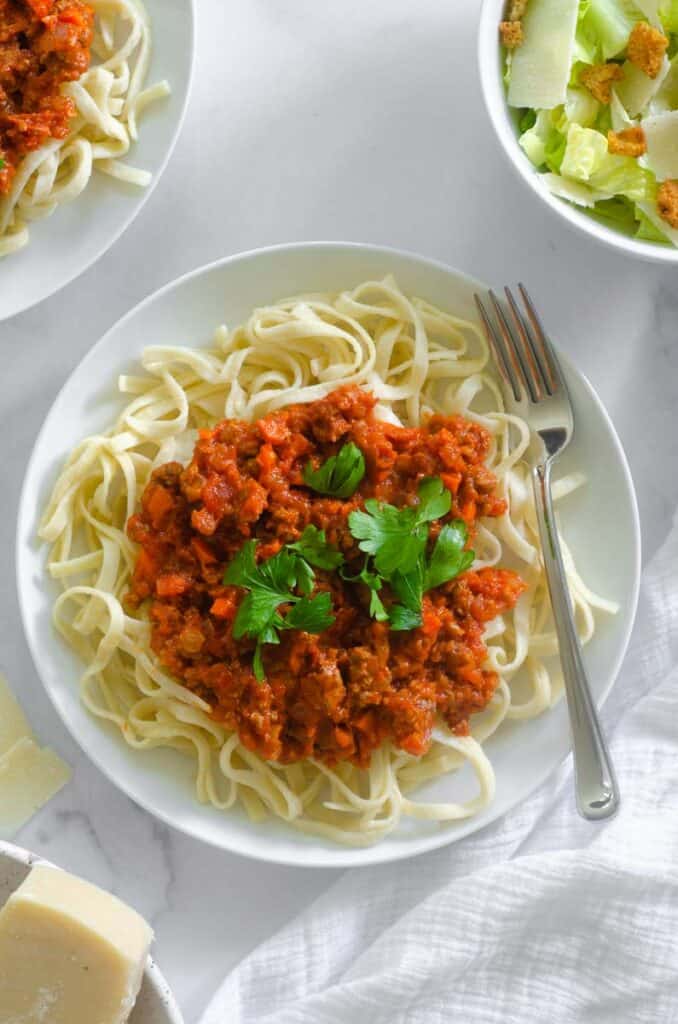 Tips for Cooking Linguine Bolognese
Here are a few tips to cooking the most delicious semi-homemade linguine bolognese:
Cut carrots and onion into small dices. You don't really want your sauce to be chunky. I don't claim this to be a true Italian bolognese by any means, but like a true bolognese, I like my ingredients to all blend together to be the same size.
Save the pasta water!

Do you know how many times I've been meaning to save pasta water only to have it fall down the drain??! Way too many times.

This will help thin out the spaghetti sauce if it's a bit too thick for you're liking. Pasta water has the natural starches from the pasta in it, making it a more flavorful option.
Cook your pasta al dente. Nobody likes overcooked pasta. It gets all slimy and soft. Follow the package directions to get your pasta perfectly al dente.
Get a high-quality jar of spaghetti sauce. I prefer Rao's, which is made with only whole ingredients and is added sugar free. You can get Rao's at nearly every grocery store these days, and while it is a more expensive option compared to others, it's worth every single penny.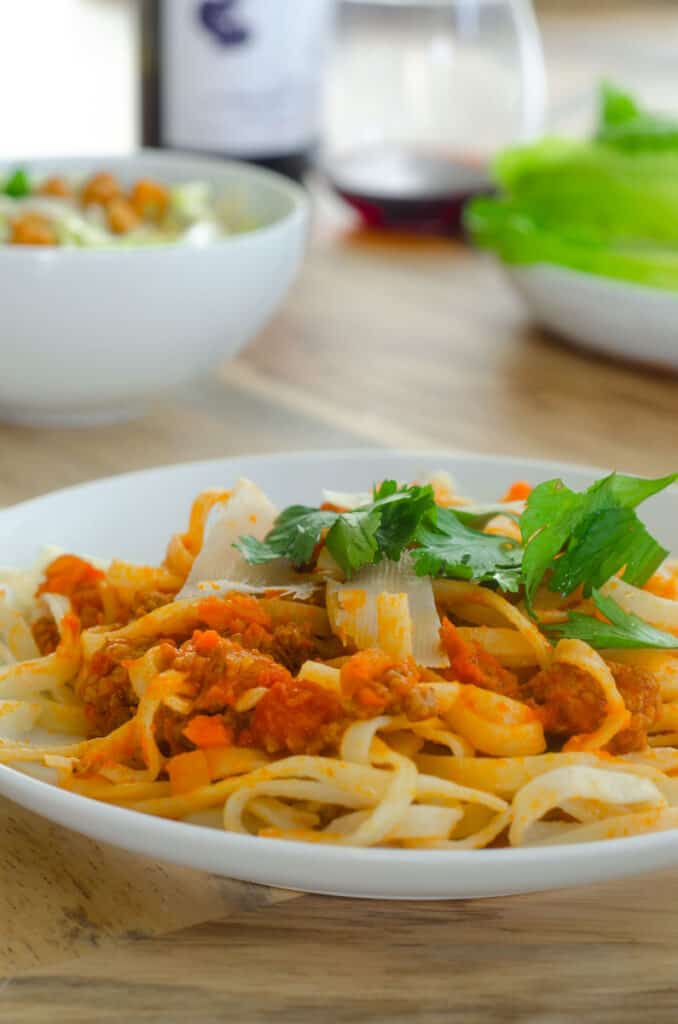 How Much Linguine Per Person?
If you're thinking about making this for a crowd, you want to generally reserve about 3 ounces of dried pasta per person. This equates to about 1 ½ cups of cooked pasta per person. This is a pretty standard amount of pasta for a main course.
Salad & Spaghetti: The Perfect Pairing
Everyone stay healthy out there!
xox,
Kathryn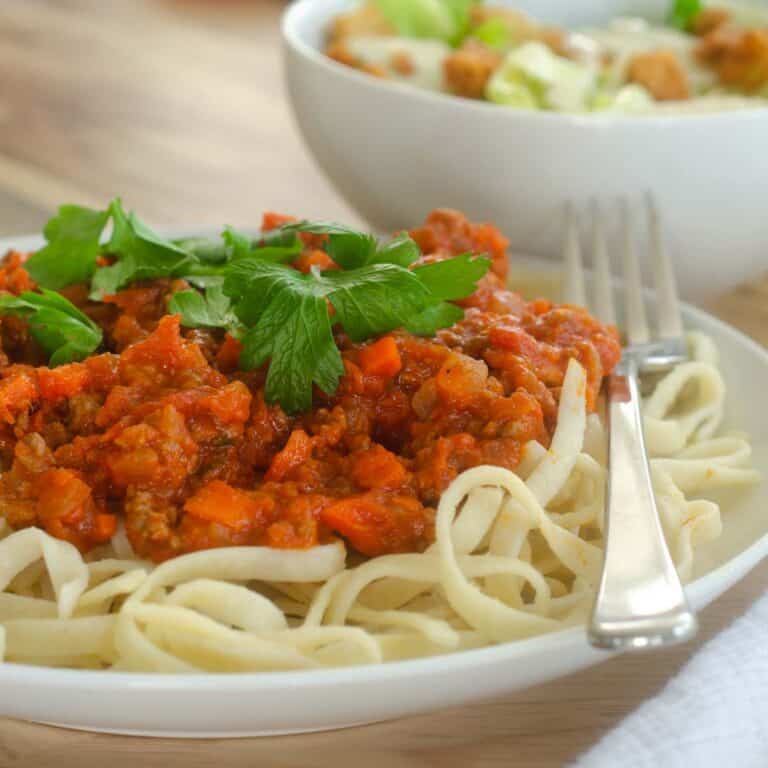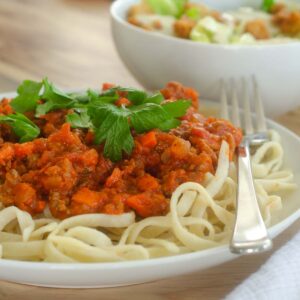 Linguine Bolognese
With an appropriate pasta to sauce ratio, this Linguine Bolognese is fast, delicious, and healthy thanks to leveling up a high quality jar of your favorite pasta sauce.
Print
Pin
Rate
Ingredients
2

tablespoon

olive oil

1

onion, finely chopped

3

large carrots, grated and finely chopped

1

pound

lean ground beef

1

16 oz. jar

favorite spaghetti sauce

1

lb

dried linguine

parmesan, basil, parsley, baguette for serving
Instructions
Heat up olive oil in skillet over medium heat. Add celery and onions. Cook until vegetables are crisp tender.

Add ground beef, breaking ground beef into small pieces. Cook until browned.

Meanwhile, boil water for pasta. Add linguine and cook until al dente. Drain pasta, saving 1 cup of the pasta water.

Add favorite spaghetti sauce to the meat, adding a little bit of pasta water if spaghetti sauce is too thick. Cook until heated through.

Toss sauce with linguine or serve bolognese over linguine. Top with parmesan, parsley, or basil with a crunchy baguette.
Notes
Storing Instructions
This Linguine Bolognese tastes even better the next day. Store in an airtight container in the refrigerator.
Reheating Instructions
Reheat bolognese in the microwave or in a small pot over medium heat until heated through. Eat within 3-4 days. 
Nutrition
Calories:
668
kcal
|
Carbohydrates:
92
g
|
Protein:
40
g
|
Fat:
15
g
|
Saturated Fat:
4
g
|
Polyunsaturated Fat:
2
g
|
Monounsaturated Fat:
8
g
|
Trans Fat:
0.4
g
|
Cholesterol:
70
mg
|
Sodium:
116
mg
|
Potassium:
833
mg
|
Fiber:
5
g
|
Sugar:
6
g
|
Vitamin A:
7645
IU
|
Vitamin C:
5
mg
|
Calcium:
56
mg
|
Iron:
4
mg