Taco night just got an upgrade with all the things you love about tacos inside the deliciousness of a freshly baked sweet potato.
Not to be confused with sweet potato tacos, we Southerners can stuff anything in a sweet potato and be happy. This time, we're making taco night sexy again by adding a freshly baked sweet potato into the picture.
We desperately needed to breathe new life into our taco nights because they were getting a little stale. Instead of the kids thinking I was the most awesome mom in the world for having tacos, it became the dreaded dinner. Apparently I sold taco night way too hard.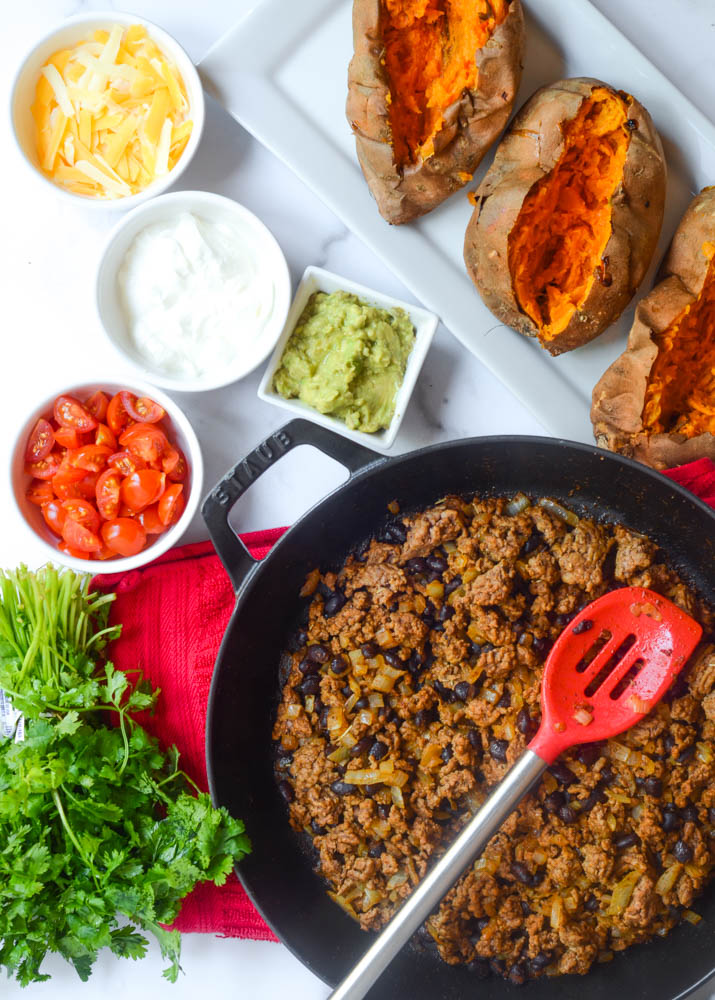 Taco Sweet Potato: A Love Affair
How about instead of a flour or corn tortilla, you stuff your taco ingredients into the warm, fluffy innards of a sweet potato?!
Sweet potatoes have a lot of health benefits ranging from being a great source of fiber to containing a variety of vitamins and minerals your body needs to stay healthy, so it win't all that bad!
And these sweet potato taco boats are cute, right? Kids love to build (read: play) with their food, and this meal gives them some control to build their taco stuffed sweet potatoes however their heart desires.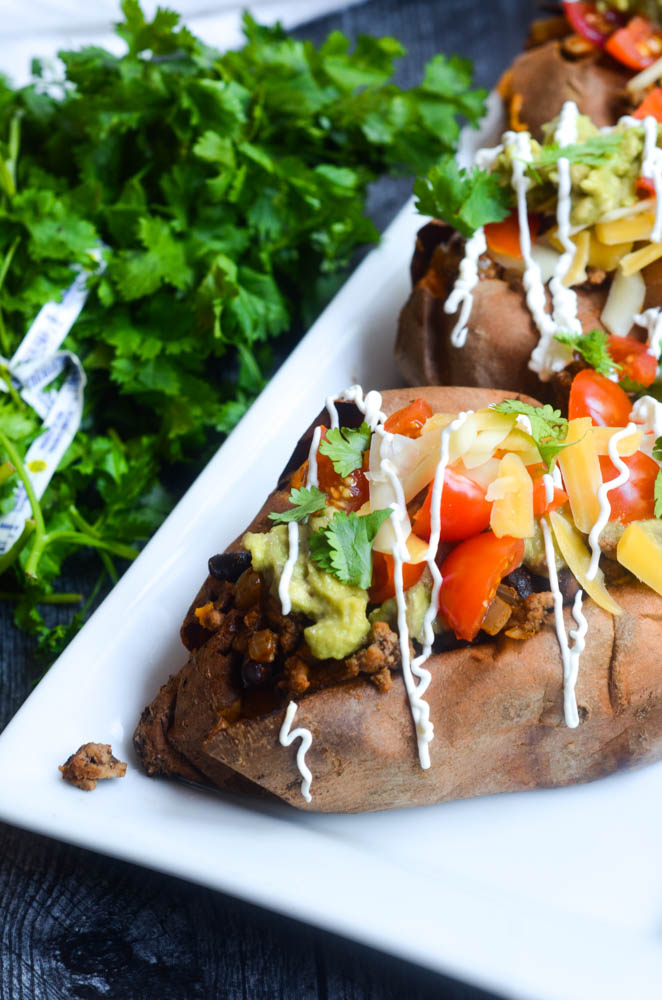 The Stuffing of the Sweet Potato Taco Boats
These taco stuffed sweet potatoes use ground beef, but you can also use ground turkey or ground bison. My husband prefers ground bison because it's a leaner meat and I prefer ground beef. We usually compromise by having ground beef.
Homemade Taco Seasoning
Sure you can use a packet of taco seasoning from the grocery store, but making your own homemade taco seasoning is exceptionally easy.
One packet contains about 2 Tablespoons of spices, and this is about the same amount that this homemade taco seasoning makes.
Here's what you'll need to combine these 7 spices:
½ teaspoon ground cumin
¼ teaspoon smoked or regular paprika
½ teaspoon oregano (I didn't have dried oregano at the time so I had to sub in Italian seasoning. Not ideal...but it worked in a pinch.)
¼ teaspoon onion powder
1 Tablespoon chili powder
½ teaspoon garlic powder
¼ teaspoon salt
½ teaspoon black pepper
¼ teaspoon red pepper flakes (more if you want extra spice)
The taco seasoning packet works just as good though, so use what you have and whatever makes your life easier.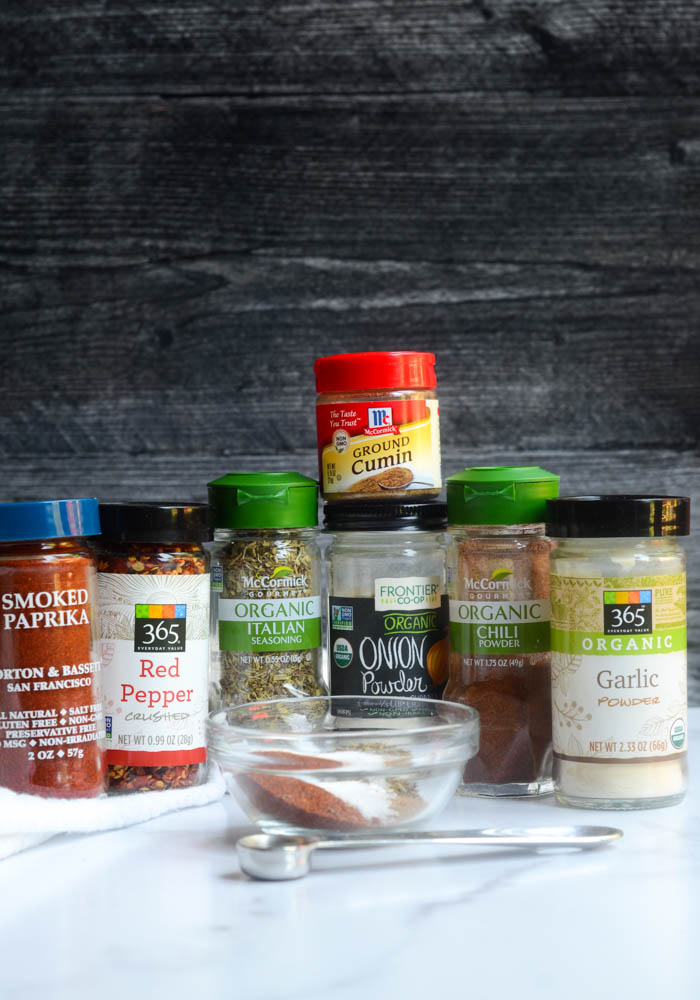 How to Make Taco Stuffed Sweet Potatoes
Step 1: Bake your sweet potatoes.
Poke holes in the sweet potatoes a few times with a knife so they don't explode in the oven. They take a solid 50 minutes in a super hot oven to get nice and fluffy soft on the inside, so there's no speeding up this process.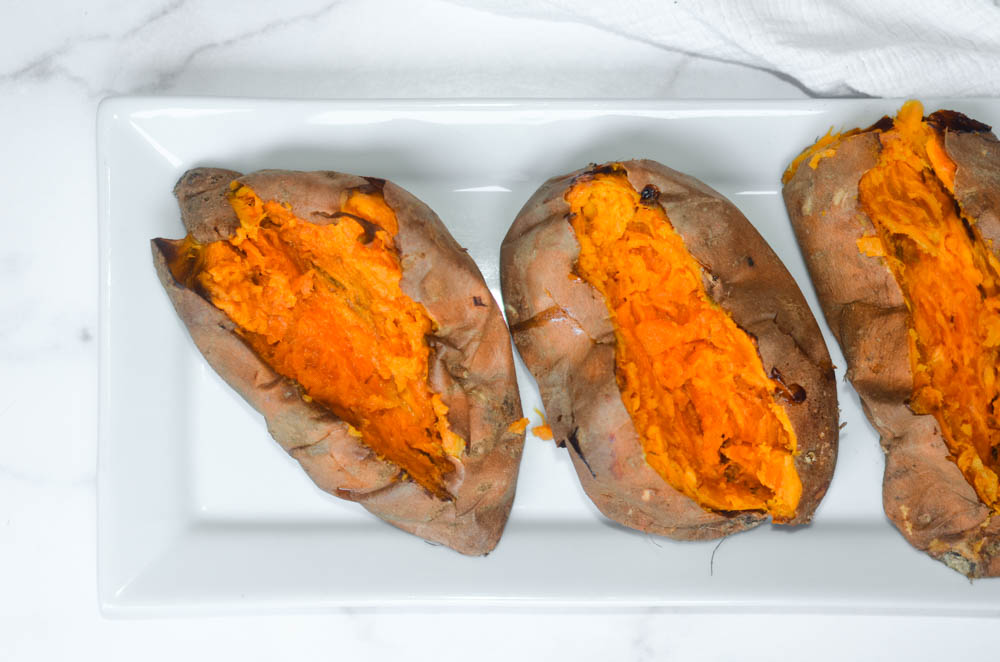 Step 2: Make your taco meat
The good news is that the rest is super easy. Brown the meat and onions in a skillet over medium heat.
When meat is browned and onions are tender, add taco seasoning, water, and black beans and mix until meat is cooked through and mixture is hot.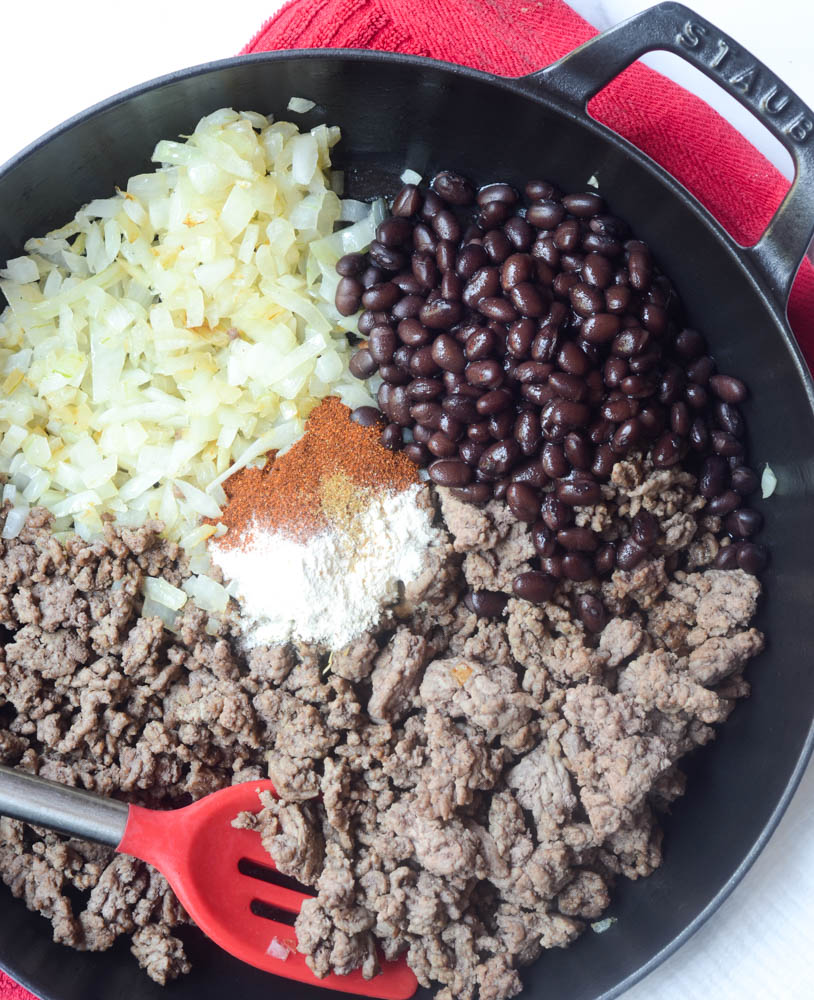 Step 3: Build your taco sweet potato
When the sweet potatoes come out of the oven, cut a slit down the middle of the potato lengthwise, pinch the outside of the sweet potatoes to open up the middle a bit, and scoop out just a spoonful of the sweet potato filling so you have room for the taco meat and toppings.
Fill with your taco meat and whatever your favorite toppings are.
Easy peasy, taco squeezy.
Mix and Match, Make it Your Own
Don't be scared to get creative. Maybe you like your taco meat with corn? Add it! Maybe you don't like black beans? Get rid of them! This is supposed to be easy peasy, so feel free to use whatever you have in your pantry.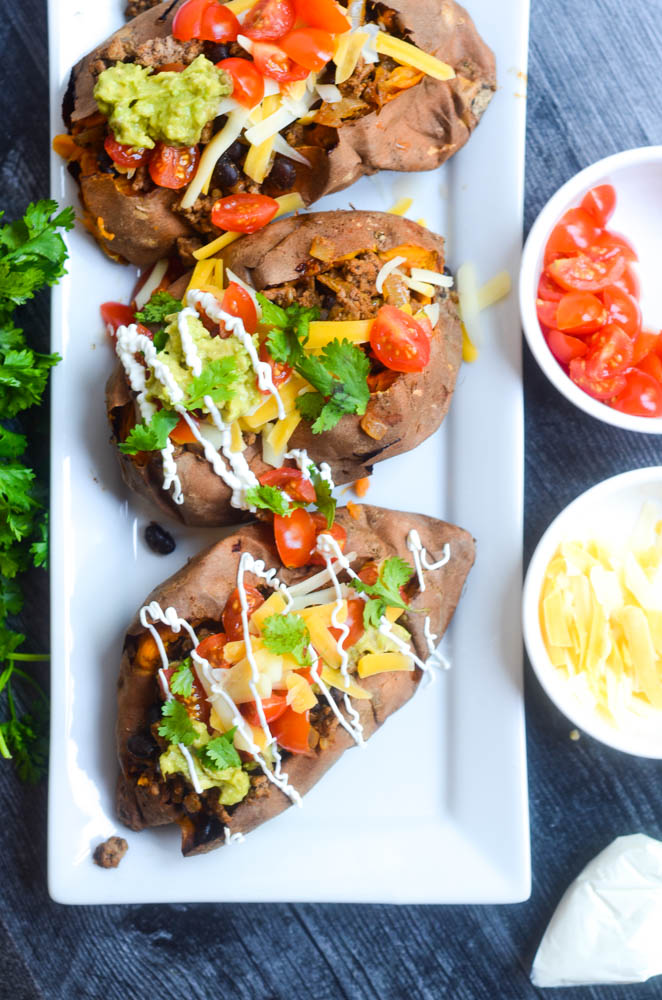 Other Easy Dinners Kids Love
Happy Taco-ing any day of the week!
xox,
kathryn
As always, if you make anything from the blog, be sure to let me know! I love hearing from you in the comments on this post below or find Worn Slap Out on Facebook, Instagram, or Pinterest!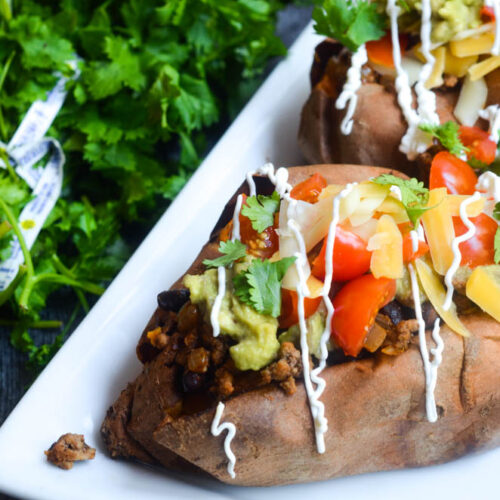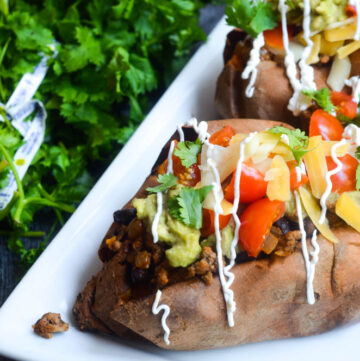 Taco Stuffed Sweet Potatoes
Taco night just got an upgrade with all the things you love about tacos inside the deliciousness of a freshly baked sweet potato.
Print
Pin
Rate
Ingredients
6

large sweet potatoes

1

pound

ground beef

1

large sweet onion, diced

1

can

black beans, drained

2

Tablespoons

taco seasoning* (1 package or make your own)

½

cup

water
Your favorite toppings:
1

cup

cheese

1

cup

tomatoes, diced

1

cup

guacamole or mashed avocado

1

cup

sour cream

¼

cup

jalapeños, chopped
Instructions
Immediately start by pre-heating oven to 425˚ F. Pierce sweet potatoes several times with a fork or knife and place in pre-heated oven for 40-50 minutes depending on the size of your sweet potatoes. You'll know they're ready if they can easily be pierced through with a knife.

In a large non-stick skillet on medium-high heat with olive oil, cook onions until slightly tender. Add your ground beef and stir until meat is cooked through. Add black beans and taco seasoning. Stir until mixture is warm, about 1 minute.

When sweet potatoes are done, remove from oven and cut them open lengthwise. Fluff the inside of the sweet potato with a fork and make a little well for the taco mixture. Spoon taco mixture inside. Top with favorite ingredients like cheese, tomatoes, salsa, guacamole, mashed avocado, or sour cream.
Notes
*I always make my own taco seasoning unless I am out of particular spices.  See this post for how easy this actually is!