I feel like if this cinnamon apple bundt cake with brown sugar glaze were to have a natural habitat, it would definitely be amongst the peak of fall leaves that's happening right now.  The gorgeous yellow, red, brown, and orange leaves make the glaze look almost golden.  Forgive me for holding an outdoor photo shoot with a cake...but I was just really struck by the beauty of both the leaves and how well the landscape complemented the cake.  I know...pathetic!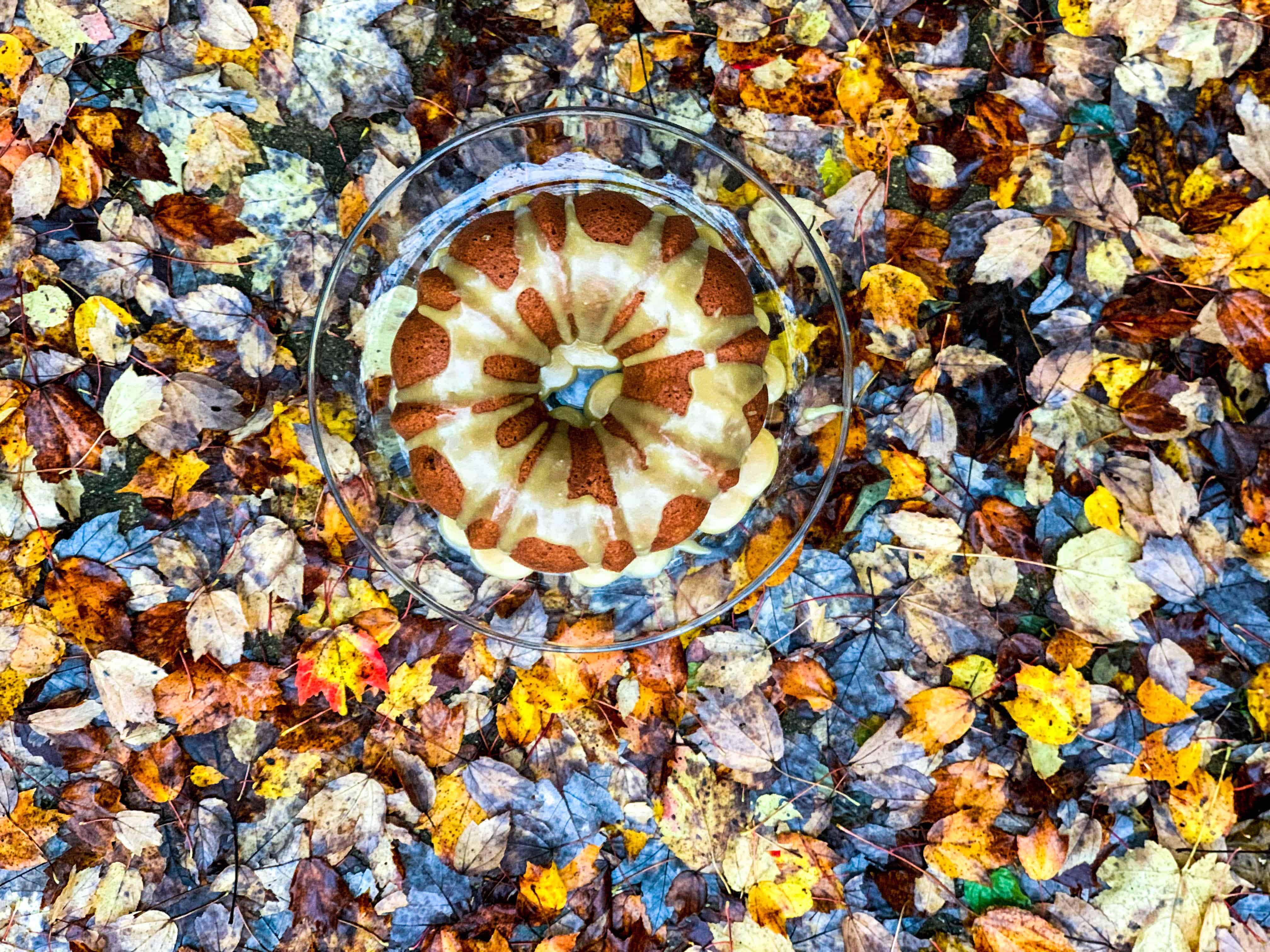 Fall is such a beautiful time.  It's a good reminder to think about embracing change.  What's something you want to do that you're not currently doing (answer: eating these pumpkin bars)?  What's something you want to get involved in?  Get out of?  What are you still holding onto that you need to let go of?  I find myself wondering the answers to these questions when there's such a stark contrast in the seasons. 
I usually get a little depressed thinking about winter coming.  The cold, bleak days seem so much harder than the carefree summer nights we had not too long ago.  It gets dark so.  freakin. early.  Bundling the kids in their winter jackets and strapping them into car seats when they're big, fluffy marshmallows is no joke.  They act like caged animals.  You battle sicknesses more frequently.  You know...the FUN stuff.  There *are* so many things to look forward to even when it starts getting so cold you can't feel your fingers.  And certainly these cold days make me appreciate the warmer days that much more.
How to make an an apple bundt cake:
Back to the cake: This cake is a hybrid between a pound cake and an apple crisp (in terms of taste, not texture).  It has a strong cinnamon flavor and is chocked full of apples. I actually increased the apples from the original recipe from Sally's Baking Addiction because it needed more.
Making this cake is really simple. You'll combine your dry ingredients with your wet ingredients and mix. Then you'll gently fold in the apples. It really doesn't get much easier than that.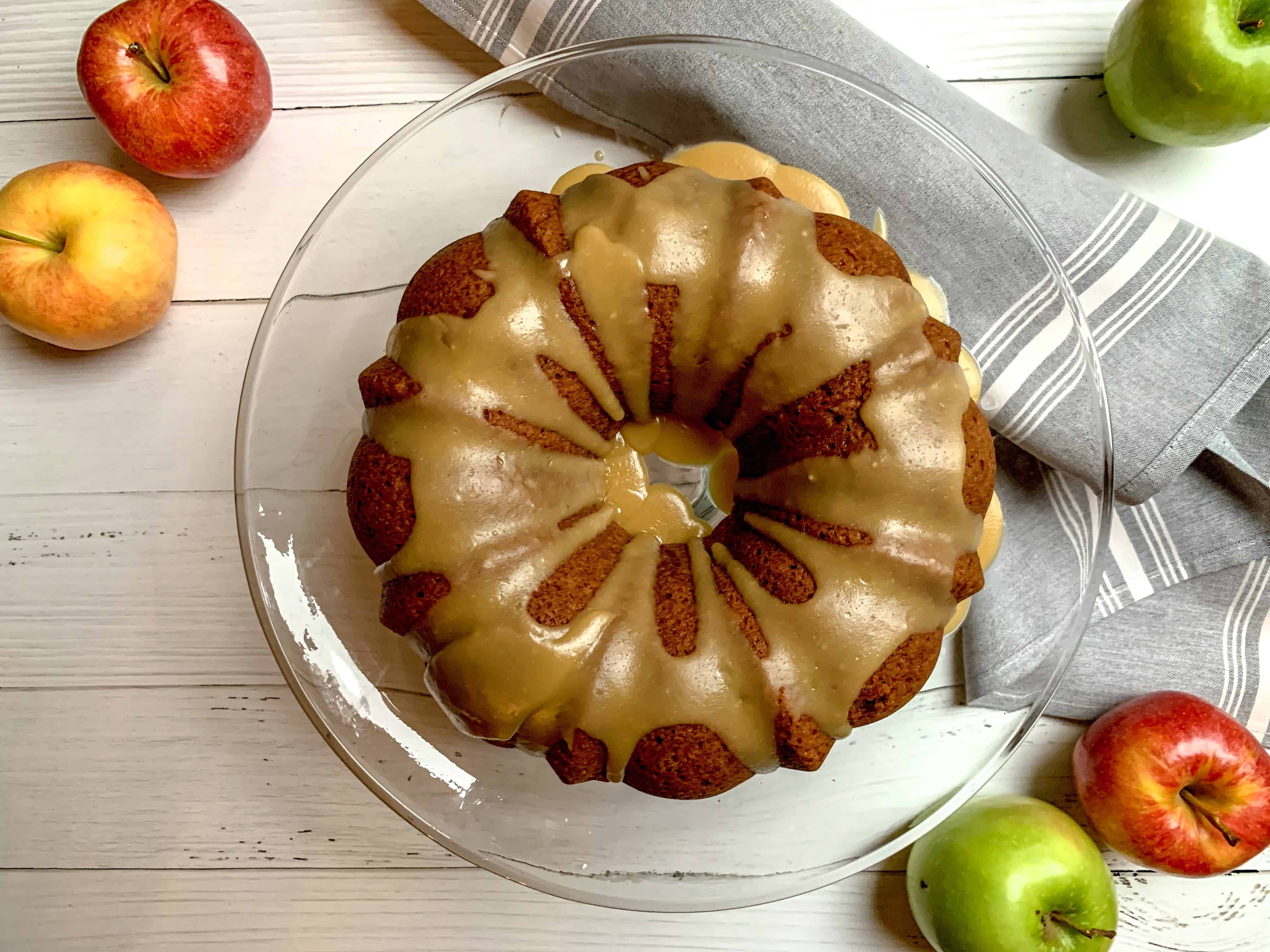 Baking Tips:
Here are two baking tips that may be helpful with you're thinking about making this drool-worthy cake:
This cake uses 1 full tablespoon of vanilla extract, which I was a little nervous about, but it totally works.  Use your highest quality vanilla extract since there's a decently strong strong vanilla flavoring in here. But you do you.
This bundt cake is good for a crowd because it can serve 10-12 people.  I can see this pairing really nice with some roasted apples and cinnamon or a scoop of cinnamon vanilla ice cream.  Now we're talkin' and now I really need some cinnamon roasted apples doused in butter.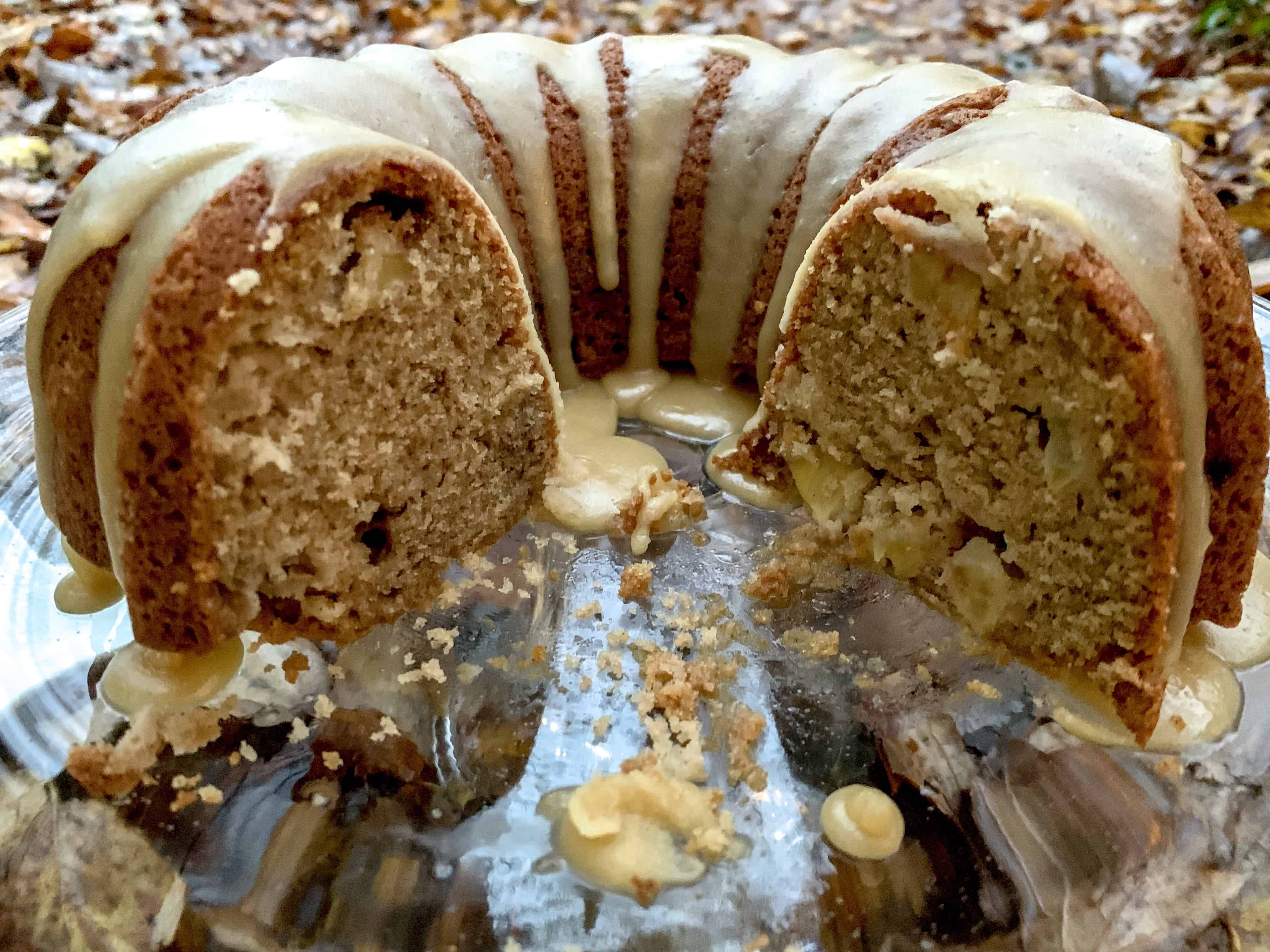 Looking for Other Fall Desserts?
Homemade applesauce is an awesome sugar free (well, naturally sweetened) dessert that's perfect this time of year.
While not fall, the smell of butter browning reminds me of the changing of seasons (I think because of the caramel/toffee notes. These brown butter chocolate chip cookies are the bomb.
Still on the apple train? This salted caramel apple tart is seriously delicious and easy to make when you use store-bought pie crust.
If you make anything from the blog, be sure to let me know! I love hearing from you in the comments blow or on Facebook, Instagram, or Pinterest!
xoxo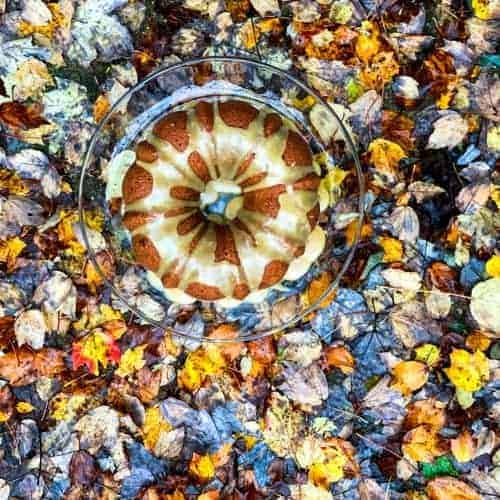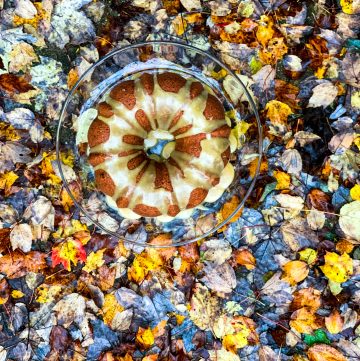 Apple Bundt Cake with Brown Sugar Glaze
This apple bundt cake is packed with apples and fall spices. It's a great option for fall.
Print
Pin
Rate
Ingredients
For the bundt cake:
3

cups

all-purpose flour

1

teaspoon

baking soda

3

teaspoons

ground cinnamon

½

teaspoon

ground nutmeg

½

teaspoon

salt

1 ¼

cups

Canola or vegetable oil

½

cup

plain yogurt or sour cream, at room temperature

1 ¼

cups

packed light or dark brown sugar

½

cup

granulated sugar

3

large eggs

at room temperature

1

Tablespoon

pure vanilla extract

4

medium apples

peeled and chopped into small chunks (about 3 ½-4 cups)
For the brown sugar glaze:
1

cup

190g packed light or dark brown sugar

¼

cup

60g unsalted butter

½

cup

120ml heavy cream

½

cup

62g confectioners' sugar, sifted
Instructions
Preheat oven to 325°F. Spray a 10-12 cup bundt pan with nonstick spray. Set aside.

Whisk the flour, baking soda, cinnamon, nutmeg, and salt together in a large bowl until combined. Set aside. In another bowl, whisk the oil, yogurt, brown sugar, granulated sugar, eggs, and vanilla together until combined and creamy. Pour wet ingredients into the dry ingredients and slowly whisk until no large lumps remain. Try to avoid over-mixing. Carefully fold in the apple chunks.

Pour batter into the bundt pan and bake for 50-60 minutes until a toothpick inserted comes out clean.

Make the glaze: Combine the brown sugar, butter, and heavy cream in a medium saucepan over medium heat. Bring to a boil, stirring often. Then without stirring, allow to boil for 1 minute, then reduce heat to low for another minute. Remove from heat and whisk in the confectioners' sugar. Allow to cool for a few minutes until it reaches a pourable consistency (about 15 minutes). Spoon all over the cake right before serving.