This Easy Apple Slab Pie takes 10 mins thanks to store-bought puff pastry and a warm apple and cinnamon mixture. Homemade apple pie in minutes without the fuss.
***This post has been updated in July 2020 with updated copy and mostly new photography! Same great recipe!***
Ain't nobody got time to make a from-scratch apple pie. Not with kids that are wrestling each other on top of couches or a never-ending pile of laundry we've thrown on the guest bed in the basement. But that doesn't mean I also want to go out and buy all my baked goods from a store and deal with all of the junk that comes in those baked goods.
Say hello to the easiest Apple Slab Pie with puff pastry. It just so happens to taste just as good as a real apple pie -- and maybe even better because you only took 10 minutes of your time to assemble it. The taste of sweet, sweet efficiency.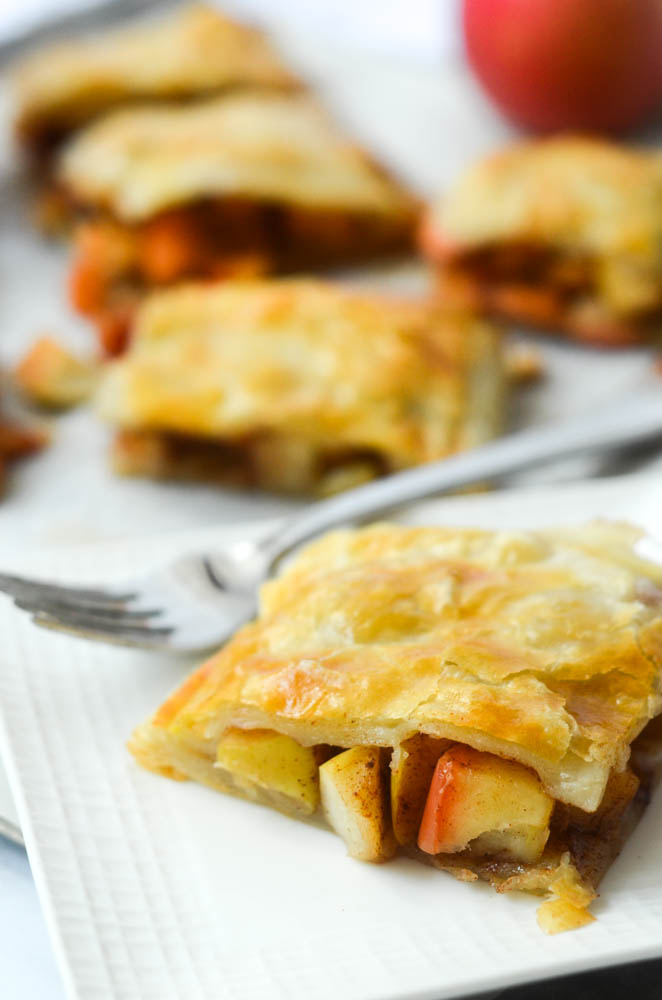 What's a slab pie anyway?
A slab pie is just a shallow pie that's usually made in a rectangular baking sheet or pan instead of a pie dish. This one doesn't even require a rectangular pan or for you to make your own dough. Buy frozen puff pastry from the grocery store and put it on a parchment-lined baking sheet. You've "made" your crust, and it comes perfectly buttery and flaky without any labor.
This apple slab pie's nearly identical twin (you know the Irish twin-type) is the galette, except the contents of this pie (apples, cinnamon, and sugar) are actually contained by crust on all sides, as opposed to the galette whose crust gets folded on top of the contents, leaving the fruit to peak out from the top.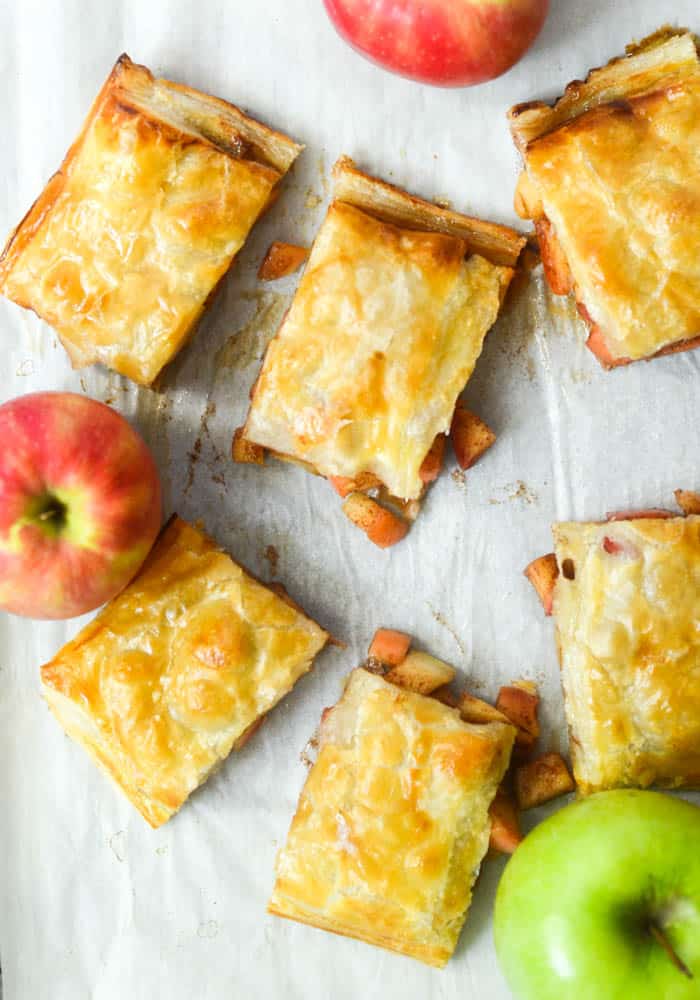 Ingredients for Apple Slab Pie
You'll need the following ingredients:
apples,
unsalted butter
lemon juice
ground cinnamon
brown sugar (light or dark)
puff pastry
egg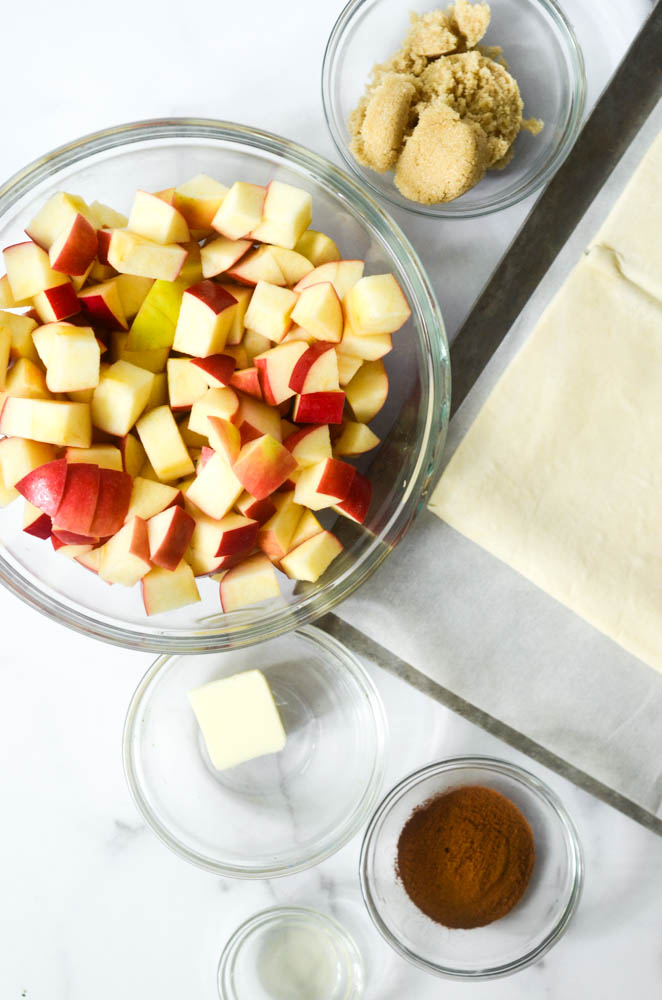 What apples should I use?
Unlike this homemade applesauce or these healthy apple cinnamon muffins where I recommend a blend of super tart varieties and super sweet apple varieties, for this apple pie I recommend you go with super tart baking apples -- like Granny Smith. Washington Apples has a cool apple profile if you're interested in learning more about which varieties are tart and which are sweet.
With that being said, in a pinch I use whatever apples I have around, and it still comes out delicious.
To peel or not to peel?
This is a total toss up, depending on my mood. Sometimes I use a vegetable peeler and quickly peel from the top of the stem to the bottom then cut the apple in shallow quarters.
I really don't mind the peel on cooked apples in the least, so skip this step entirely if it doesn't bother you either.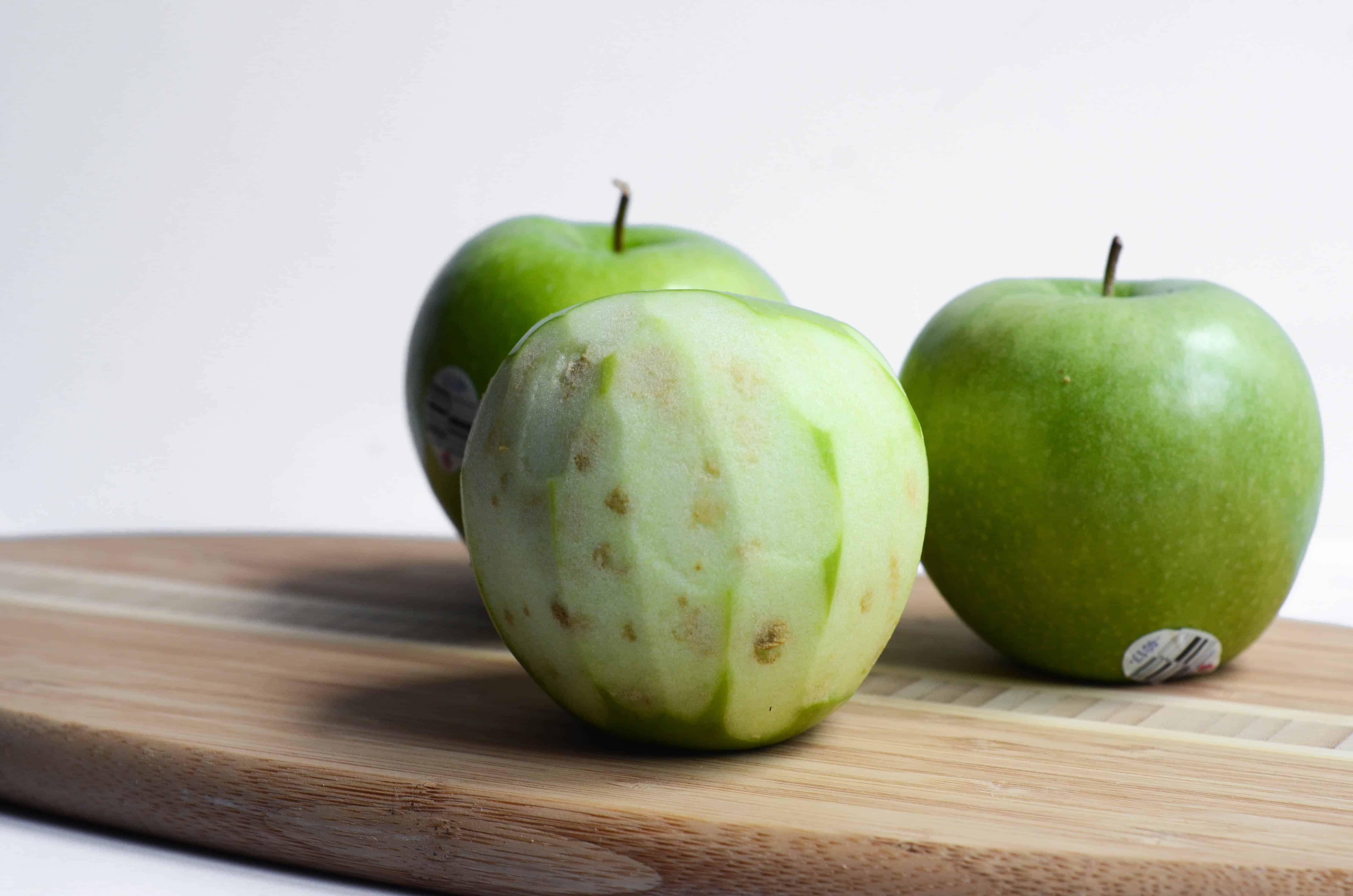 Working with puff pastry
If you've never worked with puff pastry, it's super simple. You can find it in the frozen foods aisle at any grocery store in a variety of different brands. In my experience, the more money you pay for your puff pastry, the much better quality it is. I wouldn't say the cheaper brands are bad, but you can definitely tell brands like Dufour are much more buttery and flaky.
You do not need to defrost your puff pastry overnight. Just take it out of the freezer about 30 minutes before you are ready to use it for this recipe. It will defrost enough for you to safely unfold without tearing the pastry.
How to Make Puff Pastry Apple Pie
First, cook your apples.
In a large non-stick pan, melt your butter over medium heat. Then add your apples, cinnamon, brown sugar until apples get nice and tender. Your kitchen will smell incredible.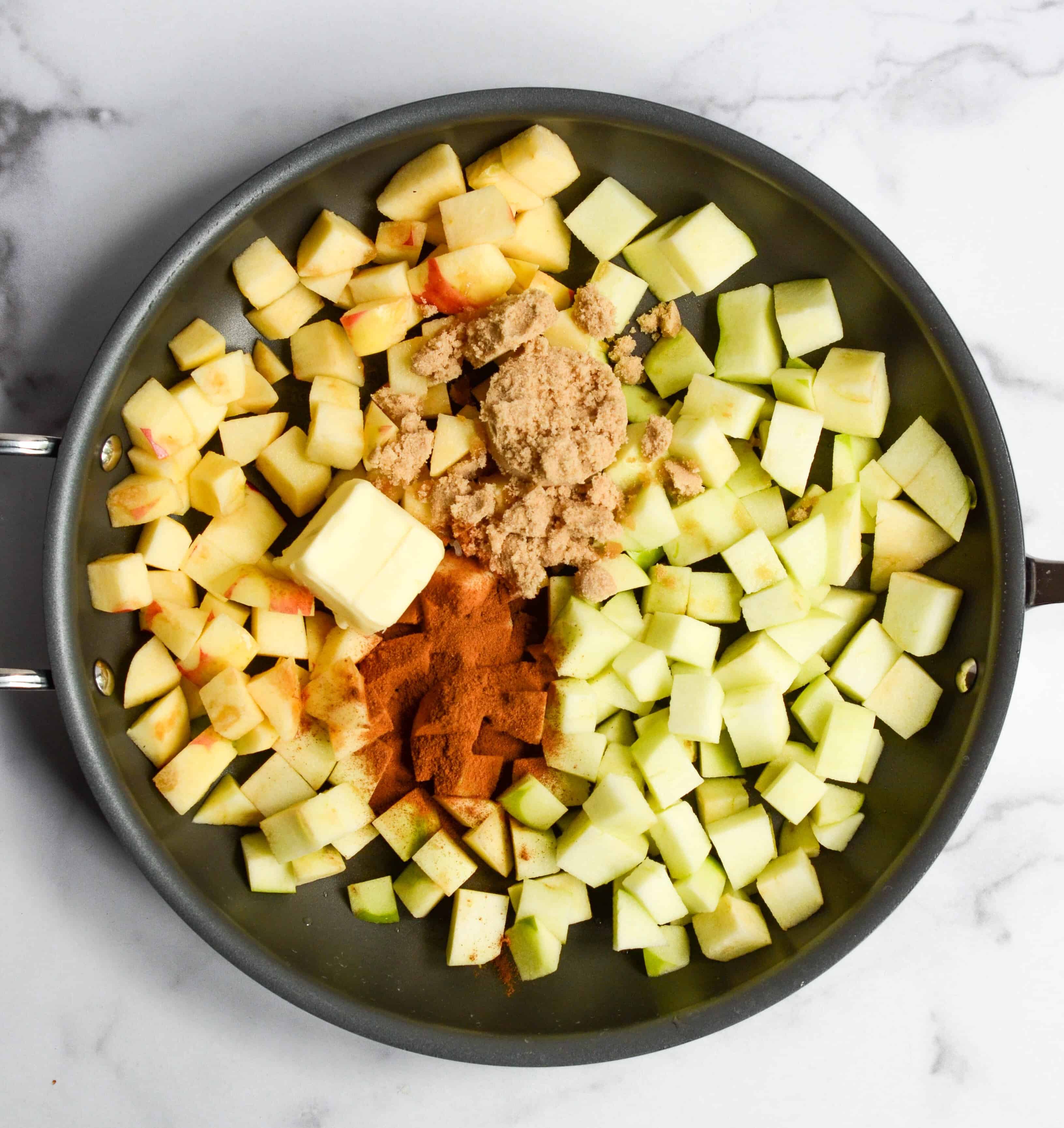 Next, place apples on puff pastry sheet and cover.
When the apples are tender and the juices have thickened (see picture), pour the contents from the pan onto one of the sheets of puff pastry, including the ooey gooey, buttery sauce.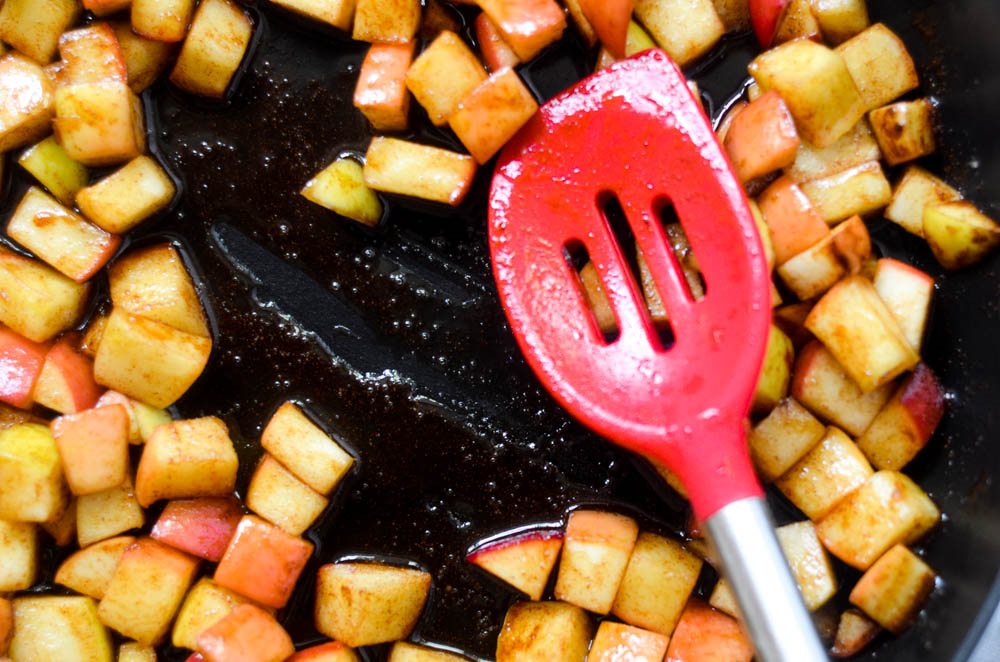 Be sure to leave about an inch perimeter all around the puff pastry sheet so you can properly close your apple pie. It's okay if some of the juices escape.
Messy pies are still delicious pies.
Then simply place the other sheet over the apples, and use your fingers to pinch the puff pastry sheets together.
Brush with egg wash, vent, and bake.
Brush your egg wash over the entire top of the apple pie, and then cut an "X" in the middle of the pie so some heat can escape. Stick in the oven for approximately 20 minutes or until the pie is golden brown.
BAM! You're done and it took hardly any effort to have the most delicious, flaky apple pie crust around.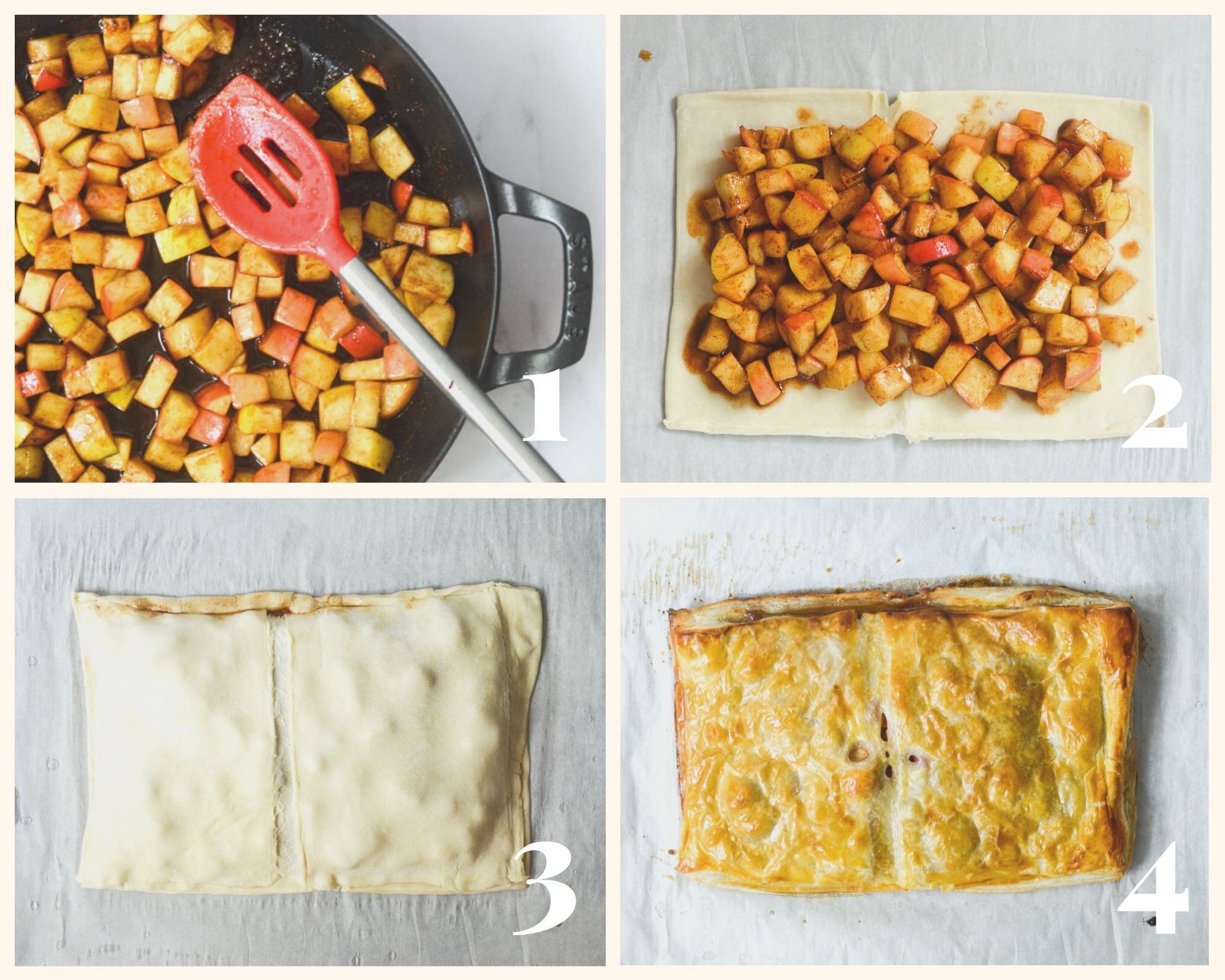 More Pies and Galettes
Want some more pie inspo? Check out these pies and/or galettes, both sweet and savory:
xox
kathryn
As always, if you make anything from the blog, be sure to let me know! I love hearing from you in the comments on this post below or find Worn Slap Out on Facebook, Instagram, or Pinterest!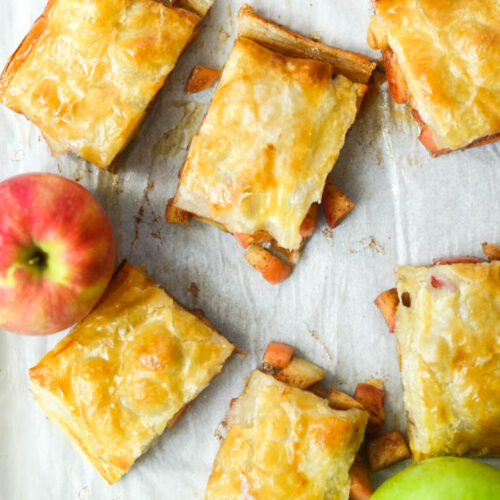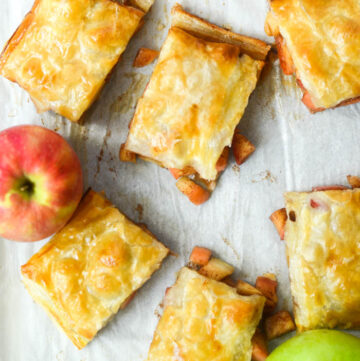 Easiest Apple Slab Pie with Puff Pastry
Want a fresh-baked apple pie from home but without the fuss of making the pie crust? This Apple Slab Pie with Puff Pastry is the most delicious, perfect alternative.
Print
Pin
Rate
Ingredients
3

apples,

cored, peeled, and diced

2

tablespoon

unsalted butter

1

teaspoon

lemon juice

1

tablespoon

cinnamon

¼

cup

brown sugar, packed

1

package (2 sheets)

puff pastry

1

egg

lightly beaten
Instructions
Preheat oven to 375 degrees F. Line a baking tray with parchment paper. Set aside.

In a non-stick pan over medium heat, saute apples with butter, cinnamon, lemon juice, and brown sugar for 10 minutes or until apples are tender. Transfer apple mixture to middle of your pastry sheet. Leave an inch perimeter empty on your pastry sheet.

Take the second sheet of puff pastry and place it over the apple mixture, lining up the edges with the bottom sheet. Pinch both pastry sheets together with your hands until you seal all parts of the pastry together. Cut a 2-inch "X" in the middle for the steam to escape. Brush with egg wash.

Bake for 20 minutes or until puff pastry is a golden brown.
Notes
Storage: Store this apple slab pie in the refrigerator in an airtight container.  I cut mine into pieces and use a plastic storage container. 
To reheat: Reheat in the oven 350 degrees for 15 minutes until warm again. You could do this in the microwave, but the crust does become a bit soggy.