This Wild Caught Salmon with Dill Tzatziki is refreshing, light, and can be whipped up in 15 minutes. Hello, weeknight dinner!
We just got back from another successful beach trip to celebrate the end of summer and John's new job. We survived over 4 hours in the car (thanks to knuckleheads who can't drive on the Bay Bridge) by dolling out turns with a blanket in 10 minute increments, feeding the two animals kids snacks every 5, and stopping them from spitting water at each other every two. I'm glad we're back home and in a larger space for greater separation.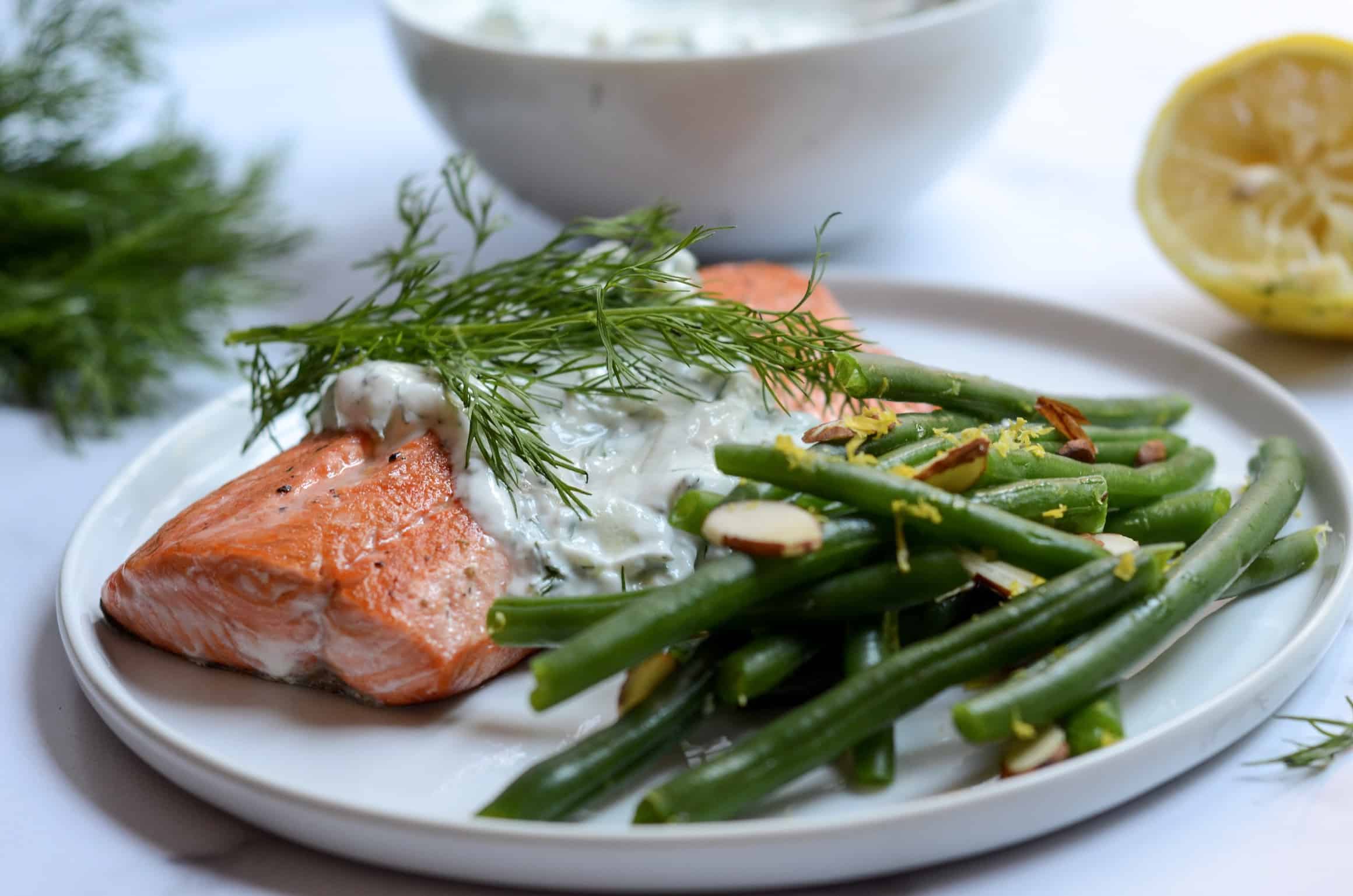 This week's meal plan is going to follow suit with what we normally do: simple, healthy, and quick meals. We need to start gearing up for the beginning of school in about two weeks, so these next two weeks will be a test-run for getting everyone out the door in enough time with something in their bellies and coming home to a delicious dinner that doesn't require a lot of fuss. Preparation is key.
Salmon, a weeknight favorite
This Wild Caught Salmon with Dill Tzatziki has been a lifesaver for us. I have a goal (it's more of a necessity) for 30 minute or less meals, and this one takes only about 15 minutes. Salmon is one of the best proteins you can put in your body. We ate it twice a week when I was pregnant with both kids and still eat it about once a week. Plus, there are SO many ways to jazz it up (with a basil and pea pesto or yogurt tahini dressing, for example). This dill tzatziki sauce is such a great complement to the leaner wild-caught salmon and is packed with lots of fresh dill. More on the tzatziki later. Let's chat about salmon.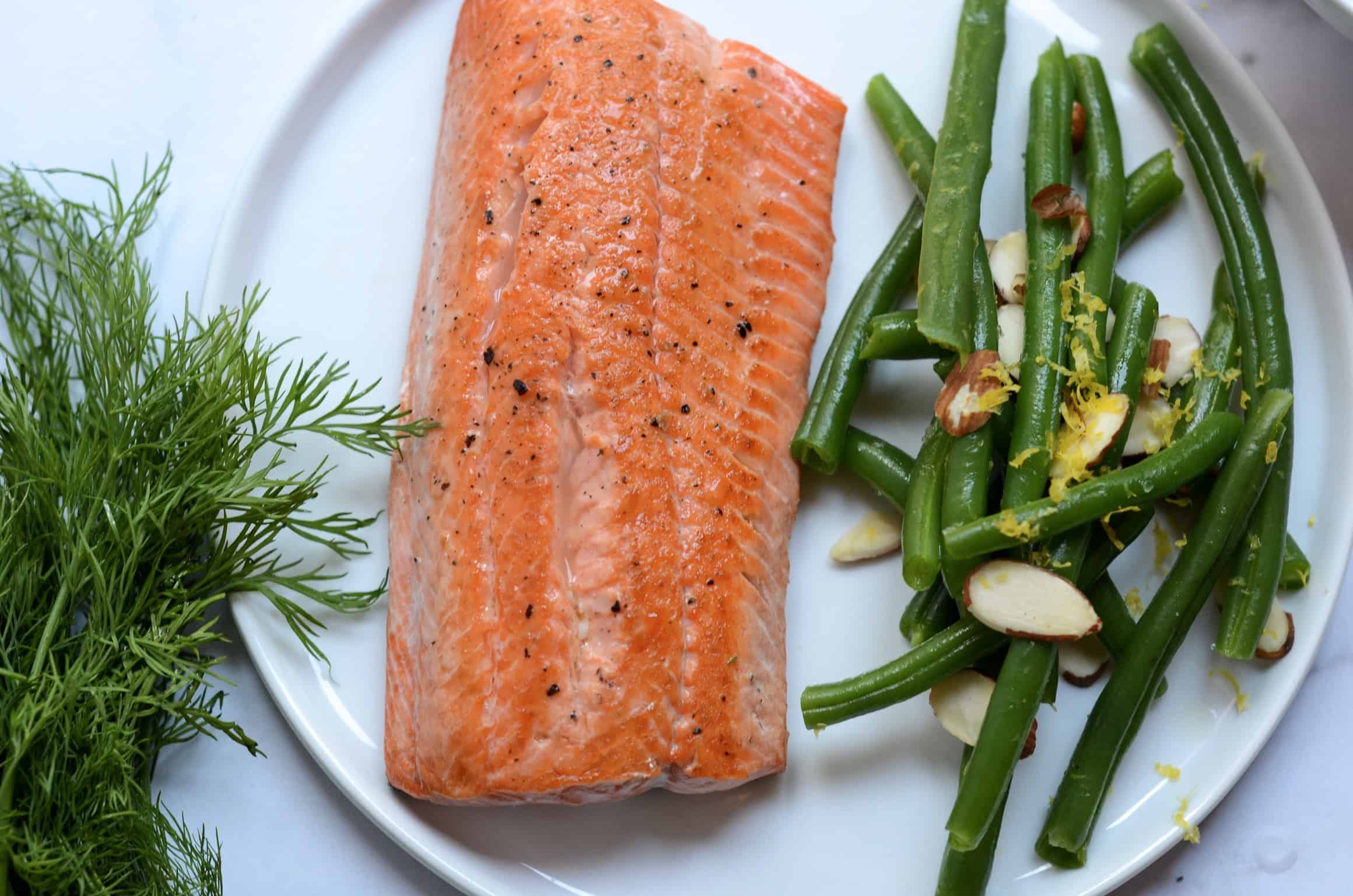 Wild caught vs. farm raised salmon:
I used to be one of the confused people standing in front of the fish counter at Whole Foods totally lost. Is wild caught salmon better because it's more expensive? Wait...I read something once about farm-raised salmon being bad for you. I can't remember why. Well, damn. I'm just getting the farm-raised salmon because it's cheaper. That was pretty much my train of thought until I did a lot of research. And by a lot of research -- I mean a TON of Googling and reading articles, more than half of which I would be upset if my high school students used in a research paper. There's just not a lot of quality information on this topic surprisingly, despite it being a choice people make every day -- and especially at this time of year when wild-caught salmon is abundant. I'm not about to salmon shame anyone (spoiler alert: we buy both), but there are just a few things to know about the difference between wild caught and farm raised salmon:
Farm-raised salmon are raised on farms -- in a large area surrounded by a net. The farmer feeds them a diet. Wild caught salmon are caught in their natural environment and eat a diet of whatever they can get their fish lips (?) on in the water.
Farm-raised salmon is more plentiful and more common in grocery stores because it's cheaper to produce because of the controlled environment.
Overfishing and using antibiotics are major issues with buying farm-raised salmon, but you have to trust that a quality market like Whole Foods is telling the truth when they say they don't buy their fish from overfished areas or from places that use antibiotics. Where you buy your seafood (and other things, I'd argue) is important.
The different diets of wild caught and farm-raised salmon make the two have a very different color. Wild caught salmon eat much more crab, krill, and shrimp that have high levels of astaxanthin which gives salmon its bolder pink color than the farm-raised salmon's more light pink tone.
Both kinds have a very low amount of contaminants, like mercury and other toxic things (phew).
The bottom line: worry about choosing fish low in contaminants and shop at a market you trust. Salmon has a million health benefits like healing damaged tissue, promoting brain development, improving cardiovascular health, promoting cognitive growth in children, etc. and these benefits are not significantly greater with wild-caught than farm-raised it appears. (If you're interested in learning more about what seafood is the safest for you and your family, this guide is really helpful). That's just my two cents.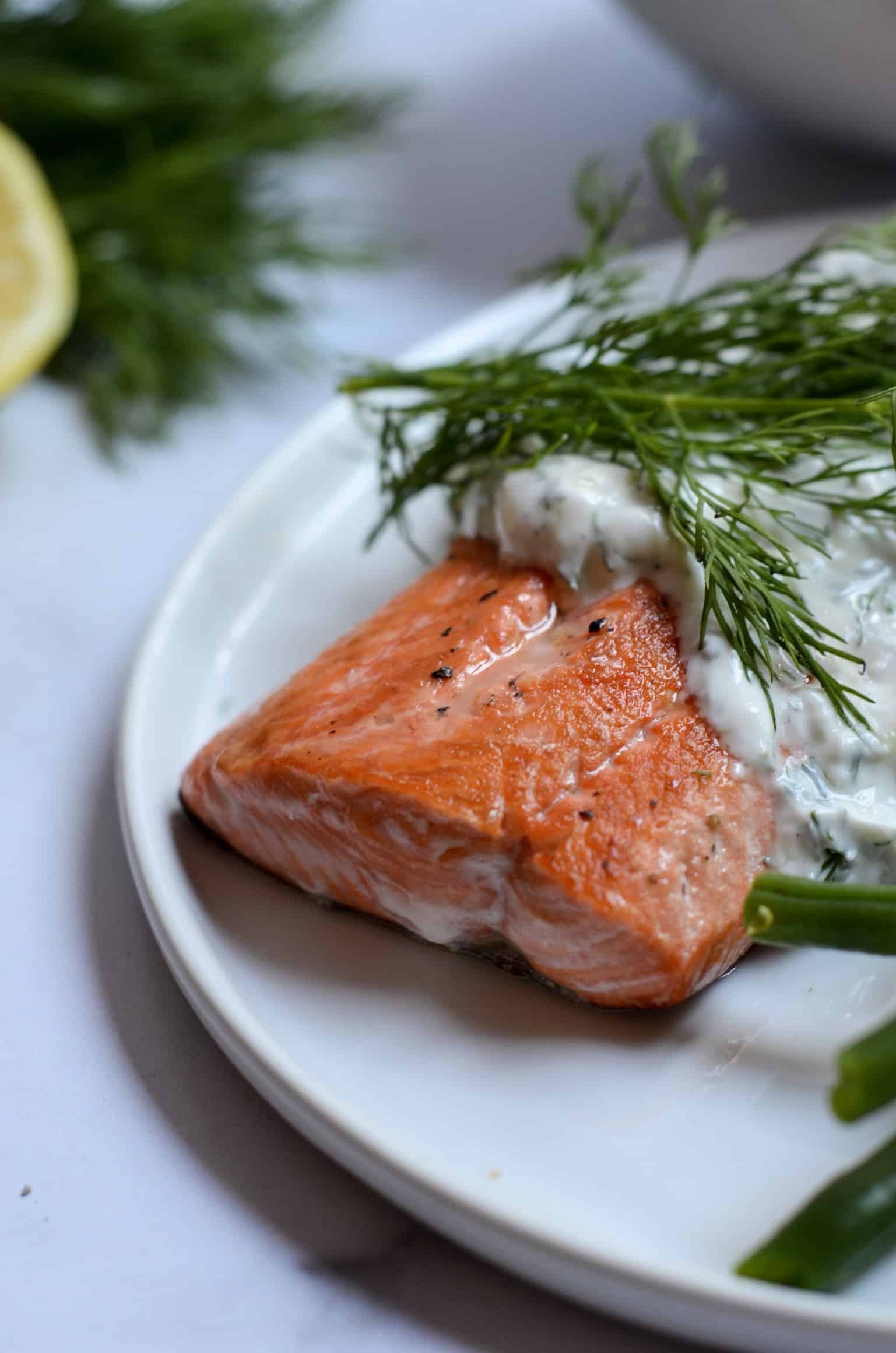 What kind of salmon should I buy?
75% of the time I buy farm-raised salmon because it's cheaper and is a fattier fish (which, in turn has more Omega 3s). However, the Dill Tzatziki Sauce for this dinner adds a good amount of protein and texture to the salmon, making it work well with wild caught salmon because of its leanness. They balance each other out. You can certainly make the dill tzatziki sauce with farm-raised salmon though...it'll still be delicious.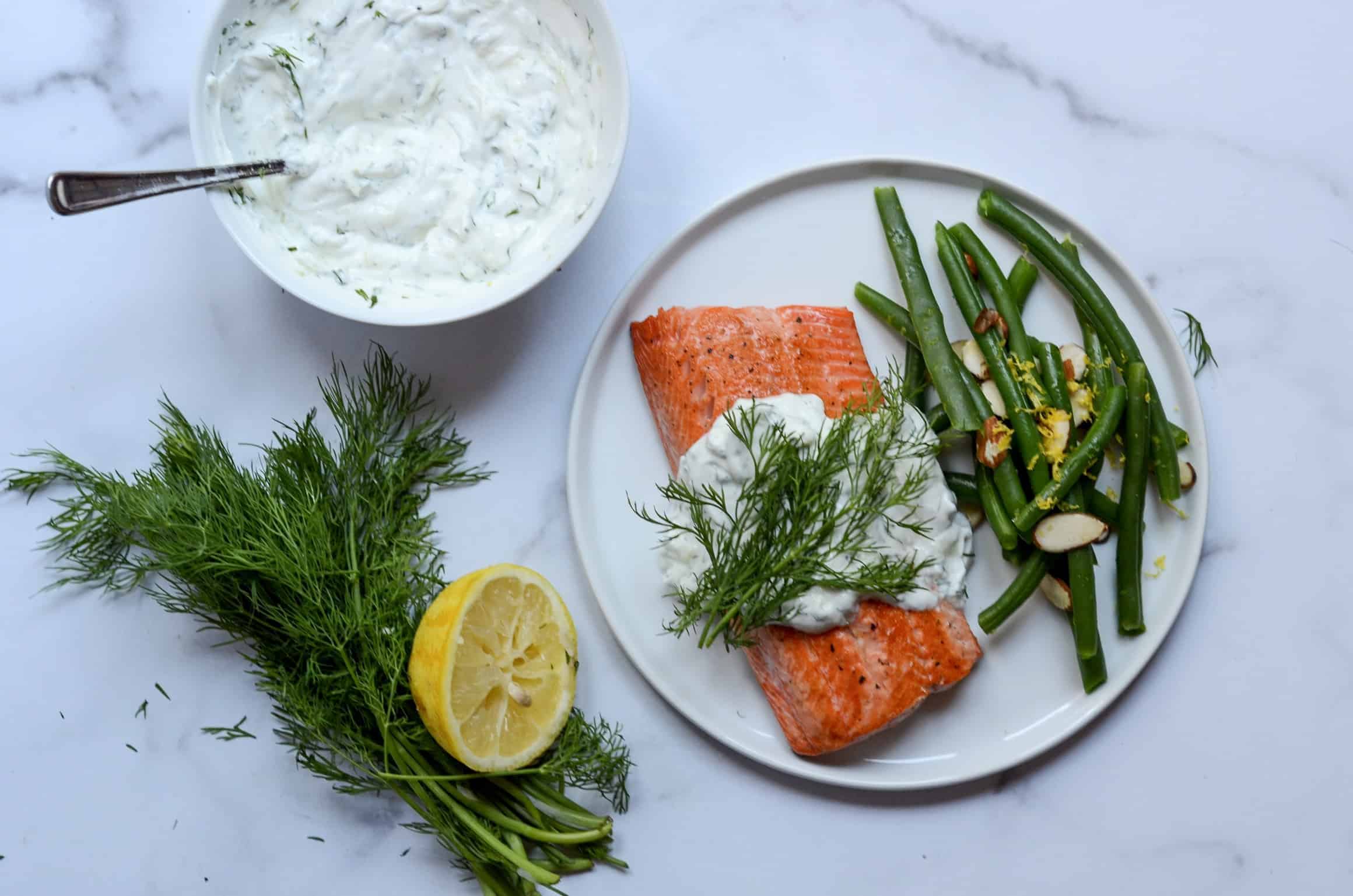 Let's talk tzatziki for the salmon
Tzatziki is a Greek cucumber yogurt sauce that's light and refreshing. My favorite tzatziki sauce is from Moby Dick (which I think they just call it a yogurt sauce because Moby Dick is obviously not a Greek place), and my second favorite is from Cava. It's so simple to throw together. You can use it as a dressing on your salad, throw it on a piece of chicken or fish, or use it as a great dip from carrots, celery or other snacks. All you need is a good quality Greek yogurt, a cuke, lemon, garlic, dill, and salt and pepper.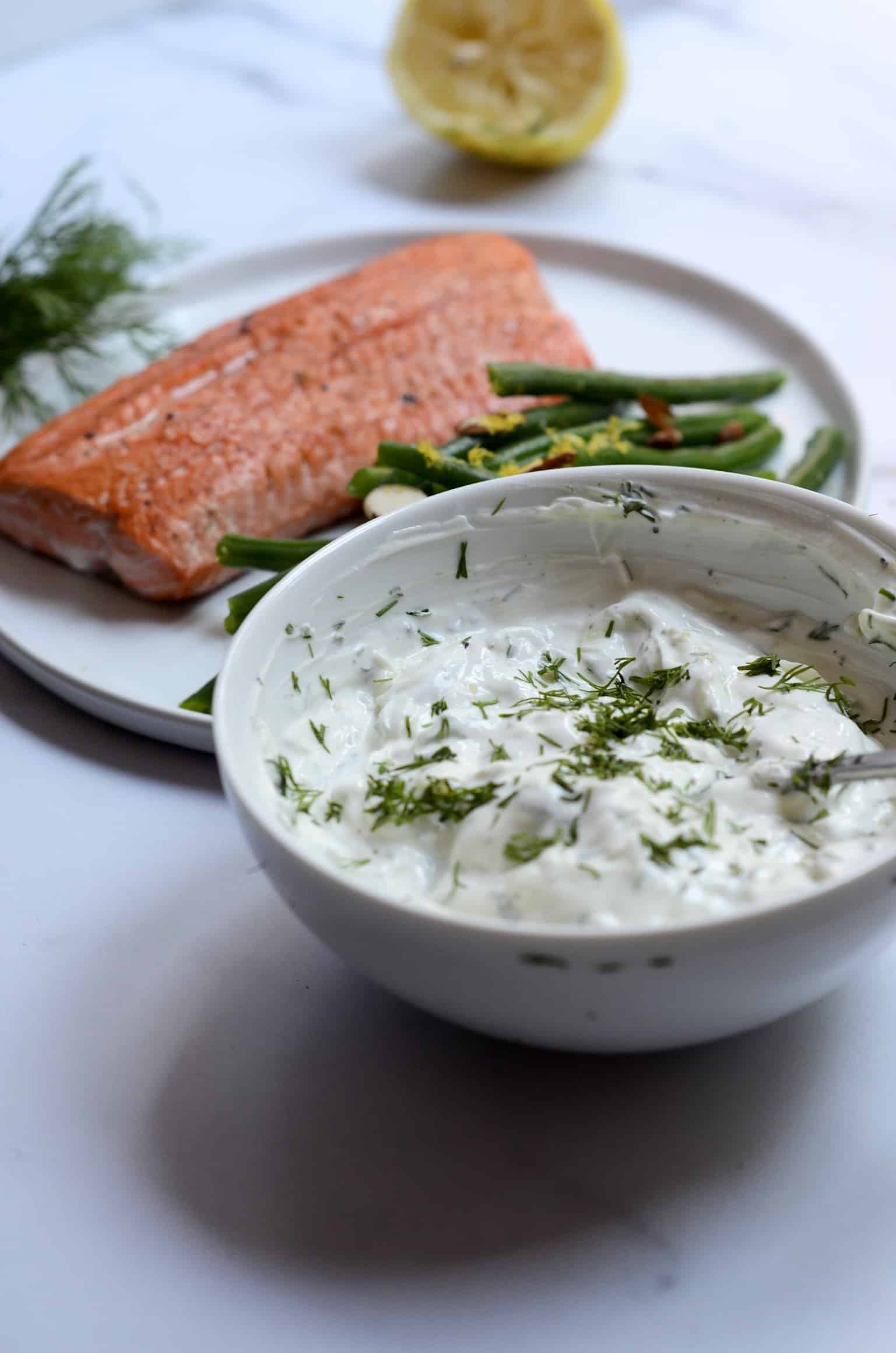 Hope y'all enjoy!
xox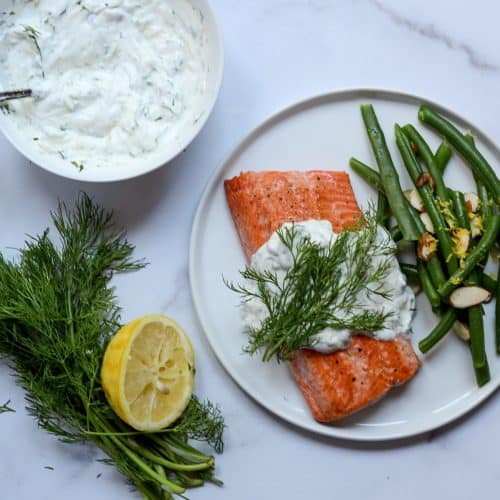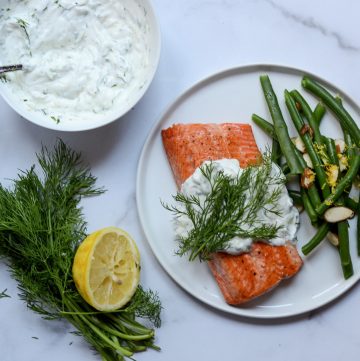 Wild Caught Salmon with Dill Tzatziki
Refreshing, light, and just so good, this Wild Caught Salmon with Dill Tzatziki is another great weeknight dinner that'll have you jumping for joy this only takes 15 minutes to whip up.
Print
Pin
Rate
Ingredients
For the salmon:
1.5

lbs

wild caught salmon

3

tablespoon

olive oil

salt and pepper
For the tzatziki:
1

cup

Greek yogurt

(I use 5%), best to sit out for 30 minutes prior to using

¾

cup

shredded cucumber

juice from half a lemon

1

clove

garlic, minced

salt and pepper,

to taste

1

heaping Tbsp

dill, chopped, plus more for garnishing
Instructions
On a non-stick skillet, heat up olive oil over medium-high heat.

When the pan is hot, place salmon skin side up and cook for 3 minutes.

Flip salmon and cook for another 3 minutes.

Meanwhile, mix all of the tzatziki ingredients in a small bowl.

Place tzatziki over the salmon. Serve immediately or at room temperature.
Notes
Store leftovers (separate salmon from dressing) in the refrigerator.  Leftovers will last 2-3 days in the refrigerator.